These Colorful Bracelets Are Perfect For Stacking All Summer Long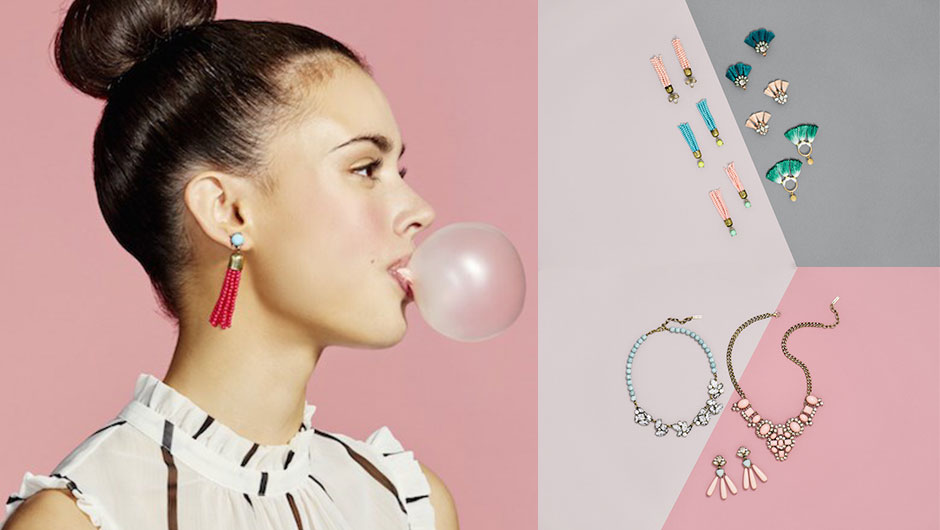 BaubleBar Just Launched A New, Even More Affordable Jewelry Line At Target–Shop SUGARFIX By BaubleBar Now!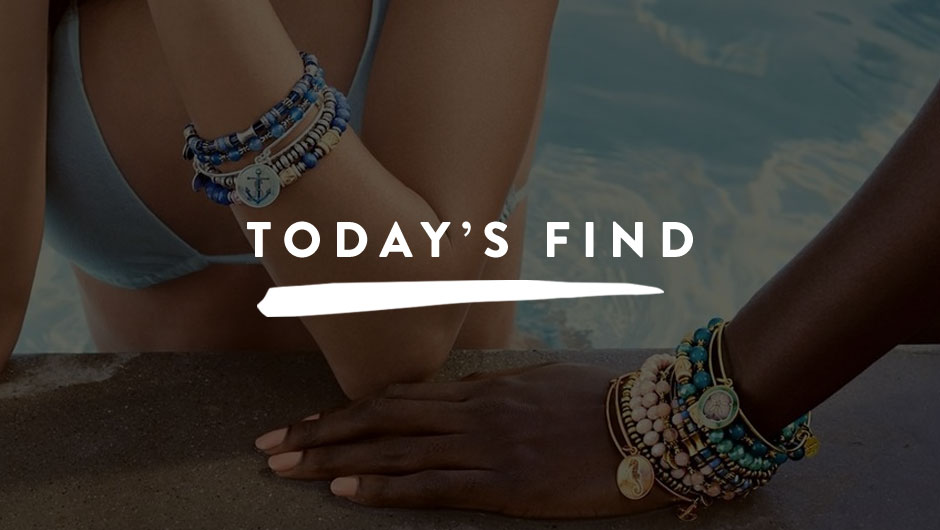 Drop Everything–Nordstrom Has Alex & Ani Bracelets On Sale For Just $7!
I'm a bit of a minimalist when it comes to jewelry, but even I have to admit that I love the look of a bunch of stacked bracelets. And when it comes to stacking, who does it better than Alex & Ani?! Whether you already own a bunch or have been itching to start a collection, here's a tip you don't want to miss: Nordstrom currently has a bunch of pretty Alex & Ani bracelets on sale for up to 60% off. I'm talking $7 for a bracelet people! The cult wire styles are on sale, along with the corded and beaded designs. Hurry and get a few for yourself before they're gone! Alex and Ani 'Kindred Cord' Bracelet ($6.97, down from $18) Alex and Ani Charm Bracelet ($9.97, down from $28) Alex and Ani Charm Bracelet ($9.97, down from $28) Alex and Ani 'Team USA - Basketball' Expandable Wire Bangle ($9.97, down from $38) Alex and Ani 'Kindred Cord - Vineyard' Bracelet ($6.97, down from $18) Alex and Ani 'Team USA - Track & Field' Bangle Bracelet ($9.97, down from $32) Alex and Ani 'Shells and Scales' Bangle Bracelet ($9.97, down from $38) Alex and Ani Birthstone Ring ($9.97, down from $28) Alex and Ani 'Kindred Dolphin' Cord Bracelet ($6.97, down from $18) Alex and Ani 'Shells and Scales' Bangle Bracelet ($9.97, down from $38) Alex and Ani Charm Bracelet ($9.97, down from $28) Alex and Ani 'Deep Sea' Wrap Bracelet ($9.97, down from $38) Be sure to check out these amazing eyeshadows and the new e.l.f. makeup brushes. [Photo: Nordstrom]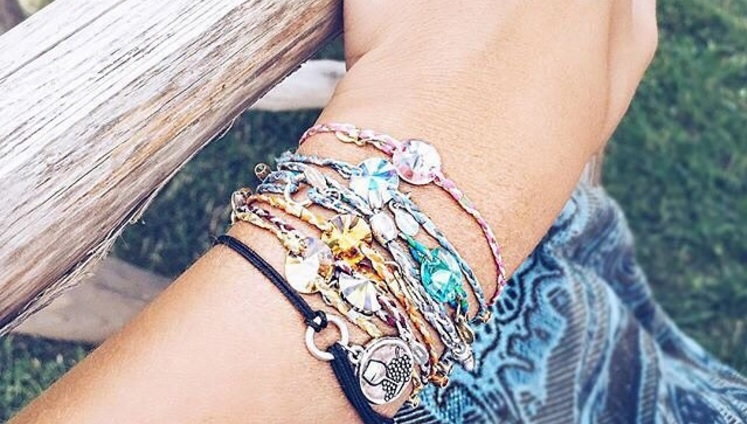 Prepare To See Alex & Ani's New Precious Threads Collection All Over Social Media
Everyone already knows (and loves!) Alex & Ani's cult stackable charm bangles, but they recently launched a gorgeous new collection that is blowing up social media. Symbolizing the past, present and the future, Alex & Ani's new Precious Threads collection is just as beautiful as it is meaningful. With 26 styles to choose from, these delicate bracelets are actually the perfect accessory for summer. They'll add an extra special touch to any outfit, but they're super lightweight so you won't be itching to take them off if you start to sweat in the summer heat. And as with most Alex & Ani bracelets, the more, the better; these bracelets look best worn by the bunch! SHOP ALEX & ANI'S PRECIOUS THREADS COLLECTION NOW Be sure to check out the best affordable makeup brushes and our favorite bralette that offers support. [Photo: @ALEXANDANI/@happytiannavibes]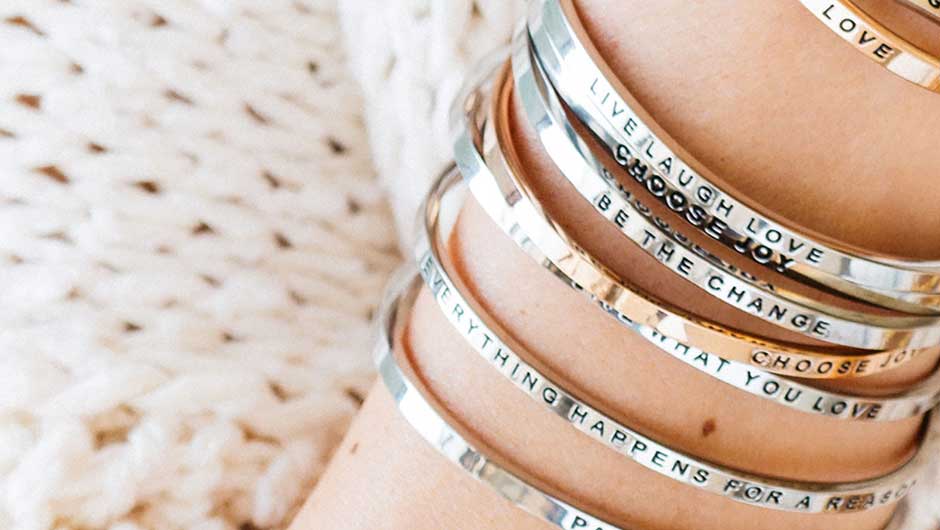 MantraBands Are The Gorgeous New Bracelets Blowing Up Social Media
I'm all about surrounding myself with good vibes and positive energy, which is why I just had to share my latest discovery, MantraBand. I'd been seeing their photos pop up all over my Facebook feed, so when I finally checked them out I was instantly hooked. Why? They combine two things I love most: jewelry and positivity! All of MantraBands silver, yellow gold and rose gold bracelets are stamped with inspiring phrases to promote optimism and mindfulness. It doesn't hurt that they are also super pretty and great for stacking. Even better, the bracelets are just $25 (for silver) and $35 (for yellow or rose gold)! Obviously, I fully plan on treating myself to a few to help keep my inspired and happy, but these babies also make perfect gifts. Need more convincing? Just check out these photos: SHOP MANTRABANDS NOW! Be sure to check out this cool lariat necklace and how to wear over-the-knee boots. [Photo: MantraBand]
Stars Love: Carbon & Hyde Jewelry
Add This Personalized Cuff Bracelet To Your Jewelry Box Before Gifting Season Starts
Yes, we know it's better to give than receive, but that doesn't mean you shouldn't treat yourself every once in a while. So before the holiday season consumes every single penny in your bank account, we're giving you permission to splurge on this gorgeous personalized cuff bracelet. Available in silver, gold and rose gold, you can select the two letters you want on each side, which means you can choose your first and last initials, your first initial and your husband's first initial, the first initials of your children--the options are endless. Just hurry and place your order ASAP before there's a crazy long wait list! [Photo: Joyus]
40 Necklaces, Rings, Earrings, And Bracelets That You Can Wear With Everything
Who's Crazy Enough To Wear This Drug Jewelry?
You already know how we feel about inappropriate graphic tees and penis jewelry, so now it's time to explore the world of drug-inspired trinkets. We're not entirely sure who wears these, let alone how they even got made, but gone are the days of innocent heart jewelry. Now there are rings in the shape of Xanax pills and MDMA lockets. But if hard drugs aren't your thing (really, you don't say?!), then you can swap what you thought were your edgy earrings for a pair of weed leaf studs. Yes, all this jewelry is for real, and even big names like Chanel and British artist Damien Hirst (remember his pill backpack for The Row?) are in on this trend. But we want to know, are you crazy enough to walk around wearing this drug jewelry? Check out all the best pieces we found in the slideshow and let us know what you like in the comments below! For more WTF, check out: the fugliest Birkenstocks EVER, a shirt that tells you to run faster and yoga pants that are meant for going commando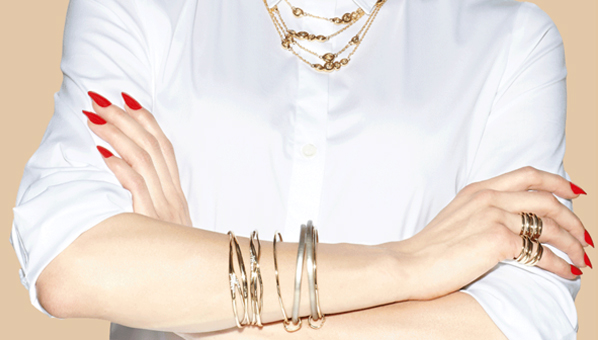 Alexis Bittar's 'Get Layered' Sale: Buy Arm Candy, Get Free Gift Cards
As if you needed any incentive for filling your arm with really pretty Alexis Bittar bracelets or looking lovely in their beautiful earrings, necklaces, and bracelets, they are running a promotion right now that does just that. The Get Layered Sale is a spend more, get more situation: buy 2 styles, get a $50 gift card; buy 3 styles, get a $100 gift card. I mean--they're basically paying for themselves. #Winning. GET LAYERED NOW
5 Ways To Layer Your Bracelets: Stack 'Em, Mix Metals, More
Now that you know how to layer necklaces and stack rings like a blogger, let's talk bracelets. You might remember the #armparty was trending a few years back (thanks, Man Repeller), but now it's all about sleek, dainty wrist stacks. So today, we are breaking down the different ways you can layer your bracelets like a blogger, photo inspo included. You know the drill by now. 1) Pair similar styles. If you don't want to layer the same exact bracelet, go for a few variations of the same style. We Wore What shows us how it's done with her three gold Coordinates Collection bracelets. Try this look in the same color metal or mix it up, the choice is yours! Photo via @weworewhat 2) Stack the same style. If you find a style you like, buy more than one! Okay, so maybe 5 is a lot but two or three paired together should do the trick. Choose a wrist to stack them on like Viva Luxury does in the photo below. Photo via Viva Luxury 3) Go for different sizes. Yes, it's all about the dainty stack, but mixing up the proportions with larger bracelets of the same metal color still gives you a sleek look. Try throwing in a thick chain and/or heavy bangle like Could I Have That. Photo via @couldihavethat 4) Add some color. Your stack doesn't have to be all one metal or color! Add in some color either with a woven bracelet or a metal one with rhinestones, like Sincerely Jules does in this photo: Photo via @sincerelyjules 5) Mix metals. Someone tell you never to mix gold and silver? Me too, so I didn't for years but once I tried it, I never went back. Viva Luxury keeps it more silver on her wrist, but feel free to decide how much of each metal you want to wear. [Photo: Viva Luxury; Bracelets: Multi-Stud Silver Bangle, Arrow Split Rose Gold Bangle (similar), Love Bracelet]
We're Calling It–Everyone Will Be Stacking These La Mer Wish Bracelets Come Spring
Whoever said the arm party was over totally lied. Not only is stacking bracelets cooler than ever, but the options keep getting better and better. Case in point? These new "Wish" bracelets from La Mer Collections. You probably know the brand for their cult leather wrap watches, but they're branching out this spring with a new collection of leather wrap bracelets inspired by the color of travel. Starting at just $34, the bracelets literally just went up for sale so we suggest you buy a bunch to wear in different combos. Our faves are in the slideshow. GET YOUR LA MER WISH BRACELET NOW Don't miss this major Chanel sale, the new celeb "It" bag and cool loafers for spring.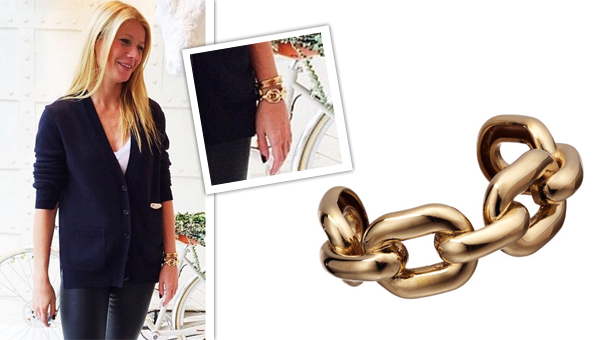 Get Gwyneth Paltrow's Jennifer Fisher Chain Link Cuff–Because Merry Xmas To Yourself!
Gwyneth Paltrow attended a party for the Goop pop-up shop that opened in Dallas last month, looking fabulous as-ever in a black cardi, white tee and with her arms loaded up with gold cuffs, including Jennifer Fisher's Large Link Chain Cuff in brass (courtesy of Jennifer Fisher's own Instagram): via @jfisherjewelry The brass cuff seems to be out of stock at Barneys Warehouse (we'll let you know if it's coming back)--BUT we kind of like the gold-plated one in the Large size ($895) better (Ylang23 has the same one here). Ylang23 also has the small size in rose gold ($420) which is pretty sweet if you're in to rose gold jewelry right now. Shop them all:  JENNIFER FISHER Flat Chain Link Cuff ($895) JENNIFER FISHER Flat Link Chain Cuff ($895) JENNIFER FISHER Small Chain Link Cuff in Rose Gold ($420) Out of stock: JENNIFER FISHER Brass Extra Large Chain Link Cuff
Google's New Site Lets You Design Your Own 3D Printed Bracelet
You probably use Google at least once a day, everyday, but did you know that Google is giving away free bracelets? Yes, you read that right. In an effort to teach young girls "how to code" and get them interested in the computer science, Google launched Made With Code. This site lets gals design their own bangle bracelets (which will be 3D printed and mailed fo' free), create avatars, decorate their selfies and animate gifs. Although this program is targeted towards teens and young adults, these bracelets are too cool for us to pass up. They are perfect conversation piece or addition to your arm party especially since they're spikey and can have any phrase you want on them. Imagine how cool it will be when your friends and co-workers compliment your bracelet and you can say  "I made it with code." You'll sound really smart, and they'll never have to know how simple it was. Check out the site for yourself! CODE YOUR BRACELET NOW And don't forget to check out: the Bracelet Assistant, J.Crew jewelry and this workout bracelet. [Photo: Made With Code]
Maybe Wearing The Bachelorette's Bracelet Will Make 25 Guys Fall In Love With You
Let's be real, most of us watch The Bachelorette knowing that it's pretty much all staged. I mean, even this season's star, Andi Dorfman, admitted in Monday night's episode that the whole process was unnatural. So why do we really tune in? For the man candy, obvs. However, on Sunday night's episode, the only candy we were looking at was on Andi's arm. During the rose ceremony, she was rocking the gorgeous Sydney Bracelet ($145) from the Courtney Lee Collection (it's the first one on the left). Now you can accessorize like the gal who has 25 guys vying for her heart without any of the drama. Sydney Bracelet ($145) For more celeb style, check out: Lea Michele's floral blazer, Gwen Stefani's fave yellow loafers and Jessica Alba's flora jumpsuit [Photo: Splash News]
30 Bracelet Watches That Need An Invite To Your #ArmParty
There is an ongoing debate as to whether or not watches are still cool. Since so many people prefer to use their phones to tell the time rather than check it the old fashioned way, it might seem like watches are on their way out, but they definitely aren't. While the traditional watch might be loosing its appeal among millenials, bracelet watches are gaining popularity. Ever since the #armparty began trending on Instagram, bracelet watches started turning up everywhere. Now, it seems like almost every brand has one. So, to help you take your #armparty to the next level, we've rounded up some of our favorites including Michael Kors, Kate Spade, and even Versace. Check 'em all out in our slideshow, and add one to your bracelet stack. For more trends, check out: boyfriend shorts, rompers, and open split tops. [Photo: Troprouge]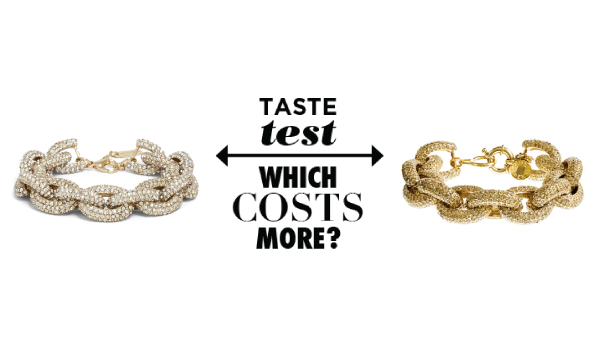 Can You Tell Which Pavé Link Bracelet Costs $57 More Than The Other?
Whether you choose to wear them to the office or out on the town, gold pavé link bracelets are a simple way to accessorize any outfit. When I first saw J.Crew's Classic Pavé Link Bracelet ($125) in the store, I knew I had to have it, because I have a thing for sparkles and stones. But, when I saw the price tag I had to pass it up, until I found a knock-off. While I was shopping on Bauble Bar's site last week, I finally found what I'd been been looking for. Bauble Bar's Medium Original Pavé Links ($67)  bracelet is just over half of the price of J.Crew's version and it look exactly the same. Can you even tell which one is the more expensive version? Take a guess. Answer: If you guessed the bracelet on the left then you are wrong. The bracelet on the left is from Bauble Bar and it is $57 less than the bracelet on the right from J.Crew. Which one do you prefer? Let us know in the comments below! Test your fashion savvy some more with: textured sweaters, gold chokers, and flat bed sandals.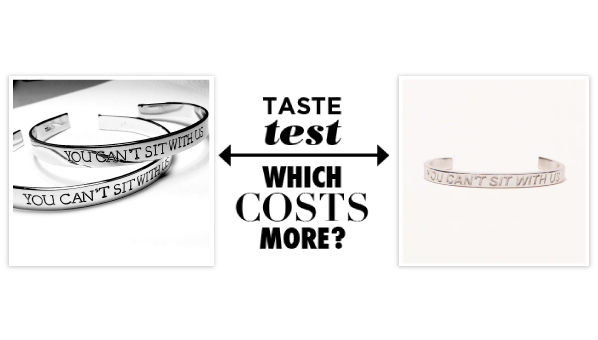 Can You Tell Which Mean Girls-Inspired Bracelet Costs $91 More Than The Other?
Mean Girls products are popping up everywhere this year since its the 10th anniversary of the movie. Can you believe its been a decade already? Jeeze, we're old! But although its been a while since we first fell in love with Aaron Samuels, we still strive to be the most popular girls...like the plastics. And believe me, there is no better way to do that than by showing your Mean Girls pride. (And wearing pink on Wednesdays, of course.) Now, "I wish I could bake a cake filled with rainbows and smiles and everyone would eat and be happy and get along," but thats not the case. In girl world, there's always competition. So when Stella & Bow made Mean Girls-inspired bracelets happen, Tatum Bradley Co. said "she doesn't even go here," and got revenge. Both bracelets are engraved with Gretchen Wieners' famous quote, "YOU CAN'T SIT WITH US!" and are NOT made of "Cold. Shiny. Hard. Plastic." But one costs more than the other. Can you tell which one is the Stella & Bow version and which one is the Tatum Bradley Co. knock-off? Answer: The one on the left is the Tatum Bradley Co. You Can't Sit With Us Bracelet ($38 for a set of two) and the one on the right is the Stella & Bow Regina Cuff ($110). Did you get it right? If you're on a budget and you don't have Mr. Wieners', the inventor of Toaster Strudel, credit card, the Tatum Bradley Co. version is definitely the best option. Or you could just have your "cool mom" ("not your regular mom") buy the Stella and Bow version for you. You better get one now because not having this on your wrist is "basically social suicide." Test your fashion savvy some more with: Chanel's Double Pearl Choker Necklace, Karl Lagerfeld's New Balance knockoffs, and  the palm tree trend.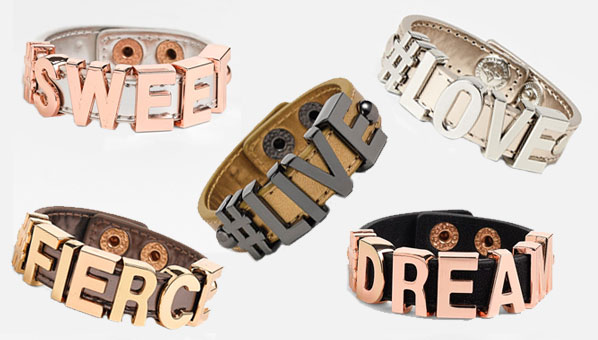 Where's The Newest Place To Hashtag? On You Wrist, Obvi.
Let's face it, as much as some of us deny it, we all love social media. It lets us share what we ate for breakfast, endless selfies of us making ridiculous faces, and quick bits of info that we have to get off our chest (that no one else really cares about). But what we really love most about social media is that we can connect with anyone with just one key, a hashtag. And there's literally one for everything, remember #ThingsLongerThanKimsWedding?! Thanks to BCBGeneration, you can now sport your fave hashtags on your wrist as a bracelet. They have classic hashtag brags like #swag and #boss, and more modest ones like #sweet and #live. And they come in different colors too like gold, silver, rose gold, and charcoal. The phrases aren't small either, so make sure you really want everyone to know your go-to hashtag before showing it off on your wrist for the world to see. Click through the slideshow below to see your choices. SHOP BCBGeneration HASHTAG BRACELETS NOW Don't forget to check out the new grid print trend, Halloween inspo from celebrity Instagrams, and the best cut-out booties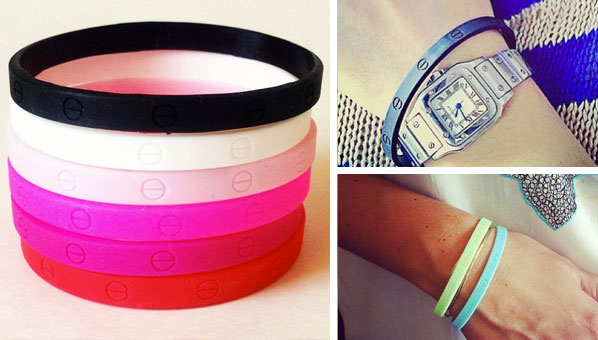 These Rubber Wristbands Are Giving Us Serious Deja Vu Of Cartier Love Bracelets
These Eternity Wristbands ($10) by Luka Lika look like a mix between Cartier Love bracelets and Livestrong wristbands...but they're probably closer in price to the Livestrongs. According to the designer, the rubber bracelets are a light-hearted take on fashion accessories. So I guess they're supposed to remind us of other jewelry. They come in LITERALLY every color, including neon, metallic and even glow-in-the-dark. That's one thing we can't say about Cartier, am I right? We're sure no one is confusing the Luka Lika's for Cartier, but we're still surprised that the two bracelets have so many similarities (minus, the rubber duh). Maybe Luka Lika is on to something though. I mean, Marc by Marc Jacobs does make rubber bracelets too. Do you think Cartier will be next? Is this the next big jewelry trend? Let us know what you think in the comments below! SHOP LUKA LIKA ETERNITY WRISTBANDS For more accessories we love, check out: the fall beanie trend, Westward Leaning sunglasses and back to school accessories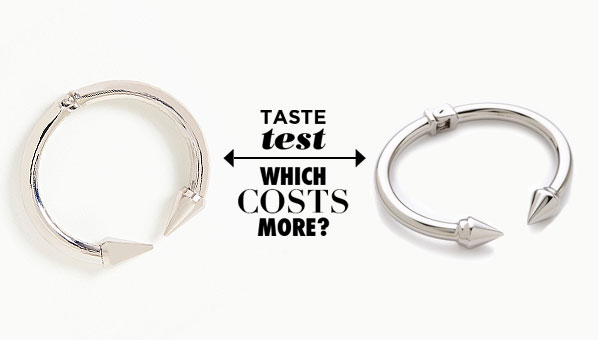 Can You Tell Which Spike Cuff Bracelet Costs $255 More Than The Other?
It's pretty crazy that two designers made versions of this simple spike cuff bracelet...and that there's a $255 price difference. I mean, granted, one probably is real silver and the other probably isn't, but still, who would have thought both would exist? Can you tell which spike cuff bracelet is $255 more than the other? Answer: The one on the left is the Double Spike Bracelet ($20) from Nasty Gal, and the one on the right is Vita Fede's Titan Bracelet ($275). Which bracelet do you like more? Test your fashion savvy some more with black leather totes, cat-face flats and best designer knock-offs ever
DANNIJO's Anniversary Capsule Collection Includes Bestsellers From The Past 5 Years
Sisters Danielle and Jodie Snyder of DANNIJO have been cranking out crystal "masterpieces" for 5 years now, if you can believe it, and to celebrate this milestone, they've created a limited edition capsule collection of bestselling and most popular pieces from the company's short but sweet history. The necklaces, earrings and bracelets comprised of the #DJs5th line are all significant in some way; there's Etta, the "no fuss" bib necklace, Elena, a re-vamp of their signature Capucine necklace, and a perfect for "day to night" Lainey earrings. And as WWD pointed out, the line ranges for $295 to $425, just a wee bit lower than the brand's average price point. Happy anniversary indeed! Shop now.  For more jewelry finds, check out Giles & Brother x JewelMint, best friend jewelry, and spike jewelry.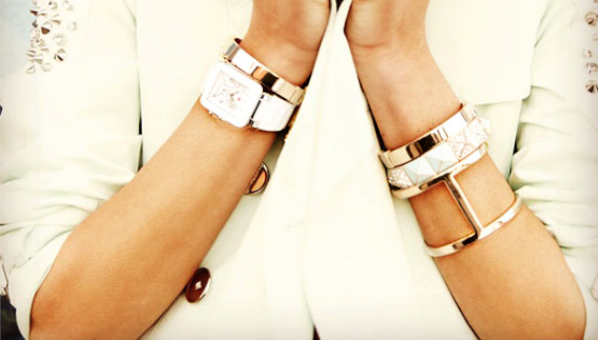 Your Arm Party Needs One Of These: Cut-Out Cuff Braclets
We are huge fans of the arm party, but putting together the perfect stack of bangles can be expensive (and noisy). That's why we are loving intricate cut out cuffs for spring. Unlike other cuff bracelets, these delicate designs are light and feminine--but they don't fail to make a statement. A cut out cuff adds an interesting element to a flirty dress or even a simple t-shirt. The look is minimal and easy to wear--plus, you won't sound like a wind chime every time you move your hands. Our favorite cut out cuff bracelets range from beautiful Alexis Bittar designs to inexpensive styles from Forever 21. Flip through the slideshow to check out some of our favorite cut out cuffs. Check out other spring trends we're loving: lace dresses, varsity jackets and tie dye clothing. [Photo: Nordstrom]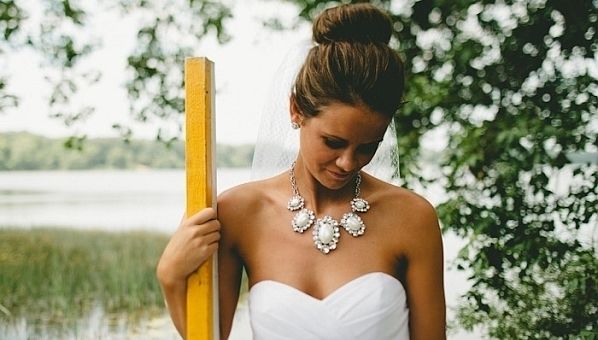 A Guide To Buying Your Wedding Accessories Online
We've written extensively on wedding dress shopping, but it's time to give wedding accessories their due. While the wedding dress is basically the focal point of your entire wedding day, bridal accessories can make or break your wedding look. If you're the type of bride who wants your wedding guests to see your unique, personal style shining through, and not just 18 layers of lace and tulle, we can certainly empathize. But before you give yourself permission to go on an epic, bauble-buying spree, take a breath, and get the answers to these 10 important questions. 1. How does it accent your dress and shoes? Unless you're planning your entire bridal ensemble around one statement-making necklace or headpiece, hold off on accessory shopping until the wedding dress and shoes are in the bag. 2. How big is it? A lot of wedding accessories are presented in pictures that don't actually provide any sense of scale. Make sure to look at a picture of the item on a model, or check out the measurements and find a comparable item in your own collection for comparison. 3. What's the item's ETA? Whether you're shopping for something made-to-order on Etsy, or you're having fancy baubles imported from overseas, it's important to know the timeline for receiving your accessories. A popular Etsy vendor will sometimes need a full month to even finish your items, so be sure to read the entire item listing, so you know what you're signing up for. 4. What's the return policy? A birdcage veil looked fab on the model, but on your actual head, not so much. If you got something custom-made, there's a strong possibility that returning it for a refund might not be an option. Even your favorite retailers won't accept a return if an item is on final sale or clearance - again, read the fine print! 5. What's it made of? Be sure to figure out whether the necklace you're eyeing is made of fine crystals or plexiglass before you hit "add to cart". Costume jewelry sometimes looks a lot better under studio lighting than it does in real life. It's your wedding day, splurge on something of a better make and higher quality than what you usually buy. (For a little high-end inspiration, check out our 5 latest bridal accessory obsessions.) 6. Does it play well with your wedding colors and design scheme? How will your accessories look against your wedding backdrop? Your reception tables? On the dancefloor? Will they pop in a good way, or in a garish way? 7. Did you budget for this? If this isn't something you've had your heart set on for a while, it might not be a great time for a few impulse buys. You are concurrently planning a wedding right now, after all. Unless... 8. Does it fit in to your something borrowed, something blue, something old, something new schematic? Keep in mind that people will probably lavish you wish small little gifts at your shower or bachelorette party that meet at least one (if not all) of these requirements. On that note... 9. Is this something that someone might like to buy for you? Now obviously, I'm not saying you should ask anyone to, because that's a little tacky. However, it's likely that at this very moment, your bridesmaids are all scrambling to find something to buy you as a wedding gift. Gushing over a wedding accessory or two on social media is a nice, somewhat subtle way to throw them a bone. The magic of "social shopping" makes gift hint-dropping easier than ever these days! 10. Is it soul-stirring? I realize this one's a little abstract, but seriously - does it speak to you on a deep, almost primeval level? The universe is full of shiny pretties, but you should love your wedding accessories almost as much as you love your future husband. I'm just kidding - but you should love it almost as much as you love your wedding dress. In the mood to shop? Check out 10 wedding shoes that will never go out of style and the 15 best polishes for a 'Something Blue' pedicure. [Photo: Ash & James Photography]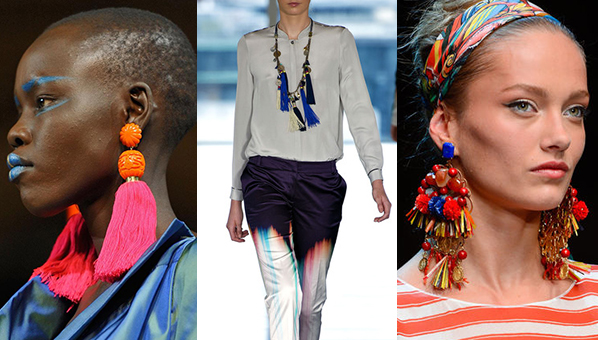 Tassels Are King For Spring: Just Ask Matthew Williamson, Duro Olowu & More
Though tassels have long been associated with burlesque dancers and the adorable flying carpet from Aladdin -- two very competing images -- we thought we'd remind you of their other purpose: as fun accessories. The swinging statement pieces have been seen on spring runways for the past 2 seasons (Vivienne Westwood, Matthew Williamson, D&G, just to name a few) and can also be found in Duro Olowu's upcoming collection for JCP: Duro Olowu for JCP (March 1). Bright, colorful tassels are reminiscent of summer camp friendship bracelets, and look fantastic stacked up and paired with a breezy maxi dress (see the street style below). Likewise, gold and silver chain tassels (like a serious shoulder-dusting pair) can easily glam up a plain tee and jeans on lazy days. Perk up your wardrobe ASAP and check out our favorite tassel picks in the slideshow below. How to wear tassels in an army party. Don't miss these other spring trends, like the long vest, mixed prints and peplum swim suits. [Photo: Byrdie and JCPenney]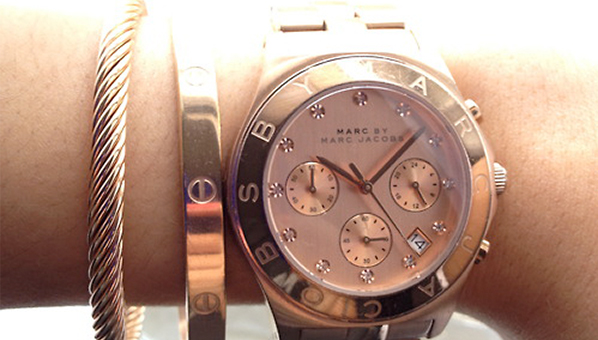 Arm Parties Give Us A Hangover: Try These Statement Wrist Pieces Instead
It was fun loading up our arms in 2012, but in 2013, we're growing up and it's time to start splurging on some investment bracelets. We've chosen 5 evergreen classics that can be worn together or separately, and will never go out of style. So grab a piggy bank and start saving your pennies, because these pieces are worth it. See them all in the slideshow and let us know in the comments section if you're abandoning the arm party in 2013, too. Start saving for those bracelets! See today's best sales and deals, our best find of the day pick, and subscribe to our newsletter for the latest.
Temporary Friendship Bracelet Tattoos: A Totally Awesome Way To Honor Your BFF
We're always looking for a good addition to our arm parties, so we were ecstatic when we found these adorable temporary tattoo friendship bracelets on one of our favorite blogs A Cup Of Jo. Tattly is selling 2 BFF-worthysets: blue and pink ($5 for set of 2) designed by Brooklynite Julia Rothman. The holidays may be over, but you can still give her a friends 4-eva gift any time - maybe for V-Day? It's fourth grade all over again. Friendship bracelet temporary tattoos in pink ($5 for 2) Other arm accessories we love: Dior's 24 Carat gold tattoo, DanniJo friendship bracelets, and chunky gold bracelets!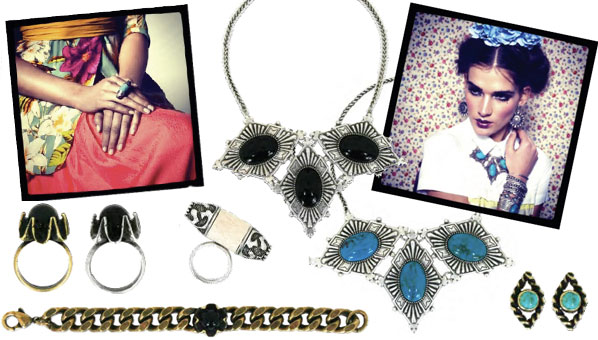 Marie Claire Accessories Editor Turns Designer And Dudine Jewelry Is Born: Shop Now!
Dudine may be the new kid on the block, but the Jen Kramer, jewelry brand's designer has had her hands busy handling all sorts of baubles for years. After years as an accessories editor  W, Marie Claire and InStyle, Jen Kramer ventured into a collection of wear-with-anything west coast-infused jewelry. The Dudine aesthetic is a healthy mix of charming Mexican flair (a weighty Bandera pendant necklace) with downtown grungy-chic rock 'n' roll sensibilities (a bullet ring!), which means most pieces are ready and waiting for regular rotation. "It was important to me that the pieces have a bold, but not overwhelming design. They're strong enough to wear on their own, and can be dramatic when worn together, but it's never excessive," Jen told us. "I wanted the collection to be comprised of pieces you want to wear every day and also have pieces for when you're looking to make a fashion-forward statement. I tend to be a jewelry junkie so I love to layer pieces together." Inspired by her travels from the wide-open beaches of Baja California and "the colorful history of colonial Mexico," as Jen said, the line is made from materials like antiqued metal, turquoise, glass and resin. They're certainly made to layer! With prices going from $30 for the "Mexican Vagabond multi-strand rope ring to $175 for the Bandera pendant necklace, Jen said she wanted the line to be well-crafted "affordable luxury." Even better? You can spend your paycheck guilt-free: 10% of all proceeds will benefit the Thousand Smiles Foundation, a charity in the very country that supplied her with enough inspiration to create her fall 2012 collection. Every season, Jen will pick a new charity to work with. Click through the slideshow to take a peek at our favorite picks from Dudine's inaugural line. Want to add to your jewelry box? Shop fall's most baddest trend (ear cuffs!) now, get your hands on wild animal-themed jewelry, or dress up even the most boring outfit with these statement necklaces.
Stack These $20 Bijouterie Bracelets On Your Arm Like Jessica Alba #Twinsies
If the LA-based jewelry line Bijouterie (which, according to the dictionary, means "a collection of trinkets and ornaments," and is also a play on the designer's name Bijou) could have any celebrity fan, it would be Jessica Alba. Not only for the actress' famous name, but for her eclectic style (have you seen her bright denim collection and favorite TOMS shoes?) too. So when we spotted Alba in not one, not two, but three bracelets by Bijouterie, including the Bijouterie Light Wood Ibizia Bracelet ($26), Bijouterie Light Wood Cross Bracelet in Turquoise ($20), and Bijouterie Jewelry Wood Bracelet with Skull Charm ($18), we can't help but stock up on our own beaded pieces for a effortlessly cool mix-and-match look. Plus, with a price tag like that, it's very easy to buy all three (or more!) without breaking the bank. Bijouterie Light Wood Ibizia Bracelet ($26) Bijouterie Light Wood Cross Bracelet in Turquoise ($20) Bijouterie Jewelry Wood Bracelet with Skull Charm ($18)  Shop more celebrity style finds: Brooke Burke's jeggings, Hilary Duff's scarf, and Dianna Agron's dress.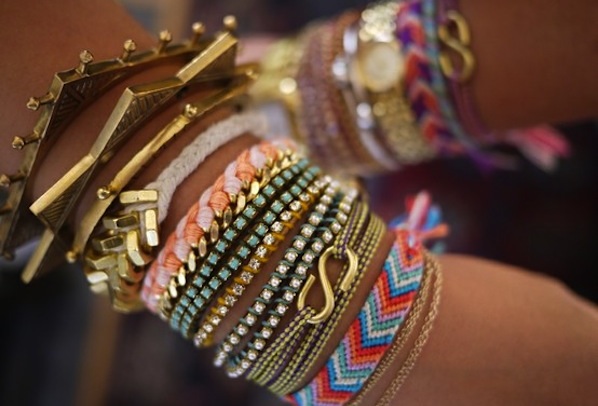 Mix And Match These Friendship Bracelets For The Ultimate Arm Party
We recently found this wrist-full of goodness from awesome style blog Honestly WTF, and it totally inspired us to load up our arms with sweet BFF bracelets from our youth. Friendship bracelets have been around for a while, but now that we've seen how chic they can be worn in 2012, we want to stack them on our arms as if we're still at summer camp. Check out our slideshow above to shop a selection of stylish friendship bracelets that will have your friends vying for their own stash of the mix-and-match accessory. [Honestly WTF] Shop our guides to crystal necklaces, detachable collars, and high-low/mullet dresses.
Mud Love Bracelets Are This Year's Silly Bandz–With A Cool Charity Spin
It's not easy to find a $5 gift without looking seriously cheap--until now. We just uncovered these cool handmade Mud Love bracelets that pack a big punch and give 20% of all proceeds to procure clean water in Africa. With just some clay, string and stamps, Mud Love was born in Indiana in 2009. With catch phrases like "Chill", "Truth" and "Epic" how can you resist? Oh yeah, they also do necklaces and you can order personalized ceramic mugs. At just $5 each, you can afford to buy one for everyone you know, plus that $5 can provide an African child a year of clean water. It's the gift that keeps on giving.
Close Up And Copy: Patterned Skirts, Layered Bangles & Skulls
Today in Close up and Copy, we're delving into this punchy look: gorgeous patterned skirts, a cobalt jacket, a Rebecca Minkoff skull clutch and layered bracelets. It's a very cool combination that's super easy to clone, so stay tuned. (more…)
Close Up And Copy: Brooklyn Blonde's Irreverant Preppy Chic Look
Preppy, punky and chic, all at once. #Impressive If imitation is the sincerest form of flattery, then Brooklyn Blonde should feel downright exalted. Today, we're copying her look, piece by piece in our newest feature, Close Up and Copy, where she demos how to wear red jeans without looking like a freak. (more…)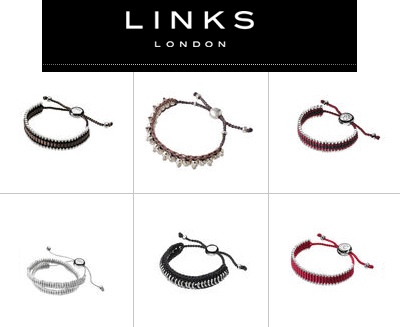 Friendship Bracelets From Links Of London
As a little girl, nothing was as quintessential to a slumber party as making and trading friendship bracelets. Now the friendship bracelets from Links of London bring a grown-up spin to the childhood classic in sterling silver and bright hues of embroidery, all handcrafted. (more…)
We're Wrap-Bracelet-Obsessed: Get These Punchy Leather Gorjana Versions For 50% Off
At SHEfinds, we're all obsessed with the way an armful of cool wrap bracelets mixed with bangles can look, so we've all been on a hunt to find more to add to our collection. Today, Charlotte alerted me of this awesome sale happening only today... (more…)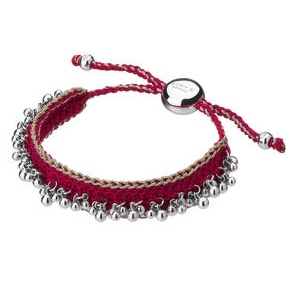 It's All About Bracelets – Especially These Links Of London Standouts
Links of London is a purveyor of an eclectic mix of jewelry that is at once modern and elegant. Kate Middleton caused quite the frenzy when she wore Links of London earrings in her engagement photos (now wait-listed), but we are all about the bracelets. We've edited down the wide selection of fabulous summer bracelets to these five stars: Don't forget to check out the Sale section, where through July 11, you'll be able to score select items for up to 50% off. Use code 'shefinds10' to get an additional 10% off any purchase - even on sale merchandise! All of their pieces can be personalized and are exquisitely packaged, making for excellent gifts. For more from Links of London, check out their full collection of bracelets.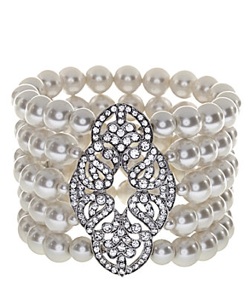 Can You Tell Which Pearl Stretch Bracelet Is Real, And Which Is Just $50?
For more gorgeous bracelet styles, check our guides to the best wedding bracelets, best wedding jewelry sets, and the best pearl wedding jewelry.
90% – Yes, Nine Zero – Off Designers Like Valentino And Roberto Cavalli At YOOX
Holy mother of majorly marked down designer duds: YOOX has up to 90% off Valentino, Chloe, Badgley Mischka, and much, much more. The sale ends today, so high tail it over there and score your reception dress, wedding shoes, and more, on super-sale. Shop our guides to the best strapless wedding dresses, white wedding shoes, and inexpensive wedding dresses.
Can You Find Which Gold Link Bracelet Costs $2,479 Less Than The Other?
Keep yourself guessing with all of our Taste Tests. Shop our guides to the best bracelets. Join our e-mail list for exclusive updates.
50% Off Wedding Jewelry You Really Want (Givenchy, Kate Spade, More)
If jewelry is what you want, need, and love, you need to high-tail it over to Nordstrom today, because we found 50% off designer wedding jewelry from the likes of Givenchy, Kate Spade, Alexis Bittar, and more. Don't have the time to peruse the whole lot? We narrowed down the best picks: (more…)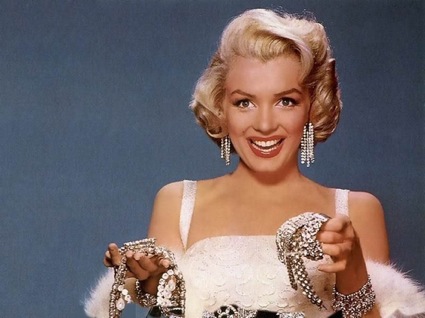 Under-$50 Wedding Jewelry — You Don't Have To Marry Rich To Look This Good
If you're budget is max'ed out, but you haven't even made it to the jewelry - no need to stress. There are literally thousands of inexpensive wedding jewelry options out there - from wedding costume jewelry, to pearls, faux diamonds and more. We shopped the lot, and bring you some of the best: (more…)
Lindsay Lohan's Warding Off Bad Vibes With A $3,000 Evil Eye Jewelry
We know how much Lindsay Lohan loves to make a courthouse statement (remember that white dress?), so we couldn't help but notice her good luck charm this time around. Lohan was seen with a $3000 evil eye necklace, which hopefully wasn't stolen. And since evil eyes, like the Kara Ross and Tory Burch jewelry, are suposed to be lucky, we hope it works on Lohan's behalf. (more…)
Rachel Roy Is An Enabler: Add Jewelry To Your Order & Get 30% Off
Go ahead, twist my unaccessorized arm, Rachel Roy. As if I needed an excuse to add some jewelry to my already-full cart filled with Rachel Rachel Roy dresses. Today, add a piece of jewelry (or four--it's hard to resist) to your clothing purchase and get 30% off your total order. The cherry on top: free shipping on orders over $75. (more…)
The Full Line Of Nina Accessories Is Here – Preorder The Best Pieces Now
I love Nina shoes. They are perfectly priced for special occasions where you may only wear them a handful of times, well-made so you can dance the night away, and always on-trend. So I was thrilled to learn about the full-line of Nina accessories that launched this month. The photos are up, the pre-order is open, and here are our favorites: For more must-have wedding accessories, check our guides to the best inexpensive wedding shoes, wedding veils, pearl wedding jewelry and wedding shoes with bows.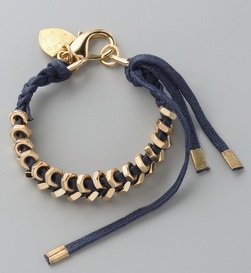 This Just In: Sale Jewelry To Squash Your February Blues
If you're in suffering from seasonal affective disorder, and its affecting your wardrobe, it's time to treat yourself to some punky gold jewelry - for up to 50% off at Shopbop. That ought to do the trick: More sales and deals: More excellent sales: Under-$100 Urban Outfitters dresses 30% off Kara Ross, Kenneth Jay Lane, More 50% off Foley + Corinna 50% off tons of great stuff at Apart Style 65% off at Piperlime 30% off designer dresses at Shopbop 30% off Hanky Panky underwear 70% off long sleeve dresses at The Outnet Check out more of this week's handpicked sales and deals, today's online sample sales and our guides to the best booties to go with these dresses.
Design Guru And Pretty Lady Kelly Wearstler Debuts Fall Clothing & Accessories Line
Confession: I have a girl crush on Kelly Wearstler. And not just because I love big hair and home design - but because she is generally awesome and always well-dressed. So you can imagine my delight to find out that Ms. Wearstler is launching a full line of clothing and accessories this fall. We just peeked at the Look Book - and as expected, the line features geometric shapes, bright colors and bold jewelry: For more fashion Do's, check our guides to the best designer handbags, trench coats and sheath dresses. Follow the author of this post on Twitter @bridefinds.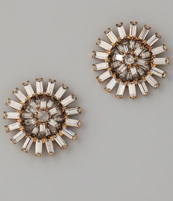 Hold The Hearts, Please: Valentine's Day Jewelry We'd Actually Wear
Girls, you might want to set his homepage to this post in order to get the gifts you want this Valentine's Day. We're not talking about tacky, "romantic" Tiffany heart earrings, we're talking about cool jewelry that are worth all of his dimes. So click through and figure out which piece you want to receive in a few weeks: See more of our favorite Valentine's Day gifts. Shop our guides to the best staple jewelry and the best necklaces. Join our e-mail list for exclusive SHEFinds updates.
Happy Jewelry Monday: 50% Off Kara Ross, Kenneth Jay Lane, More
If you feel like you're in some sort of a mid-season fashion slump, the easiest way to pull yourself out of it - and update your wardrobe for less - is with costume jewelry. Luckily, Thomas Laine has our favorite jewelry designers - from Kara Ross (a Michelle Obama favorite), Alexis Bittar to Kenneth Jay Lane, and more - for up to 60% off: This bold Kenneth Jay Lane Polished Gold and Black Oval Necklace ($121, down from $242) is the perfect statement necklace - plus it goes with everything. Wear these Kara by Kara Ross Wave Gemstone Bangle ($206.50, down from $295) with pretty much everything. If your arms need some major warrior bling, this Gerard Yosca 8 Stone Geometric Cuff ($175, down from $250) is bad ass. More feminine, but equally eye-catching, these Erickson Beamon Chain Gang Earring ($285.60, down from $408) are perfect for trend-setting girly girls. More sales and deals: Neiman Marcus's Final Call sale (code WINTER) Cozy, On-Sale Sweaters at Saks 50% off shoes at Piperlime Vena Cava at Bloomingdale's 30% Off Madewell For more Michelle Obama approved fashion, check out our Deal of the Day posts and our guides to cardigans, cheap bras, sheath dresses and cocktail dresses. Follow the author of this post on Twitter @bridefinds.
Happy Hump Day: Madewell's Sale Is Full Of Gems
If you stalk Jenna Lyons, and love Alexa Chung, you're probably a fan of Madewell. The offshoot brand is like J.Crew's kid sister who lives downtown -  a little edgy, a little comfy, and just generally cool. I just hit up their sale and found many, many things I want: This Madewell fireworks skirt ($79.99, down from $98) is my Editor's Pick; I'm obsessed with the tie-dye-esque skirt, which is also monochromatic and serious enough to wear to work. This Madewell chunky chains cuff ($39.99, down from $55) looks exactly like DANNIJO's $300 version. I'll take the under-$40 one, thanks. Cross-body bucket bags are in high demand, and this Madewell cinched suede bucket bag ($99.99, down from $128) really nails the look. Get this Madewell Hazy Days Tank ($59.99, down from $88) and wear it under cardigans, then, come spring, pair it with skinny jeans and flat sandals. More sales and deals: It's a cold-weather intervention: 5 great sales The best MLK day sales J.Crew Online Factory Outlet: Take an additional 40% off with code MUSTHAVE + Free Shipping 70% off at The Outnet Piperlime's 65% off Final Tag sale Up to 50% off shoes at Zappos See all of this week's sales and deals, best find of the day favorites, online sample sales, and even more celebrity style for less. Follow the author of this post on Twitter @bridefinds.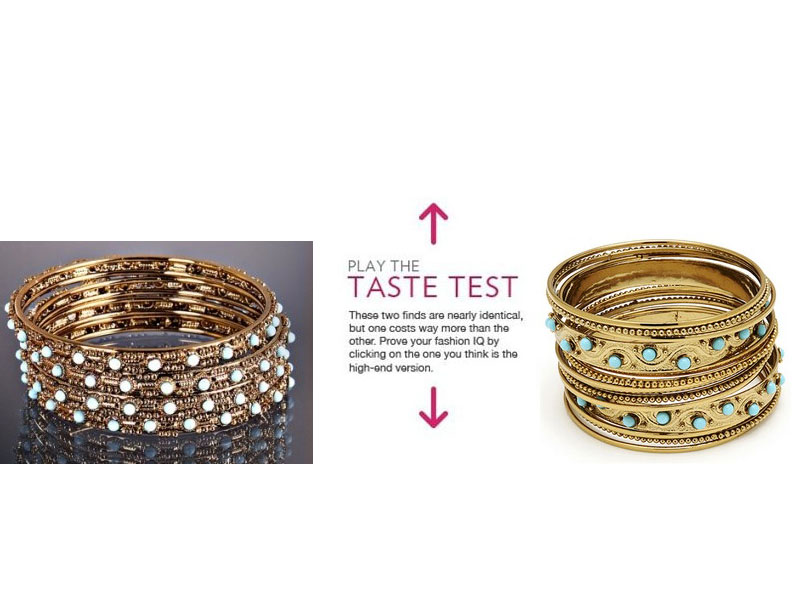 Can You Find Which Turquoise Bangles Cost $43 Less Than The Other?
Test your fashion sense with more of our Taste Tests. Shop our guides to the best cheap jewelry and the best bracelets. Subscribe to our  newsletter for more SHEfinds updates, including the best sales and deals, collaborations news and more.