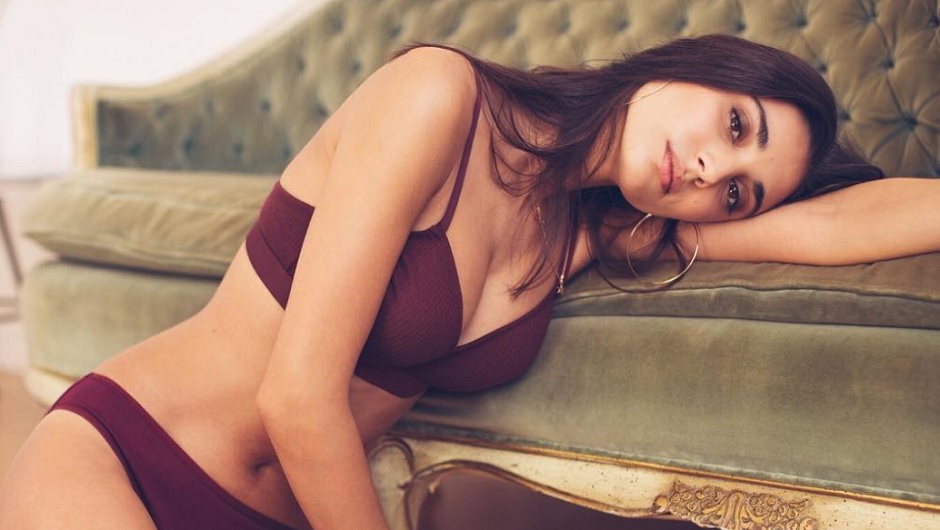 This Is–Hands Down–The Best Bralette For Women Who Need Comfort And Support
I usually wear a C or D cup, which means I don't often find bralettes that give me the support I need. Sure, I love the look of them and I'm down to wear anything that doesn't have a wire, but unless I want my breasts looking sad and droopy, bralettes aren't usually a good option for me. That is, until I tried the Retro Ribbed Bralette from Lively. First and foremost, it is so comfortable. The ribbed fabric is super soft and feels amazing against your skin. Even better, the straps don't dig at all. What I love most, though, is that this bralette has super subtle removable pads that offer just the right amount of shaping. There's also a sturdy band under the cups that really does offer way more support than any other bralette I've ever worn. The comfort and free-spirited sexiness of a bralette with the support of a traditional bra? Lively just made all my bra dreams come true. SHOP THE RETRO RIBBED BRALETTE NOW Be sure to check out our fun holiday gift finder. [Photo: Lively]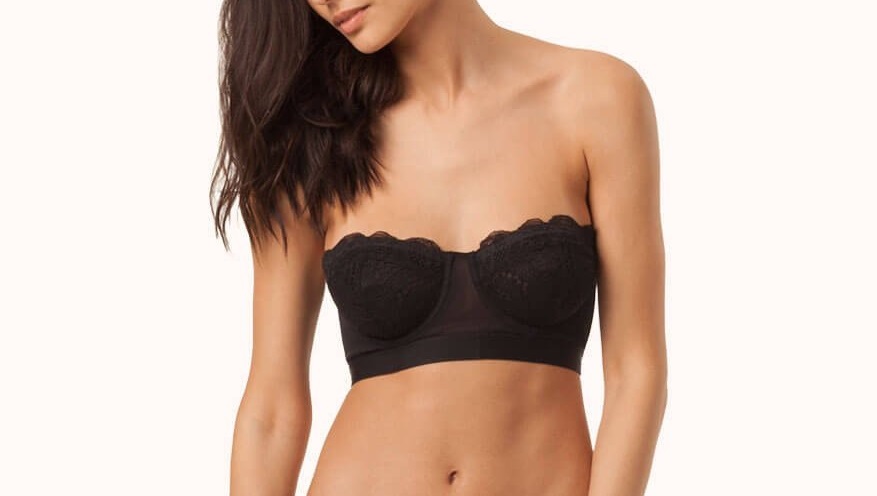 This Is The Strapless Bra Every Woman Needs For Holiday Party Season (And Beyond)
Finding a comfortable bra is already difficult enough. Add to that that you need a strapless bra and your task just went from hard to virtually impossible. Except, not any more! Have you heard of Lively? If not, I'm here to deliver some seriously exciting lingerie news. Lively is this awesome new company that married the comfort of athleisure with lingerie to create what they call, leisuree. Sounds fancy, but here's what it means for you: crazy comfortable bras, undies, bodysuits, swimwear and more! Full disclosure: I kinda hate wearing bras. Even wireless bralettes start to get tight and irritating after a few hours. But I recently took Lively's Lace Strapless for a spin and shockingly, I wasn't ripping it off at the end of the night. I think what I love most about this bra is that it's not super heavily padded. There's a nice wide band that provides support and keeps the bra from slipping down, so the pretty lace cups don't have to do all the work. When I tell you I didn't have to pull this bra up one single time during a night of dancing, I'm not exaggerating. It really does stay put without digging into you at all. It's so comfortable that I've even started wearing it when I'm not wearing a party dress or a thin-strapped top. It really is one of the most comfortable bras I own. The best part about Lively? Okay, the designs are gorgeous and the construction and quality is top notch, but their pricing is really what's so incredible. $35 bras, ladies?! Yes, please! The fact that they're so pretty and will last more than a few wears is just all the more reason to celebrate. So the search for a comfortable, secure strapless bra ends here. But be sure to check out all of Lively's offerings. They also have sport bras and yes, even bras for women who wear a DD and DDD. SHOP LIVELY LINGERIE NOW Be sure to check out our fun holiday gift finder. [Photo: Lively]
Once And For All, These Are The Best Wireless Bras For All Bust Sizes
Shopping for the perfect bra is harder than finding a signifiant other. Just like finding the ideal mate, you have to factor in your specific needs and preferences, and then test it out to see if it's the right fit. Once you account for price, color, and style, determining if a bra fits properly and comfortably can make or break your relationship. And, unfortunately, the fit is the point when a lot of bras fall short, mainly because of underwire. This detested material has been a key ingredient of brassieres since the '30s, so it's definitely time for a due change and a modern bra upgrade. I personally have a strapless bra with about two inches of ugly underwire protruding from the side, so I have to brace myself for side boob wounds whenever I wear it. We're here to break the myths that underwire bras are the norm or that they offer more support, especially for bigger busts. Behold–the three best wireless bra brands and styles that can fit any bust type, no matter how big or small or uneven. Treat yourself to bras that are so comfortable you wouldn't dare think of taking them off first thing when you get home. Once you go wireless, you never go back. 1) Vibrant Body Company: This start-up bra company makes strictly wire-free, natural undergarments. Vibrant Body aims to make your bras as healthy as possible, using completely non-toxic materials to prevent skin irritation or absorption. Their website also says that underwire can actually constrict your lymph nodes, which is yet another reason to ditch it for good. The company carries their trademark Vibrant Bra in three colors and two styles—Full Coverage and Semi Demi. The straps of both bras sit slightly more centered on your back, which can help improve your posture, and they run wider than most, so you never have to worry about loose straps slipping down. At $89 a pop, the Vibrant Bra runs on the pricier side of the underwear spectrum, but it's an investment you can reap the rewards from every time you slide it on. Their sizing runs a bit differently, so make sure you check out their size guide and accurately measure your bust for the most comfortable fit. Cup sizes run from B-D. 2) Spanx Pillow Cup Signature Wireless Bra: Spanx has always had our backs—and stomachs and thighs—covered with their wondrous line of shape wear, so it's no surprise that their lingerie line can offer just as much overall protection and support. Available in cup sizes A-DD, their Pillow Cup Signature Wireless Bra can comfortably coddle any bust size. I mean, it's called "Pillow Cup" for crying out loud. You can't get much more cozy and lightweight-sounding than that! The smoothing back is also designed for comfort while flaunting your natural curves. It's currently sold out from Nordstrom and Neiman Marcus, so it's clearly a hot ticket underwear item. You can still get your hands on one from Amazon. 3) Warner's Cloud 9 Lift Wire-Free T-Shirt Bra: We love this Cloud 9 Lift wireless bra because it not only comes in standard natural colors, but also in hot pink for all the color-loving bra shoppers out there. Small built-in pads subtly shape and lift your boobs, and the cups offer complete coverage in sizes A-D. This bra also has a smoothing back to highlight your figure without adding bulge. Cushioning on the front of the straps offers even more comfort, and reviewers raved about how much they loved this go-to, everyday bra. [Photo: Shutterstock]
7 Bra Shopping Mistakes You Don't Know You're Making
Is bra shopping the bane of your existence? Understandable. Finding a reasonably priced undergarment that perfectly cups both of the "girls" without any uncomfy protruding wires or hooks is no easy feat. And, it turns out there's actually right and wrong ways to shop for bras, so you could be making a big bra hunting no-no without even realizing. We chatted with bra fitting expert Kimmay Caldwell of Hurray Kimmay on the 7 most common bra-shopping mistakes she sees women make. Don't fall victim to these easily avoidable pitfalls! Wearing a band size that's too big. Kimmay says this is the #1 bra shopping mistake she comes across. The bra's band actually provides most of the support, so it's essential to find the perfect fit for this piece, and not just for the cups. "A loose band can't hug your body and anchor in place," she says. Going a cup size (or more) too small. "It's so important to make sure that your underwire can go all the way around your bust, anchor on your body, and tack between your breasts," says Kimmay. If your boobs spill out of the cup when you try on a bra, even if you've adjusted the band, then you know it's too small. Thinking you're the same size in every bra. Unfortunately, Kimmay says it's super common to wear different sizes in various bras, so don't assume that the size of your go-to bra universally works for every other one you buy. Because bra shopping would just be too easy if the sizes were consistent. "This is because different brands use different patterns or materials, different countries use different size labeling systems, or the style and coverage is different," she explains. Even within the same brand, different bras can have sizing variations. The most important thing is to focus on the bra's fit, not the number on the tag. Not having a general idea of your bra size. Even though sizes vary, you should absolutely never go into bra shopping completely blind. Come with at least some idea of your bust size. This makes it easier for fitters to help you. "It's important for you to know your starting points so you can make an informed, loving decision when choosing your bras," says Kimmay. Not trying new styles. Nothing's wrong with sticking with what you know, but take a walk on the wild side with your bras every once in a while. If you've worn the same bra style for years, Kimmay advises trying something completely different the next time you bra shop just to see how it goes. "Our bodies change, our style changes, and the lingerie industry changes!" she says. Shopping for white bras to wear under a white top. "If that's the fashion statement you want to make, hurray," says Kimmay. "But if you're intending for that bra to be more invisible, then stick to one that's close to your skin tone." One of your best bets is Warner's No Side Effects Bra, which comes in a wide range of skin-colored shades. Forgetting that changing the band size affects the cup size. Known as "sister sizing," changing the band size of your bra means that you also need to change the cup size to maintain the same fit. For example, Kimmay explains, if you have a 34C bra that's too loose, you need to go down to a 32 band size. BUT, to keep the same cup volume, you actually need to go up a cup size to a 32D. "The 32D bra and 34C bra have the same cup size volume," says Kimmay. "A 36B and 34C have the same cup size volume, and so on." [Photo: Shutterstock]
11 Times Celebs With Big Boobs Went Braless And Were Total #FashionGoals
The Best Bras To Wear With Sheer Tops
Underwire Bras Are Really Bad For You — Here's Why
9 Sports Bras For Big Boobs With Amazing Reviews
5 Types Of Bras You Should Definitely Own
The One Bra You Should Wear With Tank Tops This Summer
You Would Never Guess That This Genius Strapless Bra Has No Underwire
This Is The Only Bra You Need This Summer, So You Can Stop Looking
10 Sexy Bras You Want People To See
These Are The Best Bras To Wear With Strapless Dresses, So You Can Stop Looking
Hands Down, These Are The Best Supportive Bras For Women With D Cups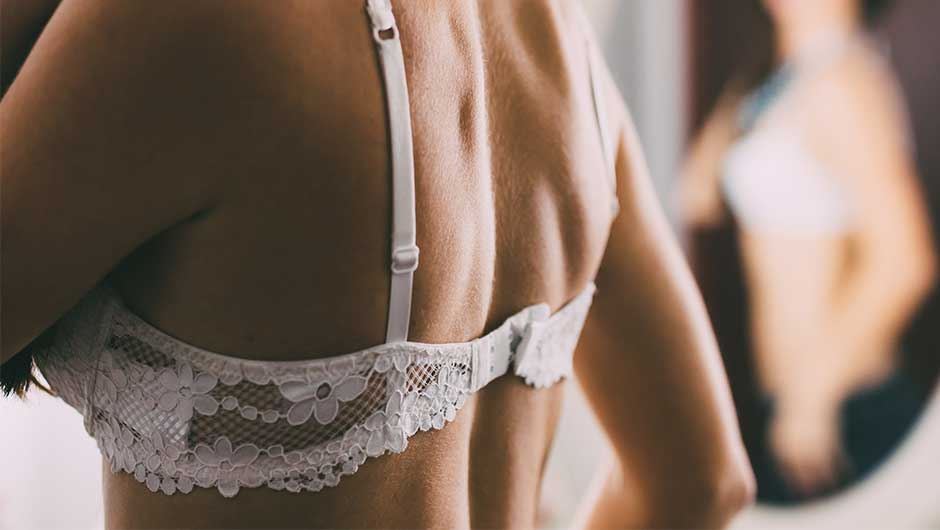 How To Wash Your Bras So They Last Forever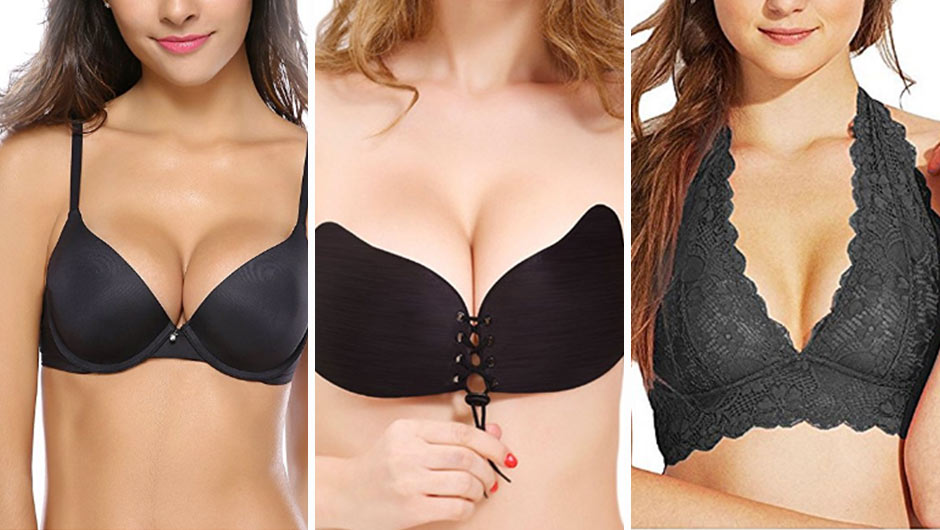 8 Cheap Bras On Amazon With Amazing Reviews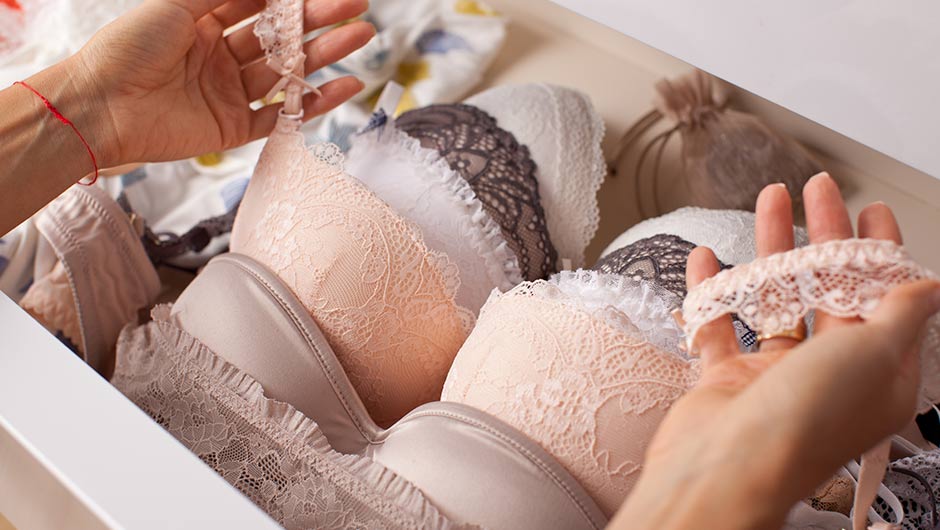 These Are The 15 Bras With The Best Reviews At Nordstrom
8 Places To Buy Bras Online You Wish You Knew About Sooner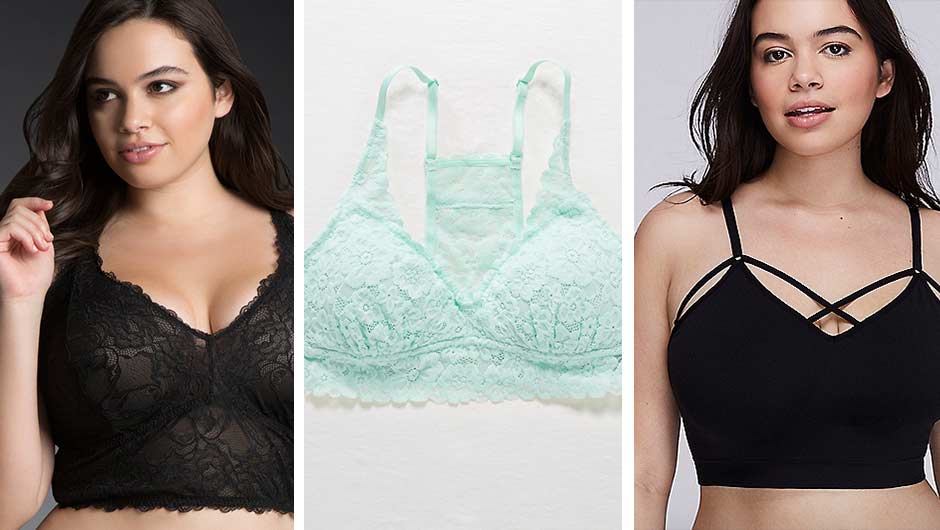 8 Plus Size Bralettes With Amazing Reviews
The Only Bra You Need But Probably Don't Have: A Bralette!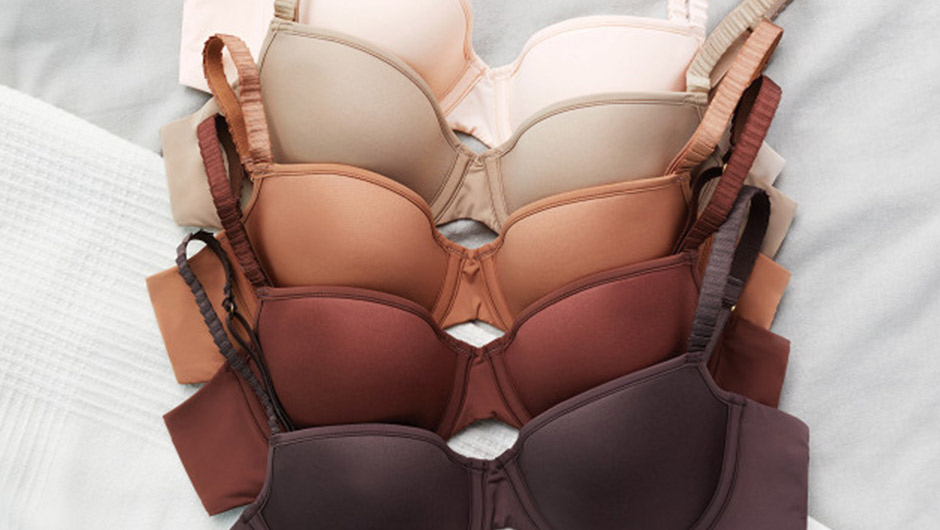 This Brand Makes The Perfect Nude Bra For Every Skin Tone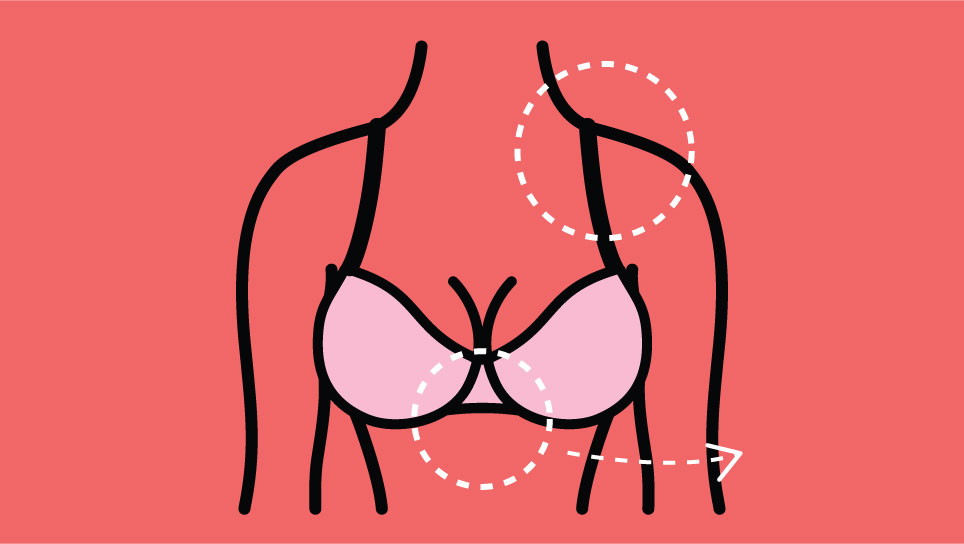 The 2-Second Trick For Telling Whether A Bra Fits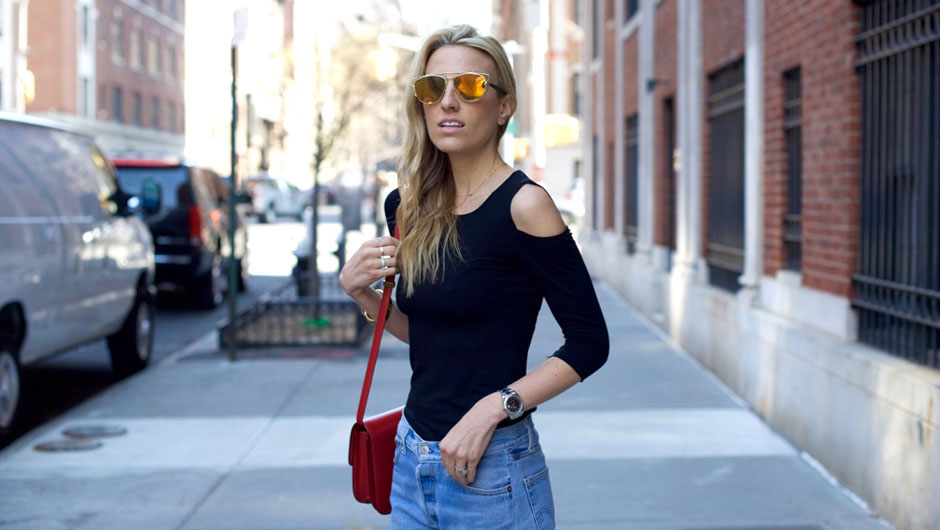 Here's The Best Bra To Wear With Cold Shoulder Tops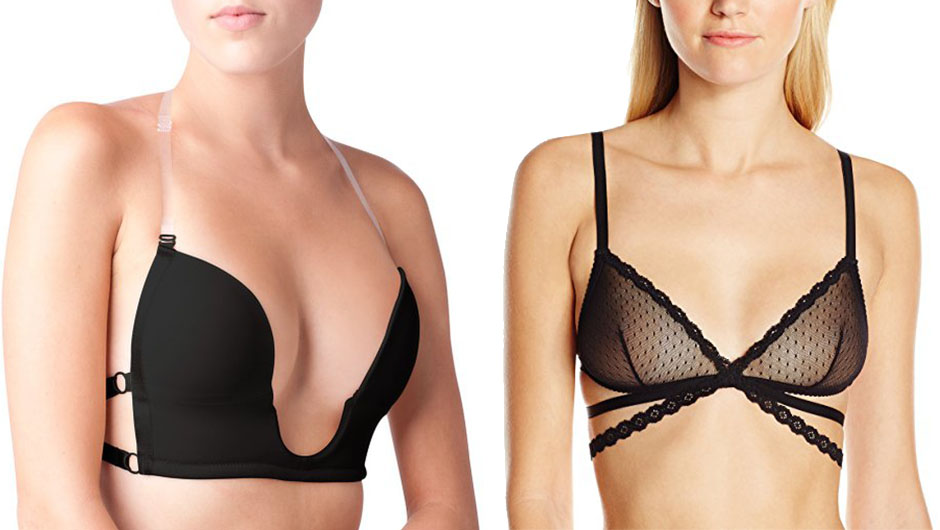 8 Weird Bras On Amazon That Are Totally Genius
Why You Shouldn't Be Wearing Your Bra On The Tightest Hook
Last week we told you about how to make your bras last forever, and here comes another game-changing trick when it comes to your over-the-shoulder-boulder-holders: why you should never EVER wear them on the tightest hook. Say, whaaaaaat?! READ MORE: How To Smooth Lumps, Dents And Creases Out Of Your Bras Yes, it's true--you shouldn't wear yours on the tightest hook because bras stretch out during their lifetime, so you should buy them to fit on the loosest clasp, and wear them like that until they start to stretch out. Otherwise, if you start on the tightest hook, you have nowhere to go from there when the bras (inevitably) start to stretch. I know, I know--I've been doing it wrong my whole life, too. READ MORE: How To Make Your Sticky Bra Sticky Again But it is totally legit. Bra fitting specialist Bobbie Smith of Freshpair told Huffington Post that it's one of the biggest mistakes women make. "A bra is going to stretch about three inches in its lifetime," says Bobbie, and when it does, "that's when you go to the next set of hooks." She suggests buying bras that fit *SNUGLY* on the loosest clasp. Noted! READ MORE: This Is, Hands Down, The Best Strapless Bra--Ever! Was this article helpful? Leave more style and life hack questions for us on Quora!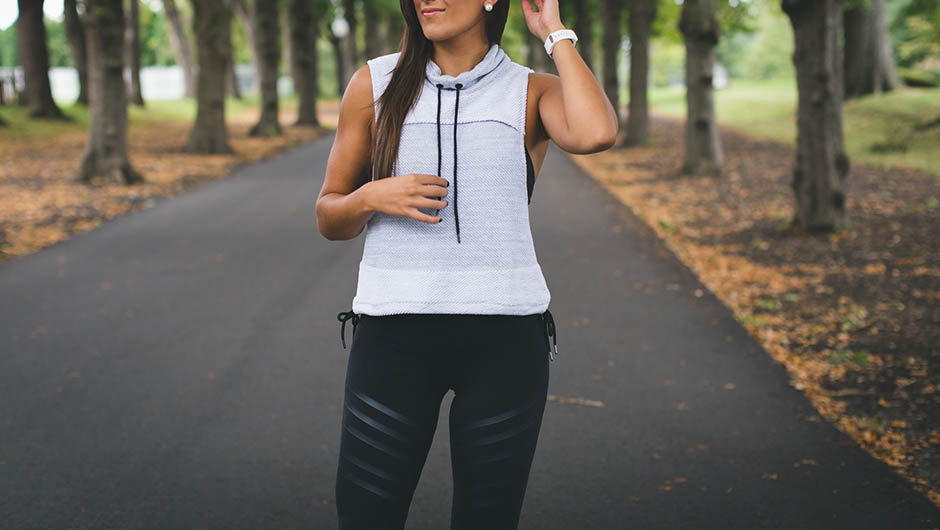 We Found It: The Sports Bra That Doesn't Feel Like A Sports Bra
I was recently shopping for new black leggings at Sweaty Betty (I mean, can you ever really have enough?) when the sales girl suggested that I try one of their sports bras. I usually don't think much of sports bras--I have my go-to's at home, and sure, they're uncomfortable but they get the job done and how much can you really expect from a sports bra? I couldn't have been more wrong--because the one they gave me to try was HEAVENLY! The Brahma Padded Bamboo Yoga Bra ($65) is made of an all-natural bamboo fabric that is so insanely soft, you won't even believe it. The material also helps fight bacteria--so you can get away with wearing it for an extended period of time (which is exactly what you'll want to do). The bra is intended for low-impact workouts like yoga and Pilates, but, full disclosure, I'm an A cup and could probably jog or spin in it. The thin straps were cute, too, so you wouldn't mind having them be visible under loose workout tanks (unlike my current go-to sports bras which are not a pretty site). The bra comes in two colors, black and grey. Get one NOW (unless you hate being comfortable): Brahma Padded Bamboo Yoga Bra ($65) Brahma Padded Bamboo Yoga Bra ($65) [Photo: A Southern Drawl]
How To Make Your Bras Last Forever, In 3 Easy Steps
Bras are kind of every woman's little secret--right? It's the piece of clothing that you wear that most of the world will never see (except for the lucky ones that do!), so if you have a ratty one or one that doesn't exactly fit right or is in a weird color, you could potentially get away with wearing it for a long time--or at least on laundry day. READ MORE: How To Smooth Lumps, Dents And Creases Out Of Your Bras For this reason, many of us don't take good care of our bras. Hence why we end up having to replace them every year. At $50+ a pop, you really should be taking better care of them. Like, for example, did you know that you should never wear the same bra two days in a row? Yes--any clothing item that contains an elastic material (jeans, too) needs a day of "rest" to go back to its original shape. Otherwise they just end up getting stretched out! READ MORE: How To Make Your Sticky Bra Sticky Again Is your mind blown yet? Well, we sat down with a bra expert--Jaclyn Stein the Merchandising Manager for iconic bra brand Maidenform--to get even more expert tips for taking care of this super important garment (hey--it's the one that touches your skin every single day!): READ MORE: This Is, Hands Down, The Best Strapless Bra--Ever! 1. Never put your bras in the dryer. Jaclyn explains that the "heat breaks down the fabric," causing bras to lose their elasticity over time. "Letting them air dry will enable the elastic to last longer," she advises. READ MORE: The One Thing You Should Never Do When Shopping For A Bra Online 2. Wash them in a lingerie bag. To avoid getting those pills that form on the surface, Jaclyn says that you should always use a lingerie bag and , "wash in warm, not hot, water." Noted! READ MORE: Is There Really A Difference Between Underwire And Wireless Bras? 3. Wear a different bra every day. "It's always a good idea to have a wardrobe of bras and wear a different bra every day," Jaclyn explains. "This will extend the life of your bras." So, there you have it--three super-simple yet vastly effective ways to treat your bras better. Now, check out our editor's picks now: Bali One Smooth U Smoothing & Concealing Underwire Maidenform Smooth Luxe™ Demi Bra Playtex Secrets Perfectly Smooth Underwire Bra [Photo: Could I Have That]
Cosabella's Dolce Soft Bra Is The Best Bralette If You Actually Need Some Support
I don't have a huge chest, but I am working with a little something something and so I had all but written off bralettes. Sure they look pretty and cute, but having had a baby 8 years ago, I need all the support I can get. I was doing just fine in my underwire T-shirt bras until we hit our 8th straight day of 90 degree weather here in NYC and I just couldn't bear the thought of sweating to death in that molded underwire bra another day. So I made it my mission to find a lightweight, comfortable bralette that still offered some semblance of support. Full disclosure: I ordered 32 bralettes at all different price points. The vast majority were either completely impractical or just wouldn't stand up to 8 hours of wear. But there was one that emerged as the clear leader of the pack: Cosabella's Dolce Soft Bra. Now be forewarned, this bra isn't exactly cheap. It's $55, which is more than I typically like to pay for bras but luckily you can find them on sale at different places on the Web (check 6pm and Amazon). What makes this bralette so special is that the straps are substantial enough to actually hold up breasts with any sort of weight to them and the cups aren't minuscule so they cover more than just your nipples. I normally wear a 34C and ordered a medium Cosabella Dolce Soft Bra and it fit perfectly... as in my whole breast was covered and they were lifted and separated just like I like them. Now the fact is that while I'm not exactly flat-chested, I also don't have massive breasts. If you're between a B and a D cup, I have no doubt this bralette will be perfect for you. And it's super pretty and lightweight and perfect for hot summer days. Also, it's has tons of great reviews around the Internet so don't just take my word for it! SHOP COSABELLA'S DOLCE SOFT CUP BRALETTE NOW [Photo: Cosabella]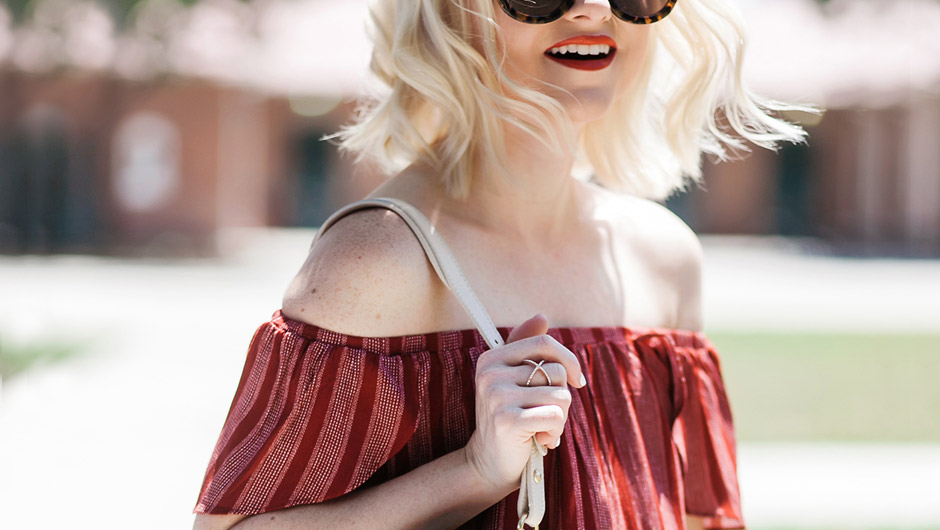 This Bra Wasn't Made For Off-The-Shoulder Tops–But It Might As Well Have Been
I just discovered what might be the *world's best strapless bra* (with this and this tied for second). The contest's pretty close--but here's why the Peyton bra from Yummie just pulled ahead: it is the best bra for off-the-shoulder tops (which is, of course, the top you want to wear most right now but have the hardest time finding a bra sitch for). I just discovered Peyton, and we became BFFs real quick. The style wasn't just designed for off-the-shoulder tops, but it's so, so good for them. It's bottom wire free, so it's incredibly comfy, and has no back or front closure so it's completely smooth and seamless under clothes. According to Yummie it is one of their bestselling bras: Yummie by Heather Thomson 'Peyton' Convertible Wireless Bra ($38) Also, it has "360 degrees of flexible all day support" designed to keep it from rolling, tugging or falling out of place throughout the day. Nice. The customer ratings on Nordstrom and Bloomingdale's websites are both good--most women talk about how comfortable it is in relation to other strapless bras. So, that's the low down on the Peyton--will you try it? [Photo: Poor Little It Girl]
This Is, Hands Down, The Best Strapless Bra–Ever!
I love shopping, but not for bras. My strategy is typically to find one style that works for me, wear it until the wire starts to poke through and then (and only then) replace it with the exact same style. I recently found myself in dire straits when my go-to strapless bandeau ripped after 7 years. Even worse, the style was discontinued so replacing it was now going to be real pain. And with summer right around the corner, I needed a strapless bra for all those cute dresses and tanks I was hoping to wear. Aerie to the rescue! I actually searched around the Web for days and days until finally deciding to take my chances on the Audrey Multi-Way Bra. Not only does it have a ton of amazing reviews, but the cups aren't insanely padded and the back is lined with rubber grips to prevent slippage. I received my bra earlier this week, have already worn it twice and I'm obsessed! I put it on at 7:30am and wore it straight through to 7pm and never once--not once!--had to awkwardly pull it up. Even better, the cups are so smooth, so they aren't super obvious under a lightweight dress or tank. Best of all, this bra doesn't totally flatten my chest like my old bandeau did. I'm honestly never going back; this is my new go-to strapless bra! AUDREY MULTI-WAY LIGHTLY LINED BRA ($36.95) SHOP AERIE'S AUDREY STRAPLESS BRA NOW Follow Jeanine on Insta! Be sure to check out Nordstrom's half-yearly sale and how to tightline your eyes.
The One Thing You Should Never Do When Shopping For A Bra Online
Shopping for bras is a whole to-do. You simply cannot just pick one off the rack, assume it fits and be on your way to the cash wrap. This is a serious no, no. Bra shopping is hard enough in person, let alone shopping for a bra online. You can't touch the bra or try it on, so how do you know it'll fit properly? If you're bra shopping online, here's the one thing you should never do. The most important thing when it comes to bras is the way it fits on your body. It should be supportive and comfortable. When you're shopping online, it's impossible to try on the bra you're interested in. Sure, you can see the way it looks in the different images or how it fits the model but you aren't the model. On that note, you should never order just one size. Order (at least) two sizes of the bra you want so you can see which fits and feels better. I recommend shopping on a site that has free shipping and free returns (like Zappos) so you don't get stuck paying for a return fee. After trying on the different sizes you ordered, pack up the size that doesn't fit and send it back to the retailer. If you order just one size and it doesn't fit, you'll create more of a hassle for yourself. Why? You'll have to return that item and exchange it for another...and possibly another if that one doesn't fit either. Do yourself a favor and order multiple sizes when shopping for a bra online. It won't cost you any extra money if you order from a site that offers free returns! Find out when it's time to replace your bras and the difference between wireless and underwire bras! [Photo: Shutterstock]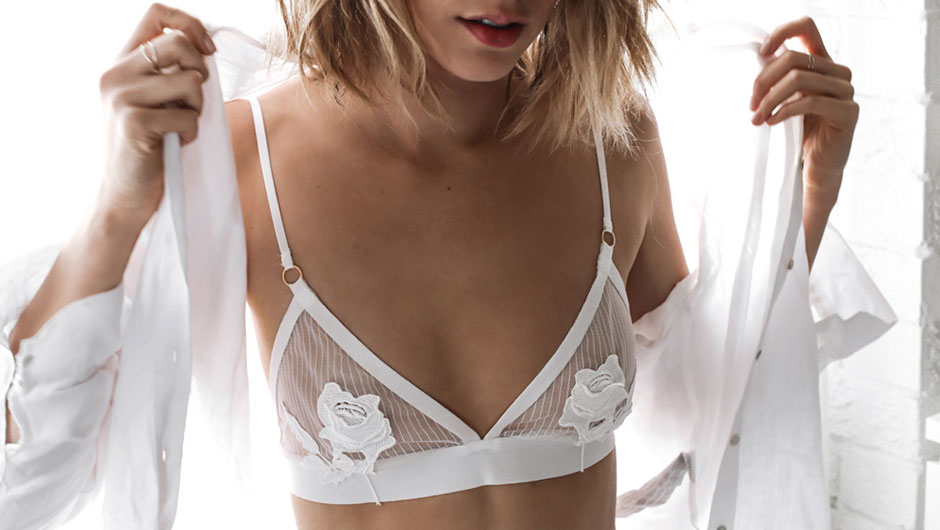 How Do You Know When It's Time To Replace Your Bras? 4 Warning Signs
When was the last time you replaced your bras? If you can't remember, or you simply never have, then it's time to figure out when it is the appropriate time to replace your bras. Here are four major warning signs. The elasticity is worn out. If a bra no longer holds elasticity in the straps or back, then it's time to throw it away. RELATED: This Is How Often You Should Be Washing Your Bra It's too small. This should be a given, but most women often wear the wrong bra size. If you find that you're spilling out of your bra or it's still too tight even on the last hook, it's time to set it aside. The wire is poking out. If you wear bras with underwire, chances are over time the wire may poke through or break. This is a for sure sign to throw that bra in the trash. It can hurt with you walk around all day with a wire poking you. RELATED: These Bras Are The Best For Women With Small Boobs No more shape. Bras are supposed to support you and if it has lost its shape then what good is it serving? If you find the cups, wires, or overall shape is altered, it's time to say goodbye. Most bra experts say the lifespan of a bra is 6-9 months. However, this lifespan varies depending on how many bras you own. It's important to own at least 3-5 bras so you can rotate them throughout the week. It's also important to never wear the same bra two days in a row because you have to give it time to bounce back to its original shape. If you notice any of your bras fall into the categories above, do yourself a favor and replace them! Don't miss the difference between underwire and wireless bras and why you should wash bras in a pillowcase! [Photo: The Chronicles of Her]
Is There Really A Difference Between Underwire And Wireless Bras?
Finding a bra that fits correctly takes a lot of trial and error. There are so many styles to choose from and it can be somewhat overwhelming. To make things less complicated, think of bras in two categories instead of the specific types like demi, racerback, strapless, push-up, etc. The two categories to consider are underwire and wireless. Is there really a difference between the two? Underwire Bras Well, an underwire bra is pretty much that. There's a rigid piece of wire that is sewn under the cup of the bra. One of the major benefits of underwire bras is support, especially if you have a larger chest. With the support of a wire, you can experience less back pain or strain that you might normally feel throughout the day. Additionally, underwire bras provide better lift, separation and shape of your breasts. The downside to underwire bras is that sometimes the wire can poke out and irritate your skin. Over time, the wire can become bent and bumpy. When these things happen, it's time to replace your bra. Wireless Bras Wireless bras are often called "soft cup" bras because they don't contain any rigid/hard piece of material. The bra is entirely made from fabric, which most women find very comfortable. Wireless bras are usually better suited for women with smaller chests, as they don't need as much support. However, that's not to say someone with a large chest cannot wear a wireless bra. It totally comes down to personal preference! Wireless bras also tend to last longer than underwire bras because there's no wire that can break through the fabric or get bent out of shape. Of course, there are disadvantages. When wearing a wireless bra, you won't get the same lift and separation as you would with an underwire bra. Which bra type do you prefer? Don't miss the reason you should wash your bras in a pillowcase and find out what your sleep position says about you! [Photo: Free People]
The Reason You Should Wash Your Bras In A Pillowcase Is Genius
Bras are a very tricky piece of clothing, particularly washing bras is the tricky part. Let's start off with the basics. You need to wash your bra every 3-5 wears in order to preserve its life. I mean, you probably spent a lot of money on it so why not make it last? To properly wash a bra, you should never just throw it into the washing machine with the rest of your clothes. It will get all tangled and pulled apart. The writers over at PureWow found a genius solution. Instead of spending money on a garment bag, use something you definitely already own! A pillowcase. All you need is a rubber band and a cotton pillowcase. Hook your bras together and put them in the pillowcase. Close the open end of the pillowcase loosely with the rubber band, making sure your bras have enough room inside to move around. Throw the pillowcase in the washing machine on a delicate cycle with cold water. That's it! The pillowcase acts as a makeshift garment bag and it will keep your bras from getting tangled in the machine. Remember to always air dry your bras! Don't miss how to smooth out the lumps and dents from your bras, plus the best bras for women with small boobs! [Photo: Fish in the Sea Strappy Bra, Free People]
How Often Should You Really Wash Your Bra?
Unless you're totally into free-boobin' then you should be wearing a bra every day. Unlike our other undergarments, namely underwear, bras don't need to be washed after every single wear. But if they don't need to be washed every day, how often should we be washing our bras? You should typically wash your bra every 3-5 wears or a minimum of once per week. However, if you excessively sweat on a paritcular day (in the summertime especially) then you should wash it before the next wear. That rule also applies to sports bras...obviously. If you never wash your bras, then I highly suggest throwing them into your next wash. Bras can harbor tons of bacteria, dirt, oil, etc. that will be in close contact with your skin. It's also important to note the amount of detergent you use when washing bras. Too much detergent can break down the fabric and the elasticity of your bra, therefore it won't last as long. Your best bet is to invest in a few good bras to rotate during the week. Don't miss how to smooth out dents and creases in your bra and should you sleep in a bra? [Photo: Shutterstock]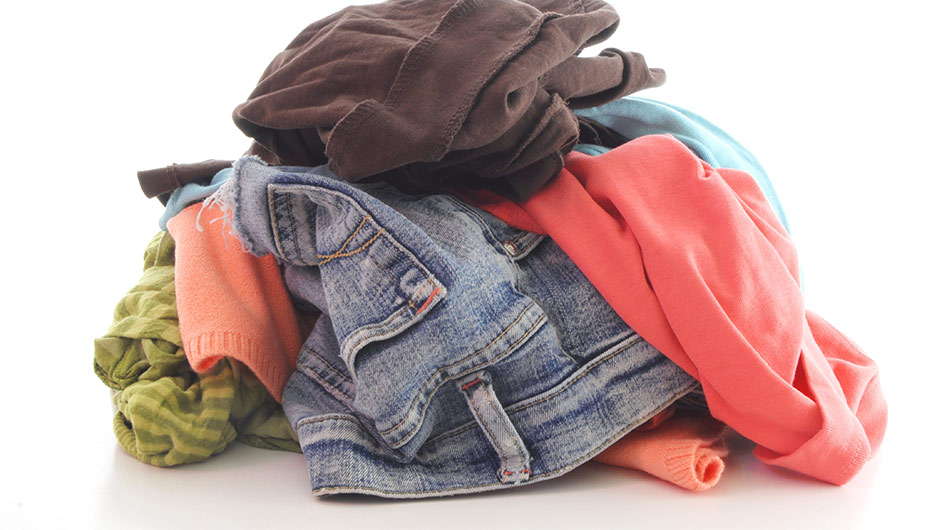 Why You Should Never Wear These Two Items Two Days In A Row
Wouldn't life be so much easier if we could wear the same exact thing every day? I don't mean in the sense of a uniform, I'm talking physically wearing the same exact garments every day. From a hygiene standpoint, it's not exactly sanitary to wear the same clothes every day. From a fashion standpoint, most people see this as a serious faux pas. Here are two items you most definitely should wear with at least a day in between. Bras: I'm not sure if women know this or not, but you shouldn't wear the same bra day after day. Bras need at least one day in between to rest, so to speak. After wearing a bra all day long, the elastic is stretched out so it needs time to recover and get back into place. If you wear the same bra every day, the elastic will never get a chance to tighten back up so you'll stretch it out pretty fast. Alternate different bras each day or invest in multiple bras to wear them every few days. Shoes: There are tons and tons of people out there who own one pair of shoes and wear them into the ground. However, it's best if you don't wear the same pair of shoes every day. Much like bras, shoes need time to recover and so do your feet! By wearing the same pair or same style of shoes every day, you're putting "repeated pressure on identical areas of the foot" according to Jaleh Hoofar, doctor of podiatric medicine. Don't miss how to hang your clothes if you don't have a closet and how to take a proper shower! [Photo: Shutterstock]
A Definitive Answer To the Age Old Question: Should You Sleep In A Bra?
I'm sure by now you've heard many different opinions on whether or not it's good to sleep in a bra. Some people believe sleeping in a bra will prevent your boobs from sagging and others simply get uncomfortable at the thought...literally. In order to come to a conclusion regarding this ongoing issue, the Huffington Post enlisted the help of Dr. Amber Guth, associate professor of surgery and director of the Breast Cancer Surgery Multidisciplinary Fellowship at NYU Langone Medical Center. First and foremost, Guth says, "There is certainly no evidence that sleeping in bras is either helpful or harmful. Sagging or changes in the breast are due to a number of factors: Pregnancy and breastfeeding being the most common causes, along with time and gravity." However, Linda Becker, a professional bra fitter (aka The Bra Lady) says otherwise. "Here's the logic. Either your breasts are being supported for eight hours, or they're not being supported for eight hours. What do you think is better? It's just common sense. If your breasts are being held up, they're going to stay up a lot longer. When you take your bra off at the end of the day, they're a lot higher than when you put it on in the morning," she explained to Huff Post. So, should all women be sleeping in a bra? According to Becker, the answer is no. "It really depends on the size of your breast. If you're an A-cup or B-cup, no. If your breasts are bigger than a D, Double-D and up, you should. Some people's breasts hurt them when they sleep, so they need to wear a bra. Some people need it for support." Dr. Guth and Linda Becker both agree that your bra should not be too tight. Dr. Guth warns, "Certainly no bra or breast support should be so tight that it constricts or blocks any form of circulation." She also advises her patients that it is completely up to their discretion whether or not they choose to wear a bra while sleeping. "Sleeping in a bra or support bra really is just a matter of the woman's personal comfort," she says. Bottom line: wearing a bra at night may offer someone with a larger chest more support and comfort. The choice is up to you, ladies! Do you sleep in a bra? Don't miss Gwyneth Paltrow's reaction to being compared to Jessica Alba and 5 things you didn't know about Cara Delevingne's new move Paper Towns! [Photo: Shutterstock]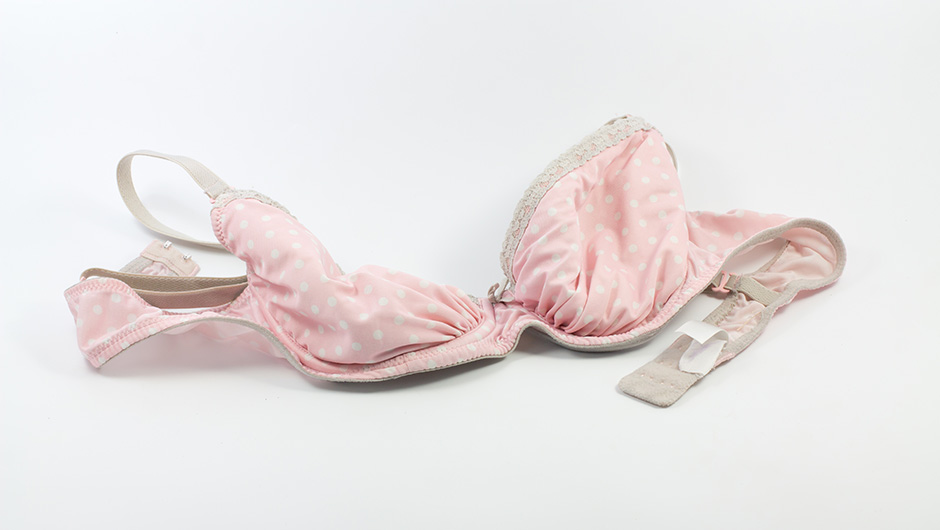 How To Smooth Lumps, Dents And Creases Out Of Your Bras
There's almost nothing more annoying than when your bra starts to get all lumpy and dented. Before you throw it out though, try saving it.  I successfully salvaged a brand new bra that came creased just a couple of weeks ago, and let me tell you, I felt way accomplished. I'm telling you, it's not so hard. Just follow the tips we found on eHow and MakeupTalk, and your bras will nearly be good as new. Step 1: Soak the bra in the hottest water it can stand. The care label's where you'll find the correct temperature. Don't use soap, just water. You're not trying to clean the bra, just get it wet. Step 2: Remove the excess water by pressing it out of the cups. Don't wring the bra out—that will only make matters worse. Step 3: Using your fingers, press on the dents to push them out—it might take some time, but be patient because you will see it start to work. Step 4: If you've removed the padding from the bra, now's the time to replace it. It'll help reshape the cups. Step 5: If you still feel like the bra isn't fully fixed, MakeupTalk recommends putting the wet bra on and fastening it tightly to allow your breasts to help reshape it while it dries. Obviously this step is not so pleasant, but saving your favorite bra requires work. Step 6: Finally, hang it to dry with the cups facing outward. *If you're trying to rescue a bra that has soft padding or no cups, like this one by Cosabella, try ironing out the creases when the bra is still damp—I've done it and it works—just make sure that the iron is not too hot. Also check out how to store your coats this summer and how to create more space in your drawers. [Photo: Shutterstock]
Wait Until You Find Out Who Makes Our New Favorite Bras
It's easy to get wrapped up in choosing new dresses, blouses and sweaters, but what about some extraordinary undergarments? Every girl knows that what's on the outside is only as good as what's supporting her underneath. Here at SHEfinds we recently had the chance to put a few Playtex bras to the test and I have to admit, I think you'll want to try one, too. And luckily, they have styles for just about every style and support preference. The Fittingly Fabulous Underwire bra has a 4-way support system design, so it's basically the perfect everyday option. We're also really digging the Signature Florals Underwire with Gel Straps because it's crazy comfortable and offers hidden side support and natural shaping. Looking for something a little sexier? Try the Body Revelation Underwire with lace, which is guaranteed to complement your every curve. Finally, if you prefer a wire free bra that still offers maximum boost, give the 18 hour Ultimate Lift and Support Wirefree a go. Of course, you could also just get them all. They're really that good. Shop the complete collection at playtexfits.com. PS: We're giving one lucky winner the bra of her choice! To enter to win, simply leave a comment below about why you need a new bra.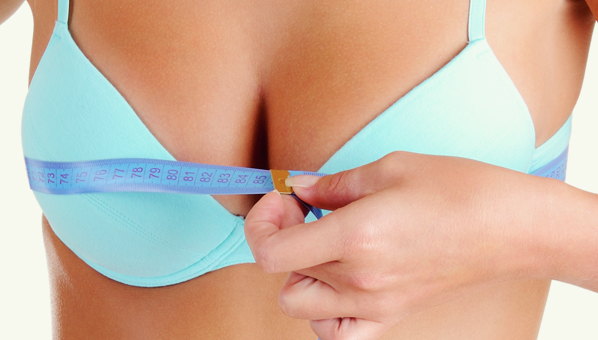 Bad News Ladies, 2/3 Of You Are Wearing The Wrong Bra Size.
We're actually not too surprised to hear that about 64% of women are wearing the wrong bra size. Unless you get properly fitted by someone who is actually paying attention, you don't really know what looks good or what fits well. Take it from someone who was part of the boobless crew in high school, I often like to go up a size up just so I don't feel like I haven't hit puberty yet. So I guess I fit into this category as well, but out of that 64%, 29% of women know they aren't wearing a bra that fits right. The study conducted by Triumph International basically says that women choose lingerie based on the color and style, not how it actually fits. And for us American's, we clearly aren't paying proper attention to our girls compared to other countries. Just 35% of us have been fitted for a bra within the last 6 months, which is way lower than the French, Italians, and the Brits. God, no wonder why so many of the Victoria's Secret models are international. They knew how to show off their assets at a young age. So ladies, you've heard us! February is right around the corner, and what better way to treat yourself than to get a lovely bra fitting? It might help you score a date on Valentine's Day. [WWD] For more advice, check out Cameron Diaz's body book, the bra the unhooks for true love, and blogger-approved beauty products
Of Course Men Created This Bra That Only Unhooks For True Love #Shocker
Apparently, women are unable to say no when it comes to sleeping with someone. At least that's what inventors from Japanese company Ravijour must think. They developed a bra that will only unhook if the woman is feeling true love. And how does the bra know that? Well, there's a sensor in the bra that sends a signal for how fast your heart is beating to the accompanying app. Then the app analyzes the information, and if you have a high enough "True Love Rate", the bra will pop open automatically. Besides the obvious fact that this is ridiculous, what happens if you aren't naked yet? Could the bra just pop off at any moment? What if you don't end up, you know, going home with someone that night? How can you just take it off yourself? Of course this was invented by men, and of course they made a video to show you exactly how it works. [Buzzfeed] [youtube]http://www.youtube.com/watch?v=B8Wd831gUt4[/youtube] Don't forget to check out how to look good in the freezing cold, cute cold-weather boots, and the best travel bags ever [Photo: YouTube]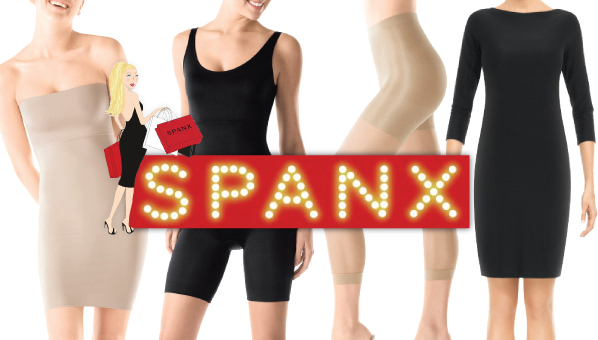 Take Up To 40% Off At The Spanx Closet Clean Out Sale
There's really no bad time to stock-up on bras and shapewear, you always need them. So why not celebrate the day before Friday with a little treat yo self gift at the Spanx Closet Clean Out sale. Shop legwear, bras and shapewear up to 40% off original prices. We'd hurry over if we were you, it looks like once something is sold out, it's gone for good. No re-stocking. Plus today there's an extra 10% off with free shipping when you enter the code: N0913VY5. So you really have no excuse not to shop this sale going on now through Sunday. Click the slideshow to see our sale picks, and then get to it! SHOP THE SPANX CLOSET CLEAN OUT SALE NOW And don't forget to check out: O.P.I.'s Miss Universe nail polishes, M.I. A. set to collaborate with Versace and shop Naomi Watts' Shearing Jacket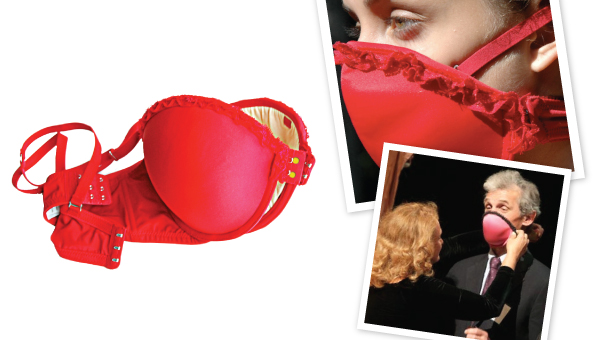 Doomsdayers Rejoice: The Bra That Doubles As A Gas Mask Is Now On Sale
This bra is a lifesaver. Literally. We told you about the Emergency Bra when it first came out, but it wasn't available to shop. Four years later, the bra is finally on sale in sizes 32B-40C. This bra really is a multi-use product: It protects our boobs on a daily basis and turns into not one, but two gas masks in case of emergency. It would have had our vote for the Nobel Peace Prize in 2009, but it won without our help. Now, the bra can add one more use to its list--it can help us figure out which cup size fits our face best. SHOP THE GAS MASK BRA HERE For more news check out: Cynthia Rowley x Goop gold wetsuit, Crocs new designs and Oliver Peoples x MyTheresa
What's More Insane: These Crotchless 'Cage' Panties, Or The Customer Review Of Them?
Apparently, Kiki de Montparnasse thinks a few strips of silk woven together makes underwear and a bra, at least according to her latest designs. The Kiki de Montparnasse Cage Bra ($395) and Cage Panty ($325) (if you can even call them that) are not only available to shop, but someone has already taken the plunge, bought the underwear, and gave them a STELLAR review. We kid you not. Check out what reviewer "Yumclothes" had to say: Wow - i was skeptical spending so much for so little but they are beautiful and wonderfully sexy, well made and sophisticated - and my boyfriend is still talking about them - when? where? how do i get those back on you? Exactly 34" Hips XS perfect. Of course. Who wouldn't be skeptical about spending so much, uhem $325, "for so little" but her and her boyfriend are in love...with the panties. She gave them a five out of five stars with the title "HOT". If that doesn't convince you to buy these silk strings, which cost more than an iPhone 5, I don't know what will. Oh and in case you were wondering, "Yumclothes" said these were smaller than expected. Shocker. As if these two items couldn't be more of a WTF, read this designer description of Kiki de Montparnasse by Shopbop. According to the online retailer, Kiki de Montparnasse lingerie "celebrates intimacy and inspires the romantic imagination." Beautiful and provocative, the pieces can be worn inside the boudoir or flaunted in public, bringing a sense of excitement to special occasions and to the everyday. A) These don't inspire the romantic imagination because they don't leave much to the imagination. B) These absolutely cannot be "flaunted in public" because you will get arrested. SHOP THE CAGE BRA AND CAGE PANTY NOW (we won't tell) For more WTF check out: cat ear sunglasses, the Home Depot tote hipsters love and Future Eyes glasses
Find Out Your True Bra Size–And Why You're Not The Number You Think You Are.
Forget everything you know about bras. Which shouldn't be difficult, considering you probably don't know as much as you think. But it's not your fault: bra sizing can be elusive. Although most bras have standard sizes like 32B and 34C, every brand is different. Your size at Gap is probably different than your size at Victoria's Secret. If you're sick of never knowing your bra size, Jockey wants to help. Apparently, they don't just make sports bras. In fact, they are kind of bra scientists. The new Jockey Volumetric Fit System measures the volume of your breast, plus your under-bust measurement, and comes up with your volumetric size. It sounds complicated, but it's actually so easy, you can do it at home. The Jockey Fit Kit uses 10 plastic cups in varying shapes, along with a measuring tape, to measure your chest. You test out each of the flexible plastic cups on your breast and the one that fits best is your cup size. So if cup 5 fits, and your rib cage is 34 inches around, your bra size would be 5-34. Of course, there's a catch. The Fit Kit costs $19.95. Plus, the bra itself costs an additional $60. The bras come in 55 different sizes, but only are only available in nude, black and white (so boring). On the brightside, the brand promises to never discontinue your size and there's a money-back guarantee if the bra doesn't fit. Would you try Jockey's Volumetric Fit System? Flip through the slideshow to see the Fit Kit and learn more about other custom sizing systems on the market.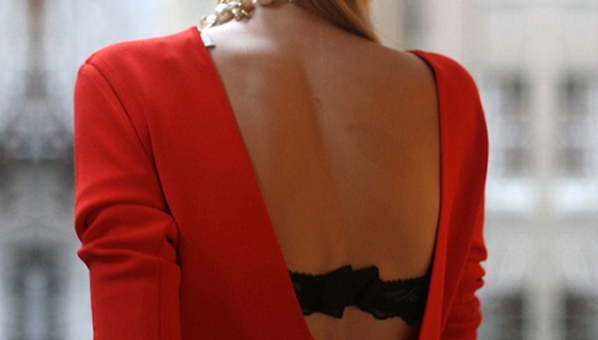 Baby Got Back! Don't Attempt The Backless Trend Without Reading This First
Spring's backless trend is the perfect example of something that makes us swoon when we see it on others (on runways or at fabulous parties), but is a bit of a mystery when it comes to actually pulling it off ourselves. Bra or no bra? Sweat-proof pasties? How to avoid a nip-slip? And what about backne? It's not easy, we get it, but with so many cute backless options this season we're here to help you out. To get you started on how to wear a backless dress, not only have we rounded up 5 of the cutest backless dresses designers like Thakoon and alice + olivia have to offer, but we also got the essentials you need to achieve an enviable back-baring look. From chicken cutlets (yes, they're sometimes an essential) to an amazing acne-fighting body wash, click through the slideshow for everything you need. Check out other trends we're loving: printed bomber jackets, black turtlenecks, and pajama pants.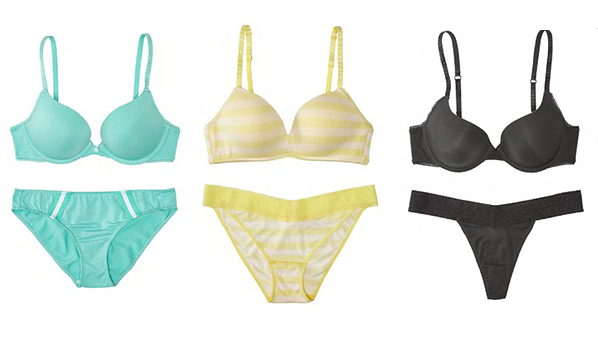 Panties In A Bunch? Get Yourselves Some New Ones. Splendid Lingerie Is Here!
Today must be the day of amazing collabs and collections coming early. First, there was Kate Spade x Keds. Then, there was Mary Katrantzou x Current/Elliot. And now, it looks like Splendid's debut lingerie collection arrived 3 days ahead of schedule. The line of cute and comfy under-things was supposed to hit this Friday, but you can get your hands on it now at Shopbop. As expected, there are soft, pretty bras, lacy underwear and a chemise you're sure to live in. The line starts at $20 and the most expensive piece is only $58, so snag yourself some new lingerie ASAP. Click through the slideshow to see what's up for grabs. On the exciting news today, check out the Wrangler jeans that sold out in 1 day, Milly x Sperry shoes and Fergie's Wet N Wild makeup.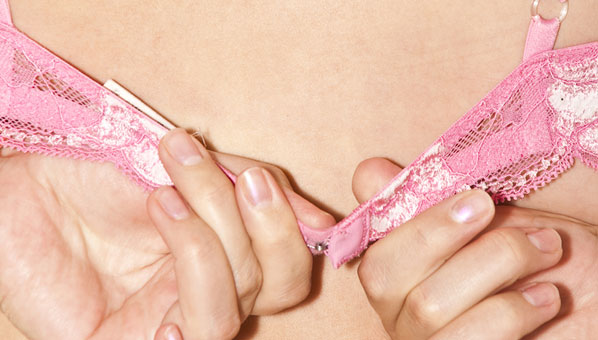 Why Bra Sizes Are A Scam: Linda The Bra Lady On How To Finally Get The Right One
Quick! How old is the bra you're wearing? Is it a ratty, ill-fitting linen-and-lace number with stretched out elastic? Was it once your older sister's or your best friend's from an impromptu sleepover-turned-brunch? Amen, sister. I've been wearing the same ones since high school, because I always thought there's no point of dressing the ladies up if nobody's going to see them (this is not by choice, mind you). I figure, why bother spending an extra couple hundred on a new and improved wardrobe of undergarments when I can waste my money trying to attract men in those new Giuseppe Zanotti heels? That is, until I met Linda The Bra Lady. After a co-worker passed me her card under the table at a department meeting, which was followed by a stern warning to wear a white tee, bring a hair tie and be prepared to strip, I made my appointment. This is serious business, ladies. After all, Linda has seen the famous racks of ladies like Bethenny Frankel, Victoria Beckham and Tea Leoni — and trust me, after 25 years of fitting all shapes and sizes, she's earned her moniker. I walked into her Murray Hill boutique expecting a caricature of a woman with huge, fiery hair, big boobs and busy hands to be standing in front of a parade of bras, but to my surprise, Linda couldn't be further from the loud-mouthed woman I envisioned. Still, she and her tape measure held the destiny of my 34Bs (or so I thought) in her hands. I started my quest for the best-fitting bra within my budget about two months ago,  and despite four weekends of shopping, er, hard work, I've yet to leave a mall feeling victorious. We all constantly hear we're wearing the wrong size, but if that's true, why do I seem to fit into everything from an A cup to a C? I needed answers. So do you. So why do we sometimes feel like we can fit in every size from a 32A to a 36C? Vanity sizing, that's why. Even though The Times blew the lid off this secret 3 years ago, it's still happening: "There's definitely vanity sizing in bras now, especially in the past ten years," Linda told me. "They want you to think your back is really small and your breasts are really big. I'm a 32G, but 10 years ago, I would have been a 36D." Now that we're armed with the knowledge that bra sizes are complete scam (there's our proof!), we can better navigate the pesky territory of figuring out our fit. Here's what Linda says every woman needs to know, lest they prefer unadulterated back pain and some serious stretch marks. Yep, a bra can cause stretch marks. Mind-blowing, right? First, a quick (and incredibly scientific) lesson: Band Size = The measurement of your rib cage, taken underneath the breast, plus three inches. Cup Size = The measurement of the fullest part of your bust in inches, minus your rib cage size. If this is 1, you're an A cup. If this is 5, you're a DD cup. Your Bra Size = (Your Rib Cage Measurement + 3 Inches) x (Measurement of Bust - Band Measurement) Linda measured my rib cage at 26 inches, which means my band size would end on an odd number. Anyone that's ever had the pleasure of digging through crates or bras knows there's no such thing as an odd-numbered band. Always size up, because the band will be a few inches tighter than you're probably used to (more on that later). My bust size is 31, so that makes me a 30DD. And now, a few nuggets of bra knowledge straight from Linda, who, like some sort of boob goddess from the heavens above, knew my size just from looking at my boobs: 1. First, women are consistently told to wear bands that are way too loose for them. This means straps are digging into women's shoulders everywhere. When you're trying on bras, know that the band should supply 80% of the support while the straps should provide about 20% of a pick-me-up. Back fat > sagging boobies. 2. As with most garments, there's not much of a difference between buying a $40 bra and a $120 bra, except for the quality of the lace and elastic. 3. Your bra's elastic will loosen over time, no matter how high-quality it is. To lengthen the life of your bra, start wearing your bra on the loosest hook, then tighten up as you wear it more. When you feel like you need to tighten it more, it's time for a new bra. If you haven't lost any weight, though, a new bra in the same size should fit you just fine. Ugh, I know. 4. You should be fitted and replace all your bras just about every six months, so it's best to spend $100 on three bras that fit great twice a year than $100 on one bra that'll wear out come summertime. 5. There's no need to wash your bra in between each use! Linda's take: "When you get dressed in the morning, you're clean. When you take it off at night, you're still pretty clean, unless you've been sweating all day long. I wear a bra seven or eight times before I wash it." 6. But that doesn't mean you should wear the same bra every day for a week: give each bra at least three or four days rest in between each wear. 7. If you have stretch marks on the top of your boobs but not the sides or the bottom, they're from poor support, not rapid growth. I had trouble coming to terms with this one, too. 8. So how can you tell if you're getting enough support? Linda says your nipples should be exactly halfway between the top of your shoulder and your elbow. It's science. 9. If you fall in love with one style of bra, don't buy it in every color. Keep in mind that there are different bras for every style of top you're wearing, so choose accordingly! 10. Lastly, if you've been lucky enough to figure out your size but haven't found "the one," bra alterations are a thing. I'm 5'1 with 30DD's, so I routinely get my straps shortened. Now we know why our mothers burned their bras... But oddly enough, getting my girls into the right size was strangely liberating, albeit shocking to see my former 34Bs fit (and snugly) into a 30DD bra. If you're feeling inspired to get your ladies front and center — and maybe rid yourself of back pain for once and for all — make an appointment at one of Linda The Bra Lady's two Manhattan locations for a personalized fitting. By the time you're done, you won't want to rip off that ratty three-year-old bra with the underwire poking out the side the moment you get home. Check out our guides to the best bras, best wireless bras and the best Spanx for your body. Go forth and conquer!
The Bare Necessities Sale Keeps Your Underwear Drawer Steamy This Summer
Bare Necessities is our personal go-to source for really gorgeous underwear - they have the best bras and the best underwear around, but it's not always affordable. And though on a daily basis it's something not everyone you come across actually sees (unless you're into the sheer trend) it still matters, even if it's just for you. And when it's 70% off,  how can you resist? You don't have to. SHOP THE BARE NECESSITIES SALE NOW Check out more sales and deals, online sample sales, best find of the day picks and bone up on all of the most pressing fashion news.