Take A Styling Cue From Pixie Brides Carey Mulligan & Anne Hathaway
When people wax on about gorgeous "wedding hair," they're generally talking about long, wavy locks or fancy, intricate updos. But thanks to new bride Carey Mulligan (who secretly wed Marcus Mumford of Mumford & Sons in England), and Anne Hathaway (who chopped all her locks off for a Les Miserables role and plans to wed fiance Adam Shulman this summer), short haired-brides are finally getting the attention they deserve. Whether you've got a choppy, chin-length bob, or a stylish pixie cut, a la Carey and Anne, we've got a few styling tips to share. Plus,  a virtual shopping cart full of gorgeous short-hair accessories. (more…)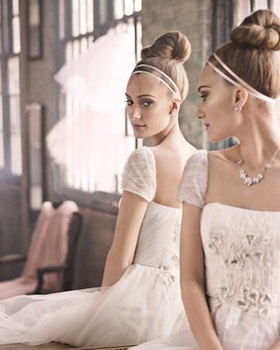 Tiaras & Veils Not Your Style? Try One Of These Pretty Bridal Headbands Instead
Looking for a not fussy, but still totally glamorous alternative to the traditional wedding tiara? Enter: the headband. Whether you go with a minimalist satin style or sparkly one, you'll look positively regal. And unlike tiaras, headbands are 100% acceptable to wear post-wedding! See our favorite styles after the jump. (more…)
Throw A Midsummer Night's Dream-Themed Wedding With Whimsical, Woodland Etsy Finds
The idea of wearing wings with your wedding dress might make you squeal with delight or roll your eyes uncontrollably. But adding a few unexpected, themed twists to your wedding can transform your special day from "meh" to magical (or something else wonderful that starts with "m"). Here are a few woodland flourishes and sparkling accents that'll infuse a bit of fantasy into your wedding celebration. (more…)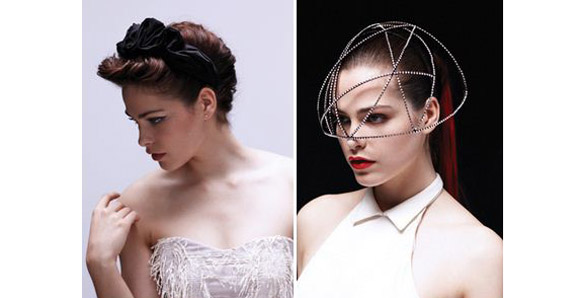 Get A First Look At Jennifer Behr's Fall Collection: Silk Turbans, Black Lace Veils, And All
Earlier this year, Jennifer Behr unveiled her capsule collection for J.Crew -- and they were all seriously swoon-worthy. Her upcoming autumn/winter collection has some treasures, too, especially for gals with bolder tastes, like a fall bride who loves colors, and wants to avoid a white wash: (more…)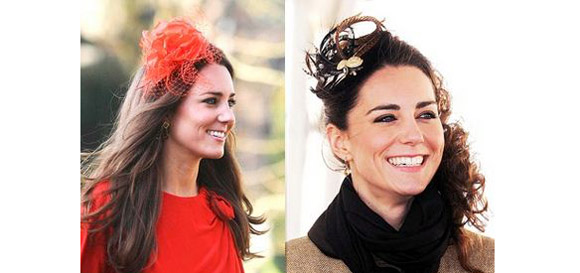 6 Reasons To Try A Fascinator (And Not Just Because Kate Middleton Said So)
The future princess-to-be loves her hats--but they aren't always the wide-brimmed kind. Fascinators, those tiny hats with embellishments like flowers, veils, nettings, sequins, or all of the above, are a trend Kate Middleton has single-handedly brought to the U.S. (People has a slideshow of her best). If you've been wanting to try the look, but don't quite know how, we found 6 gorgeous styles to get you started: (more…)
Give Any Up-Do A Boost With These Gorgeous Wedding Hair Accessories
If you're looking for a gorgeous, stunning way to jazz up any up-do - we recommend starting with a pretty hair accessory. From floral clips to beaded headbands, we've rounded up our favorite wedding hair accessories, like this Jennifer Behr Crystal & Pearl Headband ($144) which is perfect for the modern bride and this Tasha 'Tulayla' Flower Clip ($28) which is a great way to satisfy your "something blue." Shop 7 more gorgeous hair accessories >> Check out our other expert picks - from inexpensive wedding shoes to wedding costume jewelry and black bridesmaid dresses.
Having A Formal Wedding? Make Sure Your Bridesmaids Pass The Black-Tie Test
So, you're throwing a black-tie wedding and want to make sure the guests and maids stay in check with your theme? The last thing you need is an under-dressed bridesmaid ruining all the photos.  Here is some fancy pants attire to steer them in the right direction: The LBD (Long Black Dress): As the name "black-tie" implies, it's always a safe bet to show up in black. This Halston Heritage Long Halter Gown ($455) is simple yet so stylish with it's halter and waist-tie. You'll definitely get your bang for the buck with this dress. The Jewels: Let your b-maids have a Pretty Woman, but  for a fraction of the price with Emma Stine's Tiffany Necklace Set ($230). Or - just keep this one for yourself. The Shoes: Wedding shoes can be horrendous, so why throw money away on something ugly that you'll never wear again? Let your girls wear something fabulous like these Stuart Weitzman Avalon Black Glitter Heels ($355). Just make sure yours are a 1/2 inch taller. The Bag: Let the clutch be the wild card for the evening and dress up their otherwise all-black gowns with a splash of color or a vibrant pattern. We love this Diane Von Furstenberg Lytton Thai Silk Clutch ($295) with it's whimsical colors and pattern. And that's a wrap: Last but not least comes the evening wrap. This Elie Tahari Serena Sequin Scarf ($198, also available in black) is the perfect way to keep your shoulders warm while adding some glam and glitz into the mix. Looking for more wedding style ideas? Check out these guides on flat wedding shoes, bridal hair Accessories, and simple wedding dresses.
Treat Yourself To Sexy Sleepwear You Can Actually, Uh, Sleep In
With Valentine's Day around the corner, we're being bombarded with lingerie that's lacy, filled with straps, and frankly, uncomfortable. While we like lingerie (and even have a list of almost-cheesy lingerie we wouldn't mind celebrating in,) these picks are comfortable and sexy, and you can wear them all year long: Victoria's Secret super soft sleep camisole has a touch of ruffle and a low neckline, but feels great, and has a matching panty set to go along with it. Forget itchy lace: this DKNY printed lace cami set gets the lace look without all the fuss. Borrow from the boys and feel comfortable with an sexy oversize nightbgown with a feminine cut, like this classic Ebejey nightshirt. Victoria's Secret knows what they're doing: crisp and classic, this cami and boyshort set is pretty without being overly sexy. Rita Wilson gave women on Oprah a sleep makeover: reap the benefits with our top picks, plus see the best cheap bras, sexy underwear, cheap underwear, and shapewear.
Taste Test: Which Tulle Pump Costs Half The Price Of The Designer Model?
Uncanny resemblance, wouldn't you say? For more look-a-likes, check out all of our Taste Test archives, as well as our favorite spring looks and comfortable high heels you can actually walk in.
Tuesday's Sample Sale Scoop: Calvin Klein, T-Bags, Frock! by Tracy Reese, And More
Our pick: Calvin Klein at ideeli VaVa by Joy Han and Wren at Billion Dollar Babes Argento Vivo at The Top Secret Jil Sander, Lorick, Alice Ritter, Vanessa Noel Cashmere, T-Bags, Hello! Lucky, Brink & Campman Rugs by nuLOOM at Gilt Groupe T-Bags, Hello! Lucky, Moyna at Gilt Fuse Chaiken Blowout, Frock! by Tracy Reese, Baby Quasar, Swiss Legend, Melinda Maria, Monte Verde at Hautelook Calvin Klein Swimwear, Belle by Sigerson Morrison, Waterford at Rue La La Amrita Singh, Enzo Milano at Editors' Closet BCBG Generation, Charlotte Tarantola, Yansi Fugel, Bejeweled, Body & Soul Cosmetics at Beyond the Rack Aveeno, Bill Blass, Accutron by Bulova, Adia Kibur, Orrefors at ideeli Plan ahead with our online sample sale calendar.  Find more ways to save with our guide to the latest beauty bargains.
Good News & Bad News: Vanity Fair's Brightest, Miley's Little Sis Designs For Tweens, More
Since it's Monday, we'll ease you in today with the good news first: Vanity Fair released photos of its cover shoot with the best new actresses, including Anna Kendrick and Carey Mulligan. We're obsessed with their ethereal pastel dresses, and can't wait for spring so we can wear one of our own. [Vanity Fair] We're not sure if it's due to the recession, or just the fact that the dresses are so darn cute, but celebs are stepping out in their Rodarte For Target dresses. While Natalie Portman wore her $34 tulle dress to an event last month, the latest sighting is Nicky Hilton, in the line's$45  in-demand leopard print bow dress. [via Target] Now for the bad news: Miley Cyrus's little sister, Noah, has created her own fashion line, entitled Ooh La La Couture. We're disturbed on so many different levels, we can't even handle it. [Pop Crunch] With the Best Dressed at the Grammys also comes the list of the worst. Britney Spears is at the top, with a fishnet bodysuit. How many times do we have to say it: tights don't count as pants. [Huffington Post] Get a jumpstart on new spring trends, check out our guide to adorable dresses that hide your tummy, and sign up for our newsletter to get the news on all of the best handpicked sales and deals.
News: Luxury Goes Micro, Gaultier May Be On The Target Track, And More
1. Time says the next movement in luxury is on a micro scale; the tinier the item, the better.  But what will become of our favorite giant tote bags?  [Time] 2. We'll mark our calendars for this one:  Jean Paul Gaultier may wind up on Target's Designer Collaboration roster.  We hope it happens, and we'll shop Christopher Kane's collaboration with Topshop until that day comes.  [WWD] 3. Estee Lauder will close the brand Prescriptives at the beginning of 2010.  If this leaves a gap in your makeup regimen, try staying natural with paraben-free beauty.  [Elle UK] 4. London Fashion Week is being targeted by sweatshop protesters, whose ranks include Gael Garcia Bernal.  We'd recommend staying cruelty-free by doing some eco-friendly shopping.  [Mirror]
Project Runway: Pushing Paper and Lies on the Runway
Cattiness was ramping up in episode 5 of Project Runway. Within minutes, designers (specifically Nicolas, the primary trash talker each episode) were ragging on Althea's win last week, and judging who should be sent home next. But kvetching was interrupted by a field trip to the Los Angeles Times, where Heidi hinted that "all questions would be answered in black and white." Next challenge: fashion is news; use pages from different newspaper sections as fabric to create the next look. Tim pointed out that paper clothing has a history, and designers should continue on the tradition. Johnny's red origami dress design looked like "wrinkled up paper with pig's blood all over it," according to Nicolas. And he wasn't far off. During his first walk-through, Tim said it looked "woeful, a craft project gone awry...like a bunch of kindergartners designed it. " So Johnny started over, claiming a made-up a story about steam ruining the first dress, and not because Tim hated it. Too bad his second dress was sloppy. The runway show was a practice in careful walking. Solo again, Heidi was joined by guest judges Tommy Hilfiger, Marie Claire EIC Zoe Glassner, and Eva Longoria Parker. Even though she had immunity, Althea's design was praised for its pattern, detail, and as Eva commented, how it accentuated the bum. Although Christopher's full "feathered" skirt and hard bustier top was a show stopper, Irina's trench coat with crinkled shawl collar was a huge hit among judges. Eva said she was blown away. Tommy described it as an amalgamation of Coco Chanel, YSL and Givenchy, and a new alternative to fur...even though you could see the scotch tape on the back. She took the top nod, though, while Johnny's excuses were too much, and he had to take his crossword puzzles elsewhere. Good thing fall is upon us, and trench coats are making their annual reappearance. The Gryphon Military Timeless Trench Coat ($795) is a classic style, with a removeable faux-fur collar, and gold-trimmed, ribbed cuffs. A less expensive option, VIA's  Button-up Wool Trench Coat ($168) has a big collar, back buttons up the back, and comes in a great tweed. For more trenches, take a look at our top picks, and check out more fall outerwear with blazers and leather jackets.
News: iPhone Brings You To Miami, Tiffany Continues To Sue Ebay, And More
1. If you love bathing suits, check out the new iPhone app that allows you to check out what just walked down the runway at Miami Fashion Week.  Or simply browse our guide to the best swimsuits.  [FWD] 2. The Tiffany vs. eBay counterfeit suit just made it to federal appeals court, and the case has the chance to set precedent regulation for the online auction industry.  Personally, we're going to avoid the hassle of auction and stick with sample sales.  [WWD] 3. There'll be a new face at Fall Fashion Week. Usually the event is sponsored by MAC, but this year, Maybelline will be taking that company's place.  Could it be a reflection of the economy, or maybe everyone just loves Great Lash?  [Fashionista] 4. A while back we reported that Eddie Bauer was bankrupt, but luckily the brand's just been purchased for $286 million.  So don't fret, there'll still be practical sun hats and outdoorsy polo shirts readily available. [NYT]
How To Wear Harem Pants (Or, How Not To Be Scared Of Harem Pants)
Yes, we know harem pants are a touchy subject. But like it or not, they're probably not going anywhere fast. So we'd like to jump in and show you how to pull them off - figuratively, that is. Because you really shouldn't be scared. First, choose a cropped pair (no diaper versions, or any that graze the ankle thus resembling pajama pants). You'll want to counter the slouchiness of the pants with structure on top, so opt for a modern straight-cut boyfriend blazer along with a simple, yet dressy, blouse. To keep with the modern theme, choose sharp angled accessories, and shoes that will make a statement against the black. Carry a fun clutch and you've got an evening ensemble so much more exciting than your safe black dress. Aqua Jersey Harem Pants ($58) Vince Lightweight Boyfriend Jacket ($440) Bi La Li Silk Origami Top ($185 from $370) Long Geometric Necklace ($28) Striped Foldover Clutch ($39.50) Luella Strappy Platform Sandal ($145) Now that you've got the trend down pat, check out more options in our guide to harem pants.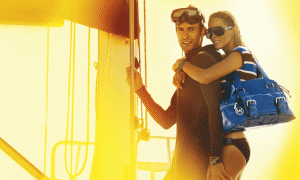 Wednesday's Sample Sale Scoop: MICHAEL by Michael Kors, Halston, Prairie New York, And More
Editor's Pick: MICHAEL Michael Kors at Billion Dollar Babes Halston, Susan Hanover jewelry, and Multi-designer women's sale at Gilt Groupe BB Dakota clothing and Cover watches at Beyond The Rack Hype handbags at Editors' Closet Saint Parfum candles & soaps at Billion Dollar Babes Prairie New York clothing, American Vintage clothing, Nugaard Designs jewelry, and L*Space swimwear at Hautelook BCBG clothing and handbags, Persol sunglasses, and Spy clothing at ideeli ADAM clothing, Cass shapewear, and Concord watches at Rue La La
Three Ways To Make Your Jewelry Help More Than Just Your Wardrobe
Everyone wants to look good, but no one wants their fashion to be responsible for sweatshops or environmental destruction. We've already given you a bunch of ways to shop for clothes that are good for the globe, but what about your accessories? Introducing three ways to shop for unique jewelry and affect social change, all without leaving your laptop. 1. Emerge Global Emerge is a non-profit organization based in Sri Lanka that aims to help female victims of sexual abuse reclaim their lives through employment and art. All of the jewelry is handmade by the women, and also happens to be very beautiful. Many of them like this ribbon necklace ($22) combine colorful ribbons and beads for an effect that will brighten any outfit.  2. The Leakey Collection This Kenya-based retailer uses natural materials to manufacture their beads and other products. They are dedicated to both sustaining the environment and providing employment and business training to rural Kenyans. Their products also give you a chance to show off your creative side. You can buy assembled pieces like Zulugrass bracelets ($30), or mix and match single bead strands ($13) to create a look that is all you. 3. Brilliant Earth Just say no to blood diamonds. Brilliant Earth not only sells gems harvested using environmentally and socially responsible practices, they also donate 5% of their profits back to communities that have suffered from the exploitation of the jewelry industry. Not a bad way to buy some bling like these silver leaf earrings with green sapphires ($175). Check out our Jewelry Guide for staples everyone should own. 
The Times Proves Gwyneth Does Know Something….About Nautical Stripes
The NY Times' Pulse by Karin Nelson featured a few items of note over the weekend: nautical stripes and a reluctant 'It' bag.  Now while we wouldn't wear them together, these two items are definitely worth a second, mid-Monday glance. The Breton stripe top is back again, which Gwyneth called out in a recent GOOP newsletter. You can find Gwynnie's pick at Saint James ($115), or snatch up this blousy look-a-like from Steven Alan ($98). The Boyy Slash bag is gaining popularity among the cool kids, and at $595, it's on the conservative end of a coveted bag's price range. If you want to try the snakeskin without shelling out too much, we suggest this simple black Carlos Falchi clutch ($132).  
Sponsored Post: Great Mother's Day Gift Ideas From Stein Mart
Deal Of The Day: 30% Off Ksubi Sunglasses At Tobi
It may be cloudy today, but we're pretty sure the sun is coming out at some point this summer. Prepare yourself and stock up on some Ksubi sunglasses from Tobi. And then shop our Celeb Sunglasses Guide for other styles to shield your eyes.  We can see Kate Moss wearing these retro Bayliss glasses ($147, were $210) the morning(s) after. These Hancock sunglasses ($147, were $210) are a good choice for the more conservative shade shopper.  If you're looking to make a statement poolside, these ivory Padget sunglasses ($164, were $235) will do the trick. More sales & deals: Spend $25 on Prescriptives and get a free mini Lash Envy Mascara at beauty.com Save up to 70% on select lingerie at HerRoom.com Free shipping from Vera Bradley. Just in time for Mother's Day. Ends May 6.
A Find: An Always-Dry Umbrella
What: NanoNuno Umbrella Why: Rain can put a real damper on your holiday touring if you're caught unaware. However, we've run across the cool new NanoNuno, an umbrella that doesn't get wet OR dirty in the rain. One of Time Magazine's top inventions for 2006, the NanoNuno uses nanotechnology, forcing water and dirt to roll right off. Give it a good shake when you're done and put it away without worrying about extra water. Another nifty umbrella advancement? The GustBuster is designed to withstand winds of 55+ mph, thanks to wind-release vents. Read more about this nifty invention at popgadget.net. Now, go play in the rain. Price: 50 pounds Find it: Proidee.co.uk
SheFinds Travel Week: Standout Travel Tags
Travel Week Feature Find: LugTagz
SheFinds Travel Week: A Bag for Airport Scanners
Travel Week Feature Find: GadgetDuck.com
Sale Alert: Save 20% at Intuition
Intuition, the hot LA boutique, has a cult-following of celebs like Lindsay Lohan, Britney Spears and Julia Roberts, thanks to their collection of the trendiest clothing, shoes, handbags, beauty accessories, jewelry, from designers such as True Religion, Primp, J Brand, and Lily McNeal. You can never be too rich or too thin, so get yourself a pair of Rich & Skinny Sleek Sterling Wash Skinny Jeans. Paris Hilton loves Rich and Skinny Jeans, which feature a silk lining along the waistband that supposedly makes you look thinner, though I'd like to see a different celebrity test that theory. Now that you have jeans fit for an heiress, give your friend the royal treatment with these Devon Hanging Travel Bags for a luxurious way to store her makeup. The velvet piping, crowns and fleur de lis make these travel bags perfect for toting beauty bootie on-the-go. Your pampered pet will adore this Four Piece Sushi Pet Toy Set. The plush sushi-inspired chew toys will spice up Poochie's busy play schedule, in between his doggy massage at the pet spa and his dog yoga, a.k.a. "doga" class. Get Yours: www.shopintuition.com. Deal Alert: Shefinds readers get 20% off. enter code "FASHIONISTA" at checkout..
SheFinds News: Flashdance 2006
"flashionistas", Britney Spears, Lindsay Lohan and Paris Hilton, were thinking about anything other than tabloid covers, and their awesome waxer, when they felt the need to barrage us innocents with their most private of parts. The first time, ok it happens, the second time, fine, good for some "ooops I did it again" jokes, but now this is getting really out of control. And actually nauseating. Now, I expect this type of behavior from Paris, but Britney? Lindsay? I know they're going through their "wild", "experimentation" phases, but are they actually planning on experimenting with prostitution, or gonorrhea? Hopefully, some kind soul will outfit them all in a years worth of undies this holiday season. As tempting as it may be to go commando in a mini once in a while, (I personally, have never felt the urge… but no judgments) resist temptation and throw on a pair of panties. No panty lines does not have to mean no panties. There are several options available to these girls that are hip, sexy and fun. No one is saying they should be wearing bloomers, just…something. The low rise girl short's and