If You Have Curly Hair, You Need Carol's Daughter Black Vanilla Leave-In Conditioner In Your Life
As a woman with curly hair, I get very panicky when the cold weather sets in. Wash and go styles become less and less reasonable, which means I have to make second- and third-day curls works. And trust me, that's no easy feat. At least, it wasn't so easy until I discovered Carol's Daughter Black Vanilla Moisture and Shine Leave-In Conditioner. This stuff has been a life-saver! If you've ever tried a curl-refresher spray, then you know they can leave your hair feeling sticky and gross. I hate sticky curls. Luckily, this Leave-In Conditioner dries without any stickiness. Just a few spritzes and your curls are instantly hydrated and all frizziness is gone. Even better, this spray helps restore your natural curl shape. I used to never go more than a day without washing my hair to restore the curl pattern, but with this spray I can go almost a full week. Yes, it's a bona fide miracle worker for curly haired girls! Carol's Daughter Black Vanilla Moisture and Shine Leave-In Conditioner ($9.99) Shop our favorite puffy coats under $200. [Photo: Target]
Want Spa Treatments (Not Strippers) At Your Bachelorette? Try These At-Home Kits
Your friends go out of their way to make you feel like the greatest bride-to-be on earth, especially when it comes to the infamous bachelorette party. While it definitely should be all about you, it's nice to treat your pals to something special and we've found the perfect idea: at-home spa kits! Still need some wedding accessories help? Check out our guides to Wedding Costume Jewelry, White Wedding Shoes, and Inexpensive Wedding Shoes.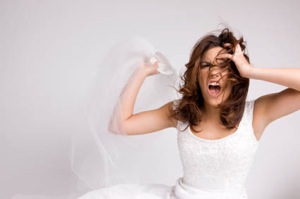 10 Stress Relievers To Keep Bridezilla Behavior And Pre-Wedding Meltdowns At Bay
It's just weeks away from your wedding and things keep going wrong. Your dress isn't ready, your name is misspelled on the place cards, and you still haven't finalized reception details. The next thing you know, you're turning into the bridezilla you always said you'd never be. No worries, we've got you covered - keep calm and carry on with these awesome de-stressing products, from Tata Harper, skyn ICELAND, and more: Need more beauty product ideas for the big day? Check out our guides to Wedding Survival Beauty Kits, Waterproof Wedding Day Makeup, and Flawless Wedding Day Skin.
The New Oprah Store–Verbal Affirmations Not For Sale
Everything that Oprah touches turns to gold, so the fact that Chicago's gearing up for the opening of The Oprah Store, isn't really surprising. The store will only include Oprah memorabilia, that you can get here, but wouldn't it be cool if you could shop all of Oprah's favorite things in one place? We're making it easier for you with our roundup of Oprah endorsed products that we love, too. Oprah store, take note: CJ by Cookie Johnson Jeans Oprah loves CJ by Cookie Johnson jeans. These CJ by Cookie Johnson 'Beautiful' Bootcut Jeans ($115) have magical slimming properties, but are super comfortable, too. They recently launched in plus sizes, and they just released a white trouser jean that we want to wear all summer long. J. Crew Julienne Leather Heels When J.Crew's Creative Director Jenna Lyons appeared on Oprah, the talk show host blabbed about how much she loved her J.Crew Julienne Leather Heels ($198). The shoes are comfortable and have a great architectural detail. Uggs Oprah is all about comfort, and whether Uggs are a fashion faux pas or not, she wears them religiously. For a summer option, these Ugg Australia Marema Cork Flip Flops ($80) are pretty cute. Carol's Daughter Oprah swears by Carol's Daughter beauty products (so do Mary J. Blige and Jada Pinkett), and we understand why. They smell delicious and they work. Try out this Carol's Daughter Mini Manicure and Cuticle Oil Hand Care Kit ($21) to see what the big deal is. Stay up-to-date by checking out our news section, and then check out our guides to the best bras, the best underwear, and the best cheap underwear. er Heels $198
Get 30% Off Oprah's Fave, Carol's Daughter Beauty Products, While You Support Mary J. Blige's Charity
We hear that today on Oprah, Mary J. Blige will announce her partnership with beauty company, Carol's Daughter, to give back to Blige's charity, Foundation For The Advancement of Women Now (FFAWN) which helps send disadvantaged women go to college.  Today and tomorrow, get 30% off online purchases at carolsdaughter.com to celebrate.  We've long been fans of Carol's Daughter beauty products--after all, when Oprah says something is her favorite thing, we listen. [Remember CJ by Cookie Johnson jeans, Oprah's favorite pair? Trust us.]  Here are our reviews of the top 5 Carol's Daughter products we loved. Check them out before you buy: 1. Carol's Daughter Face Butter For Very Dry Skin 2. Carol's Daughter Lisa's Dry Hair Elixir 3.  Carol's Daughter Bring The Moisture Toner 4. Roundup: The Very Best Carol's Daughter Products 5. Gifts From Carol's Daughter For Everyone Get the word out by sending this Twitter message to your followers so they know the good news: Be beautiful and give back to @maryjblige's charity @ffawn 30% of @Carols_Daughter online purchases 4/13 & 4/14 go 2 FFAWN #mjb4ffawn http://bit.ly/9htbtp Check out Oprah's favorite jeans, CJ by Cookie Johnson jeans, plus check out our guide to blazers, summer dresses and chain strap bags so your prepared for anything spring brings your way.
Trend Alert: The Monokini
What: The Buzz About Monokinis Why: One-pieces and bikinis are pretty standard in the world of swimsuits, but this summer's hottest swimsuit trend is the monokini, or what's sometimes called a "cut-out." It's not quite a one-piece, but it's not nearly a bikini, therefore carrying on the idea that less is more and that you don't have to bare it all to get major sex appeal. Celebrities love the style, as do lean model types who you've probably seen prancing around in them on runways and the pages of Vogue. Surprisingly, though, this trend has even caught on in the mainstream -- at least on the likes of yachting Hamptonites I saw donning shimmering metallic monokinis over the weekend. A-listers and mega-stars aside, I think this is a stunning look to wear if you have the body for it. From modest styles, such as this suit to the left, to more elaborate peek-a-boo styles, this trend is red hot and totally worth a try-out in the dressing room. But what do you think? Would you wear it? Leave a comment or vote! And be sure to check out our guide to this season's Most Flattering Swimsuits.
What To Wear For New Year's Eve: New York City
It's time for the biggest party of the year, and where better to belt out than New York City, the chicest place in the world? Since Gotham's both the birthplace of disco and home to the famous Studio 54, get your groove on with a look reminiscent of the glamorous nights of yesteryear. 1. Channel your inner Edie Sedgewick with Nanette Lepore's sequined block dress ($465). Gold sequined panels and a retro mod shape make this dress a standout at any party. 2. Kenneth Jay Lane Disco Ball Ring ($98) is perfect for the occasion. It's glitzy, fun, and will keep sparkling long after you put away your dancing shoes. If you can't watch the ball drop, why not bring it along with you. 3. A clutch is a must for a night on the town, so be sure yours stands out. Sang A's silver clutch ($509) will make a statement without saying a word. The Target silver clutch ($12.99) is another alternative - super chic but not as pricey. 4. Need a quick spritz before your midnight kiss? Bond No. 9 pocket sprays are compact enough to fit anywhere and will keep you smelling fresh throughout the night. The New York Crystal Set ($220) comes with 3 fragrances, appropriately named Chinatown, Chelsea Flowers, and Eau de New York. An elegant Swarovski crystal flacon is included in the set. 5. Accentuate your disco diva style with daring eyeliner and faux lashes. Smashbox's Smudgepot ($18) is perfect for creating the coveted smoky eye effect and will look smashing paired with Sephora's lashes ($14) Complete the look with black tights and dramatic black shoes – the higher the better. Then get ready to take a bite out of the Big Apple followed by plenty of bubbly.
L'Oreal Revitalift Moisturizer With Sunscreen: Protect Your Skin On The Cheap
What: L'Oreal Dermo-Expertise Revitalift UV Daily Moisturizing Cream with Sunscreen , $21.99Why: If you aren't already using a moisturizer with sunscreen—or a foundation, for that matter—you're late to the game. As most women know, sun exposure puts us at risk for UVA and UVB ray penetration, which in turn contributes to premature skin aging, wrinkles, loss of skin firmness and sun burn, among other ugly-inducing side effects. Unfortunately, lots of moisturizers that do contain SPF cost major dough (we're talking $100+ for some of the premium brands, like Kinerase). Thankfully, you don't have to be rich to be a "follower" and use a moisturizer with sunscreen. Simply walk to your local drugstore and pick-up L'Oreal's new RevitaLift UV Daily Moisturizing Cream with SPF 15. This skin cream contains Mexoryl, a broad-spectrum UVA/UVB protection agent. Plus, it's also a great moisturizer; it's light and lasts all day – who woulda thunk it?! My only complaint is the nozzle, which gives you too little the first pump and too much the second. But hey, at only $20, at least that tiny extra dot of lotion isn't costing you $5 a squirt. Get Yours: Drugstore.com
Great Deals On Gifts For Women and Kids
Sometimes coming up with a unique present is easy. If your sister is a dedicated skydiver or something, it's probably pretty simple to brainstorm something great she'd really want for Christmas (an extra parachute, perhaps?). But if you're buying for the vast majority of women, you're probably a little stumped. What will really make her happy? Can you avoid getting another boring gift card?Yes, of course you can. And you can do so without breaking the bank. SheFinds has put together some great deals from a few of our favorite retailers that offer unique, personalized gifts that are guaranteed to impress anyone from your sister to your mother-in-law. We've also tracked down great ideas for kids, too, since navigating the aisles of a toy store at this time of year can make a person feel downright homicidal. As if that's not enough, we've also tracked the most popular gifts this year and kept our readers in the loop on where they are still in stock. From the popular Anya Hindmarch bag (try eBay) to limited edition Marc Jacobs perfume (only at Sephora), we've got the info on where you can get your goodies.
Freebie Friday: Win a Cozy Pashmina Wrap!
What: 3-Ply Pashmina Wrap from the Pashmina StoreWhy: If men are from Mars and women from Venus, then Mars must be pretty damn hot, because the guys in every office we've ever known are constantly adjusting the temperature downwards. In the summer, they blast the air conditioning, and now that the weather's turned, they insist on turning down the heat. What gives?Since we can't combat biology, the best way to tackle the battle of the thermostat is to keep a wrap handy at all times. And since you'd rather not sacrifice an ounce of style (why else would you wear 4-inch-heels on the subway?), a gorgeous pashmina offers the perfect solution. This warm and cozy shawl looks great, feels better, and offers a wonderfully feminine way to ward off the office chill. Read more about the 3-Ply Pashmina Wrap, and enter below to win!How to Enter: You must be a SheFinds subscriber to enter the giveaway, so sign up now if you haven't already! 1. Reply to this post in the comments section below. One comment per person, please. 2. You must supply us with a valid email address. 3. The contest starts now and entries must be date stamped by our server no later than Friday, November 16th, 2007 at 11:59 AM Eastern Time to be eligible. 4. One winner will be selected during a random drawing and will be notified via e-mail to receive the prize. 5. No prize substitutions. 6. You must be 18 years old or older to enter. 7. No purchase necessary. 8. Void where prohibited. 9. Click here for the full rules.Good luck! And don't forget to check out the great giveaway at MomFinds.com, an adorable pair of shoes from See Kai Run!Congratulations to our winner, Mags!
Yuck! What's Growing In the Water At Your Local Nail Salon?
What: Pediclear Spa Disinfectant $24.99 (12 packets) Why: So we usually consider a pedicure to be a safe, relaxing, and stress-free indulgence, right? Well, not to burst everyone's bubble, but apparently we have to stay on our toes even while they are being painted. Although you can always control what polish goes on your nails, neither you nor your pedicurist can help what goes in your water. Believe it or not, as clean as that pedi-basin may be, the water itself has yet to be disinfected, and harmful bacteria can thrive despite the force of those water jets. Until now. Pediclear is an FDA-approved foot spa disinfectant that gets rids of potentially harmful bacteria that could ruin a beautiful pedicure. So why not give both yourself and your feet some extra protection from unwanted germs by bringing some Pediclear on your next visit? Each individual package is the size of a stick of gum, and you just kindly ask your nail technician to add to the water as she starts your foot bath. If this is a bit intimidating, Pediclear provides a small salon info card which explains exactly what the product is about. I felt a tad shady as I handed over the package, but surprisingly enough, my pedicurist knew exactly what it was without needing an explanation. It made for a much more relaxed experience knowing my feet were safe, sound, and soon to be beautiful.Get Yours: Divina ProductsStill feeling dirty? Take a look at our germaphobe's guide to fashion and beauty!
Best Sellers: Juicy Couture Charm Bracelet A Holiday Must-Have
What: Juicy Couture Charm Bracelet, $35 Why: Spotted on shows such as Desperate Housewives, Laguna Beach, and Newport Harbor, the Juicy Couture charm bracelet has become one trend that women of all ages adore. And this holiday season its popularity continues to rise, with retailers naming this one of their most popular products. If you want one on your wrist (or that of a friend, sister, or mom), start buying now, and be sure to add one of the adorable charms to start a collection. Seasonal options include limited edition gingerbread houses ($58) and New Year's top hats ($58) plus the fashionable snow boot ($48).Get Yours: eLuxury or Neiman MarcusWhat else is selling out this season? Be sure to check out our 2007 Guide to Sold Out Holiday Gifts.
Deal of the Day: Up to 40% Off Cold Weather Boots at Macy's
One step outside of your apartment yesterday probably made you want to turn around and run for the cozy covers of your bed. It is getting colder by the day, which we all know means chapped lips, static-y hair, and frozen toes. The good news is you get to wear some fabulous winter weather boots, and Macy's has a few snuggly pairs on sale! These Rib Knit Rebels (were $80, now $47.60) are the best way to bundle up this winter, for they are like having your leg warmers and boots in all in one. If your comfiest cable-knit sweater could somehow transform into a cute wedge-heel boot, this Report "Flurry" Cold Weather Boot (was $110, now $77) is what it would look like. We dig the pom pom laces. When those blustery winter winds pick up, the more leg coverage the better! These killer leather Jessica Simpson Slate boots (were $210, now $147) will cover a good 18 inches of your leg and feature a snuggly mock shearling fold over trim. MORE DEALSVeterans Day Sale at Macy's. Free Shipping with $99 purchase. Valid November 8th through the 12th.Save 25% off cashmere & fall favorites at Bloomingdale's from November 8-12. Simply enter the code SV118 at checkout.Wrap up your purchase with $4 gift wrapping from Buckle.com!
Which Celeb Boot Style Is Your Favorite?
This week we featured four boots celebrities adore: Nicole Richie's Lanvins, Becki Newton's Burberry booties, Blake Lively's Minnetonkas, and Jessica Biel's Loeffler Randalls. While we think they're all fabulous, they do run the gamut from cozy and casual to fierce and fabulous. We've checked them all out and can't decide which ones we like best. What do you think? Take another look and vote in the poll at the bottom... Nicole Richie's Lanvin Flat Knee Boots Becki Newton's Burberry Booties Blake Lively's Minnetonka Moccasins Jessica Biel's Loeffler Randall Kit Boots
HeFinds Guy Friday: Get Grown Up Girls With Prep School Sweaters
What: Cotton-blend Argyle Sweater, $88Why: Here at SheFinds, there's very we miss about high school, least of all the guys. But when we tune in for our weekly Gossip Girl session, we have to admit that the fellas aren't looking half bad. Don't get us wrong--we want real, adult men in our lives not 20-somethings playing teenagers--but we can't get enough of Chuck Bass' good-boy-gone-bad look.To bring a little prep school flava into our mens' lives, we turn to Banana Republic's cozy argyle sweater. The soft blend of cotton, cashmere, and angora won't rub anyone the wrong way (if only we could say that of teenagers), while the argyle pattern adds just the right amount of country club style. Just remember, guys: you don't want to over-do the look, so make sure you match your preppy pattern with some cool jeans and mussed hair. We're looking for a good guy with an edge not the debate team captain.Get Yours: Banana Republic
Listen To Oprah and Dress Better
Oprah may be facing trouble in South Africa, but here at home, she's got nothing but good news. We tuned in yesterday to get her experts' advice on looking great, and we were blown away by the fantastic make-overs. Some pieces called to us more than others (and they weren't only the ones shown on the younger women). 1. One of Oprah's makeovers had a pesky back fat problem. The solution? Robert Rodriguez's high-waisted, wide-leg pants ($198) which transformed this woman's look from lumpy and dumpy to slim and chic. Get yours at Nordstrom, but don't forget to read our shapewear solutions, too. 2. When the style experts trotted out their classic looks, we weren't at all surprised to see a leather jacket included. While we highly approve of the Vince Washed Leather Jacket ($638) choice, we might have substituted the new patent leather version ($595) had they asked. 3. Yesterday we talked about the animal print trend, so we were thrilled to see the sexy yet sophisticated pencil skirt in a leopard pattern take to the runway. To do some online purchasing without busting the budget, check out this affordable option we found for only $44. Which makeover knocked your socks off? Tell us in the comments below!
Blog Round-Up: Heard on the Web This Week
Pretty cashmere sweaters are on girlawhirl's mind right now! Smarter Fashion Blogs prepares for the holiday party season with picks for the Top 5 Cocktail Dresses from Nordstrom's Half Yearly Sale. StarStyle Scoop reports that Physicians Formula goes organic. The Beauty Brains chat about the ultimate eco-friendly cosmetic: Cargo lipstick.With parties galore on the holiday horizon, Top Button shows you how to rock it from desks to discos.
Betty's Devil Wears…..Burberry?
> What: Burberry Quilted Patent Ankle Boot, $855 Who: Ugly Betty's saucy Amanda (a.k.a. Becki Newton) Why we should all follow in her footsteps: Yes, ankle boots are hot for fall. But these particular booties...they're damn near on fire. Why else would fashion addict Amanda choose to flaunt the Burberry gems on a recent episode of Ugly Betty? Because she craves the best of the best, that's why. These boots maintain a classic aesthetic through the quilted pattern while adding a touch of rocker appeal with an ankle buckle detail. Plus they pump up any outfit with just the right amount of attitude. (Not that Amanda needs more of that, but for the rest of us kinder folk, a little kick could do us some good.) Though petite in size, these Burberry booties carry a deceivingly large price tag. For a more conservative option, try BCBG's Nilla boot for $253.95. Either way, you'll be a hot topic around the Mode office Monday morning.Never mind the fashion envy ("how dare she wear MY boots!"); isn't imitation the most sincere form of flattery? Get yours: NordstromBe sure to check out the SheFinds guide to this season's hottest boots!
Deal of the Day: Up To 40% Off Coats at Saks
Cold weather may be coming, but that's no reason to throw your style out the window. With a fashionable coat (or three), you're sure to look just a chic as you did in your summer dresses. But be sure to shop the sales so you can afford more than just one boring option. Like we always say, the more, the merrier. Short and sassy, this Theory Mariza Stretch Wool Jacket (was $595, now $357) works great on brisk fall days or in colder weather over long sweaters.When you hit the slopes of Aspen this holiday season, this Andrew Marc Sense Belted Parka (was $695, now $487) will keep the snow out and the ski instructor in. Nothing screams class like a tweed Nanette Lepore Beauteous Bubble Coat (was $495, now $297). And with this kind of sale, you can actually afford to indulge in the trendy bubble sleeves and hems you've been coveting.MORE DEALS$30 off women's stainless steel Movado Gentry sport watches at Overstock.comFree shipping with $99 cashmere purchases during Macy's cashmere sale. Valid through November 12th.Cotton bikini panties on sale for three for $20 at GapBody
Sleepwear Find: Cool Pajamas for Hot Nights
What: Moisture wicking sleepwear from Haralee. Why: Say goodbye to flannel and hello to hot weather with the Haralee line of moisture-wicking pajamas. Originally developed for women undergoing night sweats thanks to menopause and women suffering from internal thermostat issues due to chemotherapy, the Haralee line is great for hot women of all ages. All of the items, which include nightgowns, pillowcases, robes and pajamas, like the Barbara Fern Green featured here, are made of moisture wicking fabric that dries quickly – perfect for hot nights here or abroad. Additionally, part of every sale goes to the breast cancer research fund. Now isn't that cool? Price: $55 Get Yours: Haralee.com
Beauty Find: Lip Quenching Color from iQ Derma
What: iQ Derma Lip Quench Moisture Infusion Lip TreatmentWhy: Lately my lips have been pale, chapped versions of themselves. My normal lip balm wasn't fixing the problem and glosses were just making everything worse. Then I tried IQ Derma Lip Quench. The balm moisturizes while plumping, decreasing chapping and smoothing wrinkles. As if that didn't make it hard working enough, it comes in a sheer pink shade that adds just a hint of color. The combination of olive and sweet oils that protect against free radicals make this a win win balm for every situation. Now, it hasn't converted my pucker into Angelina's pillowy pout, but my boyfriend isn't complaining, either!Price: $31 Find it: SkinStore.com
Eco-Chic Bath Find: The Thymes Foaming Bath Envelopes
What: Filgree Perfumed Foaming Bath by the Thymes Why: Made with all-natural ingredients, this bath powder blends the scents of amber, juniper berry, cedarwood and neroli. And while many bath products claim to perform the miracles of easing tension, making your world melt away and moisturizing your skin… this one truly does all three. Thymes products are created in a high-tech lab with roots in nature and each is intended to help you make the most of those stolen relaxation moments. They've definitely earned their place in my bath time routine. Price: $6 per envelope (enough for one bath) Get Yours: Amazon.com Love the scent? Try the Filigree Bundle that includes a Foaming Bath Envelope, Large Bar Soap, Body Creme and a poured candle all in a lovely gift box for just $80.Looking for more eco-chic finds? Head to the Eco-Chic Beauty Guide and see the rest of our Eco-Chic Blog Finds.
SheFinds a Solution to Sweaty Soles
What: Summer Soles Suede Softness Insoles Why: Every gal knows the dangers of a three-block walk in strappy sandals on a summer day…sidewalk cracks, fire grates and sweaty feet that slip in your shoe. But fear the dreaded shoe that squish no more with Summer Soles Suede Softness insoles. I wasn't sure the soft inserts would end the discomfort and blisters caused by the leather soles of my favorite work shoes, but they made an instant difference! No more moist, sticky feet—and did you know we have over 250,000 sweat glands on our feet? These are some hard working inserts! And I didn't have to sacrifice fashion either because the insoles come in a leopard and zebra prints in addition to neutral colors. Feel like you've seen them before? You have in People, Lucky and in our very own guide to Style Solutions. Price: $7.95 for one pair or $21 for three Get Yours: Summersoles.com
Beauty Find: Altoids for Your Eyes — Feel the Cooling *Burn*
What: Rohto V ICE Eye Drops for Redness Relief Why: My peepers take a beating. After commuting through city smog and spending eight hours in an air-conditioned office staring at a computer, they're often red, irritated and dry. But then a co-worker recommended these eye drops by saying they were like "Altoids for the eyes." With that kind of an endorsement… who wouldn't give them a shot? And she was right. The preservative-free drops not only soothed my itchy eyes but made the redness go away. One thing to note: Do not use these drops while wearing contacts. Price: On sale for $5.49 (from $6.99) Get Yours: Drugstore.com
SheFinds Was There: VS PINK Pajama Party in Chicago
How much better can it get? The mood was beachy -- which Chicagoans are good at pulling off for two months of the year -- and the atmosphere was fun with thousands of girls... and a couple of guys. It was a true pajama party on the beach with bubble gum pink cabanas, wine coolers and a little mini Victorias Secret selling PINK clothing. It got even better as DJ AM spun the night away and Fergie performed. Oh, and we can't forget the freebies for all gals in PINK attire. Looking for your own Victorias Secret Beach or Pink attire? Check out these select picks to outfit your next pink party:
Beauty Find: Rescue Your Hands and Lips with Air Repair
What: Air Repair's Dual Purpose Rescue Balm Why: Two-in-one products make us nervous. The product is always way better for one thing over the other. Take 2-in-1 shampoo and conditioner. We have never, ever, used Head in Shoulders and thought, "Wow, what a time saver!" Instead we think, "Wow, I can't get a brush through this rat's nest!" Therefore, when Air Repair's Rescue Balm ended up in our hands and promoted itself as an excellent hand and lip balm, we were a little skeptical. We instantly had visions of putting lotion on our lips and trying, desperately, to rub it in. Still, we gave it a shot after realizing that it was a salve -– not a lotion at all. Made of shea butter and natural oils, the salve was impressive both with soothing our dry hands and our lips. We're so thrilled we're almost considering another attempt with Head and Shoulders. But not quite. Price: $18 Get Yours: VisageStudio.com
Summer Skin Care: Bye Bye Puffy Eyes
What: Chinese Tea Eye Gel Why: The first brutal heat wave hit right after Memorial Day. Now, heat waves can be an excuse to break out excellent things like sandals, sleeveless tanks, skirts and ice cream. Lots and lots of ice cream. However, it also makes us melt faster than a snowman, causing us to shower at least twice a day and avow that the A/C is our new best friend. Additionally, our eyes puff up so much our boss always asks if we've been crying. Thankfully, the new Chinese Tea Eye Gel from Air Repair makes us willing to appear in public again. This herbal gel is best stored in the refrigerator, providing an extra cool kick while the lasting herbs work to calm and sooth your eyes. Now, if only we could find something to tone down the humid-happy hair… Price: $30 Get Yours: VisageStudio.com
Neutrogena to the Rescue: A Powerful Sunblock That's Gentle on Skin
What: Neutrogena Ultra Sheer, Dry-Touch Sunblock SPF 70 Why: My boyfriend insists that I can put any type of sunscreen on my face. While he slathers on the Banana Boat, I recoil in horror, digging through my collection to find the one that won't make me look like my face has been bitten with fire ants. However, nine times out of 10, I end up looking like Rudolph, while he emerges unscathed. Despite the fact this irks me to no end, I still refuse to pick up the No-Ad. Instead I tried a different tactic -– using sunscreen from a company that specializes in skin care instead of the Coppertone that promises to be 'good for faces'. The Neutrogena Ultra Sheer line with their new Helioplex ingredient is right on target. It absorbs fast and doesn't leave the sticky residue that I'm used to -– more importantly, it actually stops the rays with a heavy-duty SPF 70 rating. It's waterproof, sweatproof and after a weekend in the sun, my skin is still in the clear. I cannot, however, say the same thing for my boyfriend. Price: On sale for $9, Org. $11.29 Get Yours: Drugstore.com
Fashion Find: Rosie Ro Bags for the Birds
What: Rosie Ro Redbird Why: We're not that into birds. They have a tendency to do bad things whenever they fly over our heads (it's almost as if every pigeon knows we call them rat-birds) and the dive bombing thing is not cool. However, we might be willing to give birds another chance thanks to Rosie Ro's adorable designs. Each bag is made by only one person, with fun and playful patterns, such as this Redbird Baby or the owl-inspired Peek-a-Hoot, both of which are perfect fun-in-the-summer bags. Plus, maybe the pigeons will see it as a cease-fire. Price: $65 Get Yours: RosieRo.net
Taste Test: Animal Print Ballerina Flats
Animal prints are a favorite season after season, and this one is no exception. Here you have a few pairs of ballerina flats in a flashy zebra print -- a perfect accessory to spice up a basic summer ensemble. One of these pairs costs over $200, while the others are relative steals in comparison ringing in at $165 and a fabulously low $45. Can you tell which shoes are the better bargain? Just click on the image you think is the lowest priced item to discover your fashion IQ. Option A Option B Option C
Summer Skincare: Daily Moisturizer That Protects
What: Neutrogena Healthy Defense Daily Moisturizer SPF 45 Why: We know that you can get burned almost as easily in the winter as you can in the summer. Still, in the summer, we're more likely to spend precious time outside, whether it's walking to work or eating lunch outdoors. Therefore it's time to up the ante on our daily moisturizer. Normally, moisturizer + sunscreen = grease and breakouts. However, we heard rave reviews about Neutrogena's new skincare line with Helioplex and picked up a few products. The Healthy Defense SPF 45 was amazing, and just as advertised, it's not greasy and really did provide coverage all day. It's fragrance-free, safe for sensitive skin, and it didn't lead to breakouts even with the added UVA and UVB protection. Now we feel a little more comfortable about those extra long lunches in the sun. Price: $12.49 Get Yours: Drugstore.com
Web Site Review: A Better Buzz
What: Get a new buzz at BuzzFeed. Why: Although we search high and low for the latest and greatest (and not-so-great) in fashion, beauty and lifestyle trends, we realize we're not the only trendy superstar on the block. BuzzFeed, a Web site dedicated to finding out the hottest news in TV, tech, science and more, has a snarky new style section as well. Think Gawker-style, but in a paragraph or less. Visitors who are interested in reading more on the topic can follow any number of links below the headline…all in pursuit to "find your new favorite thing." Why Not: Updates to particular topic like Style can be sporadic, but we're sure that as the site grows, they'll give us more of what we want. Keep it or Return it: Keep it! Anytime we can one-up our super suave best friend or impress our fashionista co-worker, we feel pretty pleased. Find It: BuzzFeed.com
SheFinds News: The Morning Roundup
NEWS * Rumor is that more designer footwear from Payless is coming in Spring 2008, this time by Stacy Bendet and alice + olivia. [PR Newswire] * Shopping online in New York may have just become a little bit safer. [WWD] * CFDA Fashion Awards are announced and...it's a tie! [FWD] EVENTS What: Diane Von Furstenberg Sample Sale: 75% off dresses, knits, swim and more! When: Tues. 6/5 9am to 6pm, Wed. and Thur. 10am to 7pm, and Fri. 9am to 3pm. Where: 260 Fifth Ave. Btwn. 28th and 29th. New York, NY. What: Benefit Bag-a-Day Giveaway: Register at Piperlime for a chance to win a $250 gift certificate at Benefit Cosmetics or Piperlime. When: One gift bag giveaway every day from June 5th-25th. Where: Piperlime.com
Good Question: Redness-Reducing Moisturizer
Question: Like many short-sighted teens, I didn't heed my mother's advice when I was in high school and picked at acne on my face. Now, I'm in my twenties and have various red marks left as battle scars. Does anyone know a face moisturizer that may treat this? Answer: I myself have battled sensitive skin and redness since I was a young girl, and know how frustrating blotchy, red, uneven skin can be. To start with, I suggest adopting a sensitive skin care regime that allows the skin to heal. Our guide to Sensitive Skin Products has lots of great suggestions for face wash and moisturizers. In addition, you should use a redness-reducing serum. Two products I use are La Roche-Posay's Rosaliac Anti-Redness Moisturizer ($30 @ Skinstore.com) and LIERAC's Apaisance-Specific Care for Redness & Visable Signs of Couperose ($40 @ Drugstore.com). You might also benefit from Crabtree & Evelyn's Fade Serum ($28 @ CrabtreeandEvelyn.com). Each one is safe for sensitive skin, I haven't had a breakout yet, and my redness has diminished substantially since I began using them. Hopefully they'll work for you, too!
Deal of the Day: Special 35% Off at LuxuryShoes.com
What: LuxuryShoes.com Designer Sale Why: With the coupon code DESIGNERSALE, you can take and extra 35% off already discounted items like these sleek, gold Calvin Klein sandals, perfect for strolling the city or the sand. Another cool find are these funky sneakers by CAMPER that add a little spunk to your step this summer. For great shoes to show off your feet this season or to save for fall, you'll have no better bet than to check out this designer sale, chock full of luxury brands from Givenchy to Via Spiga. You're bound to find a pair to suit your fancy. Hurry, this sale ends 6/11/07. Find It: LuxuryShoes.com That's not all...Check out these deals going on now. * Get free shipping with any online order of $150 or more at Bloomingdales.com June 4-8. Enter promo code FS64 at checkout. * Get up to %75 off at the Bluefly Semi-Annual Bluesale. * Take $15 off orders more than $75 at Gaiam with coupon code AFC6. * Buy one, get one 50% off at Aliza Darik.
Celebrity Swimsuits: Whose Would You Wear?
New to SheFinds? We invite you to sign up to our free weekly newsletter to get deals, helpful beauty advice and cool fashion tips mailed straight to your inbox. And if you use a blog reader, add our RSS feed to your reading list by clicking on the buttons below. Getting your daily dose of finds has never been easier! Celebrities are known for their fashion sense -- whether they are or fashion disasters is just a minor detail. Here we have a selection of some of Hollywood's most laid-back starlets showing off their bods in -- lucky for us -- fashion that's actually wearable by people in the real world. The question is: will you follow suit and steal their swim style, or would you rather leave these numbers to the celebs and chart your own fashion path? Vote for your favorite below! And be sure to check out our bathing suit style guide for more great styles for summer '07. Evangeline Lilly's Surfer Stunner "Ugly Betty's" Beautiful Basic Kate Bosworth's Find from the Gap Cameron Diaz's "Lollipop" Bikini Drew Barrymore's Classic Black Bikini Want more? Check out our celebrity style finds, Celebrity "It" Bags, our Steal Her Style Guide, bathing suit styles, and even the latest celebrity fashion slip ups, like stars without bras.
Fashion Find: It's Not Your Ordinary Dress Pump
What: Naughty Monkey "Perky" Heel Why: You don't have to settle for another boring pair of pumps when you choose shoes from Naughty Monkey. These "Perky" heels are definitely a lively pair of leather shoes to perk up your day, yet they still maintain a professional look. We love the detailed braid trim and rich chocolate leather. With a flirty faux wrap buckle across the round toe and somewhat edgy brass studs, this shoe is all class, but still a ton of fun. Price: $74 Get Yours: Redvelvetcouture.com Deal Alert: Get 30% off finds from Jalda, Jana Feifer, Klub Nico, Mio, Naughty Monkey, Not Rated, Penny Loves Kenny, and Pink Studio. Enter coupon code shefinds30 at checkout.
Eco-Chic Denim Find: A Forest of Flattery
What: Pine IV Kyoto-Jean Why: Dying to show Leonardo Di Caprio you're on his tree-hugging band-wagon? Don't have the cash -- or, let's face it, the credit limit -- to shell out for that Toyota Prius hybrid you've been lusting after? The new denim label Pine IV is a cute and Earth-friendly solution. Each pair is made from Kaihara, a Japanese cotton milled for extra comfort and a flattering fit. Plus, for every pair you purchase Pine IV makes a donation to a nonprofit environmental organization like American Forest. And don't worry, your visions of Birkenstocks and tie-dye will evaporate once you lay your eyes on the trouser-cut Koyoto-jean, which features a classic-rise waist, flared legs, golden topstitching and back button-flap pockets. The white trouser, with a waist that falls just four fingers below the belly button, is a booty- flattering choice for summer protests of the EPA. Definitely a pair of jeans worth the green. Price: $200 Get Yours: NeimanMarcus.com Love being green? Check out these popular eco guides from SheFinds: * Green Clothes and Accessories * Eco-Chic Blog Finds * Organic and Natural Beauty Picks
A Green Find for Maturing Skin
What: Juice Beauty's Green Apple Antioxidant Serum Why: This fresh-smelling, ultra-light organic serum is perfect for people with oily, acne-prone or even sensitive skin. I use it at night, just after cleansing and toning to give my skin a dose of beneficial antioxidants to help ward off wrinkles -- I might still be young, but I know they're on their way. Thanks to a potent dose of hydroxy acids and retinols, this serum multi-tasks to plump up lines you already have and to fight off those that are looming over the hill. The point is, it's as useful to a woman in her twenties as it is to one in her fifties. I particularly want to point out the fact that it doesn't clog my pores or leave any greasy residue, so it can be worn during the day as well as at night. So go organic and give your face a shot of the good stuff. Green looks good on everyone. Price: $45 Get Yours: Upurea.com SheFinds Reader Exclusive Deal: Get 15% discount off all non-sale items when you use code SHEFINDS at checkout.
Trend Alert: Ring It On
What: Rings in chunky, colorful plastic. Summer is the perfect time to experiment with fresh fashion trends, but turning your closet into a fashion lab can get expensive quick. Plus, if you're like me, you're a little wary of taking big-time fashion risks because of your insane ability to lose the cutest things before they've lived up to their trendsetting potential (this annoying quirk applies especially to sunglasses). So thank goodness for this season's crop of big, bold, Bakelite-inspired rings. They come in juicy candy colors, and their oversized charm and lightness make them the perfect add-on to any outfit. They're bound to become a conversation piece. Whether or not you mention the practical prices (most ring in under ten bucks) is up to you. Forever 21's big yellow square ring ($3.80), Claire's black rose ring ($7.50) and Wet Seal's rhinestone square ring ($5) are quirky, youthful choices that definitely won't break the bank. For more retro-style glass, Lucite and plastic rings to jazz up even the safest of summer wardrobes, head to ShopStyle.
SheFinds News: The Morning Roundup
NEWS * Ready for scary boho fashion of leggings and lumberjack flannels? Let's hope the Olsens grow up a bit before launching their first contemporary sportswear line, "Elizabeth and James," this fall. [WWD] * French brand, dcod Denim Code, takes the term "plugged in" to a whole new level by adding embroidered barcodes to the denim that makes them interact with your cell phone. [WWD] * Buying a swimsuit may just be the most difficult process ever. One editor tells all about her quest that ends in a surprising discovery. [NY Times] * And the winner is...Products of the Day blog announces the top five best sugar scrubs. SALES & DEALS * Classic Closeouts: Take $10 off and get FREE SHIPPING on all orders of $50 or more. Valid May 26th-June 28th. Use coupon SPRMDS. * Conspiracy Eight dresses 80% off retail price. * Figleaves: Shop lingerie at 50% OFF during the summer blowout sale.
As Seen On: Eva Longoria's Feet
What: Girl Two Doors Down Flip-Flops Why: Stars like Eva Longoria and Jessica Alba must have similar taste because they love these girly flip-flops from Girl Two Doors Down. They come in pink, brown and metallics, both flat and platform style, but no matter what color you choose, the most important part is the bling. Laden in sparkly little rhinestones and clad with a big fat diamond between the toes, you know you're in Hollywood when you sport these shoes. They're the ultimate way to indulge your inner diva, plus these beach-goers are sassy, too. On the soles they read, "If you have to ask you cannot afford me." Now how's that for a swanky sandal? Price: $48-$54 Get Yours: ShopRumor.com
He Finds Guy Friday: A Jacket Batman Would Envy
I laugh at my boyfriend whenever we're trying to leave the house because he takes longer to get ready than I do. He's forever trying to figure out how to carry all his stuff -- wallet, keys, cell phone, Blackberry, PDA, camera, notebook, pen, chapstick... the list goes on. He has two, maybe three, useful pockets for all this stuff. And he refuses to use a small bag because "Men don't carry purses." It leads me to question my devotion to this man. Because I love him -- and because I'm tired of being late -- I got him a ScotteVest fleece jacket/vest. SeV makes clothing and outerwear with hidden pockets that allow you to carry everything without looking like you're carrying anything. The jackets are particularly impressive with about a dozen pockets lining the inside and only four visible zippers outside; perfect for carrying small electronics and anything else a guy needs. It's great for cold weather and will even work on warmer days due to the removable sleeves. I plan to sneak away with it next time I head to the airport. It'll make the security check a breeze. Grab a SeV Fleece 4.0 for your favorite guy (or for yourself) for $140 at scottevest.com.
Survival Kit for the Working Woman
What: The Working Girl's Survival Kit Why: Heading to your afternoon meeting, a button pops off your jacket. No biggie, right? As you're munching on the go, mustard drips straight down the front of your shirt. Just having a bad day, maybe? Top things off with a big fat blister from your pumps, a deadly case of onion breath and a big piece of broccoli stuck in your teeth. Nightmares happen, so you can never be too prepared. Rest assured with The Working Girl's Survival Kit. It's a savvy, compact, hard-case tote that houses all those little things that when at home, you take for granted: lint-brush, floss, a spare tampon, antacid, pre-threaded needles, stain wipes and more. Just be sure to refill the kit when you refuel at home-base so you'll always be protected when you're on the road or at your office. Then you can concentrate on the important things and stop worrying about the big yellow smear on your shirt. Price: $43 Get Yours: MsandMrs.com
Flat Chest? No Money? No Problem.
The Topic: The country's unhealthy breast obsession. The Debate: I'm not sure where to begin this rant; whether it's with the men who are obsessed with breasts or the way society has made women so self-conscious about their looks that they are willing to sell their souls for a pair of free boobs. Yes, you heard right -- free boob jobs. The whole thing started at a Las Vegas bachelor party (what a surprise) when a bunch of guys were "admiring" a woman's new implants. The well-endowed woman's girlfriend chimed in saying that she wanted them, too, but couldn't afford the surgery. That's where the bidding began and MyFreeImplants.com was born. The idea behind the social networking Web site is that flat girls looking for enhancement can finally feel better about themselves and the "benefactors" who supply them with the cash to get their operations get to "interact" with them via email, chat and photos. In some states they might call this prostitution, but hey, when it comes to the betterment of society, these minute technical details shouldn't get in the way. Right? The Verdict: Of course, guys everywhere think this is a great idea. I'm not one to say what a woman can or can't do with her body, but something about this just seems so very wrong -- and this is coming from someone who was teased profusely for being flat all throughout high school. Do I go and get surgery? No. I learn to love myself and my body, and only surround myself with those who give me the same respect. Is this concept horrendous or helpful? Are men sinking to a new low, have women lost all sense of pride and decency, or is MyFreeImplants.com doing "a service to the country?" Thanks to Trendhunter.com for enlightening us about the "trend." Whether you're well-endowed, rocking an a-cup, or simply need something that holds everything together during your workout, get bras that fit you perfectly.
Beach Find: A Classy Coverup by Float Designs
What: Float Design's Maritime Tunic Why: This new upscale women's resort wear clothing company created by designer Ramona Senese offers items that combine the perfect amount of luxury and carefree summer style. Our favorite piece from the launch of the collection is this Maritime Tunic. With a luxurious cotton silk blend, there's no question that you'll be the most fashionable looking woman on the beach. Plus, it features their fabulously bold, slightly retro Napali Print. If you find silk blends to be a little over the top for your family outings, may we also suggest the Sun Soaked Pull Over in 100% cotton or the Lounge Loop Terry Hoodie. Both are stylish, but a little less high maintenance, and are the perfect things to wear for covering up on your trip to the cabana for drinks or just for lounging around the house. Price: $120 Get Yours: FloatDesigns.net
SheFinds News: The Morning Roundup
NEWS * You call it shoe haven, I call it shoe heaven. The new Saks Shoe Department in New York City is so massive it earns its own government-issued zip code (10022-SHOE). [Fashion Week Daily] * Looks like rehab worked for Tom Ford because apparently he and Martha Stewart are having a ball baking pecan pralines together on her show. Let's hope she doesn't rub off on him too much. [Fashion Week Daily] * Do you "hive it?" The buzz around Stylehive is that they're partnering with some of our fave etailors (like shopbop.com, Lisa Kline and Ron Herman) to add a social shopping element to their Web sites. [PR Newswire] * Want to know where your hard-earned cash it going? If you have a closet full of jeans, most likely to these 12 top denim brands. [WWD] * Also in denim news, apparently kids will get the golden treatment as luxury denim jeans roll out their goods in little people sizes. Stovepipe Diesel jeans in a size 6x and selling for $220? Whatever happened to kids just being kids? [WWD] SALES & DEALS * Bluefly is offering an extra $20 off your first order of $150 or more with this special coupon code: AFF20. Offer expires 05/31/07. * eLUXURY is having an illustrious 40% Off Designer Sale. * Memorial Day Sale: Get 25% off at LadyLanguage.com when you enter code MEMORIALDAYSALE at checkout. EVENTS What: Benefit's "Skincare 101" class When: 5/25–5/26. Call (212) 729-5900 to make your appointment. Where: Bloomingdale's in Soho, NYC. 504 Broadway, 3rd Fl. What: Lancôme Skin Diagnosis Event When: May 25 & 26, 10am-6pm. Where: At Nordstrom's Valley Fair, CA location. (408) 248-2180 See a full listing of beauty events and locations at Nordstrom.com.
Trend Alert: Floral Accessories
Pretty feminine floral prints are perfect for spring, however, you have to be careful to limit them to one main focal point in your outfit so you don't look like a poorly upholstered sofa from the '70s. We suggest wearing this trend in discrete places, like on shoes, handbags or accessories, where a bright pop of color adds pizazz to an otherwise basic ensemble. Here are a few statement pieces we love, plus suggestions on how to wear them. Allover Floral Scarf ($5 @ UrbanOutfitters.com): Wear a skinny scarf or tie as a belt for an impeccable combination of crisp white and bold color. We suggest these Gap Cotton linen pants and Puff-sleeve button-front shirt. Arielle Peep-Toe Platform Slingback ($45 @ BakersFootwear.com): These darling satin platforms would look perfect with a solid-colored sundress like this Old Navy Matte Jersey Surplice in syrah. *Deal Alert* Buy one pair of sandals at Bakers and get the second pair 50 percent off. Life's A Beach Floral Canvas Beach Bag ($32 @ eBags.com): This sunny yellow tote would be a great shopper when you take a stroll through the farmer's market on a lazy Sunday in this Mossimo Black: Crossover Linen Dress. If you love the look of florals on footwear, check out our ShopStyle stylebook that's full of Flirty Floral Footwear.
Fly Through Airport Security with the A-Way Ticket Tote
Traveling can be stressful, no doubt. I hate going through the whole security process and the hassle it entails. It wouldn't be so bad if it all actually made me feel safe, but that's a whole other rant. No matter how much time you have standing in line at security, many people still end up digging in huge bags or purses for those two all-important items: boarding pass and ID. You want to keep these items safe, obviously, but accessible. Instead of slipping them into a deep, dark pocket, carry all your at-hand items in the A-Way Ticket Tote. The coolest thing about this zippered pouch is the extendable/retractable hook attachment. Snap it to your purse, briefcase, or luggage and pull it close when you need it. The pouch reels right back into place. I use this instead of carrying a purse, leaving me with fewer bags to keep track of. A definite plus. Snag one before your next trip for only $25. Check out A-Way Travel Gear's Travel Treads as well. They'll keep your feet from the grody floor during those annoying shoe ex-rays.
A Travel Find: Say Good Bye to Lost Luggage
Has an airline ever lost your luggage? It seems that roughly six in every 1,000 bags is lost, delayed or damaged. Though complete loss is probably not as prevalent as temporary misplacement, not getting your bag when you get off the plane can ruin a vacation or derail a business trip. While many people respond by only taking carry-on luggage, this isn't always feasible. If you're gone for a week or more, you're going to need a bigger bag. If you've been burned by the airlines before and don't want to take any chances, why not try a luggage delivery service like Luggage Concierge? They'll pick your bag up from home, deliver it to your destination, then send it back when your travels are over. This solution isn't for everyone. These services cost a pretty penny. Sometimes as much or more than an extra ticket. But if you're planning a major family getaway, a dream-come-true honeymoon or a trip that cannot go wrong, you may want to take out an extra insurance policy. Exclusive for SheFinds Readers: Get a 10% discount at Luggage Concierge with code LC-SFC.