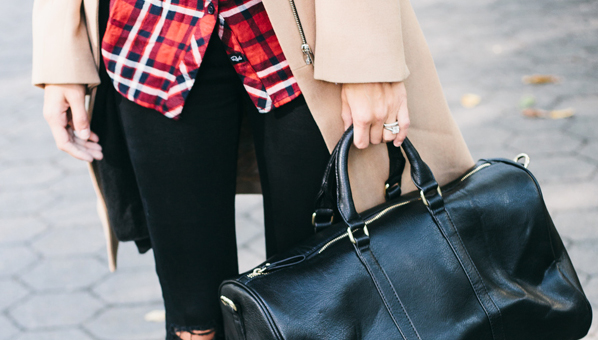 This Is Actually The Most Convenient Travel Bag For The Holidays
Being home for the holidays most likely means you'll be packing up your bags for a few hours (or more) of traveling. For those who don't want to take rolling luggage and duffle bags on their upcoming journey, then we suggest going for something classic. And before you throw around the "basic" word, hear us out: Longchamp bags are actually great as travel bags. They're roomy, durable, and are easier on the eyes than say, a Vera Bradley bag. Plus, once you get to your parents' place, you could use your Longchamp for the rest of your stay, whether you're heading to that anticipated high school reunion (and then spending the night at your best friend's newly-bought condo) or planning a quick Thanksgiving visit to your S.O.'s family gathering. But, chances are you'll be spending your entire holiday vacation being a back home baller. Check out our slideshow to see what Longchamp styles you'll be sporting for your next trip. [Photo: Damsel in Dior]
Who Says Travel Bags Have To Be Boring? The Best Carry-Ons, Weekenders & More
With the holidays approaching, it's time to dust off your carry-on for a schedule of traveling. Whether you're off to a tropical island for vacation or heading home to spend time with the family, your luggage should be anything but black. In fact, statistics show that the dark hue is the item of choice for thieves at airports and stations. Isn't that enough of an excuse to go shopping for a statement-making weekender bag? Plus, a bright or patterned bag is much easier for you to spot on the luggage carousel or in a sea of bags in the bus's luggage hold. So even if it's a short trip or a long journey, we picked out a huge selection of stylish weekenders, carry-ons, and cosmetic cases for you to travel with in style. Check out our slideshow above and get packing! Read more fashion trends and stories: shearling wedge sneakers, how to wear a jumpsuit in the winter, and gifts that give back. [Photo Credit: Cheetah is the New Black]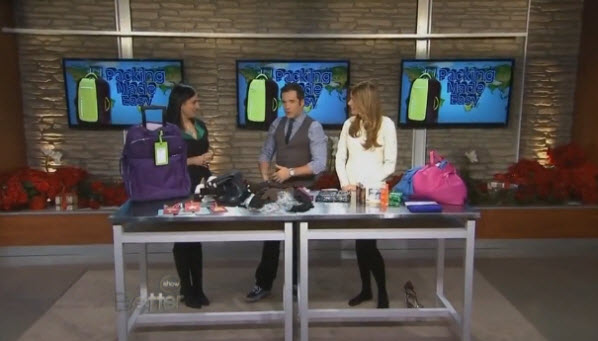 SHEfinds On Better TV: The Most Important Holiday Travel Tip, Revealed
AAA estimates that almost 40 million people will be traveling this holiday season, and you do NOT want to be stuck behind them at baggage claim. This morning, SHEfinds CEO and author of Wear This Now Michelle Madhok appeared on Better TV (with guest host Kelly Bensimon looking on!) to share her most sacred traveling tip: packing a carry-on bag. Checking bags are for the birds, but it's not always so easy to get everything you need for the trip in to one small bag. Watch as Michelle shows the best way to fold clothes and cosmetics, how to pick your luggage, where to get travel-sized versions of your favorite beauty products, and the latest innovations in foldable footwear (our favorite part!). Then shop all the items featured in the segment in our slideshow above. For more packing tips, check out "How To Pack A Carry-On Like A Boss." For more Better TV x SHEfinds tips, check out the season's hottest coat trends, 5 jewelry trends you need now, and Michelle's favorite tech accessories.
Don't Roll Into Town With Busted Luggage – Travel In Style This Thanksgiving
Whether you're headed back to your home town, or meeting your boyfriend's parents for the first time, don't roll into the airport looking a hot mess this Thanksgiving. Channel Victoria Beckham, Kim Kardashian and Rachel Bilson when traveling this season; though you might not be headed to the same destinations, at least you can get there looking good. Check out the perfect weekend-getaway luggage: Carry-on Bags: Whether your filling it with goodies for a long car ride or making it the only bag you bring, your carry-on tote needs to be big and fabulous. This LeSportsac Overnighter ($98) is simple but makes a statement in the black patent and the Ugg Equestrian Leather Tote ($328) is stunning while being very functional with its front pockets. Duffel/Overnight Bags: Duffel bags are essential when you're on the go - whether it's running through the airport or squeezing into a car. The shiny LeSportsac Large Weekender ($120) is cute, easy to clean, and affordable. Tory Burch's Alice Quilted Weekender ($550) could double as a pillow with how soft it is and could hold a good chunk of your wardrobe with how large it is. Cosmetic Cases: Makeup and toiletries can make a mess of your bag while in transit so keeping them contained is a must. With the quirky leopard LeSportsac Cheater Cosmetic Bag ($25) and the Tory Burch Palma Cosmetics Case ($75), your clothes and products are protected from dreaded spills in a very cute way. Check out other great travel bags, then head over to our shopping guides for the best skinny jeans, tees to hide your tummy, skinny jeans and flat black boots. Subscribe to our e-mail list for exclusive updates.
Don't Check Your Luggage–Get One Of These 5 Carry-Ons Instead.
There's nothing worse than facing airport carousel, waiting for a bag that will never arrive. According to recent reports from the travel industry, 25 million bags were lost by airlines in 2009 (that's 1 in 100 passengers). Don't be a statistic: get one of these cool carry-on luggage pieces so you can fly by baggage claim in a flash. 1. Classic, lightweight, collapsible and available in a billion colors, this Lesportsac tote ($78) might just be the best travel bag ever. 2. This Diane von Furstenberg luggage ($78, down from $220) is a great deal--a chic, sturdy wheeled bag doubles as a good-looking duffle bag. Of course, we'd expect a jetsetter like Diane von Furstenberg to know exactly what kind of luggage to make. 3. This fun and cheery Marc by Marc Jacobs tote ($188) is large enough to carry your life, and bright enough to never get lost. 4. Practical and easy to use for short trips, this Olympia Deluxe garment bag is a must-have for all of those summer weddings you're going to. 5. Shake things up a little with this Toss Designs rolling bag ($140). See our entire guide to carry-on bags, plus cool sneakers and skinny jeans. Then finish off your summer wardrobe with mini skirts, cheap swimwear, and celebrity sunglasses.