Shop The Entire Catherine Malandrino x DesigNation Collection 4 Days Early!
You've seen the debut, the lookbook, the pre-order collection, and now you can finally shop the entire Catherine Malandrino x DesigNation collection on Kohl's.com. And the best part is that not only can get all of your favorite stuff online 4 days before it's in store, but certain items are online-only. So this really is your chance to shop the entire limited-edition collab. If that doesn't scream best Tuesday night ever, then I don't know what does! Many of the looks are Parisian-themed, so that means lots of black, white, and Eiffel Towers. If you loved the Eiffel Tower Sweater ($58) from the pre-sale, then definitely check out the Eiffel Tower Sheath Dress ($78), which features a sheer mesh back with an embroidered image of Paris' most famous landmark. Ok, enough with the deets. Click through the slideshow to get your Catherine Malandrino x Designation pieces now! SHOP CATHERINE MALANDRINO X DESIGNATION NOW And don't forget to check out: the 13 worst selfie spinoffs, 9 new launches for fall and new photos from the Isabel Marant for H&M lookbook
Shop The Catherine Malandrino x DesigNation Collection 9 Days Early!
Good things come to those who stalk! We're so excited about the Catherine Malandrino x DesigNation collection that we're sharing this exclusive pre-sale link with you early. Everyone else will know about the pre-sale tomorrow so this is you chance to score the pieces you've been eyeing before they sell out. Now before you get too excited, this pre-sale only features a selection of the Catherine Malandrino x DesigNation line. But hey, that's better than nothing right. And to entice you even further, pre-sale shoppers will receive a special $10 off in-store e-coupon that you can use to shop again on September 27 when the full Catherine Malandrino x DesigNation collection launches. So don't wait! It's only a matter of time before more people realize you can shop the collection early. Click through the slideshow to check out the pieces you can score now. SHOP CATHERINE MALANDRINO X KOHL's NOW! In other news, you can now shop TJMaxx online, Jennifer Lopez wore one of her Kohl's designs and Jennifer Aniston may actually be pregnant.
PHOTO: Your First Look At The Upcoming Catherine Malandrino x Kohl's Collection
With all the buzz about Phillip Lim for Target, Catherine Malandrino's upcoming collection for Kohl's DesigNation has been super hush-hush. It's slated to arrive on September 27th and yet we haven't heard a peep about what to expect or even gotten a glimpse of any of the designs. Until now, that is. The one and only Olivia Palermo was recently snapped wearing an amazing dress from the Catherine Malandrino x DesigNation collection and it's holy amazing. If this dress is any indication, the line is gonna be ridiculously good. Olivia wore the Cutout Shift Dress which will retail for just $88 when the collection hits next month. Mark your calendar! Cutout Shift Dress ($88) In other news, check out Jonathan Adler's new handbag collection, Facebook's nail polish (for real) and OPI's diamond-infused nail polish.
Catherine Malandrino And Lacoste Team Up In A Chic Sportswear Collaboration
Today is the day: Catherine Malandrino and Lacoste have teamed up to recreate a fashion-forward line of dresses and tops that have Malandrino's chic stamp all over them, with a classic Lacoste sportwear spin. Love what you see? There's even more--check out the Malandrino/Lacoste collaboration now. Prices range from $145 to $265. Check out more fashion news, plus all of this week's best sales and deals.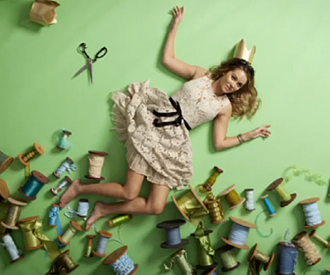 8 Riveting & Strange Pieces of Gossip To Start Your Weekend Off Right
Happy Friday! It's been a long week, which means there's bound to be news you've missed.  In case you find yourself tongue-tied with nothing to say, be sure to take a peek at our conversation starters from the week below: In case you thought you missed Lauren Conrad's new show, you didn't. The reality TV star's newest project isn't making the MTV lineup this time around. Have an extra $75 laying around? Pick up this new perfume, Surplus, which is made from actual human poop. Bring on the pink eye. Not only is tennis season coming up, but so is the Catherine Malandrino line for Lacoste. Makes us kind of want to pick up a racket. For all of your die-hard Rocky Balboa fans, be sure to shop Sylvester Stallone's new clothing line for your boyfriend. Or more realistically, your dad. (more…)
Buy A Swarovski Designer Collaboration Little Black Dress And Help Cure Cancer
On September 20th, Swarovski is fighting cancer - one custom couture dress at a time. Teaming up with 22 high-end designers, including Givenchy, Catherine Malandrino, and Fendi, Swarovski will auction off each black dress (like the ones pictured above by Alexis Mabille and Valentino, respectively) with the proceeds going to the American Cancer Society and La Ligue Contre le cancer in France. Check out their Facebook page for more information. And just in case you don't have an extra $7,000 lying around, check out these better-than-basic little black dresses: A long sleeved mini dress is a great staple for fall and winter. This Veronica M Sequin Waves Dress ($98) has the right amount of sequins to attract just enough attention. If you're more into the classic LBD, then look no further than this Theory Neptune Stretch Jersey Dress ($325). With a long necklace and platforms, you can go anywhere. This Riller & Fount Siren Open Back Dress ($168) is a total show-stopper. The super-flattering ruching will define your hourglass shape (or enhance what you already have). Stay up to date - check out more of our fashion news. Shop our guides to the best little black dresses and the best party dresses. Sign up for SHEFindsMail for exclusive fashion e-mails.
Get Catherine Malandrino Today At The Outnet For Under $150
Stock up on chic wardrobe staples like black pants and white frilly blouses at The Outnet's Catherine Malandrino sale today. The designer is marked off up to 75% percent - these picks are going for a totally affordable $100 each. This Catherine Malandrino Cotton-jersey ruffle-front tank ($108, down from $270) take the basic white top and kicks it up a notch. The jersey is super comfortable, too. Bow-tie tailored shorts are huge this summer; grab this sophisticated Catherine Malandrino Textured cotton shorts ($86.25, down from $345) pair. Halter tops are incredibly flattering, and a knit version like this Catherine Malandrino Cotton-blend pleat-detail top ($110, down from $275) makes it a dressy top option. Everyone needs a great pair of designer black pants in their closet; get yours for a whopping 80% off with these Catherine Malandrino Wool tuxedo pants ($84, down from $420). See all of our best find of the day posts, all of this week's sales and deals, and peruse our list of online sample sales all in one place, too. If you haven't gotten yourself some Spanx swimwear yet, we highly recommend you do.