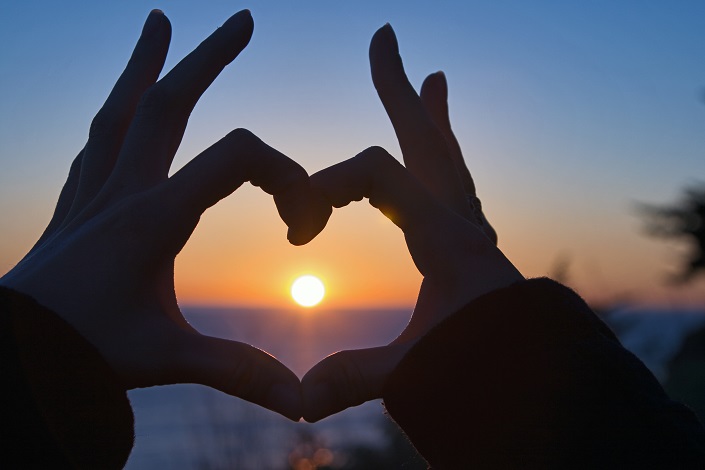 From Beauty Products To Cute Clutches, Shop Our Favorite Products That Give Back
Kylie Jenner Is Auctioning Her Clothes For Charity–Shop Her Closet
Not all Kardashian news is bad. Kylie Jenner is joining the ranks of her older sisters Kourtney, Kim and Khloé by auctioning off her clothing on eBay. Kylie's eBay store is shared with her sister Kendall while all the other Kardashians have their own stores. A percentage of the proceeds from Kendall and Kylie's clothing are being donated to The Children's Hospital Los Angeles. Kylie also handed out gifts to patients at The Children's Hospital in honor of her 18th birthday. Check it out below. https://instagram.com/p/6GOf0qHGqW/?taken-by=kyliejenner Kylie's auctioning off clothing from her favorite brands that include Christian Louboutin, Jimmy Choo, Seven For All Mankind and more! Place your bids if you want to own Kylie's wardrobe. Don't miss everything you need if you want to be Kylie Jenner for Halloween and Ben H. is the newest bachelor! [Photo: Splash News]
RHONY Star Heather Thomson Partnered With Smile Train To Auction Off Her Yummie Denim
CEO of Yummie by Heather Thomson and Real Housewives of New York star Heather Thomson recently partnered with an organization called Smile Train to auction off eight pairs of her Yummie Denim. Each of the New York housewives put their special touch to these jeans and they will be auctioned off on Smile Train's website until July 21. Smile Train was founded in 1999 and provides corrective surgery and treatment for children with cleft lips and palates. "I am so thrilled to be partnering with Smile Train to combine our efforts in providing the necessary care and compassion to children all over the world," said Heather. The pairs of Yummie Denim being auctioned off are the Super Skinny jeans ($118) and are available on YummieLife.com. Smile Train's CEO Susannah Schaefer said, "Smile Train is proud to partner with Yummie by Heather Thomson. Their compassion and support for children with clefts is truly changing the world one smile at a time." Don't miss Heather Thomson is leaving Real Housewives of New York and watch Caitlyn Jenner's amazing and emotional moving ESPY's speech! [Photo: NBC/Bravo]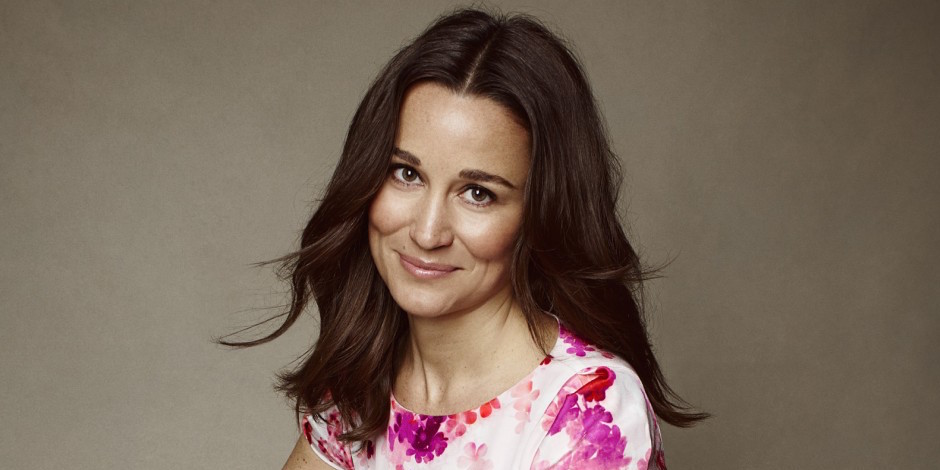 See The Dress Pippa Middleton Designed For Charity
Pippa Middleton just teamed up with designer Tabitha Webb on an exclusive dress and scarf to raise funds for the British Heart Foundation. Kate's little sis said in a statement, "As an ambassador for the British Heart Foundation, I wanted to do something different and exciting on behalf of this inspiring charity. I'm really looking forward to taking part in the London to Brighton Bike Ride this month and am thrilled I was able to collaborate with Tabitha on this project to help raise additional funds and awareness for the charity." The dress, which Webb describes as "perfect for the summer," and scarf both come in a pink floral pattern and are priced at roughly $458 and $147, respectively. If Pippa can sell clothing like her sister, then you better hurry because these won't last long! Don't miss how Khloe Kardashian's face has changed throughout the years and really fun printed beach bags for summer!
Score the Exact Dress Modern Family's Lily Wore to the 2012 Emmy's–on eBay!
Remember back in September when we posted about that adorable purple dress Aubrey Anderson-Emmons--better known as Lily from Modern Family--wore to the Emmy's? Well Tea Collection teamed up with eBay and they're auctioning off Lily's exact dress for an amazing cause! The custom Tea Collection dress that Aubrey wore is now up for grabs on eBay along with seasons 1-3 of Modern Family on DVD, plus a photo signed by Aubrey and another photo signed by all the other cast members of Modern Family. That's a pretty amazing price for the winner, but even better, it's all for an amazing cause. 100% of the proceeds from the auction will benefit the Global Fund for Children, an organization that Tea Collection has partnered with for over 8 years. The Global Fund for Children has invested $25 million to over 500 grassroots organizations in 78 countries, helping to transform the lives of more than 7 million of the world's most vulnerable children. There's still 1 day of bidding left, so don't let this one get away! Place your big at eBay.com. (more…)
Kid Asking For UGGs This Holiday? Give 'Em a Pair That Gives Back
If there's one item that inevitably ends up on almost every kid's holiday wish list, it's a pair of UGGs. They're warm, cozy, easy to slip on--everything a kid could want. So while you're knocking out the last of your holiday gift shopping, we suggest you choose these adorable new limited-edition Art & Sole UGG boots. Not only are they super cute, but $10 will be donated to Boys & Girls Clubs affected by Superstorm Sandy for each pair purchased. Get your at uggaustralia.com. (more…)
Help "Mighty Fingers Facing Change" Raise Funds For Their Next Big Worldwide Art Project!
This FingerSmear was created at the Soroptimists International of Americas conference in Hawaii this past July. There were 1,500 women from 17 different countries, all brought together to work for the betterment of women and girls around the world. Creative self expression is a powerful tool for adolescent girls, who are by and large the most universally underserved and at-risk population worldwide. "Mighty Fingers Raising Change" aims to unite girls from 14 different locales across the globe in a singular, artistic expression. World renowned artist Kelly Sullivan is famous for her collaborative "FingerSmear" murals. She has helped over 80,000 people (and many celebs) get their fingers wet with paint and create lasting public art works that celebrate local and global communities alike. (more…)
Register at Giggle and You'll Help a Child In Need… Now That's Registry Done Right!
Listen up expectant moms! If you've been going back and forth about where you're going to register, here's yet another reason to choose Giggle. Not only do they offer the best in modern baby gear and decor for new parents, but they've also teamed up with WWO, the Worldwide Orphan Foundation, so that your registry will help children in need. Here's how it works: (more…)
Calling All Do-Gooders! Help Diaper a Child for a Day With Huggies Hawaiian
I don't know a mom out there who likes buying diapers. I know I sure didn't. But while we moan and groan about how expensive diapers are, it turns out that one third of all families in the U.S. have trouble even getting diapers for their baby. (more…)
How About Something You'll Really Use This Mother's Day? Like, Say, A New Pair of Flip Flops That Give Back…
The one thing every mom loves? Her kids, of course, but also flip flops! In the summer, is there an easier shoe to just throw on and go? So this Mother's Day, instead of pretending to like whatever random gift dad gets you, why not request a new pair of Havaianas flip flops? The iconic brand teamed up with Baby Buggy and celebrity moms Rebecca Romijn, Tori Spelling, Courtney Cox and Nina Garcia to create 4 limited edition sandals just for Mother's Day. Dad will be able to choose from matching women's and kids' designs and 10% of the sales of these limited edition flip flops will go to Baby Buggy, Jessica Seinfeld's awesome charity that provides families with clothing, gear and more for their children up to age 12. (more…)
Leave It to Star Mom Nicole Richie to Create A Gorgeous Mother's Day Gift That Gives Back to Moms In Need
On the one day that's set aside to honor moms, it's easy to get consumed in indulging yourself. But this year, Nicole Richie wants us to think of someone else. Who? The thousands of moms who have trouble providing basic necessities for their little ones. To help these moms, Nicole created an exclusive House of Harlow 1960 necklace that will benefit Baby2Baby. The charity supplies Los Angeles families in need with baby gear and clothing and reaches over 50,000 families each year. For each necklace purchased, 20% of the proceeds will be donated to Baby2Baby. (more…)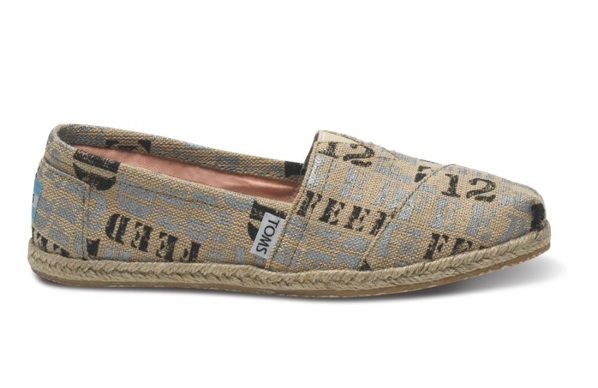 These TOMS x FEED Slip-Ons Help Even More Needy Kids Than Ever #WinWin
In collaboration with the philanthropic company, FEED Projects, whose environmentally-friendly items provides meals for developing countries, TOMS has created the online exclusive FEED 12 Women's Vegan Classics ($58). The canvas shoe, which features FEED's signature burlap material and letterpress print (we also love the espadrille-sole detail), is a match made in heaven between the two companies—both strive to make people's underprivileged lives better through their fashionable offerings. Spring is upon us, and you're vying for new warm weather flats, so why not purchase a pair that will provide not just one, but 12 meals to a class of bright and budding students? Check out more fashion news and style guides: what to wear to Coachella, neon-colored Madewell sandals, and Charlotte Olympia's bridal collection.
Coco Rocha For Senhoa Jewelry: Our Girl Crush Just Got A Whole Lot Worse
With her latest jewelry collaboration, Coco Rocha proves that she's just as beautiful on the inside as she is on the outside (and that's saying something). (more…)
Get The Kids to Do Some Good–Aeropostale Wants Their Old Jeans!
I know we normally tend to focus on moms and kids here, but here's a tidbit we'd like you to pass along to your babysitter, too. From now until February 12th, Aeropostale stores around the country are collecting gently used kids' jeans to donate to kids in need. (more…)
Cute, Comfy and Sparkly? Thank Seraphina Affleck For Finding Your Daughter's New Favorite Shoes
Looks like Honor Warren isn't the only celeb cutie with a thing for sparkly Tiny Toms. That's Jennifer Garner and Ben Affleck's adorable little girl, Seraphina, rocking her very own pair of pink glitter Tiny TOMS. (more…)
Because Everyone Knows It's Better to Give Than Receive, Shop These Holiday Gifts That Give Back
The hardest-to-buy for recipients on your list might actually be the easiest to shop for: don't get them anything--or at least anything they will just throw in the gift closet. Give them a gift that gives back to others who really do need your hard-earned dollars. Here are 7 charitable gifts that will not only lighten the spirits of the recipient, but will make the world a little brighter as well. Bid to score this teddy share bear designed by Cynthia Rowley at Charitybuzz.com. The auction starts at $100 and all proceeds will benefit the FEED Foundation. (more…)

Today Is World AIDS Day: Shop for a Cause
Today is World AIDS Day, a day observed around the world to remember those who have died from the disease and also to raise awareness and funds for continued research for a cure and treatment for those affected. The easiest way to show your support? Shop for these (RED) products which will benefit the Global Fund's goal of "Getting to Zero," a fight for "Zero new HIV infections, zero discrimination and zero AIDS-related deaths" by 2015. [slideshow] (more…)
Today Is World AIDS Day, Show Your Support By Buying A Cool Charitable Gift
A variety of RED Products In honor of World AIDS Day today, why not buy a  holiday gift for a friend, boyfriend, or family member that also gives back. Although the Isabel Marant for Gap Tee (pictured center) is already sold out, there are plenty of other gifts on JoinRED.com that fit the bill nearly everyone on your roster. Or, shop Armani Exchange's Dance Tee and M.A.C.'s Viva Glam collection below, because every penny generated benefits a good cause. Who knew philanthropy could be so on-trend? (more…)
Watch Out Marilyn, Now Amy Winehouse's Dress Went For $70,440 At A London Auction
A white dress from a young singer who passed before her time was just auctioned off in London---and this time, it's not Marilyn Monroe's. Rather, the strapless white gown belonged to Amy Winehouse, who wore it on the cover of her 2006 album, "Back to Black." The dress, designed by Disaya Sorakraikitikul, garnered $70,440 (i.e. 43,200 pounds) at yesterday's auction. All proceeds from the sale benefited The Amy Winehouse Foundation, a charity targeting at-risk youth, which the singer's parents set up in her honor after her death.
Plumps for Charity: Another Reason to Love P'kolino
Their toddler furniture is brilliant and their toys are equally amazing, but here's one more reason to love P'kolino. They've got big heart, too. [slideshow] You know their popular Plump Stacking Toy? P'kolino has teamed up with a bunch of artists who've transformed the Plump into one-of-a-kind creations to benefit the Joe DiMaggio Children's Hospital Foundation.  Like what you see?  The pieces will be auctioned on ebay starting December 1st. Which P'kolino Plump for Charity is your favorite? (more…)
Now Is Your Chance To Meet Brad Pitt: 'eBay Celebrity' Launches Today
While we poked fun at the "Twinning" Twins from The Jersey Shore for putting themselves up for auction on eBay last week, now we're elated to see actual celebrities putting their fame to good use on the site. eBay Celebrity launched today, featuring auctions from A-list stars like Brad Pitt and Katy Perry who've aligned themselves with charitable causes. (more…)

5 Baby Gifts to Support Breast Cancer Awareness Month
First thing that comes to mind when your hear October?  Probably Halloween.  But don't forget that it's also Breast Cancer Awareness Month, so think pink!  Stock up on sweet baby gifts from adorable pink boots to perfectly pink baby gyms and help support the cause--a portion of all sales will be donated to breast cancer research. [slideshow] (more…)
Stand Up & Stand Out! We're Giving Away A Cambridge Satchel Company Neon Fluro Bag
We've been obsessing over The Cambridge Satchel Company's fluro bags for months now, and when we noticed they were the It-bags of New York Fashion Week this spring, we knew the trend had officially gone viral. And although we've been obsessed with the British-made neon satchels since we first laid eyes on them, we just found out another reason to love them: Julie Deane, the founder of Cambridge Satchel Company, actually started the brand so she could afford to send her daughter to private school after she had been a victim of bullying. (more…)
First Look! Maclaren Debuts Their New "I Believe" Buggy and All Proceeds Go to Charity
Special thanks to our friends over @MaclarenNA for giving us the heads up about their new "I Believe" buggy. Not only is the bright new stroller super cute, but it was designed for a cause. All proceeds from Maclaren's "I Believe" buggy go to research to help find a cure for Muscular Dystrophy. Nice, right? Maclaren teamed up with Charley's Fund, an awesome charity that works to give money to researchers working toward a cure for Duchenne Muscular Dystrophy. According to research, an estimated 15,000-20,000 children in America are afflicted with this awful disease that has a 100% fatality rate. So if you're in the market for a new stroller, we highly recommend this one. Not only because it benefits a great cause, but also because Maclaren strollers are amazing. They're lightweight, easy to push and collapse and they're safe for babies as young as 3 months. I've had my Maclaren for over 2 years and I wouldn't even trade it for a Bugaboo. Shop more of the best umbrella strollers in our buying guides. Sign up for our newsletter for even more great finds delivered right to your inbox. Click here to email Jeanine, the author of this post.
Take A Stand Against Bullies & Win A Neon Orange Fluro Satchel From The Cambridge Satchel Company
The Cambridge Satchel Company & MOMfinds Take A Stand Against Bullies October is National Bullying Prevention Month so to help raise awareness, we're teaming up with Julie Deane, the brains behind the wildly popular Cambridge Satchel Company. The issue hits especially close to home because Julie's daughter was bullied. Julie actually started her company to fund her daughter's education at a new school. Because Julie knows firsthand how damaging bullying can be, we're kicking our campaign against bullying off with a giveaway from Julie herself. One lucky reader will win their very own orange (the color of National Bullying Prevention Month) fluorescent satchel from The Cambridge Satchel Company. To help further raise awareness about this important issue, we'll be hosting another amazing giveaway later this month in conjunction with Spookley the Square Pumpkin. In case you're unfamiliar, "The Legend of Spookley the Square Pumpkin" book, DVD and toys are all about celebrating our differences because "it's the things that make us different that make us special." Spookley books are available for purchase at Barnes & Noble. Want to win the satchel? Complete the following steps: 1. Sign up for our newsletter 2. Follow @camsatchelco on twitter 3. Share with us an experience with bullying (your own/your child's ) or how a bullying situation was prevented/resolved in the comments section below. Terms & Conditions
These Limited Edition FEED Bags Will Make You Feel Pretty Damn Good
Here's one way to feel better about that bag of mini Snickers you're totally going to annihilate this Halloween. (more…)
Looking for the Perfect Kids' Shoes for Fall? Take a Cue from Levi McConaughey With a Pair of Cord Tiny TOMS
How handsome?! Yes, of course Matthew McConaughey, but also his little boy, Levi. He's just adorable in his little white button front shirt and those comfy yellow Tiny TOMS shoes. (more…)
Top 5: Back-to-School Essentials That Give Back
Right after Christmas, back-to-school season is the time when moms spend the most. Between the clothes, the shoes and the supplies, it really adds up. So before you blow all your cash on items only your child will get use out of, why not buy a few back-to-school essentials that give back? From clothing to lunch gear, tons of kids' companies donate to charity. Here are 5 ways to back-to-school shop for a cause. [slideshow] (more…)
It's That Time Again… Check Out The Latest RL Gang Adevnture, Narrated by John Legend
I know the Ralph Lauren RL Gang stories are designed for kids, but I just can't helped but get sucked in by the stories every time. Oh yeah, and the clothes! Ralph Lauren just launched their 3rd RL Gang storybook adventure and it's narrated by John Legend. Your kids will love seeing the story come to life with real kids just like them, but you'll love that all the outfits the characters are wearing are shoppable! Yup, just mouse over any character while watching the story and you can buy the exact clothes they're wearing. (more…)
Thakoon For A Cause: Meet The $250 Charity Scarf That Matches His Fall 2011 Collection
Ruby Aldridge in the new charity scarf, and models from Thakoon's Fall 2011 runway show The hottest trend in fashion lately? Giving back. One of the many designers heading charitable ventures is Thakoon Panichgul, who has created a limited edition scarf (pictured left on model Ruby Aldridge) whose entire proceeds will benefit famine victims in Somalia. The blue and red checkered scarf mimics the pattern seen in much of Thakoon's Fall 2011 runway collection, which was inspired by the Masai people of East Africa. The $250 scarf is now available exclusively at Thakoon.com. But Thakoon isn't the only one using fashion for philanthropy... (more…)
Found: Comfortable, Supportive Shoes for Moms-to-Be… As Seen on Jessica Alba
Having a hard time finding comfortable shoes to support all that baby weight during your last trimester? Take a cue from mom-to-be Jessica Alba and treat yourself to a pair of silver glitter TOMS. (more…)

Build Nutrition: Vitamins That Are Good for You & A Mom a Million Miles Away
Prenatal vitamins that are good for your health and your soul?  That's what you'll get with Build Nutrition.  Following the same one-for-one business model as TOMS footwear and Rockin' Baby Slings baby carriers, for every bottle of Build Nutrition Prenatal Vitamins that you purchase, a bottle will be donated to a pregnant woman in need. The vitamins are made with 100% all-natural ingredients, and they're smaller than most prenatal vitamins.  You know, the ones that could be mistaken for horse pills! Now back to the giving program.  Sure, a bottle of prenatal vitamins might not sound like much when you consider the plethora of challenges that face mothers in developing parts of the world, but if you couple that with maternal health education, which the company strives to do with their partners, the benefits increase tremendously. What an easy way to give back, and just imagine what would happen if all companies did the same thing. (more…)
If You're Going to Buy Just One Tee for Your Kid this Summer… Buy this One
Yes, your kid has a closet full of tees, but if you have room for just one more, buy this Japan Love Graphic Tee from Crewcuts.  One hundred percent of the profits from the sale of this limited-edition tee will be donated to the Japanese Red Cross Society, which provides ongoing medical care and emergency supplies to victims of the Japan earthquake and tsunami. (more…)
Simeon Farrar's "Kate Mouse" Tee Benefits Japan: An $80 Top That's Actually Worth It
Whenever I hear of a cool collaboration for charity, my ears perk up, because there's no better feeling than helping a good cause while you're feeding your shopping addiction. The latest and greatest: 50% of all proceeds from the sale of this Simeon Farrar for Japanese Red Cross "Kate Mouse" T-shirt will be donated to the Japanese Red Cross earthquake appeal. How can you argue with that? See more Japan Charity Relief fashion, like the Gucci Japan bracelet,  plus all of this week's best sales and deals, online sample sales, guide to the best skinny jeans, and best find of the day posts.
Ann Taylor Launches "Little Ann" for Girls to Benefit Charity
Ann Taylor makes children's clothes? Yes they do, and it's all for a great cause. Purchase this limited edition "Little Ann" outfit - an exclusive hand embroidered top and matching skirt for your little girl, and 60% of the proceeds will be donated to St. Jude Children's Research Hospital. (more…)
Now You Can Get A Gucci Bracelet For $100 AND Consider Yourself Philanthropic
Although we've seen our fair share of charity shopping ventures for Japan relief, this recent partnership between Gucci and the Red Cross seems by far the most appealing. The Gucci bracelet, which sports the colors of the Japanese flag as well as a charm that says "Gucci Loves You," retails for only $100. Best of all, though, is that ALL proceeds from each sale benefit the Red Cross' relief efforts in Japan. The bracelet will be available in Japanese Gucci stores tomorrow, April 23rd, and in the remainder of the Gucci stores worldwide next week. For more news and charity coverage, be sure to sign up for our newsletter.
Get It Now! Appaman for Target Is In Stores and Online
Remember back in March when we told you Appaman was teaming up with Target to do a collection that would benefit Baby Buggy? Yeah, well it's here! The Appaman for Target collection arrived yesterday and it's just as awesome as expected. There's not a ton to choose from--just 14 pieces in all--but all the cute baby clothes are reasonably priced under $15 and they're super soft. Take a peek at some of our faves: [slideshow] Start Shopping: target.com Find cute baby shoes in our buying guides. Sign up for our newsletter to get even more finds delivered right to your inbox. Click here to email Jeanine, the author of this post
Angelina Jolie's Charitable Jewelry Line Now On Display (By Invite-Only, Of Course)
Last year, a little birdie told us that Angelina Jolie was designing a line of jewelry for her charity, benefiting children in crisis. Well now, the Style of Jolie collection she co-designed with former Asprey CEO Robert Procop, is on display and available for purchase at Julien's Auction House in Beverly Hills.  The collection, which is displayed in a "museum-quality" setting, can be viewed by invitation only, but lucky for you, we got our hands on a preview: Be sure to check out more coverage on charitable causes, celebrity style, and collaborations.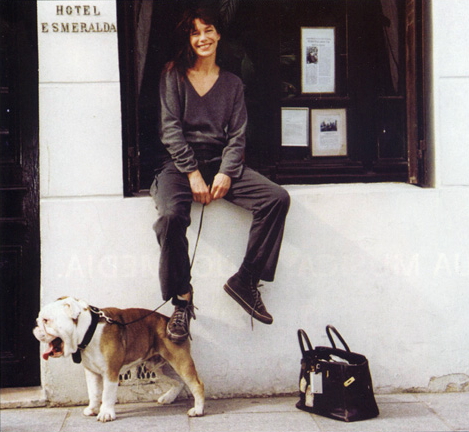 Jane Birkin's Hermès Purse Is On eBay: Now You Can Donate To Japan In The Chicest Way Possible
How amazing would it be to own your very own Hermès Birkin bag? How about owning Jane Birkin's eponymous Birkin bag, and having 100% of the proceeds of your purchase donated to the Red Cross fund for Japan? Well, miracles do exist (for a price, or course): the opening bids for Jane Birkin's Hermès Birkin bag (pictured above) started at $2,000 and are already up to more than $5,000 on eBay.  But honestly, now that there's no longer an Hermès waiting list for new Birkins (or that there never was one at all--as we reported last year), it's clear that this deal truly comes once in a lifetime. Bid on Jane Birkin's Hermès Birkin Bag on eBay Now (note: bidders must email the seller for approval prior to bidding) Can't afford a bag the cost of a car? Check out similar styles in our guide to ladylike structured handbags or handbags under $250.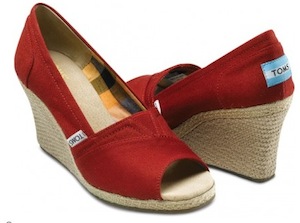 Go Barefoot For Charity Today For TOMS One Day Without Shoes. Charlize Theron's Doing It, Too.
[youtube]http://www.youtube.com/watch?v=BitShRujoeA&feature=player_embedded#at=101[/youtube] Today is the TOMS Shoes annual One Day Without Shoes event, where people and celebrities around the world will go barefoot to raise awareness about those who can't afford shoes. Various  events are being held worldwide to commemorate the day, but if you are not able to go barefoot, check out the other ways to get involved on the Tom's site, buy a pair of TOMS in support their One for One cause, or wear TOMS to this year's prom! Yes, we told you about the TOMS bridal collection, but now there's event wear for the younger set--complete with a guide to D.I.Y. corsages. We remember when all of the cool kids wore Converse sneakers with their prom dresses...and those weren't even sustainable! Check out some of our favorite TOMS (and TOMS Prom) picks below: (more…)
Looking for Cute Kids' Shoes for Spring? Check Out These New Tiny TOMS
Yesterday I previewed some new TOMS styles for fall and winter and I instantly fell in love with everything. There are cute hi-tops and corduroy styles, but by far my favorite style for the kids are the Tiny TOMS with the colored soles. I was a little bummed that they wouldn't be available until later this year, but it turns out there are already cool Tiny TOMS with colored soles. Take a look: Classic Canvas Slip-On ($29) Fish Canvas Slip-On ($29) (more…)
Feeling Philanthropic? Here Are Even More Ways to Support Japan
Like Gap and Sanrio, lots of other designers are making it easy to contribute to the relief effortson Japan.  Ralph Lauren, Rebecca Minkoff and Tory Burch are just a few who've joined the growing list of designers donating proceeds from the sale of certain products to the humanitarian relief efforts in Japan. Here's a sampling so you can shop for a cause: Ralph Lauren Japan Hope Classic-Fit Polo ($98): 100% of the proceeds from the sale will be donated to the Central Community Chest of Japan, a part of the United Way worldwide network. (more…)

Shop for a Cause! Today Is Sanrio's Day of Donation
Have a lover of Hello Kitty and all her little friends? Start shopping! Sanrio will donate 100% of today's net proceeds to American Red Cross Japan Earthquake and Pacific Tsunami Relief efforts. Here are some cute finds for your little girl: (more…)
Shop for a Cause! Gap Joins Japan Relief Efforts with Limited Edition Tees
Looking for ways to help support the relief efforts in Japan? Purchase any of these Gap limited edition Japan Relief tees, and the profits from the sale will be donated to GlobalGiving's Japan Earthquake and Tsunami Relief Fund. Buy one for yourself and another for your man, and if it's just not your style, you can give directly to GlobalGiving from the Gap website. (more…)
This Just In: Appaman Is Teaming Up With Target!
Back in 2010, Jessica Senifeld launched an exciting series of collaborations with Target to benefit her amazing charity, Baby Buggy. The charity offers clothing and supplies to families in need and so far the series has included layette designed by Maria Kalman, Petunia Pickle Bottom diaper bags and a Petit Tresor collection. Target just announced the final collaboration of the series and it's a good one: Appaman! Now in case you're unfamiliar, Appaman makes seriously cool kids' clothes. Nothing babyish or too cutesy--just awesome, almost hipster clothes both you and your kids will love. So without further ado, here's the new Appaman for Target collection: [slideshow] The collection goes on sale April 10 at Target stores and on Target.com and 10% of all proceeds will benefit Baby Buggy. Sign up for our newsletter to get even more finds delivered right to your inbox. Click here to email Jeanine, the author of this post
Helping Japan Tsunami Victims Is Just One Handbag (Or Pair Of Jeans) Away
If you're like us, you're hooked on the news, watching the devastation and hardships in Japan unfold.  As we sit and click and online shop, we were wondering what we could do to help. And luckily, there is something we can do by shopping for products that donate to the Tsunami Relief. So when our packages arrive, we can know we did truly did something great. Hello, philanthropy. Piperlime: For every purchase of the Piperlime-exclusive 7 For All Mankind Rachel Belbottom Jeans ($169), 10% of the total will be donated from now until March 25th. (more…)
The Ralph Lauren RL Gang is Back and Wants Your Kid to Be the Next Member
Ralph Lauren's RL Gang is back, and the kids are once again dressed to impress. Didn't catch the RL gang the first time around? Make sure to catch them in their Spring 2011 online storybook narrated by Uma Thurman. Essentially a lookbook in the form of a virtual children's book, you and the kids can enjoy getting to know the characters (that's Hudson above and Mae below) and follow their adventures at school. And if you like what they're wearing, simply click away and buy the children's clothes right off their backs. (more…)
Yes, It's Still Snowing, But Your Kid Will Need A New Pair of Spring Shoes Eventually
When it's time to put those ice skates and winter boots away, your kid will probably need a new pair of toddler shoes to wear to the park. Want a pair that's cute, "green" and gives back? How about these Tiny TOMS? Not only are they comfy and easy for little kids to get in and out of, but they're made with recycled and sustainable materials.  And that print isn't just a collection of random letters--it spells out "Raise IQs, not sea levels." And of course, for every pair of TOMS you purchase, a child in need will get a pair, too. Price: $34 Get Yours: toms.com Find the best toddler boots, plus girls' winter jackets and boys' winter jackets in our buying guides. Sign up for our newsletter to get even more finds delivered right to your inbox. Click here to email Farah, the author of this post.
Get Into the Holiday Spirit With These 4 Gifts That Give Back
There's no better way to get into the holiday spirit than by giving gifts that give back. Lucky for you, there's no shortage of great charitable holiday gifts that help worthy causes. Here are five charitable gifts in every price range to get you started. These super soft blankets come in a bunch of different animal designs and can be personalized with the recipient's name. For each blanket you buy, another will be donated to a child in a hospital or orphanage. This reusable Giggle Dot Bag folds up compactly and features a handy exterior pocket for smaller items. It's just $5 and proceeds benefit Orphans International Worldwide. Body Shop's Soft Hands Kind Heart Hand Cream ($10) pampers dry hands and raises awareness against sex trafficking of children and young people. With every pair purchased, TOMS gives a new pair of shoes to a child in need through the company's One for One movement.  Not sure about your friend's shoe size? Give a TOMS gift card. Click here for even more great gift ideas. Sign up for our newsletter for even more finds delivered right to your inbox. Click here to email Farah, the author of this post.
3 Nursing Bras for Breast Cancer Awareness Month
Need some new nursing bras? Pick a few up at BareNecessities.com and help find a cure for breast cancer.  For every bra you buy in October for Breast Cancer Awareness Month, Bare Necessities will donate 25 cents to the Breast Cancer Research Foundation, with a minimum donation of $10,000. Here are 3 to try: Don't let all the lace and ribbons fool you—this lacy Belabumbum nursing bra ($60) is flirty and functional with convenient one-hand nursing clips. Have a fuller figure? Try the Anita soft cup nursing bra ($74), which goes up to size 48E and has wide cushioned straps, and a 3-column, adjustable back straps. Nurse baby comfortably and get rid of unattractive VBL (visible bra lines) with this seamless Sassybax Bralette Plus ($58). Find more of the best nursing bras in our buying guides. Click here to email Farah, the author of this post.