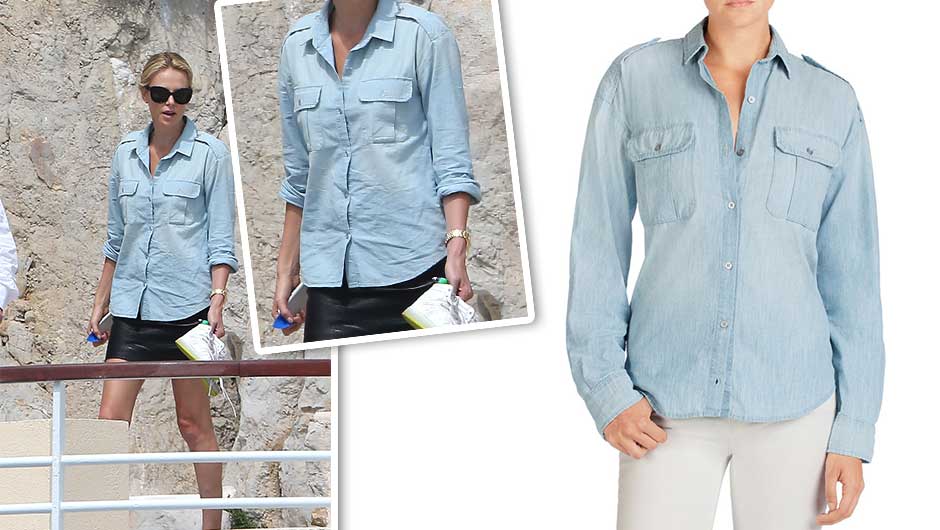 Better Act Fast–Charlize Theron's Chambray Shirt Is Only Available In Two More Sizes
Every girl needs a wear-with-everything chambray shirt, especially with all her summer whites. Looking for the perfect match? We went all the way to France to find it. Charlize Theron wore this J Brand Edie Shirt ($188) while frolicking around Cannes with her adorable son. J Brand's foray into shirts and tops has been pretty epic and with this staple item, they just keep getting better. Snag Charlize's shirt below!  J Brand Edie Shirt ($188) Don't forget to shop Vanessa Hudgens' hat and sandals under $100, Jessica Alba's pink sunnies, and Taylor Swift's under $100 picks. [Photo: Splash News]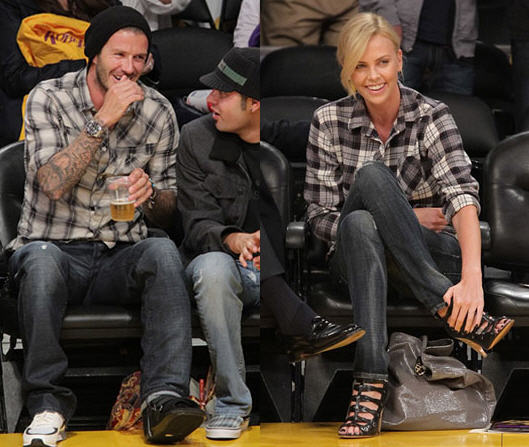 Daily Links: Charlize Theron And David Beckham Dress Alike, NYC's Biggest Fashion Show, More
1. Charlize Theron and David Beckham wore almost identical outfits to an L.A. Laker's basketball game on Tuesday. They both look hot, but Charlize's shoes beat out Beckham's foot brace. [FabSugar] 2. Fashion's Night Out will host the largest public fashion show in NYC's history on September 7. Expect to see fall 2010 looks picked out by Vogue editors, but in the meantime, check out the best spring fashion trends. [The Cut] 3. Jezebel documented the many faces of Project Runway's Nina Garcia reacting to show contestants' good and bad designs. Maybe that's why Anna Wintour is rarely without her sunglasses. [Jezebel] 4. According to a U.K. shopping comparison site, we could be spending up to 70 percent more shopping in stores rather than online. Make sure you shop smart by checking out our sales and deals. [Daily Mail] See more of our daily links, and then check out our guide to the best white jeans, and the best skinny jeans.
Slip On A Pair Of Charlize Theron's TOMS Shoes Today
We love gifts that give back, so we're excited that Charlize Theron has collaborated with TOMs shoes, according to WWD. The ever-popular and comfortable slip on shoes company that sthat famously donates one pair of shoes for every pair that's bought. No stranger to helping others, Theron co-designed the orange slip on shoes, above, along with Africa Outreach Program. They will be sold for $54. Proceeds will go to the charity, which teaches children in Africa about HIV/AIDS, health and education. Since TOMs shoes are a big holiday item--they're also on our Sold Out Holiday Gift Guide, our roundup of items that will be gone soon-- so here, we've included a few of our favorite TOMS shoes: We love these glitter slip-ons because they're sparkly and comfortable. For the artistic types - these Tyler Ramsey paint splattered TOMS are the epitome of effortless (you don't even have to get the paint can out). A winter-friendly buffalo plaid boot, these are lined in fleece for extra comfort--and a departure from the typical slip-on style. See our guides to the best boots this winter--including the best UGGs, over the knee boots, and for all those parties, holiday party shoes.