Shop The DVF ♥ Gap Kids Little Explorers Collection Now
After months of anticipation, the new DVF ♥ Gap Kids collection is finally here! Featuring over 30 designs for infant girls, toddler girls and big girls, the DVF ♥ Gap Kids Little Explorers collection is even bigger--and dare we say, better!--than the collab last year. The line includes adorable leggings, dresses, rompers, shoes and more. Start Shopping: gap.com Sign up for our newsletter for even more great finds delivered right to your inbox. Click here to email Jeanine, the author of this post.
First Look! The New DVF ♥ Gap Kids Collection Arrives On April 25
Look what I found over on gap.com--the first images of the new DVF ♥ Gap Kids collection! As we announced back in January, DVF teamed up with Gap Kids for another collaboration collection launching this spring. Unless you were living under a rock last year, you remember how wildly successful the first DVF children's collection was. And by the looks of these photos of the second collection, this one's gonna be even better! The new DVF ♥ Gap Kids collection arrives in stores around the country and online on April 25, so mark the date. There are styles for baby, toddler and big girls including dresses, rompers, tees and more. Of the upcoming collection, DVF had this to say: "It was a lot of fun to design a children's collection and I am glad to repeat it this year. This time it is all about adventure, with the same attention to color and print. I think the result is playful and perfect for the little explorers of the world!" Take a peek at the cute looks below: Sign up for our newsletter for even more great finds delivered right to your inbox. Click here to email Jeanine, the author of this post.
4 Spring Sales No Mom Should Miss…
Celebrate the start of a new season with these spectacular sales: - Take 30% off sale items at J. Crew with code SUNSHINE at checkout. - Save an extra 20% at Bloomingdale's with code FRIENDS. - Save up to 40% on UGG Australia, Juicy Couture and more at Nordstrom. - Save up to 50% on colorful kids' clothing at Tea Collection. Sign up for our newsletter for even more great finds delivered right to your inbox. Click here to email Jeanine, the author of this post.
What Better Way to Usher In Spring Than With Some Colorful New Clothes From Tea Collection?
It's no secret that we're huge fans of Tea Collection here at MOMfinds. From their gorgeous printed dresses for girls to their cute, practical designs for boys, Tea should be every mom's go-to when looking for beautiful, well-made children's clothes. (more…)
Hooray! The Weekend Is Here–Along With These 5 Awesome Sales
Whether your expecting lots of snow or the weather is actually kinda nice where you are, it's Friday and nothing is more exciting than the weekend! And what better way to kick off the weekend than with some good, can't-miss online sales. They're the perfect opportunity to get a head start on spring or to stock up for next winter. Check out these 5 winter sales we're loving: Save up to 60% on Mini Boden, The North Face Kids and more at Nordstrom. Save 20% on all kids items at Piperlime with code KIDDIES at checkout. (Ends 2/8) Tons of cute kids' clothes are 50% off at Tea Collection. Looking for cute nursery decor? Check out the Petit Collage sale at The Mini Social. And just for you mom, don't miss this awesome Zulily sale on Ray-Ban sunglasses. Sign up for our newsletter for even more great finds delivered right to your inbox. Click here to email Jeanine, the author of this post.
Save the Date! Diane von Furstenberg's Second GapKids Collection Arrives in April
I can barely contain my excitement while composing this post. Imagine my delight when going through my morning emails to find an official announcement that Diane von Furstenberg and Gap are teaming up for another collaboration collection! Now, I probably don't need to remind you just how amazing the first DVF ♥ GapKids collection was. The prints, the silhouettes, the prices--everything was incredible. The collection was a huge success so although we were surprised to hear DVF and GapKids teaming up again, it totally makes sense. Of the upcoming collection, Gap Global President said "Diane's iconic prints, signature silhouettes and optimistic color palettes really resonated with our customers around the world. After a successful first collaboration, we're thrilled to continue working with Diane and excited to see what she will bring forward in her second DVF for Gap collection." Diane von Furstenberg went on to add, "I really loved the challenge of translating my designs into the first DVF for Gap collection. It was so much fun to see little girls wearing the pieces, and I'm looking forward to collaborating with Gap on this second collection." The second DVF x GapKids collection is slated to arrive in April, but as soon as we get pics we'll be sharing them. Stay tuned! Sign up for our newsletter for even more great finds delivered right to your inbox. Click here to email Jeanine, the author of this post.
Hurry! Sale Items Are an Extra 25% Off at Tea Collection
Kid's winter clothes starting to look a little beat up? Yeah, mine too. Which is why I went a little crazy at the amazing Tea Collection sale! For one week only, use code WOW25 at checkout and you'll save an additional 25% on all sale items. The famous dresses, tees, pants and more are already up to 40% off so it doesn't take a math whiz to see what kind of savings you're getting. The sale ends 1/20/12, so hurry! Start Shopping: teacollection.com (more…)
Found! Suri Cruise's Navy Blue Puffer Coat
If you live in the Northeast, you know how cold it's been these last few days. Sure, we've experienced colder, but that doesn't mean it's not frigid out there. So what do you put on your kid to keep him/her warm? Well, if you're Katie Holmes you turn to J. Crew Crewcuts and they're super lightweight, yet warm puffer coats. That's what Suri is wearing in the pic above and despite the grimace she appears to be perfectly warm in her topper. (more…)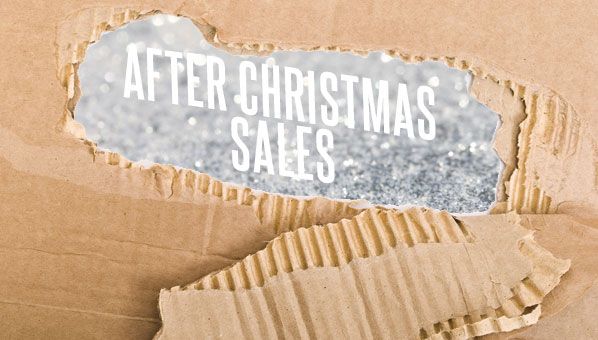 Who's Ready for Round Two? Shop These Awesome After-Christmas Sales!
I know, I know. Just when you thought you'd get a break, nope! The retailers are back with more amazing sales to close out 2012 and you don't want to miss them. Here are a few of the best after-Christmas sales we've found. Found others? Share the love--in the comments. Save up to 50% on trendy maternity clothes at ASOS. Take 50% off tons of winter maternity clothes Destination Maternity. Take 30% off sale items at Gap with code GAPSALE. Save up to 50% on the most popular styles at Isabella Oliver. Save 25% on sale items at J. Crew with code TINSEL. Save 25% on sale items at Kate Spade with code 25SALE. Take 40% off tons of cute styles at Tea Collection. (more…)
Score the Exact Dress Modern Family's Lily Wore to the 2012 Emmy's–on eBay!
Remember back in September when we posted about that adorable purple dress Aubrey Anderson-Emmons--better known as Lily from Modern Family--wore to the Emmy's? Well Tea Collection teamed up with eBay and they're auctioning off Lily's exact dress for an amazing cause! The custom Tea Collection dress that Aubrey wore is now up for grabs on eBay along with seasons 1-3 of Modern Family on DVD, plus a photo signed by Aubrey and another photo signed by all the other cast members of Modern Family. That's a pretty amazing price for the winner, but even better, it's all for an amazing cause. 100% of the proceeds from the auction will benefit the Global Fund for Children, an organization that Tea Collection has partnered with for over 8 years. The Global Fund for Children has invested $25 million to over 500 grassroots organizations in 78 countries, helping to transform the lives of more than 7 million of the world's most vulnerable children. There's still 1 day of bidding left, so don't let this one get away! Place your big at eBay.com. (more…)
5 Amazing Sales You Shouldn't Miss This Weekend
Just because it's Friday--enjoy! Take 20% off all ASOS orders with code USXMSSTANDARD at checkout. Take an extra 30% off sale items at Destination Maternity. Take an extra 30% off your order at Gap with code GAPGIFT at checkout. Take 30% off all J. Crew orders with code WISHLIST at checkout. Enjoy 20% off any holiday order at Tiny Prints with code 20dec at checkout. (more…)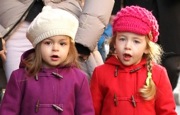 Another Day, Another Adorable Pic Of Tabitha & Marion Broderick Rocking Appaman
I mean, if you had to picture Sarah Jessica Parker's daughter, they'd totally look like this. They may only be toddlers, but can't you already tell Tabitha and Marion Broderick are already following in their mom's fashionable footsteps. They're adorable! (more…)
Best. Monday. Ever! Shop These Awesome Green Monday Sales Before Midnight
Cyber Monday was good, but Green Monday is shaping up to be even better. Oh yeah, Green Monday is totally a thing and it's today! Tons of stores are offering discounts today only to help you get the last of your holiday shopping done. Make sure you hit up these good Green Monday sales before the day is over. Save an extra 25% on all orders at Baublebar with code HOLIDAY25. Take 30% off all orders at C. Wonder with code SHEFINDS30. Plus, get free ground shipping on orders of $100 or more. Take 25% off your Carter's order with code ONLINE25. Save 30% sitewide at Crocs with code CROCS30. Save up to 50% on festive holiday styles at Destination Maternity. Save 50% on bedding at DwellStudio, plus get free shipping with code DAYFIVE. Take an extra 20% off your Gap order with code GAPGIFT. Take 25% off at J. Crew with code MERRY. Take 15% off all holiday cards with code TWINKLE at Minted. Save an extra 15% at Old Navy with code ONGIFT. Take an extra 25% off at Osh Kosh B'gosh with code ONLINE25. Enjoy 25% off at Serena & Lily with code SHIPTODAY25 at checkout. Take up to 50% off dresses, tees and more at Tea Collection. Take 20% off your holiday card order from Tiny Prints with code DECSW20. (more…)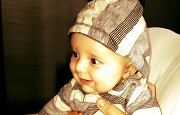 Look Who Else Loves Splendid Littles (Besides Us, That Is)
Seriously?! Could Guiliana Rancic's baby boy, Edward Duke, be any friggin' cuter? Guiliana shared this pic on Twitter recently and those cheeks are to die for. (more…)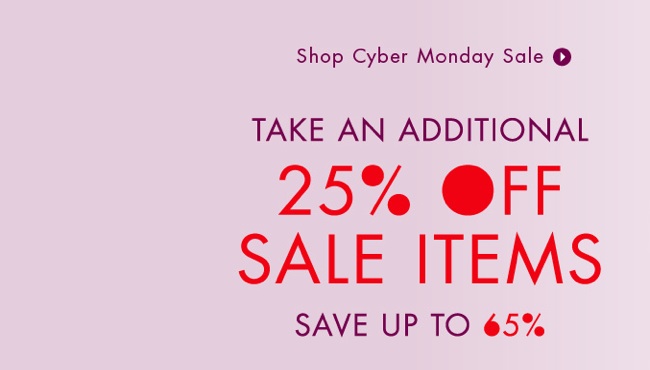 It's Our Favorite Day of the Year–Cyber Monday! Shop The Best Deals Now…
We couldn't be more excited--it's Cyber Monday! Now we know you probably braved the stores this weekend and hopefully you got some good deals. But the shopping doesn't end just because the weekend is over. Tons of stores are offering insane deals online only today and you can't miss out. Whether you're looking for toys or holiday cards, here are the Cyber Monday sales you shouldn't miss: (more…)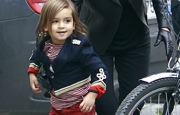 Steal Mason Disick's Adorable Parisian-Chic Style In 3 Easy Steps…
Kourtney Kardashian's son, Mason Disick, always looks adorable, but we think Kourtney outdid herself during a recent trip to Paris. That's Kourt and Mason in the pic above and his outfit is pretty friggin' adorable, right? (more…)
Bundle Your Little Girl Up in the Same Appaman Coats Sarah Jessica Parker's Twin Daughters Wear…
Cold out there, huh? If your kid's winter coat just isn't cutting it, take a cue from Sarah Jessica Parker and buy the same parka she puts her twin daughters, Marion and Tabitha, in. They're wearing Appaman's Rivington coat in the pic above and we found the exact same one here: (more…)
Start The Weekend Off Right–With Sales, Sales and More Amazing Sales!
Just got paid? We would normally tell you to bank that paycheck for next week--Black Friday, baby!--but there are so many good sales now, why wait? Here are five you shouldn't miss: Sale items at Destination Maternity are an extra 30% off! Take 20% off all orders at Giggle with code FF12 at checkout. Take 30% off sale items at J. Crew with code MUSTHAVE and 30% off everything at J. Crew Factory with code SCOREMORE. Save 15% on holiday card orders of $150 or more and 10% on holiday card orders of $100 at Minted. (more…)
Need Some Inspiration for the Holiday Card Photo? Just Check Out Flynn Bloom…
Could his sweater be any more festive? We love Miranda Kerr's baby boy, Flynn, on a regular day, but in a holiday sweater? He's irresistible! He also happens to be the perfect inspiration for the holiday card photo. His sweater is cute and festive without being an ugly Christmas sweater. Want to dress your kid in one, too? Check out these adorable holiday sweaters we found: (more…)
10 Online Veterans Day Sales Too Good To Miss
Whether you're enjoying your day off or counting down the hours until you get off (work, that is), here's a fun way to pass the time: Veterans Day sales! All of our favorite retailers are hosting can't-miss sales today so spend a few hours stocking up on holiday toys, holiday party dresses and other winter must-haves. Start with these online Veterans Day sales: Shop tons of festive holiday party dresses starting at just $30 at ASOS. Save 20% during the Bloomingdale's friends and family sale with code  FANDF at checkout. Take 25% off all Crocs order with code VETERANS at checkout. Stock up on maternity essentials at Destination Maternity where select tops are buy 3, get one free. Save 30% on all Gap orders with code GAPFRIENDS at checkout. Take 30% off all sale items at J. Crew with code MUSTHAVE at checkout. All LeapPad2 bundles are on sale at Leapfrog. Save 20% on all orders at Old Navy with code ONGIFT at checkout. Score an extra 15% off your Macy's order with code VETDAY, plus all orders over $99 ship for free. Order your holiday cards during the Tiny Prints sale--all orders over $49 qualify for 20% off with code NOV25SW. (more…)
Let's Get This Party Started! Gwen Stefani's Latest Harajuku Mini for Target Collection Is Full of Party-Worthy Looks for Little Ones
Are the invites for holiday parties already pouring in? Or maybe you're searching high and low for the adorable looks your kids will wear for the annual holiday card photo? Whatever the occasion, don't miss Gwen Stefani's latest Harajuku Mini for Target collection. Some of the pieces just arrived at Target and they're perfect for every event this holiday season. Our favorites? The adorable tuxedo-style dresses for girls and the buffalo plaid vest for boys. Take a look at few more looks we love below: [slideshow] Shop more Harajuku Mini for Target at target.com. (more…)
Get There First! Nordstrom Just Kicked Off Their Half-Yearly Sale and It's Good…
Sure, the weekend is still technically one day away, but Nordstrom just opened their half-yearly sale and it feels like the weekend. There are so many good deals we don't even know where to begin. For you, mom, there are boots galore, plus outerwear deals and tons of holiday party dress options. Now for the little ones, you shouldn't miss all the great sneaker deals. There are also tons of cozy sweaters and warm coats and jackets, so get there ASAP. The good stuff is bound to go first. Start Shopping: nordstrom.com (more…)
Sandy Got You Stranded? Keep Cabin Fever At Bay With These Can't-Miss Online Sales
The real victim of Hurricane Sandy? My bank account! I've only been stuck inside for 12 hours, but I am going broke as a result. It just so happens that there are a ton of great online sale on the two days when I can't go outside. So because it'll make me feel better knowing I'm not the only one blowing my savings as a result of this hurricane, I'm sharing a few of the awesome Hurricane Sandy sales I've shopped so far. I promise, they'll make staying indoors a million times more bearable. Happy shopping! (more…)
Score Your Girl a Burberry Coat Just Like Harper Seven Beckham's…
We just can't get enough of these two. Harper and Victoria Beckham make such a stylish duo. Over the weekend, we were swooning over Harper's adorable little Nike sneakers and today we're in love with that adorable Burberry cape she's wearing. (more…)
Suri Says: Pink Coats Are a Must-Have This Season…
This is the second time in a week we've seen Suri Cruise rocking a pink topper and that's all the confirmation we need--every little girl needs a pink coat this winter! (more…)
Need a Little Something to Make This Monday Go By Quicker? Head Over to J. Crew Where Sale Items Are an Extra 30% Off
I don't know about you, but I definitely could have used another day this weekend. Obviously, that's not gonna happen so I guess we'll just have to settle for this awesome J. Crew sale instead! From now until October 28, all sale items are an additional 30% off with code OURTREAT at checkout. I'll be stocking up on long sleeves and leggings for winter, but there's tons more to see. Get there ASAP before the good stuff is gone. Start Shopping: jcrew.com (more…)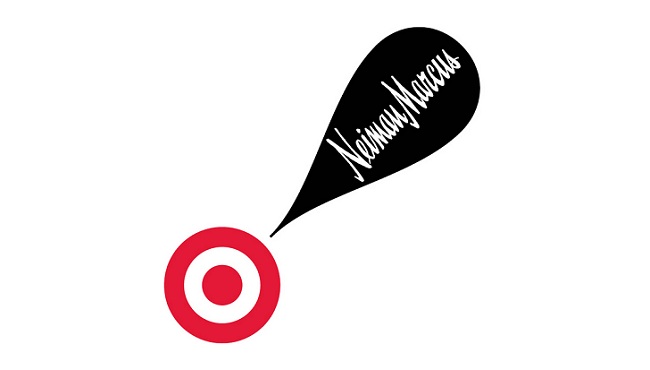 OMG, You've Got to See The Children's Goodies from the Upcoming Target + Neiman Marcus Holiday Collaboration
So you've heard about the upcoming holiday collection from Target and Neiman Marcus, right? No? What rock have you been sleeping under?! Here's the scoop: Target and Neiman Marcus teamed up with 24 American designers from the CFDA to create the ultimate holiday capsule collection. There's women's and men's fashion, home decor and even pet accessories. Of course, we're most excited about the kids' stuff! Target recently shared the lookbook, so we're giving you a sneak peek at the adorable children's fashions. Here you go: (more…)
Go Ahead, Shop 'Til You Drop! All Crewcuts Styles at J. Crew Factory Are Now 30% Off
Go, go, go! When there's a sale this good, you can't wait. Ok, I'm getting ahead of myself. I'm talking about the J. Crew Crewcuts sale. They just marked all the Crewcuts items at J. Crew Factory down 30% and no mom should miss deals this good. Hurry, sale ends October 21, 2012. Start Shopping: factory.jcrew.com (more…)
Have $116 Handy? Score Your Daughter The Same Adorable Pink Swing Coat Suri Cruise Was Spotted Wearing
When I first saw this pic of Suri Cruise out and about in NYC, I immediately fell in love with her coat. It's something I'd totally wear myself, and for my daughter? No brainer. (more…)
Hurry! Score Luca Comrie's Adorable Splendid Littles Top Before It Sells Out
What a cutie! That's Hilary Duff and her baby boy, Luca, at the pumpkin patch this weekend and he is so scrumptious! From his little cuffed jeans to that cute striped top, looks like Hilary Duff will have a heartbreaker on her hands. (more…)
Don't Miss It! All Sale Items Are Now An Extra 30% Off at J. Crew
'Tis the season for lots of special events and occasions. And you know what that means? Cute new clothes for the kids! There's the holiday card, holiday parties, Thanksgiving... the list of places where your kid will need to dress to impress is endless. And the perfect place to get kids' clothes that impress? Crewcuts, obviously. So from now until Sunday, head over to J. Crew where all sale items are an additional 30% off when you use code MUSTHAVE at checkout. Check out these pieces we love: [slideshow] Start Shopping: jcrew.com (more…)
Brr, It's Cold Out There! Lucky for You, Outerwear Is Already Up to 50% Off at Nordstrom
Is it freezing where you live yet? The temps have definitely dropped here in NYC and we're already reaching for our coats. Now if you've been putting off getting your kid a new jacket or stocking up on cozy hoodies, the time has come. It's only going to get colder, so head over to Nordstrom ASAP where lots of warm fall and winter musts are already on sale. Check out these finds we love for the kids--and one for you, too, mom. [slideshow] (more…)
Kids Watching Cartoons? Good! Shop These Online Columbus Day Sales While They're Distracted
I know, I know. Time is of the essence. So rather than you having to search the Web for the best Columbua Day sales, we found them for you. Whether you're looking for maternity clothes or winter boots for the kids, here are the 12 sales you shouldn't miss today. Save up to 50% on cute, cool maternity clothes at ASOS. The first fall sale is on at Bloomingdale's. Save 25-50% on cozy sweaters, cords and more. Save 40% on all outerwear at Carter's. Plus, PJs are buy one, get one free. Tons of fall essentials are already on sale at The Children's Place, but you'll save anther 20% today only. Take 30% off all orders at Gap with code GAPCOLOR at checkout. All final sale items at J. Crew are an additional 25% off today with code SHOPJCREW at checkout. (more…)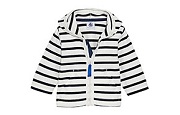 Access Granted! Shop Petit Bateau's Private Sale and Save Up to 70%
Does it get any more luxurious than Petit Bateau? Their casual, yet chic basics never go out of style which is why you shouldn't miss their private sale. It just opened and we've got your all access pass! What should you see first? The options are endless. There's the $18 classic baby bodysuit (down from $31), an adorable whale tee for just $12 (down from $30), or a striped dress for only $21 (down from $58). Here are a few more things we love: [slideshow] Wherever you start, just be sure to get there quick. The good stuff will go fast and the sale ends on September 30. Start Shopping: petit-bateau.us (more…)
Don't Wait! Save 20% on Splendid Littles, Ralph Lauren & More at the Bloomingdale's Friends & Family Sale
Been holding out for a good sale to stock up on fall and winter essentials? Well that good sale is here! Bloomingdale's just kicked off their friends and family sale and almost everything is 20% off when you use code FRIENDS12 at checkout. Be sure to check out the ridiculously cute childrenswear from Splendid Littles, Ralph Lauren and Burberry, plus maybe a little something nice from the shoe department just for you. The sale ends October 1, so go now! Start Shopping: bloomingdales.com (more…)
Saw the Modern Family Cast Win Their Emmy On Sunday? Score the Exact Tea Collection Dress 'Lily' Was Wearing Now!
It's not very often that us regular moms can put our children in the same clothes celebrity tots wear. And it's even more unlikely that we can score exact red carpet looks. But thanks to our friends at Tea Collection, we can do just that! If you tuned into the 2012 Emmys this past Sunday, then you saw Aubrey Anderson-Emmons, the actress who plays Lily on Modern Family, looking adorable in a little purple number. The dress was custom-made by the designers at Tea Collection and for a limited time they're making the exact same dress available to everyone! (more…)
Get Over to Gap.com ASAP! All Sale Items Are Now an Additional 25% Off
Can you feel the chill in the air? Summer is just about officially over which means it's time to retire the shorts and tees for long pants and sweaters. And the best place to stock up on fall essentials? Gap.com! For three days only, all sale items at Gap are an additional 25% off when you use code GAPSALE at checkout. And yes, the sale includes lots of pants, sweaters, jackets and even boots. Hurry, offer ends 9/21/12. Start Shopping: gap.com (more…)
We've Got Your Front Row Seat To the Oscar de la Renta Childrenswear Spring/Summer 2013 Fashion Show!
Last week, I was lucky enough to get a seat at Oscar de la Renta's Spring/Summer 2013 childrenswear fashion show in New York City and it was incredible. The showroom was pristine, the models were adorable and the clothes, well, they were amazing. So amazing, in fact, that even though they aren't for sale just yet, I just had to share some of my favorites. Consider this your front row seat: [slideshow] (more…)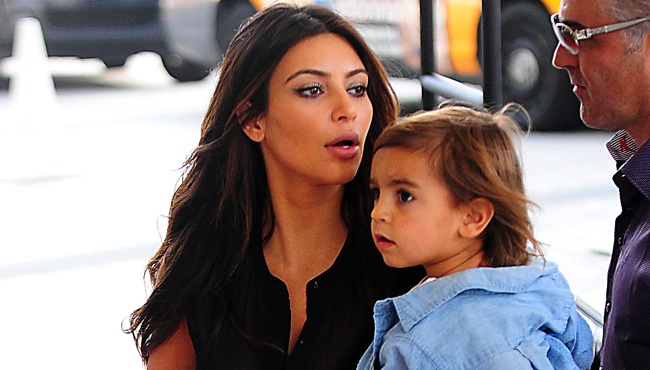 Move Over Kim Kardashian! Mason Dash Disick Is Definitely the Cutest Kardashian…
How adorable is little Mason? It's like the older he gets, the cuter he gets. Mason was snapped in Miami with his aunt, Kim Kardashian, his mom Kourtney and his little sister, Penelope. Kim and Kourtney are in the MIA to film their show, Kim & Kourtney Take Miami. (more…)
Easiest Way to Cure That Case of the Mondays? Take 30% Off Sale Items At J. Crew!
Not one of the lucky ones who have today off? Whether you're working in an office or at home with kids who don't have school, carve out some "me" time today and take advantage of this amazing J. Crew sale. All sale items are an additional 30% off when you use code LOVEIT at checkout. Now you could be practical and stock up on warm fall clothes for the kids or you could treat yourself to that cute pair of booties you've been eyeing. Either way, don't miss your chance to save. The sale ends on Friday. Start Shopping: jcrew.com (more…)
Access Granted! Your Front-Row Look at the Ralph Lauren Girls' Fashion Show
Calling all fashionista moms out there! Whether you're in NYC taking part in all the Fashion Week festivities or you're following the fabulousness from afar, we think every mom should get a front row seat. And thanks to our friends at Ralph Lauren, you can! (more…)
Oh Hello Sale! Take An Extra 30% Off Sale Items at J. Crew Today and Tomorrow
Didn't get your shopping fill at this weekend's Labor Day sales? Head over to jcrew.com where all final sale items are an extra 30% off when you use code MUSTHAVE at checkout. It's the perfect opp to stock up on cute clothes for back to school. Check out these fab finds we're loving. [slideshow] (more…)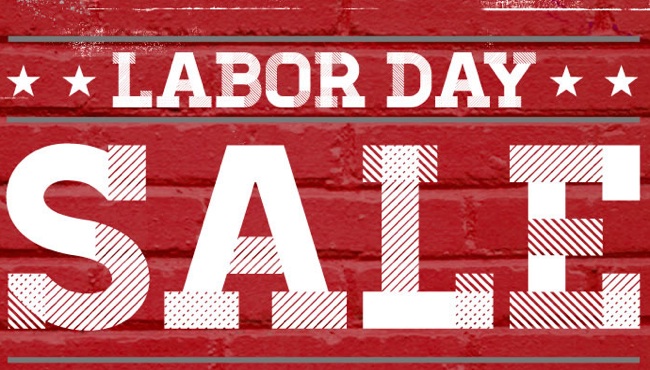 Hooray for Labor Day! Take a Load Off And Shop These 20 Amazing Labor Day Sales
Whether you're finishing up your back to school shopping, updating your wardrobe for fall or looking for summer deals to store away for next year, it doesn't get much better than Labor sales. The deals are so amazing, you're sure to score everything on your list--plus a little something extra!--without blowing your budget. The even better news? The sales start now! You don't have to wait until the weekend to start shopping--here are 20 Labor Day sales you should check out ASAP! (more…)
Get Your Credit Card Out Now… There's No Way You'll Be Able to Resist Buying Your Kid One of These Adorable New Carter's Halloween Costumes
Ready for cuteness overload? Carter's just released their 2012 collection of Halloween costumes and no surprise, they're as adorable as ever. From a flower to the classic pumpkin, good luck decided which get-up to get your little one for Halloween this year. [slideshow] (more…)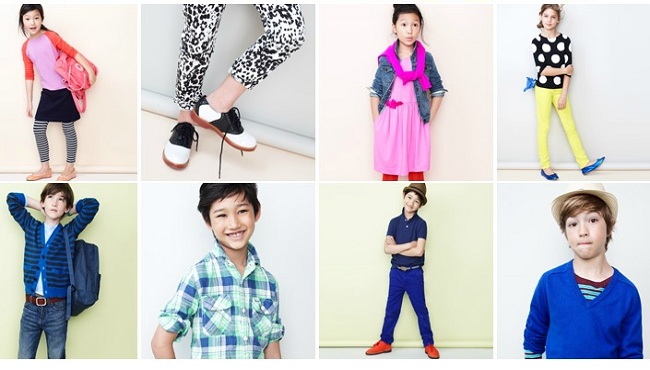 Sad You Missed Yesterday's J. Crew Sale? That's Okay–This Weekend All Crewcuts Factory Styles Are 30% Off!
Didn't make it to jcrew.com in time to score an extra 30% off sale items yesterday? You missed a good one, but don't beat yourself up. There's still time to score Crewcuts kids' clothes for cheap. This weekend only, all Crewcuts styles at J. Crew Factory online are 30% off. That means cute ballet flats for $35 and cords for less than $30. Here are our picks: [slideshow] Start Shopping: jcrew.com (more…)
Don't Worry, You Didn't Miss It! Today's The Last Day to Save an Extra 30% On Sale Items at J. Crew
We're normally on top of sales at our favorite stores, but somehow the latest J. Crew sale slipped right under our radar. Fortunately, we caught it on the last day which means there's still time for you to score some adorable back-to-school clothes for your kid for super cheap! Just head over to jcrew.com and hit up the sale section. Fill your cart with all the things you love and right before you check out use code LOVEIT to receive an extra 30% off all those sale items. Check out these goodies we found that should definitely be on your shopping list. [slideshow] (more…)
Get The Look: Leopard Print Leggings Just Like Alessandra Ambrosio's Little Girl, Anja Mazur
Love leopard print? I'm on the fence. Sometimes I love it, but sometimes I think it looks a little, well, trashy. Fortunately, seeing it on Alessandra Ambrosio's daughter, Anja, I love it. Her little legs looks so cute in those leopard print leggings, I think every toddler girl should have a pair for fall. So if you have a daughter, here are some good leopard print leggings to choose from: (more…)
So That's Why Suri Cruise's Backpack Was So Cheap…
Because she's friggin' bike riding in a $136 silk and cashmere dress and $312 ballet flats! Obviously neither Katie Holmes or Tom Cruise are strapped for cash, but when I saw this pic of Suri Cruise bike riding in NYC this weekend I thought, "Oh, Suri looks so cute!" And because she was carrying that $17 backpack last week, I thought maybe, just maybe, her ensemble was actually attainable. I thought wrong. (more…)
Get 10% Off Designer Children's Clothing, Shoes, & Accessories, Plus Free Shipping At yoox.com
[slideshow] As you're prepping your kids for some serious back to school action, your life temporarily becomes a whirlwind of new pencils, erasers, college-ruled paper, backpacks - you may be a little too busy to take advantage of all of the best deals on new duds for your little scholars. But this week, we're bringing a very special offer from yoox.com exclusively to you, the style-savvy MOMfinds reader! (more…)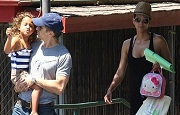 There Are Still 4 Good Weeks Of Summer Left, Which Means You Can Totally Justify Treating Your Daughter to Nahla Aubry's Adorable Splendid Littles Swimsuit
Halle Berry's daughter, Nahla, is hands-down one of the best-dressed kids in Hollywood. She always looks adorable, but still comfortable and like a kid. Case in point: that cute striped swimsuit she's wearing in the pic above. Nahla was spotted out with Halle and Halle's fiance, Olivier, and even next to Halle Berry she's totally stealing the spotlight in those stripes. (more…)