Would You Rather Have These Ugly $500 Rodarte Socks Or A New Handbag?
$500 dollar socks have become a reality, folks, and you can thank Rodarte for that. Despite their Juarez makeup fiasco, we love Rodarte, but we just can't wrap our heads around this one. Not only are these ugly socks rather hole-y, but they are non-washable (spot clean only), too. No wonder so many New Yorkers have deemed them ridiculous. Oh well, let's hope Rodarte redeems themselves with their limited edition Opening Ceremony limited edition collection next Spring. Don't worry - we've got great options so you can get in on the bold hosiery trend without emptying your your bank account. These J. Crew Herringbone Tights ($22.50) add texture and interest to your legs, without adding bulk. We like these gray Club Monaco Wool Thigh Highs ($24) with a skirt and flats. These Gap Cableknit Tights ($14.50) will look great with your over the knee boots. Shop our guides for more of the best tights, patterned stockings, and slimming Spanx.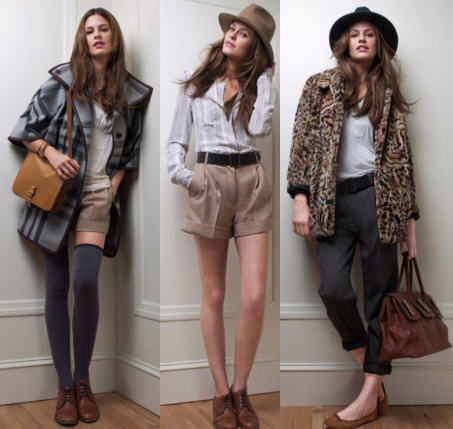 Club Monaco Is Online And Even Better Than We Expected
From their perfect-for-work A-line skirts to their cozy knits, Club Monaco has been one of our favorite stores for years. But for gals who live to shop online, the lack of eCommerce was kind of a buzz kill. Buzz be killed no more - Club Monaco is finally online and we are loving it. Shopbop now has an awesome selection of Club Monaco just one click away: This one of a kind Club Monaco Hannah Plaid Coat ($295) has an oversize check pattern that has a very country-meets-city feel. Pair it with a white button-down or turtleneck. Nail the camel trend, get super soft cashmere, and don't spend your life savings doing it? Yes, please: Club Monaco Cashmere Tia Gloves ($59). If you need an extra long cardigan (who doesn't?) this Club Monaco Paige Cardigan ($139) is the perfect lightweight sweater for layering, and for those awkward between-seasons months. A chic suede cross-body is the must-have bag of the season; this Club Monaco Suede Carrie Bag ($229) pretty much nails the look. Wool thigh high tights are the legging of choice this year - pair these Club Monaco Wool Thigh Highs ($24) with a flirty pleated skirt and camel Oxford flats. For more amazing fall finds, shop our guides to the best flat boots, skinny jeans, military jackets and cashmere.