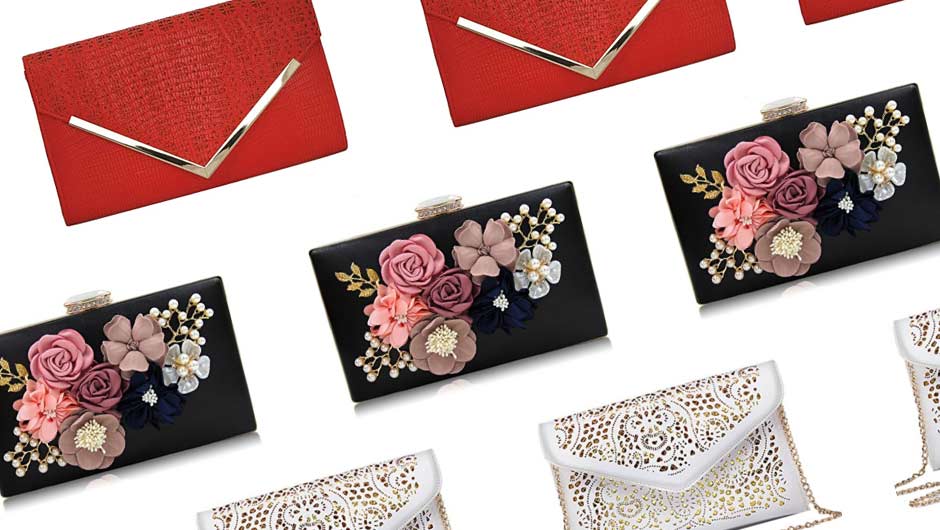 Trust Us, You Need These Amazing Clutches From Amazon Right Now (They're Under $25!)
Kate Spade's Surprise Sale Just Started–And Prices Start At $12
Jessica Alba's Favorite Kenzo Clutch Is 65% Off At The Moda Operandi Sale
Jessica Alba is a fan of Paris brand Kenzo (she's not the only celeb), and to show her loyalty, the Honest company owner has worn their Fall 2014 KENZO Forever No Large Leather Portfolio Clutch on more than one occasion this season. As you know from our countless posts about Jessica Alba's style, she is definitely a fashion inlfuencer, so you can imagine our surprise to see her beloved clutch on sale at the Moda Operandi's Winter Sale ($140, down from $390). How can anything she wears be marked down--and still in stock, to boot? GET IT NOW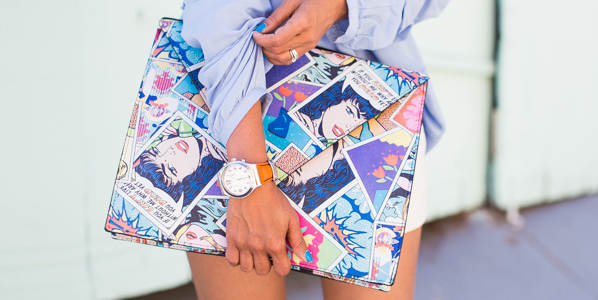 This Comic Book Clutch Is For Anyone Trying To Be A Street Style Star
A couple of weeks ago, I was having one of my usual blogger stalking seshs when I came across this comic book-print bag on Walk In Wonderland. How freakin' cool is it? Of course, this led me to find out the designer and where to buy it. The Milan Envelope ($585) clutch (or should I say, document folder) is by Elisabeth Weinstock. It pretty much has all the makings of the perfect street style accessory that will get photogs to snap your pic--we know the tricks. So if you want to be the coolest chick in your office who may or may not be mistaken for a style blogger, get one of these. And if comics aren't your thing, it comes in croc and snakeskin too. Milan Envelope in Pop Art ($585) And don't forget to check out: get the dress Kate Middleton is wearing today, a Bachelor in Paradise recap and how to wash swimsuits [Photo: Walk in Wonderland]
This 'Size Does Matter' Clutch Is Winning Fashion Week Street Style
Since the advent of the street style star, fashion week has become less about what is shown on the actual runway, and more about what these pretty "it" girls are wearing TO the shows. Sure, this has created some pretty big egos in the blogger world, but it's also resulted in some great trendspotting outside the tents. Case in point: at New York fashion week earlier this month, fashion writer Nausheen Shah was snapped by On Abbot Kinney holding an oversized metallic "SIZE DOES MATTER" clutch. All the style photographers and fashion fans outside of Lincoln Center lost their sh*t--it wasn't just a great photo opportunity, it's an effing cool bag. Later in the week, we also saw Renee Ogaki from STYLUSTE with the bag. Okay, now we officially wanted one.  We did a little research and discovered that it's by BOYY--and it's actually customizable so you can have yours say whatever you want (size doesn't matter?). The BOYY Personalized Clutch ($555) comes in 4 colors: black, gold metallic, lead metallic and cotton candy metallic. The bag isn't cheap--but it's also not a $5K Chanel bag. For more info on customization, email [email protected] And it looks like Zara just hopped on the bandwagon. Check out this incredibly similar clutch bag they've released: Zara Leather Pouch ($29.90) Zara Leather Pouch ($29.90) [Photo: Nausheen Shah, STYLUSTE]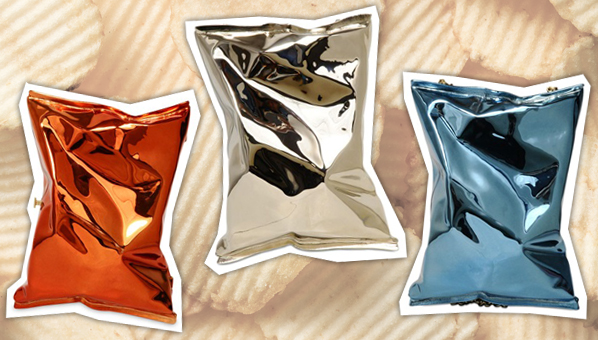 2014 Already Has An 'It' Bag–And It Looks Like A Bag Of Chips
Welcome to 2014, where the ties that bound you last year are officially off and we can all start anew. First things first? An "It" clutch that is already causing as much controversy as when Leandre Medine brought overalls back (or--you know--popularized them again). Already featured in the January issues of ELLE and Marie Claire--which means all editors at Hearst will soon, if they do not already, own this bag--and seen on Lulu Kennedy, editor at large at LOVE Magazine, and Lucy Chadwick, a gallery director featured often on The Selby and in videos for brands including ZARA, this new "It" clutch best resembles a bag of chips (but with suede inner lining). And that bag of chips looks is something at which even Anya Hindmarch, the bag's designer, pokes fun at with her team: But why so much controversy? Because the bag isn't what a lot of people would necessarily describe as "cute" (hint: the chip resemblance). Instead, the bag is winning fans in art circles, proving that its aesthetic is more artistic than perhaps functional. While the artistically inclined and bigger publishing houses are loving it, fashion bloggers (or as traditionally known, real people) aren't so swept away. "I see the intent--fun, splashy capriciousness--but the result is something that most resembles a Capri Sun juice pouch on a chain, and there's nothing good about that" says Kelly Cook, Snob Essentials. "Especially when your fruit punch costs you over $1,500 and has no Vitamin C. It actually takes a moment to look at this and realize it's a bag, not trash." Fair enough, and maybe this bag isn't for everyone. But for those who like to mix their style with a little bit of modern art, the crisp clutch is It. Just please, no one show it to Kim or Kanye. Seriously, we don't want them getting any ideas. BUY THE ANYA HINDMARCH CRISP CLUTCH HERE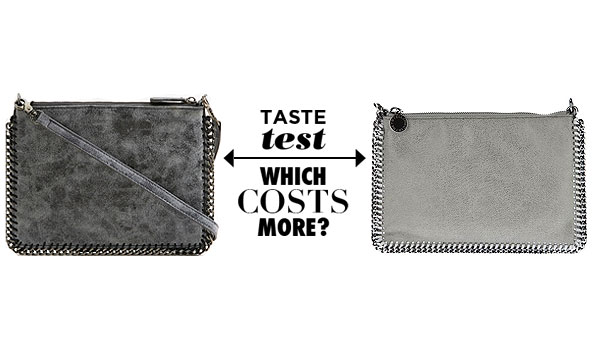 Can You Tell Which Grey Clutch Is $412 More Than The Other?
Everyone needs a great clutch for fall, especially a grey one. The color is sleek, neutral, and goes with everything. It's always so hard to find accessories that work with black AND brown, but grey does the trick. And when that grey clutch has some zipper embellishments like these two choices, your outfit will be taken to a whole new level. But one of these clutches is designer, and costs almost $400 more than the other. Can you tell which clutch is Stella McCartney and which is the knockoff? Answer: The clutch on the left is Nasty Gal's Chained Envelope Clutch ($48), and the clutch on the right is a Stella McCartney Falabella Clutch ($460). Now we can't tell you how the material feels, but they sure do look pretty similar! Do you think the McCartney looks like it costs $400 more than the Nasty Gal? Let us know in the comment section below! For more taste tests, check out Forever 21 vs. Current Elliot, Jeffrey Campbell booties vs. Knockoffs, and Burberry's trench vs. MICHAEL Michael Kors' Trench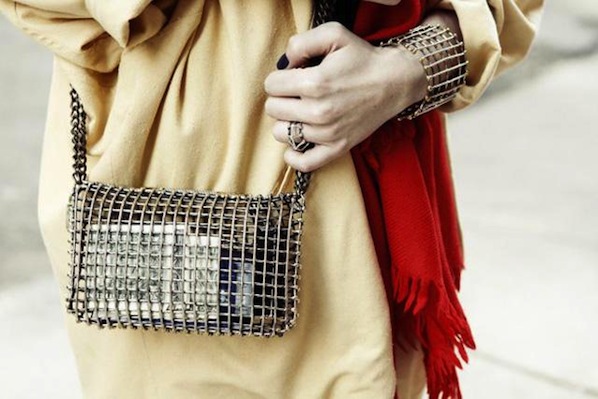 Why Is This Open Cage Clutch Sold Out? And Why Do I Want One So Badly?
It's $725 and totally impractical - and I really, really want one. And apparently, so do other people because it's sold out. What is it? This open cage clutch from sister-design duo Anndra Neen, as seen on countless street style stars: Gimme more! Yes, yes! Now, all I need is a black card...
Charlotte Olympia's Perfume Clutches Won't Actually Make You Smell Good–But Who Cares?
No, Charlotte Olympia didn't just come out with a fragrance (although someone should get on that). The 2011 Accessory Designer of Year just released her newest collection of clutches...and the bags are shaped like perfume bottles. The elegant, see-through clutches retail at $1,295 each and are available in 3 different "scents": yellow, pink and blue. We wouldn't expect anything less whimsical from designer (we wish it was acceptable to carry around her Christmas-themed clutches all year around). We are pretty sure these clutches can barely fit our iPhones, but they are so pretty, we'd be willing to leave our phones at home for the night (yeah, we love these clutches that much). Check out the clutches below and pick your favorite "scent": Pink Scent Perfume Bottle Perspex Clutch ($1,295) Yellow Scent Perspex Clutch ($1,295) Perfume Bottle Clutch in Blue ($1,295) Don't forget to check out the new Converse x Marimekko collection,  pastel sunglasses and designer all the celebs are wearing.
5 Bridal Accessories We're Obsessed With Right Now
As winter melts into spring, all we can think about is wedding season. That glorious time of year when weddings and open bars become part of our weekend routine, when "Mazel tov!" seems like an appropriate response to any question asked of us. (Paper or plastic? Mazel tov!) We found five bridal accessories that, much like our true loves, we can't stop thinking about. From "something blue" earrings from Oscar de la Renta's new bridal portal, to a rhinestone bow belt from J.Crew that is the perfect topper for any simple dress, to Sergio Rossi's cage booties from his debut bridal line. And who says you even need to be engaged to love these pieces? 1. J. Crew Collection Rhinestone Bow Belt ($225) 2. Tom Binns Dumont Crystal Bib Necklace ($150) 3. Oscar De La Renta Swarovski Abstract Faceted Crystal Earrings ($375) 4. Sergio Rossi Mermaid Swarovski Crystal Booties ($1,670) 5. Kotur Margo Floral-Lace Box Clutch ($395) Need even more wedding style? Check out scalloped wedding dresses, 15 great polishes for your "Something Blue" pedicure and statement wedding headpieces.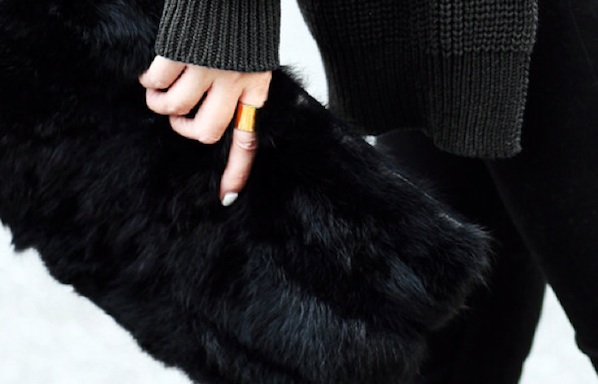 The Fur Clutch: Because Hands & Handbags Get Cold, Too.
I'll wear fur however we can--on jackets, vests, sweaters, hats--you name it. (Bonus points if it's faux fur that feels real - thank you, Rachel Zoe, for that.) Fellow fur enthusiasts of the world: here's a new accessory trend you can get behind: the fur clutch. Perfect for holiday parties and all your winter activities in-between, the fur clutch not only adds a bold pop of texture to your cold weather outfits, but also serves as a cuddle buddy for your cold hands. This statement piece works just as well for a night out as it does with your casual wear--just ask designers such Proenza Schouler, Alexander McQueen, and Christian Louboutin, who are all selling it in their winter collections. Browse our favorite fur clutches in the slideshow, and don't forget to check out other trends we're loving: elbow patches, velvet blazers, and zippered moto jeans.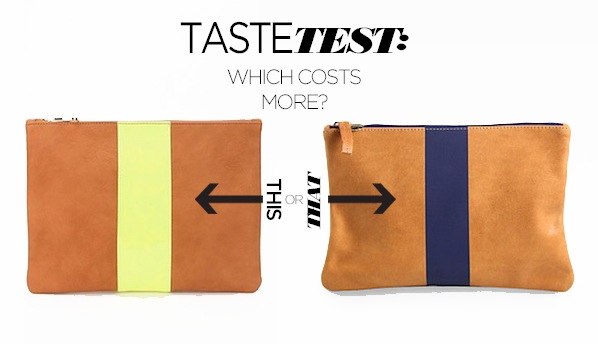 Can You Tell Which Striped Clutch Costs $100 Less?
This year, Clare Vivier's neon striped clutch made the handbag designer a breakout star; after the bestselling bag went viral on Pinterest, she collaborated with Wren, among other accomplishments. Well, as they say, imitation is the sincerest form of flattery -- and that is certainly the case for her neon and tan pouch: Steve Madden has already released a knock-off look-alike and there's an eerily similar style in Gap's spring collection, too. Oh, and American Apparel borrowed the design of her oversize fold-over clutch. So, can you tell, which of the above clutches is the original Clare Vivier bag, and which is the $100-less Steve Madden version? Answer: The bag at left is  Steve Madden's Pop-Stripe zip pouch ($78) and the bag at right is Clare Vivier's striped clutch ($165).  For more fashion trivia, test your knowledge with these leather stacked-heel booties, calf hair smoking slippers and coral skinny jeans.
Pre-Order Carly Rae Jepsen's Namesake McFadin Clutch, Maybe?
It was only a matter of time until pop star Carly Rae Jepsen got an accessory named after her. The McFadin 'Carly' clutch ($205) is available for pre-order now, with shipping starting in October, which means you can totally rock this clutch with your next Halloween costume. We love the bright white color and studded details. Plus, anything with a fringe is fun in our book. Shop more celebrity style: Kelly Osbourne's $38 sunglasses, Miranda Kerr's skirt and sunnies, Beyonce's Brooklyn t-shirt, and Nicole Richie's heels. [Photo: Splash News]
These J.Crew Invitation Clutches Are Ready To Party. RSVP Now.
J.Crew's accessories are spot on this season, but our absolute favorite piece if we had to pick (luckily it's just a hypothetical) are these J.Crew Invitation clutches. You know how we feel about the color block trend (obsession) so this is a way to infuse it into your wardrobe every night. The hardest part is choosing which color. GET IT: J CREW INVITATION CLUTCH ($118 from $158) Check out more of our faves, from the best sales and deals to 2013's best handbags and the best booties for fall.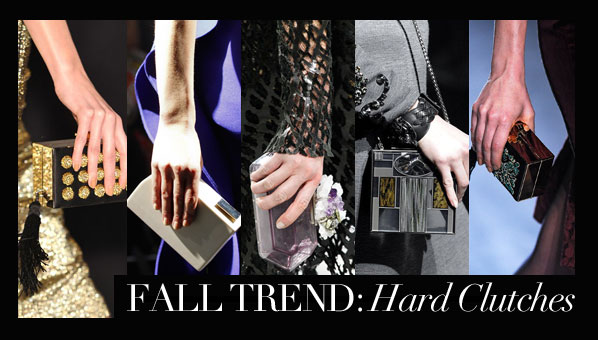 You'll Fall Hard For These Geode, Shell & Rock Clutches
Instead of the usual leather clutch, go for this coming season's favorite handheld accessory, the durable clutch. Not unlike a mini-jewelry box (check out Jason Wu), these clutches are sturdy in a glamorous way, boasting lush tones like Lanvin, or Art Deco-inspired designs. For those hoping for something more organic, opt for Chanel, whose clutches are bedecked in natural crystals. These pint-size purses aren't your typical tote, so for those that like to carry almost everything on-hand, you'll have to downsize. But with clutches that look so luxe for fall, who wouldn't want to? Shop more fall trends: jumpsuits, silver, baroque, doctor bags, varsity jackets, military, velvet, peplums, cobalt blue, burgundy, collars, high-slit skirts, tuxedo trousers, leather accents, lace, white, digital prints, graphic sweaters, lurex, cap toe shoes, and checkered plaid.
In Summer, Black Leather Clutches Won't Do: Shop Colorful, Beach-y Ones Instead
Your hands will be itching to clutch these cute and summer appropriate bags after you've clicked through. While raffia makes a statement worthy appearance, Kate Spade dives in with the perfect pool side clutch along with a rubber version just asking to be dipped.  Rebecca Minkoff makes quite a show with her raffia clutches and removable straps (if you prefer hands free). Either way, your carrying ability will be limited (which in turn simplifies your life) and you'll look beach bar ready to go. A touch of neon here and there adds a glow and all the bags are versatile for day or night outings. RAFFIA, WOVEN, PRINTS & MORE Don't forget to shop other fabulous trends such as nude wedges for every occasion, floral printed shorts, and printed bikinis.
Why Hasn't Anyone Thought Of This Before? A Clutch You Won't Lose Sight Of
If we were one of those magazines that did quizzes like, "What Does Your Bag Say About You?" this one would your bag is this one would definitely be a Stage Five Clinger. But that's kind of a good thing in the case of a clutch, which we tend to forget about after a drink or two. C'mon, I can't be the only person who's totally abandoned mine after a few too many, right? Anyway, not only is it functional, it's also really cute and it works for daytime (how many clutches can you say that about) as well as nighttime. Can't you just see yourself as a street style star rocking this look? GET IT: ASOS HAND SLOT CLUTCH ($33.14) Check out this week's best sales and deals, online sample sales and best find of the day picks.
Come On In, The Water's Fine: Meet Kate Spade's Pool Party Clutch
Wondering where the party is? Look no further than Kate Spade, where summer is already in full swing. The proof is in the clutches: while in seasons past, the ladylike brand has created kitschy clutches that look like classic bookcovers, this year it's all about summer prints (like Jimmy Choo's surfer clutch) that bring the party with you. Kate Spade Pool Party clutch, $278 at Kate Spade. Bonus: If you find yourself feeling like a wallflower at this year's BBQs and rooftop soirees, this baby is the ultimate icebreaker. "Is that a ladder on your bag?" Let us know how it goes... Check out this week's best sales and deals, online sample sales and more best find of the day picks, plus our favorite hard shell clutches, too.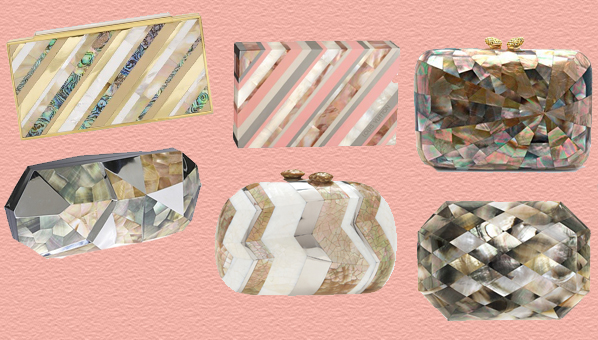 We've Got A Hard On For These Shell & Geo Clutches
This season, clutches are either super-soft (like Clare Vivier's) or hard as a rock (like Edie Parker's). Maybe it's because I'm personally prone to dropping them (when I'm totally sober - swear!) but I prefer the latter. These box clutches come in a variety of exteriors; Tom Ford's is tortoiseshell, Lanvin's is mother of pearl, and Edie's is sparkly "geo" rock, so there is something for everyone. If you love yourself a good minaudière, this trend is for you. SHOP HARD SHELL CLUTCHES NOW For more handbags news, check out Clare Vivier x Wren's reversable tote, Coach x James Nares, and Opening Ceremony's handbag launch.
If You're Wary Of Head-To-Toe Prints, Try One Of These Bold Clutches Instead
Designers are print-happy this spring- with everything from printed pants to entire print crazy outfits, we get in. Prints, patterns, geometric forms - they're all in. But when we saw this gorgeous printed clutch on Song of Style, we had proof positive that printed accessories were totally the way to go. An easy way to brighten up and accessorize any outfit, these printed clutches have us drooling (and saving up!). Who wants to lug around serious lbs in a giant shoulder heavy bag, especially in the sweltering temps spring is sure to bring? Free yourself of clutter and weight - stay fresh and light with these clutches. And don't forget our eye popping post on the candy colored crossbody bags if you're looking for a hands-free approach. Shop our guides to the best overnight bags, designer wallets, and bright bags.
Kerry Washington Has Us Fooled With Her Kate Spade 'Magazine' Clutch
While April Fool's Day is three weeks away, it's never too early to plan a bit of tromp l'oeil into your wardrobe for the prankster holiday. We like how actress Kerry Washington tricks us into thinking she brought a bit of reading material onto the red carpet with her Kate Spade New York 'Charm Travel Magazine' Clutch ($298), which even sports a quirky newspaper print lining. What's even better is that we'd probably carry this conversation-starting accessory beyond the first of April. Kate Spade New York 'Charm Travel Magazine' Clutch ($298) Shop more celebrity style finds: Jessica Biel's jacket, Angelina Jolie's handbag, and Amber Heard's sweater dress.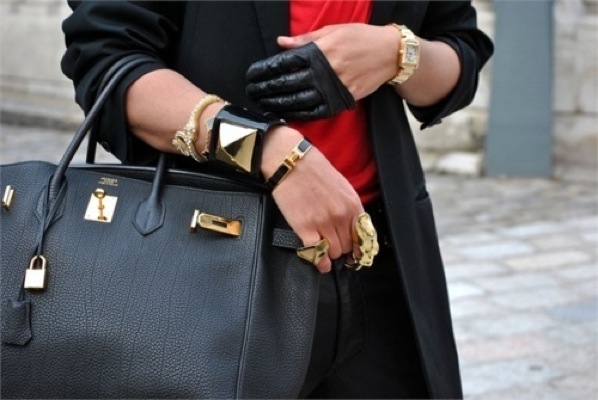 Black & Yellow Isn't Just A Good Rap Hook: It's Our Favorite Accessories Combo, Too
As the great lyricist Wiz Khalifa once said "Black and yellow, black and yellow, black and yellow." The combo is not just great for rap hooks and Pittsburgh sports team: black leather accessories accented with gold are an accessories classic, too. Keep it simple with a skinny belt or carry the duo with a clutch. Click through our slideshow and find luxe black and gold accessories, like wrap bracelets, cap-toe pumps, waist-belts and more. They add just the right amount of flair to your neons, pastels, and all the other fabulous color induced trends of the spring. Don't forget to shop  jewelry staples, personalized jewelry, best deisgner wallets, and evening bags.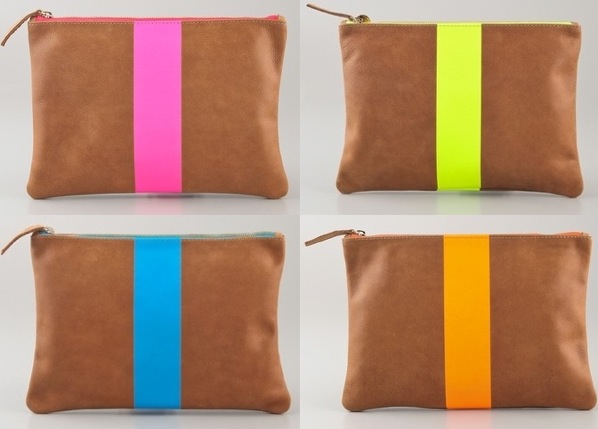 This Stripe Clutch Is #Trending: Grab One Before Pinterest Users Buy Them All
I'm a self-confessed Pinterest junkie, and lately I've been seeing a certain brown-and-neon-striped clutch everywhere. I just did a little research, and it turns out the beloved clutch is Clare Vivier's Neon Stripe Flat Clutch ($155) which is now available on Shopbop. Users have re-pinned the envelope clutch version thousands of times, and her fold-over clutch ($150) has been the subject of countless street style shots. We love the neon stripe, which is so on-trend, and the versatility of the brown pebbled leather. She also makes a wallet-sized version: get this CLARE VIVIER Neon Stripe Card Case ($66) Shop more must-haves -- like the mint trend or polka dots everything.
Get Milla Jovovich's Edie Parker Hard Shell Clutch Now!
Oscar presenter Milla Jovovich was one of the red carpet arrivals, but she's already making waves for her one-shoulder vintage Elie Saab gown and her shimmer-y Edie Parker hard shell clutch. Normally, Oscar accessories are one-of-a-kind or only available through special order, but Milla's shimmer-y bag is actually available online now: Get Milla's exact Edie Parker Flavia Geo Clutch ($1,095).
Not Expecting A Valentine's Card In The Mail? Send Yourself An Envelope Clutch Instead.
We've been coveting envelope clutches since Tory Burch's Robinson clutch made our holiday wish-list, and our love hasn't faltered since. Today we're crushing on this gorgeous image, courtesy of Pinterest, of this massive leather clutch - complete with an envelope flap and gold hardware. I just want to crawl inside... Shop our guides to the best leather jackets, over the knee boots, and party dresses.
Self-Promotion At Its Best: Get Nicole Richie's 'Marley' Clutch From The Golden Globes
Shameless self-promotion never looked so good. Nicole Richie has been effortlessly rocking pieces from her House of Harlow 1960 line since it debuted a few years ago, and this season, she's making her statement with the House of Harlow 1960 'Marley' Clutch ($195) in yellow and gold croc. It seems to be attached to the reality-star-turned-designer's hip, from red carpet appearances for her new show Fashion Star, to the Golden Globes this weekend. Get her 'Marley' clutch in Mustard Croco ($195) or in Gold Snake ($195) like the one she wore to the Globes. Shop our guides to evening bags, cameo necklaces, and celebrity style.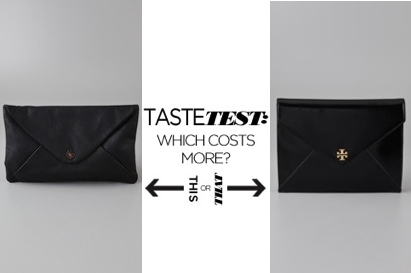 Can You Tell Which Leather Envelope Clutch Costs $228 More?
(more…)
Who Knew Olivia Palermo Even Owned Anything This Cheap? Get Her $98 Rose Clutch Now
Don't you just love when a celeb with fabulous style rocks something you can actually afford? Olivia Palermo, who also loves those $600 Stuart Weitzman 50/50 boots we want,  has been spotted with an under-$100 accessory. She loves her Sondra Roberts Rose Satin Box Clutch ($98) so much she's worn the pink and purple one all over town (above). (more…)
Leave It To The Glamourai To Make Cashmere Edgy & Inspired
There's nothing better than cashmere: it's like butter for your skin. Depending on the silhouette and the way you style it, though, it can look a little bit frumpy. That's where The Glamourai comes in. Her mix of edgy sky high peep toe booties and cobalt blue slim cropped trousers here take the cashmere wrap and sweater combo to a completely different place--far, far away from the country club. Get the look! (more…)
Close Up And Copy: Patterned Skirts, Layered Bangles & Skulls
Today in Close up and Copy, we're delving into this punchy look: gorgeous patterned skirts, a cobalt jacket, a Rebecca Minkoff skull clutch and layered bracelets. It's a very cool combination that's super easy to clone, so stay tuned. (more…)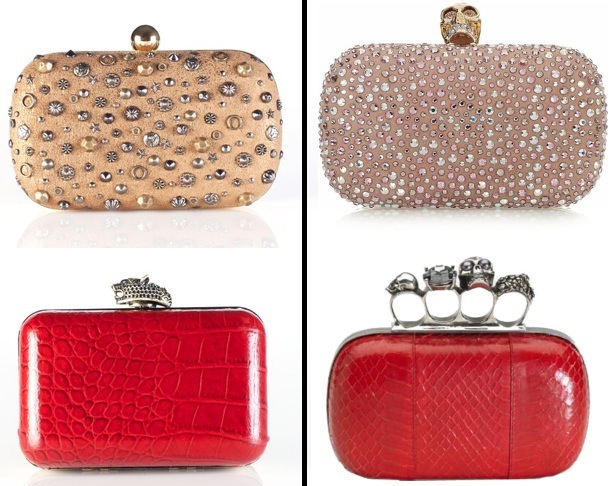 Nicole Richie's New House Of Harlow 1960 Purses Look Conspicuously Like Alexander McQueen's
Left: House of Harlow 1960. Right: Alexander McQueen Though I'm a huge fan of House of Harlow 1960 jewelry and sunglasses (hello, Nicole Richie is the designer--why wouldn't they be amazing?!), but I couldn't help but notice the striking similarities between the line's début handbag collection, and Alexander McQueen's iconic clutches. However, the House of Harlow 1960 clutches (pictured on the left) are only two of the three styles that have been released on WWD from the 14-piece line, so for all I know, they're the only copycats of the bunch. And to their credit, they are a whole lot cheaper than McQueen (For example, the red crocodile clutch, bottom left, will retail for $150). These pieces, as well as the rest of the collection, will be available next month in select department stores and on Shopbop.com. Follow the author of this post on Twitter @shefindschar. Be sure to check out our shopping guides on evening purses, handbags under $250, and the best designer wallets.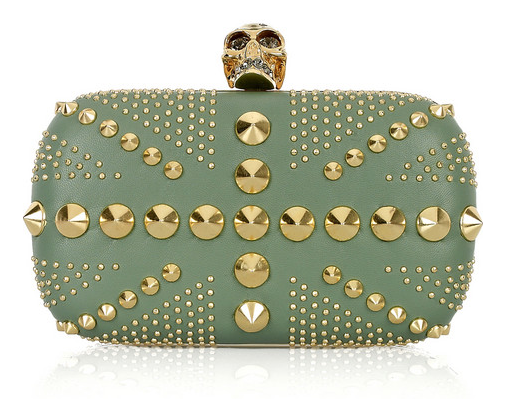 We Officially Have Union Jack Fever: Thanks A Lot, Kate & Billy
It seems fitting that this $1,495 Alexander McQueen clutch is the color of money (for us at least) In addition to the Pippa Middleton Ass Appreciation Facebook page and the Royal Wedding Girl Meme (Google it), Kate Middleton and Prince William's wedding also elicited a trend epitomizing all things British: the Union Jack.  This British Flag pattern, like the one featured in the hardware on the Alexander McQueen clutch above, can now be found on everything from short shorts to dog beds. And call us unpatriotic, but we couldn't be more excited. Check out some of our favorite fashionable interpretations of the Union Jack below: (more…)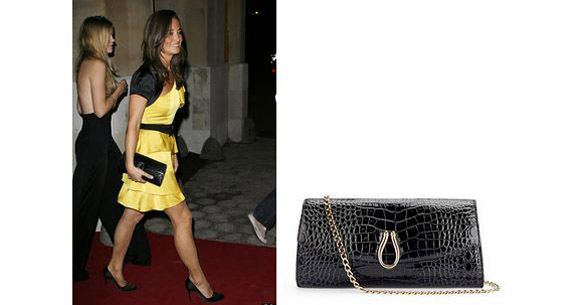 Pippa, The Middleton Everyone Seems To Care About Now, Recycles Kate's 'Eaton' Clutch
We already know that Kate Middleton loves it, and now we know her wildly popular sister Pippa does too. We're talking about the Aspinal of London Patent Croc Clutch ($409) and unlike their custom Alexander McQueen dresses, you can actually buy it now. The sleek croc clutch is perfect for parties, weddings and pretty much anything. Score. (Hey, remember when we gave one away?) Looking for more wedding accessories? Check out our guides on wedding veils, bridal hair accessories, and even more great wedding clutch bags.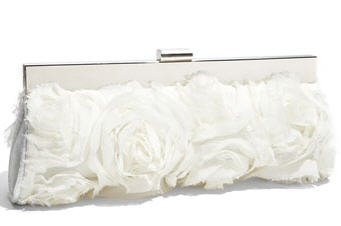 Can You Tell Which Floral Clutch Costs $2,447 More Than The Other?
Shop our guides to the best wedding jewelry, lavender bridesmaid dresses, and outdoor wedding dresses.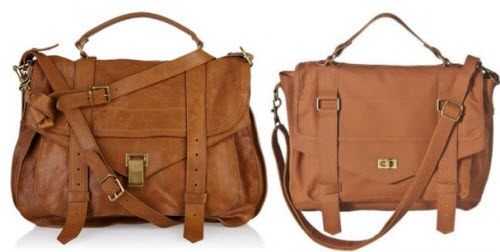 Target Copies Proenza Schouler's PS1 Bag–But What About All The Other Fashion Copycats?
Proenza Schouler's PS1 bag at Net a Porter vs Mossimo's satchel at Target. Target's newest messenger bag, by Mossimo, looks just like the uber-coveted Proenza Schouler PS1 bag and Proenza Schouler is not happy. Granted, they're not exactly the same, but close enough where Target's are all sold out. Nobody has sued just yet, like Burberry or Juicy Couture, but we'll keep you posted. In the meantime,we've rounded up the best knockoffs we've seen lately. (more…)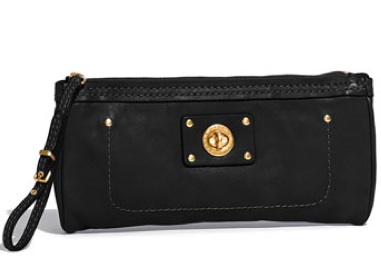 Attention Leather Lovers: Marc Jacobs Wallets And Handbags Are 30% Off
If you're a sucker for all things Marc Jacobs, today is a good day. Nordstrom has leather handbags, clutches and wallets for over 30% off. Happy shopping: The perfect mini wristlet, this Marc by Marc Jacobs 'Totally Turnlock Bentley' Leather Clutch ($118.90, down from $178) is a steal at under $120. For a chic handbag style, look no further than this 'Classic Q High Schooly' Top Handle Satchel ($329.90, down from $498) (more…)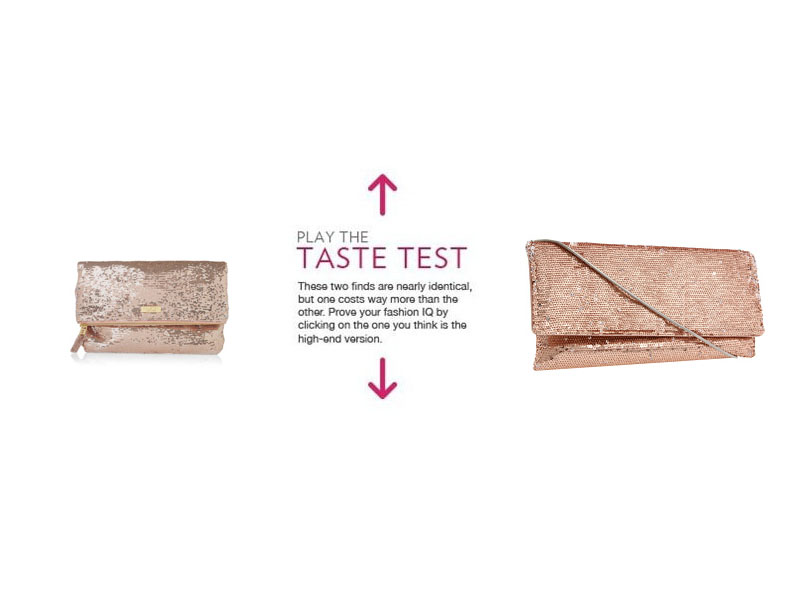 Can You Find Which Sequin Clutch Costs $144 Less Than The Other?
Press your fashion luck with all of our Taste Tests. Shop our guides to the best clutches and the best designer handbags. Subscribe to SHEFindsMail for exclusive updates.
Design Guru And Pretty Lady Kelly Wearstler Debuts Fall Clothing & Accessories Line
Confession: I have a girl crush on Kelly Wearstler. And not just because I love big hair and home design - but because she is generally awesome and always well-dressed. So you can imagine my delight to find out that Ms. Wearstler is launching a full line of clothing and accessories this fall. We just peeked at the Look Book - and as expected, the line features geometric shapes, bright colors and bold jewelry: For more fashion Do's, check our guides to the best designer handbags, trench coats and sheath dresses. Follow the author of this post on Twitter @bridefinds.
Can You Find Which Clutch Costs $295 Less Than The Other?
Keep yourself guessing with all of our Taste Tests. Shop our guides to the best evening bags and the best chain strap bags. Join our e-mail list for exclusive updates.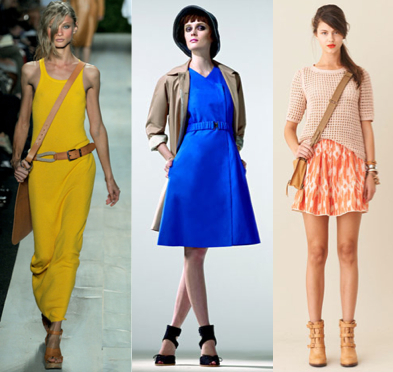 Khaki Gets Some Serious Fashion Cred By Mixing With The Bright Crowd
Get yourself out of a dreary winter slump with Spring's newest trend: neons. Pair these edgy country club accessories with basic colors like khaki and neon for a truly attention-grabbing combo. It's all over the runway and now we bring it to you. So start now, with the help of our top trendy picks below, and by the time Spring gets here, you'll be good to go. See more of our favorite Spring trends. Shop our guides to the best belts and the best blazers. Join our e-mail list for exclusive updates.
Jennifer Lopez's 3-Step Process For Dressing Like A Diva (You Know You Want To)
Jennifer Lopez is not shy when it comes to fashion, or anything for that matter, so trying her look at home is not really for the fashion faint of heart. While filming this week, Jennifer stepped out in a belted ruffle trench coat and sky high platform pumps, clutching a bold beaded bag. We love the kissing lips on her Corey Lynn Calter clutch, so we found it for you online (plus the rest of her Diva-worthy outfit): Step 1. A Belted Trench This Rebecca Taylor Ruffled Wool Trench ($595) has a sexy ruffled collar just like Jennifer's but is wool, so it's warm enough for winter. Wear it to holiday parties, the office and pretty much anywhere you need to make an impression. Step 2. A Clutch That Says "Kiss Off" Get Jennifer's exact clutch, this Corey Lynn Calter Metal Kisses Clutch ($187). The beaded kiss detail is what makes is J.Lo-worthy - and the under $200 price tag is what makes it work for the rest of us. Step 3: Sky High Platform Pumps These Pour La Victoire Irina Suede Pumps on Hidden Platform ($250) are like shoe porn, and I am David Duchovny for them. From the platform, to the sexy arch and thin heel, these babies will literally make your legs look good in anything. Shop more diva-worthy attire, from over the knee boots, and statement jewelry and evening bags and clutches. See what else we're wearing this season with all of our winter trends. Shop our guides to the best coat trends, the best jackets, and the best military jackets. Subscribe to our online mailing list for SHEFinds in your inbox. Follow the author of this post on Twitter @bridefinds.
Etsy Find: A Gold Foldover Evening Bag ($160 Cheaper Than Its Halston Heritage Counterpart)
I have a semi-obsession with party purses and evening bags. Leather clutches, mini shoulder bags, and pretty much anything with a metallic finish is my friend. So when I stumbled upon this Gold Foldover Clutch ($34.95) by Etsy seller Marketa Psenickova, I was in love. This is the perfect evening bag - pair it with skinny black jeans, sky high black pumps and a bar top, and you are good. to. go. The added bonus? It's exactly $160 less than this identical Halston Heritage bag: If you love Halston Heritage as much as Sarah Jessica Parker, you may prefer this Jenny Metallic Folded Clutch ($195). The gold foldover style will pop against your skimpiest little black dress for any holiday party or Saturday night at the club. Pass the Courvoisier. For more holiday must-haves, check our guides to the best cocktail rings, party dresses, earrings, party shoes. Follow the author of this post on Twitter @bridefinds.
Natalie Portman Rocks Lanvin For H&M — Bet She Didn't Have To Wait In Line
Everyone - including us - went gaga over the Lanvin for H&M line that recently hit (and immediately sold out) in H&M stores. If you missed it, drool over the fool collection in this quirky video, or shop for the line on eBay. Clearly, Natalie Portman knows people, because she wore one of the line's hottest pieces - a one shoulder black dress - at the Gotham Independent Film Awards. Start with a bold one shoulder dress like Natalie's - this Aqua One-Shoulder Draped Dress with Flower Detail ($198) is even $1 cheaper than her's. It's the perfect dress for all those friggin' holiday parties. For an option belted look, cinch your one shoulder dress at the waist with this Calvin Klein Lexi turnlock stretch belt ($29.99, down from $39.99). It's a great day or nighttime accessory that creates an instant sexy waistline. You'll need a sexy pump to really nail Natalie's look, and these on-sale GUESS Amazed Platform Pumps ($69.30, down from $99) more than fit than fit the bill. The platform pumps are sexy and leg-lengthening (good if you're petite like Ms. Portman). Nighttime sparkly jewelry is the best part: these Nordstrom Crystal Collection 'Henriatta' Round Drop Earrings ($88) ad touch of glam to pretty much any ensemble, and are expensive-looking so you can wear them to black tie-party, swanky holiday parties, weddings and more. You'll need a sparkly clutch like Natalie's to stash you red lipstick, this J.Crew Sequin minaudière ($98, down from $128) is perfect for the job. It's pretty, feminine and ready to get its party on. For more holiday party must-haves, check our guides to the best cocktail rings, party dresses, earrings, party shoes. Follow the author of this post on Twitter @bridefinds.
Gifts For Everyone In Your Office: From Stressed Out Interns To Label-Loving Bosses
Coworkers are among the hardest people to get gifts for, but here are some simple solutions that will leave everyone pleased, from your overworked assistant to that receptionist who thinks she's Joan Holloway. For your label-loving boss: Is your cubicle mate always talking about the latest Alexander Wang bag? Well, you don't have that kind of cash, but you can feed her label obsession with these MARC by M. JACOBS Bookmarc Fine Sharpie Multi Color Pens ($9.99). But hurry- these are Sold Out List-worthy. For your overworked assistant: For your overworked assistant or intern, nothing says thank you like Modcloth's Woodland Stroll Travel Mug ($24.99) and a Starbucks gift card to go with it. For your Joan Holloway-wannabe receptionist: Is the office receptionist living in her own Mad Men fantasy world, dressing up like Joan Holloway one day and Betty Draper the next? Gift her some inspiration with Mad Men Season 2 ($19.97). For your disorganized intern: Is another coworker always asking you the date and forgetting what days the meetings are? Help her out with this adorable Pretty Little Things Wall Calendar by Jonathan Adler ($17.99). For your music-blasting cube mate: Modcloth's Country House Earbuds ($14.99) are just the thing for your coworker who is always blasting Rihanna. The entire office will thank you. For your office BFF: J. Crew Glitterati Party Clutch ($59.50) is perfect for your best friend in the office, the girl who treats you to happy hour when you've had a bad day. Now, she'll have just the right bag to bring along. Check out more of our favorite gifts, like gifts for your party animal friends, gifts for your homebody friends, and gifts for your reality TV show friends. Then, check out more of the best evening bags in our shopping guide.
Olivia Palermo Shows How To Dress For The Unemployment Line
Olivia Palermo may now be unemployed (yes, The City was cancelled) but she's not letting that get her down - at least not in the clothing department. Olivia stepped out in NYC looking like chicer than ever in black jeggings, a black faux fur vest, blazer, cat eye sunglasses and red ballet flats. Get the look here: Peruse all of our favorite leopard print shoes, clogs and lace up booties. Don't forget a pair of leggings to go with it and a military jacket. Then check out our calendar of online sample sales and the best pages for group coupons.
4 Under $100 Leopard Handbags That Would Make Kim Kardashian Jealous
It's easy to lust after all the fab leopard accessories, from leopard print shoes to leopard handbags, we're seeing everywhere right about now, especially on celebs like Sofia Vergara and Kim Kardashian. Not so easy? Scraping together enough money to keep up. We feel your pain, so we've found 4 leopard bags to get you through this jungle season, each for under $100. If you carry around your life in your bag like Sofia Vergara, opt for the Big Buddha Sunset Leopard Print Tote ($92) that has plenty of room for books, magazines, daily essentials, even an extra pair of shoes. For smaller loads to carry, we love the Nine West PartyBox Leopard Minaudiere ($59) for its dainty profile  and how perfect it is for a night out, casual or dressy. You will love the gold clasp of this Topshop Leopard Leather Clasp Purse ($20). This Mad Men-style purse would also be great for a Joan Holloway Halloween costume. And this Paul's Boutique Leopard Purse ($50.55) is pretty much the perfect clutch - small but not too small, and an easy shape to carry on its own or stash inside a larger bag. Read on for more on the leopard trend, and don't forget to shop our guides to leopard print shoes, fall handbags and faux fur vests.
Get Reese Witherspoon's Winning Look In 3 Easy Steps
Reese Witherspoon has impeccable style, and is often the subject of our Get the Look posts, so it was no surprise that the blonde actress had us green with fashion envy again this weekend in Vancouver while shooting her new comedy This Means War. The star looked slender in a belted ruffle dress, accessorized with a black studded bracelet and slouchy black clutch. Let's try to recreate the magic here: Start with this silky ModCloth I'm On Sapphire Dress ($57.99) which has the cool blue and girly neckline ruffles of Reese's style.To give the dress some waist shape, try this black Calvin Klein lexi turnlock stretch belt ($39.99). The elastic style will also go great around your jackets and sweaters all fall. Looking for a silky, un-belted style? This Joie Eiffel Sandwash Savory Silk dress ($208) is very pretty on; wear it with gray knit tights and a boyfriend blazer for a cool daytime work look. The printed pattern of this BCBGMAXAZRIA Strapless Jersey Mini dress ($86.99, down from $218) looks a lot like Reese's - the belted dress, sweetheart top dress is totally something she would wear. It's flirty and edgy without being over the top. Top off the look with a studded bracelet like Reese's - this Linea Pelle studded wrap bracelet ($25) nails the trend on the head without breaking $25. Get a slouchy, foldover clutch like Reese's for less. This Even Better Foldover Clutch ($29, down from $59) is the perfect price and aces the look. For more must-have celebrity trends, check our guides to boots under $100, celebrity handbags, military jackets and jeggings.
French Connection's Clutch: Fit For A Punk Rocker–And 75% Off
There's no denying there's a certain je nais se quo about this French Connection clutch. The vintage box closure shape and 100% silk fabric combined with the modern pink-and-black design make it an unexpected piece that brightens up everything in your closet. Get one for fall--it'll make all those camels, grays, and blacks that much more interesting. At just $45 (down from $138), it's a serious steal. Considering the punchy color, you can wear it all year long - it'll work in the summer and spring just as well. Check out more of the best handbags, clutches, and skinny jeans and pumps for all of your nights out. Don't forget to peruse more best find of the day picks, too. Follow the author of this post on Twitter @shefindseileen.
5 Rock & Roll Studded Handbags For Fall (Groupie Status Not Required)
Luckily, handbags are always a good investment because, unlike other wardrobe staples, you can wear them as many consecutive days as you want without getting nailed by the Fashion Police. What's also serendipitous is that one of our favorite bag trends - the rock 'n' roll studded look, is majorly in style for fall. Here are some of our favorites: The Matt & Nat Scrilla ($101.97, down from $255) is an earthy take on a studded tote with its vegan status and slouchy, easy silhouette. Don't be fooled - it works just as easily with a chic, nighttime look as it does with jeans and a tee. In the "Yes, Please!" category, this MICHAEL Michael Kors Uptown Astor Large Shoulder Tote ($448) is pretty much handbag nirvana. We have trouble imagining an outfit this wouldn't look amazing with, plus it has strap options, always a good thing. For maximum impact, the Morcheba Clutch from Malene Birger ($445) is your best bet. Because this foldover clutch mixes different metals and shapes, your other accessories will fit right in and further enhance the rocker-glam chicness of this bag. We love it with a cropped blazer and skinny jeans or a little black dress. Olivia Harris' lambskin Studded Ball Leather Hobo ($495) mixes a classic chain strap with the super trendy studded look to arrive at a bag that's edgy and elegant at the same time, bound to be a wardrobe staple for a long time. And if you'd need to sell your gold fillings to afford some of the pricier studded options, we feel your pain. Thankfully, Old Navy brings us the supercute Old Navy Studded Hobo ($30.50) which has a comfortable carrying shape and an on-trend trim of mixed metal embellishments, and leaves you some money for a killer pair of over the knee boots. Read on for more of fall's best handbags and wallets, and be sure to check out guides for blazers, skinny jeans and clogs so you're prepared for fall.
Get Dressed Up With A Cool, Sculptural Clutch For 30% Off
You don't have to spend a lot to look dressed up instantly. Just get a really cute clutch in neutral colors from Shopbop's sale that goes with everything, like this gorgeous flower clutch below. Tuck it into your luggage for vacations, bring it along on a night out, or to a party or wedding. It never fails. Get this sculputural straw Mar y Sol Gigi flower clutch ($52.50, from $75) before they're all sold out. Check out more evening bags, handbags, and shoes for dressing up, like nude shoes, party shoes and wedges.