Coach Is Changing Its Name & People Are Not Happy About It
This Coach x Selena Gomez Bag Is The Only Thing We Want This Holiday Season
The holidays are just around the corner, so it's about time you start compiling your wish list. While it may be a stretch to ask mom and dad for the iPhone X (just peep that $1,000 price tag), this beautiful bag is a much more reasonable choice! Not only that, but it will earn you some major style points, too. In fact, it's destined to be on the arm of every fashion girl this season. The stunning option is part of Selena Gomez' limited edition collaboration with Coach, which officially launched in September. Deemed the Selena Grace, the bag features a sleek leather exterior and comes in three amazing colors: bright red, black cherry, and a creamy off-white. It also includes double handles to suit any look, whether you prefer to tote it under your arm or let it hang for a longer silhouette. And the inside is just as impressive. Open the bag and you'll find a gorgeous fabric lining, as well as a variety of multifunction pockets perfect for storing all your beauty essentials and beyond. Selena Grace Bag in Mixed Leather ($395) As for the special Selena-approved touches? The item's hangtag features the star's signature and her empowering messages engraved in various locations on the bag. On the base, "Love yourself first" is written in Selena's own handwriting, while the phrase "To be you is to be strong" can be found on a patch inside the bag. Selenators, rejoice! Not only is it a super unique choice, but it's the perfect way to spice up your wardrobe this fall. When cold weather's got you down, try the bright cherry version for a pop of color. Just follow Selena's example and pair it with a muted color palette to really turn heads. We're obsessed with her effortless look, which features some of this season's other hot trends, including cropped flared jeans, sock booties, and an oversized knit. She tops off the outfit with some chic hoops (a must-have in every woman's repertoire)  chooses to wear the amazing bag with a long strap to compliment her casual vibe. [Photo: Splash] And the chic options don't stop there. Turns out, you can add even more Selena x Coach accessories to your closet. Of course, you'll need one of these sleek ID cases in the color of your choice to hold all your credit cards. And when you want to swap out the Selena Grace bag for a smaller option that's perfect for a bar-hopping kind of night, one of these sweet little wristlets will do just the trick. So let's hope our friends or loved ones are feeling a little extra generous this holiday season! We're pretty sure you don't need any more convincing to lust after the Selena Grace bag. But just in case, we think the singer herself describes it best: "It's totally versatile, perfect to wear day-to-night, and it goes with everything."Amen. For even more fashion inspiration, check out these knockoff Louis Vuitton and Chanel purses that look just as authentic as the real things.
Zappos Is Having A Huge Sale Right Now And Coach Wallets Start At Just $34
In the market for a new wallet? Or just looking to give a super cute designer gift (to yourself)? Zappos is having a major sale right now and tons of cute Coach wallets are on sale for just $34. Yes, Coach leather wallets for under $50, people! If this isn't the easiest "treat yourself" of the week, I don't know what is. These wallets are not only super cute, but the quality is crazy good. Trust me, I have one and I'm constantly stuffing cards and money inside of mine, throwing it in and out of my bag and it looks as good as new! Get one for yourself below before they're all gone! Mini ID Skinny ($34.99, down from $49) Mini ID Skinny ($34.99, down from $49) Flat Card Case ($34.99, down from $49) Small Wristlet ($45.99, down from $65) Small Wristlet ($45.99, down from $65) Embossed Leather Card Case ($45.99, down from $65) Color Block Small Wristlet ($49.99, down from $75) Embossed Small Wristlet ($52.99, down from $75) Polished Pebbled Leather Small Wristlet ($67.99, down from $85) SHOP MORE COACH ON SALE AT ZAPPOS Be sure to check out Nordstrom's amazing sneaker sale and Old Navy's $12 leggings.
FYI, Coach Has The Best Gifts Under $55 Right Now
I'll be the first to admit that I'm a sucker for a good designer gift. It doesn't have to be the latest "It" bag or most expensive item. Just something that feels luxe, even if it didn't cost a fortune. Shopping for someone like me--even if that someone is you? Get over to Coach right now! They kicked off their Thanksgiving sale early and select styles are 30% off with code THANKS2016. Even better? Everything ships for free! Of course, this is a great opportunity to splurge on a new bag or pair of shoes, but don't overlook these smaller treasures under $55. Yes, genuine Coach for less than $55. Check out my favorite steals below: HALO stud earrings ($31.50, down from $45) card case in pebble leather ($52.50, down from $75) EMBOSSED small corner zip wristlet ($45.50, down from $65) COSMETIC case 17 in crossgrain leather ($52.50, down from $75) KNIT tech glove ($52.50, down from $75) COACH new york eau de parfum 30ml ($38.50, down from $55) SHOP COACH'S 30% OFF SALE NOW Be sure to check out these $22 cashmere gloves and our fave new watches. [Photo: Coach]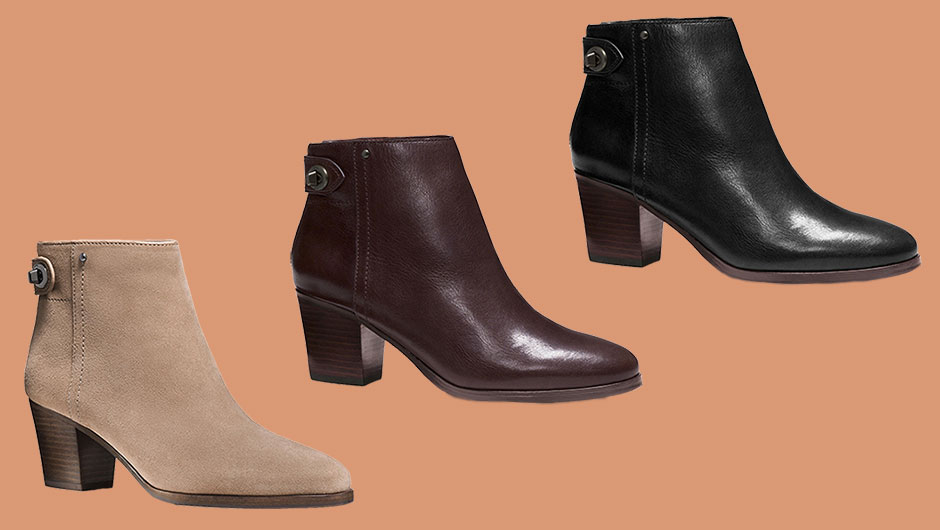 These Coach Booties Are A Winter Must-Have, Plus They Are Under $200
We all know Coach makes high-quality leather handbags, but that's not the only thing they're known for! Coach has beautiful leather booties that are a winter staple. Why? They are extremely versatile and have a timeless, minimalistic silhouette that you can wear season after season. One of our favorite pairs is now on sale for less than $200, which is $126 off the original price! Coach very rarely has sales, so you really need to take advantage when they do. Shop our must-have pair of leather booties below! Windsor Bootie ($199, down from $325) Don't miss why you need to own a pair of Sperry Top-Sider's Salt Water Duck Boots and shop designer handbags up to 60% off at Saks Off 5th! [Photo: Windsor Bootie]
Get Bags, Clothing & More At Coach's Semi-Annual Sale–Prices Start At $35
What's better than buying leather goods that will last for years to come? Buying them on sale at Coach's Semi-Annual Sale! I personally love the Classic Duffle because you can fit so much stuff in it, the leather is buttery soft and it's never going out of style. Now is the perfect time to treat yourself, so don't wait! SHOP NOW Don't miss Victoria's Secret annual swim sale and up to 40% off at Barney's! [Photo: Coby Sunglasses, Rory Flat, Lightweight Leather Moto Jacket, Duffle Shoulder Bag]
Seasonal Depression Doesn't Have A Thing On Coach's New Neon Collection
Dreary winter weather already starting to make you feel a little bit down? Oh boy, do we have the perfect cure-all for you. Coach just launched their new neon collection and if you ever had any doubts about color therapy, these accessories will make you reconsider. We're talking electric orange, lime green and hot pink. Just one look and you'll instantly feel happier on even the grayest snowy day. Click through the slideshow to shop our faves. Don't miss Sarah Jessica Parker's cute boyfriend jeans, cool graphic sweatshirts and Jennifer Lawrence's Coach bag. [Photo: Coach]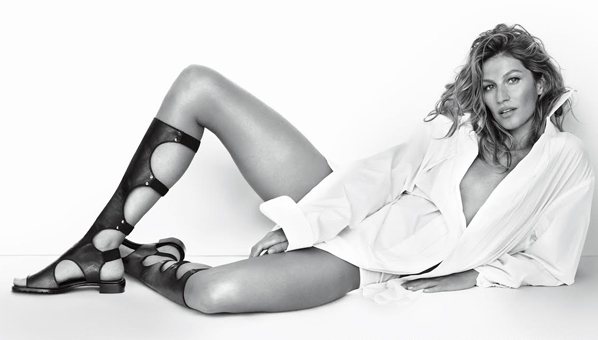 Coach Is Buying Stuart Weitzman As Part Of Its "Brand Transformation"
In today's news we didn't see coming, representatives for Coach announced that the brand is acquiring Stuart Weitzman. This marks Coach's first acquisition, but given Stuart Weitzman's recent popularity with celebs like Jennifer Lawrence, Olivia Palermo, Naya Rivera and more it seems very smart. Of the acquisition, Coach's CEO Victor Luis says it's all part of Coach's brand transformation. You'll note the look (and price point) of Coach bag, shoes and clothing has been markedly different under the creative direction of Stuart Vevers; Coach is now hoping to leverage Stuart Weitzman's expertise in fashion and fit to further grow their brand. On the flip side, Coach will be using their international cache to help grow the Stuart Weitzman brand on a global scale. "We look forward to advancing Stuart Weitzman's global development, especially by leveraging Coach's international infrastructure and expertise in handbags and accessories," Luis says. So what happens when two accessory powerhouses join forces? Does one outshine the other? Does everyone benefit? Only time will tell. SHOP COACH NOW SHOP STUART WEITZMAN NOW Be sure to check out Jennifer Lawrence's Coach tote and the Net-A-Porter clearance sale. [Photo: Stuart Weitzman]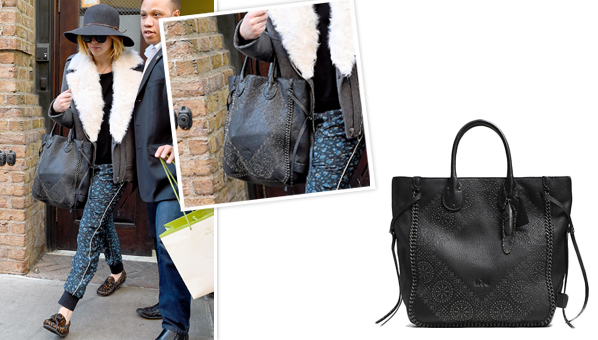 Jennifer Lawrence's Go-To Carry-Everything Bag? This Black Studded Tote By Coach
Like a great pair of jeans that works with everything in your closet, we strongly believe in investing in a good tote bag. Which is why when we spotted Jennifer Lawrence post-workout carrying this studded beauty, we scrambled to find it asap. And guess who makes this gem? Coach! The Coach Tatum Studded Tall Tote in Pebbled Leather ($1,095) is a huge upgrade from the monogrammed C's of yesteryears (remember the wristlet?), so get one for yourself below. We promise, it will be your new go-to.  Coach Tatum Studded Tall Tote in Pebbled Leather ($1,095) PS: Like Jennifer's cool shearling collar coat? Find out where to get the exact same one here. Don't forget to check out Hilary Duff's sweater, Jennifer Aniston's ring and Khloe Kardashian's jeans. [Photo: Splash News]
Coach's Semi-Annual Sale Just Got A Whole Lot Bigger (And Better)
Once upon a time, you'd be hard-pressed to find a Coach handbag on sale. Now? You can get one for up to half off from Coach directly! They launched their semi-annual sale back at the end of 2014, but they just upped the ante today by increasing the markdowns up to 50% off. That means a genuine leather, timeless Coach bag could be your for less than $150. The small accessories are under $50! It's a new year, you deserve a new bag--go treat yourself. SHOP THE COACH SEMI-ANNUAL SALE NOW! Be sure to check out Jennifer Aniston's gorgeous ring and the Nordstrom clearance sale.
Not To Hate On UGGs, But Kate Bosworth's Coach Shearling Boots Are So Much Cuter
Looking for warm, cozy shearling boots to help make winter a little more bearable? Take a cue from Kate Bosworth and invest in the cute Coach Urban Hiker Boots ($368.39) she recently rocked. Not only are they just as warm as UGGs, but they're way more stylish, too. Plus, because they're leather you never have to worry about them getting ruined in the snow or rain. Best of all, Net-A-Porter has them on sale! Get a pair below.   Coach Urban Hiker Boots ($368.39) Can't find your size at Net-A-Porter? Coach still has the boots available in all sizes. Don't forget to shop Jennifer Lawrence's 40%-off leather jacket, Jessica Alba's cute booties and Taylor Swift's $72 coat. [Photo: Splash News]
Don't Miss Your Chance To Score Coach For $44 At Their Semi-Annual Sale
We'll be the first to admit that we were a little nervous when Coach announced they were raising their prices back in May. Like everyone else in the world, we love their bags and shoes, but we aren't working with an endless budget here. That's exactly why we couldn't sit on this could news: not only did we find a bunch of Coach accessories within our price range, but tons of items are even less than $100! We're talking Coach's signature butter soft leather for as little as $44, ladies. It's all going down at the Coach semi-annual sale, so we suggest you shop early while there are still plenty of amazing steals. Click through the slideshow to shop our favorite under-$100 finds on sale at Coach right now. SHOP THE COACH SEMI-ANNUAL SALE NOW Don't miss Frye boots for 60% off, plus J. Crew jewelry for $12.
Coach's Fall Collection Is So Good, Kate Bosworth Wore It Head To Toe
Remember when we told you how amazing Coach's fall collection was under the guidance of the new creative director, Stuart Vevers? Well, lest you only take our word for it, behold the always-stylish Kate Bosworth rocking not one, not two but three pieces from the line. All in the same outfit! Shop her coat and boots below. And if you love her bag, it's the Coach Dakotah Crossbody. You can get it here. Coach Wool Houndstooth Parka ($1,495) Coach Urban Hiker Boot ($395) Be sure to check out Beyonce's plaid shirt, Jennifer Lawrence's striped top and Paula Patton's $168 trench coat. [Photo: Fame Flynet Pictures]
Erase Everything Off Your Fall Wish List–Freida Pinto's Bag Is What You Really Need
It's been a while since we've seen Freida Pinto out and about, but she recently re-emerged looking as gorgeous as ever. And that handbag she's carrying? Pretty freakin' gorg as well, right? It's from Coach's 2014 fall collection from new head designer Stuart Vevers. You're probably thinking, "That's Coach?!" And yeah, it is. Vevers gave the brand a whole new look and it's amazing. Treat yourself to Freida's bag below. Coach Rhyder Colorblock Satchel ($750) Don't miss Kourtney Kardashian's cute backpack, celebs rocking their favorite 7 For All Mankind jeans and Olivia Munn's $20 sweater.
Coach Just Opened Their 40%-Off Shoe Sale And Yeah, It's Really Freakin' Good
As if there weren't enough good sales going down this week, Coach just jumped on board with their semi-annual shoe sale. For a limited time only, tons of their best fall designs are marked down as low as $99, so you know what that means? Shoe overhaul, baby! We're really digging the booties this season, but the Utopia Flat is also a must-have. Whatever styles you decide on, just don't wait. We'd hate for your size to sell out before you snag something on sale. SHOP THE COACH SHOE SALE NOW! Don't miss 25% off at Shopbop, 10 French brand you need to know and Emma Stone's $68 ring.
Stuart Vevers Debut Collection For Coach Is The Stuff Fashion Dreams Are Made Of
I have to come clean--I've been sitting on something really good for months now. Back in February, I had the opportunity to preview Stuart Vevers' first official collection for Coach and when I tell you it was stunning, I am not exaggerating. I still have the freakin' photos on my phone for goodness sake! I didn't go on and on about it back then because the collection wouldn't be available to shop for at least another 6 months, but I'm sharing now. Why? Because Coach's Fall 2014 collection just launched online and trust me, you're going to want to splurge. Unlike Coach in years past, Vevers debut collection is the perfect fusion of downtown attitude and classic American sportswear. There are timeless pieces like chunky sweaters, wool skirts and leather jackets, but all done with some envelope-pushing edge to them. Enough of my rambling. One look at the collection and you'll understand why I'm so impressed. Click through the slideshow to shop my 6 favorite pieces. SHOP COACH'S FALL 2014 COLLECTION NOW Don't miss everything you need to know about George Clooney's wedding, plus the best blanket coats and affordable wall decor. [Photo: Coach]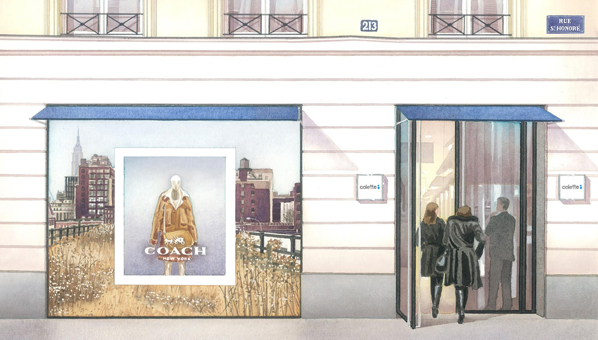 Already Sick Of Summer? Shop Coach's Fall 2014 Collection 2 Months Early At Colette
When I checked the forecast and saw that it's supposed to hit 90 degrees tomorrow in NYC, I thought to myself, "Okay, that's enough summer." Of course, I'm not quite ready for snow and cold yet, but yikes--90 aint no joke! Secretly looking forward to fall, too? Well then this should make you happy--you can shop the yet-to-be-released Coach fall 2014 right now at Colette. Now this is big for two reasons. First, the collection won't be available anywhere else for another two months. That means you'll literally be amongst the first to own it if you act fast. Second, this is the brand's very first collection under the creative direction of Stuart Vevers, who replaced longtime designer Reed Krakoff in June 2013. Now before you go expecting the same ol' Coach you've been used to over the years, not so fast. Vevers definitely has his own style and you'll see that reflected in the new Coach aesthetic. The fall 2014 collection is edgier, more fashion-forward and yes, more expensive. Click through the slideshow to get your first look. Don't miss Bluefly's new home decor debut, MAC x Prabal Gurung and the best heeled sandals for summer.
Here's Your Excuse To Get A New Bag Today: Coach Is Raising Their Prices
Coach warned us that they would be raising their bag prices over the next year, and now they're finally holding to their word. The brand has faced steep competition from the Tory Burches, Kate Spades and Michael Kors of the world, so this move is an attempt to set themselves apart from this crew. Coach will also be scaling down on its offerings of over 100 styles of their popular bags. The new items will range from $600 at the low end to about $5,000. While this is still under Louis Vuitton's outrageous prices, it surpasses Coach's usual price tags. But why now? Why are they doing this to us?! While this project has been in the works for a while, the overwhelming sales of the Weekend Borough Bag ($1,200) may have given the brand the confidence to move forward with it. The changes are expected to be seen by the fall, so it is time to kiss the Coach we knew goodbye and grab that handbag you've been eyeing now, because it's going to be more expensive come holiday season. Check out some of our favorite Coach bags in our slideshow now! SHOP COACH BAGS NOW For more handbags, check out: Ella Moss handbags, Kourtney Kardashian's $78 tote, and monogram gifts. [Photo: Glamourai]
Stop Pretending To Work And Just Shop Coach's 40%-Off Shoe Sale Already
Drop everything! Coach just kicked off their spring shoe sale and nothing is more important right now that snagging a pair of cute flats, sandals heels for up to 40% off. Now you may remember that we're especially fond of Coach's shoes--they're just as well made and stylish as the brand's beloved handbags, except they actually go on sale! Of course, the sale won't last forever, so take a break from pretending to work and get yourself a pretty pair for spring. SHOP THE COACH SHOE SALE NOW! Don't miss our exclusive Forzieri coupon code, plus Emmy Rossum's Kohl's dress and how to wear boots in spring.
Every Shoe You Need (And Want) For Spring Is Right This Way #YoureWelcome
Coach is pretty much iconic for their timeless leather handbags--heck, that's why we first fell in love with the brand. But we have to tell you, Coach's shoe game should not be overlooked. We've been following their footwear options for years now and it just keeps getting better and better. We'd even argue that this spring's sandals, heels and flats are Coach's best yet. But why take our word for it when you can see the shoes and judge for yourself? We teamed up with three of our fave style bloggers to show off a few of our fave styles from the new Coach catalog. Stephanie Liu of Honey & Silk took on Coach's Lexey Heels ($198), Sazan Barzani wore the Coach Pexton Sandals ($248), Dani Roxanne of Creative Collective made us fall in love with the Coach Wooster Flats ($188) and SHEfinds' very own editorial Director Jeanine Edwards modeled the Coach Nillie Sandals ($278). Click through the slideshow to see how these stylish ladies rocked the shoes in real life, or just head straight over to Coach to start your spring shoe shopping ASAP. SHOP THE COACH SPRING SHOE COLLECTION NOW!
You Can Thank Coach For The Flats You'll Be Obsessed With This Spring
Our spring shoe preview simply wouldn't be complete without Dani Roxanne, the mastermind behind Creative Collective, showing off these amazing Coach Wooster Flats ($188). Let's face it: you can't wear heels and sandals all the time. And for those days when you're in between pedis, these pointed-toe flats will be your go-to. Thankfully, Dani flawlessly shows us how to take them from the end of a chilly winter into spring. For her first look—best-suited for cooler temps—Dani paired a chunky sweater, corduroy skinny jeans and a cheetah-print scarf with the flats. When the weather is up and down, Dani swears by dressing in layers and versatile leather shoes like these flats to easily transition from warmer days to cooler nights. Once it's warm, though, the Wooster flats are perfectly suited for staying comfy yet cute in dressier outfits. The cut-outs mean your feet won't overheat and they're easy to style with dresses, skirts and rompers. Dani paired them with a breezy floral-print mini sundress and a classic jean jacket. Click through the gallery to see more pictures of Dani's looks, then be sure to check out Coach's complete spring shoe collection. (And have your credit card handy!) [Photo: Dani Roxanne; Coach]
It Only Took One Look For Us To Fall In Love With These Strappy Coach Sandals
We've already seen two style bloggers rock stunning sandals from the Coach spring footwear collection, but now it's my turn. How could I resist?! Truth be told, I pretty much love every shoe they have this season, but I decided these Coach Nillie Sandals ($278) were my best bet. I love heels in theory, but I only really wear flats so I styled them for an everyday look and for a more dressy occasion. We dress fairly casually here at the SHEfinds office, so flat sandals are my go-to when the weather is warm enough. I can't live without denim--skinnies in the winter, cutoffs in the spring and summer--but I try to dress it up with a nice top, usually something lace like this one by Joie. And the vest because, well, a vest is never really a bad idea. For something a little fancier, I loved the idea of pairing a really special dress with these strappy flat sandals. I'm totally banking this outfit for a summer garden or rooftop party--I could stand for hours in these shoes without sore soles. Click through the slideshow to get a closer look at my Coach Nillie Sandals, then be sure to shop Coach's complete spring shoe collection. [Photo: Joshua Rodriguez]
Let Style Blogger Sazan Barzani Show You Why This Is Your Must-Have Spring Sandal
Prepare for full-on, unrelenting obsession: we asked California-based style blogger Sazan Barzani of sazan.me to style the brand-new Coach Pexton Sandal ($248) and after just one look we're pretty much convinced you're going to need a pair for yourself. Yes, they're that sandal every girl is going to want because they work for both casual looks and dressier ensembles, too. Need proof? Just check out how Sazan dressed them up with a bold, knee-length printed dress and a floppy sun hat. "If I had to sum up my style in one word, that would be vibrant. Depending on my mood, I like to incorporate unique prints and bright colors--regardless of the occasion--into my wardrobe." For a more everyday look, Sazan paired the versatile sandals with a yellow tank, white skinny jeans and a statement necklace. "I'm a lucky gal getting to live in a sunny city like Los Angeles where the Cali weather is always perfect and happy. Fun colors definitely shine bright in my wardrobe year round." Click through the photos see more of Sazan's two looks and the Coach Pexton Sandals. Then, be sure to check out Coach's amazing spring shoe collection. [Photo: sazan.me; Coach]
Kirsten Dunst Would Rather Have A Coach Bag Than A Gym Coach
A quick gym session in Studio City, CA, doesn't stop Kirsten Dunst from wearing a few designer names, including her Coach Mini Borough Bag in Pebbled Leather ($378). While the bag seems too small to store a water bottle, towel, and other gym necessities, it's still a good size that you can easily place alongside you while riding the elliptical or place at the front of the studio during your yoga class. Plus, according to Purseblog, other celebrities like January Jones, Sarah Jessica Parker, and Karlie Kloss are also huge fans of this particular Coach bag—which we're sure they carry around outside of the gym. Coach Mini Borough Bag in Pebbled Leather ($378) Check out more celebrity style posts: Cara Delevingne's graphic T-shirts, Nikki Reed's TOM sunglasses, and Jessica Alba's Current/Elliott shirt.
Jaime King's Top Knot Is Pretty Adorable, But Not Cuter Than Her Mini Coach Bag
While Jaime King lunched with Taylor Swift--(umm, who knew they were friends?!)--we couldn't help but notice her adorable mini bag. Being the eagle-eye bag fanatics we are, we immediately recognized it as the Coach Mini Borough Bag  in Pebbled Leather ($378) You know who first was spotted toting this must-have Coach bag? Sarah Jessica Parker (before the masses even had access). Now that it is on the market, we suggest you scoop one up for all your daily errands.  Score it below. Coach Mini Borough Bag  in Pebbled Leather ($378) Don't miss out on more great celeb style finds such as Jessica Alba's studded jeans, Lauren Conrad's bucket bag, Alessandra Ambrosio's booties, and Kristin Cavallari's boots. [Photo: Splash News]
Coach's Latest Knock-Off Lawsuit Just Won Them $5.5 Million
With super fakes being all the rage these days, it's no surprise that designers are getting fed up with knock-offs. So we have to give major props to Coach. The brand just won a $5.5 million settlement case against the Florida-based flea market Swap Shop, which was selling fake Coach items as far back as 2004! But another reason why this is a huge win in the anti-fake war is that this case marks the first time a property owner has been sued for creating knock-offs, instead of websites or factories. A rep for Coach tells WWD that the brand will continue to check up on the Swap Shop. If they find that the market keeps selling fake Coach goods, the sellers will have to pull the items within 30 days. Or face the wrath of Coach (who has filled more that 700 counterfeit suits). And don't forget to check out: Net-A-Porter's sale is almost over, Beyonce and Jay Z set to perform at the Grammy's together and how shapewear is squeezing your organs [Photo: Flickr]
It's Only Right That Your Last Paycheck Of 2013 Go To Coach's First-Ever Clothing Sale
Consider this the best Christmas gift you could ever receive: Coach clothing, on sale! If you remember, Coach added clothing to their arsenal back in October and we've been coveting it ever since. It's beautiful, but also pretty pricey. That's why this sale is so clutch. It's the first time Coach has ever done an apparel sale--normally, just the shoes go on sale--and it's your opportunity to score a piece of history. There are luxe leather skirts and pants marked down  up to 40% and the sweaters are also worth investing in. Check out what we're eyeing in the slideshow. SHOP THE COACH APPAREL SALE Save an additional 25% on sale items at Kate Spade, plus check out Molly Sims' jeans and designer headphones.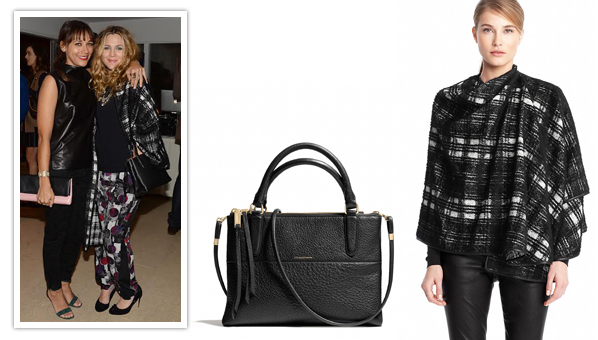 If You Were Ever On The Fence About Capes, Drew Barrymore Has You Covered
Drew Barrymore may be pregnant, but that's not stopping her from dressing like a real trendsetter. The actress recently hit up a party in L.A. and instead of all eyes being on your baby bump, we couldn't stop obsessing over her plaid cape. Drew was rocking the Coach Asymmetric Black and White Plaid Wrap Cape ($698) and if you were ever on the fence about capes, this is the one that will convince you. It's cozy, flattering and much needed break from a confining winter coat. But let's not overlook that amazing bag Drew is carrying. She's the latest celeb to fall for the Coach Borough Bag ($548), which is flying off shelves. Score Drew's bag and her cute cape below.   Coach Asymmetric Black and White Plaid Wrap Cape ($698) Coach Borough Bag ($548) Check out more celeb finds such as Olivia Palermo's Fur Sweatshirt, Kourtney Kardashian's plaid shirt,Lady Gaga's bracelet, and Reese Witherspoon's jeans.
Coach Finally Launched Clothing And It Is Everything
Way back when (in January) we heard a rumor that Coach was planning to introduce clothing. They've done handbags, small accessories and some jewerly for forever, but up until now their only foray into apparel was coats and jackets. But that all changed today. Coach just debuted their new holiday collection online and it includes clothing! We're talking dresses, pants, sweaters, the works--and it's all amazing. We won't bore you any longer with our commentary because you really should just see the goods for yourself. Click through the slideshow for your first look... and have your credit card handy. SHOP COACH CLOTHING NOW You also shouldn't miss this Shopbop sale, Saks friends & family and Sarah Jessica Parker's Coach bag. [Photo: Coach]
Be The First To Shop Sarah Jessica Parker's Insanely Gorgeous Coach Borough Bag
One of the perks of being a mega celebrity (aside from the huge paychecks, of course)? Getting access to the most amazing handbags before everyone else. Case in point: Sarah Jessica Parker has been carrying the Coach Borough Bag ($778) for a week. It was nowhere to be found online, until today that is. Coach just released the amazing bag to the masses and it is the epitome of luxury. Spacious, soft, yet durable leather and a lined interior--basically everything a woman on-the-go could want or need in a bag. Love at first sight? Get your hands on it first below. Coach Borough Bag ($778) For more items celebs love, shop  Julianne Hough's cheap sweater, Selena Gomez's camo jacket and Kourtney Kardashian's boots. [Photo: Splash News]
Shop The Coach Fall 2013 Campaign Starring Karlie Kloss Now
If you've seen the new Coach fall 2013 ad campaign, you'll notice it looks a little different. There are still luxe leathers and covetable shoes and and accessories, but it's sleeker, cooler and way more urban. And we're completely obsessed! That may also have something to do with the fact that the ad campaign stars Karlie Kloss, who we're totally crushing on at the moment. That's one of the shots from Karlie's campaign above, but there's a video too. Haven't seen it? Take a peek below (or watch it here): One of the YouTube commenters remarked, "I am now certain Karlie Kloss could sell me anything"  and we couldn't agree more. So rather than just leave you wondering where to score all that Coach amazingness Karlie is modeling, we found it! Click through the slideshow to shop Karlie's shoes, sunnies, scarf and more! Can't get enough Coach? Check out how we styled these Coach booties, plus these Coach flats we love.
If You Spent All Summer In Wedges, You Need These Coach Booties For Fall
The last installment of our fall shoe preview comes courtesy of Lauren Dimesky, the stylish blogger behind Adorn La Femme. We're so into her edgy Cali style and we especially love how she gave these Coach Melody Booties ($348) a hip spin. Of course, these black wedge booties would look great with a pencil skirt or trousers, but Lauren proves they can also work with more unexpected outfits like black skinny jeans, an oversized jacket and a cool animal print bag. Get a closer look at Lauren's cool look below. Wanna see more of the best shoes for fall? Check the complete Fall 2013 shoe preview here. Presented by Coach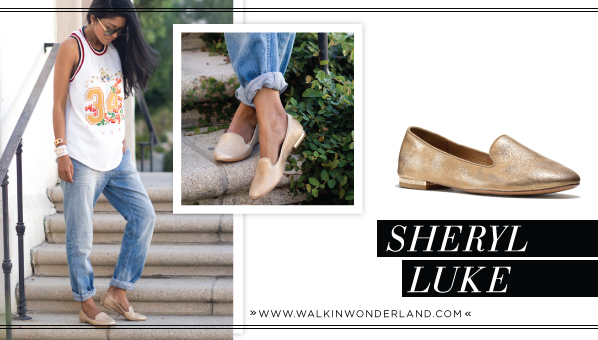 If You Can't Live Without Flats, These Are The Shoes You Should Own This Fall
Feet need a break from heels? We feel you, which is why we asked Sheryl Luke of Walk in Wonderland to style these casual Coach Catrin Flats ($175). Flat shoes often get a bad wrap for not being sexy or stylish or whatever enough, but we have to disagree. As Sheryl illustrates, it's all about finding the right flats and pairing them with the right pieces. Her metallic flats are the perfect complement to that insane embroidered jersey she's wearing and this outfit is anything but boring. Check out Sheryl's complete look below. Wanna see more of the best shoes for fall? Check the complete Fall 2013 shoe preview here. Presented by Coach
We Dare You Not To Fall In Love With These Perfect Black Ankle Booties
As much as I love scoping out street style blogs, I sometimes wonder if a real woman could actually put together and pull off the looks. I mean, who really wears 5 inch heels to walk around New York City? So instead of turning to a style blogger for this week's fall shoe preview, I stepped in front of the camera and decided to model a pair myself to prove that these trends aren't just for show. I'm a busy working NYC mom and I put this look together with my crazed lifestyle in mind. I started with these amazing Coach Ursa Booties ($348), which are super versatile and not too high, then added a trendy camo dress and a cargo jacket. I would easily wear this look to a fashion show, to the office and then to pick my daughter up from school. It's not fussy, but still cute (if I do say so myself). Check out the details below. Wanna see more of the best shoes for fall? Check the complete Fall 2013 shoe preview here. Presented by Coach [Photos: Josh Rodriguez]
Send Your Sandals Packing–It's Time To Invest In An Amazing Pair Of Boots For Fall
Wanna start wearing boots and booties, but not sure how to make them work when the weather's still pretty warm? Look no further than Toshiko Shek of It's Not Her It's Me rocking the Coach Lilac Boots ($398). She's the latest blogger we chose to showcase fall's hottest shoe trends and we're obsessed with how she made the knee-high boots feel season-less. Not only is she rocking these tall boots with a bare leg, but she's even wearing white! We like! Get a closer look at her cute outfit below. Wanna see more of the best shoes for fall? Check the complete Fall 2013 shoe preview here. Presented by Coach [Photo: Chris Smyrniotis]
Add These Metallic Flats To Your Fall Must-Have Shopping List Stat
There may still be a few weeks left before the official start of autumn, but that doesn't mean you should wait any longer to start getting your closet ready for fall. When September 21 rolls around, you want to be ready with an amazing pair of booties, flats or wedges to wear in lieu of the sandals you've been living in for the summer months. So to help make sure you've got all your shoe bases covered this fall, we enlisted four of our favorite style bloggers (plus, one SHEfinds editor!) to showcase this season's hottest shoe trends. Over the next three weeks, check back to see some of the best street stylers modeling the shoes you'll be rocking until spring. First up, we challenged Nicole Levine of Frankie Hearts Fashion with styling these amazing metallic Coach Tabitha Flats ($198). The pointy toe and shiny finish make these flats a little more formal than most, but we love how Nicole balanced out the dressiness with a pair of ripped jeans. Check out her complete look below: Wanna see more of the best shoes for fall? Check the complete Fall 2013 shoe preview here. Presented by Coach [Photos: Preston Kling]
Coach Leaks Plans To Launch A Clothing Line
It's been a big week for Reed Krakoff. First, the designer made international news as the chosen one for Michelle Obama's pre-Inauguration swearing-in ensemble, as well as her Inauguration day suede boots. Now, Krakoff, who also serves as the president and executive creative director of Coach, has announced that the handbag and accessories company will be transitioning themselves into a lifestyle brand - putting themselves up as competition for brands like Tory Burch and Michael Kors. In repositioning as a lifestyle brand, Coach will be expanding their footwear and raising the price point for their handbags to above the usual $300 mark. And even though in the past the brand has insisted it wouldn't be entertaining the option of a ready-to-wear line, it seems they are no longer ruling it out. A recent hiring of Sandra Hill - former Paul Smith creative design director of women's wear - to head up their women's design department suggests that they may be gearing up to move into clothing. Though nothing has been confirmed, we're keeping our fingers crossed. Said Krakoff about the brand transition: Instead of designing accessories to fill a need, we're thinking more about the woman, who she is, where she goes, what is her life like and how does it feel, to move Coach from…where you think of a Coach bag, to now when you think of Coach, you will think of a woman or a man and you think of their lifestyle. More information as this story develops. But in the meantime, click through the slideshow to check out some of our favorite new arrivals from the accessories giant. For more fashion news, read about Kate Hudson's capsule collection for Ann Taylor, shop the world's thinnest watch and take a peek at Tracy Reese's fall 2013 collection.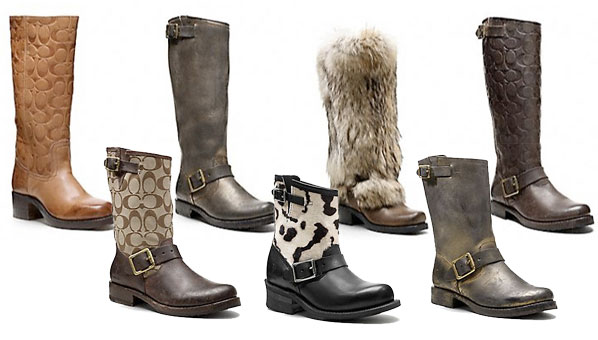 Coach x Frye Jump On The Collab Wagon With Serious Fall Footwear: Shop Now
Lately, most designer collaborations have seemed a bit like a maybe-forced marriage of two wholly different aesthetics (read: Matthew Williamson's amazingly unexpected rain boots for Havaianas, Fleabags x J.Crew's carry-all leather tote, which turned out to be adorable), but just as we'd expected for Coach's partnership with Frye, the like-minded heritage companies found a way to perfect what they both do best: leather. On sale today, the 8-piece footwear collection ranges from $398 for a short metallic Veronica boot with gold buckle detailing and $1,863 for the Coyote Harness Boot, an exceptionally luxurious winter shoe. Also included are tall motorcycle boots with the Coach's signature C and a pair of ocelot-print haircalf boots. It's a good thing the designs are a timeless combination of both brand's aesthetics, because between Coach's 100-step production process and Frye's 190-step treatment, you can be sure your pair will last you for years. SHOP THE COACH X FRYE BOOTS COLLECTION NOW! Looking to stock up on shoes for the fall? Find out which seven shoes every woman should have in her closet, read up on SUNO's second printed sneaker collection, or get the deets on Kari Sigerson and Miranda Morrison's newest shoe collab with Anthropologie.
Shop The Coach Legacy Collection (Get An Iconic Handbag In Every Color)
When one thinks classic handbag, Coach comes to mind immediately. (Which explains why it's one of the most searched purses on the Internet.) The leather goods maker started making fashionable, durable bags in 1941 and became a pioneer in color when they released their first blue bag in 1962. The 71-year-old company has decided to freshen up its image and brand. This fall, look for Coach's newest collection, Legacy, a modern collection inspired by iconic styles from their archive. Some silhouettes are updates of their most popular designs, while others are inspired by classics and finished with Coach details. You can get an iconic Large Duffle or a Medium Candace Carryall (a customer favorite) for $398. Check out the slideshow highlighting all the colors and styles in the collection. SHOP THE FULL LEGACY COLLECTION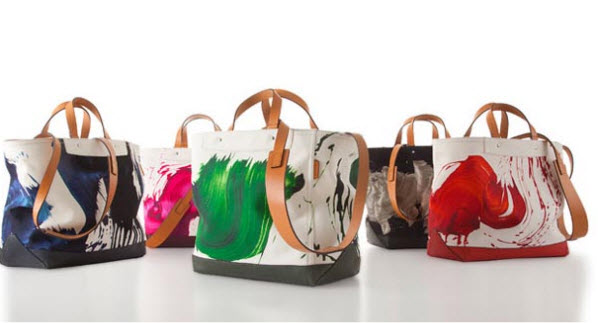 BREAKING! Coach Will Only Make 175 Of These James Nares Limited-Edition Totes
Lately, the art world and the fashion world are mixing - and we're loving the results. If you don't have a clue about contemporary art, fashion designers are taking it upon themselves to shine a bright spotlight on their favorites. Think of it as the lazy girl's crash course in contemporary art 101. Coach's upcoming collaboration - a set of six limited-edition Coach x James Nares totes - are no exception. Using Nares's signature "wave" design (which he paints on huge canvases while he hangs from the ceiling), these hefty leather-trimmed hand-[ainted canvas bags are perfect for lugging your iPad, beach towel, umbrella and maybe even a six pack of Corona, with limes.  Coach is only making 175 of them, so you'd better sign up for notifications so you can get yours first.  From Louis Vuitton x Stephen Sprouse and Jimmy Choo x Rob Pruitt, to Tory Burch x James de la Vega, it's a full-on trend we hope lasts more than just a few seasons. 
Coach Plots Its Image Revamp–With A Throwback (Over Your Shoulder). Meet The New Legacy Collection
This isn't your grandmother's Coach. The 71-year-old company has decided to freshen up its image and brand (which took a bit of a dive during 2008's recession) by introducing a new "360-degree lifestyle concept": Coach Legacy, a line of handbags, hats, outerwear, shoes, jewelry, and other accessories aimed at a more affluent and modern customer. "Historically, Coach in the old days was more somber and more straightforward," said brand president and executive creative director Reed Krakoff. With the Legacy collection, Krakoff seeks to modernize the brand with "feminine, graphic" styles and heftier, more quality materials. While most Coach handbags currently retail for around $299, Coach Legacy bags will start at $178 for small purses, with larger items (like totes) running up to $798. Shop some of Coach's current offerings in our slideshow above, and look for Legacy's release on August 1. Don't forget to browse our guides to the best structured handbags, chain strap bags, and designer handbags.
The 'Coach Classics' Bags Are Back — And Trending With The Celebrity Set
We were happy to welcome back the '90s classic Willis Bag from Coach earlier last month, and turns out celebrities like Gwyneth Paltrow, Christina Hendricks and Taylor Swift are just as ecstatic. The actresses have been found toting the re-issued Coach Classics to public appearances or while on the go, which proves how timeless these vintage-inspired handbags really are. Check out our slideshow above to shop these everlasting accessories, from crossbody bags to top-handle satchels. SHOP THE CLASSICS NOW Shop more celebrity style finds: Jessica Biel's engagement dress, Taylor Swift's Cole Haan oxfords, and Garcelle Beauvais' entire outfit.
Coach Re-Issues The Iconic Willis Handbag Making The '90s Officially Back
Claire Danes is on TV, printed pants are becoming a thing again, and Brandy and Monica just released a new single together. (Even Cosby sweaters have had their moment in the sun.) So because of this, the '90s are obviously back. It's a welcome surprise that Coach has re-issued its bestselling handbag from the '90s, The Willis bag. It's $298, which is pretty affordable considering it'll last a few decades and has a totally classic top handle silhouette.
Hugo Guinness For Coach Is The Perfect V-Day Gift For Your Guy
One thing I've learned from my husband and guy friends is that men hate Valentine's Day. There is so much pressure to perform -- and no, I don't mean in the bedroom, I mean the "performance" of giving lavish gifts, making romantic dinner reservations, and maybe even throwing in a surprise or two. That all sounds great, I know, but the run-around leaves our guys exhausted -- and without getting anything in return. Thankfully, Coach just released their latest menswear collaboration -- a line of wallets, tablet cases and other small leather accessories by Brooklyn-based designer Hugo Guinness. The guy-friendly designs include handcuffs, a boxer, aviators and more. Plus we know he needs a new wallet anyways (no surprise here if your guy uses a rubber band as a money). For more Valentine's Day ideas, check out our guide to the 50 best Valentine's Day dresses.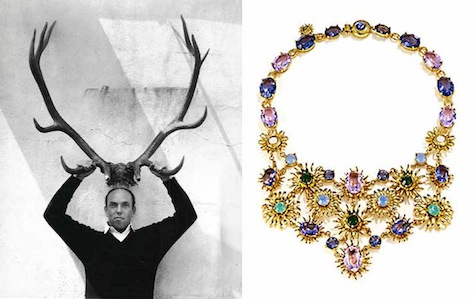 Tony Duquette For Coach Is Here! Accessorize Like A (Very Cool) Duchess Now
The estate of Tony Duquette (the late, great costume jewelry designer of the 1940s and '50s) has launched a line of jewelry and accessories with Coach, and we like what we see. (more…)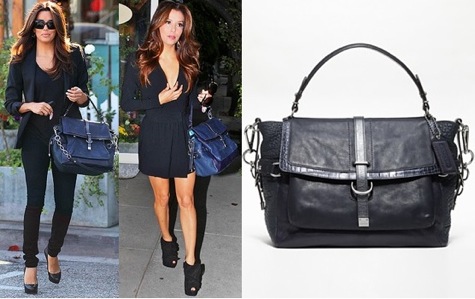 Eva Longoria Loves Her Lucky Coach Bag So Much That They Named It After Her
Eva Longoria loves her namesake Coach Pinnacle Leather Eva satchel ($698) so much, she's been seen rocking it all over town with everything from skinny black pants in the daytime to LBD's at night. Lucky for all you Desperate Housewife/Coach fans out there -- the bag isn't yet sold out. It will make the perfect give for the leather-handbag-loving, ABC-watching friend, sister or wife, too. The 14K gold finish makes it a luxe gift any lady would love. (more…)
PHOTOS: Phillip Lim, Coach, Rebecca Minkoff, And More Join eBay And CFDA's 'You Can't Fake Fashion' Campaign
Clockwise from left: Band of Outsiders, Coach, Philip Lim, Milly While I've never been a fan of counterfeit purses, this new project makes me secretly happy they exist. On July 11th at 11 a.m. EST, eBay Fashion Vault will release their collection of 50 designer totes which take a stand against counterfeit handbags. Designers include CFDA President Diane Von Furstenberg, Rodarte, Marchesa, Foley & Corinna, Phillip Lim and more (i.e. anyone who's anyone in the fashion world right now). The purses cost between $35 and $150, and will be available via eBay's "Buy It Now" function---so you won't have to worry about sniping it at the end of the auction. Now this is some fashion activism we're truly excited for. (more…)
Cool Wallets To Keep You Calm While You Blow Your Savings On A New Fall Wardrobe
With the workouts our bank accounts get during fall shopping season, it pays to have a cute wallet to soften the blow by giving you something pretty to look at each time you make a purchase. Plus, a great wallet is itself a great fall purchase, cheaper than a whole handbag, and a lot more useful since you use it every single day. Here are some of our favorite choices from around the web. The Coach Madison Medium Wallet ($118) is sophisticated on the outside but young at heart on the inside with its petal-colored interior. A lifelong classic, this wallet is a sound investment, even if the purchases you make with it go out of style. Kate Spade's Big Apple Card Wallet ($55) is an affordable, high-gloss way to get in on the season's hottest color and not overstuff your bag in the process, especially if you blew most of your shopping budget on skinny jeans and over the knee boots. One of my favorite accessories trends is the studded look, and the Banana Republic Minna Studded Leather Wallet ($79.50) gets it right by not overdoing it, making this wallet a keeper long after we're sick of studs. Remember best friend necklaces? We do too, and we adore Rebecca Minkoff's Best Friends Pouches ($73.50, down from $98),  a playful but grown-up version of the trend. Give it as a gift or split the set with a friend and your half is less than $40! To reward yourself for not going out and buying a knockoff off the Van Cleef and Arpels clover necklace, consider the chic Comme des Garcons Zip Around Wallet ($215). Season after season, this clover-embossed wallet will make you feel like a million bucks. Of course one accessory won't do it, so be sure to shop our guides to sunglasses, jewelry staples and handbags. Also, continue the wallet obsession with some of our wallet-themed posts.
Daily Links: Coach's New Perfume, 2010 CFDA Awards, more
1. In order to reach out to its newer, younger target audience, Coach introduces fresh accessories perfumes. Their latest is Poppy, a fruit floral scent, due in July. Find the perfect perfume for every season. [WWD] 2. Lady Gaga tweaks yet another Hermes Birkin bag. This time it compliments her edgy, rockstar look. Maybe she'll get another one, since the Hermes Birkin bag waiting list doesn't exist. [Refinery 29] 3. Portable perfume has never been so stylish. Sarah Jessica Parker's newest fragrance, SJP NYC, now comes in a solid cream, hidden in a chic gold bracelet. Buy it here. [The Frisky] 4. The 2010 CFDA awards are on June 7th. Read about nominated designers and why there will be no host this year. [Huffington Post]
First Look: Style Bloggers Design Handbags For Coach
We really like what Coach has been doing lately--check out their fall 2010 collection--and their newest line of limited edition purses designed by popular bloggers doesn't disappoint. Style bloggers Emily Schuman of Cupcakes and Cashmere, Krystal Simpson of What is Reality Anyway?, Kelly Framel of The Glamourai, and Karla Deras of Karla's Closet contributed to the new Coach Collectibles line with four different bags that combine their own personal style with Coach's classic aesthetic. The collection will be sold exclusively on Coach.com (retailing from $398 to $498) and is available for pre-order on May 19. Get a first look at the cute bags: We love the blush color and chain strap on this satchel ($498) designed by Emily Schuman of Cupcakes and Cashmere. Kelly Framel of The Glamourai designed an embossed drawstring pouch ($398) in a light grey color that will match everything. Karla Deras of Karla's Closet designed an oversized Clutch ($398) in a buttery leather that can convert into a shoulder bag. Krystal Simpson of What is Reality Anyway? gives the brand some edge with the her fringed shoulder bag ($498) with heart and feather charms. Check out our guide to the best cheap handbags, the best evening handbags, and the best chain strap bags.