Victoria Beckham For Target Is Here! Shop Now Before It's All Sold Out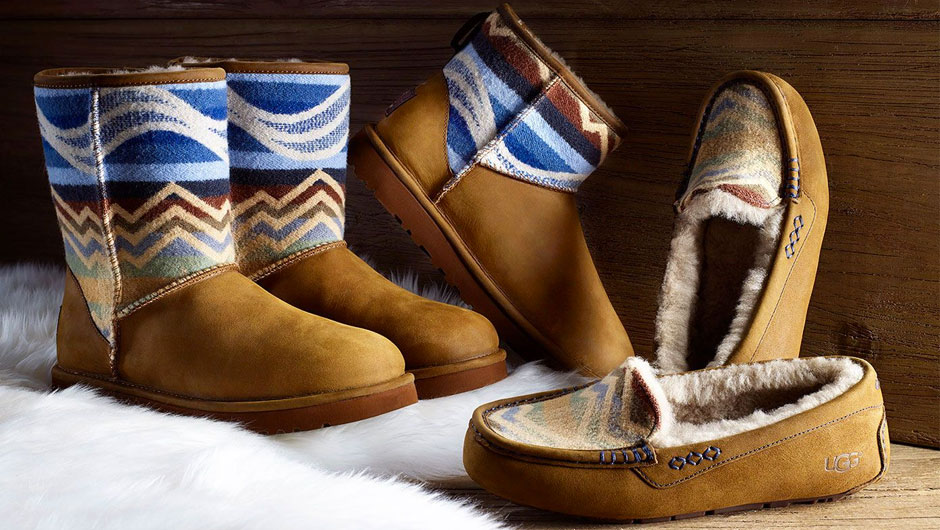 UGG And Pendleton Collaborated Again For Holiday '15 #OhJoy
Halle Berry's New Lingerie Line, Scandale Paris, Arrives At Target On Monday
You can now add businesswoman to Halle Berry's already-impressive resume. The actress just announced she's bringing French lingerie brand, Scandale, stateside on October 27, 2014. Yes, like next week! How are we just hearing about this?! Together with her business partner Erik Ryd, Berry acquired the 80-year-old Parisian brand and teamed up with Target to get it into the top drawers of American women. The debut collection will include 10 items ranging in price from $7 to $18. Of the new line, Berry told WWD: "I understand that women want to feel sexy and beautiful. They want to have undergarments that are very functional, but to still feel beautiful when we take our clothes off. That's really important and that's a way to make women feel sexy and validated--all the ways we as women need to feel. And I love lingerie. It's always been important in my life. This is a very important endeavor that feels very in line with who I am." Click through the slideshow to get your first look at the collection, plus more cute lingerie you can get at Target. Don't miss today's best sales, Jessica Alba's sweater and Charlotte Olympia handbags. [Photo: Splash News]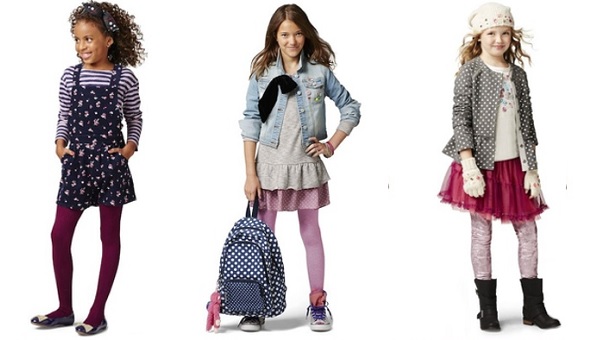 Target's Upcoming Annie Collection Legit Makes Me Wish I Was Still A Kid
Fact: my six-year-old is more excited to go see the new Annie movie than she is for Christmas. No really--we're currently counting down the days until December 19th (the day the movie comes out) in my house. I, on the other hand, am ticking off the days until November 16th when Target's amazing Annie collaboration hits stores and target.com. The line was designed by the film's costume designer, Renée Ehrlich Kalfus, and includes ridiculously adorable clothes and accessories for little girls inspired by the movie. There haven't been many photos of the collection--up until now, that is. Click through the slideshow to see all the cuteness. Dont' miss Kate Spade x Gap Kids and Target's top toy list. [Photo: Target]
Sneak Peek! Here's The Complete Kate Spade x Gap Kids Holiday Lookbook
Remember back in April when we told you that Kate Spade and Jack Spade were teaming up with Gap Kids on a holiday collection? Well not only do we now have more deets on the collab, but we also have pics! The Kate Spade/Jack Spade x Gap Kids collection will arrive in stores and online on October 30 (put a reminder in your phone!) and will include clothing and accessories for girls and boys. Everything is very Kate Spade-esque--think colorful printed dresses, tees with cutesy sayings and even mini purses! Similarly, the Jack Spade stuff for little dudes is pretty much what every hipster in training should be wearing this winter. Click through the slideshow to see the first photos of the line, then be sure to visit gap.com/imagineyourholiday for more behind the scenes videos. Don't miss the new Vince Kids collection, plus Pottery Barn Kids Halloween costumes. [Photo: Instagram]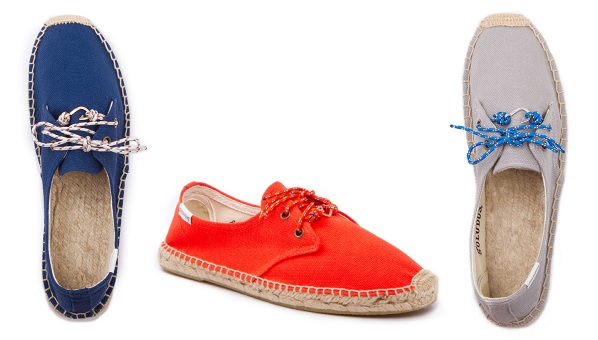 We Weren't Going To Buy Another Pair Of Espadrilles, But Then We Saw These
It's the middle of the summer, so it only made sense to say no, we cannot justify buying another pair of espadrilles. But then we saw this Miansai x Soludos collab and yeah, that went right out the window. Not only do you get the comfortable, wear-with-everything Soludos styling, but if you look closely each one of the shoes features a Miansai signature hook within the laces. I mean, how could you resist? Also, they're only $85 so if you wear them at least twice a week for the rest of summer you'll totally get your money's worth. But chances are you'll wear them way more than that so just stop pretending you don't want a pair and score yours in the slideshow. SHOP MIANSAI X SOLUDOS NOW! Be sure to check out colorful workout clothes, Olivia Palermo's printed pants and swimsuits starting at $4.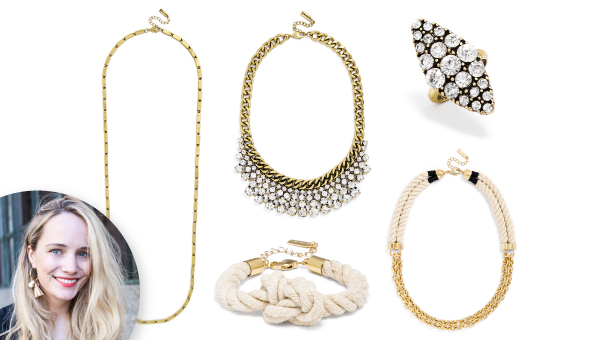 On The Low, Tho–We Want Everything From The Stripes & Sequins x Baublebar Collab
When we heard that style blogger Grace Atwood--of Stripes & Sequins--was designing her own Baublebar collection, the first thing we thought was, "What took so long??" It's no secret that Grace has great style, she's a DIY master and, oh yeah, she works at Baublebar! Given Grace's impeccable taste, we're not at all surprised that we literally want every single item from the collection. And heck, because this is Baublebar we can actually afford all 5 pieces. Our fave, by far, is the stunning Crystal Christine Ring ($30), but the necklace are pretty money, too. Click through the slideshow to see--and shop!--Grace's new jewelry collection. Be sure to shop these cute heeled sandals, plus check out Sam & Libby for Target handbags and Jennifer Meyer x Rachel Zoe.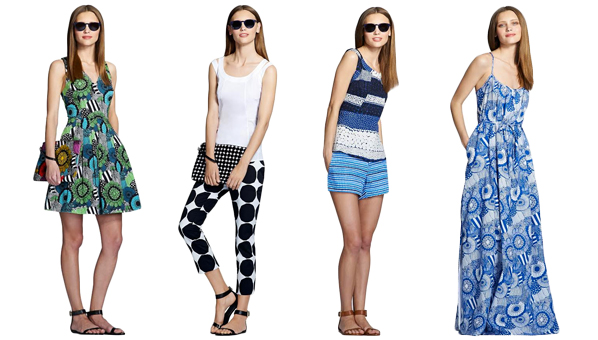 Not Only Is Banana Republic x Marimekko Back In Stock–It's On Sale!
We knew the Banana Republic x Marimekko collab would be popular, but we didn't realize it would be completely sold out within days of launching. When we tried to shop the collection just days after it debuted, we received a error page alerting us that the line was so popular nothing was left. But guess what--we checked BR today and not only are some items back in stock, they're on sale! Now be forewarned--sizes are limited and probably bound to sell out ridiculously fast. That being said, get your credit card ready because this could be your chance to score one of the pieces you couldn't get before. Click through the slideshow to see what's still up for grabs! Don't miss the J. Crew Factory $35 sale, Olivia Palermo x Westward Leaning and printed denim jackets.
We're Not Obsessed With The New Nike x Liberty Of London Line–Said No One Ever
We're pretty much a sucker for any fashion collaboration. Two cool designers coming together to make magic--what's not to love? But we're serious suckers for Nike x Liberty of London kicks. They've been collaborating for years now and every line seems better than the last. Here's the good news: it was just announced that they're coming back with yet another pretty printed collection that launches later this month. Obviously, the new sneakers and apparel feature Liberty's famous floral prints, but we're loving how subtle and subdued they are. No super bright patterns or loud prints--just wear-with-everything sneakers you'll live in all spring. Click through the slideshow to get your first look at the upcoming collection. READ MORE ABOUT THE NEW NIKE X LIBERTY OF LONDON COLLECTION HERE Don't miss the Bloomingdale's friends & family sale, what you need for spring and Lauren Conrad's purple hair. [Photo: Liberty of London]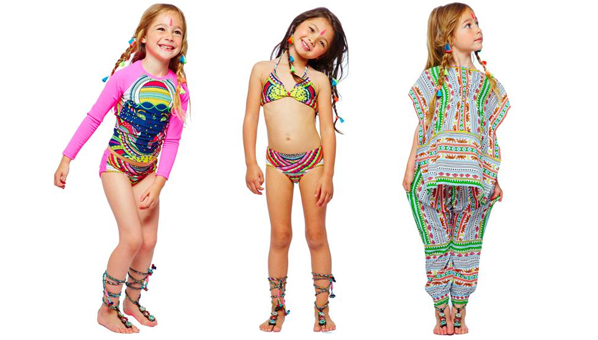 The Mara Hoffman For Crewcuts Collection Is Easily The Cutest Thing You'll See All Day
Ever since J. Crew introduced their Crewcuts kids collection, they've had the cutest children's clothes ever. I actually didn't think it could get more adorable and then Mara Hoffman--beloved for her worldly, colorful prints and textiles--designed a capsule collection for the brand and well, I was just wrong. Inspired by India, the collection includes swimwear along with beach-y musts like lightweight harem pants and tunics starting at $68. Now if you're thinking that's too pricey for children's clothes, you're wrong because these aren't just any ol' clothes. Each piece is truly like a work of art and long after your daughter has outgrown the pieces you'll want to hang onto them. So click through the slideshow to shop the new Mara Hoffman for Crewcuts collection first because once more moms find out about this it's going to sell out. Don't say we didn't warn you. SHOP MARA HOFFMAN FOR CREWCUTS NOW Be sure to check out the new Marc Jacobs beauty line, Beyonce's Tibi top and 11 trends you can now shop on sale.