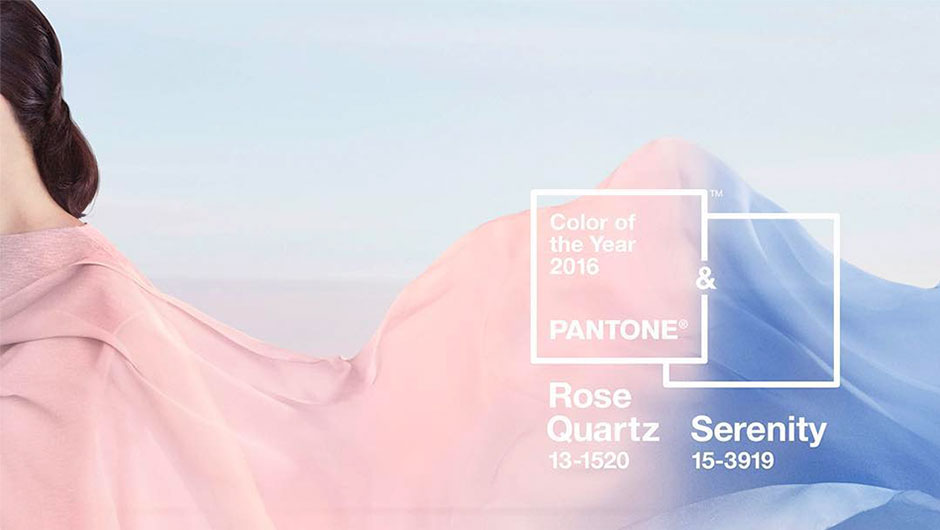 Pantone's 2016 Color Of The Year Is Rose Quartz And Serenity
Pantone just released their 2016 Color of the Year and for the first time, two colors made the cut! Expect to see plenty of Rose Quartz (pale pink) and Serenity (baby blue) this upcoming year. Pantone was influenced to blend two colors together due to recent societal changes with gender equality. https://twitter.com/pantone/status/672279885201596416?ref_src=twsrc%5Etfw "In many parts of the world we are experiencing a gender blur as it relates to fashion, which has in turn impacted color trends throughout all other areas of design," Pantone's website states. "This more unilateral approach to color is coinciding with societal movements toward gender equality and fluidity, the consumer's increased comfort with using color as a form of expression, a generation that has less concern about being typecast or judged and an open exchange of digital information that has opened our eyes to different approaches to color usage." https://www.instagram.com/p/-1RfJkRHrR/?taken-by=pantone "Rose Quartz is a persuasive yet gentle tone that conveys compassion and a sense of composure. Serenity is weightless and airy, like the expanse of the blue sky above us, bringing feelings of respite and relaxation even in turbulent times." In case you don't know what to pair with Rose Quartz and Serenity, Pantone suggests silver or hot brights for more "splash and sparkle." Don't miss DJ Earworm's 2015 United States of Pop and shop The Outnet's jewelry section for some holiday sparkle! [Photo: Instagram]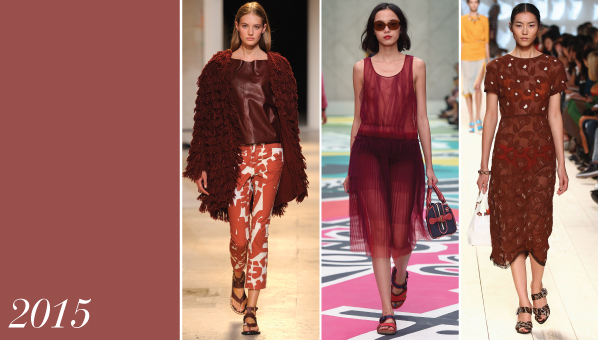 Pantone's Color Of The Year For 2015 Is…
Pantone just announced the color of the year for 2015: Marsala. The reddish-brown earth tone is definitely a change from last year's soft Radiant Orchard and 2013's bold Emerald. This year's choice "enriches our minds, bodies and souls" and is said to "translate easily to fashion, beauty, industrial design, home furnishings and interior." We already saw the fashion part on the runways for Spring 2015. Burberry, Isabel Marant, Tommy Hilfiger and Nina Ricci are just a handful of designers who used the color in their collections. Expect to see lots of Marsala at the mall next year. For more information on the color, see Pantone's dedicated page. image via Hyatts And don't forget to check out: hair dryer hacks, Alexander Wang's debut denim collection and Phillip Lim bags on sale [Photos: Isabel Marant SS15, Burberry Prorsum SS15 RTW, Nina Ricci SS15]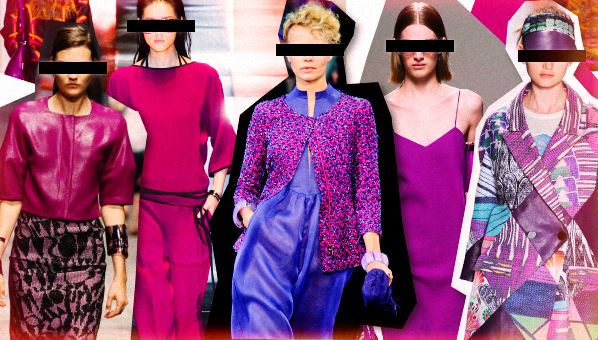 What To Do If You Hate The Color Of The Year
What ever happened to the color of the year not making you look like an easter egg or, worse, a child? Last year's emerald green was everything. It was dark, but with enough shimmer to excite spring fashions. It was shimmery, but with a deep enough color to make fall fashion sophisticated--and make black a secondary color for the winter for once. But this year? Radiant orchid, a color even as a child I avoided in any coloring box that included it, has pretty much slapped any fashion-obsessed person out there across the "I have good tastes" face. And worse? People are actually using this color for their bridesmaid dresses. Guys--those pictures don't ever go away. Please, I'm trying to save you years and years of color-choice regret. So, for anyone else who refuses to wear the color due to upholding high fashion standards and not letting some arbitrary "color of the year" ruin your style palette, these pieces are your way out. Decidedly red or maude, if you will, these spring dresses, jumpsuits and pants won't force you relive the bad color choices you made before you started Kindergarden. Better yet, you won't regret buying these 12 months from now. Now, let's all say it together: I'm sorry radiant orchid, I'm not 5-year-old and I refuse to wear you.
Pantone's Color Of The Year Is…
Pantone just announced THE color of the year for 2014 and the winner is...Radiant Orchid! Last year we saw Emerald take the crown and the year before that was Tangerine Tango, both pretty bold and vibrant colors. But this years choice is a bit more subdued. The soft purple-y pink is said to "inspire confidence" and "emanate great joy, love and health". The color also is part of a larger pink trend that swept the runways for Spring 2014. Designers like Dior, Versace and Prabal Gurung incorporated the color into their spring collection. Expect to see Radiant Orchid all over both the men's and women's clothing departments early next year. For more information on the color, see Pantone's dedicated page. And don't forget to check out: Urban Decay is retsocking the Naked3 palette, how to care for your hair in winter and shop Taylor Swift's heart sweater [Photo Credit: Burberry, Dior, Prabal Gurung]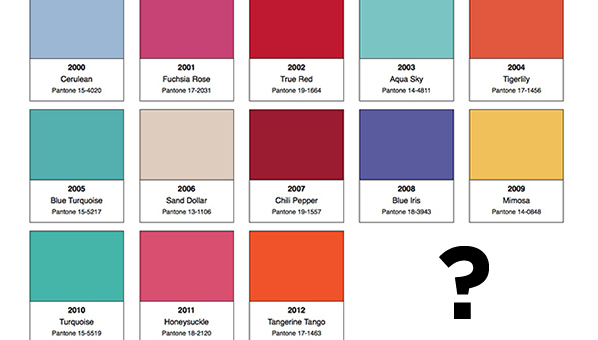 Pantone's Color Of The Year Is…
Pantone just announced their 2013 color of the year, and, drumroll please, the winner is... Emerald! Preceded by bold colors like Tangerine Tango (2012) and Mimosa (2009), the jewel-tone green color is part of a bigger blue-green trend which swept the runways for Spring 2013. Designers like Burberry, Vera Wang, Michael Kors paid homage to the color with silky gowns, wool separates and laser cut lace. For more information on the color, see Pantone's dedicated page. For more trends, check out velvet blazers, backwards necklaces and leather-accent sweaters.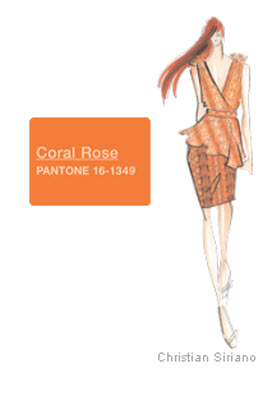 Cash In On Coral Rose For A Punchy Bridesmaid Color Your Girls Will Actually Like
Pantone has spoken and Coral Rose is one of the hottest colors this spring. You're going to start seeing it everywhere, so get ahead of the curve and point your girls towards hues inspired by this cheerful, fashion forward color. In every length and style, you seriously can't go wrong with this on-trend choice. (more…)
Coming To A Bridal Party Near You: Pantone Picks Honeysuckle As The Color Of Spring 2011
Every season, Pantone picks the color of the season based on the runway shows. This season, Honeysuckle - a color just made for bridesmaid dresses - is the big winner. So if you're getting married in 2011 take notice - this color may be your best bet for an on-trend bridal party. To get you started, we've picked out some Honeysuckle dresses that are available now: Get the Honeysuckle trend on-sale with this J.Crew Cotton cady Aveline dress ($180, down from $225). The silhouette is classic and looks good on everyone - a plus when it comes to b-maid dresses. For a sexier, edgier option, I am obsessed with this Laila Azhar Strapless Ruffled Dress ($396). If you want your b-maids to look hot (and not frumpy) this is your best bet. You can never go wrong with strapless - especially for Spring weddings. This Honeysuckle J.Crew Petite cotton cady Erica dress ($160, down from $225) is perfection. For more great bridesmaid solutions, check our guides to the best black bridesmaid dresses, cheap bridesmaid dresses, and long bridesmaid dresses.
Good Question: The Great Pumpkin
From A SheFinds Reader: I am looking for body spray, lotion or perfume that has a pumpkin scent. Do you know where can I find them? thank you very much. The Answer: As I sit here burning my pumpkin pie scented Yankee Candle (honestly, I am), I'm reminded why we, like Charlie Brown, hold yearly vigils searching for the Great Pumpkin (scent). We love this fruit (or is it a vegetable?) in part because it has a warm, inviting and one-of-a-kind fragrance. We covet the few short months pumpkins are in season and turn them into delectable pies and delicious-smelling body products. In some ways, it's too bad fresh pumpkins aren't around all year long. But, then again, their short season makes them even more special. When mixed with the requisite sugar and spice, pumpkins have what I like to call a "memory fragrance." The second you smell it you think of home, family and great holidays from years gone by. Not to mention, pumpkin contains enzymes that act as a natural skin exfoliant. Sephora takes advantage of these skin revitalizing properties in its Indulgences - Great Pumpkin Mask. As does Bath and Body Works with its Pure Simplicity Pumpkin Body Butter. Demeter, famous for its offbeat scents, makes its own version of Pumpkin Pie body spray. And, Philosophy's newest shampoo-conditioner-body wash combination, also Pumpkin Pie, is heaven in a bottle. Find pumpkin scented bath and body products at sephora and bathandbodyworks.com.
Beauty Find: Scrub-a-Dub-dub, No Granules in Your Tub!
I love scrubs. Love them. I love to scrub my face, my body, my feet. I don't even mind scrubbing the bathtub, as long as I get to feel those little granules working away. But not all scrubs are created equal. Some just tear at your skin, leaving you red and flaky, sometimes even abrased and sore. It takes the right combination of ingredients and the right size granules to make a proper scrub. After trying the Bella Lucce Cranberry-Yuzu Sugar Scrub (a SAG Awards celebrity gift includee!), I have to say bravo, because the people at Bella Lucce have gotten it right. The smell is fruity, tart, and very natural. The sugar granules and tiny red seeds clean and freshen skin gently but still thoroughly with no oily residue, making this a perfect before-shave scrub—no leftover oil to gunk up your razor. And the sugar dissolves nicely as well, so no gritty bits to clean out of the tub! Soothing shea butter in the scrub makes it a lovely post-wax as well as pre-shave scrub (just watch you don't scrub too hard), leaving skin smooth and soft. I can't wait to try more from this line, and I hope they keep introducing new products for a long, long time. Find it at Bella Lucce on Amazon.com.
A Find: One Step to Silky Skin
I must admit, I am very choosy about bath products. My skin seems to change its condition weekly—sometimes dry, sometimes oily, sometimes in between—so finding true treasure for the shower is rare. The Body Bistro Ayurvedic Apothecary Tapioca + Soy Milk Bath Infusion is one of those treasures. First off, it smells heavenly, almost like fresh spun sugar, but without any cloying "afternose" that so many sugary-scented products seem to have. It comes with its own little scoop for measuring and mixes right into running bath water, leaving very few lumps behind. This is a product that really makes you want to luxuriate in the tub—it makes the water itself feel smoother, almost weightier, almost like I was immersed in liquid silk. After the bath, the silky feeling remained, except now it was my skin, my miraculously silky skin. I didn't even need to apply moisturizer! I felt like I glided into bed that night, and every other night I have bathed with this glorious mixture. Just one caveat, though – it does leave a bit of a film on your bathtub, so do give the tub a good wipe down after your bath, or you might end up on your silky butt the next time you step into the shower. Find it at Body Bistro on Amazon.com.
A Find: In the Mood
Scented candles are wonderful—I use them throughout my apartment, throughout the year. The scent of amber is wonderful—it's the primary note in my signature scent, Amber Romance by Victoria's Secret. So I was thrilled to discover the Hidden Fire candle, one of eight gorgeous scented candles from MOOD by Victoria's Secret. All the candle scents are based on legendary aphrodisiacs (other scents are fig, sugar, dark chocolate, freesia, blackberry, gardenia, and apple); this particular one is a blend of amber, orchid, bergamot, and mandarin. The 10 ounce candle is triple-wicked, so the throw is astonishing, easily filling my entire apartment with this sexy scent. And it wasn't at all overpowering in the room where the candle itself was lit, though I'd caution against burning it for long periods of time in a very small room – it could become overwhelming. But then again- this scent is supposed to have legendary and mystical powers to increase passion, virility, and sensuality, perhaps burning it in a small room isa good idea, just before you invite in the one you want to overwhelm. Get in the Mood at victoriassecret.com.
Discover New Designers: CharmaineLouise New York
Remember a few years ago when we started hearing about stars like Uma Thurman knitting and crocheting during their down time? It took a while, but knit swimwear abounded this summer. In the next evolution of the craze, a luxury hand-crochet atelier has made its debut, CharmaineLouise New York. An atelier is a fancy term for a design studio (I had to look that one up). The very pretty collection is four lines strong, each with its own theme (Diana/glamorous, Lena/classic, Ginger/flirty, Jackie/the ultimate) and ranges from $360 to $1,845. You know me by now, I've found a piece I'd just love to have! It's a sweaterlette, just a touch longer than a shrug, made from 8-ply hand-dyed cashmere yarn. CEO Charmaine Louise Shelton taught herself the craft while recovering from a fall and found herself a new career. Smart gal. And in a stroke of genius practically unheard of, CharmaineLouise will also take custom orders. Find CharmaineLouise at charmainelouise.com. A sweaterlette by CharmaineLouise