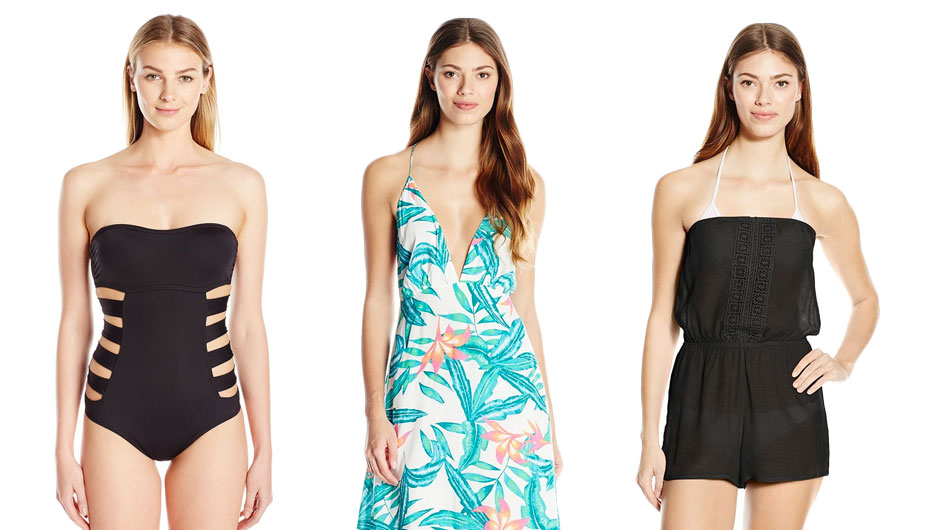 Amazon Is Having A Really Good Swim Sale Today
VIDEO: 4 New Ways To Tie Your Sarong This Summer
You probably already knew this, but sarongs are way big again, and with their comeback comes innovative ways to tie them. You can still rock the side tie sarong skirt if you want to, BUT you probably won't even wanna be bothered after you're through learning the four new, improved, and all around amazing ways that I'm about to show you in the video below. Go on and click me, you won't regret it. [youtube]https://www.youtube.com/watch?v=GXS5S-xV3Mg[/youtube] For more demos, check out how to turn jeans into cutoffs, and how to straight bar lace your sneakers.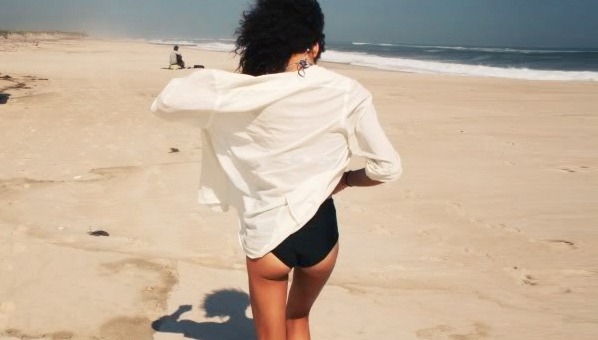 11 Ways To Cover Up At The Beach That Don't Involve A Sarong Or Muumuu
A good cover-up is just as important as what you're wearing under it. But throwing on a gauzy tunic over your bathing suit is so basic, and wrapping a sarong around your waist is a move that should stay in the 2000s. So since you probably wore your usual cover-up to death over the 3-day weekend, why not try something unexpected next time you head to the beach or chill by the pool? We're talking about items that don't necessarily have "cover-up" in the name, but can double as one. From white linen button downs and wide leg pants, to board shorts and cardigans, these next 11 items will have every chick wondering why they didn't think of wearing them first. Click the slideshow to see all the cool, unique ways you can cover up your bathing suit. And don't forget to check out: how your fave celebs spent the 4th of July, Kourtney Kardashian's jumpsuit and your first look at Alexander Wang x H&M [Photo: Trop Rogue]
Don't Stop With A New Swimsuit–You're Not Ready For Summer Without Cover-Ups, Too
Whether you're planning a day trip to the Jersey Shore or spending the week on Jost Van Dyke, your swim cover-up should be nothing short of stunning. After all, you've carefully picked out beautiful bikinis and one-pieces, so it's only right that what's on top of it be just as amazing. Can't handle having to sort through the sea of cute cover-ups? Lucky for you, we pulled together some of this season's best.  Whether you're into crisp white, sheer black, or bright and wild prints, we found the prettiest picks from Topshop, Ella Moss, Mara Hoffman and more in the slideshow. Check out the best black bathing suits, bustier swimsuits and BCBG's new swimsuit collection. [Photo: Miss Pouty]
Bridal Shrugs Have A Bad Rap: We Found 10 That Prove Everyone Wrong
For some reason, "shrugs" and "boleros" have a bad fashion rap; most fall and winter brides want/need to wear them, but think there aren't any chic options out there. But we can and have proved them wrong. Shop our slideshow above for the most stylish fur, feather and lace cover-ups. Hey, even Kate Middleton wore one! Love wedding accessories? Check out Crystal Floral Accessories, Wedding Statement Necklaces and What Does Your Wedding Scent Say About You? [Photos: Chaviano Couture and Style Me Pretty]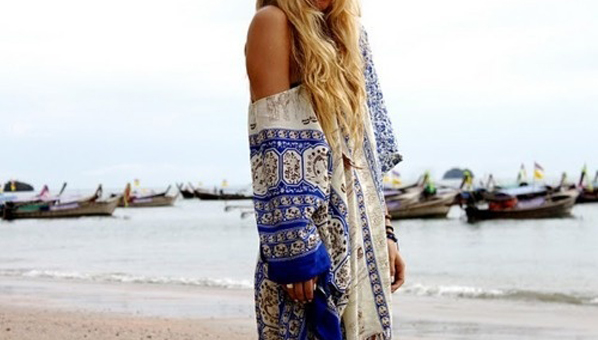 Big Breakfast? No Problem: These Cover Ups Look Cool And Flatter In All The Right Places
Here's a dilemma we're sure you've had: Big breakfast. Beach day. We've done it too, and since we're not likely to give up our delicious morning carbs, the second-best solution is to find some cover-ups that flatter, even minutes after a large coffee and massive omlette. Our fave quick fix? A cool, one-piece coverup. SHOP ONE-PIECE COVERUPS NOW Want more? Check out one piece suits and more cover-ups now, or browse our lazy girl's guide to summer dressing!

Can You Tell Which Feather Cape Costs 10x As Much As The Other?
This Alberta Ferretti Feather cape ($2,425) costs $2,200 more than this Bernie of New York 'Marabou' Shrug ($245). Shop our guides to the best wedding costume jewelry, black bridesmaid dresses, and simple wedding dresses.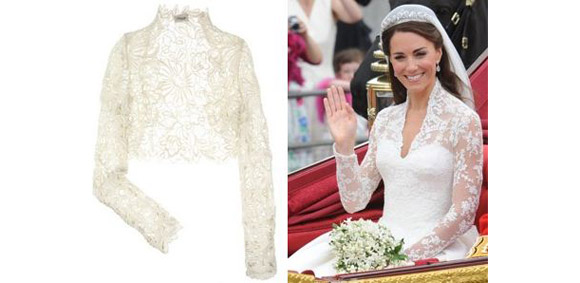 Temperley London's Lace Shrug: Fake The Kate Middleton-Sleeve Look Without Fully Committing
If you're not ready to fully commit to the Kate Middleton-inspired sleeved wedding dress trend, Temperley London (one of Kate's favs!) has a solution: (more…)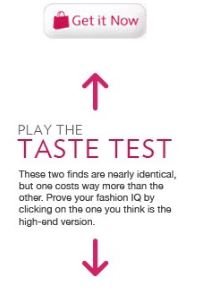 Can You Tell Which Printed Tunic Costs $653 More Than The Other?
Keep yourself guessing with all of our Taste Tests, and join our e-mail list for exclusive updates.
If You're Headed Somewhere Warm, Don't Leave Home Without Shopping Piperlime's Tag Sale
We're big proponents of shopping off season--no mark-up, just the best stuff for way less money. So if you're going on vacation (lucky dog), you've got to visit the Piperlime tag sale before you get on that plane. Here are some favorites you can't miss--even if you're NOT going away. After all, summer is just a few long months away: Check out more: Spanx just launched a line of cover ups and we've got lots of sales and deals for you to choose from, not to mention more best find of the day offers.
What To Bring On Your Honeymoon: These 5 Sexy Essentials And A Great Attitude
This is your day – and your honeymoon – so aim high and travel in style with these honeymoon must-haves. This Lanvin Honeymoon Set ($444, down from $740) comes with a white glazed canvas suitcase, printed tote bag, a drawstring bag, flip flops and a matching sarong. Husbands - this would be a perfect gift for your new wifey. This Lenny two-piece bikini ($189) will turn heads wherever your honeymoon takes you. In classic black, the pleated style is a new twist on old Hollywood style. A hat is a must, so go high fashion with Juicy's Straw and Twill Tape Sun Hat ($88). This stylish floppy straw hat with tonal grosgrain ribbon and bow detail will help protect your face from those harmful rays. Carry white through your honeymoon with Trina Turk's Ain't Misbehavin' dress ($278). Feminine and flirty, the three-quarter sleeves are a breezy touch. The Multiple by NARS ($38) is legendary because it really is an all-in-one solution that works on lips, cheeks and eyes. Try St. Bart's or Orgasm for a pretty glow. Still planning the big day? Check out our guides to the best simple wedding dresses, cheap bridesmaid dresses, and wedding invitations. For more honeymoon beauty solutions, check SHEfinds' guides to the best waterproof makeup, best self-tanners and the best hair removal products.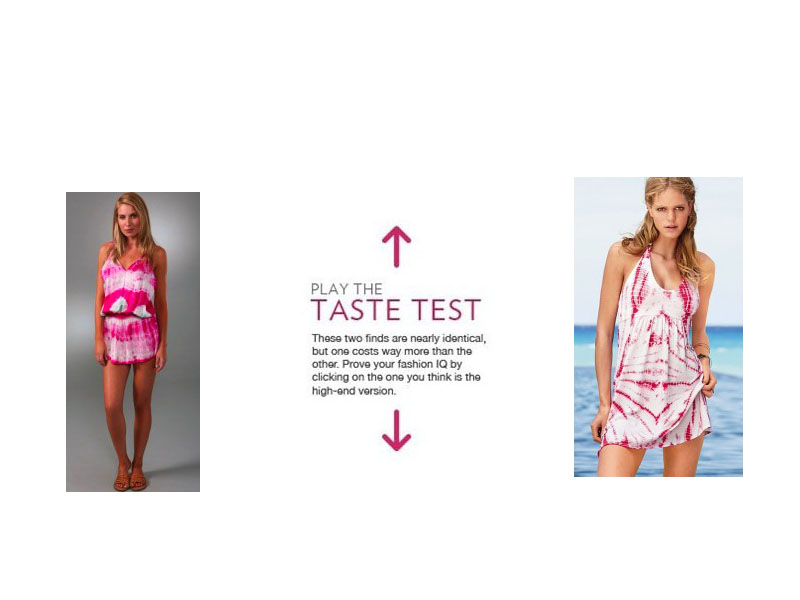 Taste Test: Which Tie-Dye Beach Cover Up Costs $265 More?
Check out our guide on where to find Spanx swimwear,  cheap swimwear, swim cover ups, and how to lose 6 inches from your body while watching TV.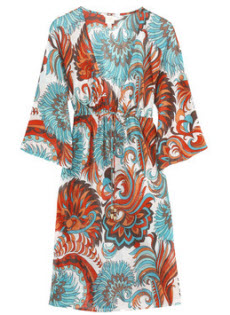 Deal Of The Day: 60% Off Milly Swimwear And Cover Ups At The Outnet
 Milly is one of my favorite lines--but I always wait for the sales before buying anything. Today at The Outnet, get 60% off--you can justify the purchase because the styles and cuts of these beachy pieces are everlasting, and look great with or without a tan. This printed kaftan by Milly ($153, down from $340)  is one of those chic retro-style cover ups. Wear it with leggings on the plane and then gladiator sandals at the beach.   Even if you don't have a tan yet, this Milly Mykonos tile-print bikini ($132, down from $220) will look chic--but with only one size left, we suggest you hurry. Lounge by the pool in this more subtle Milly print trim kaftan with a pair of your favorite flip flops. More Sales & Deals: YOOX: Take advantage of the 90% off sample sale The Limited: Get 30% off all tops--online only Old Navy: Spring trends for just $15 Check out our guides to the best cheap swimwear, and get the best sales and deals, along with the scoop on all of this week's online sample sales.  
Get Your Hands On Some Very Professional Looking Handmade Jewelry
Thanks to all the knock off superstores, you can't swing a designer handbag these days without seeing someone wearing the same layered necklace or over-sized gold cuff you just bought.  And that's all the more reason to go for distinctive, handmade jewelry. Since there's definitely some ridiculous hand crafted stuff out there, we've sifted through to pick out our favorite pieces. These breathtaking baubles are perfect for holiday parties or thoughtful gifts, so be sure to check out our  nifty handmade jewelry guide. Don't forget to sign up for our newsletter and get the latest sales and deals delivered directly to your inbox. For more jewelry staples, we suggest you check out our picks for the best in brooches and cocktail rings.
Even Betty Draper Cozies Up In Autumn Plaids
After last night's episode of Mad Men, Don's (multiple) secrets are definitely out, but for those of you who missed it, we'll leave the revealing to your DVR. What we're really interested in is the secret to the sleek ensemble Betty Draper wore during her big confrontation. If you don't remember, because you were distracted by the smoldering look in Jon Hamm's eyes, she had on perfectly cut plaid pants and a crisp, fitted turtleneck. To capture the autumn mood like Betty, choose Elie Tahari's plaid trousers for their feminine fit and trendy cropped cuff; on top, we suggest a merino wool sweater - this one comes in all colors of the J.Crew rainbow. Want to be Betty Draper for Halloween? We've got all the supplies you'll need, right down to fake cigarettes. And don't forget to check out our guides to the best in plaid shirts, v-neck sweaters, and coat trends for more stylish fall options.
Monday's Sample Sale Scoop: Black Fleece By Brooks Brothers, BCBG, Citizens Of Humanity, And More
Editor's Pick: Black Fleece by Brooks Brothers at Gilt Groupe Assael jewelry and Judith Leiber handbags at Gilt Groupe A.B.S. shoes and Jules Smith jewelry at Gilt Fuse MYNE clothing at Billion Dollar Babes BCBG Max Azria clothing, Whish skincare, CO2 clothing, and a mixed designer accessories sale at Hautelook Erge clothing at ideeli Gucci handbags, Keep Me clothing, Brooks workout gear, and Bed Head pajamas at Beyond the Rack Citizens of Humanity denim and Raymond Weil watches at Rue La La Hobo International handbags at Editors' Closet Sharagano clothing at The Top Secret Stay updated on the best deals by checking out the online sample sales happening all week. Then get stylishly prepped for cold weather the the top picks in fingerless gloves and winter hats.
A Find: Turn Heads in Envy
What: Saja's Emerald Dress from Anthropologie Why: Used to be, when it came to weddings, the diamond was the attention-getting gem. Show up to a spring event in an emerald stunner and all that will change. This deep green chiffon dress with silk lining falls just below the knee. You be sashaying like it's your big day. Ultra-thin spaghetti straps and a tieback waist complement the light frock. You'll keep cool during outdoor gstherings, even though you are the hottest ticket there. You'll see lots of black and white at weddings this nuptial season. Showing up in a refreshing, bold green will make you an emerald among the rough. Price: $228 Find it: Anthropologie.com
SheFinds Swimwear
What: Calvin Klein halter swim dress Why: Who says a one piece has to be reserved for frumpily frocked Grandmas with flowered bathing caps? A swim star is born. No granny I know would sport this sexy update on a retro classic, unless she was doing some serious Ginger Rogers channeling. This flattering swim dress conjures images of old Hollywood, when curves were in. The empire seam flatters any waistline and the sweetheart neckline minimizes bigger busts while the form-hugging skirt draws attention away from buns of less-than-steel. Pair it with kitten-heeled sandals and dark, oversize sunglasses. Get your old-school starlet look at Macys.com. Price: $88 Find more star-worthy suits in our 2006 SheFinds Swimwear Guide.
Discover New Designers: Lela Rose
It's usually not a compliment when someone tells you your dress looks like a burlap sack. But if that burlap sack is $2,100 and embroidered with celery satin and beaded embellishments in the style of Lela Rose, you can bet such comments are complimentary. Crafty Texas native Lela Rose aims to create "classic silhouettes with a whimsical twist," and with celebrity stylemakers like Rachel Bilson, the Bush twins, and Eva Longoria eager to snatch up her wares, it's clear she's succeeding. You'll find intricate detailing behind Rose's hefty price tags- think frilly collars, beading, embroidery, and piping. The creative designer isn't afraid to take style risks on her way to the top: her flamboyant navy beaded and feathered minidress screams for attention. Her regal raw silk peacock evening gown is off the rack but red-carpet ready. It's no wonder that high profile fashion risk-takers like Mischa Barton and the Olsen twins are on board with Rose. This underage following begs the question, "When exactly did the under 25 set become style icons snagging the best new designers?" Find Lela Rose at BergdorfGoodman.com.