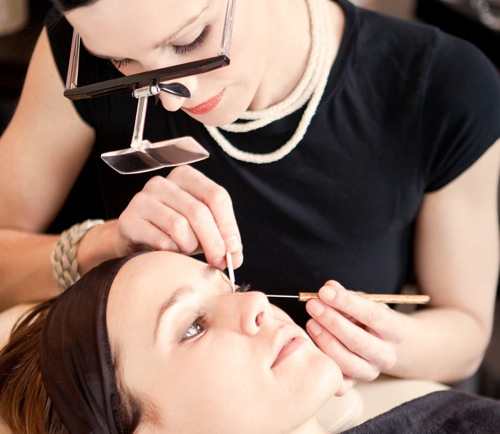 Crash Diets, Lasers & Lashes: 3 Things To Try For Your Wedding Now
If your wedding date is fast-approaching, you know how desperate times can call for desperate measures. Mine is in 4 months (gulp), and I've made myself a guinea pig for anything and everything that is approved by the FDA. Having tried them, I can tell you these 3 are totally worth it: 1. Semi-Permanent Mascara Last week, I tried LashDip ($250) at Courtney Akai Lash Lounge (awesome lash extensions, btw), and I'm all about it. The procedure lasts 6 weeks and takes about an hour to apply. You're left with darker, fuller lashes that don't budge; try the procedure to get through rehearsal dinners, bridal showers, and of course - the big day. 2. Crash Diet Ok, I don't mean an actual crash diet (we can't promote starvation here), I'm talking about Rodial's new Crash diet. The Crash Diet Sticks ($60) melt fat and reduce water retention, and the protein Crash Diet Smoothie ($60) tastes amazing with skim milk and is shockingly filling for only 70 calories. I high recommend this program as a last minute weight loss tool. 3. Laser Hair Removal If you haven't had an excuse to splurge on laser hair removal yet, let your wedding day be it. Laser is the way to go if you have medium or dark hair - the permanent procedure gives you one less thing to worry about on your wedding day. I got my under arms done at Completely Bare Spa in NYC and now feel 10x better in my strapless wedding gown. And no, I don't missing having to shave there everyday at all. For more editor-approved beauty, check out the beauty roadtests on SHEfinds, and their guides to the best waterproof mascara and hair removal.
Week in Review: The Return of the UGG®, Serpentine Jewelry, and More
Required Reading: • The UGG® returns to keep celebrity feet warm this winter. • Serpentine jewelry slithers on to fashionable women. • Mauro Zagliani's bag sold out, but we found great alternatives you can buy right now. • In honor of our guide to the best party shoes for any budget, we drooled over the most expensive slingbacks, boots, pumps, and ballerinas we could find.Steals and Deals: • Up to 30% off leather gloves at Saks. • Up to 50% off Simply Vera at Kohl's. • Up to 50% off Bing Bang bags at Shopbop.Just For Fun: • If brand name cashmere is really worth the cash, why can't we tell which of these two sweaters it the splurge and which is the steal? • Guess which sparkling topaz pendant costs $200 and which costs almost 20 times that.
Trend Alert: Biker Jackets Ride Into Town
What: Leather Biker JacketsWhere: Several glamazons have been spotted on the late night circuit recently sporting black leather biker jackets. While this trend has never gone totally off the radar, it did do a disappearing act for a few years. But apparently, the time has come to tap into your inner James Dean, and climb onboard with these nouveau vintage styles. This Mike and Chris Hugh Leather Jacket ($908) was snatched up by Lindsay Lohan. The leather hood and thick ribbed waist are exceptional details, but if the price is a bit out of your league, try the Dina Leather Jacket by Ralph Lauren ($279.99). Another great option is the Kooba Moto Leather Jacket in Brown Vintage (was $836, now $418). This one also comes with a hood, and has chic snap closures. The ASOS PETITE Leather Biker Jacket ($193.89) has a classic appeal, and is versatile enough to wear from day to evening. </ifram
Go For The Gold With The Metallic Trend
Gold just became even more precious. From the red carpet looks we're expecting to spot at next week's Golden Globes to the shimmery styles seen on fashionistas around town, this metal is already making a major impact on 2008. Here are our picks for the best apparel, shoes, and accessories sporting the glowing color--just don't wear them all at once or you'll risk looking like an award statue instead of statuesque.Apparel: When worn correctly, gold can be just as appropriate during the day as it is at night. Shoshanna translates the gold trend into an office appropriate look in her Metallic Dot Shift Dress (was $305, now $110). For the evening, throw on this Laundry by Design Metallic Sheath Dress ($365), a flattering and hip design that will make you the (not too) shining star of any cocktail party. Shoes: From comfy flats to sky high heels, no color does a better job of making you feel like a true twinkle toes. Check out these snake-print ballet flats from Tory Burch ($225) for an easy-to-wear style or add major length to your legs with some strappy Nine West sandals ($69). Bags: Some gold-colored bags cost so much you'd think they were made of the metal itself. If you've got plenty of the real deal in the bank, go ahead and splurge on a super shiny Roberto Cavalli metallic leather bag ($1,950). For a similar look at a slightly more reasonable price, grab this Kooba Metallic Stella Tote (was $595, now $415). Or get this great buy from Kenneth Cole ($179), an affordable way to try the trend without committing every cent of free cash to the cause. Accessories: Another great way to add some sparkle to your outfit is by throwing on a gold accessory or two. We love this affordable Urban Outfitters scarf ($24) and belt ($28), and we also think you absolutely must have these CC Skye gold hoops ($135).
Beauty Find: Maybelline Upgrades Their Great Lash
What: Maybelline Define-A-Lash, $7Why: Maybelline Great Lash may be "America's number one mascara," but the company's excellent new Define-A-Lash is set to stage an overthrow. Its tough, spiny brush--while sort of scary at first use--assures a clump-free application and a long, clean look for your lashes. The nifty green color of the tube is an added plus. Allure magazine granted Maybelline's Define-A-Lash this year's Editors' Choice award--and if they love it, so will you. Comes in very black, soft black, and blackish brown. Get Yours: Drugstore.comFor more great mascara recommendations, see our guide to the best way to lengthen, thicken, and otherwise enhance your lashes.
What A SheFinds Writer Wants For Christmas: Bryn T.
Let the countdown begin. With only a handful of shopping days left before Santa arrives, it's time to lay your cards on the table and admit what you really want for Christmas. Still not sure? Take a look at the top five gifts I'd love to find under my tree. 1. The Lanvin Patent Shopper gets top billing. This gorgeous bag holds anything, and its modern sheen makes any ensemble look ultra chic. But with the sky-high price of $1,600, I might have to keep dreaming. Stylish alternatives are the Sigrid Olsen patent tote ($228) or the cracked patent Luxembourg Shopper by Andrea Brueckner (borrow it for just $26/week at BagBorroworSteal.com). 2. Made Her Think Jewelry is inspired by concepts of romance, mortality, and spirituality. The pieces are provocative and one of a kind. I covet the Sentimental Skull Ring ($77) embedded with baby Swarovski crystals. 3. As we've noticed this season, extra long gloves are on the rise. As seen on the most fashionable women about town, these gloves create an elegant look while providing extra warmth. And when you find an affordable pair made from cashmere ($47.70), well, that's just plain heaven. 4. Even if there's nothing left to put in it after holiday shopping, the Marc Jacobs quilted leather wallet ($395) is a chic gift I'd be thrilled to receive. 5. Perfumer Christopher Brosius has created a collection of unique fragrances for his line, CB I Hate Perfume. Among my favorites is Winter 1972 ($60), which magically bottles everything splendid about the season – from the crisp white snow to the warm fire and delicious eggnog. This scent and others are available on his website.
Blog Round-Up: Heard on the Web This Week
From scarves to sunglasses, Smarter Fashion Blogs shows you the chicest accessories to give this holiday season. The Beauty Brains explain why yeast infection creams don't really increase hair growth. Top Button gives you the low down on inexpensive down puffer jackets. What outfits work for the office party? Girlawhirl's got it all figured out.
Taste Test: Find Which Topaz Pendant Is Affordable
A great holiday gift idea is birthstone jewelry, as it is both beautiful and personalized (might be a great addition to your own Christmas list as well). December's gemstone happens to be blue topaz, so we've chosen these two sparkling pendants (one at $200, one at $3,700) to show you that a thoughtful gift can be lovely no matter what your price range is. See if you can pick out the real gem: Brush up on your style skills with previous Taste Tests.
Trend Alert: Would You Wear A Puffy Sleeve?
Okay, we know you might be a little hesitant about this one -- all it takes is one oversized puff too many and people might start asking you if there's a Renaissance fair in town. But, if fashion didn't reinvent itself and modernize old trends now and then, we'd all be bored out of our minds. From 16th-century Florence to a stunning Lauren Bacall to the J.Crew catalog, the puff-sleeve has made its ladylike presence felt through time, so I guess we should embrace it. All you need, really, are a few styling tips to make it your own. If you have a shorter build or even just a shorter neck, maybe opt for the full-length, elongating puffs of the Bailey 44 Pintucked Top. If you feel intimidated by the voluminous J.Crew Rivoli Blouse, just take it down a notch with a small cap sleeve puff like the kind on this BCBG Jersey Knit Tee. It is a great casual version that can be worn with your everyday wardrobe and not just for fancy occasions. The puff is versatile, too, finding ways include itself on your crisp white work shirts and favorite cocktail dresses. But most importantly, all of that extra fabric up there will widen your shoulders and as a result make your waist look smaller. Why else do you think gals wore shoulder pads in the 80s?
A Week's Worth Of Fabulously Expensive Shoes: Vote Which One You Want Most
Well, it's official--we lusted after expensive shoes all week long with the hope that we might win the lottery and be able to afford them all, but Friday has come and we're no richer than when we started. If we had to pick just one of the fantasy shoes to purchase, though, we're not sure which one it would be. Take a look back at the gorgeous designs we found this week and then place for vote for which one you would want most.And be sure to take a look at our guide to party shoes, too. We've got every price range covered, so you won't have to choose between a boot or a sandal--you can afford them both.Christian Louboutin Bling Bling Pumps ($1,375)Jimmy Choo Damon Slingback Pumps ($960)Giorgio Armani Portland Python Boots ($1,725) Giuseppe Zanotti Pony Ballerina, $595
Runway Recap: Menage-A-Blah
The most recent installment of Project Runway fever from SheFinds reader Casey:Ho hum, another team challenge. The designers self-selected themselves into teams of three to develop a cohesive and modern mini fashion line incorporating three horribly outdated trends (think of all those horrible trends you wore in the 70s and 80s--yes, I am talking to YOU). This week's lesson: Do not volunteer to be team captain. You cannot control these crazy designers, you will be stressed out, and you will have a 1-in-4 chance of getting the boot--ain't nothing good there. While Jillian has a knack for fading into the background, she was able to wrangle her teammates into a win with the overalls/poodle skirt line. It was country-chic but fit the bill: it was cohesive and modern. Shop for a similar look at Bluefly.com.In the bottom two were Chris's team and Ricky's team. Personally, we liked Chris's and Sweet P's dresses a lot, despite the fact that they appeared to be made out of burlap. Chris's lacked the modernism the judges were looking for and ultimately got him auf Wiedersehen-ed (perhaps he could use the potato sack to clean up his work station?). Steven's outfit felt like something you could buy at the local department store and did nothing for us - we were bummed that Chris was sent home instead of Steven as we'd grown to like the big crying lug. The trends Ricky's team was tasked with incorporating included underwear-as-outerwear and neon. Team squabbles and passive-aggressiveness aside, the creations were better suited for triple axels and Russian judges than the runway -- maybe they fell into a time machine and were working on the Sacha Cohen challenge from Season 2? The best part of the show? The previews for next week! Why is our boy Jack crying (maybe b/c the resident cryer Chris was sent home this week and someone has to)?? What's the scoop with the models?? Where is that time machine? We must get to next Wednesday stat!
News Updates: Kate Moss Models Donna Karan, American Eagle Sets Up Shop In Times Square, And More
Kate Moss stars in Donna Karan's spring campaign. [FWD] American Eagle will open their largest store in the world in Times Square. [San Diego Union-Tribune]More counterfeit designer goods seized in New York, including copys of Ralph Lauren, Baby Phat, and Burberry. [WWD] The New York Times tests women's jackets to see what can really stand up to the cold. [NYT]Events: Montana Avenue Trunk Show in Santa Monica on 12/8; Lisa Klein sale in L.A. starts 12/8