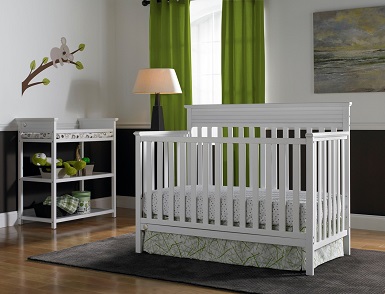 Who Says You Can't Get a Gorgeous, Safe Baby Crib For Less Than $200? We Found Four!
When you're expecting, the one thing you'll hear over and over again is how expensive babies are. So many moms-to-be are shocked to learn that they spend so much before their little one even arrives. But between a stroller, car seat and nursery furniture it all adds up. h Here's a little tip from us: more expensive doesn't always mean better, especially when it comes shopping for your baby. Case in point: the new Fisher-Price baby cribs. They have four designs that are all incredibly beautiful and safe, but also reasonably priced. We're talking $160 or less! Click through the slideshow below to see these inexpensive baby cribs for yourself. [slideshow] Sign up for our newsletter for even more great finds delivered right to your inbox. Click here to email Jeanine, the author of this post.
Need a Modern Crib ASAP? This One Ships Tomorrow… For Free
Decorating a nursery can be stressful business, which is why we've decided to help you out this morning. Every mom knows the crib is the centerpiece of the nursery, so here's a gorgeous, modern baby crib that's sure to make a statement. It's made by Oggi Kossa and the white and brown colorblock panels are chic, without being stark. Even better, the crib comes with a convenient storage drawer underneath and it converts to a toddler bed once your baby is ready. (more…)
Giggle Founder Ali Wing Shares Her Top 5 Baby Registry Picks
Having a baby?  Congrats!  And while creating the perfect baby registry might not be as monumental a task as naming your baby, it can be just as stressful.  Which stroller is the best?  Which car seat is the safest?  Which baby carrier is the most comfortable?  And so on! So if you're a first-time parent and need a little help picking out the best items for your baby registry, look no further.  We asked Ali Wing, founder of Giggle and author of Giggle Guide to Baby Gear to share some shopping tips.  Behold: Ali Wing's top 5 baby registry picks (more…)
Carousel Designs…Not Just Just Another Baby Bedding Company
There's nothing new about shopping for baby bedding online, but shopping for baby bedding at Carousel Designs? That's another story. Sure, they have everything imaginable to outfit the nursery in style--from sweet bedding, to coordinating drapes and decorative pillows--but that's just the beginning. Carousel Designs beckons you to channel your inner design goddess.  Not only can you design your own baby bedding--choose from over 300 fabric choices--but you can see how it looks in your 'virtual nursery' before you commit. (more…)
Skip the Crib Bumper and Get Skip Hop's New Bumper-Free Crib Bedding Instead
Sure, crib bumpers are cute, but the potential risk of suffocation and strangulation overshadows any aesthetic value.  But if you really can't live without one, check out Skip Hop's new Bumper-Free Crib Sets instead. The 4-piece sets include a Complete Sheet, crib skirt, nursery blanket and Airflow wearable blanket, and they have so much style you won't even notice the bumper is missing. Still not convinced by the photo?  Watch the video after the jump. (more…)
Hey Mariah…Here's Something to Look Forward to with Your Twins
Anyone else looking forward to watching Mariah Carey's twins' big debut on 20/20 tonight?  If it's because you have twins, too, make sure to watch this YouTube video I came across today. To set up the clip, let's just say that mom couldn't figure out how her toddler was getting out of his crib during nap time.  Was his twin helping him?  So she set up a video camera to tape the great escape. [youtube]http://www.youtube.com/watch?v=-sPo-af9vKk[/youtube] (more…)
It's a Boy for Ali Landry and We Know Where He'll Be Sleeping…
A huge congratulations to Ali Landry!  The actress welcomed baby boy, Marcelo Alejandro, last Saturday, and we know exactly where he'll sleeping those first few months. Hint: it's that gorgeous piece of furniture in the photo above...the So-Ro Cradle. (more…)
Sponsored Post: Happy Moms Heart giggleDEALS
Happy moms get giddy when they can buy the best brands at the best prices. Smart moms know that giggle is a guaranteed bet for one-stop shopping for their little ones--they may not know that it is also the first retailer to launch their own flash sale site. Now you can find your favorite brands at up to 70% off retail prices on everything from strollers to diapers at giggleDEALS. Sign up now and you'll start receiving three unique daily deals on three brands per day--all of them new to flash sales. giggleDEALS is also offering some great freebies for those who sign up for their daily deals, including free shipping for orders of $75 or more and a $10 referral bonus when your mama friends make a purchase. MOMfinds readers who sign up  will also get $10 to use on their next purchase at giggle or giggleDEALS. So go get happy and save a bundle with daily deals from your favorite baby gear retailer: giggleDEALS.

Buy a Stokke Sleepi Crib, Get the $230 Mattress for Free
Baby need a place to sleep?  If you're looking for a modern crib that will grow with baby, feast your eyes on the Stokke Sleepi Crib.  The oval-shaped crib easily converts to a toddler bed, and if you purchase a separate conversion kit, it also converts into a junior bed down the line. And as a bonus, now through 7/31, use coupon code SLEEPICRIB at checkout and get the Sleepi Matress for free.  That's a saving of $230 and shipping is free! (more…)

Would You Pay $800 for a Crib Set?
$800 for a crib set?  Does it change diapers in the middle of the night or miraculously soothe a crying baby back to sleep?  No?  Then isn't it way too much to pay for a crib set....even a luxury crib set like the one above? And besides, aren't babies known to poop, pee, and throw up on occasion...or more?  Do I really want to stress about all those glorious bodily fluids soiling swanky sheets?  Um, I don't think so!  For that kind of money, I'd rather splurge on a designer crib and get some practical, affordable sheets with the money left over. What about you?  What do you think of expensive crib sets?  How much did you pay for your baby's crib set?  Tell us in the comments below. (more…)

A Gorgeous White Crib That's Not Too Modern or Traditional
Want a white crib for the nursery but don't like the ultra-modern or traditional options out there?  Feast your eyes on this gorgeous Bratt Decor Soho Crib.  Taking the best from both worlds, it's chic and modern, with clean lines and simple sophistication.  Solid foot and head boards make it feel extra cozy for baby, and fixed side rails make for added safety.  And that loft option you can add for $118?  It takes the crib to a whole new level. (more…)

Save Up to 50% on Modern Cribs at Giggle!
NettoCollection Royal Blue Crib ($1300, was $2750) Here's the thing about modern cribs: they're gorgeous, but they can be pretty darn expensive.  Take the sleek NettoCollection Crib above.  It normally has a price tag of $2,750, but guess what.  If you buy it at Giggle's Summer Crib Sale before Sunday, you can score it for just just $1300.  Yes, still on the pricey side, but a great deal, nonetheless. (more…)

A Modern Crib for Parents Who Aren't Afraid of Color
Shopping for a modern crib and not afraid of a little color?  And when I say color, I don't mean different stains of wood.  I'm talking about cribs with tomato red rails like the one above. Domestically made by Kalon Studios, the Caravan Cribs also come in blue, black, and green.  They're "green", too, made with sustainably forested wood and painted with non-toxic, low-VOC paint.  They're safe, with fixed rails and a two-level adjustable mattress height, and to make sure you get the biggest bang for your buck (they cost $895), they turn into a platform style toddler bed for your growing child. (more…)
Bet You've Never Seen Anything Like the New Hollis Crib…Hint…It's 100% Acrylic
Check out the spanking new Hollis Crib from Nurseryworks.  No, your eyes aren't deceiving you...the ultra-modern crib is made from 100% recyclable acrylic!  Talk about unique, and that unobstructed view of baby sleeping?  Priceless. (more…)
You Might Not Like Mariah's Twins' Names, But What About Their Swanky Cribs?
OK, so you're not too crazy about Monroe and Morrocan (or their nicknames, Roc and Roe, for that matter), but what do you think about the swanky cribs Mariah Carey picked for her twins? (more…)
Did You Know Maclaren Does More than Just Strollers? They Do Nursery Furniture, Too
Maclaren is famous for their strollers, but did you know they also make nursery furniture that's sleek, simple and stylish.  But what else can you expect when the pieces are designed by David Netto, "The Father of Modern Baby"? (more…)
Prepare to Swoon for the Spot on Square Roh Crib… A Modern Crib with a View
Have a penchant for modern design?  Then prepare to swoon for the Spot on Square Roh Crib.  Yes, it's a modern crib with a view, using durable clear acrylic that's BPA- and phthalate-free.  So you and baby can easily see what's going on inside and outside the crib.  Genius! (more…)
Sneak a Peek Inside Mariah Carey's Swanky Nursery
Oh to be rich, famous and pregnant!  Mariah Carey shared photos of her twins' nurseries with Life & Style Magazine this week (yes, that's plural...the twins will have their own space in Bel-Air and NYC), and the rooms are amazing.  Did you expect anything less from the diva? (more…)
Genius! A Baby Crib That Folds When You're Tight on Space
Tight on space? Allow me to introduce you to the one of the best baby cribs, the new Bloom Alma Papa Crib. Once you get past its good looks and clean, modern lines, go ahead and admire its patented folding design. So you can easily fold the baby crib when you're not using it. Genius! Still not convinced it's one of the best baby cribs? Here are more specs: Suitable from newborn to 4 years (it converts into a toddler bed with the conversion kit) Solid wood crib with stainless steel detailing 2 mattress heights allow use as co-sleeper/bassinet & full-size crib Open slats on all four sides maximize air-flow 4 lockable castors for room-to-room mobility low voc baby safe finishes. mdf-free, formaldehyde-free Price: $700 Get Yours: giggle.com Find everything you need for your dream nursery in our buying guides. Sign up for our newsletter to get even more finds delivered right to your inbox. Click here to email Farah, the author of this post.

Genius! A Baby Travel Bed & Travel Bag All Rolled into One
Planning on a family trip and not sure where baby will sleep? Forget the bulky Pack 'N Play and bring the new Phil & Teds Nest Bed instead. Think of it as a modern Moses basket for parents who like to travel light. Baby tired? The portable baby bed pops open, providing a safe and cozy place for baby to sleep. Baby awake? It folds flat, and acts as a travel bag. Best part? It's only $100. Price: $100 Get Yours: giggle.com Find more of the best Moses Baskets and cribs in our buying guides. Plus, catch up on the latest celebrity baby news at People.com. Sign up for our newsletter to get even more finds delivered right to your inbox. Click here to email Farah, the author of this post.
Gender-Neutral Baby Bedding that Won't Take a Big Bite Out of Your Budget
Baby bedding can take a big bite out of your budget, so if you're open to something more than the pink and blue standby, check out these unisex baby bedding sets. They work well for both baby boys and girls, and the sweet animal designs will look fabulous in any nursery. And when it's time to bring out the crib again for little brother or little sister down the line, you'll be all set. Bonus: these crib bedding sets are all under $170. Carter's Green Elephant 4-Piece Crib Bedding Set ($170) Carter's Bumble 4-Piece Crib Bedding Set ($170) Lambs & Ivy Doodle Doo 6-Piece Crib Bedding Set ($130) Find the best cribs in our buying guides. Plus, catch up on your celebrity baby news at CelebrityBabyScoop.com. Sign up for our newsletter to get even more finds delivered right to your inbox. Click here to email Farah, the author of this post.
It's Official: Drop-Side Cribs Are Now Banned
Today the CPSC unanimously voted to ban drop-side cribs. The bans will go into effect in June. Drop-side cribs have caused 32 infant deaths in the last 10 years, so this decision has been a long time coming. If you own a drop-side crib--I have one (yikes!)--it's time to upgrade. Here are some safer models to invest in. [slideshow] Check out more of the best baby cribs in our buying guides. Sign up for our newsletter to get even more great finds delivered right to your inbox. Click here to email Jeanine, the author of this post
Safe, Affordable and Stylish? Babyletto's Baby Cribs Have It All
Right up there with baby bottles and strollers, your baby crib is one of those big baby purchases that requires a fair amount of research. Need some suggestions? We're huge fans of Babyletto baby cribs. They're well-made, well-designed and well-priced. Talk about a trifecta! But don't just take our word for it. Here's what some of the moms on BabyEarth.com had to say about these awesome baby cribs: Mercer Modern Crib ($399) "My wife chose this crib for our son. I am pleased with the way it looks and believe it will function rather well. I assembled it and it only took 45 minutes. It is made of soft pine but is high quality and is very stable. Highly recommended." --J.R. "My Husband and I purchased this crib because we like the simple design and the non-toxic finish. The crib is very sturdy and the drawer glides very smoothly." --Lindsey Modo Modern Crib ($379) "We love this crib. It has simple design. It is sturdy and attractive. I would recommend it to a friend." --Steven "The crib was easy to put together, is sturdy and the streamlined design fits beautifully into a our modern home." --Anja Find more of the best baby cribs in our buying guides. Sign up for our newsletter to receive even more great finds right in your inbox. Click here to email Jeanine, the author of this post.
30% Off Plus Free Shipping on All Baby Star Blankets, Bibs and Bedding
Just in time for fall's chill, you can save 30% plus free shipping on BabyStar's amazing baby blankets with code BOO30 at checkout. The sale actually applies to more than just baby blankets, so treat your baby to one of their signature plush baby blankets, plus coordinating baby bibs and burp cloths. And if you really love their prints--we do!--outfit your baby's nursery in their crib bedding. Baby Star baby blankets ($30-$50) come in two options: try the poodle style for the ultimate plush warm blanket, or try the diamond style for lighter coverage. Baby Star bibs ($10) are reversible and a little larger than most so they work twice as hard keeping baby clean at meal time. Baby Star Crib Bedding ($249) comes complete with crib bumper, two fitted sheets, and a flat front skirt. Get Yours: babystar.com Find more of the best baby blankets, the best baby cribs and the best baby bibs in our buying guides. Click here to email Farah, the author of this post.
Planning On Co-Sleeping? Not Without A Bednest
If your plan was to co-sleep, but it's just not working out with the co-sleeper you already have, you should probably try a the Bednest. Not only is it well-designed--so you don't mind looking at it in your bedroom--but the height can be adjusted to fit any bed. Even better, when it's not bedtime, the Bednest converts to a moses basket by simply lifting the basket off the base. It also works as a stand-alone bassinet, and folds flat for easy storage and portability. So if you are committed to co-sleeping, this is one of the best, most-versatile contraptions we've found. And it looks good, too. Price: $334 (plus international shipping) Get Yours: bednest.com Find the best cribs, the best baby bottles and the best diaper bags in our buying guides. Click here to email Courtenay, the author of this post.
Short on Space? We Found The Crib For You
More people than ever are having to make do with less, and in some cases, that means less space. But just because you have a small room (or have to share yours) for baby doesn't mean you can't have a proper crib. Check out these four cribs that are small in size but big in style and functionality. Stokke cribs aren't new to the scene, and part of their staying power is their versatility and unique shape. Use the bassinet for newborns, add pieces for a bigger crib, then convert to a toddler bed for years of use. Pottery Barn Kids has just  introduced their Caden crib, which is amazing for cramped quarters. Not only is it smaller in scale, it has drawers built into the bottom, adding valuable storage space. You don't have to sacrifice style when you scale down, and the Bloom Alma Urban Crib is proof. Not only is it already compact, but it folds up for easy storage, making it ideal for people who need to use their nursery as a guest room from time to time. Ikea doesn't necessarily advertise that their cribs are smaller than average, but most of them are, including this Gulliver model, which is an unbelievable deal at $99. The mattress is almost as inexpensive at just $69. Shop more of the best baby cribs, plus our dream nursery guide in the buying guides. Click here to email Courtenay, the author of this post.
Expect Drop-Side Cribs to Be Banned in 2011
Hot on the heels of several major crib recalls, including the Pottery Barn Kids recall yesterday, the US Consumer Product Safety Comision agreed yesterdat on a new set of standards for cribs that would essentially ban drop-side cribs. In 2010, well over 1 million drop-side cribs have been recalled because of injuries relating to the drop-side becoming undone or children becoming entrapped between the drop-side and the crib mattress. So if you're in the market for a crib, it would be wise to choose a model with fixed sides. Here are a few safe, well-designed suggestions: If you're short on space, consider Bloom's mini crib ($600). It's designed to accommodate small urban apartments, so it's folds up for easy storage if necessary. Oeuf's sparrow crib ($670) actually exceeds current safety regulations and you have the option to convert it to a toddler bed with a separate kit. Shop more of the best cribs in our buying guides.
Recall Alert: Pottery Barn Kids Drop-Side Cribs
Pottery Barn Kids recalled 82,000 drop-side cribs yesterday, reports StrollerTraffic.com. Like many of the other drop-side crib that have been recalled, the PBK cribs are being recalled due to the risk of entrapment, suffocation and fall hazards. There have been 36 reports of the drop-sides malfunctioning and 7 related injuries. If you have this crib, stop using it immediately. Contact Pottery Barn Kids to receive the free fixed-gate conversion kit. For more information, visit cpsc.gov.
Recall Alert: Delta, Evenflo, LaJobi and More Cribs Recalled
Today the U.S. Consumer Product Safety Commission issued a major crib recall in conjunction with the following 7 crib manufacturers: Delta, Evenflo, LaJobi, Jardine, Million Dollar Baby and Simmons Juvenile. The CPSC is recalling these cribs because of several hazards, including dangers related to the use of drop-sides. The manufacturers are offering repair kits to disable the drop-sides and to remedy other hazards. For more on this recall, visit kidstodayonline.com.
Taste Test: Which Travel Crib Has the Lighter Price Tag?
For more of the best cribs, check out our buying guides.