It's Not Spring Until You Have A Colorful Crossbody Bag
Can You Tell Which Rainbow Crossbody Bag Costs $1,607 More Than The Other?
SHEfinds receives commissions for purchases made through the links in this post. A few seasons ago, Valentino released rainbow Rockstud accessories and, obviously, the fashion world freaked. Now you can find knockoffs of the pretty print on shoes and handbags, like this Steve Madden one. The BBOA ($68) crossbody is pretty much identical to the Multicolor Rainbow Rockstud Leather Cross-Body Bag ($1,675). The only major contrast? A $1,067 price difference. That's insane! Click below to find out which rainbow crossbody costs more than the other: Test your fashion savvy some more with star sneakers and double-buckle belts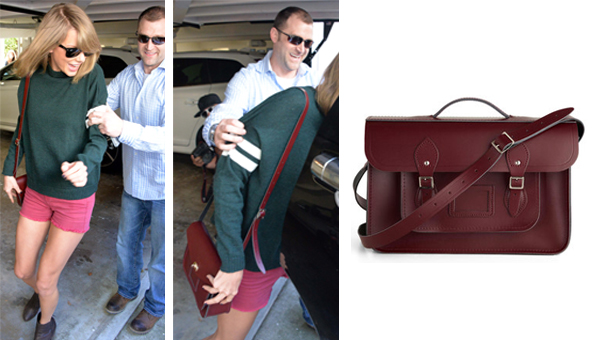 Her Friends May Be Fancy But Taylor Swift's Go-To Handbag Is Anything But
Taylor Swift is carrying this Cambridge Satchel Upwardly Mobile Satchel in Oxblood ($179.99) everywhere. And the best part? You can afford it because her favorite bag doesn't carry a heavy price tag like some of those bags (ehem, Celine, Givenchy, Proenza...) carried by the fancy schmancy A-listers. Taylor may run in the cool, beautiful, and ultra-rich crowd (her BFF is Karlie Kloss), but her style is still down to earth. Plus this crossbody satchel is every girl's dream: hands-free and roomy enough for all your carryalls. Snag it below in oxblood and who knows? Taylor may even friend you. Cambridge Satchel Upwardly Mobile Satchel in Oxblood ($179.99) Don't forget to shop more celebrity style here! [Photo: Splash News]
The Safest Way To Wear Spring's Blindingly Bright Colors? On Your Shoulder, Of Course
We are firm believers that the best way to ease into a trend is via accessories. So rather than splurging on a head-to-toe ensemble in spring's blinding brights, we're investing in cute, colorful shoulder bags first. A boldly colored purse is a fun, yet simple way to spruce up any outfit--seriously! Just envision your most boring jeans and t-shirt combo with a snazzy flash of hot pink, neon green or electric blue on your shoulder. It works! And lucky for you, there are tons of eye-popping purses to choose from this spring no matter your budget. From Marni and Marc by Marc Jacobs to Forever 21 and Urban Outfitters, the options are endless. Shop our favorite bright shoulder bags in the slideshow. Browse other purse trends we love: black and white bags, printed leather purses, and structured, straw handbags! [Photo: Befrassy]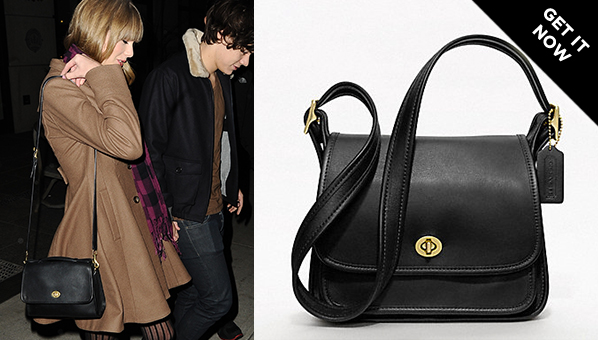 Taylor Swift's Hands-Free Coach Bag Is Ideal For Juggling Life (And Relationships)
Taylor Swift has to keep her hands free when traveling because she's busy counting all those relationships! From high-schooler Conor Kennedy to Harry of tween-madness One Direction, this girl knows how to choose them. Taylor keeps it simple when running from boy to boy city to city which is why she carries this sleek Coach Court Bag ($258) from the Hollywood starlet-endorsed Coach Classics collection. Her album Red is blowing up the charts (and has bloggers piecing together the lyrics to determine who each song is about), but as always, her chic, feminine style stays in tact. With a long strap for some cross body action or a top handle for a professional feel, this Coach bag is ideal for your busy life. Shop below! Coach Court Bag ($258) [Photo Credit: Splash News] Shop more celebrity style such as Nikki Reed's animal print top, Beyonce's sale rack look, and Chloe Moretz's wedges
Kate Bosworth Thinks This Miu Miu Madras Jeweled Crossbody Bag Is A "Great Find"
Kate Bosworth has this special power to create "It" anything if she shows up wearing, well, it. Proof? Those Isabel Marant booties are literally everywhere after the recently engaged actress-turned-style-icon was spotted with them on. Next up, we predict her newly purchased Miu Miu Madras Jeweled Crossbody Bag ($1,495), which also comes in maroon, will be a huge hit this season. We especially love feminine take on studded details with hearts and bows. Bosworth explains her reasoning behind indulging in this designer piece to The Cut: This classic Miu Miu shoulder bag has just the right amount of whimsy. I saw it online and knew it was a great find. When purchasing a more expensive item, I am careful to invest in something that has a timeless quality, so that I can continue to wear it for years. Miu Miu Madras Jeweled Crossbody Bag ($1,495) Shop more celebrity style: Jennifer Aniston's jeans, Eva Longoria's red dress and shoes, and Rachel Bilson's outfit. [Photo: Splash News]
Lighten Your Load This Spring With Crossbody Bags On Sale At Shopbop
Aren't you sick of lugging your heavy handbag around all winter? Trade it in for a lighter crossbody bag--we found 5 cute options at Shopbop--they're all on sale. Happy Thursday! (more…)
Get Some 'Shoulder Candy' With These Bright-Colored Cross-Body Bags
Large, oversize hobo bags filled with all your junk are heavy, bulky, and just plain too much. Lighten up ladies. With the popularity of the cross body messenger bags, carrying your life around just got a whole light easier. With starbust colors in yellows, reds, oranges, and pinks, these bags add a pop of fresh color to any outfit. What are you waiting for? Check out our hot picks below. (more…)
What To Wear In Winter: Unexpected Colorblocks Make Everyone You Come In Contact With Happy
It's starting to get chilly in New York! Instead of wearing boring black head to toe, why not stand out in the crowd with a punchy coat and bag combo? Mustard yellow and robin's egg blue are a great place to start. Grab these accessories and start building your colorful outfit now. (more…)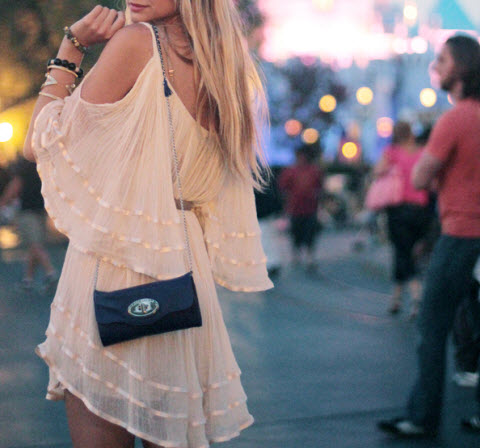 Close Up And Copy: Late Afternoon's Bohemian Romantic Date Look
The happiest place on earth. Leave it to Liz Cherkasova of the Late Afternoon Blog to make a Disneyland date look chic---trust us, making a sartorial statement out of mouse ears is no small feat. As part of our new Close Up And Copy feature, we'll be dissecting our favorite looks to give you a piece-by-piece overview of how to emulate them. Because as they say, imitation is the sincerest form of flattery... (more…)
5 Utilitarian Mini Handbags That Prove Functionality Doesn't Have to Be Boring
These utilitarian handbags truly put the 'fun' in functionality - they're compact, filled with pockets, and simple cool silhouettes. But that's not all: they're also on sale at Shopbop. Perfect for summer--because who wants to lug around a huge bag when it's scorching outside? (more…)
Forget The Movies, We're Too Busy Watching The Celebrity Style At The Tribeca Film Festival
Although it might not be fashion week, celebrities like Rachel Bilson, Chloe Sevigny, Miranda Kerr and more still step out in style in New York City for the 2011 Tribeca Film Festival. And with the decently warm weather, we're loving these new spring and summer styles. So whether you have a movie premiere or just a casual cocktail hour, you can definitely steal a few fashion ideas from these stars. (more…)
Leifsdottir Goes Crazy for Crossbody Bags With First Handbag Launch
Leifsdottir, the Scandinavian-inspired brand that first hit the scene with cute clothing sold at Anthropologie,  is penetrating the accessories market with their latest venture into handbags--and we couldn't be more pleased. We just finished lusting after their wacky cut out wedges released last month, too. From chain-adorned crossbody bags to structured top-handle pieces, the collection, which débuts at Bloomingdale's come fall, is full of classic staples we can't wait to get our hands on. (more…)
Make Like Alexa Chung And Put It In The (Brightly Colored) Bag
One of our style faves, Alexa Chung, was spotted at London Fashion Week with a  blue-green Burberry Brights satchel and suddenly we are coveting a bright crossbody bag for the spring as well. Here, some equally-colorful (but wallet-friendlier!) options: (more…)
Take 50% Off Crossbody Bags Just In Time For Christmas
This year's biggest trend is actually something small and compact: the crossbody bag. It's functional enough to carry everything you actually need, so you don't have to go digging through an oversize tote every day. Mine pretty much transformed my life: I'm instantly more organized. Don't pay full price for yours, though: get it for 50% off at Shopbop. Here are the best deals: 30% off cashmere scarves and gloves 20% off Bliss beauty products 40% off at Bloomingdale's 40% off designer items + free shipping with code HOLIDAY at Saks Up to 65% off at J.Crew 20% off Bliss Gift Sets + free shipping Where to get FREE Shipping! Check out more handbags, plus the best evening bags, pumps, and cocktail dresses for all of those fun parties coming up. Then peruse our best find of the day favorites and all of this week's sales and deals (there are so many)!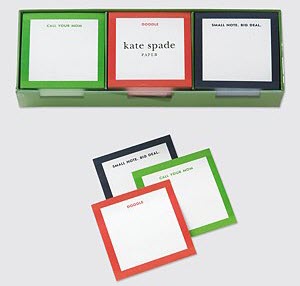 Whether You're Stingy Or Just Forgot: Under-$25 Gifts That Will Have Everybody Fooled
As December 25th approaches, what's a girl to do when she's spent all her money on party dresses for all those friggin' holiday parties? If you have a long-ass gift list, but a short cash flow, we've got you covered with even more under-$25 gifts that looks way more expensive than they really are: These Kate Spade Adhesive Notepads ($25) are a definite step-up from traditional post-it notes, and a whole lot chicer. Marc by Marc Jacobs Sealed With a Kiss Stud Earrings ($22.90, from $35) are an adorable and a fun alternative to the classic stud. Plus, your designer-obsessed pal won't ever guess they weren't way more pricey. Have a friend who is constantly touching up her makeup? This Sonia Kashuk Dripping in Diamonds 8-pc. Cosmetic Brush Set ($21.99, from $24.99) is the perfect thoughtful (and still wallet-friendly) gift. Not sure what to get your guy? This Victorinox Swiss Army Classic Pocket Knife ($18) is a foolproof choice- practical and masculine. This metallic LeSportsac Electric Blue Mini Wallet ($25) is the perfect gift accessory for your friend who needs a new wallet. She'll think you spend big bucks - even though you didn't break $25. This Sephora Collection Mono Eyeshadow Set ($20, a $40 value) features five high-impact eyeshadows that are sure to please any makeup maven. Philosophy's Candy Ribbons Set ($18) features a shampoo/shower gel and glossy lip shine that will keep her smelling sweet all year-round. And, of course, the too-cute packaging is a nice bonus. Check out more great under-$25 gift ideas, then find the best gifts for your party girl friends, reality TV-obsessed friends, and passive aggressive gifts for your frenemy.
Shop HSN And Lucky Magazine's Capsule Collection On Sale Today
With Rachel Zoe and Janie Bryant both having lines for QVC, it's safe to say that home shopping networks aren't what they used to be. Which is why we got pretty excited when we heard about the HSN capsule collection with Lucky Magazine, which includes pieces from Thread by Thread Social, Linea Pelle, and Matt Bernson and is being sold at discounted prices for a limited time on HSN today from 1pm to 3pm and 10pm to 12am. (If you miss the "event" today, don't fret, you can shop the full-priced line HSN): Linea Pelle There's no denying that the LP by Linea Pelle "Newport" Leather Satchel ($249.90 now, $219.90 at event) is the ultimate fall accessory. The rich caramel color, convertible straps, and the sheer size - need we say any more? There's something about studs and leather that is just so perfectly classic so this LP by Linea Pelle "Newport" Stud Leather Belt ($79.90) makes us oh-so-happy and oh-so-excited to snatch up more than one. Cross-body bags are the best going out pieces and with a classic cut and color like this LP by Linea Pelle "Catalina" Leather Crossbody ($149.90), you can't go wrong. Thread by Thread Social We love the way this Thread by Thread Social Long-Sleeve Sweater ($59.90 now, $49.90 at event) fits and the charmeuse bow makes it effortlessly chic. Wear it with skinny jeans for a night out with the girls. The basic drop-waist and looser fit of this Thread by Thread Social Knit Dress with Dolman Sleeves ($59.90) makes it super comfy and easy to dress up with a pair of peep-toe pumps or down with a pair of boots. Every girl needs an LBD and this Thread by Thread Social Ponte Dress ($79.90) is a perfect choice. Kick it up a notch with some sparkly bracelets and pumps. Matt Bernson If there's one shoe that screams 'fall,' it's this Matt Bernson Special Project "Bomber" Leather Boot ($199.90 now, $189.90 at event). We'd love to rock these this season with a faux fur vest. The metallic cap toe and comfy leather of this Matt Bernson Special Project "Waverly" Leather Flat ($89.90 now, $59.90 at event) will make you want to buy it in several different colors. A good boot transitions well from fall to winter and Matt Bernson Special Project "Tundra" Suede Motorcycle Boot ($199.90 now, $179.90 at event) is one of those boots. We absolutely love the soft fabric and edgy details. Check out our guides to find the best fall fashions like jeggings, off-the-shoulder tops, celebrity handbags, and military jackets. Subscribe to SHEFinds for fashion updates and exclusive newsletters.
Mulberry For Target Is Here: Only 3 Bags Left
Mulberry for Target hit stores and online yesterday, and the much-anticipated line is pretty much sold out already. Sadly, our Target sources confirmed that there will not be a second delivery with the line - so what you see is what you get, stock-wise. Luckily, two of the best bags - the pink leopard shoulder bag, and a mini black cross-body style - are still available. Snatch one up before they're gone forever, too. This Mulberry for Target Large Cerise Leopard satchel ($49.99) is my favorite bag from the line. The pattern is fun and flirty, and it's just like Alexa Chung's hot pink leopard Mulberry original. Cross-body bags are a must this year, so why not get the trend for less than $15? This Mulberry for Target Mini Crossbody Velvet ($14.99) is perfect. Get some extra buckle detail and the signature Mulberry clasp with this awesome Mulberry for Target Pebble Large Tote in black ($49.99). Still craving more fall bags? Check our guides to handbags under $250, celebrity handbags and chain strap bags.
Top 5: Crossbody Bags That Won't Break The Bank
You don't have to wear a fanny pack to free up your hands. Crossbody bags serve the same function and make you look a lot cooler. Here are the top five crossbody bags, starting at $26: 1. The simple row of studs on this Under One Sky Studded Crossbody Bag ($26) is enough to make a statement, but not too much to overwhelm an outfit. 2. Fringe is a great detail, but too much of it can make you like you just left Woodstock. This TopShop Leather Tassel Cross Body Bag ($44) has subtle fringe that won't make you look like a a complete hippie. 3. Exterior zippers look good, but they are also useful. With this Rebecca Minkoff BF Leather Crossbody Pouch ($150) you won't lose the tiniest of your most prized possessions. 4. The coral color on this Fossil Sasha Crossbody bag ($108) will elevate a standard t-shirt and jeans outfit. 5. The Sak Crossbody Bag ($89) fold over bag is compact, but if your purse starts to overflow, you can wear the purse as a tote, too. If you need a handbag to carry your life in, check out our guide to the best chain strap bags, the best overnight bags, and the best stylish laptop bags.