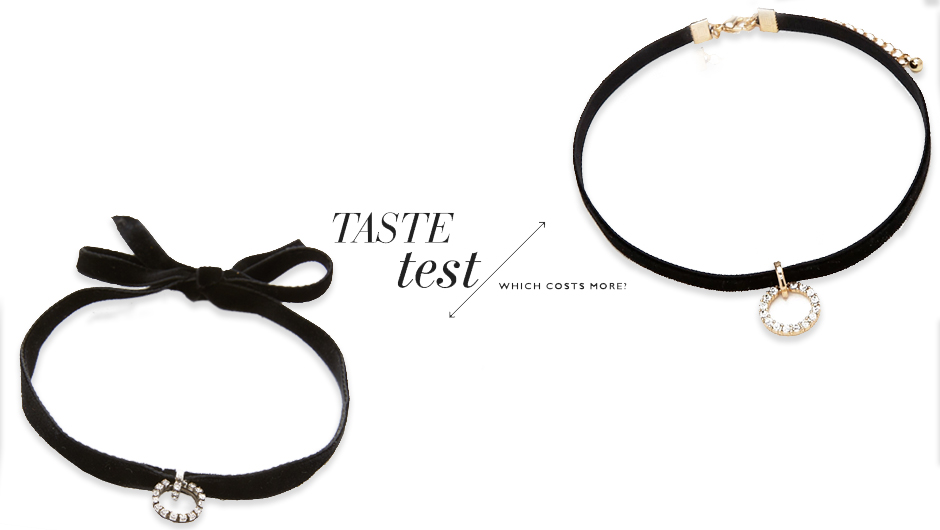 Can You Tell Which Velvet Choker Costs $94 More Than The Other?
Victoria's Secret Angel Josephine Skriver wore the DANNIJO Vix Choker ($98) to Coachella this year. When I saw it on Instagram, I was like, "I want that!" It's pretty tame for the jewelry brand, which is known for starting all the body part parties with Man Repeller back in the day. So I was pleasantly surprised to see their simple velvet ribbon with a touch of detail, the perfectly-sized rhinestone circle charm. Subtly different from every other girl's black choker. Score!! https://www.instagram.com/p/BGElocruWzu/ OK, so I still haven't bought the DANNIJO one yet--but I'm happy I waited! I was playing my favorite game of "What do I want from Forever 21's New Arrivals???" when I came across a $3.90 knockoff of the Vix Choker. Score again!! Can you tell which one costs more? Click below to find out, you might be surprised! Test your fashion savvy some more with crop flare jeans and emoji chokers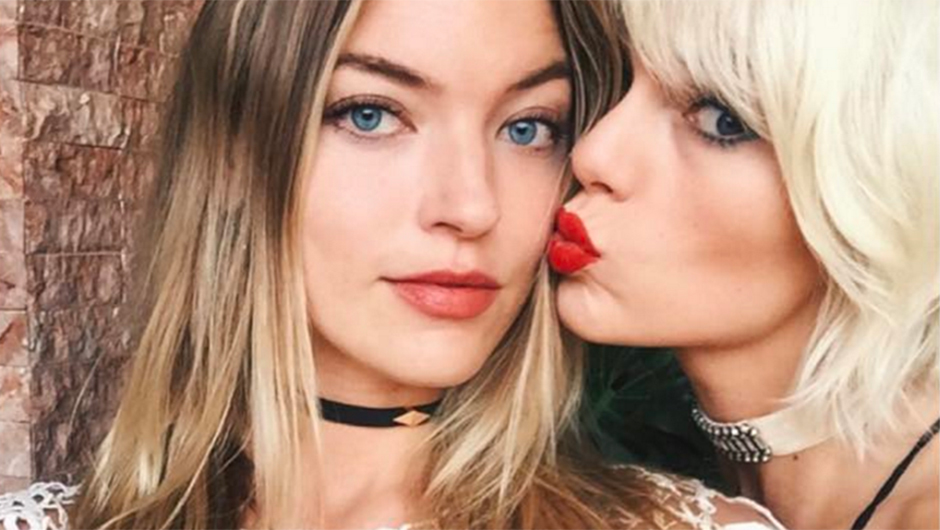 Not Just For Coachella: 22 Chokers To Wear All Day, Every Day
Need A New Going-Out Bag? Splurge On Beyonce's Neutral Crossbody
When Beyonce steps out in flashy florals, she knows the rule: keep your accessories simple. She toted a classy little bag, the Dannijo Lypton Bibbed Nude Bag ($998), while making an appearance in NYC last week. Her floral dress drew attention from the masses--per usual--but it was her simple, hands-free bag that we loved. And for under $1,000 we almost feel like its a deal. Almost. Balance out your summer prints and fall florals with the perfect little nude bag). Shop below. Dannijo Lypton Bibbed Nude Bag ($998) Don't miss Jessica Alba's cute maxi dress, Lea Michele's tank and Lena Dunham's printed bikini. [Photo: Splash News]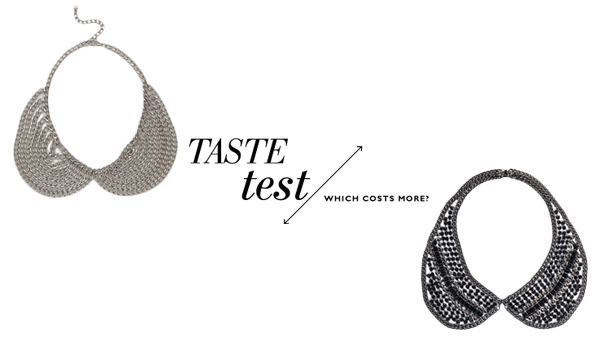 Can You Tell Which Collar Necklace Costs $676 More Than The Other?
DANNIJO does bold, statement-making jewelry like nobody else. Even now that fine, delicate pieces are having a moment, the brand is still sticking to what they do best. The latest iteration of their super popular collar necklace comes with Swarovski crystals. But besides that, it is almost identical to this Jules Smith necklace. Can you tell which collar necklace costs more than the other? Answer: The one on the left is Jules Smith's Tux Collar Necklace ($69), and the one on the right is DANNIJO's Silver Hilaria Crystal Collar Necklace ($745). Did you guess correctly? Which do you like more? Let us know in the comments below! Test your fashion savvy some more with: metallic moccasins, blanket ponchos and black booties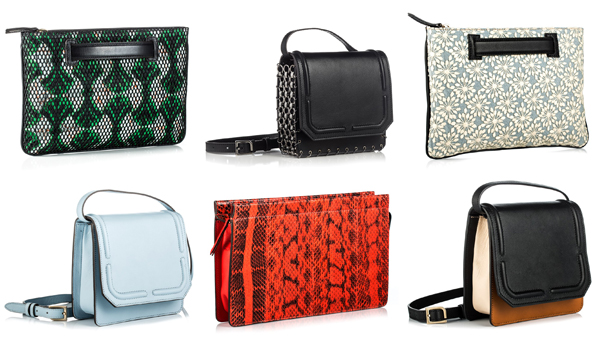 How's This For 'Arm Party': DANNIJO's First-Ever Collection Of Shoulder Bags
We've been obsessed with DANNIJO's look-at-me jewelry for years, so you can imagine how pumped we are about the brand's new collection of handbags, which has pretty much everything we could ever ask for in a bag range. From sleek cross-body bags flourished with their famous chain bibs (we NEED that black Lypton bag, like, yesterday), to printed carryall totes you can stuff your life in, it's easy to see why DANNIJO bags have already gained fans from the celeb set (Rashida Jones, Hilary Rhoda, and Sophia Bush--we're looking at you). The collection ranges from $495-$1,295, and to get folks hyped about the new addition to their expanding label, DANNIJO is launching a new feature on their site called "Bag Spills," where Danielle, Jodie, and illustrator Esra Rosie chat with it-girls like Brooklyn Decker, Leandra Medine, Rumi Neely, and more on the new bags and other products from the DANNIJO cannon. The collection is available on the website today, but check out the whole thing right here before you start shopping! Besides the Lypton, we've also got our eyes on their Viper clutches, decorated with crystal embellishments at the wrist handle to add to your already-busy arm party. Don't forget to check out the tea on Lupita Nyong'o's lip balm, The celebrity style stars whose closets we wish we could raid, and Santigold's forthcoming Smashbox line.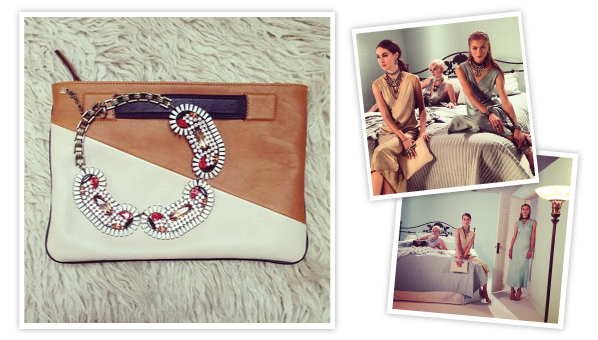 See Photos Of DANNIJO's First-Ever Handbag Collection Straight From #NYFW
This New York Fashion Week has been oddly low on celebrity turn out except for when it came to DANNIJO's spring/summer 2014 presentation, which welcomed the likes of Leandra Medine, Kate Hudson, Hilary Rhonda, Coco Rocha and Anabel Dexter Jones, just to name a few. In fact, it's quite possible that the DANNIJO show itself had more celebrities than the rest of fashion week combined (and no Kanye West's two appearances don't count more than anyone else's!). The bigger names and influencers, though, were there to see the much talked about new handbag line, which, as promised, debuted right alongside the spring/summer 2014 jewelry pieces in a "Film Noir" inspired presentation. The bag collection turned out to be full of handled clutches with jewel details that mimicked the necklaces, earrings and bracelets each model was wearing, kind of proving that a bag can easily be an accessory to jewelry if paired right. With beautiful models wearing big rocks and lounging in silk gowns on luxury sheeting, it's safe to say that the show as a whole had an air of bourgeois you'd only expect from most exclusive Parisian soirées, which made sense because the presentation felt more like a party for the Synder sisters' super cool friends than a New York Fashion Week show. Lucky for all of us, DANNIJO uses social media to clue everyone in to that haute and celebrity-filled lifestyle, which is probably why we love their jewelry and the new handbag collection (which debuts in stores and online in February) so, so much. Touché ladies, touché. [Photos: DANNIJO Instagram, Jennys Photo Booth Instagram and Erika Alexandria]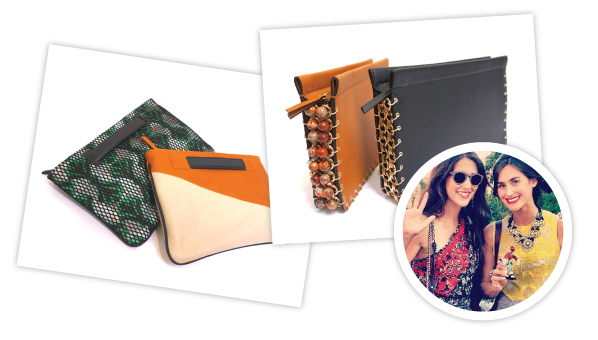 DANNIJO Is Launching Handbags!
From the jewelry sister-duo that almost single-handedly made statement necklaces a thing, Dannijo is about to showcase a brand new handbag line at their New York Fashion Week Spring 2014 show on Monday. The line will pull inspiration from the jewelry pieces and practices that made them so successful in the first place, including using Swarovski Elements, chains, denim, mesh, lace and leather to create a layered look. Jodie and Danielle Snyder gained a relatively cultish following for their brand's jewelry pieces mostly through social media initiatives, especially Instagram, and when these new bags hit stores in February, they plan on using their social following to launch a viral online campaign. Usually, you can't predict what goes viral, but if there is one thing that the Snyder sisters are good at, it is making the Internet fall in love with them. Oh yeah, and making accessories, too.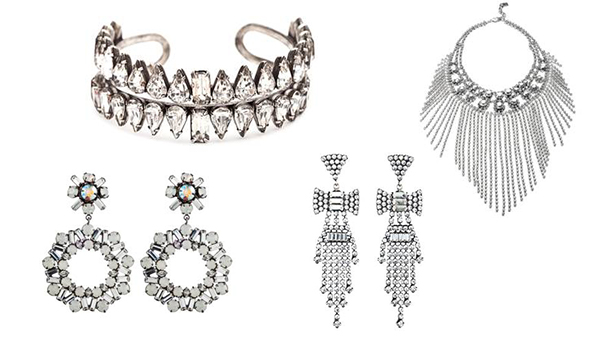 DANNIJO's Mid-Range Cocktail Jewelry Line For Bergdorf Goodman Just Hit
Just in time for holiday get-togethers, DANNIJO's exclusive collection of cocktail jewelry for Bergdorf Goodman just hit in stores and online as a part of the BG 5F capsule collection series, and it is the series' first jewelry collaboration. The collection will feature Swarovski crystal pieces with contemporary silhouettes, and the line ranges in price from $200-$1,000. The mid-range price point is a result of the desire by the two brands to fill a void in the market for reasonably priced jewelry to wear to weddings, black-tie events, and cocktail parties. And, fun fact! Bergdorf's was the very first store to buy DANNIJO when the founders started the line. Cool, huh? Take a look at the slideshow to see and shop all the pieces. Now that you have the perfect cocktail jewelry, read about sequins and chevron - a great party ensemble! And be sure to check out the best pieces from the Target x Neiman Marcus collaboration and our Going Going Gone gift guide.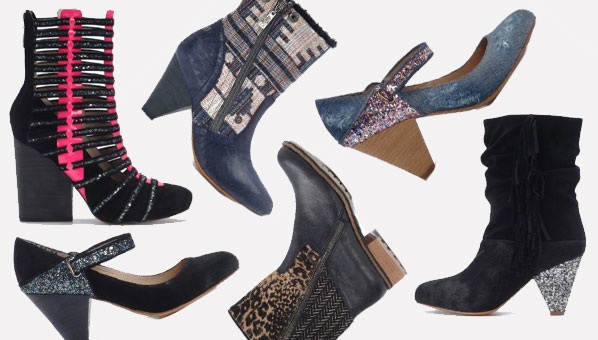 DANNIJO x Matt Bernson Is The Footwear Equivalent Of A Sparkly Statement Necklace
By now, you're probably familiar with DANNIJO's look-at-me bib necklaces and signature stacked arm parties, so news that the sisterly duo is heading south should be enough to get you psyched. Hot off their collab with Calypso St. Barth, the pair teamed up with Tribeca-based shoe designer Matt Bernson for a limited edition collection of footwear -- and now we have the evidence. Priced between $238 for a pair of worn-denim mary janes and $370 for herringbone and leopard-printed leather boots, the collection includes some serious must-haves for fall. The collab may seem like an odd pairing, but Matt told Lucky that combining his laid-back vibe with DANNIJO's sparkle-on-gunmetal-on-sparkle aesthetic was pretty painless, calling the final product, "witty, urbane and charming." We can get on board with that! In addition to scooping up the fruits of the collab on both designer's websites, you can get clicking at Shopbop starting September 2. Can't wait till then? Get a preview of the goods by clicking through! Make sure you know about the five shoe styles that should be in your closet come September, read up on the Kenzo x Vans collab or find out how you can pull off cobalt blue pumps in the fall.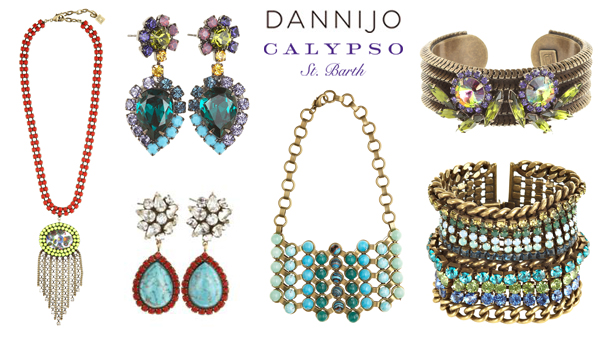 DANNIJO x Calypso St. Barth Is Happening: See The Colorful Crystal Jewelry Here
Mark your calendars, ladies. On August 10th, the DANNIJO x Calypso St. Barth collaboration Calypso Loves Dannijo will launch. The collection features pieces with mixed metals and colorful crystals, which creates a glammed-up bohemian look. Pieces include necklaces, bracelets, and earrings, with prices ranging from $325-$625. For more collaboration news, read up on DANNIJO's collaboration with Indego Africa, the DL1961 x Bagsnob collection, and Diane von Furstenberg's collaboration with Roxy.
If You Like It, Then You Should Put A Bib On It: Statement Necklaces For The Lazy Chick
All of us have had those rushed mornings--or frenzied nights-when the last thing we've wanted to do is plan an outfit. Normally, for me, these occasions end in me standing amidst a mess of my garments, wearing a top I haven't seen since sophomore year of college but can't bear to throw away, and texting my friends or emailing my coworkers in hysterics and announcing that I'll probaaaably be running a few minutes late. An easy solution that won't end in tears and a closet that resembles a crime scene? Step 1: White Tee Shirt. Step 2: Fave Jeans. Step 3: Put A Bib On It. None of us want to show up for a dinner date or meeting wearing boring jeans and a tee, and luckily, with this season's statement necklaces, none of us have to. These necklaces add a bold pop of color and bling to your outfit, and the best part about them is that they not only require very little outfit planning, but they also let us lazy chicks recycle our favorite jeans and tee shirts over and over again. We've rounded up some of our favorite statement necklaces in the slideshow above to make getting dressed in the morning that much easier. Feeling daring? Add a bracelet, brooch, or pair of earrings! You're welcome, sista friend.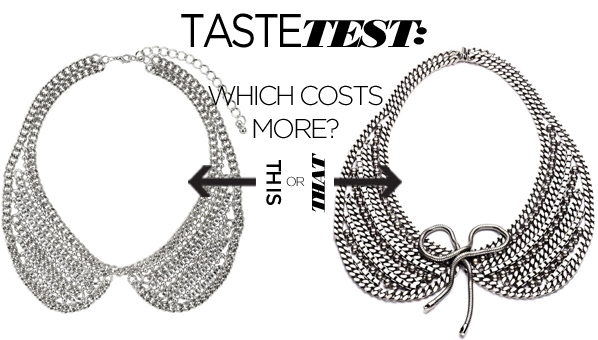 Can You Tell Which Collar Necklace Costs $463 More Than The Other?
We love a chunky collar necklace to toughen up our dainty summer wardrobe, and we've been crushing on the Dannijo Stella for months without being able to make the almost $500 splurge. Lucky for us, many hours of online shopping have finally yielded results and we've finally found an imitator almost as cute as the real thing. The Dannijo is oxidized silver, and we love the bow detailing, but we can't help but do the math and figure we can get nearly 21 of the Miss Selfridge versions for the price of one Dannijo. We're going to ask the audience on this one: Splurge or Save? Can you tell (captions non-withstanding) which of these necklaces costs $472 more than the other? Dannijo Collar Necklace, $495 Miss Selfridge Collar Necklace, $32 Love this taste test? Check out more here: Pave Earrings, Suede Booties, Opaque Tights.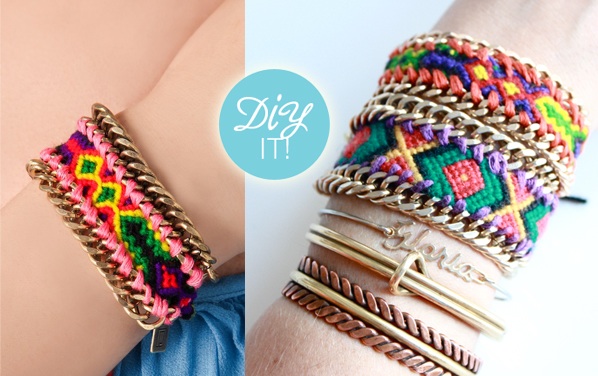 DIY: Can You Tell Which Bracelet Is Dannijo And Which One Is Ours?
While we associate these friendship trinkets with the days we've spent at summer camp, when we swapped them with our bunk bed BFFs, the childhood trend is making a grownup comeback. Just ask Dannijo whose's staple of the season is the above bracelet on the left. As Girl Scouts alums, as well as masters of procrastination, we've decided to recreate the $71 Dannijo Lindsay Bracelet for under $10 and in just a half hour. CHECK out the slideshow above for our step-by-step instructions on making this bracelet To see more of our DIY projects, check out 5 DIYs That You Can Do At Your Desk and Jessica Alba's Tie Sweater, and shop our favorite friendship bracelets.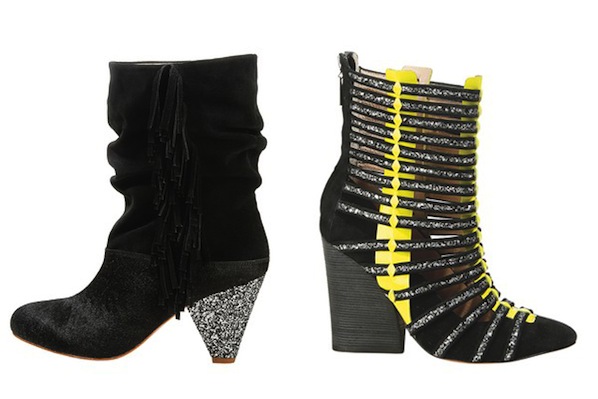 Jewelry For Your Feet: Dannijo Launches Footwear!
"Shoes are the same as jewelry — it's an emotional buy. You gravitate towards something different and unique. These shoes are more like jewelry for your feet," said Dannijo co-founder Jodie Snyder in an interview about the brand's debut into footwear. Created in collaboration with TriBeCa footwear designer Matt Bernson, the line will be comprised of just five styles (give us more!) and will retail for between $238 and $420. Based on what we've seen so far from the Dannijo sisters, we're confident they'll leave nothing to the imagination — their signature over-the-top style looks like it's migrated right down from their heads to their toes. Dannijo footwear isn't available until August (at MattBernson.com, Shopbop.com and Dannijo.com), so in the mean time shop some of the brand's jewelry in our slideshow above. Check out our guides to the best tribal jewelry, jewelry staples, and cocktail rings.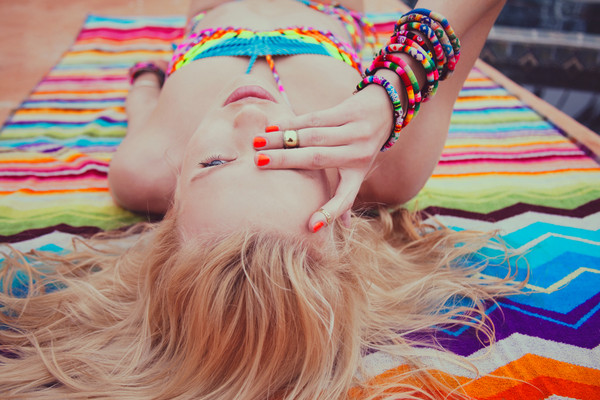 How About Some Blindingly Neon Jewelry To Beat Your Winter Blues? #Solutions
Every one needs a little shine and glow as the deep winter hours set in and designers knew just how to light up your wardrobes: Neon Jewelry Meet My Dark Winter Wardrobe. Add a splash of color and a whole lot of kick without waiting for summer to come around. The brighter the better ladies, from hot pink satchels to day glo accessories neon is making a serious statement this winter. (more…)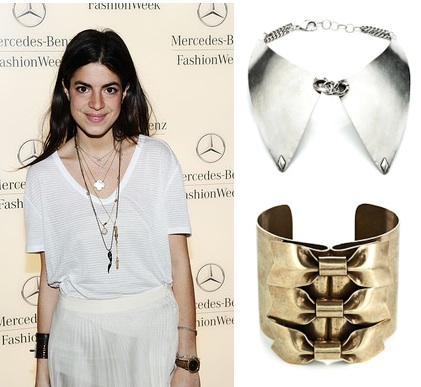 The Man Repeller Teams Up With Dannijo To Launch "Mr. Dannijo" Jewelry Line
Leandra Medine of The Man Repeller, and some of her pieces for Dannijo Leandra Medine a.k.a. the The Man Repeller has teamed up with one of her favorite jewelry lines, Dannijo, to launch a capsule collection of  masculine-inspired necklaces, cuffs, rings, and cell phone covers. The bow tie and mustache-laden line, aptly named "Mr. Dannijo," is available at Dannijo.com and prices start at just $34. We're into it. (more…)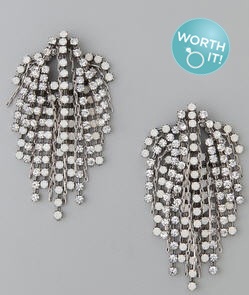 Dangly Dannijo Earrings That Are Anything But Boring – Aka, You Can Wear Them After
No wedding accessory says "Worth It!" more than the one you'll wear again and again after the big day. These unique mixed-chain and Swarovski crystal Cecile earrings by Dannijo ($297) certainly fit that bill; not only do they get away from the clichéd pearl studs and diamond drops that every bride on the planet has worn, these hand-made gems make a real statement and are still comparably affordable. Looking for more accessories like this? Check our guides on gold wedding jewelry, sapphire rings, and the best wedding jewelry sets.
Hide Your Inner Nerd With These Chic Designer Cases For Your iPad, iPhone, Blackberry & More
We love switching our accessories with the seasons, especially our handbags and even wallets. But now with the new iPhone and iPad and other geeky items, it's time to give those an update too. So why not invest in some new accessories for your electronic companions? You don't want them to feel left out. Besides, with all of the bright colors and eye-catching designs, your cell phone will beg for a new cover. (more…)
Only On BRIDEfinds: First Photos Of Shopbop's Wedding Boutique (!)
If you're engaged and already obsessed with Shopbop, the beloved site is about to become your wedding go-to in T minus 13 days. On March 15th, the Shopbop Wedding Boutique will open, and we have the first photos of the gowns and dresses from it - including stunners from Calvin Klein, Thread Social and Catherine Deane. (more…)
Britney Spears Must Have A Damn Good Video Stylist – Get Her Dannijo Necklace Now
Britney Spears may be a hot mess on her own time, but her "Hold It Against Me" video clearly had a good stylist on board, because Ms. Spears paired her wedding dress (?) with this awesome Dannijo statement necklace: This DANNIJO Ismene ($754) is an insane statement piece. If you've been saving up for something like this - I say go for it. DANNIJO necklaces are always incredibly intricate and eye-catching. If you're not an heiress, and want the look for less, this Adia Kibur White Stone Tiered Necklace ($48) is perfect. This Nadri 'Lotus' Crystal Y-Necklace ($250) is gorgeous, and slightly toned down. Shop more of our favorite jewelry pieces – from jewelry staples, to cocktail rings, and bracelets.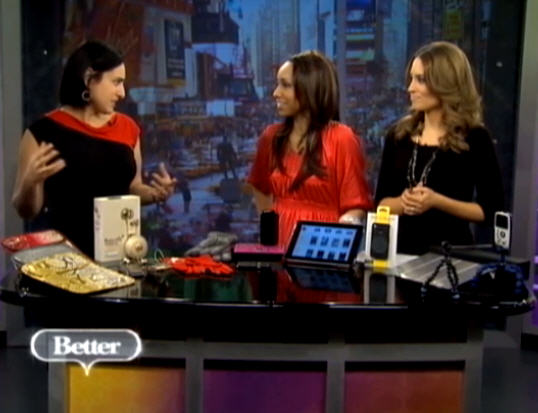 SHEfinds CEO Michelle Madhok Reveals Her Favorite Tech Accessories On Better TV
SHEfinds' CEO Michelle Madhok stopped by Better TV this week to reveal her favorite tech accessories -- and there are no geeky or manly ones in sight. This batch is just for the girls - from DANNIJO iPhone cases, to Vivienne Tam headphones, and ostrich Oscar de la Renta iPad clutches: See more of our favorite iPhone cases, iPad cases, more tech accessories and stylish laptop bags, plus all of this week's best sales and deals and best find of the day picks.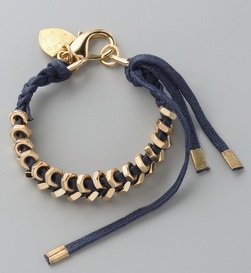 This Just In: Sale Jewelry To Squash Your February Blues
If you're in suffering from seasonal affective disorder, and its affecting your wardrobe, it's time to treat yourself to some punky gold jewelry - for up to 50% off at Shopbop. That ought to do the trick: More sales and deals: More excellent sales: Under-$100 Urban Outfitters dresses 30% off Kara Ross, Kenneth Jay Lane, More 50% off Foley + Corinna 50% off tons of great stuff at Apart Style 65% off at Piperlime 30% off designer dresses at Shopbop 30% off Hanky Panky underwear 70% off long sleeve dresses at The Outnet Check out more of this week's handpicked sales and deals, today's online sample sales and our guides to the best booties to go with these dresses.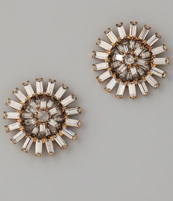 Hold The Hearts, Please: Valentine's Day Jewelry We'd Actually Wear
Girls, you might want to set his homepage to this post in order to get the gifts you want this Valentine's Day. We're not talking about tacky, "romantic" Tiffany heart earrings, we're talking about cool jewelry that are worth all of his dimes. So click through and figure out which piece you want to receive in a few weeks: See more of our favorite Valentine's Day gifts. Shop our guides to the best staple jewelry and the best necklaces. Join our e-mail list for exclusive SHEFinds updates.
No Wool Socks Here: Pretty, Under-$100 Stocking Stuffers That Everybody Wants
Sure, everyone loves the big gifts, but sometimes the tiny stocking-stuffers can be even more fun. If you're in charge of stuffing stockings this year, look no further than these adorable under-$100 presents - they are so cute (and wallet-friendly) that you'll want to keep some for yourself: Kate Spade's Large Bow Ring ($79) is shiny, adorable, and just the thing to wear to all those New Year's Eve parties. Essie's "Winter Collection" 6-Pack ($48) is the perfect stocking stuffer for the girl in your life who changes her nail polish every other day and always wants the latest shade. Search=over. This Great Job On Notepad ($3.99) from ModCloth is a much cuter alternative to Post-It notes and such a great price you can get them for everyone on your list. Dannijo's Isabel iPhone Cover ($98) will keep her iPhone safe AND stylish. When has she ever seen a case this cool? The Original Shashi Bracelet ($65) is a modern take on the friendship bracelet- but a lot more glam. Pile them on for a California-girl flair. For your hyper-organized pal, this Light of My Life Highlighter Set ($10.99) from ModCloth makes the ideal stocking-stuffer, and makes her color-coding obsession a lot more fun. These Berkshire Opaque Tights ($8.95) are a winter staple, making her summer dresses suddenly wearable in the colder months. ModCloth's Coast to Coaster Set in Flowers ($17.99) is just what your interior-design-loving pal wanted: functional and chic. Check out more of our favorite gifts, like gifts for your party animal friends, gifts for your homebody friends, and gifts for your reality TV show friends.
Shop Dannijo And Blogger Rumi Neely's Jewelry Collection Only At Tobi Now
Known for their jeweled cuff bracelets, and chunky twist necklaces, Dannijo has been on our radar for quite some time. Now the sisters have a collaboration line to add to their accomplishments; Fashiontoast.com blogger Rumi Neely, who is phenomenon in her own right, has team up with Danielle and Jodie Snyder for a 6-piece hammered metal collection, sold exclusively on Tobi.com. Shop the line now: Shop more of our favorite jewelry pieces - from jewelry staples, to cocktail rings, and bracelets.
Deal Of The Day: 70% Off Burberry, Dannijo & Kenneth Jay Lane Jewelry At The Outnet
Cheap jewelry falls apart after awhile, but once-expensive jewelry is a better bet. Only thing is, it can be hard to find it on sale. So strike while the sale is hot: at the 70% off designer jewelry sale at the Outnet, find cool rings, cuffs, necklaces, earrings and more by designers like Dannijo, Kenneth Jay Lane, and even Burberry and Roberto Cavalli. Here are some super great deals under $60 that make the cut for our deal of the day: Dannijo electic bangle ($44, down from $110) adds some of the neon trend to your look without being too out there. If you wanted to experiment but didn't want to spend, this is your chance. I've never seen anything Burberry this cheap. Get this Burberry brass paisley ring ($58.60, down from $195), available in every size now. If you're looking for something fun but classic, Kenneth Jay Lane's cabochon ball chain necklace ($22.50, down from $50) fits the bill. Check our more of our favorite necklaces, and get the rest of your spring trends in check with our guide to trench coats, skinny jeans, summer dresses, maxi dresses and even cheap swimwear.
Deal Of The Day: Take 70% Off Eclectic Jewelry From Shopbop
We understand the temptation to sometimes stick to the basics when it comes to clothes, shoes and handbags, but we are big believers in adding a little oomph to your outfits with jewelry.  Shopbop offers pieces from some of our favorite young, funky jewelry designers and now their cool bracelets and necklaces are on sale - at up to 70% off. Featuring a long gold chain and a mix of neutral, polished jade stones, this Haute Hippie necklace ($73.50 from $245) is a bohemian-chic steal. Get your stylish studded cuff for less with this lightweight zipper snap bracelet ($45 from $150) from Bop Bijoux. Sister act design team DANNIJO is known for their off the beaten track styles, like this handcrafted necklace ($111 from $370) made of vintage beads and faux pearls. Like these? Be sure to check out our guides to the best in figure flattering jewelry and bracelets for more stunning picks. More Sales and Deals: Nine West: Take 30% off your entire purchase through December 7th Perfumania: 15% off with the code AFD15 Brooks Brothers: Up to 25% off apparel
Latest From MomFinds
$25 Room Decor for the Noncommital Wall decals are the perfect room accents for you--and your kids. Plus, Gilt Groupe has the best of the best--Wall Candy Arts--available right now for 50%. Deal of the Day: Kids' Shorts So Cheap, They're Practically Free Shorts for under $4?  You bet they're going quick.  Before they run out, head over to The Children's Place and grab a few pairs for just $3.99 each. Win it Wednesday: Two Lucky Readers Will Win the New BPA-Free Weil Baby Bottle and Sippy Cup Set Dr. Weil's Bedtime Face and Body Treatment from Origins is a new mom must-have.  And now he's venturing into the world of baby with his new BPA-free Weil Baby products.
Deal Of The Day: Up To 70% Off Eye-Catching Jewelry From Shopbop
As we reported last week, Shopbop just redesigned their site, so the go-to for a myriad of designer clothing and accessories is now even more accessible.  It's easy to celebrate with a few new pretty accessories that also happen to be deeply discounted. This of-the-moment long necklace from Gara Danielle ($62 from $207) will pop against a neutral-colored top. A fringe bracelet like this Shopbop exclusive gets attention and looks really good dressed up or down ($118 from $168). This Dannijo chain necklace is a fashionable statement piece that's still totally adult ($174 from $348). More Sales & Deals: Martin + Osa: Save an additional 30% off sale items 7 For All Mankind:  Sign up at the site and save 20% off your first purchase Queen Bee Girls:  Save 30% off swim
Tina Fey + Mad Men = Sarah Palin
I'm going to do the appropriate thing here: leave politics and pregnancy behind, and talk about Sarah Palin's style. There have been negative things said about Palin's hair. Maybe she should cut it, maybe she shouldn't be wearing that butterfly clip. But really, couldn't it be so much worse? The color reminds me of Tina Fey's, and when Palin's bangs are thick and sideswept, she looks even more Fey-esque (always a positive adjective). The teased thing she does in the front sometimes reminds me of the ladies from Mad Men, and harstylist Mika Fowler of the chic Gavert Altier salon, is predicting a return of the beehive this season. The Times Online rightly points out that Palin's separately-colored separates are a big step in the right direction from Hillary's two-piece tangerine suit, and while this jacket isn't a complete style coup, it definitely beats a shapeless silhouette. Extra points for coordinating the belt and the camisole. I also really appreciate a visible light-colored collar outside a black suit jacket. And a black suit jacket in general (second reference to Hillary's orange disaster). Sure, she may not have style icon status and she's not inspiring Jackie O comparisons like Michelle, but there's some good [style] stuff there, in my opinion.It looks like a lot of people are of the same opinion, at least as far as the glasses go: there's been a run on the Kawasaki 704, her rimless librarian-chic specs. For a similar suit-separates style, try a smart jacket with a bit of detailing, like this one from Magaschoni Collection ($532) and classic black trousers ($158). To get Palin's blazer-and-silk-collar look, a classic black blazer ($198) works best. A silk blouse ($69) with a collar that's not too out-there lies nicely over the lapels, and won't create too much bulk under the jacket. See, you can be a controversy-creating Alaskan Republican too. Sarah Palin's shoes are also making headlines - actual headlines, like in the WSJ - even though a rep for the company told the WSJ they're geared towards 20somethings who go clubbing. If you want your own pair of Palin's Naughty Monkey peep-toe pumps, go to Endless and snatch one up before they sell out like her glasses. Is Palin breaking stylish ground, or should she have updated her look long ago?
Designs For Count Me In: Faite Designs
What: Believe In You Heavenly Clutch Why: She is a favorite and full of spice... a clutch with enough room for all the essentials! The "Believe in You" Heavenly is great for daytime and is versatile enough for a night out. Adorable with a touch of sophistication and fun, this handbag by Faite Designs adds just the right amount of style to any ensemble! Made from quality upholstery material, this bag makes quite a statement.About the Designers: Faite Designs was founded by Krista Golichowski and Sally Steadman in August of 2006. We are two friends turning a dream into reality. As lovers of fashion, design, and handbags, creating Faite Designs has been a very exciting adventure. Things have been happening quickly and though we are just in the beginning stages there is much more to come! Proceeds to be Donated: 15%Get Yours: $44.95 @ faitedesigns.comCount Me In promotes the growth of women owned businesses and is the leading national not for profit provider of online business loans, resources, and community for women entrepreneurs. Beginning in September and continuing through Jan 1st, SheFinds will feature original accessories by independent designers. A portion of each sale will go to Count Me In. With each purchase, you are contributing to the development of women in business.
Designs For Count Me In: Bath-a-holic
What: Lovely Lotion in Lavender & Vanilla Why: This body lotion has great moisturizing properties. It doesn't take much to be effective. It contains emolliants like Shea Butter, Grapeseed, Jojoba & Avocado Oils along with a mulitvitamin for the skin with Vitamins A, C, D & E. Silk Proteins are also included to provide an extra kick to the skin. It is Paraben and SLS free. The Lavender & Vanilla is a calming and yummy aroma that soothes the soul. About the Designer: Bath-a-holic is committed to providing high quality products for those who wish to have as few additives as possible and who love to pamper themselves and those around them. Our products cater to those with sensitive skin and a commitment to ecologically friendly products. Proceeds to be Donated: 15%Get Yours: $16 @ bath-a-holic.com Count Me In promotes the growth of women owned businesses and is the leading national not for profit provider of online business loans, resources, and community for women entrepreneurs. Beginning in September and continuing through Jan 1st, SheFinds will feature original accessories by independent designers. A portion of each sale will go to Count Me In. With each purchase, you are contributing to the development of women in business.
She Finds Was There: 1407 Broadway Party With Lydia Hearst…
...and it was swanky, swanky, swanky. Fashion week is only as good as its after parties, and last night's shindig, which celebrated the 58th anniversary of iconic Fashion District building 1407 Broadway (yes, in Manhattan, buildings have birthdays, too) was quite the scene. America's Next Top Model winners Jaslene Gonzales and Caridee English were guests, though honestly I couldn't distinguish them from among the crowd of other incredibly good-looking, well-heeled folks. Someone I did spot: Tommy Hilfiger, who arrived late in the game, flanked by large men in dark suits. Anyway, as you can imagine, I was snapping shots left and right. Here, some of my favorite outifts from the night.How great is this burnt orange, vintage Pierre Cardin coat? Obviously you can't find it around these days, so try wearing this bright (slightly less-bright, but bright nonetheless) Cole Haan ($389.99) over a dark or neutral-toned fitted dress. The way this woman so naturally strolled over to the photo wall and struck a pose, I'm going to have to assume she's a model for the designer Zahra Saeed (also present last night), whose clothes she was sporting from head to toe. Saeed's collection comes out in February, but until then you can get a similar look with a light-colored super high-waisted pencil skirt like this one from Roberto Cavalli ($1,275).I noticed these chunky gladiator sandals from far away and even abandoned my gin and tonic to catch their owner as she walked away. Believe it or not, they're from Forever 21--and they're not available online anymore. Linea Paolo makes a similar version - on sale for $65 at Nordstrom.
Fashion Week Diaries: Demoted At Tracy Reese
I knew yesterday's Tracy Reese show would be madness, but Ms. Reese and her people have always been good to SheFinds, providing us with seats and goodie bags at the past few shows. Unfortunately, this time, I was abruptly directed to the standing room line. Tracy, what happened? But that's ok, because while in line for 40 minutes, I was able to check out what my fellow standing fashionistas were wearing. And the one big trend at Tracy Reese -- belts. From sweaters to dresses to jackets, ladies were belting anything they could get their hands on. Once inside I could peer out from my third tier standing position at the front row and catch glimpses of Fern Mallis, who looked underwhelmed, Miss J Alexander, who left his afro at home, and Brandy who -- as NYMag pointed out-- was quite giddy (maybe tipsy?) throughout the show. My favorite front row outfit was worn by this one unidentifited woman, who left before I could snap a photo: an oversized white bow tie blouse and crisp black blazer. It was more brilliant than the clothes walking down the runway.
Fashion Week Diaries: Abaete Offers Corsets, Bike Shorts, And Nigel Barker
As a writer who has been to Fashion Week twice for SheFinds, I must report that we are moving up in the world (except maybe at Tracy Reese). From a polite double-checking of my invitation to a very civil and smooth entry to the show, this is the way these things are supposed to go! Even though most of us were on our feet for over an hour, everyone was civil and I would dare say in a good mood.The presentation was textbook: glossy white runway, stomping glamazon models, pumping soundtrack, and Nigel Barker in the front row (either he's cloned or he really does go to almost every show). Abaete's was an ambitious collection, showing a mixture of hand-stitching corseting as a graphic underwear-as-outerwear presentation and an early 90's homage to bike shorts - yes, you read that correctly. There were some very pretty dresses in the mix, however, and the two most wearable pieces in my opinion are shown above.A lot of the editors at the show were mixing very pretty white dresses with very aggressive black booties, like this Boulee Keira Ruffle Sleeved Dress in White ($415) and these Steve Madden Grinnd Black Studded Ankle Booties ($199). It's back to the tents with me tonight as I might get a chance to cover backstage. Wish me (and my aching feet) luck and stay tuned for more Fashion Week coverage.
Fashion Week Diaries: Gottex Shows Caped Swimwear, Audience Gets Rowdy
Before the lights went down for the Gottex swimsuit show last night, the tent was a mess. It was chaotic, crowded, and, eventually, downright vicious. Somehow, the seating just didn't seem to work out as people expected. Front row folks found themselves forced into second or third, late-arriving celebrity types found a full front row, and lowly fashion blog writers found themselves...standing in the back.And it was a long show too, ranging from bikinis to one-pieces to bikinis with ruffles to bodysuits with capes. A lot of time for this girl to be perched atop the new four-inch heels she bought to blend in with the crowd.The suits were haute couture, often metallic, always architectural in form. The preponderance of black and white again proved what I noticed in the audience at the Terexov show the other day, which is that two-tone is still a strong trend. But my favorite outfits from the crowd last night weren't structural black-and-white dress versions of the swimsuits onstage, but rather bold, colorful, sometimes even frilly dresses. I counted at least five people sporting these solid, textured, eye-catching dresses, all in bright colors - yellow, green, orange, and bronze. Susan Monaco makes a nice collection of similar dresses ($165): For the more ambitious - and affluent - among you, so does Valentino ($3,490): And the braided neckline on this Tory Burch dress ($495) is a nice take on the ruffled collar. And I just love this color! Even the night's most lovable front row attendee, Dr. Ruth, was feeling the colorful vibe in this vibrant turquoise shirt:
News Updates: Zoe Is Back, TopShop Comes To US (Virtually, First), And More…
Rachel Zoe is back in the spotlight in her reality show which premieres tonight on Bravo. Zoe is famous for creating mini style clones of herself out of Nicole Richie, Mischa Barton, and Lindsay Lohan. Looks like LiLo has moved on since then and is now scoping designers on her own. [NYDailyNews]Topshop's online premiere of its Fall/Winter 08 collection today coincides with the launch of its US dollar website. American frugalistas are also highly anticipating the opening of the first American store next month. [PRNewswire]Sheryl Crow has teamed up with Whole Foods to create a reusable shopping bag out of plastic bottles. The bag debuts in stores October 15th. In the meantime, how about toting your groceries in a Skeeda bag? [ShoppingBlog] Victoria Beckham shows her new dress line this week in private sittings with top editors and fashion insiders instead of through a show. Let's hope the frocks are more successful than her denim line. [WWD]
Deal Of The Day: Up To 30% Off Patent Peep-Toes At Piperlime
You can wear these tough-looking shoes in dark neutrals all the way into winter – tights are definitely fair game when it's too cold for bare toes.A more covered-up sandal like the not-quite-aptly named Fairy ($70, were $98) from BCBGirls will look just right with transitional summer-to-fall clothes. Even though the heel on these mary-janes ($80, were $110) is quite high, the buckles and simple shape make it appropriate for work.Sort of like the now-ubiquitous peep-toe bootie but not quite, these Kenneth Cole Reaction slingbacks ($60, were $89) will offer more support than most sandals. More sales and deals to check out:KORS by Michael Kors footwear is now under $90 at 6pm. Score new shades at 30% off at the Armani Exchange sunglasses sale. Save $20 on orders of $75 or more when you pay with PayPal at SmartBargains.
Fashion Week Diaries: A Caravan Of Tide Promotion
Mercedes-Benz pretty much stays out of everyone's accidentally-on-purpose-mussed-up hair in the tents – you won't see models at DVF walking with steering wheels (but can't you kind of see Saturn putting that in the next PR finalists' contracts?). Not always the case with corporate sponsors outside the Bryant Park bubble. Personally, I thought the shamelessness of all the Tide promotion at the Style360 Fashion Show Caravan (sponsored by Tide Total Care) was delightfully amusing:Exhibit A: Attractive woman handing out single-use packages of Tide at the door.Exhibit B: Some charmingly un-fashion-y Italian Tide VP making a little speech before the show.Exhibit C: When the music pumped up, the first lyrics we heard were "Get your clothes nice and clean, put your clothes in my washing machine…We're gonna wash, rinse, spin!" No seriously, I frantically wrote them down so they'd be exactly right.Exhibit D: The clothes! Each designer had at least one "Tide Total Care inspired outfit." Suffice it to say that the right color palette for a bottle of detergent isn't always the right color palette for ready-to-wear. On the left is a blue jersey sun suit (not a bathing suit, a sun suit) under a tangerine cellophane anorak. At right, a Ronen Chen ball gown that's about three steps removed from an actual Costco-sized Tide bottle.More subtly lovely were spectators' retro-inspired pumps. Conical heels and slightly rounded toes make these more bearable than pointy-toed stilettos, and, apparently, you can get them for cheap. One fresh-faced attendee was wearing a black version from Charlotte Russe ($23). It's currently available in five colors that are not black. My tan stacked-heel pair is from H&M, but since H&M still refuses to build e-commerce capability, check out Seychelles' similarly retro-inspired pumps ($90) at Nordstrom.
Designs For Count Me In: Karen's Kitsch
What: Believe In You Bracelet Why: This bracelet is made from sterling silver, with 7mm, smoky, peacock pearls and faceted peridot beads with a sterling silver "believe" charm.About the Designer: I am a hard working, jewelry designing Momtrepreneur and when I saw Count Me In's motto "believe in you" and their colors, I just saw this bracelet in my mind's eye. I love that flash of inspiration that comes when something is just right.Proceeds to be Donated: 20% Get Yours: $80 @ karenskitsch.comCount Me In promotes the growth of women owned businesses and is the leading national not for profit provider of online business loans, resources, and community for women entrepreneurs. Beginning in September and continuing through Jan 1st, SheFinds will feature original accessories by independent designers. A portion of each sale will go to Count Me In. With each purchase, you are contributing to the development of women in business.
Designs For Count Me In: Azante Jewelry
What: Sterling Believe Necklace Why: This simple, yet meaningful necklace is created with facetted jade gemstone, a gray freshwater pearl and sterling silver "Believe" charm. This elegant Charm Ring is suspended from your choice of a 16", 18" or 24" sterling silver snake chain. About the Designer: Cheri Larson, the jewelry artist that founded Azante Jewelry, created the Believe necklace as a reminder to all women to believe in yourself and follow your dreams. "As a 2007 finalist in the Make Mine a Million $ Business contest, I witnessed the strength of this organization in empowering women entrepreneurs. I'm honored to have the opportunity to help create awareness for Count Me In." - Cheri Larson Proceeds to be Donated: 25% Get Yours: $39 @ AzanteJewelry.comCount Me In promotes the growth of women owned businesses and is the leading national not for profit provider of online business loans, resources, and community for women entrepreneurs. Beginning in September and continuing through Jan 1st, SheFinds will feature original accessories by independent designers. A portion of each sale will go to Count Me In. With each purchase, you are contributing to the development of women in business.
Designs For Count Me In: Cortese Designs
What: Angel Trumpets and Earthtones Orchid Reflections Laptop Bags Why: These Cortese Business/Laptop Bags have been custom designed to feature the official Count Me In colors and logo. Both the "Angel Trumpets" & "Orchid Reflections" artworks were created from Debra's original photos. She selected these particular images, which not only naturally exhibit the selected Count Me In fashionable earthtones of spring greens, warm browns, and yellows, but also energetically now share the vitality and vision of economic independence for women... the theme of the Count Me In program. About the Designer: Debra Cortese has created two custom images in her trademark "Nature's Energy" style on Laptop Bags for Count Me In. Cortese Count Me In, easy care microfiber Laptop Bags are ideal for carrying your laptop, papers and personal items. Carry one of these unique Count Me In Laptop Bags and Share the Positive Energy of Success!Proceeds to be Donated: 10% Get Yours: $129.95 @ debracortese.com Count Me In promotes the growth of women owned businesses and is the leading national not for profit provider of online business loans, resources, and community for women entrepreneurs. Beginning in September and continuing through Jan 1st, SheFinds will feature original accessories by independent designers. A portion of each sale will go to Count Me In. With each purchase, you are contributing to the development of women in business.
News Updates: Fur's Not So Popular This Week, Pooch's Wedding Dress Gets Pricey, And More…
Fur was under attack this weekend at NY Fashion Week when PETA managed to get three protesters onstage at the DKNY show before they were escorted off the premises. At least Donna Karan's new line has not a fur in sight. [NYMag]Designer outfits for dogs were showcased at Pet Fashion Week, which started on August 22nd and included such elaborate ensembles as a $10,000 doggie wedding gown. We'll let you know what to wear to the nuptials if you're invited. [WSJ]Calvin Klein hosted a $3 million party last night on abandoned train tracks. We're thinking guests went to Calvin's new ecommerce site for their party outfits. [NYDailyNews]At an event yesterday, Eva Longoria Parker and Niles Barker revealed their favorite flavors of M&M's candy. We were there to hear the incredibly important announcement, so check back with the blog later for our review. [Racked]