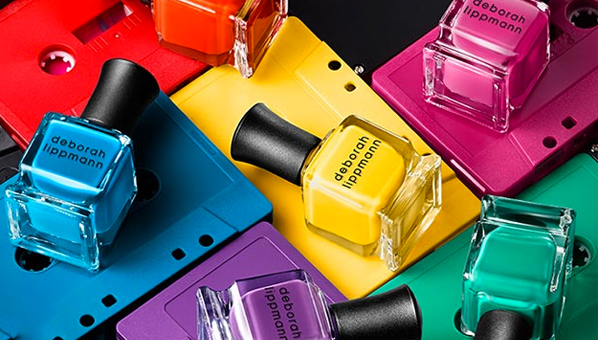 Deborah Lippmann's New Summer Collection Is Throwin' It Back To The 80's
Deborah Lippmann's summer 2014 nail polish collection is the coolest thing we've seen since, well...the 80's. The brand's 80's rewind range will make you want to break out your leather jacket and sing rock 'n' roll throwback jams all season long. With seven different colors to choose from, named after some of the most popular songs of the decade, like Don't Stop Believin' (orange), Maniac (purple), Whip It (pink), and Walking On Sunshine (yellow), this collection is exactly what you need to kick off the summer. Check out all of the colors in our slideshow. Do you think you can rock it? SHOP DEBORAH LIPPMANN'S SUMMER COLLECTION NOW Don't forget to check out these other nail polishes: Nails Inc. kale nail polish, Sephora's one-time use polish, and OPI x Mustang. [Photo: Deborah Lippmann]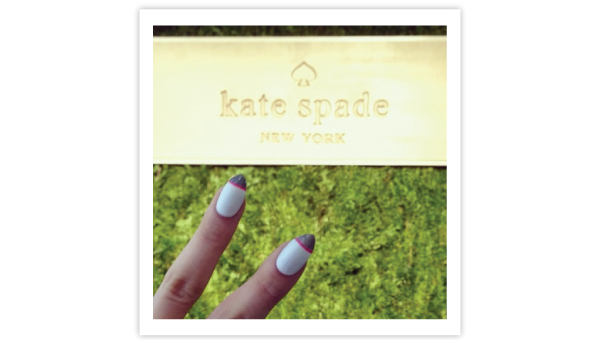 You Can Get Kate Spade's Spring 2014 Manicure Fresh Off The Runway
When it comes to New York Fashion Week, all the clothes may be next season, but the beauty trends are definitely all about right now. A few hours ago, Kate Spade showcased the brand's spring/summer 2014 looks right along with what is probably going to be this fall's newest nail art trend. And, thanks to Deborah Lipmann's tumblr, you won't have to scour the Internet or YouTube to figure out how to paint the look yourself. Instead, find some free time, grab three of your favorite nail polish shades (or ones close to theirs if you want an identical nail set) and follow the steps below. 1) Start with our Gel Lab Base Coat on long nails with slightly pointed tips and apply two coats of Pseudo Silk Kimono, a milky alabaster white with a matteen finish, launching in November. 2) Inspired by a cap-toe shoe, the tip of each nail is painted with Bad Moon Rising, a pewter shimmer from the Big Bang holiday set launching in October. 3) A thin strip of color will be painted below the pewter shimmer tip, serving an accent and transition to the matteen white base to complete the look. 4) The accent strip will be the same for all ten nails in one of the following shades, which depends on the model — It's Raining Men, a timeless Parisian red, Groove Is In The Heart, a flamingo pink, or Walking On Sunshine, a lively luminous lemon that is launching in Summer 2014. For more NYFW check out: our live blog of the Rebecca Minkoff live stream, Rebecca Minkoff reveals spring 2014 looks over Snapchat and the full live stream schedule for day 2 of NYFW
Nail Christmas This Year With Deborah Lippmann's Insanely Sparkly Polish
Sparkle, glitter, glow - all these fabulous adjectives around the holiday season have been wrapped up elegantly in this limited edition Deborah Lippmann 'Do Ya Think I'm Sexy' Nail Laquer ($18). Aptly named, this nail polish will make a serious statement at holiday parties, business dinners, and boozy brunches. Gift the heat and amp up the hotness factor of any outfit. (more…)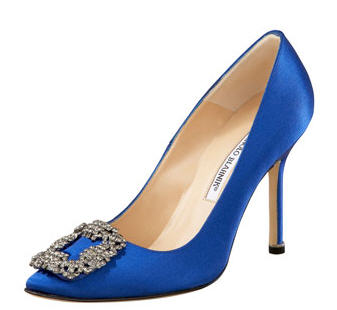 7 Cheese-Free Ways To Satisfy Your "Something Blue"
From dorky blue keepsakes to gaudy garters, "Something Blue" can sometimes be "Something God Awful." Luckily, we've found some stylish blue items, like these Manolo Blahnik blue satin pumps ($945) that will bring you the wedding day luck without the cheese: (more…)
The Problem: Chipped Nails, Sore Feet, More. The Solution: Your Wedding Survival Kit.
No matter how much you plan ahead, minor wedding day mishaps happen. Put these items together for a trusted member of your bridal party to carry and, rest assured, you'll know where to turn for most wedding day blunders. The problem: makeup goes south. The solution: If you plan to get the sniffles during your ceremony, you'll need Clinique's Gentle Waterproof Mascara ($14). This six-piece mini lip gloss set by Sephora ($10) gives you plenty of color options if you need a touch-up after the big kiss. The problem: wardrobe malfunctions. The solution: The Hollywood CoverUps Nipple Concealers ($14.99), will give you peace of mind, especially if you're only planning to use your gown's built-in bra. The problem: chipped nails. The solution: Chips, smearing, or other nail polish disasters are no match for the Deborah Lippmann Bridal Nail Color Set ($26). Bring it with you to the salon and then straight to the survival kit! The problem: hello, T-zone. The solution: Keep your face photo-ready with Clean & Clear Oil Absorbing Sheets ($4.79/50 sheets). These lightweight sheets absorb oil without smudging makeup. The problem: sore feet. The solution: Hitting the dance floor hard? Make sure one of your 'maids has a comfortable pair of white flip-flops, like these Slim Haviana's ($24), on hand. Bonus: If you're wearing a floor-length gown, no one will ever know the difference! Give your arches much-needed support for a full day in heels with Dr. Scholl's For Her High Heel Insoles ($11.99) — they'll help you forget you're still wearing them. The problem: grass + stilettos. The solution: If you're having an outdoor wedding, the SoleMates High Heeler ($9.95) is an essential shoe-saver. Keep yourself from sinking into grass or mud with this discreetly attachable heel protector. For more on wedding day must-haves visit our shopping guides with ideas for wedding jewelry, wedding shoes, customized wedding favors and more.
What To Get Your Friend Who Wears Too Much Makeup (But Still Wants More)
Have a friend who lives for (and in) Sephora? Well, any beauty maven is sure to love these ultra- giftable beauty sets that not only provide endless color options, but also make chic additions to any vanity or makeup bag. You may just want to pick one up for yourself. With 32 eyeshadows, 8 glosses, 5 liners, a bronzer, and highlighting powder, Tarte's Jewelry Box ($52) is the mother of all beauty gift sets.  To boot, the gilded case comes with a chain necklace that we'd actually want to wear. Sparkly nails are everywhere this year, and no one does them better than Deborah Lippman. Gifting this "All That Jazz" Color Trio ($40, a $54 value) means your friend will have the perfect accessory for every holiday party. The MAC Tartan collection is my new favorite; you will love the cool plaid case of this MAC 'A Tartan Tale - Dazzle the Lads' Lip Bag ($36). Napoleon Perdis Limited Edition Gilty Pleasures  Deco Deluxe Lip Gloss Pack ($20) is perfect for your friend who changes her lip gloss every hour. Aside from the flattering shades,  the tube's luxe gold design makes these glosses look a lot more expensive than they are. Have a friend who is always running from the office to post-work drinks? Clinique's 'Pretty Day Into Night' Set ($36, a $75 value), which includes Clinique faves like High Impact Mascara and Cream Shaper for Eyes liner, comes in a clutch she can easily toss into her bag. Not only does this tokidoki Robbery Palette ($49, a $140 value) feature highly pigmented colors in a number of options (we're big fans of the green-and-black smokey eye quad),  we  also can't get over how cool the box is. Check our more of our favorite holiday gifts. Then, shop our guides to the best eyeliners, mascara, and eyeshadow.
Tom Ford's Holiday Gift To You: A Pretty Plum Nail Polish
We told you about his hit lipstick (Sandra Bullock is a loyal fan), and now, beauty fanatics, we give you another reason to rejoice: Tom Ford is launching a limited edition holiday trio, which includes his first ever nail polish. Ford's first foray into lacquer is as good as you think: a sultry shade of deep plum that is perfect for the holidays: Nail artist Sophy Robson posted a sneak peak of the color. We imagine wearing the deep, plummy red with faux fur vests and soft cashmere all winter. First lipstick, now nail polish...is a complete line of Tom Ford beauty products in the works? Tom Ford Black Orchid Collection, $140, will be available at Saks Fifth Avenue stores later this month through December. The set will also include a creamy lipstick in the same shade and a shimmery solid perfume in his Black Orchid scent. Can't wait until Christmas? Celebrate luxury now and spritz on some of Ford's rich and timeless Black Orchid Eau de Parfum ($95-138). If you love the deep plum shown above, but can't wait to lacquer up, try Deborah Lippman's Just Walk Away, Renee polish ($16). Keep skin hydrated with the scent of Black Orchid using Ford's Hydrating Emulsion ($45). For more of the best beauty, see our guides to the best mascara, skin care, and the best fragrances. Join our mailing list for exclusive fashion updates.
Solution: What's In Your Gym Bag?
Most days I set my alarm early to workout in the morning; nine times out of ten I go right back to sleep. So I've sort of accepted that I'm an evening gym person--which is fine, except that it does mean leaving the house fully prepared for work and excercise, and, as often as not, a late dinner out. It's that third event that's the real kicker. I have to transition from Sweaty Me to Pretty Me in a matter of minutes, step out the door of my hot, humid gym and into cool, chic New York City and look the part. I've got it down to a science at this point, so here's what's in my gym bag:In the shower... Schleping from home to work to the gym to dinner is nothing if not traveling, so I keep my gym-related bath and body products in this clear plastic travel kit ($10.49). It comes with four reusable bottles, which I fill (and refill) with shampoo-and-conditioner in-one (Pantene Pro-v Classic Clean). I'd never use this product every day, because, well, Pantene is just so 1992. But it's perfect for these purposes: when used once or twice a week, there's no build-up problem, and it really is the best of the two-in-ones. The refreshing scent of Organics Rosemary and Mint Body Wash ($10.99) will get you ready for a night out and leave you lightly perfumed. Cetaphil face wash ($11.99) is a mild classic, but strong enough to really clean your post-gym face, and Relief moisuturizer ($7.99) is an all-around great moisturizer (and fragrance-free). HINT: Take this kit with you when you travel, too. It's security checkpoint-ready! Out of the shower... I keep the following products in a compact clutch by Escama Brazil ($39). (You can keep yours in anything you want, so long as it's space-efficient. I just love the recycled pop-top design and fair trade background of Escama's stuff.) Tinted moisturizer serves the two-in-one purpose of moisturizing skin and evening its texture. I currently use Shiseido's version ($36) for its easy squeeze container and dinner-ready matte finish. Maybelline's Define-A-Lash ($7.95) is my new mascara of choice. Not only does it lengthen lashes amazingly, but the waterproof version is smudgeless, which is importantísimo when applying in a steamy locker room. Nars Duo Lip Gloss ($28) is genius: one tube, two colors, two uses (it works as both lipstick and also as wonderfully shimmery blush). Almost ready...No post work-out routine is complete without deodorant (at least I hope not...). This Degree travel size stick ($.99) takes up virtually no room (I carry it in my purse for other times, too), and is a powerful antiperspirant. After a workout, you're likely to keep sweating a little even when showered, so extra strength is a plus. And finally, since there's never time, space, or blowdryers enough to style my hair, I always keep bobby pins ($2.99 for 48) and a few elastics ($3.59 for 12) ready to create a quick bun, spunky pony tail, or sexy updo. Now it's time to show off that hot bod on the town! Click here for more SheFinds Solutions.
Dark Circles Make The News: How Can We Get Rid Of Them?
We must be psychic because in today's New York Times, there's an entire article dedicated to the never-ending quest to get rid of dark circles. But SheFinds ventured into this territory almost a month ago, discussing the benefits (and the hefty pricetag) of Shiseido's White Lucent Brightening Eye Treatment versus that of Clinique's more wallet-friendly Advanced Stop Signs Cream. Take a look below at our reader question, and what SheFinds reported on the topic: SheFinds Reader Question: I love Shiseido's new White Lucent Brightening Eye Treatment, but at $100 for a tiny bottle, it's a strain on my pocketbook. Is there a less expensive anti-dark circle cream that actually works?Apparently quite a few people have wondered the same thing--the web's awash with compliments on Shiseido's effectiveness, and complaints about its price. Everyone agrees that the moisturizing, whitening cream does a number on those nasty dark circles (we couldn't wait to write about how Shiseido made us look ten years younger back when the product hit shelves in March), while protecting against wrinkles as well. But .54 ounces for $100? We can see how that might put a few people off. A more budget-friendly option is Clinique's Advanced Stop Signs Eye ($32.50 for .5 oz), which promises--and delivers--to smooth skin and even-out color, at almost half the cost. Now you can keep your face bright and your wallet right!
Beauty Buzz: Spring Colors For Your Nails (And Grey Is One Of Them)
It's transition time: the halfway point between spring and summer. It's also time to bring out the peep-toe pumps.If you're anything like me, baring your first pedicure of the season to the world is never the most fun thing. And let's not discuss the state of my winter-white hands.So I always try to start off on the right foot (heh heh) with a fun, trendy nail polish color. My favorite (but only for feet, I'm not brave enough to wear it on my hands) is China Glaze's Celtic Sun ($2.68). A bright, sunny yellow, it reminds me of daffodils. The warmth of the color might be overpowering for those of you with cool-toned skin, but with the right shoes, anything is possible. Also high on the list are sweet pastels. Spring is the time of new beginnings, and what better way to celebrate than with baby pinks and sweet peaches? An oldie (but goodie) is Zoya Bailey ($6), a sheer, shimmery pink that's flattering on a wide array of skin tones. Also check out Essie's Tie the Knot ($8) for a gorgeous shade of buff. Now, we come to the two trends I just don't understand (possibly because they're corpse-like on my warm-toned skin) - dove grey and lavender. Grey is the hot color of the season. If you're interested (and I totally was), check out Essie's Great Expectations above. ($8) For lavender, Zoya's Miley ($6) is an understated, yet current shade.Find the perfect sandals to pair with your pedicure in our Guide to Spring Shoe Trends.
Fashion Top Five: City-Appropriate Seersucker
Seersucker has some very preppy connotations – mint juleps and nine irons, to name just two – but with modern cuts and a bit of restraint, it's easy to make this pattern work in real life. Pair these pieces with solid white and perhaps a chunky bangle bracelet or two to channel classic summertime chic and avoid looking like a displaced, Derby spectator.The cropped cut and green piping on Free People's Seersucker Jacket ($128) keep the piece from being too serious. This Isaac Mizrahi for Target Seersucker Halter Dress ($34.99) in brown and white instead of the classic light blue combines a flattering A-line cut with an adjustable halter top, so you can tie it to size. We love the way the stripes on this cotton miniskirt ($15.80) alternate from horizontal to vertical; the effect is playful and perfect for weekends. Chaiken's Regatta Seersucker Dress ($396) is simple and sleek, and the tucked-and-folded front is reminiscent of some of our favorite laid-back frocks of the season. These Cynthia Steffe Seersucker Sailor Trousers ($195) incorporate the nautical trend we've been seeing all over the place.For more of this season's fashions, check in with our Spring Trends Guide.
Deal Of The Day: Up To 55% Off Dazzling One-Pieces At Bluefly
Ladies, let's face it. It's been a bikini world for far too long. Two-pieces seem to outnumber more modest (but still totally gorgeous) one-pieces three to one. But the tides are turning. More and more designers are taking the plunge and introducing sexy-without-being-skimpy suits that don't zero in on the belly button. Wrap-dress diva Diane von Furstenberg has thrown her hat into the swimwear ring and comes out a winner with this pretty poppy-print Corallo halter ($80, was $165). Shades of strawberry and bubblegum swirl on a fresh white background, with tiny pops of turquoise adding another element for the eyes. Pick this suit if you've got a thicker middle—the busy-ness of the pattern will downplay your wider waist. There's no written rule that says you have to bare your midriff to give off a come-hither beach vibe. In the exotic Lisa Curran boa print halter suit ($75, was $154), you'll get the same stares you would if you were wearing a barely-there bikini. The deep plunging-V neckline and trendy animal print will definitely garner some longing gazes. If you're ultra-gutsy, or if you just don't plan on getting wet, try Vix Swimwear's white rope halter ($75, was $148) on for size. The rope detail at the neck gives the suit a nautical touch (in keeping with the still-popular yacht-worthy trend in resort wear), but the retro-style shape in blinding white says Old Hollywood glamour like nothing else.More deals and steals:Jessica Simpson pumps and flats are up to 35% off at Endless.com. Stock up on classic bras at Maidenform—select styles are up to 50% off. Get free shipping on orders over $100 at MaxStudio.Check out our forum for sales and deals posted by SheFinds readers.
What to Work For: Fendi Denim Spy Bag Has Us Logging Extra Hours
What: Fendi Denim Spy Bag, $1,550 Why: Undercover spies blend in, but if you're feeling more like a Bond girl or even Sydney Bristow… this is the bag you've been tailing. The Fendi Spy Bag has been a hot go-to accessory in leather all winter, but this denim version with woven leather accents is on a mission for summer. It's lined with canvas, has the signature hidden coin purse, and is just the right size for all those non-spy essentials you carry along. And while the contrast stitching and metal accents are reminiscent of classic denim jeans, this bag isn't going to get lost in the crowd… which is what made us start fantasizing about it in the first place.
How To Pull Off A Cocktail Dress For Daytime
Since the point of a cocktail dress is basically to be able to throw it on and go, we know these flattering finds don't need much embellishment for night. But ironically, dressing them down can take a bit more…dressing. Still, covered shoulders and flats can work wonders for dressing down a little (brown) dress like this BCBG Max Azria sheath ($232). Check out the options below for two ways to get the most out of your cocktail attire.Try a piece that contrasts the dress's feminine, flowing lines like this double-breasted cropped jacket ($550), which has crisp details like an inverted pleat at the back and tab detail on the cuffs. Steve Madden's Seeri sandals ($49) and this double-chain pendant ($34) give the ensemble a hip, earthy vibe. For a lighter, whiter look, throw a simple cotton cardigan ($58) over the dress, and pair with shell-and-bead accented sandals ($175) for a hint of beachwear chic. Banana Republic's Greenwich Rattan Satchel ($178), made of straw and trimmed with leather, completes the summery style.
A Vast Improvement: The New Crocs With A Heel
When Crocs first came out, they weren't my style, to put it nicely. I spent Easter with a friend's family one year and her mother put a new pair of the regular Crocs in everyone's basket – except mine. I had never been so happy to be the odd one out. They were frumpy, made for gardeners, and worst of all – flats. Shoes sans heels make me feel more casual than I like most of the time. You know those things that just make you feel better about yourself? Like when you've just gotten a haircut or a pedicure? Heels do it for me. As much as I love being in heels, my boyfriend likes to give me a hard time about how much I complain about my feet hurting me. After a long day of shopping in SoHo last weekend in heels I swore to him that I would find a comfortable heel that wouldn't leave me feeling like I ran a marathon. What: The first Crocs high heel! These incredible 3-inch heels are designed with the classic comfort of croslite material (that rubber stuff all crocs are made out of). They're lightweight, have circulation nubs to stimulate blood flow to allow for the ultimate shopping trip, and the footbed forms to your tootsies for a custom fit. I went by the nearest Crocs store in Manhattan this weekend and tried these gals on – they're the ultimate summer heel for walking around the city. Just $49.99 for comfort AND style in a heel.And take a peek at our Spring Shoe Guide to keep your feet stylish this season.
Solution: Zakkerz Salvages Your Too-Long-For-Flats Pants
It rains in DC. A lot. Or what seems like a lot.I commute on the Metro, and it's a long slog from home to the train and from the train to work. And it's even worse when it rains, which always seems to happen when I want to pair flats with the pants I usually wear with high heels.Luckily, someone's invented a solution: Zakkerz. A few of my friends swore by them, and SheFinds has raved about them before, but I never truly appreciated the genius behind these lifesavers. Until one particularly disgusting Monday morning (seriously, 40 degrees and rainy in late April?) had me digging them out and strapping them onto my Express editors.The result? I got to work, wet from being rained on, but minus the icky, muddy, dragged-on-the-ground pant cuffs I'd typically showcase. And just like that, I've become a believer.Here's how Zakkerz work:Each set comes with four flexible, magnetized bands (you need to use two per pants leg). Roll your pants up to the desired length and then clip them slightly to the side of the seam. One side of the Zakkerz band goes on the inside of the cuff and the other side goes on the outside. The magnets hold the two ends together. Make sure you put the inside magnet in front of the seam and the outside magnet behind the seam.Even better, these are strong magnets: they stand up to oh-my-God-I'm-so-late sprinting to the office.So race on over to the Zakkerz website and check them out for yourself. ($24 for a regular set, $27 for the "longs," which are perfect for jeans and other heavyweight-material pants.)
Gossip Girl Style: Lydia Hearst's Foley + Corinna Tote
What: Foley + Corinna Jet Setter Jr. ToteWhy: In a prime example of art imitating life, heiress Lydia Hearst will appear on Gossip Girl's season finale on May 19th. Gawker says her character won't be one of the nice girls – which is fine with us, Serena's pretty much got a monopoly on the nice – but frankly we're more interested in that beautiful bag on her arm. The tote ($528) comes in several colors, though we're especially fond of Sandstone (below), a shade that would look fantastic next to a jewel-toned spring dress like the one Lydia wears. Looks like those Gossip Girl costume designers are onto something. Get Yours: shopbop.comFor more of-the-moment handbags, take a peek at our Guide to Celeb It Bags.
Should We Stop Hiking Up The Hemlines and Just Dress Our Age?
Gwyneth Paltrow has been turning more heads than usual at the premieres for her new movie Iron Man. Paltrow, 35, showed up to a string of screenings wearing tiny black dresses paired with towering pumps.The dearth of fabric has caused some media types to encourage women – even ridiculously fit women with fabulous, flauntable legs – to tone it down a bit. Be fashionable, they seem to say, just don't do it in a miniskirt. But it doesn't seem that the whole issue here is about moms wearing minis. At least part of the issue appears to be about women wearing skirts that are entirely too short (see above, left). Some things should, in public, always be covered by clothing. When it looks as though the public (whether lucky or unlucky is a different issue entirely) will be able to see those things if one bends to pick up a pen, I think that, plain and simple, your skirt is too short. I firmly believe that confidence and a bit of style – not a birthday after 1980 – should be the only requirements for pulling off a short dress. But if your bare bottom is sitting on the screening room seat because that one yard of fabric can't quite cut it, at least put on a pair of leggings.What's your take? Should there be a direct relationship between age and skirt length, or should we all just try to keep from flashing one another when we cross our legs? Post your comments and tell us what you think.And check out at the two dresses below – they're far from frumpy, and we think they'd look great on women of any age. Nanette Lepore must have had this debate in mind when naming the "Alluring" Minidress ($130). It's covered up on top and short enough to show off a bit, it's got all the visual balance you need built right in. This stretch satin dress ($160) makes a sexy, curve-hugging statement, but doesn't shout out the cut and color of your lingerie. And believe it or not, this is not a new debate. Check out the hot topic of whether women like Hally Berry and Kate Moss are too old for a mini-skirt.
Blog Round-Up: Heard On The Web This Week
SheFinds wonders are you a Carrie, Samantha, Miranda, or Charlotte? New Sex and the City Lingerie by Cosabella helps you discover your inner sexy city girl. Zakkerz save the day when Girlawhirl's wearing flats. I'm Not Obsessed shows you how to get Eva Longoria's entire look for under $190. Trying to break in a new pair of shoes? The Beauty Brains blog about Band-Aid Blister Block. SeenON! wants their readers to get excited (as well as a cosmo) and prepare for their upcoming Sex And The City Movie Feature. Top Button knows how hard it can be to find the perfect summer suit:The Striped Bikini by Voom is a perfect mix of glamour and punk with a modern edge! At Real Simple's Simply Stated, we explore the adventures of at-home hair removal.
Week In Review: The Return Of Dork Couture, Gladiators Still Going Strong, And More…
Required Reading: According to the Wall Street Journal, wearing glasses is cool again. But isn't wearing glasses when you don't need them a tad bit mocking? And if not mocking, perhaps just plain silly? Check out the latest styles and decide for yourself.Comfort meets sanity somewhere in between Balenciaga blood-suckers and the traditional flats and we get gladiator-inspired heels that stop comfortably at your ankle. Check out our top picks for the season.Does the ever-worsening state of the economy have you feeling a bit down? Fight your blues with red… or pink, or bronze or mauve. Instead of inviting a whopping case of buyer's remorse by plunking down for a break-the-bank pair of shoes, invest in a few new feel-good tubes of lipstick.Schleping from home to work to the gym to dinner is nothing if not traveling, so make sure to stock your gym bag with the essentials for a sweaty to chic transition. Steals and Deals:30% Off Flat Sandals at Banana Republic Up to 50% Off Milly Dresses at Tobi70% Off Cozy Transition Sweaters at Pink MascaraJust for Fun: There's a pretty significant cost gap between these two sandals – can you tell which one is the pricier pair? Scarves are hot this season. And with Ikat and tie-dye coming back in fashion, you can't go wrong with one of these trends wrapped loosely around your neck. Can you guess which scarf is double the price of the other?We Heart Our Advertisers:We want to send a big thank you to Donna Ricco - our featured advertiser in this week's Travel Essentials Guide. You rock! Click here to find out how to advertise with SheFinds.
Taste Test: Sandals A Few Steps Above Rubber Flip-Flops
For years I've been making the annual pilgrimage to Old Navy around this time of the season to pick up a stack of their notoriously inexpensive flip-flops ($2.50 each if you buy more than one pair. Who doesn't buy more than one pair?). Then I realized that people over 16 should probably own casual footwear options that don't double as shower shoes. Thankfully, I recently stumbled upon the pairs below, and now I'm happily converted – they're the easy-to-wear, go-with-everything sandals I probably won't even bother putting back in my closet all summer. But there's a pretty significant cost gap between the two pairs below – can you tell which one is the pricier pair? Click on the images to find out what they really cost. Test your fashion intelligence with other Taste Tests.
Deal Of The Day: 30% Off Flat Sandals At Banana Republic
Good news, stiletto-phobes—it's sandal season, and flat-as-a-pancake sandals are back in. Set your tootsies free in barely-there thongs, fab flip flops, and gorgeous gladiators that make those spike heeled winter boots look like a flat out mess. Score these three pairs from Banana Republic for under a hundred bucks a pop, and cut out all that teetering and tottering for awhile. These persimmon-hued Angelina sandals ($61, were $88) are the footwear equivalent of a sexy g-string. Practically weightless and embellished with tiny reflective panels, these thongs are the next best thing to going barefoot (maybe someone should slip Britney a pair before her next trip to a gas station bathroom!) Find your inner Roman warrior in woven leather Gaia flats ($62, were $88). Get fierce with these studded metallic stunners, keeping in mind that, while bronze may traditionally signify third place, it's edging out gold and silver as this season's most wearable metallic shade. Don't ditch your trusty two-for-five rubber flip flops altogether, but do be sure to have a slightly more sophisticated pair in your fashion arsenal. These platinum Emilia flip flops ($90, were $129) are a pretty alternative, with shiny, dime-sized discs setting off an unexpected, pearly color you don't see everyday.More deals on the web:Select Botkier and Bulga bags are up to 70% off at ShopBop. 20% off your entire order at HeadGamesOnline.com with coupon code She Finds. Save 25% on Jockey women's styles at Bare Necessities. And go to our forum for the latest sales posted by SheFinds readers.
Deal Of The Day: Up To 50% Off Milly Dresses At Tobi
You never know when the phone will ring and that last-minute dinner date invitation will come through. It's bound to happen, though, so you've gotta be prepared. Stock up on cute dresses from Milly that you can whip out of your closet faster than you can send that text message accepting the invite. Channel a vampy, grown-up Minnie Mouse in this pretty polka-dot party dress ($211, was $324). The exaggerated mod print and always-in black and white color combo work best with minimal jewelry, but you could introduce color in the form of a bright-hued cardigan or clutch. Go for a Pucci-esque vibe with Milly's Sophia dress ($239, was $341) in funky tangerine and strawberry tones. The print is a little bit '70s retro and a little bit tribal chic; pair with gold bangles to bring out the cream and chocolate details. Slinky, simple and stunning, this Hazel dress ($158, was $315) might just make you rethink your standard comfort clothes (i.e. jeans). Throw the helix-patterned dress on over black tights if you want to go dressier, or partner it with high wooden wedges or ultra-flat sandals for a laid-back boho look.More sales and deals:The Full On Sale at Old Navy—up to 50% off—is almost over! New spring markdowns at C&C California mean up to 40% off for you. Spend $100 at Frederick's of Hollywood and save $15.And go to our forum for the latest sales posted by SheFinds readers.
News Updates: Olsens Will Party In DVF, Heidi Out-Divas Posh, And More…
It has been announced that Diane von Furstenberg will be designing custom dresses for the Olsen twins for Monday night's Costume Institute Ball. Other confirmed guests include Hilary Duff, Tom and Gisele, and Cameron Diaz. [FWD]Heidi Montag's Heidiwood line has been outselling Victoria Beckham's denim line in stores. Posh's jeans are now making their way to designer discount clothing stores due to lack of sales. [StyleDash]As part of their new ad campaign, A Diamond Is Forever will be handing out roses to random passersby in New York's Grand Central Station next week. The roses are part of a lottery to win a diamond necklace. [WWD] Actress Kate Hudson will appear on the cover of People Magazine's 2008 Most Beautiful People issue. [Defamer]
Celebrity Swimwear: Liv Tyler Goes Retro-Glam In Lisa Curran
Who says curvy girls have to cover up in one pieces during beach season? Certainly not glamazon Liv Tyler, who foregoes binding "miracle" fabrics and instead shows off her hourglass figure in a Lisa Curran bandeau bikini. Liv makes a smart choice by pairing a strapless, twisty top ($75) in a retro polka dot print with a solid-colored bottom ($75) with subtle ring details. The dark bottom downplays Liv's lower half (yes, black is even slimming when applied to teeny-weeny bikini bottoms!) while the bandeau's big, busy print and volume-adding shape draw attention upwards.Even if you're not as curvy as Liv, you can still cop her '50s-inspired beach bunny look. If you've got more of a boy shaped bod than Liv, opt for a similar cut patterned with horizontal stripes that give the illusion of curves; ShopBop carries the perfect option— a Lisa Curran striped bandeau two-piece in either classic black and white or more daring red and white ($160). Or maybe all-over dots are more your thing—a medium-sized, repetitive pattern on top and bottom keeps the eye constantly moving, which has an overall slimming effect (no time to pause on body "hot spots"). Get Lisa's Curran's fresh kelly green bandeau and ring-bottom set from Bluefly ($101). Uncertain about going sans straps? Not to worry—Lisa Curran's suits are all fitted according to cup size, so you'll get the coverage and support you need, even if you're not exactly an A cup.Looking for a look like Liv's? Here are some tops, bottoms, and sets that play on the shape, dotty pattern, and mix-n-match effect Liv masters. Pick the pair that's right for your body shape, and get out there and catch some rays!And peruse our Swimsuit Guide for more fabulous summer options.
News Updates: Bloomie's Angers Workers, Heatherette About To Split, And More…
Bloomingdale's was in negotations with its union on Friday in order to prevent a possible employee walkout at the 59th Street flagship store. The strike would cause the first shutdown of the store in 40 years. [FWD]Heatherette is rumored to be breaking up, as sources report Richie Rich is working on a fashion label of his own. [NYDailyNews]Elle Magazine's green issue was vandalized by false retraction stickers placed inside several issues on a story that investigated eco-extremists. [Folio]A new bi-annual magazine named Very Elle will be devoted to fashionable iconic women and "It" girls. [WWD]
Top Five: Let Me See Those Thongs
Do a Google search on "summer's hottest thongs" and the majority of your results will be way NSFW. We've helped you out by starting a list of the trendiest flip flops to set your toes free this summer. Below are my four favorites, but the list won't be complete without your input. Can't spend a day at the beach without a particularly pretty pair of thongs? Tell us all about 'em in the comments section. 1. Cole Haan's Air Haylee thongs ($175) combine golden glam with ultimate comfort. They may look simply chic, but hidden beneath those gold leather insoles is strategically placed Nike Air cushioning so you can strut all day. 2. Uggs don't immediately spring to mind when you think of summer shoes, but the same sheepskin that keeps your tootsies warm in the winter acts as a moisture wicking agent in these Laguna Thongs ($80). So instead of being suffocated, your toes will stay dry when warm weather hits. 3. Emilio Pucci's Patent Thongs ($395) are like flamingos in a flock of pigeons. The vibrant, pearly swirls of salmon and magenta ensure that your shoes will stand out when paired with a simple, breezy dress or a swimsuit and sarong. 4. Old Navy's Flip-Flopsare a staple of laid-back summer wardrobes. Buy your favorite color in bulk or stock up on pairs in every color of the rainbow. At $3.50 a pop or $5 for two pairs, it's practically a summertime crime not to buy as many pairs as you can fit in your beach bag. 5. Now it's your turn. Tell us about your favorite dressy, sporty, comfy or otherwise superbly summer-chic flip flops below.
Create for a Cause: Support the OCRF with Your Handbag and Jewelry Designs
You may have heard about Isabella Blow, the designer and stylist who recently passed away from Ovarian Cancer. Our hearts go out to her family and friends as well as to those who have a family member battling the disease. Ovarian Cancer is the fourth leading cause of cancer death among women in the United States and the scary part is, it often goes undiagnosed until it's too late. The Ovarian Cancer Research Foundation (OCRF) is working to improve early diagnostic treatment programs and compile research toward the conquest of ovarian cancer. During September 2007 SheFinds will partner with the OCRF to raise money for the fund and help small jewelry and handbag designers get exposure through promotion on the SheFinds blog. All you have to do is create a piece that incorporates either the letter "O" and/or the color teal into it and pledge to donate a portion of the proceeds from the sale of it to the OCRF. For more details on how you can participate and help bring down this disease, visit SheFinds OCRF.
Celebrity "It" Bag: Which Is Your Fave?
So many celebrity "it" bags, so little time... If you could only choose one to make it your own, which would it be? Angelina's Seril Knockout Clutch Anne Hathaway's Tory Burch T Tote Courteney Cox's Lanvin Kentucky Tote Jessica Alba's YSL Muse Bag Jessica Simspon's Badgley Mischka Lolita Python Bag Kate Moss's Mulberry Bayswater Lindsay Lohan's Pauric Sweeney Overnighter Sarah Jessica Parker's Givenchy Bettina Satchel Vanessa Minnillo's Kotur D'Abo Snakeskin Clutch If this round-up isn't enough for you, check out more celebrity bags, celebrity sunglasses, and celebrity swimwear.
Hair Care Find: I Believe In Miracles
If you are a woman with ethnic hair, you have three major complaints (maybe more) about your hair: it doesn't grow fast enough, you have breakage due to over treatment and Heaven forbid you get it wet or expose it to humidity (for all my sisters out there who run from the rain and stay out of the pool after a relaxer, you feel me.) I have searched high and low to find the proper product and girls, I have found the answer. Dr. Miracle's Styling Meds Collection is a suite of products for use on ethnic hair. Created by a scientist who wanted to ease his mama's woes over her own hair drama, the result is the company's proprietary Thermaceutical Complex "Feel It Formula" in every product, which stimulates blood flow to the scalp while conditioning and protecting your hair. Does it work? You can definitely feel the product working (think massage-y tingling rather than chemical fire) and the condition of my hair has never been better. I use a combination of the Healing Leave-In Treatment and Conditioner and the Healing Oil Sheen Spray (which is a good combo for dry, frizzy or lifeless hair; I don't care what your ethnicity is.) The product line includes shampoos, conditioners, relaxers (no lye!), oils and pomades -– whatever your style may be, there's something for everyone. Products for ethnic hair, practically heaven-sent. Can I get an "Amen" from the choir? Get Yours: DrMiracles.com
SheFinds News: The Morning Roundup
NEWS * Patrick Robinson for Target Coined "Disappointing" Save a Few Gems * America's Next Top Model, Mel Rose, Host New Do-It-Yourself Fashion Show on Chic.TV * Avril Lavigne Model Search Kicks Off at Buzznet.com * Fortunoff Hosts Charms for Charity This Mother's Day SALES & DEALS * Saks Fragrance Event: : Get a travel case of samples with any purchase of $85 or more with coupon code: INTHEAIR. * Brooks Brothers: Get 25% off on all of your purchases with code: friend27. * Bloomingdale's: Get 20% off fashion, shoes & handbags with code: MAY20. EVENTS What: Tocca 60% Off Sale When: 5/10 & 5/11 (11am–8pm). Where: 542 W. 22nd St., 3rd floor, New York, NY (212-929-7122, ext. 230); cash only.
No Bra Boob Blunders
Ugh... Can't you ladies get a proper brassiere? You're celebrities, which means you must have some money floating around to buy one. SheFinds even has a guide dedicated to the best bras. Still, after countless posts extrapolating the need for a bra, some people just don't listen. Where to start with the offenders? Drew Barrymore's saggy globes at the Golden Globes, Gwyneth's slopes under a sheath or any one of these braless wonders? Apparently these celebs just can't seem to keep their bras on. I say, unless you're an A cup, there's no excuse for going bra-less, and even then, you're still treading very delicate ground. Just look at Cameron's attempt to pull it off it a light-colored shirt no less. Jessica Simpson is certainly not fooling anyone with those high-waisted pants. Come on ladies, get it together. Not only does not wearing a bra look bad, but it's bad for your ladies. Keep them up and in place, and you'll thank that bra 15 years from now. So am I right, or am I right? It doesn't need to be uncomfortable, either.  Find a light wireless bra and make sure you don't look like these celebs. Depending on what you've got, peruse the best bras for big busts 0r the best bras for smaller busts, and while you're at it, don't forget to subscribe to our email newsletter.
SheFinds News: The Morning Roundup
News * Drew Barrymore: New Star of CoverGirl * No More Knock-Offs: Congress Shapes the Fashion World * Spa Trends: First Stop Facial, Next Stop DNA Testing Sales * Bloomingdale's 40% Off Sale Starts Now! Enter Coupon Code APR40 at Checkout. * Sephora Offers Free Shipping on Orders More Than $50. * HSN: New Customers Get 15% Off with Coupon Code C56574. Events * Mingle with Lincoln Mayne, a New York artist and designer, tonight at the Butterfly Studio salon. * Bouteaque Presents: Artwork by Alena Henessy on May 5th at Bouteaque New York.
Beauty Bargain: Frizz-free Hair Gel
What: Aussie Tizz No Frizz Gel Why: Ah, spring -- the flowers bloom, the days grow longer and my hair turns into a frizzy snarl that's impossible to manage. Even worse, when I try to tame the thing with some styling gel, I end up with a suspiciously '80s "wet look" disaster. Naturally, Aussie understands. As an Australian company, they practically majored in frizz, damage and dehydration. I was skeptical about their Tizz, No Frizz hair gel, mostly because I have no idea what "Tizz" is. But given its light, clean hold and frizz-free effects, maybe it's short for "fan-tizz-tic"? Research continues. But don't take my word for it -- now is the perfect time to check it out before the frizz has a tizzy fit. What have you got to lose but the frizzies? Price: On sale for $3.79 Get Yours: Drugstore.com Deal Alert: Spend your drugstore.com dollars through April 30.
HeFinds Fragrance Week: Girl Magnet
What: Sexy in a bottle. Why: Every guy needs a great go-to cologne to wear for a night out. It should linger all night, be of high quality (none of those cheap $10 bargain buys, please) and have sex appeal. That's right. Sex appeal. This particular fragrance is not for everyone, but it's one of my favorites: Thierry Mugler's Angel for Men. I swear when my boyfriend wears it, he doesn't have to ask much for me to cater to his every whim. The rich chocolate, exotic coffee and sweet mint are all very pronounced notes in this scent, which is perhaps why, as a woman, I am completely drawn to it. Don't just take my word for it. My boyfriend says, "It smells great and girls like it, too. I mean, really like it. They always come up to me and ask what I'm wearing. Not only that, but it lasts a long time. Two days later, I still smell it on my shirt." I see Angel meets all the criteria for being the perfect cologne for evening wear. Now I just have to go buy my boyfriend something a little less sexy to wear when I'm not around. Price: $32-$80 Find It: FragranceNet.com