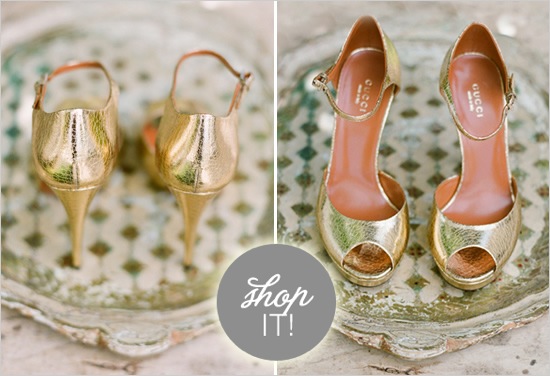 You'd Rather Have Something Gold Than Something Blue, Right? Get These Pumps Now
As you know, we like to stalk for wedding blogs and Pinterest for gorgeous items you can actually shop now - and our latest find is this pair of gilded Gucci peep toe pumps from Wedding Chicks. Want to copy this rather regal wedding look? Right this way. (more…)
You'll "Love Me" Some Charlotte Olympia Heart-Appliqued Bridal Pumps, I Promise
It's no secret that we go crazy for a good pair of designer pumps. We've been drooling over Christian Louboutin's 20th Anniversary capsule collection all week, and we're ecstatic for Manolo Blahnik's upcoming collaboration with Monique Lhullier. But these ridiculously amazing new Charlotte Olympia Love Me Heart-Appliqued Suede Pumps ($1450) are our latest object of adoration. From Charlotte's "Runaway Bride" collection, these colorblocked red heart pumps are seriously sexy, and worth the splurge. (more…)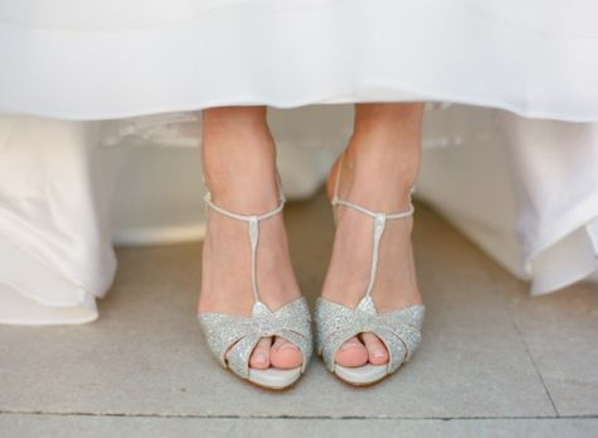 T-Strap Pumps Are What Every Bride Wants (That And A Perfect Wedding Day)
T-straps are a timeless style for fashion savvy gals of every ilk - but they're especially perfect for a vintage-inspired bride! We've found a sweet selection of glittery designer T-strap pumps and budget-friendly T-strap sandals for brides who are drawing their wedding inspiration from a more refined era - and best of all, there's an option for every price point. (more…)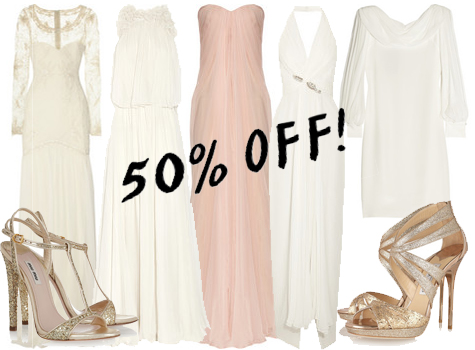 Net-A-Porter's Semi-Annual Sale Is Here! 50% Off Temperley, Jimmy Choo, Miu Miu & More
Don't ever rule out your designer dream dress - because mine is currently 50% off at Net-A-Porter's Semi-Annual Sale. I got married 4 months ago, but if I could turn back time (late 1980's Cher-style), I would buy this now-in-my-dress-budget lace Temperley gown and wear it. But since time travel is currently unavailable, I recommend that you plan your wedding date around Net-A-Porter's epic end-of-season sale. It's just that good. Right now, all the glittery Jimmy Choo pumps and ethereal Marchesa gowns a girl could ever need, want or dream of are 30-50% off. Get in there before your size sells out! (more…)
Net-A-Porter's Wedding Outfit Creator Is Like Having A Personal Bridal Stylist — Score
When you're the bride, the pressure to create the perfect wedding outfit--aka the best outfit ever--is extremely  high. (Have you seen "Say Yes To The Dress"? Talk about drama!) Not to mention the fact that you've often got to approve the looks your bridesmaids and mother are going to wear, too. Succeed, and the camera loves you. Fail, and there will be incriminating photographic evidence forever. If you suffer from "Outfit Paralysis," like millions of brides before you, we've finally found the cure. Net-A-Porter's Outfit Creator - think of it as the high fashion equivalent of a Magic 8 ball-aka your secret weapon to getting styling advice from Net-A-Porter stylists, for free. Here's how it works Go to Net-a-Porter's Outfit Creator, hit "spin", and instantly, get options. Forget heading to the department store--this is for the no-fuss bride with money to burn. Click "hold" to save what you like, and then keep spinning until you've found the perfect dress-shoes-accessories combo. Once you're finished, click hold on all items, and it'll instantly tally your total for you. Buy 'em all at once or pick and choose your faves. Here goes: (more…)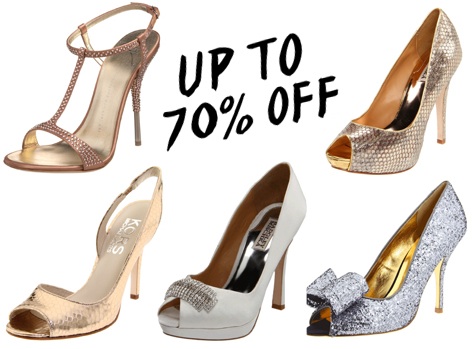 45-70% Off Wedding Shoes On Endless Today: Giuseppe Zanotti, Charles David & More
If you haven't snagged your wedding shoes yet, you should be happy you waited: Endless has a bomb-diggity 'Special Occasions' shoe sale, which includes up to 70% off (!) designer styles like Giuseppe Zanotti (who made Kim Kardashian's wedding shoes), Ted Baker, Badgley Mischa, Charles David and Michael Kors. (more…)
Charlotte Olympia's 'Runaway Bride' Collection Is Here!
Charlotte Olympia's much-anticipated Runaway Bride collection just hit Net-A-Porter -- and as promised, the line includes cheeky, leopard detail. Off-beat brides and fashion devotees will die for Charlotte's version of a "something blue" wedding pump; we've never seen anything like it. Polly calf hair and leather pumps ($1,250) and Love Dolly twill and calf hair pumps ($1,050) SHOP THE COLLECTION NOW Get more bridal news -- like Etsy's registry launch (!), Jenny Packham's lower-priced line and Tadashi Shoji's new e-Commerce site!
The Ultimate Wedding Shoe Guide: From $29 Steals To Dream-Come-True Louboutins
Have you been scaling clearance racks for the best deal on fancy peep-toes? Or carefully combing the fashion glossies for your absolute dream pair of designer stilettos?  Well brides, you can breathe a huge sigh of relief (and toss those 6 month old mags in the recycling bin), because your search ENDS HERE. (Cue the "Hallelujah" choir!) We're pleased to present our top 25 picks for wedding pumps and heels. There's lace, there's rhinestones, there's satin, and best of all, there are some breath-taking deals. (more…)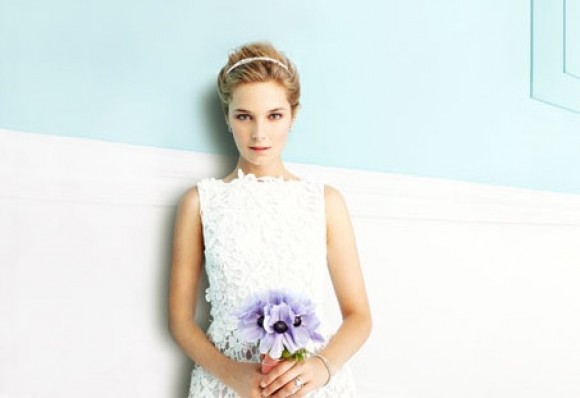 Get 60% Off Reem Acra, Vera Wang & More At Gilt's Wedding Shop (Only A Few Days Left!)
When it comes to bridal sample sales, Gilt's Wedding Shop is the best of the best. They have truly outdone themselves with their latest edition - this season's sale features deep discounts on designer wedding gowns from Zac Posen, Carolina Herrera, Theia, and BHLDN, bridesmaid dresses from Vera Wang, Reem Acra, twobirds, Amsale, wedding stationery from Minted, bridal pumps from Kate Spade and Pour La Victoire ... could it get any better? There's also a special section of hand-picked wedding goodies from the Editors of Martha Stewart Weddings! (Check it out here) (more…)
PHOTOS: Charlotte Olympia Is Launching Bridal! (Watch Out, Louboutin)
London-based shoe designer Charlotte Olympia has already set new industry standards with her bold, platform pumps and now she's aiming to make waves in the bridal market, too. This spring, Olympia will be rolling out a bridal line that is anything but expected: Her Runaway Bride collection will include 42 vintage-inspired pumps in a rainbow of colors -- even leopard and red. (more…)
Get Up To 70% Off Designer Gowns, Shoes & Accessories From Shopbop's Wedding Boutique
Shopbop.com has just made new markdowns on hundreds of items, like gowns, shoes, and jewelry that would be PERFECT for your wedding. Get steep discounts on blush gowns, drop earrings, and designer pumps, like these beautiful Badgley Mischkas! Prices have been knocked down 30, 50, even as much as 70% off! Go ahead, take a gander, and find yourself a shiny little something. (more…)
Go With Pink Wedding Shoes And, Trust Us, They'll Have A Serious 'Moment' In Photos
There's no written rule that says your shoes have to match your dress. If embellished ivory pumps just aren't doing it for you, why not think pink? We've rounded up an adorable assortment of hot pink pumps and heels. The best part? They're all under $200! (more…)
50% Off Christian Louboutin Bridal — Complete With A Satin 'Something Blue' Interior
It's an early Christmas present for the designer shoe obsessed: today on The Outnet, you'll find select pairs of Christian Louboutin bridal shoes for 50% off! The collection even features a satin 'Something Blue' lining sewn in -- so you can satisfy superstition while still looking fierce. (more…)
50% Off Gorgeous Giuseppe Zanotti Pumps That Would Make Kim Kardashian Proud
While it was rumored that Christian Louboutin sent Kim Kardashian 4 custom pairs of wedding pumps, she ended up choosing Giuseppe Zanotti, a slightly lesser known shoe designer, for her big day. Now the world knows what we always have -- that Giuseppe makes some of the sexiest, sky high wedding shoes on the market. Oh, joy: farfetch.com has 50% off the designer now. (more…)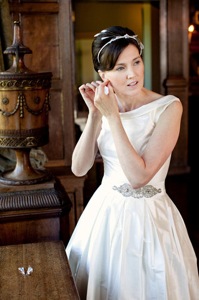 The NY Times Says Brides Are Splurging On 'Everything But The Dress': Shop Accessories Now
This weekend, the New York Times published an article about a trend in bride's spending that we could have predicted: while many brides are saving on under-$1,000 dresses, they're opted to splurge on the accessories, from shoes to jewelry, veils and more. This makes perfect sense to us: the gown you'll never wear again, but the glitter Louboutins? They'll be around forever (can you say, New Years Eve shoes?). If you're a shoe whore or a bag hag or just a lover of all things glittery and designer, check out our picks: (more…)
Start Saving: 10 Designer Shoes You're Going To Want/Need/Love Upon Seeing
If you're a shoe whore like me (pardon the French) you're familiar with the concept of shoe porn: pumps so sexy and perfectly crafted that you become instantly obsessed upon seeing them. In most cases they have a red bottom or a Jimmy Choo brand inside, but no matter the designer, a good shoe can move mountains. Here are 5 pairs that are skip-your-next-5-meals worthy. (more…)
Can You Tell Which White Lace Pumps Cost $696 More Than The Others?
Glint 'Trio' Peep Toe Bootie ($99.95) cost 8X less than these Valentino Lace and satin platform pumps ($795). Shop our guides to the best wedding costume jewelry, black bridesmaid dresses, and simple wedding dresses.
50% Off Giuseppe Zanotti Bridal (Kim K's Wedding Shoe Of Choice!)
Even though she had endless custom Christin Louboutins at her disposal, Kim Kardashian opted for a pair of Giuseppe Zanotti bridal shoes at her wedding last weekend. Great choice! The designer makes absolutely gorgeous wedding pumps -- and lucky for you, they're 50% off at Zappos. (more…)
Badgley Mischka Makes A Pair Of Glitter Pumps That Belong In A Museum
If you drooled over Niecy Nash's Swarovski wedding pumps, and love anything with "glitter" in the name, these Badgley Mischka Humbie Glitter Pumps ($200) will speak to you. The hot pair, which comes in gold (L) and smoke (R), are the perfect party pair: the hidden platform elongates legs, the peep toe is great for pedicure season, and the sparkles will light up your dancefloor like a disco ball. Shop our guides to the best strapless wedding dresses, white wedding shoes, and inexpensive wedding dresses.
40% Off Christian Louboutin Bridal – Kate Moss' Wedding Shoe Of Choice
Ever since Kate Moss chose Christian Louboutins for her wedding this weekend, the red-heeled brand has been hotter than ever. And we can't believe it - but Barneys has several styles for up to 40% off, including the Balota ($659, down from $1,095) and Christian Louboutin Double Moc ($959, down from $1,595). Shoe obsessed? Find more great deals in our guides to the best hot pink wedding shoes, designer wedding shoes and flat wedding shoes.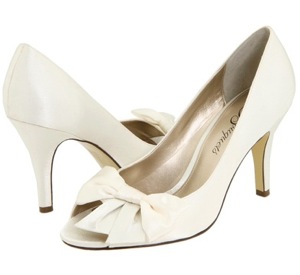 50% Off Peep Toe Pumps On 6pm – Giuseppe Zanotti, Badgley Mischka, More
6pm is a hidden gem for finding wedding shoes and accessories for way less than they're worth: take for example their wedding shoe sale -- get up to 50% off designer styles. Loves it: Shop our guides to the best strapless wedding dresses, white wedding shoes, and inexpensive wedding dresses.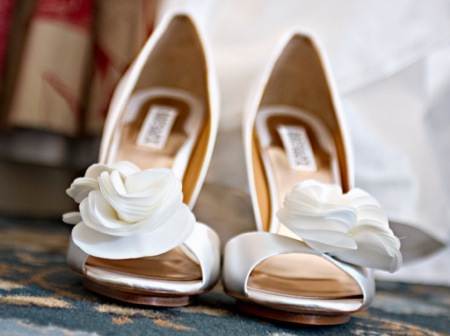 Cut Up The Dance Floor In Chic Badgley Mischka Wedding Shoes–On Sale
The dress might make the bride, but the shoes are equally as important. For chic shoes that are totally photographer-worthy (you know those photogs love the close-up shots of ultra-hot wedding shoes) Badgley Mischka is your sole-mate. Offering styles with ultra feminine flower details, sexy silhouettes, dainty jewels, and more, these designer pumps will make your grand entrance even more striking. Luckily, we've found several pairs that have been heavily discounted at Bloomingdale's, and Zappos, so get your shop on now. (more…)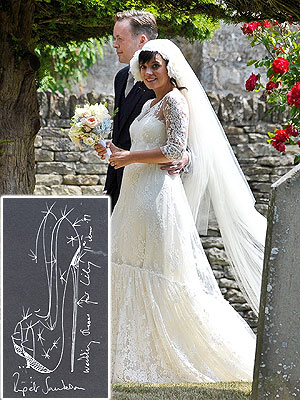 Lily Allen's Wedding Shoes Were Over 5 Inches Tall: Get The Skyscraper Look For Yourself
If you need a quick catch-up, Lily Allen walked down the aisle pregnant this past weekend and married Sam Cooper. Although no official full-view shoe photos have been released yet (just the above sketch and a mere glimpse), we know she walked down the aisle in towering Rupert Sanderson Skyscraper Hydra Pumps that were "made from a mixture of iridescent pearled suedes and boasting a 5½-in. heel," according to People Magazine. If you want to tower over everyone at your wedding, shop these 5-inch (and higher) similar styles now. (more…)
Shop Loeffler Randall Bridal Shoes For 50% Off, So You Can Afford To Splurge On The Dress
Earlier this year Loeffler Randall, my ultimate favorite shoe designer, launched a bridal shoe collection. If you weren't able to swing a pair of these bad boys at full price, now's your chance to own a pair of these dreamy shoes at up to 50% off - no joke! And check out their fall collection preview while you're at it. Here are our favorite discounted picks below: (more…)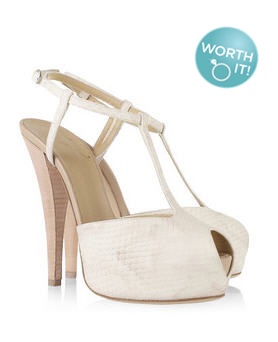 Worth It: On-Trend Giuseppe Zanotti T-Strap Platforms You Can Re-Wear All Summer
Italian designer Giuseppe Zanotti has done it again -- made me want to buy, that is -- with this T-Strap Platform Sandal ($595). I love it for a wedding because the look is so ladylike with the small peep toe and leg-slimming, thanks to the hidden platform. The T-strap keeps the sandal in place while you dance the night away. And it's not just a regular white shoe: it's snakeskin, so you can totally wear this pair with mini-shorts and flirty skirts to go out all summer. Sorry that I'm such an enabler, but this sexy shoe is totally Worth It. Need a fabulous pedicure color to show off in these peep toes? Check our list of the 6 best wedding day nail polish, then check our guides to inexpensive wedding dresses, cheap wedding invitations, and the best wedding jewelry sets.
Shop Bloomingdale's 'Mad About Shoes' Sale Today And Score On Designer Wedding Shoes
Found the perfect designer shoe, but not quite in your budget? For today only, you can save up to $150 on designer shoes at Bloomingdale's. Get your calculator (and wallet) handy and start subtracting from the shoe prices below now, and remember - the more you spend, the more you save! (more…)
Lazy About Selling Your Wedding Dress? eDrop-Off Will Measure, Photograph, And List It For You
The nice thing about wearing designer on your wedding day (besides feeling like a total rockstar) is the promising re-sale value you'll get on that gown or accessory later on. But if you're not an eBay maven, or don't have the time to list the dress everywhere online, you could miss out on getting the most for your merchandise. Cue eDrop-Off: a portal for selling designer wedding dresses, shoes, and accessories with the help of a professional, titanium power seller-ranked team. eDrop-Off does a personal evaluation of your goods, measurements, photographs, and even writes the product description. All eBay processing and shipping fees are covered by the service and potential buyers who live near an eDrop-Off location can even come in and look at the items in person. Still in the market for that designer gown? Shop our guides on all styles: simple wedding dresses, outdoor wedding dresses, short wedding dresses, and beyond.
90% – Yes, Nine Zero – Off Designers Like Valentino And Roberto Cavalli At YOOX
Holy mother of majorly marked down designer duds: YOOX has up to 90% off Valentino, Chloe, Badgley Mischka, and much, much more. The sale ends today, so high tail it over there and score your reception dress, wedding shoes, and more, on super-sale. Shop our guides to the best strapless wedding dresses, white wedding shoes, and inexpensive wedding dresses.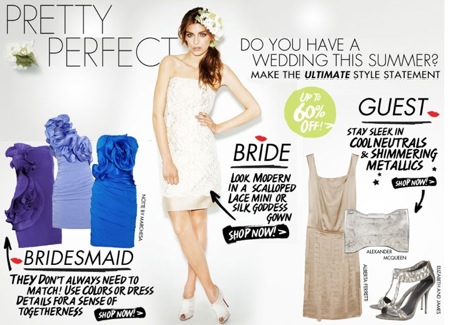 The Outnet Wedding Sale Is Open! Up To 75% Off Alberta Ferretti, Vivienne Westwood, More
With the recent Gilt and HauteLook wedding sales, it really is the best time of year for label-loving brides on a budget. Today's good news? The Outnet is having a major Wedding Special on April 26th - mark your calendars. We got a sneak peek, so of course we have to share it with you. Pick your favorites now so you don't miss out next week: UPDATE: The sale is open and the links below are live! Shop away. (more…)
The Bride Wore 'Maniacs': Brian Atwood's Must-Have Satin Wedding Shoe
Louboutin, who? In the designer shoe world, there's no one more hot (or Worth It!) right now than Brian Atwood. He's a former model and Versace accessories designer, and the creator of this fabulous Maniac Silk-Satin Platform Pump ($480). The sky-high pumps have adorned the famous feet of Jennifer Lopez, Kate Hudson, and more, and now, Brian offers them in a silk-satin pearl pink --which means you can totally walk the aisle in them. Or do dishes in them for that matter -- you won't want to take these puppies off. If you splurge on the shoes, save on something else with our guides to cheap wedding invitations, inexpensive wedding dresses, and wedding jewelry sets.
Open Toe Season Is Upon Us: Enjoy Your Warm Weather Wedding With These Pretty Sandals
As the weather gets warmer, our moods get universally better. Spring and summer brides have a lot to celebrate: especially a flirty pair of sandals. So many cute styles easily double as bridal shoes that there's just no reason to keep your freshly-pedicured feet hidden away. Here are a few warm-weather wedding shoe options we're loving right now: Still looking for the perfect pair? Browse our guide on designer wedding shoes, flat wedding shoes, and white wedding shoes.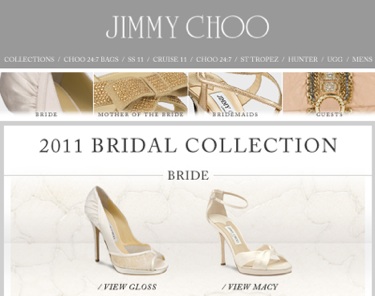 Jimmy Choo Bridal: Yes, You Have Died And Gone To Shoe Heaven
Jimmy Choo just announced its full 2011 bridal collection - just in time for news of Reese Witherspoon wearing the Macy pump. The line - which includes a range from classic satin d'Orsay to glittery platform pumps - is pure shoe porn. I even bought the champagne Logan pumps for my wedding! (Check Twitter if you don't believe me). (more…)
Embrace The Season's Bow Shoe Trend: It's Like A Present For Your Feet
Valentino. Diane Von Furstenberg. Kate Spade. Just about every designer this season has a pair -- and you can see for yourself why the flirty bow trend works. Whether big and bold or more dainty and subtle, these bowed beauties will pair well with many different gown styles: (more…)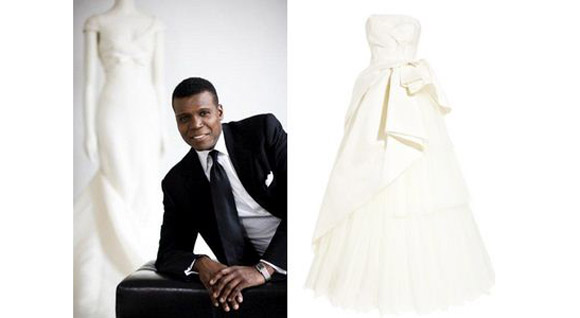 Find A Dress That Truly Flatters This Spring: Mark Ingram Helps Us Navigate The Trends
Mark Ingram's wedding dress expertise has made him a go-to personality for styling, trends, and flattering fit tips -- and with good reason. The man not only owns the gorgeous Mark Ingram Bridal Atelier in NYC, known for its cutting-edge collections, but also helped found the members-only luxury bridal shopping site The Aisle New York. Now he's offering words of wisdom to brides-to-be on the verge of heading down the aisle: (more…)
Happy Friday: The Perfect Vera Wang Heels Are 50% Off.
It's not every day that we find spectacular, complete-the-look designer shoes for half-off, and this pair just so happens to come from the incomparable Vera Wang. With sophisticated fabric detailing and a sexy zip back-closure, these open toe satin Vera Wang heels ($162.50, down from $325) are truly a rare find. Get 'em before they sell out in your size -- if they haven't already. Didn't make it in time? Keep following BRIDEfinds for more hot deals and check out our guides on inexpensive wedding shoes, satin wedding shoes, and white wedding shoes.

Loeffler Randall Sets Out To Change Wedding Shoes Forever With Metallic Lizard And More
From printed metallic lizard to satin stilettos with a perky rosette toe, Loeffler Randall's Fall Bridal collection is out to make you a very stylish bride. We just took a peek at the fall look book and the styles (which hit in September) are not for the fashion faint of heart. If you're in the mood to shop now, their debut bridal collection is still available: (more…)
Worth It: Glitzy Louboutin Pumps You Can Wear On Your Big Day–And Sell On eBay Later
Lusting over Louboutins have been something girls have done since those brilliant red soles hit the market. These Crystal-Encrusted Suede Pumps ($3,095) take shoe fetish-izing a whole new level. The ladylike peep toe, the studded-all over crystals, and the four-inch heel - oh my. While you may have fallen in love with your groom, you can fall in love with this shoe, too. And with the high demand for Loubs on eBay - this pair is officially Worth It! For more fabulous finds, visit our guides to designer wedding shoes, best wedding jewelry, and inexpensive wedding dresses to make up for the cost of the shoes.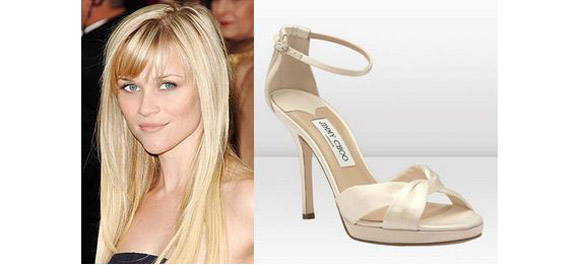 Get Reese's Sexy Jimmy Choo Wedding Shoes (Or One Of These 5 Affordable Look-Alikes)
Yesterday we told you about the details of Reese Witherspoon's weekend wedding (think celebs up the wazoo and a rustic charm), and now we know even more about Reese's big day: she wore these sexy Jimmy Choo Macy silk satin platform ($645). Grab a pair before they sell out - or shop one of the 5 identical styles we found: (more…)
Lela Rose For Payless: To-Dye-For Wedding Shoes For Under $50
Dyeable shoes - something that can be so revolting and cheap looking - just got a fabulous makeover. Lela Rose for Payless Unforgettable Moments collection of dyeable shoes - all under $50 - is our latest wedding shoe obsession. Choose your favorite style, and you can literally pick from 64 custom colors, from Frosted Plum to Cayman Blue: (more…)
Make A Serious Statement (Not Dent In Your Wallet) With On-Sale Designer Shoes
So you forgot to budget in for your dreamy designer shoes and now you're broke? No need to go barefoot to your own wedding when My Glass Slipper has some pretty awesome shoe labels on sale. (more…)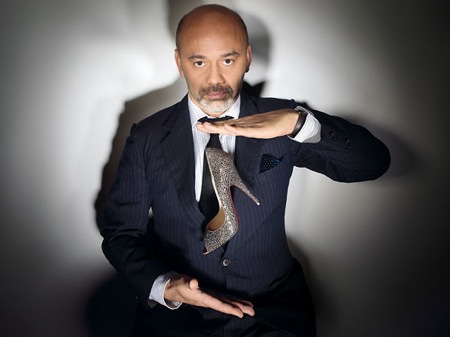 Christian Louboutin Hates Flats (7 Sky High Heels To Shop Now If You Agree)
While Kate Middleton is wearing flats down the aisle, not everyone is a fan of the comfortable wedding shoe style. Christian Louboutin, whose made his fortune on back-breaking heels, is not surprisingly one of them. The designer recently told the New Yorker, "'I HATE the whole concept of comfort!" Meow. If you're with Christian, and think style trumps comfort any day of the week, especially the wedding day, check out these sky high styles we found, which are so sexy, they're practically shoe porn: (more…)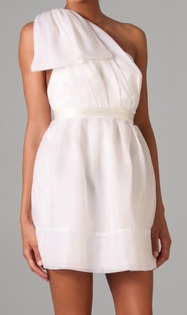 Shopbop Bridal Launched A Day Early; Shop Now And Kiss Your Wedding Budget Goodbye
We've obviously been besides ourselves for weeks with excitement over the new Shopbop Wedding Boutique - and now comes even more good news: the one-stop-shop for designer dresses, b-maid, shoes, and more, opened a day early. Our heart can't even take it: (more…)
Loeffler Randall Launches Bridal Shoes; Shop Now & Have A Very Stylish Wedding Later
If you love Loeffler Randall's wedge leather boots and non-rain boot rain boots, you're going to flip for their new Bridal shoe collection which just launched this week. Shop white mesh booties, ruffled flats, and my personal favorite - a criss-cross stiletto that comes in snakeskin. Timid brides need not apply. (more…)
Saturday Is Shoe Day! 6 Sale Styles To Satisfy Your Footwear Fix
The weekend is here and so are the sales on shoes. You may not have a shoe closet like Mariah Carey (above), but let's work on that. With these sexy, discounted designer wedding shoes from Badgley Mischka, Ivanka Trump, and more, you'll get a good start on the collection: (more…)
Your Daily Dose Of Shoe Eye Candy — Happy Saturday!
If you're fantasizing about soft satin pumps or strappy sky high heels for your wedding day - look no further. Our fashion experts have rounded up the top 9 designer wedding shoes, like these gorgeous, crystal-toe Giuseppe Zanotti pumps ($525, down from $750). These gorgeous heels, and our other picks from Badgley Mischka, Christian Louboutin, and more, are the equivalent to shoe porn -- you're welcome. 9 more super-sexy pumps>> For more expert-approved wedding finds, check our guides to the best strapless wedding dresses, white wedding shoes, and inexpensive wedding dresses.
Fashion Math: Do You Want To Be The Grandmother Who Passed Down The Cheap Pearls? Didn't Think So.
A pearl necklace will always be classic thanks to fashion mavens like Jackie-O, Coco Chanel, and Michelle Obama. Time and time again I see pearl necklaces adorn the necks of elegant women, but I can never tell the difference between the faux and the real deal.  But once I saw this four strand  J.Crew pearl necklace ($325) in person, I understood the price tag. See why buying real pearls will give you more bang for your buck. Let's do the Fashion Math: One wear of this necklace is the same price as your daily coffee. Three months out of the year you are bound to grab this staple - made with freshwater pearls and hand knotted on silk thread. The strands' varying lengths and sizes make a modern statement, and you can wear this necklace for formal and casual events. Do you want to be known as the grandmother who passed along the cheap pearls? Didn't think so. See our guide to Michelle Obama's style, then check out more items worth the investment in our other fashion math posts.
New York Fashion Week: Candy-Colored Tights, Military Jackets, More
Yesterday at the tents there seemed to be two distinct tones for fall. One trended towards the elegant and ladylike, with youthfully exuberant bright hues and jewel tones splashed on coats, evening wear, dresses, and pants. The other was a darker, more austere look, with a dark grays, olives, and neutrals reigning over goth, punk, and military-inspired cuts. Among the many looks, these are some that can be easily translated into your wardrobe this fall. Bright Tights, Leggings & Pants Black and gray tights will surely remain an old standby, but this fall's most exciting hosiery comes in splashy oranges, cobalt blues, and deep reds. Colorful pants and tights were seen from Milly, Tory Burch, and Anna Sui just to name a few. You can get Spanx Tight End Tights ($26) in lipstick, cobalt or cabernet, all of which feel great, suck you in, and have a rich, opaque color that is right on trend. (more…)
Sponsored Post: Guilt-Free V-Day Indulgences, Brought to You By Starbucks Frappuccino
Taste Test: Which Shimmery Sequin Tank Leaves More Money For Cocktails?
Got it right? Try all of our taste tests or check out the latest fashion math and the week's best sales and deals.
Trend Alert: The Flirty New Plaid–Lumberjacks Need Not Apply
We love plaid shirts--if you love the style, too, consider continuing the trend into spring with a few pieces perfect for transitional weather. You can wear them lots of ways. That's how you know they're worth the money. Roxy does a great transitional plaid dress ($19) that works in winter with a pair of tights and booties, and is equally cute for spring with ballet flats. The basic wardrobe addition: A peppy LOFT  plaid scarf ($34) takes a basic dress or cardigan to the next level. This Splendid plaid dress ($139) in pastel colors lets the plaid be a little more feminine--without compromising its roots, which are casual and cool. The American Eagle plaid fedora ($19.95) makes a plain pair of jeans that flatter your shape and a button-down shirt seem instantly dressed up. Hurley plaid halter top ($19.99) and bikini bottoms ($42) are different than the standard bikini--why not switch things up on your next vacation? Get more in our guides to plaid shirts, see our spring trends, and be inspired by our guide to celebrity denim styles, skinny jeans, and black jeans that work with everything in your closet. Subscribe to our newsletter for all the best sales and deals.