J.Crew's $1,500 Handbag: We Love You, But You're Not Gucci
Who doesn't love J.Crew? Their Italian-made knits are bar-none, they've got the coziest vintage pajamas and collabs with brands we love like Lulu Frost and Soludos. But does your favorite mall store have any business selling a $1,500 alligator bag? Jenna Lyons seems to think so. The Americana staple is now selling an exotic-skin version of their Edie bag for the price of one month's rent. Jenna admitted that her latest pick, which she wore to Derek Lam's spring 2013 show, is a bit "over-the-top" on J.Crew's Tumblr earlier this month, but the real question is - will anybody drop that much for it? Sold at their upscale J.Crew Collection store on Madison Avenue in New York, the bag is described a perfect "I was very good this year" gift. So, in theory, you could grab one for yourself if Santa didn't bring you what you wanted. Assuming you have a few thousand extra dollars lying around. So, what do you think: would you buy a $1,500 bag from J.Crew, or would you save the big bucks for brands like Louis Vuitton and Gucci? For more handbag news, check out the 10 most popular accessory brands of 2012, shop the fur clutch trend, or get Hilary Duff's YSL bag.
Judith Leiber's 'Butterfly Cake' Clutch: Quite Possibly, The Worst Way To Spend $7K
From $300 paper bags to a ring that is in all likelihood intended to be used for storing coke, it seems that the designers themselves might be on crack these days. But, today's #WTF item really takes the cake - literally. Judith Leiber is hawking a $7,000 "Butterfly Cake Minaudiere," and it might just be the ugliest thing we've ever seen. With its utterly ostentatious Austrian crystals and pastel enamel butterflies, this thing is definition gaudy. What's more is that Neiman Marcus describes it as a "guilt-free indulgence." Jokes. If you buy this thing you should feel guilty - guilty of a major crime against all that is beautiful and true in the fashion world. For more handbag news, read about the geode clutch trend, Stuart Weitzman's first handbag collection since 2010, and Chloé's Peanuts-themed collection.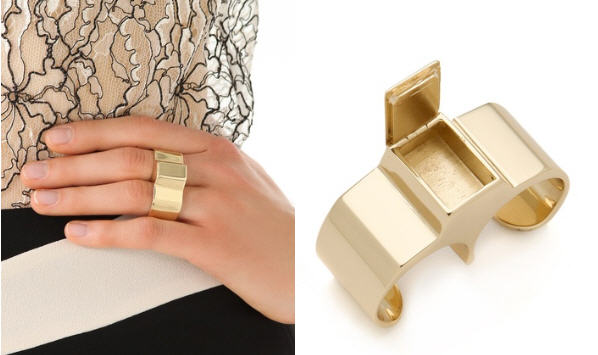 What Kind Of 'Trinkets' Does Maison Martin Margiela Think You'll Stash In This Ring?
I guess the 80's aren't over, because the folks at Maison Martin Margiela have felt the need to create an obviously-for-coke gold ring, which just hit Shopbop. The 'Trinket Case' ring ($445) is sure to become a nightclub staple (think LiLo already has one?). Who needs a little plastic baggy and a straw, when you've got an entire coke kit on your ring finger? The secret compartment may even be good for traveling on an airplane. Just kidding! CALL YOUR DEALER See more WTF?! items, like these tiny hats from ASOS, this ass-less dress from Etsy and the 10 most bizarre eBay listings.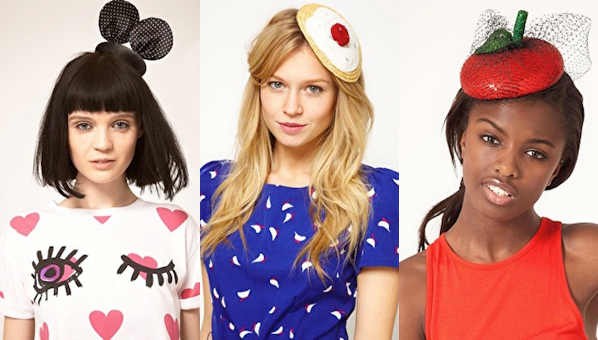 ASOS Is Having A Little TOO Much Fun With The Tiny Hats Trend
When we first spotted this ASOS Google Eye Fascinator Hat, we were all like, "OMG WTF?" and decided to have fun with the idea of sporting an extra pair of eyes on a black piece of circular felt. And while that was just for a laugh in the name of fashion, we suppose ASOS never got the joke (or hint). Instead, the popular retailer was probably all like, "OMG YES! MORE!" The result? MORE tiny hats that are even more ridiculous than before. If you're down with donning a fascinator at your next soiree, might we suggest one that resembles the top of an apple? Perhaps one with miniature mouse ears? Or maybe a hybrid wicker-basket-cupcake hat? ASOS has got you covered from head to–well, just your head—a kooky-looking head at that. SEE THE CRAZIEST TINY HATS HERE Read more WTF moments in fashion: bizarre eBay listings, Jeffrey Campbell's floating shoes, and a dress whose 'crack' can kill.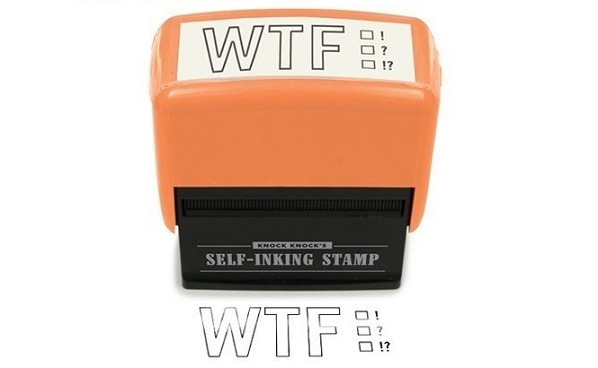 There's A Lot Of Weird Crap Out There: The 10 Most Bizarre eBay Listings EVER
If you spend half the amount of time that I do on the internet, you know there's a lot of strange stuff out there on the world wide web. One of my favorite places to find bizarre crap I didn't want to know existed is eBay. The site is one of my favorites for buying vintage jewelry, secondhand designer pieces, and even home decor, but sometimes, I can't help but wonder: What the eff are people thinking? 10 of the wackiest, WTF fashion finds on eBay - EVER Check out the above slideshow for , and don't forget to check out other weird stuff SHEfinds loves to hate: the dress with a built-in cell phone (?!), the bra that doubles as a wine rack (?!?!) and perfume that (proudly, may we add) smells like "blood and semen (!?!?!?)  [photo via Pinterest]
Float Above Ground With Jeffrey Campbell's New Oxford Shoes
Oxfords? Check? Jellies? Check. Acrylic Heels? Check. Jeffrey Campbell has combined three of our favorite trends and released...one weird Float shoe. Made from rain-resistant material, these $144.95 oxfords are equipped with transparent wedge heels. Result? An illusion of one walking on tip toes, which is pretty awesome. Some call it magic, we refer to it as designers on crack. But props to Jeff for thinking above outside the box! BUY Jeffrey Campbell Float shoes here I wonder what Jeffrey Campbell would come up with if we gave him cap-toe flats, ankle strap heels, and some shearling boots? For other interesting designer finds, check out the Super Sexy Etsy Dress and Maison Michel Bear Hat, and shop our favorite jelly flats.
This 'Super Sexy' Etsy Dress Is The Definition Of 'Crack Kills'
Ever since our Top 10 Fashion Dares post, we've been striking up the courage to face our biggest fashion fears. That is, until we came across this little gem of a dress on Etsy. Ladies, if you think the LBDs and low-cut tops in your closet are sexy, think again. Because Greek designer Lina Petrauskiene begs to differ. In fact, her idea of sexy requires dresses to be "business in the front" and "raging party in the back." And by "raging party," we mean a gaping hole that exposes your backside business. The description of this "Super Sexy Dress" says: This super sexy dress is made of synthetic fabric. It reveals the most attractive part of the women's body We've had our fair share of WTF moments while shopping online, such as spotting a fascinator with a set of eyes and discovering a gigantic pill box for a purse. But this "super" sexy synthetic dress belongs in the hall of fame. Where on earth could we even wear this? For the lucky Etsy shopper that snagged this item (yes, someone physically and willingly took out their credit card to purchase it), we really hope you let us know. Wherever you and your attractive bum are. Read more fashion and beauty news: Noir x L.A.M.B. jewelry, neon crackle nail polish, and Rachel Comey sweater swimsuits.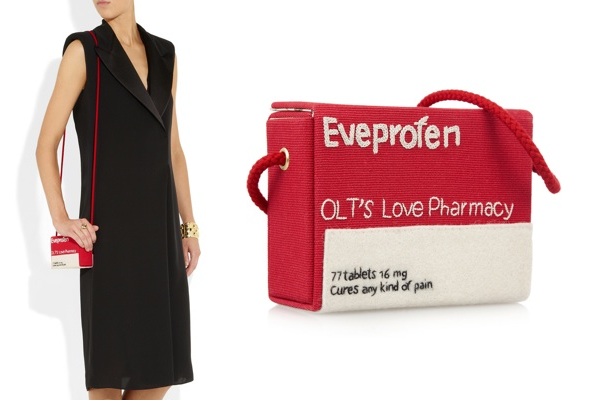 Is Olympia Le-Tan's Pill Purse 'Humorous' Or Totally Inappropriate?
Sorry to be a Debbie Downer, but with America's prescription pill epidemic on the rise -- do we really have the stomach for fashion that idolizes it's use? Olympia Le-Tan, who we normally LOVE for her book-themed clutches, just released this Pill Box Eveprofen twill mini shoulder bag ($450), which is "humorous," according to it's Net-A-Porter description (it is also sold-out, which is an entirely separate issue). With an estimated 7 million prescription pill abusers in the U.S. (many of them high-schoolers), Olympia's tongue-in-cheek clutch, which claims to contain "77 tablets" and "cures any kind of pain," crosses the line to me. What do you think? For more hot topics, check out the 30 Items You Must Own Before 30, why your manicure might be illegal, and why J.Crew's Manolo Blahnik collaboration is no more.
$1,000 Faux Eyelashes, Bathing Suits That Can't Get Wet & The Worst Products Of 2011
From body harnesses to the Herve Leger swimsuit that can't get wet - 2011 was chock-full of CRAZY crap, but we've narrowed it down to the 11 Worst Products of The Year. Click in to see them all. (more…)
The Denim Scarf: A Canadian's Response To Winter Or The Next Hipster Accessory?
I can tolerate denim dresses, chambray shirts, and jean jackets, but a denim scarf?!? I'm sorry American Apparel, but this will never, ever be a "thing." It's honestly borderline offensive. The $27 scarf (which is apparently "out of stock" at their factory and thus can only be shipped from retail stores) literally looks like it was cut from a scrap of your loser ex-boyfriend's denim duvet cover circa 1989. Can't seem to cough up the cash? You could always DIY a version of this scarf with an actual pair of jeans---which might be perfect for a road trip, the morning after, or any other situation where you'd need a spare change of clothes. (more…)
Weird Net-A-Porter Find Of The Day: This $455 Lace Mask (From The Lingerie Section…)
Remember when they recycled leftover fabric scraps from Lanvin for H&M to make the "H&M Waste Collection"? Well this Carine Gilson Lace Mask has got to be some sort of re-purposed fashion statement of its own, because otherwise, it makes absolutely no sense. And even if it is fashioned from leftover scraps of lace from the designers' other lingerie collections, I still don't get what the mask is for---and from what I can tell, it doesn't even have eye holes. While I assumed it was supposed to be some sexy bedroom accessory (it is in Net-A-Porter's lingerie section, after all), the product description begs to differ: "Evoke Old Hollywood glamour and wear it to your next black tie event with swept-up hair and a flash of red lipstick." ....But once again: it doesn't have eye holes. So good luck with that.
Topshop Is Now Selling $80 Body Harnesses. Terrifying.
Tan Leather and Nude Leather Groove Harnesses, $80 Remember when we discovered that Shopbop was selling belly chains and feather body harnesses? Well now Topshop has jumped on the bizarro S&M-tinged trend with their Leather Groove Harnesses ($80). If you're confused as to how to wear this bad boy, wait 'till you see the product description: (more…)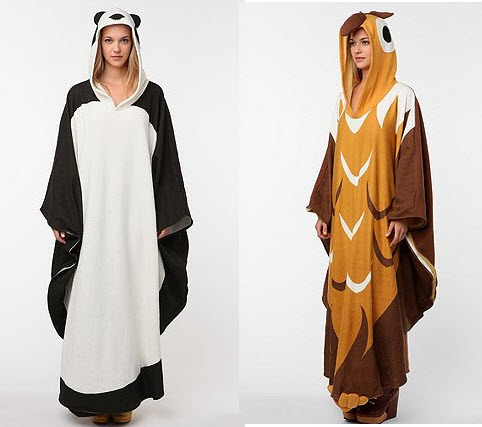 Nightmares Do Come True: The Full-Body Spirit Hood Is A Prime Example
Calm down, Urban Outfitters. If you've got a friend who's looking for a Snuggie/Halloween costume hybrid this year, then Urban Outfitters has got you covered. Literally---head-to-toe---covered. Their UO signature "Owl Buddy" and "Panda Buddy," which they describe as 'both a blanket AND an oversized poncho,' are both on sale for $49.99 (down from $89.99).
Chanel's $20 Cotton Pads, Gucci's $20,000 Bike — And 10 Other Signs The Recession Is Over
So Don't Feel Bad About Your Holiday Purchases... This week, New York mag's The Cut blog featured 2 ridiculous designer items that made me realize the recession is officially over (and conspicuous consumption is BACK). The $20 Chanel-branded cotton pads and Gucci's $14,000 of-road bike are all the evidence I need that the days of careful spending are behind us. (more…)
Marc Jacobs Is Knocking Off The Ray-Ban Knockoffs (For $110 A Pop)
Marc by Marc Jacobs' $110 version is on the right. The 80 cent bulk version is on the left. But we hardly see a difference. It used to be that American Apparel was the patron saint of sorority-themed clothing, but now, it looks like Marc Jacobs is trying to win over the Kappa crowd. The Marc by Marc Jacobs Flat Top Sunglasses ($110) are essentially glorified 80's neon-arm wayfarers that have since become staples at college homecoming games, sorority bid days, and even hipster weddings. But apparently MJ decided they also have a place on Shopbop. For a roughly 1,000% markup. I can't decide if this is mildly funny or just plain abysmal.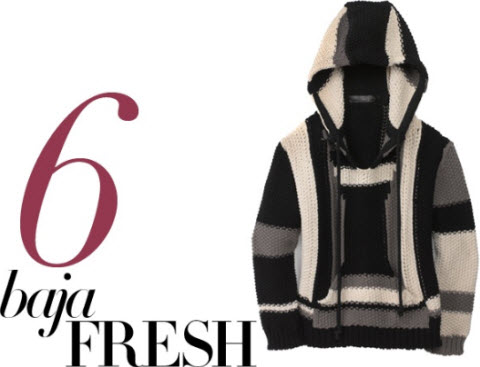 Vogue Has A $2,500 Drug Rug On Their Holiday List. What The Hell Have They Been Smoking?
"This cozy sweater will help anyone get through the long winter ahead," reads the Vogue caption. I have so many things to say about this $2,595 Proenza Schouler knit sweater that Vogue put on their 2011 Holiday Gift List. First of all, who the hell at Vogue would be caught dead in a stoner hoodie? OK, I get that it is designer, but that does that mean they'd also walk around in public wearing just anything Maison Martin Margiela has designed? I highly doubt it. Second of all, I'm dying over the fact that the headline is "baja fresh." Are the editors aware that this is also the name of a Mexican chain restaurant in California? I literally got a burrito from Baja Fresh a week ago before my flight at LAX. For some reason, I'm finding the juxtaposition between sub-par airport food and the Vogue Gift Guide to be utterly hilarious. (more…)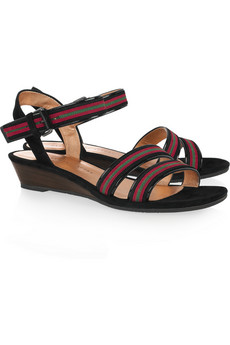 Marc By Marc Jacobs' New Sandals Look Dangerously Similar To Tevas
Remember that terrifying day last year when Teva (yes, the velcro sandal company your hippie dad wears hiking) announced their foray into the women's stiletto market? And while this isn't exactly the second coming of the Teva high heels, it's not far from it. Apparently Marc Jacobs took a cue from the outdoorsy brand with his new Marc by Marc Jacobs striped wedge sandals, which retail for $280 on Net-A-Porter. I know Marc by Marc is essentially considered "sportswear," but this is pushing it. (more…)
Day Of The Week Undies Are Back: Will Blankies And Footie Pajamas Be Making A Comeback, Too?
Becky Black's go-to pair, of course. Throwback items can often make for fantastic holiday gifts: there's nothing like a re-issued Polaroid camera or vintage board game to evoke a feeling of ecstatic nostalgia in any gift-getter. But day of the week underwear? Now that's just borderline creepy. Despite the fact that few people over the age of seven wear day of the week anything, various retailers---including Stella McCartney---have seemingly jumped on the Day-Of-The-Week Undies trend. See for yourself (and give at your own risk) after the jump: (more…)
Cute Or Creepy? Toy Story Clothing For Adults (And They're Not Even PJs)
Hong Kong-based Bossoni's "Toy Story" Collection When we first saw these images of Hong Kong-based designer Bossoni's Pixar film-inspired Toy Story collection, we were sure they had to be either a) Halloween costumes or b) bizarre Jeremy Scott knockoffs. Turns out, they're neither. After doing some research (and currency conversions) on the brand's Facebook page, we found out that the "tunics" pictured above retail for around $100-$120 US Dollars. Be sure to check out the even creepier extremely animated promo video after the jump: (more…)
Stop Trying To Make Faux Fur Underwear A Thing, Shopbop. It's Not Going To Happen.
When we first spotted this "Faux Fur Bralette and Panties Set," we had to double check the URL to make sure we were indeed on Shopbop and not Frederick's of Hollywood. Sure enough, this Only Hearts Faux Fur Bralette ($84) and Thong ($44) is actually retailing on Shopbop---as an 'Editors' Pick.' First of all, this look would be extremely bulky when worn under clothes--it is supposed to emulate animal hide, after all. But what really gets me is the sheer lack of sex appeal: when so many women want to keep that area bare, why would they ever opt to cover it up with fake fur. Unless you're going to a rave, PETA-themed lingerie party, or Russia anytime soon, I can't seem to come up with a situation where wearing this would be remotely acceptable.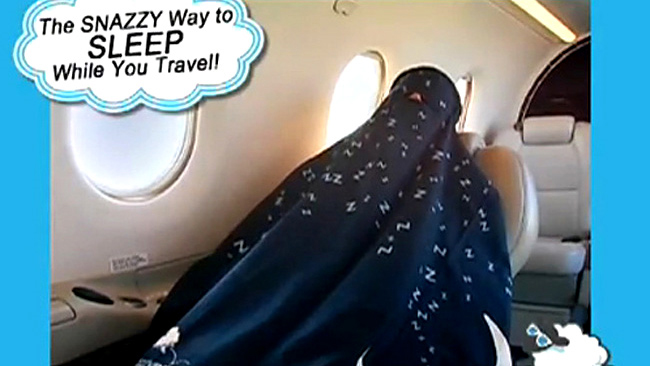 The Snazzy Napper Is Both Socially Awkward And Amazing At The Same Time
"Privacy in a bag" Ever wonder what would happen if a Snuggie and a Burka had a lovechild? Well the "Snazzy Napper" is single-handedly trying to find out.  In what may be the most socially questionable infomercial since the Shake Weight, the Snazzy Napper is portrayed to be the most "private" way to get some shut-eye while traveling. (more…)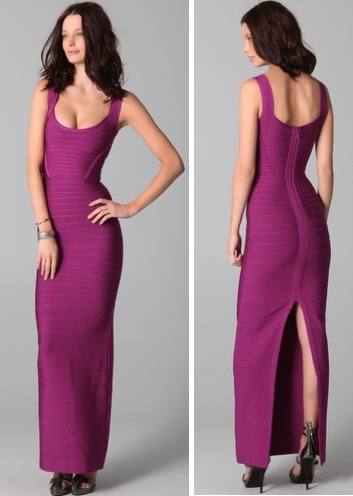 Hérve Léger Found A Way To Make Even Maxi Dresses Uncomfortable
What happened to maxis being the be-all, end-all of tight, body-con dresses? Hervé Léger's newest bandage maxi dress---also known as the "Signature Essentials Gown"---is the utter antithesis of the traditional, flowy maxi. Retailing for $1,700, the Hervé Léger gown you can't move in is giving us flashbacks to the $1,000 swimsuit you couldn't get wet. With 60" of skin-tight, bandage-style material and a thigh-high slit up the backside, the dress has all the elements of a Kim Kardashian-approved Hervé frock, except in floor-length form. Since celebrities already adore Max Azria's curve-hugging minis, we're unsure as to why he chose to make a maxi version---that is, unless a pack of couture-loving mummies made a special request, of course.
Check Out Urban Outfitters' Hipster Interpretation Of Will Ferrell In 'Elf'
Introducing: the Buddy the Elf Graphic Tee Last week we said A-OK to the Ugly Christmas Sweater Tee, but this week we're drawing the line at Urban Outfitter's Elf-inspired graphic tee. No where on the site can we find any indication that this is either a gag gift or a sleep shirt---rather, the item description refers to the product as a "costume tee," which is largely open to interpretation, considering Halloween ended last month. (more…)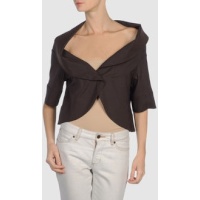 I Don't Think That's How You're Supposed To Wear That, YOOX
I'm pretty sure the last time it was acceptable to wear a blazer without a shirt was during the time when Victoria Beckham was better known as "Posh Spice." Well apparently that's not case for the people over at Yoox.com, who featured this Piazza Sempione blazer on their site with a nude (and belly button-less?) model. (more…)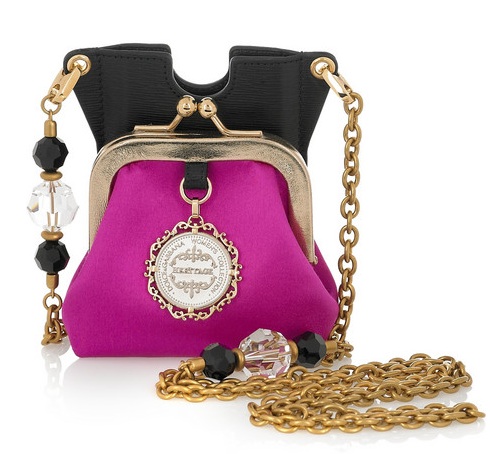 This May Be The Gaudiest iPhone Case To Exist Ever (P.S. It's $875)
Apparently someone over at Dolce & Gabbana decided that there's a market for nearly $1k cell phone purses resembling Polly Pocket sets. The $875 "Textured Leather iPhone Case" features a detachable beaded strap, as well as a coin purse attachment for any non-Apple necessities. But how to wear it? Well the folks over at Net-A-Porter think you should "wear it over the shoulder or store in an oversized tote for an opulent addition to your look." So what they're really saying is "Yes, we think this is hideous too, so you might want to buy a much less offensive 'oversized bag' to hide it in."
Is "Belt Purse" Just A Fancy Name For "Fanny Pack"?
From left, Pucci & DVF. First purse necklaces...now this. If you're not careful, you could be just one belt purse away from wearing a full-on fanny pack. We spotted this trend and laughed...until we realized that so called "belt purses" are actually a thing. There are tons of them, and they're not cheap, either. As MOMfinds editor Jeanine pointed out, they're kinda good for holiday parties and nights when you just can't be bothered to lug around a handbag or clutch. Point well taken. ...Or is that what people told themselves in the '80s, too, right before fanny packs became a thing the first time around? Would you wear one? (more…)
A Week Of Camping Like A Vogue Editor Costs More Than A Fashion Assistant's Annual Salary
Must be nice. $31, 349*: it might sound like a cushy salary to the protesters at Occupy Wall Street, but over on the 12th floor of 4 Times Square in the glass tower bubble that is Vogue, it's just the amount you'd drop on a low-key weekend in the woods. Their article on "glamping," yep, that's the term coined for "glamorous camping," featured a bevy of must-have items to pack, all of which subscribed to the "Lewis and Clark spirit gone luxe" mentality: think of it like Diddy's take on Into the Wild. Here, we did the Fashion Math on some of the glamp-site items from Vogue's slideshow. A week's stay at "Kate's Lazy Meadow" glampsite in New York's Catskills costs $2,100--but when you bring a Vogue editor along, things really start to add up. A few standouts from their packing list: An $800 wood-carved chess set = 800 rounds of Monday Night dollar drafts at the Stumble Inn. A $2,800 children's camping tent (which you're expected to bring with you to the lodge) = more than a year's worth of groceries--at Whole Foods. In Union Square. The $1,150 leather-trimmed Prada backpack? = a brand-new Mac Book---after tax. And Miuccia's creation doesn't even come armed with Google Maps. Oh, and that "price upon request" Hermes armchair? If you're wondering, I called: it's $11,100 (and that's not including the foot stool). To put it in perspective, a year's rent on the Lower East Side costs me only a couple hundred more than that. C'mon guys, what happened to packing a couple of Rails plaid shirts, leggings, military jackets, and shearling shoes in your overnight bag and busting out the s'mores and citronella candles? So much for roughing it. *This includes a week's lodging, plus all of the items cited in Vogue's packing list.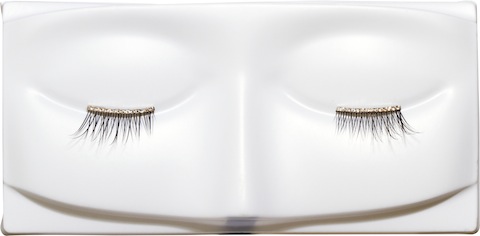 Barneys Is Selling $1,350 Diamond Eyelashes… And They're Kind Of Amazing
Amazing and obscene all at once. Are bedazzled false eyelashes the 2011 incarnation of the rhinestone tooth decal? Hope so, because these are all sorts of awesome. (more…)
How High Would You Have To Be To Buy This Scarf?
Uh, what was Eugenia Kim's thought process here? This weird animal scarf  looks more like something  knit by a granny whose hobby is poisoning raccoons than something I'd cough up $231 for.  Oh, and it has beady resin eyes attached. All together now: "Ewww." [@Shopbop]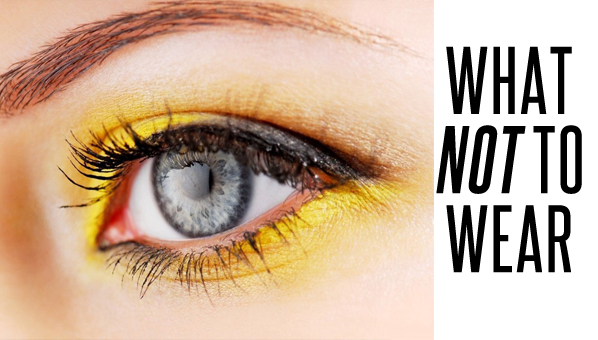 From Tevas To Toe Rings, We're Counting Down The 10 Things No Woman Should Own
...just to name a few. While we can't get enough of trends like leather satchels and motorcycle boots, there are some we have been waiting to go extinct for years now. Check out our countdown of the fugliest items no woman should own after the jump. For more news on designers on crack, be sure to sign up for our newsletter.
How Is This A Thing?! Joe's Jeans To Debut Sweatpant Jeans
Last year when Pajama Jeans launched, they were a source of fascination--but on one in the fashion industry actually took them seriously. Or so we thought. Now, Joe's Jeans, a designer brand that are a fashion editor favorite, are debuting Jean Sweats. Yep, you read that right. The name alone makes us think of what happens to your body when it's too hot outside to actually wear denim. As in, "It's so hot outside, I'm starting to get the jean sweats!" (more…)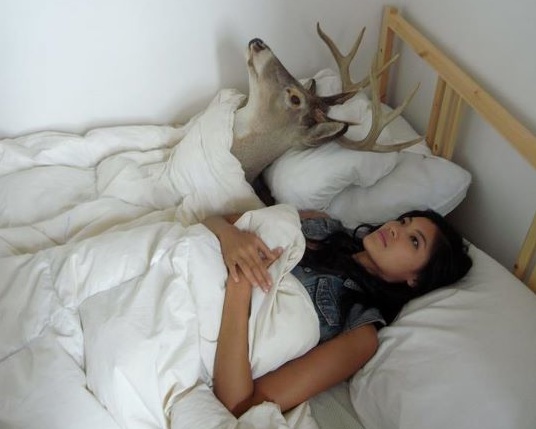 Faux Taxidermy 101: The Top 5 Papier-Mâché, Plastic, And Cardboard Deer Heads
Taryn Look, Tim Brock (photo) and Mr. Buck As the daughter of a fine art photographer, I certainly know a lot about bizarre home décor. And while I hold a special spot in my heart for my mother's taxidermy peacock, two-headed chick, and cat (yup), I prefer to decorate my own apartment with animals that were never actually alive (sadly, unlike Mr. Buck pictured above). I'm obsessed with faux taxidermy right now: it's vegetarian, cheap, and undeniably kitschy. Check out my roundup of picks after the jump: (more…)
Jeremy Scott Teaches Us to Fly Our Freak Flags High With 7 Crazy Trends
Dresses themed after post cards and bikini tees? I'm shocked this isn't his Resort line. With a collection of gold winged adidas kicks and Swatch watches, it's no surprise that Jeremy Scott's RTW line is always high on kitsch. And his spring 2012 collection at NYFW this year came as no exception---models strutted down the runway in ass-less chaps, cow print, and pink pleather. But while his cowboy-slash-vacation-themed collection was rich in its bold statement pieces, there were plenty of little details that were even more zany. The jury's out as to whether anyone in their right mind would wear them, but either way, they're still pretty fun to gawk at. Check out our roundup of the seven bizarro details from Scott's show below: (more…)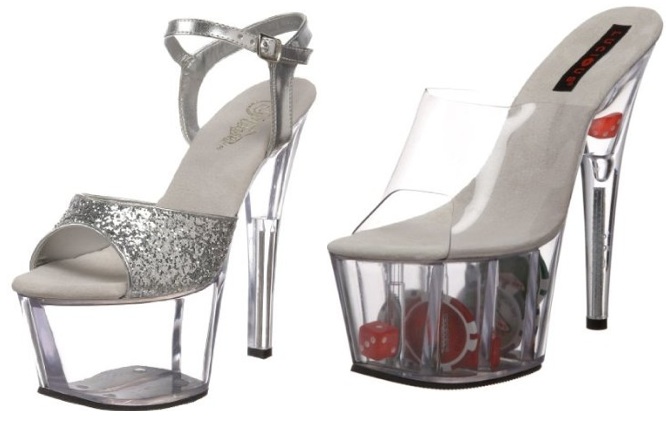 Who Knew? Endless.com Sells A Vast Variety Of Stripper Shoes.
Yep, the ones on the right are filled with dice and poker chips. Ah Endless.com, a perennial favorite for discounted flats, sandals, and...stripper shoes?! We were lucky enough to stumble upon a little-known brand called "Pleaser" (hey, at least they don't beat around the bush), who carry literally hundreds of glitter, lucite, and bondage-adorned heels.  But these shoes don't just look like stripper heels---they actually are stripper heels. "Discover the ultra sexy, show-stealing Pleaser shoes that are legendary among fashionistas, performers and sexy footwear enthusiasts around the world!" reads Endless' product description. "Performers," eh? That just about solves it. Check out a gallery of our favorite styles after the jump: (more…)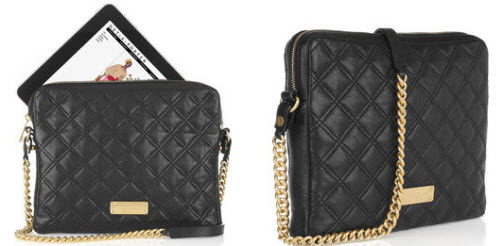 Marc Jacobs Thought You Might Want A $495 Quilted Chanel Knockoff For An iPad Bag
iPad cases are so last week. Marc Jacobs iPad bag, $495 at Net-A-Porter File this under things I'm not buying. There aren't many things on that list--in fact, this is pretty much the only thing, along with the $1050 Herve Leger swimsuit that can't get wet and the $95 scrunchie bracelet my eight year old self probably would have flipped over. Hey, it's a free country--if you choose to swaddle your iPad case in fully-lined quilted leather while carting it back and forth from the office, that's your prerogative. But I just can't help thinking that with the money you could spend on a piece of leather with a chain around it, you could have actually bought another iPad...for your office. Just sayin'.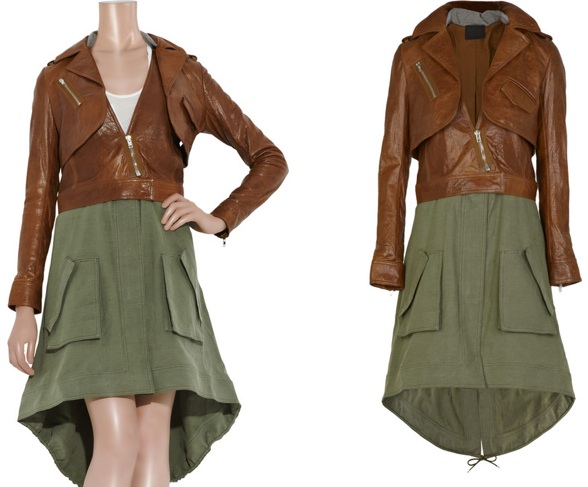 Alexander Wang Tries To Convince Us That Jacket + Dress = Dracket
Alexander Wang's Leather Jacket With Removable Section, $673.75 It's a jacket! It's a skirt! It's a Leather jacket With Removable Section...? At least that's what the designer, Alexander Wang, intended it to be. (more…)
Jet Setters Are So 2008: Donna Karan Markets To Parachuters For Her New "Casual Luxe" Label
The Donna Karan Casual Luxe Collection. Story time. Let me present you with the description that accompanies  Donna Karan's new Casual Luxe line on Shopbop, where prices exceed $3,000 an item... "Luxurious, dressed-down, and effortlessly cool. Pre-fall's palette looks out an urban window--the elements of nature and architecture, weathered with age..." (more…)
Meet The Sold-Out Bikini That Looks Pretty Much Exactly Like Bondage
Eagles Shadow Bikini by One Teaspoon Given that it's sold out in every size and has over 600 Facebook likes, it's safe to say One Teaspoon's Eagles Shadow Bikini is a hot commodity. But you think the suit itself was ridiculous? (more…)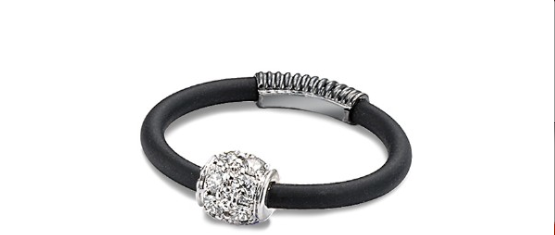 Would You Wear A $1,045 Rubber Diamond Ring?
Mona Taner's $1045 Rubber Ring I honestly can't even come up with a situation in which owning a fancy rubber ring would ever make sense. For a white water rafting trip? Well, no, because in that situation you really just shouldn't be wearing a ring at all. Or is this some sort of BoBo engagement ring? I can't help but think that neither the Bohemians nor the Bourgeoisie would find this appealing. (more…)
Move Aside Stephanie Tanner, The $95 Scrunchie Bracelet Is Now Considered High Fashion
From left: Stephanie Tanner, and the $95 scrunchie bracelet When I think of scrunchies, three things come to mind: kindergarten, Stephanie Tanner, and professional ice skaters. It's not often that "high fashion bracelets" fit the description---but for Maison Martin Margiela, this isn't the case. (more…)
Remember The Belly Chain? It's Apparently Still Relevent–To Shopbop.
What's old (left) is new again (right) Who knew 1999 would be such a year to remember: the Euro, which was introduced that year, is definitely still around. And guess what else is? The belly chain. (more…)
Which Are Creepier: These Nails, Or These Nail EARRINGS?
What is going on here--is Lady Gaga designing jewelry? (more…)
Lenny Kravitz Goes Old School With Landline-Style Handset; We're Intrigued
Is this the new ironic boombox? Last week Lenny Kravitz was spotted walking around New York with the latest in ironic gadgetry: a black old reto style "handset" for his iPhone. Although his statement accessory is kind of ridiculous (I couldn't stop wondering where he planned on putting the phone after use...but after all, that's probably what personal assistants are for), it also would make for a kitschy gift---especially for parents who have been somewhat reluctant to embrace technology. Even better, we found it on Amazon in a whole spectrum of colors. Hmm...pink would match my computer case, and probably would make Skype calls a whole lot more comfortable. I could definitely come around to this. SHOP: The Native Union Moshi Moshi Retro POP Handset in a variety of colors ($29.99) at Amazon here now. For more news on designers on crack be sure to sign up for our newsletter.
Hotflops' Flip Flops Remind Us It's Five O-Clock Somewhere (No, Snooki Didn't Design These)
From left: martini flip flops and margarita flip flops Just last week we were introduced to Snooki's pickle-printed flip flops, but this week we found some similarly gastronomical footwear that's a little more, um, three-dimensional.  Although I'd probably rather spend my money on a round of actual margaritas, these kitschy Hot Flops are sort of a hilarious antidote to Fit Flops---instead of a workout, they encourage happy hour (which is already my default after work ultimatum). Part of their "partyflops" line, the collection includes martini and margarita flip flops (both pictured), as well as a red and white wine variety and a strawberry daiquiri pair. But what's my favorite thing about these flip flops? My mom owns them. Follow the author of this post on Twitter @shefindschar. For more news on designers on crack, be sure to sign up for our email list.
Well, That's An Interesting Take On The Cleavage Situation.
The Dickie Bra, featured in a 1975 Sears Catalog Until about a month ago, I had absolutely no idea what a "dickie" was. But after a hilarious bout of gchatting, Googling, and Wikipedia-ing, I learned that a dickie is a type of false shirt front, made to be worn under sweaters, blazers, and jackets. All in all, it's weird. In fact the concept actually makes me physically uncomfortable. Even if I ignore the Madonna-esque conical bra look, the looks on the models' faces alone makes me uneasy--it's as if they're hiding something. OH WAIT, they are: it's that they're not actually wearing a shirt. In fact, what they're wearing is actually the anti-push up bra, disguised as a shirt. Don't itchy materials like tweed and wool cause stomach chafing?! What's worse, is we dug up a modern day version---which means that people are still wearing these things: "Create a festive arrangement with our ladies silk dickey shirt," says the tagline for this $14 (down from $39!) dickie from Orvis. Yup: "festive arrangement." They went there. For more news on designers on crack, be sure to sign up for our newsletter.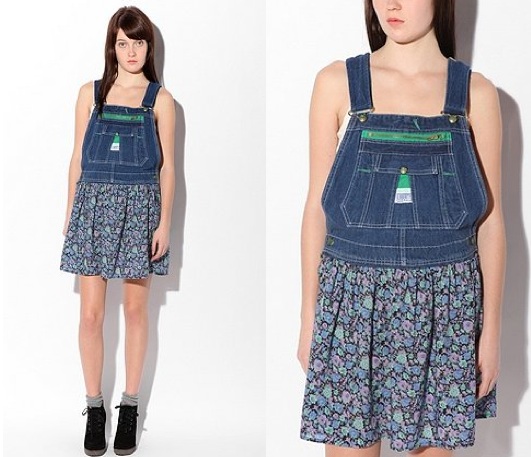 When Hipster Meets Hillbilly: Another #UrbanOutfittersFAIL For The Books
Urban Renewal Overall Dress, $59 I couldn't help but feel that Buzzfeed's "18 Reasons Why Urban Outfitters Is The Worst" roundup was lacking something. A little quick browsing on the site and oh boy, I found it. This $59 Overall Dress is made by Urban Renewal--the "recycled vintage" faction of Urban Outfitters that profits off hipster yuppies who are too grossed out to shop at regular thrift shops like their more authentic hipster brethren. But it's neither the price nor the brand that really bothers me about this piece however, it's more so the fact that it makes a slim and probably beautiful model (who may or may not be Drew Barrymore in a wig) look wide and well, physically uncomfortable. Can you find an #UrbanOutfittersFail that tops this monstrosity? Let's bump Buzfeed's list up to 20. Follow the author of this post on Twitter @shefindschar. For more news on designers on crack, be sure to sign up for our newsletter.
The Dreamcatcher Body Harness: When 'Festival Style' Meets S&M
I love you Shopbop, but I don't even know if Ke$ha would rock that. It should come as no surprise that this $495 feather, fringe, and dreamcatcher-adorned monstrosity body chain is made by a brand named "Haute Hippie." Because, well it's haute (in the couture sense of the word---they are asking for nearly $500 for what is essentially a chain with some strings attached), and definitely, um, hippie-inspired. But what isn't so straightforward, rather, is its purpose. Is it supposed to be worn in lieu of a necklace? In lieu of feather hair extensions? In lieu of a shirt?!? The only instance that seems appropriate to wear this would be on Halloween, if you were planning on dressing up as a literal interpretation of Rihanna and Britney Spears' "S&M (Remix)." Other than that, I'm drawing a blank. Follow the author of this post on Twitter @shefindschar. Catch up on all our news about festival style and designers on crack right here at SHEfinds.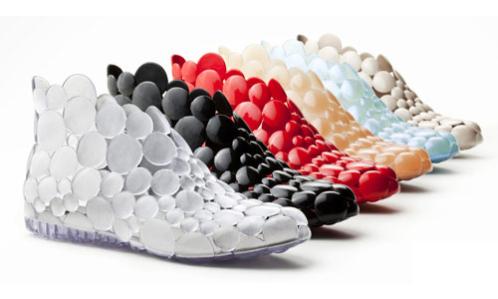 Excuse Me? These Shoes Are Customizable, Waterproof, Recyclable And Apparently Have A "Sweet Smell."
The Melissa + Gaetano Pesce Customizable Shoe I'll let the $120 shoe's description on Karmaloop do all the talking here: "Bubble patterned bootie; can be customized by cutting out circles to achieve desired silhouette. Melissa Shoes are made from MELFLEX, a trademarked plastic which offers improved elasticity, impermeability, and resistance to water. The material is injected with natural materials resulting in a sweet smell. It is also hypoallergenic and recyclable." Well, sounds to me like we have quite the braggart on our hands here, folks. Shoes that can be customized, recycled, worn in a flood, and still smell good? At least they're ugly. That makes me feel better. Follow the author of this post on twitter @shefindschar.
OMG: These Christian Louboutins Sneakers (!) Cost 3 Times What His Heels Cost
Christian Louboutin 'Louis' Jeweled Sneaker, $2,395 Okay, so they DO have the signature red sole that also adorn Christian Louboutin's classic heels. And yes, they are almost entirely embellished. But something about a pair of Louboutin sneakers costing THREE TIMES what a pair of his pumps cost that just isn't sitting well with me. Is there some sort of $1,600 add-on fee for irony? And even though I hardly ever wear heels (#tallgirlproblems), I do hope that my first pair of Loubs will be a pair of classic pumps, and not shoes that remind me of a blinged-out version of my high school basketball kicks. In honor of Mr. Louboutin's lame excuse for athletic apparel, check out our favorite ridiculous designer sneakers, from Gucci to DSquared2, below. And don't worry, they all cost roughly the same or less than a regular pair of Louboutin heels - what a bargain! (more…)
Karolina Kurkova Rocks The Unnecessary Hood To Last Night's CFDA Awards, Making Us Believe She's An Avid SHEfinds Reader
Karolina Kurkova in a hooded evening gown at the CFDA Fashion Awards Are hoods on dresses becoming the new pockets? Well apparently for Karolina Kurkova, the trends aren't mutually exclusive. Perhaps the forecast called for rain and she didn't want to chance ruining her blowout, or maybe she chills easily and wanted to make sure she stayed warm.  For all we know, she might just have a mean-spirited friend who told her she looked great - whatever the case, Karolina Kurkova rocked the unnecessary hood (in green sequins no less!) at last night's CFDA Fashion Awards. Call us crazy, but we're not on board with this whole unnecessary hood trend---even Lady Gaga, one of the first celebs to rock the unnecessary hood, wasn't sporting one last night (though she was wearing a studded thong...). What do you think: is Karolina's gown a fashion faux-pas or an on-trend choice? Check out all of this week's best sales and deals, all of our favorite maxi dresses, and nude shoes.