The Best Wedding Dresses Of 2011: Is Your Money On Kim, Kate, Or Bella's?
One was a posh English gal who got her Prince Charming. One was just a bridesmaid with a nice bum. One was a teen bride with a thing for moody vampires. And one will likely have her divorce finalized before her wedding dress replica even hits stores. THESE were the gals brides everywhere wanted to emulate in 2011. Whose wedding dress replica were you most tempted to toss in your virtual shopping cart? (more…)
JS Collections Replicated Kate Middleton's BAFTA Dress (Perfect For Brides Who Crave Color)
Kate Middleton's lilac BAFTA dress turned heads this spring, and now JS Collection (the folks who brought you Kate's wedding dress within hours of the royal wedding) have re-created the stunning chiffon gown ($250). We're loving this look for brides who want a dash of color, and ever since Sofia Coppola wore the color to her Italian wedding last week, it's been hotter than every. Move aside, ivory, lavender is the new "it" off-white shade for gowns. Shop our guides to the best wedding costume jewelry, black bridesmaid dresses, and simple wedding dresses.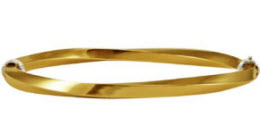 Best (Surprising) Find Of The Day: Walmart Jewelry by Adina Reyter
We've been fans of Adina Reyter's simple but chic jewelry for a while now. She's a celebrity favorite, too, gracing the necks of  A-listers like Jennifer Aniston and Teri Hatcher,  but as the L.A. Times reported, now she's done a less expensive version of her jewelry in a collaboration for Walmart, available now. While her regular line can cost over $1,000, the 16-piece Walmart line goes up to $98. Here, a few of our favorite pieces from the line to go with a party dress, or to wear every day with a cardigan and skinny jeans: These bangles are twisted with a little bit of flair--simple and elegant alone, or cool mixed in with a whole armful of bangles. We like the simplicity of this chain necklace. Bonus that it's light enough it won't weigh you down or distract from the rest of your outfit. Hoop earrings are always a classic: swap these in for your regular studs once in awhile to mix things up. Get more necklaces, cocktail rings, and earrings, or shop for the perfect pair of skinny jeans, or denim for your shape. Don't forget to check our our Procrastinator's Guide to Really Last Minute Gifts--printable e-cards.