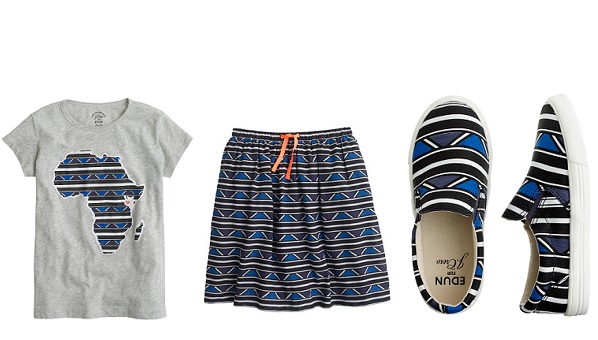 The Crewcuts Collabs Just Keep Coming–Shop EDUN For J. Crew Now
Let me just say, this is a good time to be a kid. Not only did J. Crew recently team up with the American Museum of Natural History on a collection of kids tees, but they just debuted a brand new Crewcuts collab with EDUN. The 7-piece collection marks the first time EDUN has ventured into childrenswear and it's all for a great cause; 50% of the proceeds from the EDUN for J. Crew line will be used to benefit St. Ann's Orphanage in Kenya. Here's what Jenny Cooper, the head designer for Crewcuts had to say about the collab: "Designed by Danielle Sherman for EDUN, the collection uses classic "crewcut" shapes as the basis for each piece. Each clothing item from the collaboration has been constructed at a factory located close to St Ann's Orphanage in Nakuru, Kenya. As the factory also produces school uniforms for children, they introduced EDUN to St Ann's Orphanage and a partnership was subsequently established for several fundraising projects. With this collection, the fact that "crewcuts" is supporting commerce, manufacturing and education in Africa is extremely important to us." Be the first to shop these stunning pieces by clicking through the slideshow. SHOP EDUN FOR J.CREW NOW Shop cute cricket sweaters, plus The Outnet's clearance sale.
Earth-Friendly Gifts For The Tree-Hugging Hippie Girl In Your Life
Finding the perfect gift is tricky, but finding the perfect gift for an eco-conscious friend can be even trickier. Fear not: we've found some great, Mother Earth-approved options that even your friends who forget to recycle (we won't name names) will love. Butter London's '3 Free' Nail Lacquer ($14) contains no formaldehyde, DBP or toluene (in eco lingo, "3 free"). Translation? This polish is totally non-toxic, and still comes in awesome colors like Come to Bed Red and Diamond Geezer. Perfect stocking-stuffer. Made of 100% organic cotton, this Katharine Hamnett Large Fabric Bag ($75) is big enough for groceries and cute enough for the gym or shopping. Even those who aren't organic-only beauty fans will fall for Josie Maran Beauty in a Box: Orglamic Revolution ($52, a $98 value), packed with Maran's favorites from her botanically-based line. Bonus points for the biodegradable packaging. Candles can be too intense, but not so with this Origins Lavender and Vanilla Glass Candle ($30), which is made of 100% vegetable wax and emits a soothing, comforting scent. If your friend is eco-friendly from head to toe, but can never find cute, earth-friendly undergarments, she will be so impressed by these Hanky Panky T-Shirt Hipster ($29) which are made of organic cotton. So cute - kind of makes you want to go green, huh? Check our more of our favorite holiday gifts, then check out our shopping guides to find more great eco-friendly picks and vegan shoes and bags.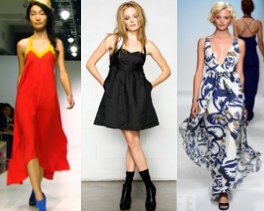 No Birkenstocks Here: Eco Fashion Week Proves Being Green Can Be Chic
Who says fashion can't be eco-friendly? No longer a mere trend, eco-fashion doesn't mean hemp clothing or Birkenstocks anymore. Eco-fashion boasts a fully dedicated fashion week in Vancouver, and green fashion shows were featured during the New York, London Paris and Milan Spring/Summer Fashion Weeks. These high-end events proved that it's easy being green with all the new earth friendly innovations out there and you needn't sacrifice style or luxury to be earth conscious. We've always had the best eco-beauty and fashion, and here are some more buys that you'd never suspect were sustainable. You'd never guess that this Sonya Kashmiri Coin Purse ($122) was an eco-fashion choice. Sonya Kashmiri's designs are being sold through the special YOOX collaboration with Esethica. U2's Bono and his wife Ali Hewson created eco-conscious line Edun in order to encourage trade with Africa. This Edun Organic Cotton Flared Tank ($78) would be perfect over leggings. The group behind London's green fashion show, Esethica has teamed up with YOOX to sell eco-conscious designer's goods like this Henrietta Ludgate Long Dress ($295). This classic was made in an eco-friendly wool jersey. Add a vegan clutch and pumps, and the look is complete. Eco-treat your home (no stinky composts here) with this floral scented Dayna Decker Botanika Collection Candle in Violetta ($54). It's animal friendly and free of chemicals. The environmentally conscious and fashion forward line, Butter London's  3 Free Nail Lacquer ($14) just landed stateside. Free of the three eco-offenders usually found in nail polish, formaldehyde, toluene and DBP, the polish comes in heavily pigmented, high fashion colors so there is no need to sacrifice style for earth friendly fingers. For more green inspiration, check out our guides to the best eco-friendly cleaning products, eco-friendly shopping, and eco-friendly shoes and handbags. Subscribe to SHEFinds.com for the latest exclusive fashion news.