7 Things To Do The Night Of Your Engagement
Last Chance To Get Kate Middleton's Reiss Nannette Dress Before It's Gone Forever
Lovers of all things Kate Middleton has their last chance to get her gorgeous white, engagement photo dress today. Reiss shipped the very last Nannette Zip Frill Dresses ($310) this morning - so act fast before they become a collectors item and cost a ba-zillion dollars on eBay. Hey - even if you don't love the dress, why not stock up on one know and upcharge some sucker on eBay later? For more royal wedding news, check out 6 Reiss dresses we love, watch Issa London's fall 2011 runway show, and find out 7 ways to Kate Middleton-ify your wedding.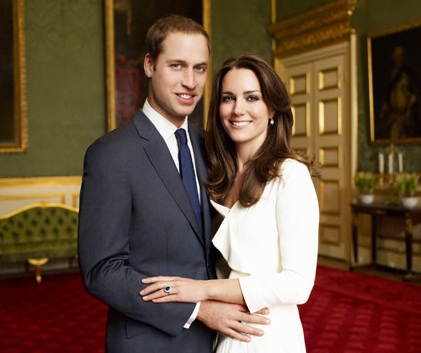 Kate Middleton's Nannette Dress Is Sold Out Again; Shop Equally Chic Reiss Styles Now
If you're obsessed with the cream colored Reiss Nannette dress that lucky lady Kate Middleton wore in her official engagement photos, and you're bummed that they're totally sold out - fear not. Lovers of all things royal wedding will be happy to learn that the brand has several other princess-worthy dresses: (more…)
It's Back! Get Kate Middleton's Reiss 'Nannette' Dress Now
If you have a royal wedding fetish, or just think Kate Middleton look damn good in her white engagement dress, get your credit card ready because Reiss just re-released the Reiss Nannette dress ($310) that Ms. Middleton wore in her official engagement photos. The Reiss Nannette dress ($310) is obviously in high demand - so act fast. If you do miss the boat, here are a few look-alikes to shop instead: For more wedding inspiration you can own, check out our guides to the best inexpensive wedding dresses, simple wedding dresses and the best wedding jewelry.
Nice-Looking Jewelry From That Place That Sells Trendy Shoes
Aldo is a go-to for shoes when you're in the mall, but it's also a treasure trove of trendy jewelry at a fraction of the price of stores like J.Crew, and without the tween factor of Claire's. Check out these vintage inspired rings, bracelets, and necklaces, which are sure to add some fun to your fall wardrobe. 1. With tortoise shell plastic links and blingy retro charms, this Gulbrandsen Charm Bracelet ($20) will go with everything. 2. The eye-catching glossy enamel on this kitchsy Coli Ring ($10) makes the bargain price seem, well, unbelievable. 3. Turquoise beads mixed with teardrop pendants create an on-trend bib necklace ($18) that looks way more expensive than it is. And check out our jewelry guides for pieces to match with your new summer dress or swanky evening top.
Hide A Bruise With Dior's Spray Foundation (That's Meant For Your Face)
What: Dior Airflash Spray Foundation ($60) Why: Bruises aren't my usual accessory when I'm deciding what to wear on date night, but they're next to impossible to make disappear in a pinch. That's why I love Dior's Airflash Spray Foundation, which is actually meant to be used on your face. It goes on as a fluid mist, delivering an airbrushed look. My first experience wasn't salon perfect, but with practice I've gotten better at using this to even out my skin tone and, in a pinch, to hide blemishes on my legs. Get Yours: sephora.com Peruse our other beauty guides for the best ways to fake a tan, treat acne, and keep your makeup from sweating off.
Solution: No Sweat Stain Removers
You know the deodorant commercials where the bridesmaids don't want to raise their arms to catch the bouquet? I felt like that today, but instead of being fearful of stink, I was worried someone would notice the yellow, sweat stained arm pits of my white shirt… which I somehow didn't notice when I got dressed. While noticing the stains in a meeting might be a little too late to do anything about them, there are a few products out there that can help you get the stains out before it's too late. First of all, don't pick up the bleach! The chlorine in household bleach will react with the proteins in perspiration and turn it even darker. Instead, grab a liquid detergent like Tide Liquid and pretreat, letting the detergent sit on the stain for 30 minutes. Then wash it with a non-chlorine bleach detergent, like Tide with Bleach Alternative. If the stain is still there, instead of putting it in the dryer, treat it again with the liquid detergent, put it outside in the sun until dry and then wash again. If the detergent still doesn't work, try mixing equal parts water and hydrogen peroxide. Pour it over the stain and let sit for 30 minutes before washing on cool. Finally, for budget conscious stain fighters, a color-safe alternative is mixing one tablespoon of white vinegar with one cup of water, and then pretreating the stain for 30 minutes before washing. Do you have top secret stain fighters? Or did you try any of these? Tell us in the comments section below.
Solution: Don't Hide Dry Skin This Winter… Just Get Rid Of It
Posh Beckham goes to bed naked, except for gloves and socks to soften her hands and feet. And Guy Ritchie has slammed Madonna, saying she wears a plastic suit to bed after applying an entire jar of $800 anti-aging crème. While we're not going to recommend that you take it to those extremes, we do have a few ideas on how you can win the battle against dry feet, elbows, and knees this winter. First, exfoliate with a gentle scrub like Deep Steep Sugar Scrub in Grapefruit Bergamot ($26). It's a circulation-boosting blend of sugar crystals, vitamins A & E, shea, cocoa, and mango butter, that will gently remove rough skin and leave behind soft, moisturized skin in its place. Then apply a deep moisturizing lotion like Bliss Lemon + Sage Body Butter ($35). The citrusy, moisture drenched crème is enriched with antioxidant vitamins A & E, and arnica extract. Plus, it smells amazing and therefore you will too.
Dandruff Is Your Scalp's Version Of Diaper Rash; So, Get Rid Of It With Baby Oil
What: Grandma Minnie's Oil's Well Nurturing Do-It-Oil, $35 Why: It's tough to find a shampoo that thoroughly nixes dandruff without wreaking havoc on color-treated hair. When I saw that VMV Hypoallergenics' Grandma Minnie's Oil's Well Nurturing Do-It-Oil treats diaper rash in babies, the wheels began to spin. Dandruff is the same type of skin disorder as diaper rash. And since Oil's Well has just two ingredients—organic virgin coconut oil and coconut-derived monolaurin—it seemed harmless to hair. Despite dismal high school chemistry grades, I'm proud to report that this science experiment was a success. Now I massage a tiny bit into my scalp (before wetting my head), let it sit for a few minutes and rinse very, very well. Dandruff and the accompanying itch abates, my hair is super soft, and my highlights are intact. An added bonus: Grandma Minnie's Mom + Baby Skin Care is free of all 65 known allergens, and is great for sensitive skin. Get Yours: vmvhypoallergenics.com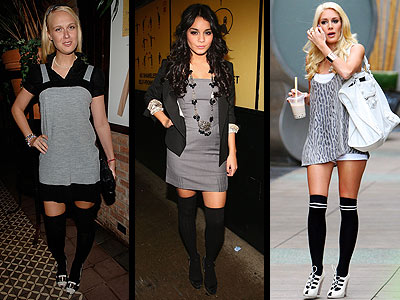 We Thought Thigh Highs Were Only Okay For Halloween
I recently saw a style I thought was an early Halloween costume at first: black thigh highs a là bad ass school girl. Sure, it was Heidi Montag who was wearing them, but then I saw Vanessa Hudgens and America's Next Top Model's Caridee English wearing them too. Are we witnessing a trend emerge? And, if so, aren't our thighs going to get cold? Bare Necessities offers both a seductive dotted pair from Wolford ($68) and opaque options by HUE ($8), while American Apparel's striped thigh high ($15) is a little sporty. So tell us… would you or wouldn't you? Is this a good way to transition to fall or only something for the celebutantes of Hollywood?
Solution: Flex-Tastic Offers Another Yoga Class For Your Toes
What: ProFoot Flex-Tastic $10 Why: During Fashion Week, we raved about YogaToes over at Real Simple, and so when ProFoot Flex-Tastic showed up on our radar, we were eager to see if it measured up. I'm a runner and high heel addict, so I'm always up for trying something new that will ease my tired tootsies after a long day. The blue foam exerciser slipped easily on my toes (YogaToes are a bit more difficult to get on), gently pulling them apart and lightly applying pressure. Initially skeptical, I did notice that after wearing the Flex-Tastic for five minutes and taking it off, my tired feet did feel a little better. It didn't quite replace the amazing foot rubs my boyfriend can be persuaded into doing, but the Flex-Tastic has earned it's place for his night off. For those of you who can't stay away from the stilettos, both the Flex-Tastic and YogaToes will help your feet feel better after a long day in sky-high footwear. Get Yours: walgreens.com
News Updates: PETA Won't Be Buying New Olsen Book, A Facebook For Fashion?, And More…
1. PETA protested the Olsens' book signing yesterday in New York, with protesters donning creepy Olsen masks. The often fur-adorned twins are at the top of PETA's hit list next to JLo, who kept it real during Fashion Week. [Racked]2. StyleCaster, a new online network for fashion folk, is set to launch in January. In the meantime, you can socially connect - and share your finds - in our SheFinds Forum. [WWD] 3. Christian Siriano will design a phone-holding scarf for LG, but he absolutely draws the line at oven mitts. Will Petals Marshall maintain the same modicum of dignity? [WSJ via NYMag] 4. Purchase DuWop's Liplingo Pink Lip Palette and a portion of proceeds will go to Cosmetic Executive Women Foundation's Cancer and Careers. [DuWop]
Deal Of The Day: Tanks For Under $10 At Martin + Osa
Wear these simple, supremely affordable tanks as a base layer under sweaters and cardigans, or with jeans and a jacket and scarf while it's still warm enough.A nylon cami ($9.95, was $29.50) works well under chunky knits or something a bit too scratchy to wear alone. The Osa Essential Tank ($6.95, was $18) has a hint of spandex, so it'll keep its shape throughout the day. Made of Pima cotton with silk trim, the Illusion Lace Cami ($9.95, was $24.50) is a feminine take on a classic cami. More sales and deals on the web:Today only, place an order at Piperlime and get $20 off your next order. 50% off outerwear at Kohl's. Up to 40% off at Ralph Lauren. The sample sale scoop – shop these sales today for huge discounts:Theory at Rue La La Malini Murjani at Editors' Closet Georgina Goodman and Design History at Gilt Groupe Jenny Han, Priorities, and Stelle by Gilbergilmore at Hautelook
HeFinds Guy Friday: Toasty Toes
What: UGG® Australia Scuff Slippers Why: With another month of winter to look forward to, your guy will get a lot of use out of a pair of UGG® Men's Slippers. Available in a variety of styles, we especially love the Scuff Slippers. The rich suede upper comes in several earth tone colors, while the lining is a super soft fleece to keep his entire foot toasty (don't let the slip-on style fool you – they've been keeping us warm all season). Our favorite part is the hard sole, which allows for a quick run outside to grab the morning paper. Price: $55 Get Yours: UGGAustralia.com Check out more ways to keep your man in tip top condition with SheFinds guide to Hippify your Guy, and Groom Your Guy. Check out SheFinds UGG® guide for all your UGG® related news.
A Fashion Find: Cute AND Comfortable? Who Knew?
What: Natural Comfort 'Kching' Wedge Why: Fine. I'll admit it. My new apartment, in all its fabulousness, is way outside of my price range. Meaning, when I moved, I had one of two options: 1) Move to something more affordable, and -- sigh -- less adorable, or 2) Find creative ways to be frugal. My mission to save money would have been more difficult had I not stumbled across Natural Comfort's white patent leather 'Kching' Wedge. These color-blocked sandals come complete with a stretch-to-fit ankle strap and a padded insole for all-day comfort, meaning it was easy for me to forgo my daily cab ride. Plus, the shiny patent leather gave my navy Bermudas and white button down a much needed kick. Now I actually want to walk home from work each day. What a fabulous way to pinch pennies. Price: $99.95 Get Yours: Nordstrom.com Looking for more cute, comfortable shoes? Check out the following guides: * Comfort Shoes * How to Stay Blister-Free * The Ultimate Foot Saver
Fashion Find: Pimp My Shoes
Tired of knowing exactly what you want and not finding it when you're shoe shopping? Search no longer… NikeID are ready for you. Start out with a blank canvas and then add the colors that will make you stand out for more than your tae-bo moves. And if you want something in between… check out
A Find: Dancing Queen
What: Tory Burch Reva Ballet Flats Why: I seek comfort, sometimes at the expense of my wardrobe. My company requires ultra-conservative gear, which just fuels my boring wardrobe fire. I can't totally disregard the dress code, but I can add some flash with Tory Burch's Reva Ballerina flats. They don't look out of place with my professional gear and they work with my weekend "me" clothes as well. I know my friends are whispering "thank god she got the hint" behind my back, because yes -– my old work shoes really were that bad. My compulsive nature, coupled with the relief of knowing that I no longer embarrass my friends at happy hour, caused to go on a minor ballerina binge. I am now the proud owner of several pretty pairs and you may not be able to tell from my knee-length navy suit –- but I am dancing on the inside. Price: $195.00 Get Yours: Saks.com
Trend Alert: Flat Out Adorable
Good news, fellow fashion klutzes: the bright colors, bold patterns, big-time shine, funky embellishments,and ever-present peep-toes that characterize the season's wobbly wedges and perilous pumps look just as good in the form of foolproof flats. Now you can take "taking a spill" off your spring to-do list. Flamboyant colors and patterns are going to be huge this spring. Betsey Johnson's hot pink-and-floral Jonila flats ($165) are outrageous enough to be the only statement piece you need until summer. Not into brights? Versatile two-tone patterns are also making it big. Calvin Klein's shiny Gracyn flats ($90) combine three big trends: two-tone, peep-toes and patent leather. If it's the reflection-generating super luster of patent leather you crave, American Eagle's black patent Fiona flats are a total bargain. Want the shine without the sheen? Metallics are hot, too, and Delman's Metallic Ballet Flats ($150) are accented by a delicate bow. If it's a daring metallic accent you're after, look no further than
Trend Alert: Trysumers
The trend: Trysumers The beat: New, unusual, individual. Unconcerned about norms. They do what feels good, and are willing to give anything a shot. And it looks good; confidence is the best accessory. The trick: Stuck in a rut? Take a page from these gals. A Trysumer goes for the wild: if you see a girl in this number, she's a trysumer. Aromatic anti-aging pheromones? Trysumers are all over it. You may not have a place to wear an ostrich dress, but there's something to be said for taking a chance. Instead of brown eyeliner, take a chance with an orange/burgundy stripe. (Never fear; orange is bright but surprisingly forgiving and works on most skin tones.) And next time you see another knee-length little black sheath, take a chance on a jade wonder – your friends will never know what hit you. (Must be the pheromones!)
Fashion Find: Walk on the Wild Side
What: Christian Louboutin Nature Walk Collection Why: Dark and slush covered. Stained with road salt. The streets? Nope, your shoes. The time has come to look ahead to warmer days, lighter clothes, and sexy Spring shoes. This spring's offerings from Christian Louboutin, full of earthy accents and colors, will have you taking every step in style. Transition from winter to spring in suede peep-toe pumps ($760). When the warmer temps hit, reintroduce your toes to the sun in a pair of metallic platform sandals ($780) and soak up the moonlight in sexy fishnet platform slingbacks ($640). Slip into any of these, and put some spring in your step. Get Yours: NeimanMarcus.com
Deal Alert: Today Only – Get A Saks Gift Card
Oscar Buzz: Tricks of the Red Carpet
We see these impossibly perfect creatures walk down the red carpet, and can't help but compare ourselves to them. They're perky to our saggy, smooth to our dimpled, and they always have perfect cleavage. Except that they don't. What they do have is a stellar team of stylists, agents and trainers who make sure that celebs look their very best when the red carpet rolls out. Think of SheFinds as your personal celebrity stylist, and we'll let you in on a few tricks of the trade. Once Oprah professed her love for them on national television, Spanx came out of the closet and into the lives of grateful women everywhere. Even under the slinkiest of gowns, Spanx won't leave panty lines, but will leave you smooth from top to bottom. Get the waist you crave with the aptly titled Miraclesuit Inches Off Waist Cincher Shapewear ($31), or for more total body coverage, the Miraclesuit Firm Control Strapless Body Briefer Shapewear ($52) will sculpt your body into an enviable piece of art. Keep your ladies on lockdown with Commando Double Stick Tape Strips ($10) and Commando Low Beams, discreet nipple concealer adhesives. Give the girls a boost with Fashion Forms Bring It Up Breast Lift ($9) and pump up the volume with Commando Cleavage Cupcakes-gel Inserts ($44). No one's perfect, but no one has to know that. Get Yours: BareNecessities.com Not perfect? Not to worry. Check out SheFinds Shapewear Guide and give gravity a little boost.
Oscars Fashion in Film: The Devil Wears Prada
The Save Your Career (and your neglected relationship) Get-Up: Blow your Beelzebub bosses' mind and then go home to salvage what's left of your personal life with a little something extra under the you-won't-break-me outfit. Wear a wide, leather belt empire style with a goddess style dress. The Transform Your Way to the Top Ensemble: Be your own fairy godmother. Take one get-to-the-top trench (try this one from Calvin Klein for affordable flair), add a newsboy cap and faux snakeskin handbag (the one in the film is authentic reptile from Calvin Klein) for an urban Cinderella-like transformation. Get the Look: There are a few must-have tools of the trade. Get your Oliver Peoples at Saks. Smoky eyes and ruby red lips equal sophistication. Start with a Shu Uemura eyelash curler and a tube of Dior Addict in Positive Red. Sephora.com has cinema-inspired cosmetics and tips you need to complete the look. If you're more than "one stomach flu away from your goal weight," click over to Diet.com for a realistic, healthy program. Check out the rest of our "Devil" inspired posts: The Devil Wears Prada Countdown Sycophants Wear Brown & The Devil Wears Prada You'll See This In: The Devil Wears Prada SheFinds Favorite Tees: Got Quotes? The Devil Wears Prada Pucker Up Like The Devil Best Seller: The Devil Was a Book First
Sale Alert: Save 50% – 70% at Shopbop.com
What: Nieves Lavi dress ($112.20, orig. $374) is the kind of dress you can throw on with flip-flops during the day, and simply change into heels for a night out. Put an extra spring in your step with these Tara Subkoff for Easy Spirit Wedges ($88.50, orig. $295) are actually wearable for long periods of time without causing extreme foot pain, and the light earthly taupe is such a nice change from the dark colors we've been wearing all winter. Whether you're ready to bid farewell to skinny jeans or not, there are plenty of Shopbop.com Love a good deal? Make sure you check our deals and discounts board every day for special offers.
Sale Alert: Save 70% at Nordstrom.com
What: Anne Klein New York Wide Leg Trousers ($66.90, orig. $225). Take the wide leg trend with you to the gym with Robert Rodriguez Crop Mohair Blend Sweater ($94.90, orig. $294) and at this price, I don't mind that it's not something I'll wear all the time. Every time I find a sale this good, I make a vow to myself to never buy anything at full price again. It never sticks, but at least I can make myself feel better thinking about all the cash I did save, shopping this sale. Get Yours:
SheFinds Goes Golden: Say Cheese
a smoky eye
SheFinds Goes Golden: She's Bringing Ugly Back
Category: Best Ugly Winner: America Ferrera (bet you didn't see that one coming) Why: Ugly never looked so good. Viewers fell instantly in love with America Ferrara's poorly dressed, dumpy "Ugly Betty", who of course is stuck with braces in her twenties, and rocks the four eyes nickname for all it's worth. Her commitment to ugly was duly recognized on Monday night when she picked up, not one, but two Golden Globes. America won for best actress, and "Ugly Betty" won for best comedy. America's deep indigo Brian Reyes dress left no doubt about how beautiful she really is. Get the Look: Snag America's winning style in a gorgeous beaded satin and chiffon dress. If you're feeling especially creative- create a look. The costume designer for the show, Eduardo Castro, will be judging creations from viewers, and the winning design will actually be featured on the show.
SheFinds Goes Golden: Mellow Yellow
Category: Best Bounce-Back From a Breakup Winner: Reese Witherspoon Why: When Best Week Ever's Golden Globes liveblogger Michelle Collins called Reese Witherspoon "a walking middle finger to ex-husb Ryan Phillippe," she couldn't have been more on the mark. Newly single Reese looked svelte in a look-at-me yellow beaded cocktail dress and the most delish ruby satin shoes. Her radiant red lipstick and edgier, angled tresses completed a look that took the award for better-looking half of a kaput relationship (start taking notes, Cameron!) Get the Look: Assuming you don't plan on devastating your ex with your post-breakup hotness on the red carpet, go for Hollywould's Red Ava pumps to tell the grocery-buying world that you're back on the market and loving it.
SheFinds Goes Golden: Broken Prom-ises
Category: Most Worrisome Symptom of Bad Taste-itis Winner: Cate Blanchett Why: Dear Cate, Remember that time right after I saw Oscar and Lucinda for the first time and I promised that I would always love you, no matter what, because anything you did was clearly going to be awesome and wonderful and perfectly right? And then you got more famous and managed not to turn into a bulimic heroin addict, and instead just made movies and then wandered around on red carpets looking amazing in all kind of unusual yet clearly fashion-forward dresses, and I totally renewed my vows to you because it became clearer and clearer that even winning an Academy Award in a dress the color of rancid butter was not going to stop you looking fabulous? You're beginning to test my devotion to your fashion awesomeness, Cate. I worry. This dress looks suspiciously like a high school prom photo (and judging by those shoes, it probably is). It's not the top half of the dress, which is adorably retro and shows off your collarbones; in fact, I wish a dozen other starlets would realize this sort of neckline is alluring without being trashy. It's just...your rear view is no place for giant lace mantillas, Cate, and you know it. Come back to your fashion senses, Cate, and look at the mirror before you leave the house. Women everywhere are depending on you. AVOID this look: Don't be afraid of the even hemline; they're made that way for a reason. Donning a hemline that's longer in the back throws your knees and calves immediately into focus, and if it doesn't work for the willowy Cate, the rest of us don't have a chance. If you feel the call of the asymmetric hemline, try a different angle. A diagonal hemline slenderizes and adds the sort of drapey movement that will make a walk to the pharmacy feel like a red carpet.
SheFinds Goes Golden: Swan(dive) Lake
Category: Most Susceptible to Stylist Pressure Winner: Cameron Diaz Why: One can only image the poignant scene as Cameron Diaz's stylist wheeled in a rack of diaphanous gowns to the dark bedroom where Cameron sat in her bed, weeping into her pajama sleeves, nursing a bottle of organically-derived vodka and listening to a mashup of Good Charlotte and the Sound of the Waves sampler from Windam Hill. Terrified, the stylist went for the most uplifting color of all. "White. I'm thinking, ballet. I'm thinking weightless. I'm thinking attention-getter. I'm thinking innocent. I'm thinking -" "Yes," Cameron agreed, her blurry eye registering only a foam of white tulle, not a wedding dress, but maybe...maybe... "You'll look like a beautiful bride," the stylist promised. Cameron nodded and slurred, "I want him to know what he. Gave. Up." What Justin gave up? Apparently, a wedding cake favor. Avoid this look: Just because a dress exists doesn't mean it's a good idea. If your dress looks like any of these, reconsider. It's very possible to get a feminine ivory silhouette without looking like a toilet-paper experiment. Try some soft layers with a sweetheart neckline, or go for a contrasting black band in sophisticated v-neck or a flirty strapless silhouette. All the white, none of the fright.
SheFinds Goes Golden: Less is (Barry) more
Category: Most Improved Winner: Drew Barrymore Why: Last season, Le Mystere's Contour Strapless Bra is supportive, smooth and seamless. Avoid the No Bra Faux Pas with SheFinds Guide to Bras for Big Busts.