Leather Pants for Under $10? Let Us Show You The Way…
It seems like pants are having a serious fashion moment with designers turning your staple dark skinnies into creations of baroque designs, stars, polka dots, waxed material, tuxedo stripes, etc. for you to try this fall. Considering that designers are also having a minor love affair with real leather this season, we think it is time to invest in a seriously great pair of leather pants. Plus REAL leather is more flattering and higher quality than faux (if you prefer, the vegan and budget alternative is coated denim). Not only are leather pants work appropriate (pair with a classic blouse and some pumps) but they are also fabulous weekend pants for the bar (with moto boots) or dancing at the latest club (snakeskin pumps will kill with these leather pants). Our go to denim brand, J Brand, has crafted quite the luxurious pair of Super Skinny Leather Pants ($895).  Let's fashion math that price tag for you! 2 week days at work + 2 weekend days at night  from Sept.-May for 3 years = $8 per wear! Convinced? Now shop. Get It: J Brand Super Skinny Leather Pants ($895) Don't forget to shop other fall season favorites such as oversized coats, colorful lace dresses, and a what to wear this fall guide.
How Much Would You Pay For A Dress If It Made You Look 10 Lbs. Skinnier?
There is one fashion trend this fall that has woman everywhere swooning - the illusion dress (also know as the miracle dress or the shrinking woman dress). Slaving away in the gym to lose those extra lbs before a big event? Well, hold it right there. The always fashionable and super petite Victoria Beckham knows what woman want and how to look fabulous and svelte while doing it. Which is why she created the Cotton Twill-Trimmed Silk-Blend Victoira Beckham Dress. Now before you go gaga over the price tag - $1,950 - we are here to ease the pain. Think of it more like saving a year gym membership... $1,950 - 1 year Gym membership = affordable! Looking like a million skinny bucks = priceless Get It: Victoria Beckham Cotton Twill Silk Blend Dress ($1,950) Don't forget to shop other fall trends such as the smoking slipper, the jumpsuit trend, and lace.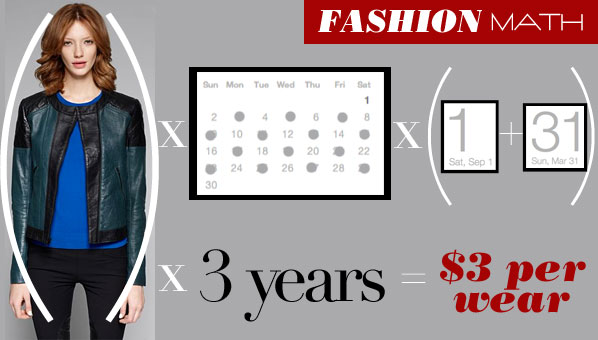 This Theory Jacket Only Costs $3 (We Did The Math!)
Justifying a pricey piece may seem like a daunting task, but that is why we have been doing the Fashion Math for you for years (we are bringing the column out of retirement, due to popular demand). Apparently, some of you have been missing our enabling tendencies (when it doubt -- just buy it), so here is the justification you were waiting for to buy that tres cool, but not-so-cheap Theory leather jacket you've been eyeing for seasons. The math: you will wear this Theory Maisie Leather Jacket ($845) 3 times a week from Sept-March for a minimum of 3 years -- which means each wear only costs you a mere $3. As if you needed more evidence, a leather jacket is not only a classic piece every woman should own, but it's especially on-trend this fall. Convinced? Shop below: Get It: Theory Maisie Leather Jacket ($845 or Fashion Mathed, $3) Shop more fall fashion trends such as Illusion dresses, collared necklines, and  the color burgundy.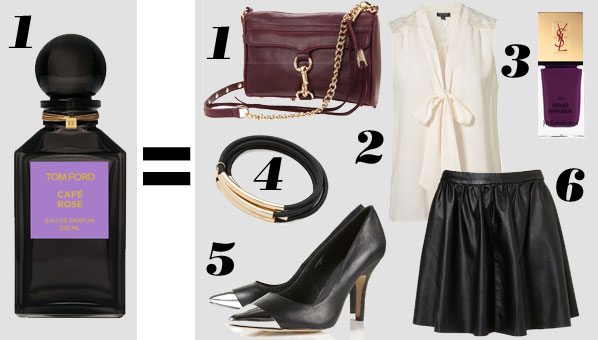 5 Things You Can Get For The Price Of Tom Ford's Jardin Noir Perfume
Designer Tom Ford doesn't just make nearly $4k cross body bags (that make celebrities want to tote along their boyfriends fiancées too), but coveted beauty products as well. His newest creation, according to T Magazine, is a collection of flora-inspired fragrances called Jardin Noir, which is priced at $495 for a 250 milliliter bottle. Granted, the generously sized bottle can last for a while. But why shell out up to $500 for perfume when you can buy so many more things at the same price? Let's do the math... You could get Tom's latest perfume... or Rebecca Minkoff's Mini MAC clutch ($195), a Topshop sleeveless lace blouse ($64), Yves Saint Laurent's nail lacquer in 'Violet Baroque' ($25), Jules Smith Wrapped Up Tube Jellies bracelets ($29 each),Topshop's GABBI Toecap pointed pumps ($100), and this Topshop 'Skater' skirt ($76), plus $21 in spare change to buy yourself a coffee, blueberry muffin and a magazine. Treat yourself! Read more fashion and beauty news: Amazon's luxury shopping division, Bottega Veneta's monogramming service, and scratch-and-sniff nails.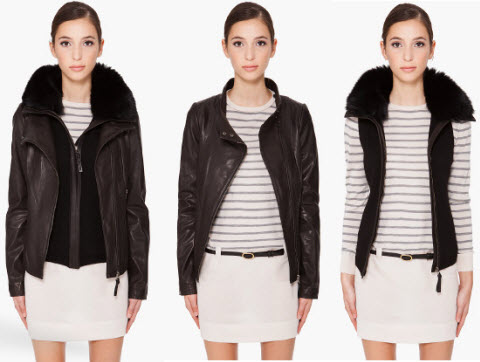 Hate To Say It, But This Mackage Jacket Might Actually Be Worth The $1250 Price Tag
Mackage's aptly named "Queen Leather Jacket," $1,250 I bought my first really good quality leather jacket last fall, and since then it's become one of those integral items in my wardrobe that I can't believe I once lived without. But now, I've already found another hole in my wardrobe that I can rationalize this Mackage number to fill: yes, it's (OMG) $1,250, but I've decided it's totally worth it. (more…)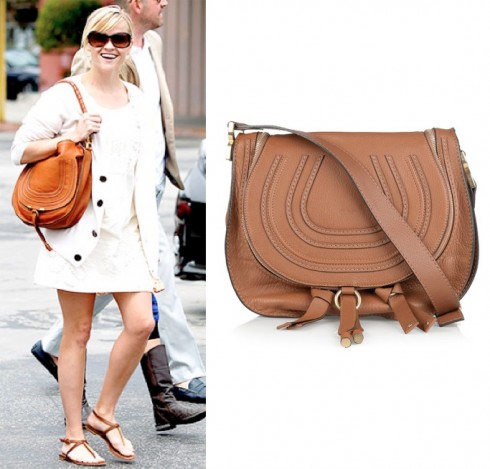 Is Reese Witherspoon's Chloé Marcie Satchel Worth $1,265?
Fall is just around the corner (Summer, where'd you go?!) and for me that means it's time to start shopping for a new handbag. Right now the object of my handbag affection is Reese Witherspoon's Chloé Marcie leather satchel - but it carries a hefty price tag of $1,265. Being the good student that I am, I've decided to do a little fashion math to see if this covetable bag is worth it. (more…)
What Will You Do With YOUR Tax Return? Christian Louboutins, Anyone?
Let's pretend you were made of money (or tax returns): what would you buy? This is the time of year that the fashion set waits for all year long....the moment when, almost like magic, a big chunk of money, arrives in the mail (the beloved tax return). So, what do you do with yours? Do you have an on-going mental wish-list, or are you more of an impulse buyer? Do you save it, or put it towards something impossibly classic, like an Hermes Birkin bag (you know they no longer have a wait list, right?) I put togther this list of 5 classic investments that are completely worth the splurge. (My friends don't call me The Enabler for nothing.) Oh, and if you have some leftover money, you might want to consider socking it away so your accountant doesn't hunt me down and kill me. Thanks. (more…)
Is A Timeless Burberry Trench Coat Worth Your Full Tax Return (And Then Some)?
Spring is here and the annoying weather changes are enough to drive everyone mad. And since winter coats are too warm and rain parkas are, well, too ugly, it's time to invest in a classic spring trend: the trench coat. Now we're not just talking about any old trench coat. We are dying for the timeless iconic Burberry Twill Trench Coat ($995). Yes we know it's a splurge, but after crunching some numbers, it could be cheaper than your morning latte. (more…)
Fashion Math: Is This Club Monaco Fur Trapper Hat Worth Nearly $300?
Let's talk investments. Every year, as much as you want to deny it, it happens: it gets cold. Instead of being surprised each time, and buying a new hat each year,  get one that actually stands the test of time. In my experience, the same old knit back hat I buy every year is a terrible investment: I lose it when it gets dark out, and it's not even that warm. This Club Monaco Drew Fur Trapper Hat ($279), though, is serious. Between the soft fur, the ear flaps, and thick lining, I'm sweating just looking at it. But when that first snowfall hits, you won't regret dishing out the dollars for this hat. The real question - is the fur worth the funds? SHEFinds breaks it down... If you wear this hat 3-4 times a week until February - it equals less than the salad you're about to buy for lunch. But feel free to wear it next year and the year after. You can pair this hat with other faux fur accessories or just a cute winter scarf. Either way, I know where my $300 is going--how about yours? Need more reasoning on expensive purchases? Check out all of our fashion math posts. Shop our guides to the best winter hats, the best faux fur accessories, and the best winter gloves. Join our e-mail list for exclusive fashion updates.
Fashion Math: Is The Proenza Schouler PS1 Bag Worth $1,995?
From Mary-Kate Olsen to Leighton Meester to Kirsten Dunst, everyone is flipping for the Proenza Schouler PS1 Large Leather Satchel which just launched. The rich, soft leather bag ($1,995) is not only gorgeous, but convertible: with a crossbody strap and handle, it's like two handbags in one. Since the meaty price tag is comparable to a down payment on, say, a Ford Focus, perhaps a little fashion math will help justify it: If you carried this bag every day for the next year, it amounts to about $6 a day - less than a fancy Starbucks drink and a scone, but still more than a regular coffee. If you have expensive taste, you know that a great bag actually last years - so the per diem is probably less than $6. I'm known as a fashion enabler among my friends - so I may not be a voice of reason here - but I say, go for it. Check out the rest of our fashion math items to see what's worth the splurge and scope our guides for the best handbags, clutches, affordable purses, and more. Join our e-mail list for exclusive fashion updates.
Fashion Math: Is A Pair Of Loeffler Randall Leather Boots Worth Almost $700?
It's boot season, ladies, and we're drooling over these Loeffler Randall Matilde Leather Boots ($695). There's just something about the cool goes-with-everything gray color, the rich leather, and the miniature wedge that just screams fall trend. Not to mention the fact that these high-quality leather boots will outlast your faux leather cheap ones by several seasons. So are these flat boots with a 3 digit price tag worth it? Let the fashion math speak for itself: If you wore these boots for 3 days of every week from now until April for the next two years, these almost $700 boots come out to less than $5 per wear. Let's face it, your lunch is probably more expensive. And you can't put a price on the hundreds of compliments you're going to get as well as all of the new outfits in your closet. We know you'll make the right decision. Justify all of our purchases with our fashion math equations. Then shop more fall boots with our guides to the best high heeled boots, the best over the knee boots, and the best flat boots. Join our e-mail list for exclusive fashion updates.
Fashion Math: Is A Limited Edition Chan Luu Wrap Bracelet Worth Over $200?
We pretty much adore the Chan Luu for Banana Republic coil wrap bracelet ($210) and think you will too. The limited edition bracelets, a collaboration with famed jewelry designer Chan Luu, are gorgeous and come in 3 eye-catching colors. But before we do the credit card flick of the wrist, let's make sure this wrist-full is worth it: Math was never my strong suit, but this is a no-brainer: We think it's safe to assume that you'd wear this perfect-for-everyday-wear piece at least 75 days this year. That brings the total cost-per-wear to a whopping $2.80 - less than a Starbucks grande latte. Use more Fashion Math posts to help you make more important shopping decisions, and check out our best bracelets shopping guide. If you still can't get enough of jewels, check out our guide to jewelry staples.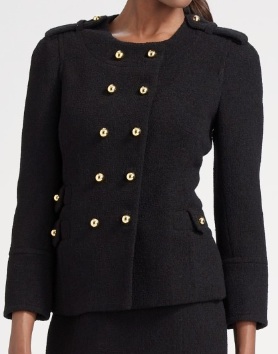 Fashion Math: Is A Nina Garcia-Worthy Black Tweed Jacket Worth $525?
Nina Garcia doles out amazing fashion advice for a living, so when she said that her first great investment was a black Chanel jacket that "saw many, many job interviews and many, many events," a light bulb went off. They say you should dress for the job you want, so why not save your pennies for a great, sophisticated jacket that could help you get where you want to be in life? We think it's a great idea, but before splurging half a month's rent on this Milly Double-Breasted Jacket ($525), we had to crunch a few numbers: For less than the cost of a Starbucks run, you can get a gorgeous, sophisticated jacket that will position you to have an assistant to do the coffee run for you. It seems like a stretch, but not really - the coat is such a sound investment, it makes you look smarter (and ready to rule the world). So save a few dollars and go for it.
Is An All-Weather DKNY Hooded Utility Jacket Worth $345?
For those in-between weather days of fall, you're going to need the perfect in-between jacket. Nothing too heavy and nothing that will soak through when it rains. This hooded DKNY Pure DKNY Anorak jacket ($345) will have you covered from the first wind in September to the first snow in late November. You can even wear it in the early months of spring. The khaki color works with every wardrobe and its longer length hides all (and keeps you warm). If you're not sure about shelling out $345, see our reasoning with the fashion math equation: If you wear this lightweight jacket for 4 days out of the week for the early fall and spring, it's cheaper than a sandwich.  Wear it with skinny jeans, boot cut jeans, or even leggings. It also looks great with boots and flat shoes. The message is clear - it needs to be in your closet now. Weigh out your options when shopping with more fashion math posts. Fight the fall weather with our guides to the best stylish rain boots, the best scarves, and the best denim jackets.
Fashion Math: Is A Pair of House of Harlow Leather Jean Boots Worth $350?
Flat leather boots are a fall must-have - tuck skinny jeans or black leggings into them and you have an instant, put-together weekend or nighttime look. They are even work-appropriate in most cases - which means you could wear a great versatile pair 7 days a week if you had to. We found these amazing black House of Harlow Jean boots ($350) on the Amazon pre-fall shoe sale and became obsessed: this sleek, expensive-looking pair would be the perfect fall flat boot. But at $350 - aka the price of two Steve Madden pairs - we need to plug a little fashion math equation before clicking "buy." At less than $5 a wear, this incredibly versatile fall shoe is totally worth it. Think of all the places you can wear them - from the office (paired with skinny black pants) to the bar (with leggings and a bar top) to Sunday brunch (with skinny jeans and a flannel shirt). They are great for both daytime and nighttime, weekday and weekend. Now that we've made such a strong case for them - what are you waiting for? Check out more of our fashion math posts, then head over to our guides for the best booties, clogs and over the knee boots.
Fashion Math: Are A Pair Of Cookie Johnson Jeans Worth $128?
With all the barbecues and clam bakes this summer, you're going to want a pair of jeans that will instantly slim you down-no matter how full you feel. Oprah's favorite brand of jeans, CJ by Cookie Johnson, magically hug every curve in all the right spots - hence why she loves them. The 'Faith' Straight Leg jeans in White Optic ($128) are no different - they will keep you looking fabulous and fit, even after a few burgers. But are they worth the 3 digit price tag? Let the fashion math speak for itself: If you wear these jeans twice a week for an entire summer, they run less than $5 per wear. That's cheaper than a Walmart pair, which aren't nearly as flattering. Wear these white jeans during the day with a tee that's meant for your shape or at night with an evening top for jeans. Complete the look with a pair of wedges and you'll be hotter than the sun this season. Solve more style equations with our fashion math posts. Shop our guides to the best CJ by Cookie Johnson jeans, the best white jeans, and the best bootcut jeans. Subscribe to our newsletter for more updates.
Fashion Math: Is A David Yurman Ring Worth $325?
Costume jewelry is fun, but every once in a while you should invest in a nice piece of jewelry that will stand the test of time. David Yurman jewelry is a good choice because the pieces are modern, yet classic, and you will wear them forever. This David Yurman Diamond & Sterling Silver X Ring ($325) has two delicate cable loops around a polished band, and an X-design of pavé diamonds. It will make any outfit look more sophisticated, and it's a surefire way to get a compliment. We think it's more than worth the money, but we'll let the fashion math speak for itself: If you wear this ring for just seven days out of a month for an entire year, it's cheaper than a piece of costume jewelry from Forever 21 (that's likely to lose its luster after a couple of wears). You can wear this ring to dress up basic jeans and tees, or with your favorite cocktail dress. See more of our fashion math posts, and then check out celebrity necklaces, the Van Cleef & Arpels Clover necklace, the SATC 2 Clover necklace, our guides to the best cheap jewelry, the best necklaces, and the best cocktail rings.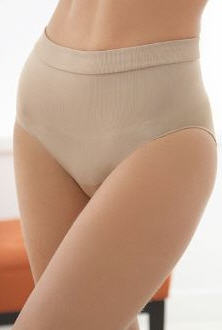 Fashion Math: Is A Pair Of Slimming Spanx Underwear Worth Almost $50?
Since it's warmer outside, we're less inclined to wear a full on pair of Spanx body shapers, but we still want those clean lines under our clothes. Enter SPANX: Slim Cognito Control Panty ($46).Yes, $46 is pricey for a pair of underwear, but these aren't your typical undies. This panty shapes the tummy, hips and rear, it has a comfortable waistband that stays in place, and a seamless design that makes it invisible under clothes. We think it's worth the investment, but let's crunch the numbers and do the fashion math: If you wear a pair of  SPANX: Slim Cognito Control Panty ($46) underwear once a week for four months, they cost less than a cup of fro yo. We so go for the fro yo and the Spanx underwear. Check out our guides to the best bras, the best cheap underwear, the best bras for bigger busts, the best Spanx swimwear, and the best cheap swimwear.
Fashion Math: Are Michael Kors' Logo Sandals Worth a Walk to the Bank?
If you're anything like me, you blow through at least one pair of black thong sandals per summer, then spend the first few warm weeks the next year hunting down a new perfect pair to ultimately destroy. But what about a pair of thong sandals that outlast a little city-street wear and tear, that persevere and live to see another summer? Michael Kors is apparently confident that his spin on classic black patent leather thongs lives up to high expectations—he's charging $211 a pair and slapping his initial logo right smack in the center. But how many wears do these babies have to last to make it worth spending more than 200 bucks? A little fashion math will help us figure it out: If you grab your MK thongs before the first official day of summer, June 21, and wear them for at least a few minutes every day until fall kicks off, you'll come in at less than $3 a wear for the season. Keep in mind that fashion math can't account for you boycotting the quippy Mr. Kors when he disses your favorite Project Runway contestant. For more options, you'll love the SHEfinds guide to flat sandals, skinny jeans, and white jeans.
Fashion Math: Is A Tory Burch Canvas Reversible Tote Worth Nearly $200?
If you're an L.L. Bean canvas tote kind of girl, it's a tough pill to swallow - but Tory Burch is asking $195 for this Reversible Canvas Tote - probably because it's much more than a beach bag. It's sturdy and chic enough to wear to work, on the weekends, shopping, etc. Plus, the bag has two great reversible sides - so you're really getting two bags in one. We're huge fans of Tory Burch (and of a great quality bag), but we had to crunch the numbers before justifying this purchase. In the end, the numbers don't lie: a bag that last forever is definitely worth 10 that don't. (If you don't agree, just think: are you still wearing your most expensive handbag purchases? Are the cheapies collecting dust in the bottom of the closet?). Plus, a bag that you will schlep everywhere from the office to the airport and beyond should be well-made and good-looking. Tory Burch's Reversible Canvas Tote fits the bill. See more of our fashion math posts, plus our buying guides to really big fashion tote bags, and the best overnight bags.
Fashion Math: Is One Chantelle Bra Worth A $100?
Non-boring bras that fit large and small cup sizes are hard to come by, but French brand Chantelle's demi-cup Africa Bra ($98) ranges from 32B to 38D--and is pretty and supportive. The Chantelle Africa demi-bra has intricate embroidery and comes in new, non-neutral colors each season. If you have a smaller chest, the demi-cup enhances your cleavage, while the bra gives bustier women plenty of support without adding on extra volume. The bra also has side boning that provides even more shape and support. But is one bra worth $98? Let's do the fashion math: Because this bra is so supportive and flattering, it will become your go-to. If you wear the bra once a week for nine months, it's less than your lunch salad.  Also, if you follow the commandments of Oprah, she thinks a bra that fits well is a great investment. An ill fitting bra will ruin an outfit and make you look pounds heavier. We say shell out the money. See more of our fashion math posts, and then check out our guides to the best bras and the best underwear.
Fashion Math: Are Jackie O's Go-To Bernardo Flip Flops Worth It?
Flip flops  usually aren't chic, but these Bernardo Miami flip flops ($89) are, considering they were Jackie O's favorites for exotic vacations. In the photo above, she's holding a pair of  Bernardo sandals during a trip to Greece.  A-listers with classic style, like Reese Witherspoon and Halle Berry still wear the sandals today. What makes them so special? These Bernardo Miami flip flops are hand crafted with Nappa leather and come in lots of colors (Jackie O owned the sandals in 16 different shades).  They're incredibly comfortable, but dressy enough to wear with a maxi dress out for drinks.  Is $89 too much for a pair of flip flops? Let's do the fashion math: If you wear these sandals four days out of the week for the entire summer, they cost less than a popsicle from the ice cream man. We would choose these flip flops over a cheap rubber variation any day. See more of our fashion maths, and then check out our guides to the best comfortable shoes, and the best flat sandals.
Fashion Math: Is An Eres Bikini Worth Two Nights At A Hotel In Miami?
The wrong bikini can ruin a day at the beach and magnify all of your body's flaws. French brand Eres is a 40-year-old company that makes luxury swimwear that's pretty pricey, but it never lets you down.  This Eres Swim Show Bandeau Bikini Top ($210) and Eres Swim Jane Bikini Bottom is made with a fabric that sculpts the body and doesn't require padding or boning, plus the material is dipped in a potion that helps it keep it shape so it always looks good, no matter how many times you wear it.  If Karl Lagerfeld will shoot Eres next to Chanel, the swimsuits are probably worth the money. But if you still aren't convinced, check out the fashion math: If you wear this bikini to the beach or pool 20 times over the course of eight summers, it's cheaper than a bottle of soda. We understand the allure of $10 bikinis from a bin, but they don't last past one summer.  You will wear this bikini over and over for years to come and it will still look good. See more of our fashion math posts, and then check out our guide to the best celebrity swimwear, and the best Spanx swimwear.
Fashion Math: Is a Pricey Prada Umbrella Worth Emptying Your Rainy Day Fund?
April showers bring bad hair days, soggy commutes, footwear conundrums, and chintzy drugstore umbrellas that break. It's about time to invest in a decent umbrella that you can use for many rainy seasons to come.  This Prada Nylon Umbrella ($230) won't  crumple on you at the worst possible moment. It's retractable with a leather handle and basic black color that will match all of your outfits. Let's do a little fashion math to decide whether a chic, sturdy, Prada Nylon Umbrella ($230) is worth emptying the piggy bank: "The Old Farmer's Almanac" predicts up to 30 days of precipitation just between now and the end of May alone, so it's a safe bet that you'll walk out the door with your umbrella 10 days out of each month for the rest of the year. If you simply skip the tall latte on rainy days, you've made up your investment. Plus, if you take into account the clothes, shoes, bags and hairstyles you'll be preserving by toting a trusty rain buster--including the costs you'll save on many cheapo umbrellas that break-- it's definitely a worthy investment. Now just remember not to leave it in a cab and you're all set for any kind of weather. Get geared up for rainy days with our guide to the best women's rain gear, the best rain boots , and the best trench coats.
Fashion Math: You'll Wear Grace Kelly's Favorite Hermes Silk Scarf Forever
Although Grace Kelly passed away almost 30 years ago, she is still quite the popular lady. She is on the cover of Vanity Fair's May 2010 issue and the "Grace Kelly: Style Icon" exhibit opens up this week at London's Victor and Albert museum.  Aside from the Hermes Kelly bag, named after the movie star, the Hermes silk scarf ($350) was a mainstay in Grace's wardrobe-- she even used an Hermes scarf as an arm sling. A silk scarf for $350 is a bit pricey, but we think it's totally worth it. Check out the fashion math if you're still skeptical:If you wear this scarf 10 times each month throughout the year, the price  is less than a bag of chips. With the multiple ways to wear a silk scarf (you can wear it around your neck, hair, wrist, waist, purse strap, etc.), you are bound to wear this scarf more than 10 days per month. Something as classic as an Hermes scarf will never go out of style and the quality lasts for a lifetime. See what else is worth the investment in our other fashion maths, and then check out our guide to the best spring fashion trends, and the best cocktail dresses.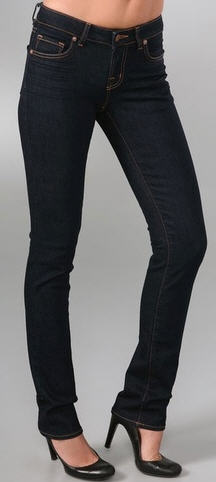 Fashion Math: A Pair Of Anna Wintour-Endorsed J Brand Jeans Is Worth The Investment
J Brand is the hottest denim line out right now. Although the brand is only five-years-old, every celeb imaginable wears the jeans (Rihanna and Khloe Kardashian own the same pair), and even Anna Wintour name-checked the must-have denim line at the beginning of The September Issue.  I happen to own a pair, and believe me, the buzz is for good reason. J Brand jeans fit like a glove, they don't stretch out throughout the day, and they feel good on the first wear and beyond--you don't need to break these jeans in.  But I also understand that $159 for a pair of jeans is a major investment and I would only justify the purchase by doing the fashion math.  Let's crunch the numbers: If you wear these J Brand Blue Label Curvy Fit Scarlett Cigarette Jeans ($159) three times out of the week for seven months, they cost less than a dozen of eggs. These jeans will be a go-to that you can dress up for work (or casual Fridays), wear out at night, and on the weekends. Don't let the skinny celb endorsements fool you, J Brand's Blue Label Curvy Fit jeans hug your natural curves and have a slimming contoured waist band that will prevent muffin top on all body types. Check out the brand's collaborations with Proenza Schouler and Marni, and then see four pairs of body hugging jeans, and our guides to the best celebrity jeans, and the best white jeans.
Fashion Math: Jackie O's Favorite Delman Flats Are Worth The Splurge
We already justified the Tory Burch Reva flats' price, but what about a pair of ballet flats sans a status logo? Both Jackie O and Audrey Hepburn--two timelessly hip women--wore shoes from the 80-year-old brand that is still going strong. These Delman Mona flats ($199) are a pretty camel color--nude is the hottest spring fashion trend--and the patent leather makes them more fun. You don't have to worry about pesky blisters with these shoes that have an elasticized heel, leather lining, and a rubber sole. But is a pair of delicate flats worth the same price as a pair of leather winter boots? Let's do the fashion math. Flats are a saving grace for busy women, and if you wear these shoes four times out of the week for six months, they cost less than a pound of fruit.  The nude color means you can wear them with anything, and because Delman makes extremely comfortable flats, it will be hard to take these off.  And if Victoria Beckham can trade in her heels, you can, too. See more investment-worthy pieces in the fashion math section, and then check out our guide to the best flat shoes, and the best comfortable dress shoes.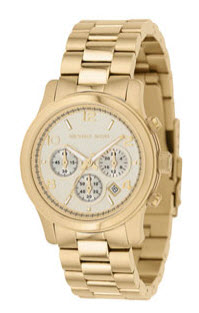 Fashion Math: Is A Michael Kors Tank Watch Worth The Price Of Groceries For A Month?
You might not notice it, but your wrists get a lot of attention.  How many times have you caught yourself talking with your hands during a meeting, or reaching to shake someone else's hand? Since they're always seen, you might as well adorn them with great accessories like this Michael Kors 'Jet Set Iconic' Chronograph Watch ($250). I like the contrast of a chunky watch with a feminine outfit, and the three-eye chronograph and date window make this watch stylish and practical. But let's see if our fashion math equation makes the purchase worth it: If you wear this watch four days out of the week for eight months, it's cheaper than buying a bar of soap. This timeless watch will be a go-to that will make any outfit look more refined.  If you're lazy about accessorizing like me, a statement watch is an easy way to make it look like you gave it some real thought. See more of our fashion math posts, then check out our guide to other must-haves like the best blazers. And what's on sale today in our online sample sale calendar.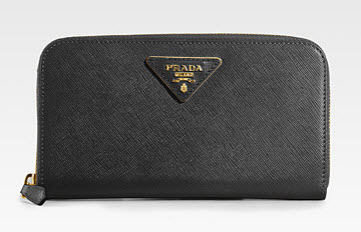 Fashion Math: Is A Prada Wallet Worth The Same Amount As A High-End Handbag?
Your wallet gets a lot of play. You don't change it as frequently as your handbag, and you grab it every day, but is it worth the same price as a high-end handbag? This Prada Zip Around Saffiano Leather Wallet ($520) is made in Italy, not China, with textured leather that can withstand a lot of wear and still look great. This wallet also has an all around zip closure, so you don't have to worry about your most prized possessions spilling into your handbag. If you are still thinking of buying a pleather wallet, maybe these hard numbers will convince you. Check out the fashion math: If you use this wallet everyday for a year--which you will-- it's about the same price as a bottle of water. And this Prada wallet is so beautiful, you might skip out on carrying a handbag on a quick run to the store. See what else is worth the cash in our fashion math section, then work on sprucing up your undergarments with the best cheap underwear and the best bras.
Fashion Math: Is A Vince Leather Jacket (That Turns Into A Vest) Worth The Price Of Rent?
We're big fans of Vince here in the SheFinds office, so when WWD reported today the brand will branch out into denim, we were thrilled. Although their pieces are pricey, they make up for it in quality. This Vince Paper Leather Asymmetrical Zip Jacket ($995) is made of lamb leather, which is super soft and moves well with your body.  It also has removable sleeves, and can be worn as a vest--making it a two-for-one deal.  If you still aren't convinced, let's do the fashion math: If you wear this jacket for 100 days out of the year (a little over three months--and that won't be hard since you can wear it through spring and fall) for only three years, it's the same price as a soda at the movies. Whether you are running errands, or going out on the town, this is the kind of jacket that makes you look cool and the leather only gets better with age. Want to see what else is worth the investment? Check out more of our fashion math equations, then check out our guide to the best leather jackets and the best blazers.
Fashion Math: Are Wolford Tights Worth Skipping The Drug Store Hosiery?
If you are like us, there are some weeks when you go through black opaque tights like chewing gum--they snag on a pair of boots or they fade easily and it's all over. But Wolford is a 60-year-old Austrian brand that makes luxurious hosiery that last for several seasons. Wolford tights are best known for never snagging and always maintaining their luster. These Wolford Matte Opaque 80 Tights ($52) are pricey for hosiery, but once you own a pair, you may never go back to your drugstore standbys. Let's do the Fashion Math and see why they are worth the investment: If you put on these tights only once a week from October through March, one wear is less than your morning granola. And believe us, you will wear these tights over and over again for many seasons to come. Just imagine slipping on a pair of tights and not worrying about a snag or hole ruining your outfit. That relief alone is worth the money. Play more of our Fashion Math equations, then check out the best winter boots and the best heavy scarves that you can wear with these top-notch tights.
Fashion Math: Do You Want To Be The Grandmother Who Passed Down The Cheap Pearls? Didn't Think So.
A pearl necklace will always be classic thanks to fashion mavens like Jackie-O, Coco Chanel, and Michelle Obama. Time and time again I see pearl necklaces adorn the necks of elegant women, but I can never tell the difference between the faux and the real deal.  But once I saw this four strand  J.Crew pearl necklace ($325) in person, I understood the price tag. See why buying real pearls will give you more bang for your buck. Let's do the Fashion Math: One wear of this necklace is the same price as your daily coffee. Three months out of the year you are bound to grab this staple - made with freshwater pearls and hand knotted on silk thread. The strands' varying lengths and sizes make a modern statement, and you can wear this necklace for formal and casual events. Do you want to be known as the grandmother who passed along the cheap pearls? Didn't think so. See our guide to Michelle Obama's style, then check out more items worth the investment in our other fashion math posts.
Fashion Math: Should You Spend $76 On An Umbrella That Will Save The Environment?
You may already own eco-friendly shoes, shopping totes, or even vegan fashions. But when April showers arrive, what do you carry? Rain gear is the latest to get an eco-friendly makeover thanks to Brelli, a New York based company that took one great idea (a cocktail umbrella) and one great concern (streets littered with broken $5 umbrellas) and put the two together to create a 100% biodegradable umbrella: The Brelli ($76 for 52"). The frame and handle are made of bamboo, a renewable and natural resource known for its strength and flexibility (so you don't have to worry about it flipping inside out in high wind). The canopy is made of a high-tech, clear PVC that, along with the frame, will break down in a compost pile or landfill in five years. Let's do the Fashion Math, because this is too good to be true: (more…)
Fashion Math: Is An Oversized Blazer A Worthy Investment?
There are a few things in fashion that really are worth every penny. Some of those things are good boots, cashmere, coats, and suits. Speaking of suits, which are usually reserved for the formality of the corporate world, one of the biggest trends that comes to the foreground of fashion year after year is the blazer. You can buy one in wool, velvet, or even linen, and you'll always return to it because it adds polish to everything, even jeans or a miniskirt. The fashion math has such a fabulous return that I simply must share: This Vince 3/4 Sleeve Boyfriend Blazer ($440) is by no means cheap, but at $5.50 a wear, it's an approachable option that will probably get more wear than the fashion math suggests thanks to its classic, wear-with-everything style. Made of a medium weight wool-viscose blend with a touch of Spandex, it's not only comfortable, but the oversized cut is very fashion forward, while the strong shoulders and cropped sleeves give it that special touch. Like this look? Head to our blazers guide for the best styles at all prices, and then check out how to wear a boyfriend blazer. You can also see our past Fashion Math equations to see what's really worth the money.
Fashion Math: Is A Mood-Altering Handbag Worth The Price?
Like skinny jeans surpassed the bell bottom, so the drawstring bag has replaced the hobo as the standard in trendy purses. With nearly 100% conviction, I think this style is here to stay well throughout the coming seasons. Factor in the slow approach of spring and I'm drawn to the candy-colored styles that perk up any dreary day. This Kate Spade Westbury Drawstring Opus ($199-$299, from $395) comes in a rainbow of bright and perky colors, from poppy and berry, to tangerine, mustard, and piscine. "But I'm not the flashy type," you say. Even with clean lines, supple leather, and simple styling? I think the fashion math will convince you: (more…)
Fashion Math: Would You Trade A Plane Ticket For A Scarf?
You can jet to just about anywhere in the country for around $300 or less. So when you see a scarf--a couple swathes of fabric--costing $275 you probably wonder if it's worth it. I bought a classic, 100% cashmere scarf by Burberry five years ago. It's still in beautiful condition and never ceases to look impeccable even with jeans. A plaid pattern in neutral black goes with nearly everything and cashmere is the softest, warmest material you can get. Let's see if the  fashion math really adds up: (more…)
Fashion Math: Is $300 Worth The Splurge For A Little Black Dress?
No matter what the special occasion may be, a chic little black dress is a standard go-to item. You only need one or two really nice options and you're set for years. How much, though, are you willing to spend on something that you need, but don't wear every day? This Black Halo Megan Halter Dress ($345) is evening appropriate and while the cut is a little sexy, but can be covered up easily. Let's see if the Fashion Math adds up: (more…)
Fashion Math: Is Trendy Cashmere Worth The Money?
"Luxurious," "classic," and "heavenly" are some of the adjectives used to describe cashmere; "trendy," not so much. Nonetheless, there's not a winter sale that passes where cashmere is not on the menu du jour. Chances are, you already own several fab casmere sweaters, but how about a cashmere dress? This slouchy, yet sexy dolman sleeve Joie Senora Cashmere Dress ($243) is made of 100% cashmere and would make a killer dress for casual night and weekend outings with boots or you could polish it up with heels to wear from the office to happy hour. An always luxurious and comfortable dress like this is worth the splurge because you can style it so many different ways. But for the skeptics, let's check the Fashion Math: One wear of this stylish sweater dress will cost you less than a bucket of popcorn at the movies. Skip those fat-laden treats and you'll be saving enough dough (and calories) to make this fashionable dress more than worth it. Like this look? Check out our guide to dresses, our favorite sweater dresses, and more fashion math problems.
Fashion Math: Can A Bright Magenta Coat Compete With The Classics?
When you look in your coat closet, what do you see? Personally, I see a sea of black, brown, and gray. Not so fun. However, a brightly colored coat such as this Juicy Couture Long Sleeve Michelle Coat (was $398, now $278) would invariably perk things up. But it's pink, you say! How can a brightly colored coat be a worthwhile purchase? Well, pair it with jeans on the weekend or wear it with your day-to-day neutrals in black, beige, navy, or gray and you'll have yourself a vivacious way to make a dull ensemble unique. If nothing else, you'll stand out wherever you go. Let's prove this equation works with some simple fashion math: For every day you punch up your wardrobe with this simply styled coat in classic, yet cozy wool, you'll whittle the price per wear down even further. Keep cozy throughout winter with these essential boots, celebrity scarves, and of course, our favorite coats.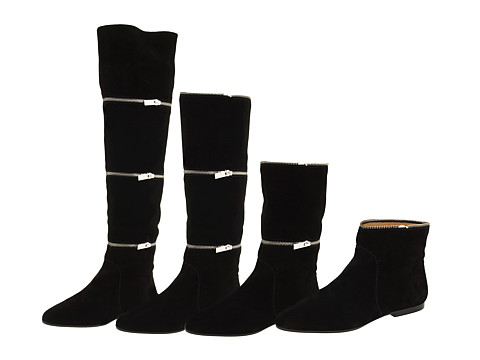 Fashion Math: One Boot, Four Ways–Is It Worth It?
It's not often that I spend more than a couple hundred dollars on shoes. However, since I found these cool boots by Michael Kors, I think I may have to make an exception to my rule. What makes them so special, you ask? Well, it's not just one boot--it's four: ankle, mid-calf, knee, and over-the-knee. So they're not just trendy this season, but also the next one, and the one after that. Just zip the levels on and off for a brand new style every time. The fashion math rocks: You see that? The Michael Kors Frannie Boot originally retailed for $595. Now it's just $368 for a savings of nearly 40%. You can wear these twice a week for three seasons alternating styles without spending more than you would on a dozen eggs. Now that's a bargain. P.S. These boots are also available in camel. See more of our stealthy finds at a steal of a price with our fashion math archives and deals posts. You might also fancy a pair of our favorite boots and these hot over-the-knee styles.
Fashion Math: Is $27 For A Red Designer Lipstick Worth The Splurge?
I can think of a lot of things I could spend $30 on: drinks with my girlfriends, a pair of earrings, a new swimsuit even. But a lipstick? Lipstick only lasts two years, at most. This shade, in particular--a balanced, shiny, bull's eye red--is not your everyday lipwear. It's best reserved for the evening and weekends, or daywear, perhaps, if you work in a creative industry. It's certainly not for the board room. So is this purchase worth it? Let's do the Fashion Math: If you wear Givenchy's Rouge Interdit Satin Lipstick in Absolutely Irresistible Red ($27) twice a month (allowing for one reapplication mid-wear),  you'll only pay $.28 a wear. Just pocket your change from a morning latte and by the end of the month you'll have enough to splurge on this decadent makeup. Have fun with our other fashion math posts, and before you leave, don't forget to check out these balms to keep your lips soft and these Valentine's Day gifts we like enough we'd buy them for ourselves.
Fashion Math: Are A Pair of Pearl Earrings Worth Pinching Pennies For A Month?
With all of the ridiculously real looking faux jewelry on the market, it is far too easy to be lured into buying cheap jewelry. While there is nothing wrong with finding a great deal on baubles that look like they're worth a million bucks, but only cost you a few, it seems that on special occasions I inevitably reach for my best jewelry staples. When we do the Fashion Math, it's easy to see why buying something you can wear for life has its rewards. These gold plated Dolce and Gabbana Pearl Drop Earrings ($154) are the perfect choice in pearls; they are simple enough to be worn on any high-profile occasion, but youthful enough you could wear them just to make a date night feel special. Best of all, you only have to cut out something as simple as your morning coffee for a month to save up for this purchase. For more deals on styles worth the green, check out all of our Fashion Math archives. And for more advice, see our guide to the best jewelry and even jewelry that flatters.
Fashion Math: What's It Worth To Look Stylish While You Sweat?
Even if you wouldn't call yourself a "gym rat," how much time would you say you spend in spin class, on the treadmill, or in downward dog? Be honest. Now ask yourself what you normally wear. If old sweats and faded T-shirts come to mind, maybe it's time for an upgrade. No more excuses; the fashion math adds up when you consider the stylish appeal of Stella McCartney's gym line for Adidas: The performance hooded top ($100) shown here in energizing fuchsia is a beautiful reminder to get your bum over to the gym, plus, it will boost your confidence to have something new in your sports attire repertoire. Best yet, the more you go to work out, the more bang for the buck you'll get from your monthly dues. Can you really put a price on a tight body? For more deep thoughts on the worth of fashion, check out the fashion math archives. You might also like to save on cheap workout gear, our favorite workout gear, or these awesome gadgets to help shed pounds minus the sweat.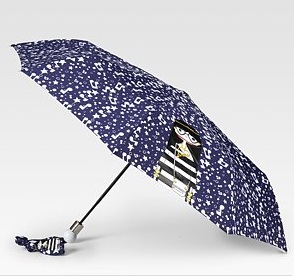 Fashion Math: Would You Pay $70 To Rainproof Your Fresh Blowout?
In constant need of a sturdy and fashionable umbrella, I was pleased to come across this Marc by Marc Jacobs Miss Marc Glow in the Dark Umbrella ($68)--they had me at "glow in the dark," although I can't imagine that it really does, or even what purpose that would serve. Nonetheless, the pretty print is enough to draw the eye in, as well as the fact that, well, it will keep you dry and stylish even in adverse weather. My question is, does the fashion math add up? Considering that a blowout costs around $45 in New York City and it rains about 80 times a year, I think it's safe to say that a designer umbrella is well worth the splurge; it will preserve your looks from the waist up and only cost 80 cents a use. If you live in Seattle, you're getting an even better bargain. Don't stop there--get some fashionable rain boots while you are at it. Also, we have plenty more fashion math posts for your pleasure, as well as the best winter fashions.
Fashion Math: Is a DVF Wrap Dress Really Worth More Than Three Months of Weekly Manicures?
Whether you have an important business meeting, a job interview where first impressions are key or a hot date with a guy you really like, there's one iconic dress that's perfect for all occasions: a Diane von Furstenberg wrap dress. Equal parts sophisticated and sexy, the wrap dress is there whenever you need it. This graphic black and white DVF wrap dress is the perfect example of just how versatile the silhouette can be when the print is right. The price, however, may seem a little wrong at first glance. You see, this dress is $365, which is more than you'd pay for three months worth of manicures. But with a little Fashion Math, you'll see why the dress is the better buy. If you wear your wrap dress just once a month for the next five years, it will cost you less every time you wear it than you probably pay for lunch. And yes, you really can wear this dress for five years. Longer than that, in fact. The colors and silhouette will never go out of style and DVF dresses are such good quality you'll be able to pass them down to your daughter. That's certainly more lasting than those manicure that require weekly maintenance. Shop more wrap dresses, plus great black dresses and party dresses in our buying guides.
Fashion Math: Is $180 For A Red-Carpet-Worthy Clutch Worth The Splurge?
A sparkling accessory, like an evening clutch, can no doubt complete your outfit for a wedding, holiday party, or festive soiree. But really, how often do you actually attend one of these events? With the holidays, wedding season, birthdays, and business events combined, I can still count all of these special occasions on two hands. But factor in nights out with the girls for some drinks and I think this splurge might very well be worth it. Let's do the Fashion Math: This BCBG MAXAZRIA Sequined Mesh Bow Clutch ($178) shown above may not be suitable for day-time events, but it will cover all of your fall and winter evenings. Plus, you can wear it to a black-tie wedding without the optional chain strap, or dress it down by pairing it with jeans. Trade in your morning coffee for home-made brew once a week for nine months and you've already paid for this so-called splurge. Sate your fashion lust with more fashion math items worth the splurge, the best handbags, clutches, affordable purses, and more.
Fashion Math: Is An Eye Shadow Really Worth $50?
Let me start by saying that I will never (with a 99.9% certainty) own a brand new, authentic Yves Saint Laurent handbag, gown, or other piece of clothing unless it is gifted to me by some generous fashion deity. It's not that I'm cheap (well, maybe a little), but YSL is just a touch outside my budget. Luxury cosmetics, however, are affordable in comparison, and give me a chance to look like I make a six-digit salary without spending like I do. While a drugstore makeup supporter through and through, an eye shadow upgrade is worth it because the quality is 10 times better; you can count on richer hues, longer staying power, smoother application, and a lower likelihood of creasing. I think this Yves Saint Laurent Eye Shadow Duo is so worth the price, but let's do the Fashion Math first: There you have it. At an implausibly low $.50 a wear (or less depending on how heavy you apply your makeup), there is hope for those of us who may never own the real thing, but who want a little luxe in their life just the same. Want more? Don't miss our other Fashion Math posts or our guides to the Best in Beauty.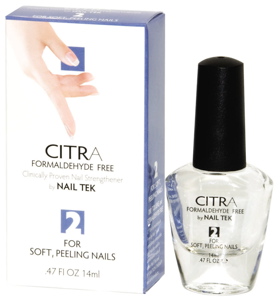 Fashion Math: How Much Would You Pay For Perfect Nails?
A friend mentioned Nail Tek CITRA to me a few weeks ago when she saw my chipped nails. At the time, I was skeptical, but after using it for a week, I am a die-hard convert. My nails have stopped breaking and chipping so they grow longer and look healthier. Choose from three levels of strengthening and conditioning: 1) for normal, healthy nails, 2) for soft, peeling nails, or 3) for dry, brittle nails. apply Nail Tek like you would a base coat.  Even better, Nail Tek CITRA (unlike its popular  cousin, Nailtiques) is formaldehyde-free made with natural aldehydes. So is it worth the $15? Let's do the Fashion Math: Although this special polish costs $15 a pop in your local drugstore ($13.50 if you buy online), the price is well worth the green. In fact, you could pay for each application with the loose change you find on the street. More importantly, you can wait longer between salon manicures (thus saving more cash) and your nails will stop chipping and cracking. Now isn't that worth it? To see more sales and deals, visit our Fashion Math archives to see what's worth the splurge, and don't forget to visit our buying guides and the best beauty products.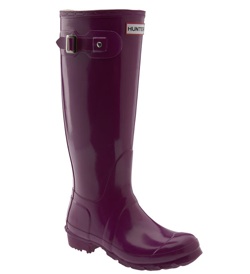 Fashion Math: Are $100 Rain Boots Worth The Splurge?
We'll be the first to admit rain boots are not the sexiest shoes to wear. They're big, bulky and hide all the results of those intense leg workouts you do at the gym everyday. But like them or not, waterproof rain boots serve a very practical purpose: keeping feet dry in nasty, wet conditions. Invest in a good pair whose soles have traction and they'll help prevent falls, too. Hunter is pretty much the best you can get. The brand has been around since the 19th century and for good reason—their boots not only keep moisture out, but also last a really long time. We love them for the quality, but also for all the pretty colors they come in like purple, pink and silver. The original tall boot retails for $115, which wouldn't be that bad if this were a shoe you could wear every day, but they make quite a splash. Behold our Fashion Math equation: According to the MyForecast.com Almanac, states in the Northeast get around 10 days of precipitation each month. Wear these rain boots every time it rains or snow for one year-that's about 120 times-and you'll be paying less than one dollar every time you pull them on. That's cheaper than a lotto ticket, and you're guaranteed to get something every time-dry feet! See our collection of chic rain boots, and check out our complete guide to rain gear. Plus, shop UGG boots to keep your feet warm all winter long. See more Fashion Math equations.
Fashion Math: Are "Basic" Black Pumps Worth A Few Benjamins?
Black pumps are an office mainstay, but not what most would call groundbreaking fashion. But these Cole Haan Genevieve Air Pumps have a secret: hidden under the subtly woven calfskin exterior is an uber-comfortable interior made with Nike Air technology that makes the 3-inch heelsway more cushy than any average pair you'll find. So, are these far-from-basic black pumps worth nearly $200? Let's do the Fashion Math: If you wear these shoes just twice a week for a year, they'll cost you less than a Starbucks coffee for each use. And you'll brandish your financial smarts to all your coworkers while looking chic doing it. Check out all of our Fashion Math equations, and see more of our editor's picks for Comfortable High Heels and many more fashionable, yet affordable finds.