Bella Hadid Falls On The Michael Kors Runway In Sky-High Heels
Today, Bella Hadid proved she is just like you and me. The model had some trouble walking in the sky-high heels and took a tumble at the Michael Kors spring 2017 show. Girl, word, totally been there before too (minus the whole supermodel runway thing). Before the fall, Bella was killing it. Look at that flow, that stare! https://www.instagram.com/p/BKWKSBTgZ_w/?taken-by=bellahadid Then, disaster struck: https://www.instagram.com/p/BKV7Zr2DkcG/ https://www.instagram.com/p/BKWKc3gjV37/ Bella was smiling through the whole ordeal, but some people in the audience had a different reaction... https://www.instagram.com/p/BKWJU7lg7pg/ The model recovered with a smile and finished walking. Hey, it's not like this is the first time a model fell at fashion week, and at least she did it with a good attitude! Real talk, though: do you think this song was running through her mind in the moment?? [youtube]https://www.youtube.com/watch?v=2H5uWRjFsGc[/youtube] Don't forget to check out: Kendall Jenner's DIY zit cream and Hailey Baldwin's detox diet [Photo: IMAXtree]
Shop DVF's Limited-Edition 'In The Moment, Of The Moment' Collection From The Fall Presentation Now
Any fashion-lover knows the heartbreak of seeing a design you love at Fashion Week, only to realize you have to wait months and months to actually own it. That all changes today, however, thanks to the House of DVF. The iconic designer unveiled her latest In the Moment, Of the Moment collection during New York Fashion Week yesterday and six of the gorgeous designs are available to purchase today! Amazing, right?! This exclusive line is effortlessly sexy, truly of-the-moment and designed with "It" girls and style-setters in mind. With DVF's eye-catching prints and feminine silhouettes, you'd be silly not to take advantage of this seriously sweet opportunity. Just be sure to place your order ASAP. This limited-edition collection is only available while supplies last! SHOP THE LIMITED-EDITION DVF COLLECTION NOW! The editors at SHEfinds wrote this blog post on behalf of DVF and received compensation as part of our participation.
Get The UGG Boots From Backstage At The Marchesa NYFW Show
Runway shoes aren't known for being particularly comfortable, but the models at the Marchesa show at New York Fashion Week last week were in for a special treat when they arrived at rehearsal: super soft new styles from UGG's Classic Luxe Collection (we are obsessed) were provided backstage. How lucky! Get their exact pair here: UGG Australia Abree Short in Bruno ($250)
The Best Nail Polishes From NYFW–Identified!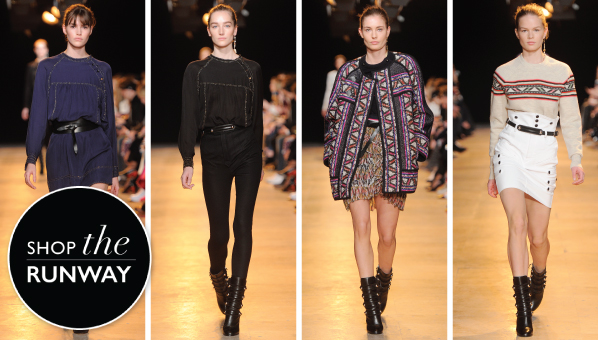 If You Want The Best Clothes Next Season, Shop Isabel Marant Fall 2015 Now
Ask any fashion-savvy girl who her favorite designers are and Isabel Marant will likely be on the list. Yes, she did start the wedge sneaker trend, but she's also a master at designing the coziest knits, coolest leather jackets and "it" booties. So we couldn't not tell you about the opportunity to shop Marant's latest collection. That's right, her Fall 2015 range, which only debuted on the runway last week, is available for purchase now on Moda Operandi (thanks, M'O!). The trunkshow is running for the next 6 days, so make sure to grab one of the line's colorful blanket jackets or high-waisted jeans (yes, she's making those happen next season). SHOP ISABEL MARANT FALL 2015 NOW Don't forget to check out: Hilary Duff's bikini body selfie, TOMs first-ever handbags and Sweaty Betty x Richard Nichol [Photos: Splash News]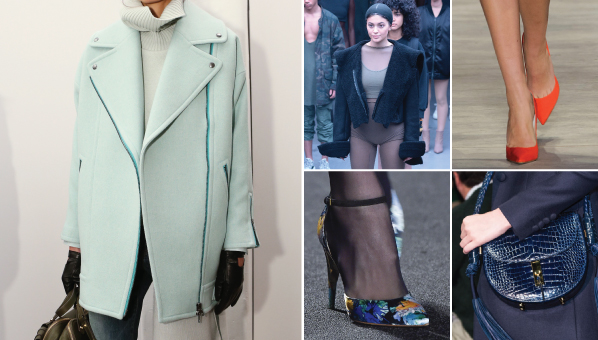 The Best Launches & Collabs From Fashion Month: SJP x Tome, Altuzarra Bags, More
Fashion Month officially ended on Wednesday after weeks of shows and presentations in New York, London, Milan and Paris. There were some truly unique and spectacular creations, like Chanel's bistro plate clutches and Dolce & Gabbana's crystal headphones, and we can't not mention the comeback of Derek Zoolander and Hansel at the Valentino show. But our favorite stuff to come from the Fall 2015 runways was the new launches and collaborations. Click the slideshow to see the best ones, from Altuzarra handbags to Kanye West x Adidas Originals. Don't forget to check out: Kathy Griffin leaves Fashion Police, the last day to shop Stila's 25%-off sale and Kristin Cavallari's boots [Photos: Imaxtree, Splash News]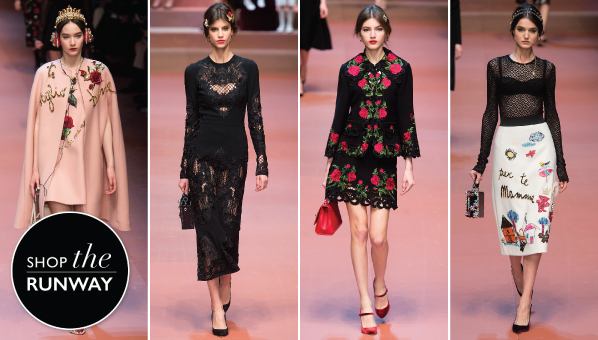 Shop Dolce & Gabbana Fall 2015 Now, Including Those Sweet Crystal Headphones
Have you ever watched a runway show during fashion week and think, "Yeah, I could probably pull that look off better than that model can." Well, if you have, then I have two things to say to you. First, hi there, Gigi Hadid, I didn't expect to see you here! And second, now's your chance to buy clothes straight off the runway and prove to everyone just how right you are. For the next four days, Moda Operandi is having a Dolce & Gabbana trunkshow, featuring pieces from the Italian brand's Fall/Winter '15 collection, including their beyond cool crystal-encrusted headphones. I mean, have you seen those bad boys? Dolce & Gabbana Red Embroidered Nappa Leather Headphones ($7,095) If you don't buy them, I will, and we all know that I can't afford them. Consider it an act of charity: you get an awesome new set of headphones, I get to feed myself. Win-win, right? SHOP THE TRUNKSHOW NOW And don't forget to check out: Selena Gomez & Chloe Grace Moretz's PFW hair, cricket sweaters and kimono cardigans [Photos: Imaxtree]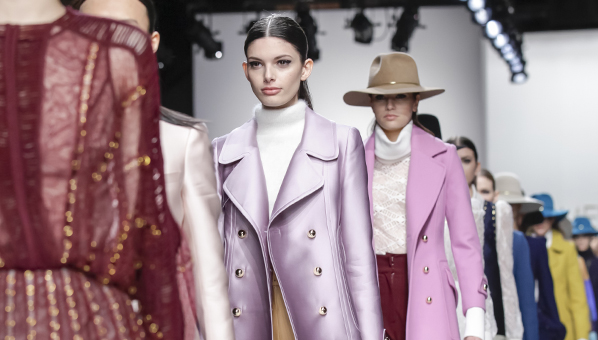 It All Ends Here: We Have The Entire Paris Fashion Week Livestream Schedule
Well, everyone, it's finally here. The moment you've all been waiting for. The grand finale of a full month of fashion: Paris Fashion Week! Since not all of us can pull a Miranda Priestly/Andi Sachs and just jet off the Paris at the drop of a hat, we thought we'd continue our streak of generosity and bring Paris to you. You'll have to provide your own cheese and baguettes, though. Sorry. We're not a full-service company, you see. But, if you've always wanted to watch runway shows by Dior, Chanel, Hermes and more, we're more than happy to help you out. Check out the entire PFW livestream schedule below: Wednesday, March 11 4am--Louis Vuitton 5am--Masha Ma 6am--Moncler Gamme Rouge 7am--Allude 8am--Miu Miu 9am--Rahul Mishra 11am--Moon Young Hee 11:30am--YDE And don't forget to check out: ear crawlers for spring, bucket bags and black & white skirts [Photo: Shutterstock]
Ciao, Milan Fashion Week! Here's The Entire Livestream Schedule
Think you had your fill of fashion with New York Fashion Week and London Fashion Week? Think again: the whole month of fashion fun continues with Milan Fashion Week! For the next few days, designers like Gucci, Fendi, Prada, Moschino and more will be putting on shows like you wouldn't believe, and once again, we're here to bring all the shows directly to your computer screen. Honestly, it's about time you sent us a fruit basket or something. When you look at the schedule, just keep in mind that we're converting from Milan time here, so if you can't catch a show live because it's in the middle of the night and you're still asleep, check back for rebroadcasts in between the live shows. Without further ado, here's the entire Milan Fashion Week livestream schedule: Monday, March 2 3:30am--DSquared2 4:30am--Giorgio Armani 8am--Leitmotiv powered by CNMI 9am--Alberto Zambelli 10am--San Andres Milano 11am--Fatima Val And don't forget to check out: a beginner's guide to filling in your eyebrows, the best sports bras, and Forever 21 x NBA [Photo: Shutterstock]
Shop The Teddy Bear Pieces From Mochino's Fall 2015 Collection Now
Another season, another WILD and CRAZY Moschino collection from Jeremy Scott. He debuted the Fall/Winter 2015 range in Milan yesterday, which featured neon streetwear, Loony Tunes sweaters and teddy bear bags. Yes, this is the dude who brought you McDonalds and Barbie fashion--did you really expect anything less? Even though it will be a couple of months before the entire collection hits stores, you can shop the teddy bear pieces now. There's teddy bear print sweaters and pencil skirts, as well as furry bags and of course, a bear-shaped phone case. If you want in on the next big street style bait, grab something from this collection ASAP. SHOP MOSCHINO FALL 2015 NOW Don't forget to check out: the dress that's breaking the internet, Gigi Hadid's sandals and Neiman Marcus' 65% off sale [Photo: Splash News]
It's London Fashion Week! Here's The Entire Livestream Schedule
Sad that New York Fashion Week is over? What can we do to make you feel better? Ooh, here's an idea: how about we give you the entire schedule for London Fashion Week! It's a little bit shorter than NYFW (though some might argue that that's a good thing...), but features amazing designers like Burberry, Vivienne Westwood, and House of Holland. We're bringing the best of London fashion across the pond, straight to your computer. We'd ask for a 'thank you', but we can feel your gratitude through the screen. Some of the shows might be more difficult to catch because we're converting from London time here, but it's totally worth it. Check out the entire London Fashion Week live stream schedule below: Tuesday, February 24 4am--Ashley Williams 4:30am--Anya Hindmarch 5:30am--Michael van der Ham 6:30am--Marques'Almeida 7:30am--Christopher Raeburn 8:30am--Emilio de la Morena 10:30am--Ashish 11:30am--Ryan Lo 1pm--H by Hakaan Yildirim For more fashion news, check out: the best designer handbags worth splurging on, how to style a button-down, and Iris & Ink's spring line [Photo: Shutterstock]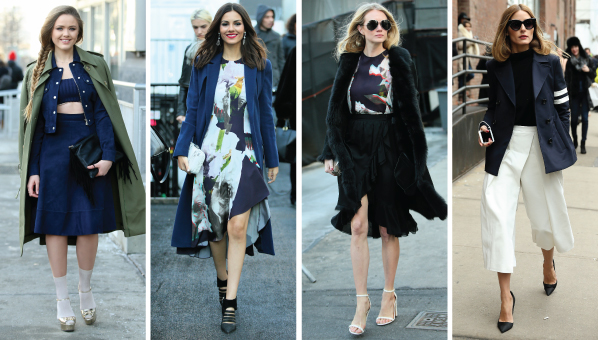 10 Street Style Looks From NYFW That Made No Sense At All In The Cold
New York City has been an ice tundra the past few weeks. So when Fashion Week rolled around, we were curious to see what the street style stars would be wearing in the single digit temps. Some decided to sacrifice their body warmth for the sake of fashion. They opted out of coats and full-length pants for sandals and culottes. Click to see the street style looks that made absolutely no sense at all in the NYC cold. We're shivering just from looking at these photos. For more fashion week, check out: the LFW livestream schedule, shop SJP x Tome and we asked, "What's the cheapest thing you're wearing?" [Photos: Splash News]
Don't Miss A Thing: We Have The Entire NYFW Livestream Schedule
When February rolls around and the cold really hits, that's when you know it's time for New York Fashion Week. Over the next several days, designers like Mara Hoffman, Diane Von Furstenberg, and Vivienne Tam will be showing their Fall/Winter 2015 collections. Those not in New York don't have to miss out though—you can still join in on all of the NYFW fun and live stream the shows to wherever you are. That's right: you don't even have to leave your house or put on pants to see all of the season's best collections. So gather your girlfriends or have a party of one, pop open the laptop and press play. We have the entire Fashion Week livestream schedule right here. Thursday, February 19 11am — Tokyo Runway Meets New York 12pm — Dorin Negrau 2pm — Calvin Klein Collection 3pm — Sergio Davila 5pm — Art Hearts Fashion  For more fashion news, check out: Wendy Nguyen for BaubleBar, Ariana Grande's DVF jumpsuit and Pantone's top colors for Fall 2015 [Photo: Shutterstock]
We Went To NYFW And Asked, "What's The Cheapest Thing You're Wearing?"
Seeing editors, buyers and street style stars decked out in Chanel, Valentino and Celine is pretty commonplace at NYFW (aka New York Fashion Week). These ladies are expected to dress to impress, after all. And that's exactly why we decided to take to Lincoln Center to find out what gems fashionista were rocking from the other end of the spectrum. From a killer Zara coat to $5 heels, check out the cheapest items these NYFW attendees were wearing: [youtube]https://www.youtube.com/watch?v=ug0YAkVvtto[/youtube] Be sure to check out Nordstrom's clearance sale, killer designer handbags and the best fashion collabs of the month.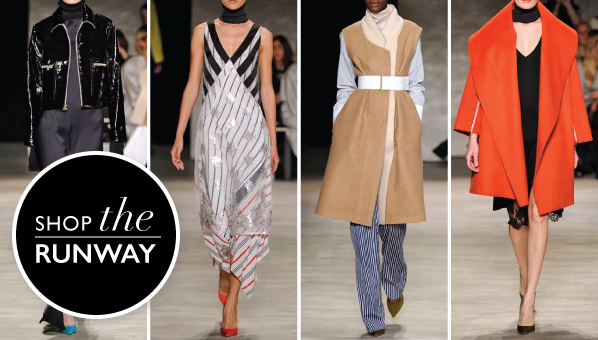 Sarah Jessica Parker Designed Shoes For NYFW, And Now You Can Shop Them
What does Sarah Jessica Parker do after launching a shoe collection? Bring her designs to fashion week, obvs. The actress/designer teamed up with NYC-based brand Tome to craft shoes for their Fall/Winter 2015 show--and now you can shop all four styles seen on the runway. The single-sole pumps come in Turquoise, Twilight (a navy/black), Olivine (a khaki/olive) and Poppy (an orange/red). Each pair has a contrasting SJP signature stripe on the back. Carrie Bradshaw would for sure want a piece of NYFW before everyone else. Feel the same way? Get SJP x Tome heels below. SHOP SJP x TOME SHOES NOW For more Fashion Week stories, check out: the NYFW livestream schedule and shop the Tommy Hilfiger 30th anniversary collection
Shop Tommy Hilfiger's 30th Anniversary Collection Straight Off The Runway
You know what's better than watching than the Tommy Hilfiger Fall/Winter 2015 runway show? Being able to buy clothes from the collection just minutes after the show is over. According to Tommy himself, this season's collection is inspired by one of the most American things out there: football. And, as a tribute to the brand's 30th anniversary (has it really been that long??), exclusive pieces that premiered on the runway are available on tommy.com. The limited edition designs include varsity-inspired faux fur V-neck sweaters and a zip-top oversized leather clutch in no less than five colors, plus they all feature the number 30 to celebrate the occasion. Excited yet? So are we! Act fast before everything's gone. SHOP TOMMY HILFIGER NOW And don't forget to check out: the NYFW live stream schedule and all of today's best President's Day sales
Can You Guess What The Street Style Star Is Wearing?
Today marks the first day of New York Fashion Week, or as I like to call it, "The Street Style Olympics." Models, bloggers and editors dress in their most-fashion-y clothes in hopes of being snapped by a street style photog. We're talking sequin boyshorts and handbags furry enough to be mistaken for small dogs. Seriously, some of this stuff is CRAY. So to honor the ladies who are so bold as to wear these, ahem, interesting items, we invented a game. Here's how it works: 1) Click the slideshow to see a zoomed-in photo of what one street style subject is wearing. 2) Before clicking ahead to the next slide, guess if the item is clothing, shoes or accessories. 3) Click to the next slide for the reveal. That's the easy part. Now are you ready to play? Let us know in the comments below what you think of our WTF Street Style Game! For more WTF, check out: inappropriate sweatshirts, how to turn Oreos into mascara and graphic socks [Photos: Shutterstock]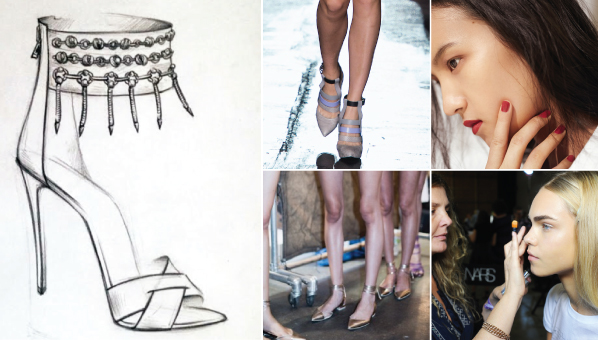 The Best Launches & Collaborations That Debuted During Fashion Month
Fashion Month officially ended yesterday after four looooong weeks of shows and presentations in New York, London, Milan and Paris. There were some innovative creations, like Alexander Wang's sneaker bag hybrids, and crazy collections, like Moschino's Barbie-themed designs. But the best stuff to come from the spring 2015 runways was the new launches and collaborations. Click the slideshow to see our favorites from Gucci's HIGHLY anticipated cosmetics line to Miley Cryus x Jeremy Scott jewelry. [Photos: Splash News, Dannijo, Imaxtree, Burberry, Shawn Brickmill/Misha Nonoo x ALDO Rise, Christopher Kane x NARS]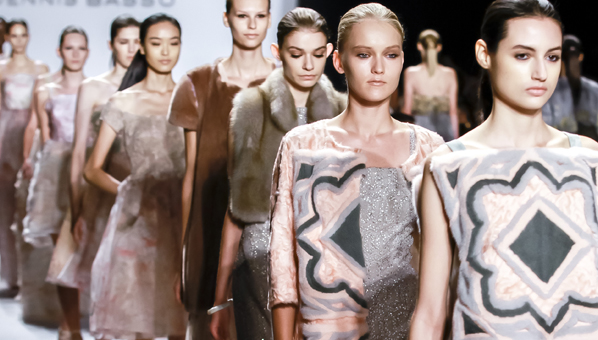 Can't Make It To Paris Fashion Week? Just Watch The Live Streams Instead
We know, our invites and free plane ticket to Paris Fashion Week got lost in the mail too. So since we can't make it overseas to watch the shows in person, we're bringing them to you. A lot of shows aren't live streaming, but be sure to tune in for the ones that are. Sit back, grab a baguette, and watch to see what Dior, Valentino, Louis Vuitton and more have in store for spring 2015. Wednesday, October 1st 4AM EST- Louis Vuitton 8AM EST- Miu Miu [Photo: Shutterstock]
Ciao, Milano! Here's Your Complete MFW Livestream Schedule
New York and London fashion weeks are sooooo early September. Now it's your turn, Milan! Didn't get an invite to the shows? No worries, we have the entire MFW livestream schedule for you right here. So sit back, relax and tune in to see what some of the best designers in the game have in store for spring 2015. And if there's only one show you watch this week, make sure it's Moschino on Thursday, September 18th at 2pm EST. Remember last season's McDonald's theme?? That Jeremy Scott never disappoints. Here's the complete list of all the shows live streaming at LFW: Monday, September 22nd 4AM EST- N-U-D-E: New Upcoming Designers Leitmotiv 5AM EST- Heohwan Simulation 6AM EST- Grinko 7AM EST- N-U-D-E: New Upcoming Designers Alberto Zambelli [Photo: Shutterstock]
Shop Moschino's Barbie-Inspired Spring 2015 Collection, It's Fantastic
Jeremy Scott's spring 2015 collection for Moschino hit the runway yesterday, and it was all Barbie-inspired. Like, old school '80s Barbie: glitter, ruffles, oversized bows and lots and lots of PINK. Remember, this is the man who turned McDonald's into high fashion last season. Nothing is too wild or crazy for him. The show began with "Hiya, Barbie" blasting from the speakers, and the models took the runway as the classic doll we know and love. There was Beach Barbie! Office Barbie! Rollerblade Barbie! Even if you weren't able to see "the dream" live in person, you can just tell the room was filled with fun vibes. We'll have to wait and shop the entire line in a couple of months. However, a capsule collection of 28-pieces are available to buy now, including t-shirts, pencil skirts, handbags and an iPhone case that looks like a handheld mirror. So come on ladies, let's go party with Barbie and get some Moschino!  SHOP MOSCHINO SPRING 2015 NOW And because it's Friday and Barbie: [youtube]https://www.youtube.com/watch?v=ZyhrYis509A[/youtube] For more Fashion Week, check out: the Milan livestream schedule, all the nail polish from NYFW and pre-order Alexander Wang S/S '15 [Photos: Splash News]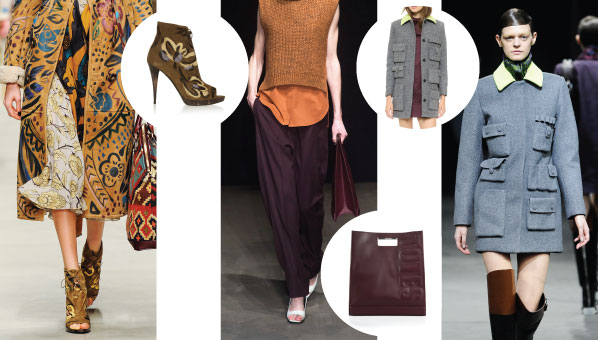 Everything You Thought Was Sooo Cool From The Fall Runways Is Now Shoppable
It's currently fashion month, which means designers are showing collections for spring 2015. You're probably oohing and ahhing over all the newness from Alexander Wang and Prabal Gurung, just like you do every season. But fast forward to next fashion month and you already forgot about whatever it is you "had to have" back in September. Remember last February when all anyone was talking about was those hand-painted Burberry shoes? Didn't you shed a tear over the awesomeness of Phillip Lim's "Totes/Amaze" tote? Well, after the months and months of waiting, you can finally buy everything you "loved, loved, loved" from the fall 2014 runways. So put your money where your mouth is and go for it! We got the best from Saint Laurent, rag & bone and more in the slideshow. And don't forget to check out: Julianne Hough's black bag, Saks Fifth Avenue stole money from customers and the Cara Delevigne Halloween costume [Photos: Splash News, Imaxtree]
Alexander Wang's Sneaker Bag Hybrids From NYFW Are Available For Pre-Order
We always know to expect greatness from Alexander Wang shows. Last season, his mule boots and fanny pack won NYFW. He freakin' made us want to wear a fanny pack! That's no easy feat. For spring 2015, the designer re-imagined classic sneaker styles as clothes. Think Nike Flyknits as neon body con dresses and Adidas Stan Smiths as tennis dresses. But the standout from his collection has to be the sneaker bag hybrids. These colorblock totes literally look like kicks, from the mesh accents down to the rubber bottoms made to be like sneaker soles. It's weird, but we kind of like it. So different from his Rocco Duffel and Diego Bucket, right? If you're into them like us, you can pre-order the bags (and the rest of the collection) now on Moda Operandi. SHOP ALEXANDER WANG S/S '15 NOW And don't forget to check out: 8 things to do at your wedding after party, The Limited x Scandal collection and who wore it better: Cara Delevigne or Jessica Alba [Photos: Imaxtree]
Let's Do This, London: Get The Complete LFW Livestream Schedule Here
Last week, we gave you access to the New York Fashion Week livestream so you could watch as your favorite models walked the runways in new looks for Spring/Summer 2015 from designers like Tory Burch, Nicole Miller, Mara Hoffman and BCBG. Now it's time to do it all over again. London Fashion Week kicks off on September 12 in the UK's capital city with J. JS Lee's SS'15 presentation followed by a jam-packed week of shows including Topshop, Ashish, Mary Katrantzou, Tom Ford and House of Holland. If you're fashion obsessed like we are, you'll look past the time differences and tune in to see what next year's trends will bring. And if you can't wake up super early (or stay up really late) to watch all of them, don't worry. We'll be updating you on everything we see throughout the week. Friday, September 12 10:00 am: J. JS Lee 11:00 am: Bora Aksu 1:00 pm: DAKS 2:00 pm: Eudon Choi 3:00 pm: Jean-Pierre Braganza 5:00 pm: Mark Fast 6:00 pm: Felder. Felder 7:00pm: Christopher Reaburn Saturday, September 13 10:00 am: Jasper Conran 1:00 pm: SIBLING 3:00 pm: Holly Fulton 4:00 pm: J.W. Anderson 5:30 pm: Nasir Mazhar 6:30 pm: House of Holland 7:30 pm: Lucius Nacimento 9:00 pm: KTZ Sunday, September 14 12:00 pm: Marios Schwab 1:00 pm: Matthew Willamson 2:00 pm: Temperley London 3:00 pm: Topshop Unique 5:00 pm: Vivienne Westwood Red Label 6:00 pm: Mary Katrantzou 7:00 pm: Jonathan Saunders 8:00 pm: David Koma 8:30 pm: Pringle of Scotland Monday, September 15 9:00 am: Antonio Berardi 10:00 am: Rocksanda 11:0 am: Erdem 12:00 pm: Michael van der Ham  1:00 pm: Burberry Prorsum 2:00 pm: Issa  4:00 pm: Thomas Tait 5:00 pm: Peter Pilotto 6:00 pm: Giles 7:00 pm: Tom Ford Tuesday, September 16 10:00 am: Anya Hindmarch 11:00 am: Simone Rocha 12:00 pm: Marques'Almeida 1:00 pm: Fashion East 2:00 pm: Emilo de la Morena 3:00 pm: Ashish 4:00 pm: Meadham Kirchhoff 5:00 pm: H by Hakaan Yildirim And don't forget to check out: every nail polish from NYFW, Chloe Norgaard's FW hair style and rag & bone custom jackets from the runway. [Photo: Shutterstock]
Every Nail Polish From New York Fashion Week–Identified
New York Fashion Week is coming to an end today, and to celebrate we've rounded up the best nails from the shows in this city. From pastel mint mini moons at Charlotte Ronson to tangerine at Alice + Olivia to "A-list" red at Carolina Herrera, this season proved that nail art may be (almost) dead, but bright nails never will be--especially for spring. Click through the slideshow above for all the pics--plus the polishes identified with links to buy. You're welcome! [Photo: OPI for Charlotte Ronson]
Don't Miss Out: We Have The Entire NYFW Livestream Schedule Here
For some gals, the only exciting thing that happens in September is back-to-school, but for others that is not the case. The first week of September marks the beginning of a week we've all been waiting for--New York Fashion Week. Over the next several days fashion girls, like us, will ooh and ahh over the looks and models that designers like Mara Hoffman, Nicole Miller, Rebecca Minkoff and Calvin Klein will be sending down the runway for Spring 2015. But just because you aren't in NYC or didn't get an invite to your favorite designers' show, doesn't mean you'll miss out on all the NYFW fun. You can live stream all of the shows straight to your living room, so you won't even have to dress up to watch 'em. So pick out your favorite PJ's, flip open your laptop and tune in. We have the entire Fashion Week schedule and live stream right here. Thursday, September 11 12:00 pm -- Dorin Negrau 1:00 pm -- J. Mendel  4:00 pm -- Calvin Klein Collection For more fashion news, check out: metallic lipstick, Olivia Palermo x Aquazzura and Alexa Chung's Burberry dress. [Photo: Shutterstock]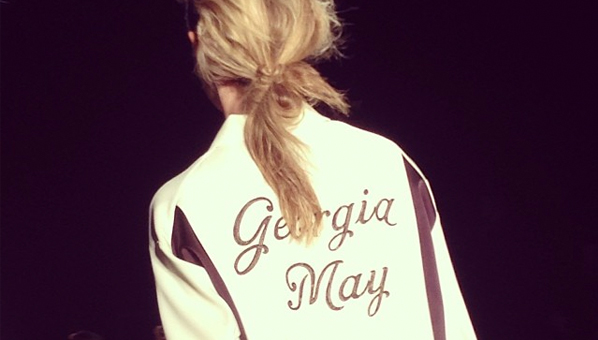 Put Your Name On Your rag & bone Jacket: They're Now Offering Customization!
It's exciting to see the new spring 2015 styles hit the runway. But do you know what's even more exciting? When you can finally shop that one thing you've been dying to get your hands on since last fashion week. For us, that would be rag & bone's personalized bomber jackets and bowling shirts. Models like Joan Smalls, Karlie Kloss and Georgia May Jagger closed the fall 2014 show wearing one with their names embroidered on the back--as if we need a reminder of who these gorgeous gals are. For the month of September, rag & bone will make these custom pieces available at stores in NYC (Mercer St. & Christopher St.). L.A. (Melrose Ave.), London and Tokyo. Or you can order by phone at any store if you can't make it to one of those five. The women's selection includes the Bowling Shirt ($450), Dean Jacket ($655) and Challenge Jacket ($755) as seen on the runway, as well as the Zip Through Racer Hoodie ($395). You can personalize each with up to seven characters in the 50's-inspired stitching (sorry to any other Georgia May's out there). British "It" chick Alexa Chung and Victoria's Secret Angel Lily Aldridge already own the jackets, so we're pretty sure these are going to be a BFD. And don't forget to check out: how to rep your team like a street style star for football season, 7 ways to make your MOH happy and 28 cool fashion sneakers [Photo: Instagram]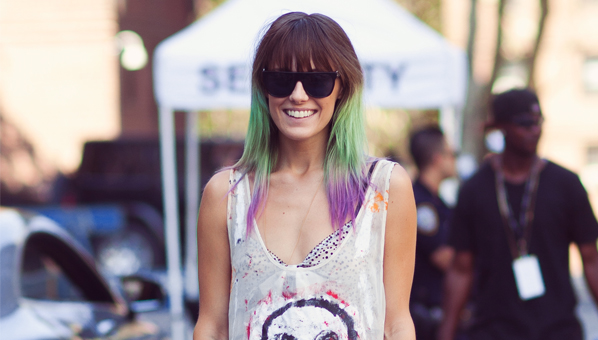 This Is What Chloe Norgaard's Hair Looks Like Today At NYFW
We just snapped a pic of California-born runway model Chloe Norgaard outside of the Tadashi Shoji runway show at New York Fashion Week, and this is relevant because the 23-year-old is known for changing up her crazy colored hair each season (she even has her own Manic Panic line coming out). It looks like this year she went with a natural brown color on top (those bangs though!), green in the middle and purple/violet at the ends. Lookin' good, Chloe! [Photo: Shelby Rodriguez for SHEfinds]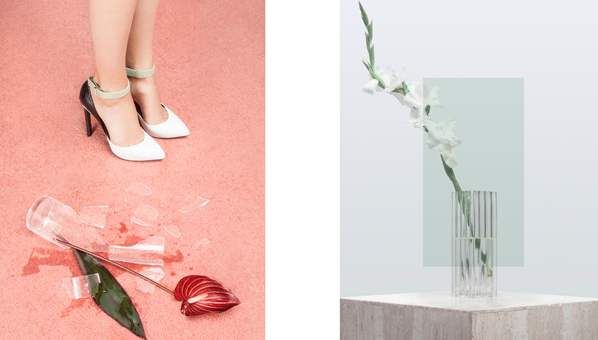 Prabal Gurung Is Launching His First Shoe Collection This Fashion Week
If the livestream schedule didn't get you excited for New York Fashion Week, then this should do the trick: Prabal Gurung is launching shoes. The designer's first footwear collection will debut at his September 6th show. So far, we know there will be six styles, including stilettos, and if the image above is any indication, they will be pointy! We've been known to obsess over Prabal Gurung x Casadei shoes in the past, so we have high hopes for his namesake line. Check back after 12pm EST on Saturday for any updates. UPDATE: Behold, your first look at Prabal Gurung shoes straight from the runway. And don't forget to check out: the Banana Republic sale, Lily Aldridge's boots and the Del Toro x Edie Parker flats that glow in the dark [Photo: Prabal Gurung]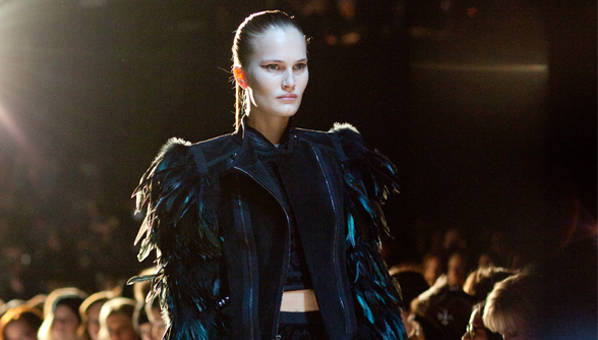 BCBG & Herve Leger's Spring 2015 Collections Will Be Shoppable On Instagram
Besides the extreme humidity (yes, the hottest days of summer come after Labor Day), all anyone is talking about in New York City is fashion week. We're so excited for the spring/summer '15 shows that we put our livestream schedule up one day early! Now, let's get to the most important part of NYFW: what's shoppable. Each season, designers like Tory Burch and Alexander Wang make their runway looks available to buy immediately after a show, whether it be on the brand's website or through a retailer like Moda Operandi. This year, BCBG Max Azria and Herve Leger are doing something a little different. The two have partnered with RewardStyle's LiketoKnow:It app, so you can shop their new designs seconds after the final walk. Here's how it works: 1) Get an Instagram account. (You have one? Good.) 2) Sign up for a LiketoKnow:It account. 3) Look out for photos with LTK links in the captions from "online influencers" (aka, bloggers) at the BCBG and Herve Leger shows. 4) Double tap if you like what you see. 5) Check your email for a link to buy the items from the "liked" photo. Easy, right? 13 pieces from BCBG will be available to shop this way, no word yet on how many from Herve Leger. These two designers are the only ones using the app this go-round, but we're sure others will get in on this come fall 2015 fashion week. Make sure to be checking your 'gram during BCBG's show on September 4th at 10am EST and Herve Leger's show on September 6th at 3pm to shop the looks. And don't forget to check out: a playlist for people who miss college, Lily Aldridge's boots and how to avoid blisters [Photo: Shelby Rodriguez]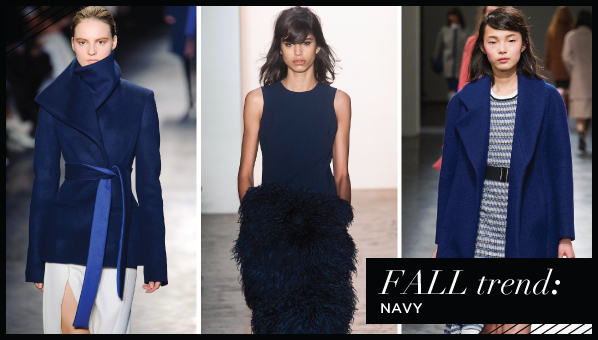 Everyone's Calling 'Navy' Something Different This Season
If you've always hated navy--or 'Ink' as it is also being called this season--then this post is not for you. If you have always loved navy, like myself or Victoria Beckham, you might not consider it "trend" (it's a basic--like black!--right?). You might even be offended by all these fashion folks jumping on the navy bandwagon just because it was on a bunch of runways for Fall '14 trend (Stella McCartney's, Altuzarra, Peter Som, Opening Ceremony, more). Either way, we've got loads and loads of navy in the slideshow above. It's fall shopping time people--this is not a drill! SHOP NAVY NOW [Photos: Altuzarra, Peter Som, Opening Ceremony]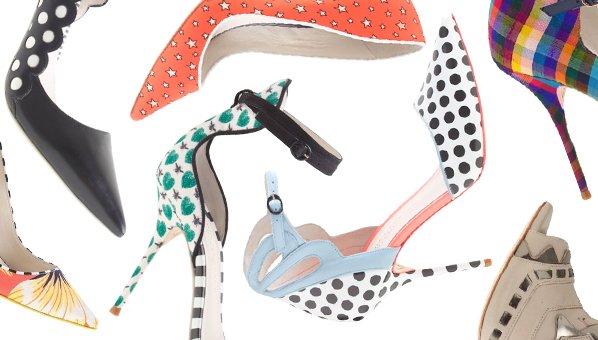 Sophia Webster For J.Crew Is Finally Here! Shop All 13 Styles Now
We know we get pretty excited for just about any major designer collaboration these days, but this one is the real deal. We got word back in September during NYFW that Sophia Webster was designing shoes for J.Crew this spring, and now we can finally shop all 13 styles! To say we were counting down the days is an understatement. We've been obsessing over this collection for months and months. We're huge fans of both brands, so the fact that the two decided to come together is pretty epic. Sophia's quirky best-selling silhouettes, like sky-high pumps, open-toe booties and kitten heels, are mixed with J.Crew's fabrics prints and colors for this collection. There's polka-dot ankle strap pumps, star print heels, rainbow checkered lace-up booties...you get the idea. These shoes are crazy gorgeous and unlike anything else. We won't hold you back any longer. Click the slideshow to shop the entire Sophia Webster For J.Crew collection, and stay tuned for the Fall 2014 line to hit stores later this year! Prices range from 320 to $695. SHOP SOPHIA WEBSTER FOR J.CREW NOW For more shoes we love, check out: Miranda Lambert's debut shoe line, Supergas that are anything BUT boring and Jennifer Garner's spring rag & bone booties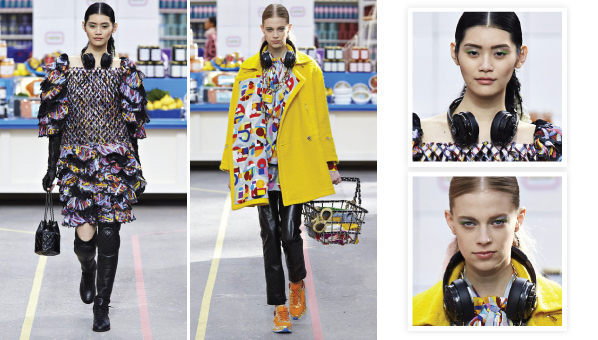 Chanel x Monster Headphones Are Happening And Of Course They're Quilted
Fashion Month is officially over. We learned a lot over the past 4 weeks, like Tom Ford is actually a pretty funny guy and Kendall Jenner isn't afraid of a sheer top. But the best news to come out of the Fall 2014 season is Chanel x Monster headphones. The French fashion house isn't the first to do designer headphones, but there's just something extra special about a pair with double C's. Krazy Karl sent a few models down the runway with the quilted (obvi) headphones around their necks, but it wasn't until DJ Swizz Beatz posted Instagram photos that we knew this collab was for real. He went on a little bit of an uploading spree with captions like, "HISTORY HAS JUST BEEN MADE!!!!!!!!!!!!!!!!!!!!!!!!!!!!!!!!!!!" and "Chanel X Monster #chanel #monster #paris #makinghistory#imjustgettingstarted." Soooo yeah, this is pretty much a done deal, although no official launch date has been set. Hopefully we'll see these babies in-stores by the time the Fall 2014 collection hits this September. For now, check out Swizz's pics below: Swizz Beatz and Kaiser Karl with the Monster headphones. Swizz Beatz wearing the headphones at the Chanel Supermarché. And don't forget to check out: see Jessica Simpson at her weight goal, how to kill it on St. Patrick's Day and H&M's first wedding dress is under $100   [Photos: Chanel, Instagram]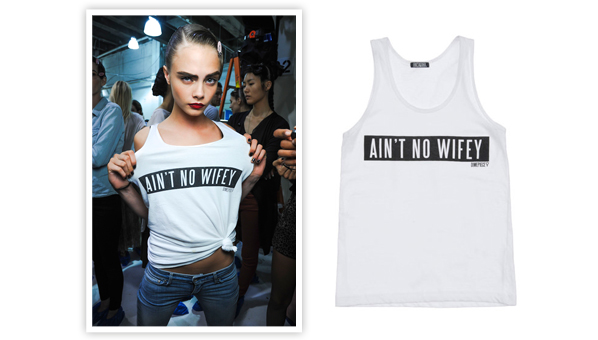 This 'Ain't No Wifey' Tank Is How To Look Like An Off-Duty Model This Weekend
Cara Delevingne is quite possibly the coolest model in the game right now (and certainly the most lady-loving), so when she's photographed in her street clothes - whether that's an MSGM bomber jacket or a some crazy kicks - the style blogs usually go nuts. Her latest look to go viral is the Dimepiece Ain't No Wifey tank she wore backstage at fashion week (above). I'm married, so I don't quite understand the stigma against getting "wifed up," but I also don't really care and think this cheeky tank is cool anyways. Get one: Dimepiece LA The Ain't No Wifey Tank ($45). Forever 21 is selling a similar item right now - a "Not Your Wifey" tee for $12.80. Not bad!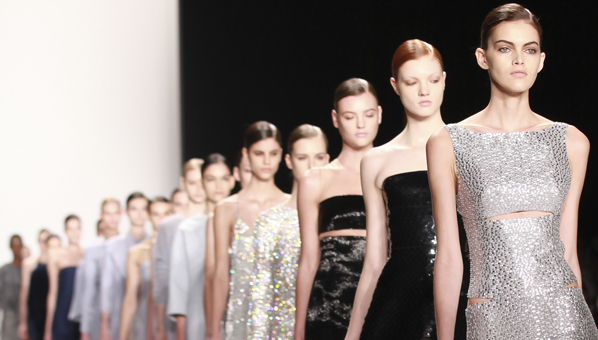 Paris Fashion Week Is Here! Check Out The Full Live Stream Schedule.
We feel like we were just getting excited for New York Fashion Week, and now it's already time for Paris! We really can't believe a month of new fashion is almost over. But like the saying goes, save the best for last, and Paris is sure to be the best. Want to know why? Well, we already know some details about the new shoes from Isabel Marant. Plus we got a sneak peek at H&M's fall collection. Just those two things alone have us excited for all the shows taking place over the next 10 days. Yes, another reason why Paris is the best is that it goes on for soooo long. So we get new designs from Kenzo, Valentino and Dior spanned out over a week and a half, instead of all crammed in to 7 days. A lot of shows aren't streaming, but be sure to set your alarms for the ones that are! Here's the complete list of all the shows live streaming at PFW: Friday, February 28th 8:30AM EST - Christian Dior 12:30PM EST - Maison Martin Margiela 1:30PM EST - AF Vandevorst Saturday, March 1st 5:30AM EST - Tsumori Chisato 9:30AM EST - Véronique Leroy Sunday, March 2nd 3:30AM EST - Kenzo 10AM EST - Chloe 11AM EST - John Galliano Monday, March 3rd 10AM EST - Elie Saab 11AM EST - Véronique Branquinho 12PM EST - Amaya Arzuaga Tuesday, March 4th 6:30AM EST - JC De Castelbajac 8:30AM EST - Valentino Wednesday, March 5th 4AM EST - Louis Vuitton 8AM EST - Miu Miu 11AM EST - YDE [Photo: Shutterstock]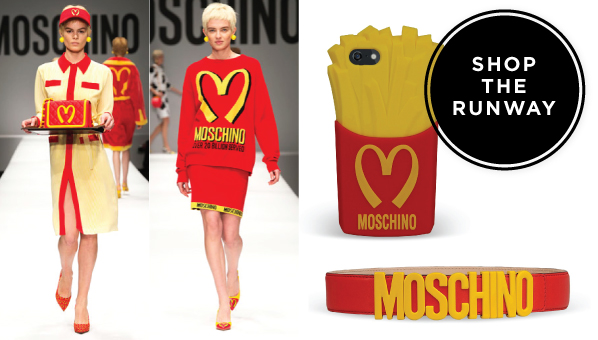 Shop Moschino's Fall 2014 Collection, Side Of Fries Not Included
Jeremy Scott's debut collection for Moschino hit the runway just last week and it's already shoppable. We shouldn't be that surprised though. After all, part of his line is inspired by McDonald's, so it only makes sense that Scott would turn fast food-themed clothing into fast fashion. There are nine pieces available now, ranging in price from an $85 french fry iPhone 5 case to a $935 Wool Blend Knit Dress, both of which Anna Dello Russo wore ahead of time to Moschino's show. (so you know they're basically street style porn). [Photo: Instagram] But if Mickey D's isn't your thing, there are two pieces that don't have fries or the golden arches on them: a cheese doodle Cotton Jersey Dress ($715) and "I don't speak Italian but I do speak Moschino" Cotton Jersey T-Shirt ($265). We're pretty sure everyone and their mother will be trying to get their greasy french fry hands on something from this collex. So get a piece of designer McDonalds now, or just save your box next time you get a Big Mac and turn that into a chic handbag. Now THAT'S fast fashion. SHOP MOSCHINO FALL 2014 NOW For more Fashion Week, check out: every show live streaming from Paris, the clutch winning street style and shop Tory Burch's Fall 2014 collection now [Photos: Moschino]
This 'Size Does Matter' Clutch Is Winning Fashion Week Street Style
Since the advent of the street style star, fashion week has become less about what is shown on the actual runway, and more about what these pretty "it" girls are wearing TO the shows. Sure, this has created some pretty big egos in the blogger world, but it's also resulted in some great trendspotting outside the tents. Case in point: at New York fashion week earlier this month, fashion writer Nausheen Shah was snapped by On Abbot Kinney holding an oversized metallic "SIZE DOES MATTER" clutch. All the style photographers and fashion fans outside of Lincoln Center lost their sh*t--it wasn't just a great photo opportunity, it's an effing cool bag. Later in the week, we also saw Renee Ogaki from STYLUSTE with the bag. Okay, now we officially wanted one.  We did a little research and discovered that it's by BOYY--and it's actually customizable so you can have yours say whatever you want (size doesn't matter?). The BOYY Personalized Clutch ($555) comes in 4 colors: black, gold metallic, lead metallic and cotton candy metallic. The bag isn't cheap--but it's also not a $5K Chanel bag. For more info on customization, email [email protected] And it looks like Zara just hopped on the bandwagon. Check out this incredibly similar clutch bag they've released: Zara Leather Pouch ($29.90) Zara Leather Pouch ($29.90) [Photo: Nausheen Shah, STYLUSTE]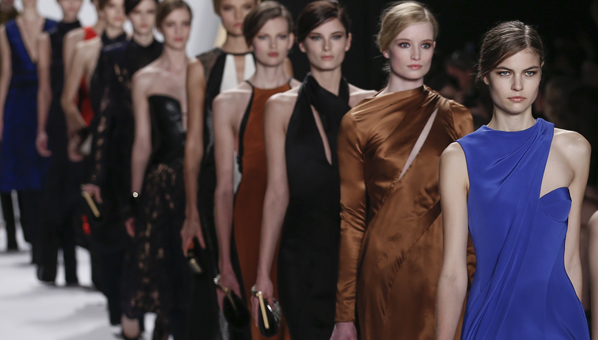 Can't Make It To Milan Fashion Week? Just Watch The Live Streams Instead.
We made it through New York and London Fashion Weeks, so now it's off to Milan! I feel like the Italian city must get middle child syndrome. Everyone gets excited for New York since it's first, then London always has something totally cray--like Tom Ford's "I don't pop molly, I rock Tom Ford" jerseys, and Paris is, well Paris. But the live stream schedule for this year's Milan Fashion Week is actually pretty stellar. We usually don't get to tune in to the top designer's shows, but not in Milan! Get ready to watch Gucci, Fendi and Prada LIVE. You might have to wake up at the crack of dawn but hey, that's fashion for ya. Here's the complete list of all the shows live streaming at LFW: Monday, February 24th 3:30AM EST- Dsquared2 7:30AM EST- New Upcoming Designers 8:30AM EST- Heohwan Simulation [Photo: Shutterstock]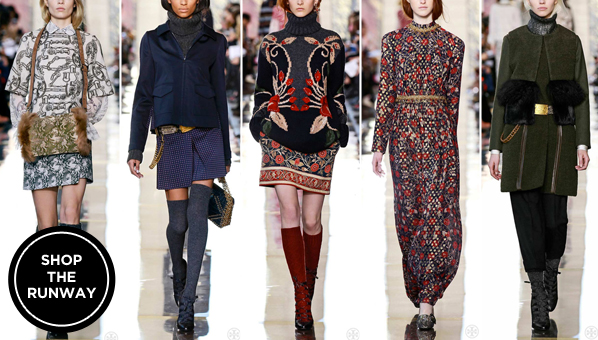 Tory Burch's Fall 2014 Collection Will Hold You Over Until Game Of Thrones Is Back
If Medieval times looked anything like what Tory Burch imagined for Fall 2014, we'd be down to hop in a time machine and go back to the 12th century. But since such technology doesn't exist, and the Middle Ages generally sucked, we're going to have to settle for just buying our favorite pieces from the collection, available for pre-order today on Moda Operandi. Burch says she looked to her dad's stash of old armor to inspire this collection, but we think there's also a Game of Thrones vibe going on here. We break it down for you: How handy (pun NOT intended) would this furry muff be traversing the snowy woodlands of the North? We'd say very. And they ain't bad if you're battling cold temps in the real world. Come on, this baby comes with a bonus adjustable strap! Fur Muff ($795)Also: these witchy brouges would be a nice addition to Sansa Stark's newlywed wardrobe. And we're sure her new husband Tyrion Lannister would be more than willing to foot the bill (again, pun not intended) for these puppies. They'll also look fantastic on you, updated with a cozy sweater dress and thick stockings. Astrid Pump ($395)Or, if you've got the coins to make a splurge, treat yourself to a head-to-toe Tory Burch look. Go crazy--you deserve it. And if this winter is any indication, next year's gonna be a doozy. Might as well plan to look stylish in case we find ourselves in another Polar Vortex come December. SHOP TORY BURCH FALL 2014 NOW Don't forget to check out Kate Upton's Sports Illustrated Swimsuit Issue cover, the worst wedding advice we've ever heard, and daisy prints--they're trending!
All Is Right In The Shoe World: Sophia Webster And J.Crew Team Up Again For Fall
Sophia Webster and J.Crew had the brilliant idea to team up on shoes last season, and then someone really smart was like "let's do that again." So they did. And now we have J.Crew x Sophia Webster for Fall 2014. The shoes debuted at J.Crew's NYFW presentation last Tuesday, and now we have images of every single sandal and pump from the collection. Sophia killed it this go-round with 29 new styles. She brought her trademark tassels and embroidered details once again and added in some metallic. Our favorites include the herringbone open-toe bootie and bronze metallic woven pumps. Click the slideshow to get your first look at all the shoes from J.Crew x Sophia Webster Fall 2014, and keep an eye out for the launch later this year at select J.Crew stores and online. And now where are those Spring 2014 shoes... For more Fashion Week news, check out: the Milan live stream schedule, Tom Ford's runway joke and the accessories we're obsessed with from NYFW [Photos: J.Crew]
10 Reasons To Love Marc Jacobs Muse Natalie Westling (And That Rad Red Hair)
It seems the best way for a model to win the hearts of the fashion industry these days is to dye their hair a crazy color. How else can you explain the obsession with Chloe Norgaard, Charlotte Free, and now, Natalie Westling? She cut her teeth walking for Louis Vuitton, Chanel Haute Couture, Saint Laurent, and Marc Jacobs  last season when she was rocking her natural dirty blonde hue, but it's her newly-dyed bright tresses (which she colored for Marc Jacobs' Spring 2014 campaign) that's made everyone want to know more about her. She's certainly made an impression on designers Anna Sui, Giles, Vera Wang, Prabal Gurung, all of whom cast her this season, and we expect to see a lot more of her in Paris and Milan. Flip through the pages of your fave fashion glossy, and you'll find her featured in Saint Laurent and Valentino Red Label's Spring campaigns, plus she recently shot for Love magazine. One peep at her credentials, and the phrases "one to watch" and "next big thing," seem pretty fitting--and the way things are going for her, we're starting to believe the hype too. Bonus: it turns out Natalie Westling is also a pretty cool chick! We're not ashamed to say we kind of love her, and so should you. Click though the slideshow for 11 reasons why we (and everyone else) are digging her so much. Don't forget to check out Gwen Stefani's collaboration with ShoeDazzle, why Millenials suck, and the deets on the Kardashian Kids collection. [photos: Splash, Instagram]
Alexander Wang's Bags And Shoes Won NYFW, Are Now Available For Pre-Order
Alexander Wang made everyone travel to Brooklyn for his Fall 2014 show--but it was definitely worth the Uber ride. His clothes were amaze #duh, but what really got everyone talking was the accessories. Luckily, we don't have to wait months to shop his Fall 2014 collection, it's available for pre-order now on Moda Operandi! Like we said, the accessories are really, really good, so you can bet those items will be the first to go. The military-inspired "survival" bags and mule-boot hybrid shoes he sent down the runway are basically fashion porn. Yeah, we said it. We don't know what possessed him to add shin guards to mules and call them boots--but it works. Will Victoria Beckham wear a pair to kick a ball around with her husband? We don't think they're that functional but we would love to see her try. It's like these were made for people who quit rec soccer as a child because they weren't very good...and liked fashion instead. Lin Closed Toe Boot ($995) And can we talk about that Mini Fanny Pack ($495)? Only Alexander Wang can make us want a freakin' fanny pack! Now I I just need to convince my dad that when I told him to stop wearing fanny packs I was only kidding. Mini Fanny Pack ($495) Basically, Alexander Wang killed the bag and shoe game at NYFW. Get something from his Fall 2014 collection before everyone else snatches it up! SHOP ALEXANDER WANG FALL 2014 NOW And don't forget to check out: are daisy prints the new polka dots?, Tom Ford and Jay Z's runway joke and Zappos end of season clearance sale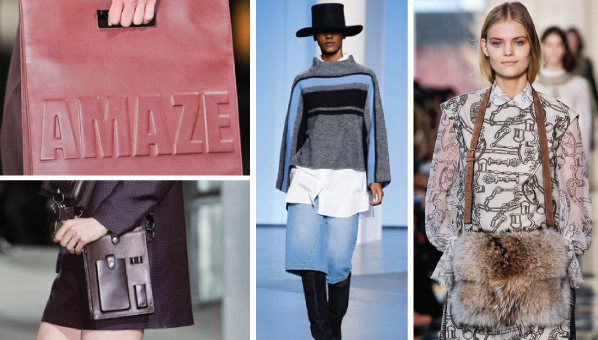 12 Accessories From NYFW That Make Us Wish It Was Next Fall Already
We've barley started our spring shopping, and we're already taking notes on which accessories we want to rock next fall. You can blame New York Fashion Week for that. We're so not feeling this frigid weather, but we'd be happy to endure it a bit longer if we could have all of these pieces right now. Sadly, we have no choice but to wait a couple months before we can get our hands on everything we've been obsessing over this past week. But thanks to the internet, we can at least look at them until they hit store shelves. So, from us to you, here's some accessory porn to hold you over until you can cop the real thing (or, maybe a really good knockoff). Click through for 12 of our favorite accessories from New York Fashion Week. While you're at it, get the tea on Chloe Norgaard's Manic Panic collaboration, these skinny celebrities, and Stuart Weitzman's limited edition customizable 'Nudist' sandals.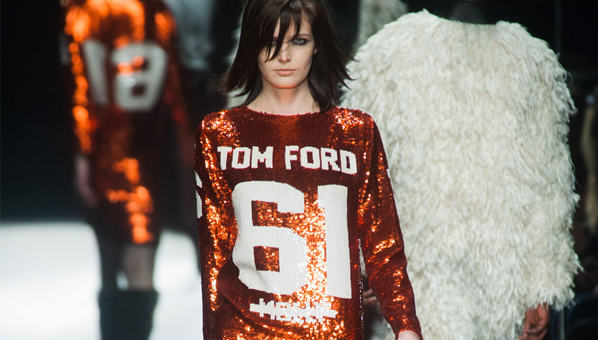 Tom Ford Doesn't Want You To Pop Molly, He Wants You To Rock His New Tees
It's common knowledge that Jay Z is a fashionisto (have you seen him rock a red carpet with Bey? Not too mention his fancy-pants Barneys line), but it may come as a bit of a surprise to learn that some designers are BIG rap fans in return. After Jay Z released a track called "Tom Ford" on his latest album, the American fashion designer paid homage to the rapper with a new jersey top from his eponymous line--which debuted at London Fashion Week yesterday (above). Let me explain, in case you don't get the reference: On Jay Z's track he sings, "I don't pop molly, I rock Tom Ford," (also a reference to MDMA-based drug Molly, of which Kanye and Miley Cyrus are fans). So Tom took a "Tom Ford" jersey and crossed out "Molly." You see what he did their? Hugs fashion not drugs, people! UPDATE: Beyonce just posted a photo on her Instagram rocking yet another fresh new Tom Ford design paying homage to her man's music: this time, it's a satin bomber jacket supporting team "Picasso" (number 73) with Molly crossed out. This references Jay Z's other track from Magna Carta called "Picasso Baby" (we're assuming): Photo: Beyonce Instagram Photo: Beyonce Instagram And the song, for reference: https://play.spotify.com/track/1PNGJBI1Lx0h8QCpkHKZLU [Photo: IMAXtree]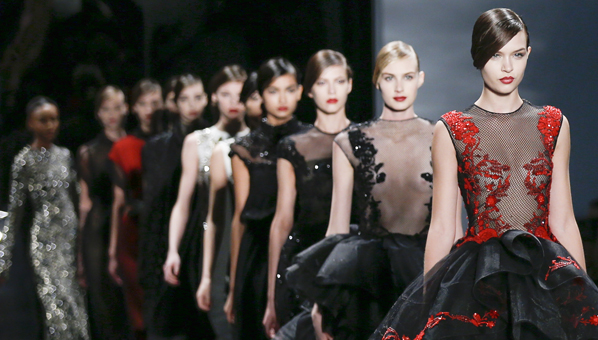 London Fashion Week Is ON. Get The Full Live Stream Schedule Here.
Between the snowy weather and that dude who streaked at Prabal Gurung's show, NYFW was pretty unpredictable. But now we get to leave all that craziness behind and hop across the pond for London Fashion Week! We're excited to see the first show ever from Hunter Original (yes, as in the boots), and something way digitally advanced from Burberry and Topshop. You can always count on those Brits to be ahead of everyone else. So we're expecting some major Fall 2014 collections! But don't forget about the time difference. Shows are live streaming on British time (duh), which means we have to tune in extra early. Here's the complete list of all the shows live streaming at LFW. Set those alarms now! Tuesday, February 18th 4AM EST - Marques'Almeida 5AM EST - Anya Hindmarch 6AM EST - Simone Rocha 7AM EST - OSMAN 8AM EST - Fashion East 10AM EST - KTZ 11:30AM EST - Meadham Kirchhoff 12:30PM EST -SIMONGAO [Photo: Shutterstock]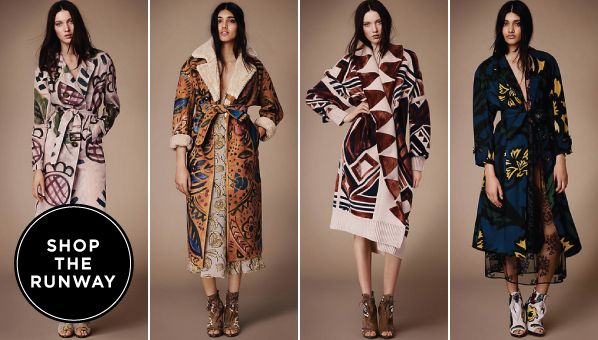 Shop Burberry's (Almost) Check-Free Fall 2014 Collection Straight Off The Runway
Back in December, we told you that Burberry might lose the rights to its signature check print. Why? Because the brand hasn't used it enough in the past three years. Whatever that means. Anyways, it doesn't look like the British fashion house is too concerned about giving up it's title as the king of all things red, black and tan check. Burberry's Fall 2014 collection just hit the runway earlier this morning and there was barley a check print in sight. Instead, Christopher Bailey showed coats, dresses and bags with hand-painted florals and geometric patterns. This collection will definitely go down in fashion history as one of Burberry's most different and refreshing collections--and you can be a part of it. The Fall 2014 designs are available to pre-order now. Get your hands on the first-of-its-kind Burberry collection before March 3rd. SHOP BURBERRY FALL 2014 NOW And don't forget to check out: customize your own Stuart Weitzman shoes, celebrity news from the weekend and get Taylor Swift's Rag & Bone boots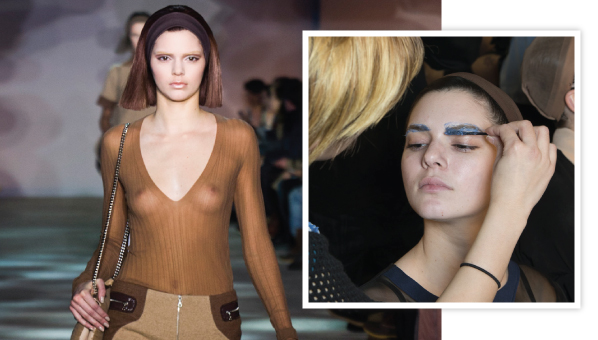 Kendall Jenner Was Basically Topless On The Marc Jacobs Runway
Kendall Jenner earned herself a ton of Twitter followers in the fashion industry last night, thanks to her little appearance at Marc Jacobs' Fall/Winter 2014 show. And she wasn't there as a guest. No, the 18-year-old has arguably hit a milestone in her modeling career, being cast to walk Jacobs' runway. Blink and you could have missed her, though--she was almost unrecognizable sporting bleached eyebrows and a knife-sharp bob. Jacobs dressed her in colorblock jodphur pants and a very see-through sweater. We knew we'd seen those nipples somewhere before! #Werque. None of her famous reality family were there to see her debut, which we guess means Kendall's a big girl now. Peep her stroll through the Park Ave. Armory below. For more from Kendall Jenner's famous fam, check out: her mom's pole dancing pose, get her sister Kim's crop top pencil skirt look, and watch Kanye propose to Kim on Keeping Up With The Kardashians. [photo: IMAXtree]
Pre-Order The Next 'It' Bag Courtesy Of Proenza Schouler's Fall 2014 Collection
Pretty much every girl wants a Proenza Schouler bag hanging in her closet. But what's better than owning a PS1 or PS13? Getting a brand spankin' new Proenza bag, that's what. Jack McCollough and Lazaro Hernandez just debuted their Fall 2014 collection on Wednesday, and you can now pre-order three bags straight from the runway. Get your hands on the fur front splatter print clutch, crocodile and suede shoulder bag and crocodile large satchel before everyone else. Knowing Proenza, one of these can (aka will) become the next "it" bag. Clutch ($1,825) Large Satchel ($28,000) Shoulder Bag ($6,900)  PRE-ORDER YOUR PROENZA SCHOULER BAG NOW And don't forget to check out: 50 boots under $50, why post-grad life is better than college and leggings that get rid of cellulite [Photos: IMAXTree]
Jerome Rousseau's Pumps & Booties From The Lela Rose Show Are Shoppable
For her Fall 2014 runway show this weekend, Lela Rose enlisted up-and-coming shoe designer (he's basically the next Manolo Blahnik) Jerome Rousseau to create pretty pumps and booties for the models to wear. To match the "great play of color, material, and attention to detail" in Rose's collection (think feathers and ombre and ladylike dresses), Rousseau designed glitter-y pumps, mesh open-toe booties and other fabulous footwear for the show. What's even more fabulous is that you can shop a few of the runway styles now. Enjoy! SHOP NOW [Photo: IMAXtree, Jerome Rousseau]
The Dude Behind All Those Designer Parody Tees Is Now Poking Fun At Marlboro
You know Brian Lichtenberg as the guy behind the designer parody trend. His Homies Sweatshirt ($100) and Feline T-Shirt ($60) started it all. But what was first a joke has now become a serious fashion statement. Everyone from celebs like Khloe Kardashian, to street style stars have been photographed in Lichtenberg's t-shirts, sweatshirts and beanies. Even the designers who he mocks love his creations. So we've been waiting to see what designer he'll parody next. Well, we hope you've been sticking to your New Year's resolution, because Brian's latest must-have is cropped. According to Elle, the Lichtenboro Sweatshirt was the most-photographed piece at his Fall 2014 presentation, followed by the Lichtenboro Hat, which has the words "Smokin'!" on the rim. We're not even going to get into the fact that he's glorifying smoking cigs, but can we just talk about the trucker hat situation? Does this mean they're back?! What do you think of the Lichtenboro sweatshirt? Let us know in the comments below! SHOP ALL BRIAN LICHTENBERG NOW For more Fashion Week, check out: hilarious model mishaps from NYFW, the new Rag & Bone booties and shop Peter Som Fall 2014 now [Photo: IMAXTree]