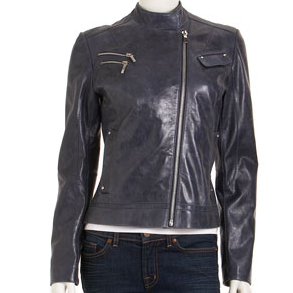 Fashion Week Street Style: Maxi Skirts, Fedoras, Leather Jackets And More Awesomeness
While Fashion Week is still going, so are we. And we bring you part 2 of our SHEFinds Street Style feature. We've rounded up even more bloggers and photographers with what they're wearing so you can get the look whether you're in NYC or Deluth. See below at some of the most fashionable professionals: Check out more Fashion Week Street Style. Shop our guides to the best pleated skirts and the best leather jackets. Join our e-mail list for exclusive updates.
Kate Moss May Not Eat Cake, But It's Her Birthday, So Let's Celebrate Her Trendsetting Ways
Today is Kate Moss' birthday. Since she's been a fashion icon for years, why not celebrate by shopping her (and ours too) favorite trends? Faux Fur Leopard Coats: Meow (!) We are loving Kate's ferocious faux fur coat and luckily, we found a less expensive, yet still very diva version. Wrap yourself up in this Motel Leopard Print Faux Fur Coat ($87.92, down from $146.54) and strut your stuff. Hunter Rainboots: Kate can be seen sloshing around in muddy London in her trusty Hunter Wellington Boots ($125). Available in an array of colors, these babies will keep your feet dry in any weather. Wool Fedoras: Ms. Moss has never seen a bad hair day, thanks to her go-to wool fedora. Whether you're into hats or not, this Rag & Bone Floppy Brim Fedora ($70, down from $140) is a staple to keep in the closet. Ray-Ban Wayfarers: Block the sun supermodel-style with a pair of cool shades. Kate, and other celebrities, reach for their Ray Ban Original Wayfarer Sunglasses ($145) and now you can too. Over The Knee Boots: If you're just as obsessed with Kate's suede boots as we are, be sure to try this trend yourself. Since she loves suede, we recommend picking up a pair of these Cole Haan Air Talia Over The Knee Boots ($299.90, down from $498) and slip your favorite skinny jeans inside. Shop all of our favorite celebrity styles. Shop our guides to the best over the knee boots, the best faux fur, and the best sunglasses. Join our e-mail list for exclusive fashion e-mails.
Can You Tell Which Faux Fur Coat Costs $200 More Than The Other?
Did you guess right? Press your luck with more of our Taste Tests. Shop our guides to the best fall fashions and the best vests. Subscribe now for exclusive fashion news.
How To Wear A Faux Fur Coat Without Resembling Cruella De Vil
Now that it's November, the weather is just going to get colder by the day. If you're looking for something dressier than a puffy coat, a luxurious faux fur coat is perfect, and will keep you warm for years to come. Unfortunately, some spotted and furry styles conjure up images of Disney villain Cruella de Vil - which makes us weary about wearing them. So, before you head to the fur shop, check out our tops for wearing faux fur this season: Dress Up A Basic LBD A faux fur coat is the perfect accessory for a formal evening out. Start with this Juicy Couture Faux Rabbit Fur Coat ($360) over a simple little black dress, like this one from Lounge Lover ($150). Throw on some lace tights - we love the Spanx Bloom Tights ($28) that tuck us in too. And slip into a pair of simple black booties, such as these Fergie 'Ruckus' Booties ($99.95) and you'll be looking like a diva in no time at all. Classic Black = Laid Back Look The rumors are true - you can wear a faux fur coat as an everyday jacket, especially this Urban Reneal Vintage Faux Fur Coat ($88). Try it with a loose cashmere sweater, like this Slouchy Sweater from J. Crew ($98, down from $168). Add some super dark skinny jeans, such as thee J. Brand Slit Ankle in Ink ($50, down from $99) tucked into these Unisa Rosina boots ($85), aka the ideal tall black flat boots. Check out how to wear more risky trends. Shop our guides to the best faux fur, the best faux fur vests, and the best cashmere accessories. Subscribe to our online newsletter to receive instant fashion updates.