Forever 21's Plus Size Line Just Got a Fabulous New Makeover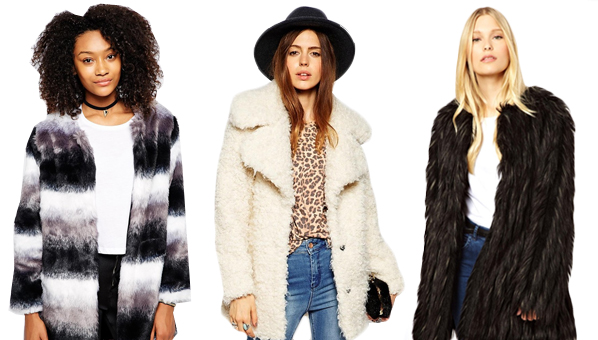 The Time To Buy A Faux Fur Coat Is Now: 20 Really Good Ones On Sale
You guys, I did something crazy last week. Like, Britney Spears circa 2007 crazy (love you, Brit Brit). I bought this Topshop 'Leah' Faux Fur Coat ($109.99, down from $170) at the Nordstrom clearance sale. How could I not?! I know there's only a month left of winter (although it feels like the sun will never shine again), but this is the faux fur coat of my dreams! It has everything I was looking for: a neck-covering collar, mink color and hem just below the waist. I couldn't pass it up, especially at a discount. This led me to do an Interweb search for more faux fur coats on sale. If this one was still in stock AND marked down, there had to be more really good ones out there. Turns out, there's at least 20 that are worth your time looking through. Click the slideshow to see what we found. Editor's Picks: Motel Faux Fur Coat in Stripe ($72, down from $145), ASOS Faux Curly Fur Coat ($68, down from $147), Urbancode Faux Fur Coat ($156, down from $340). Don't forget to check out: 7FAM jeans up to 60% off and Stuart Weitzman shoes for 50% off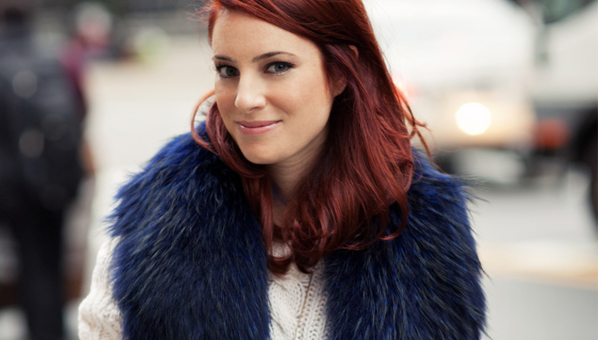 19 Faux Fur Scarves To Keep Your Neck Region Really Warm All Winter
Back in October, we suggested faux fur scarves as a "not-so-basic" trend for fall. But winter is when these warm and soft accessories are sure to shine. They're a glamorous alternative to your everyday wool scarf, which means you can wear it with your under-$50 evening dress for every holiday party coming up. Whether you're into animal prints, pastels, or a just a natural hue of brown, there's a chic faux fur scarf that'll satisfy your sense of style. Check out our slideshow to see which one you'll be cozying up to this season. [Photo: Cheetah is the New Black]
Faux Fur Sweatshirts Are What You'll Need When The Polar Vortex Comes Back
With the polar vortex already on its way again, it's time to start dressing for it. The first thing you should throw on? A faux fur sweatshirt. The combination of cotton jersey (or a sweater knit) and fur might sound a bit absurd but it's actually a genius style. When we saw Olivia Palermo rock a Club Monaco version last year, and noticed that a ton of choices were available for every budget, faux (or even real) fur sweatshirts are a hot commodity. Plus, what's comfier and warmer than your favorite crewneck sweatshirt and fur coat? When you have a fashion hybrid of both. Check out our slideshow of this particular sweatshirt (and a few sweaters as well) to get yours now before the winter climes kick in. [Photo: Damsel in Dior]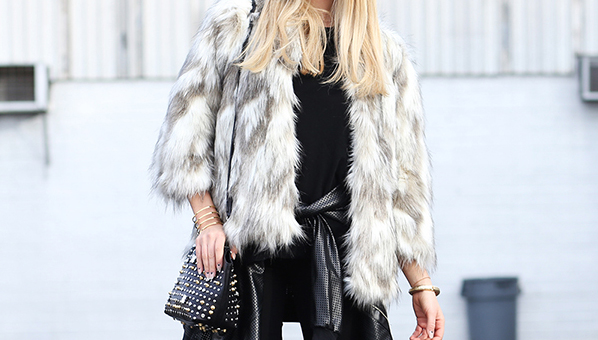 The Faux Fur Coat Selection Right Now Is Bomb–And Everything's Under $200
Not going to lie, I never felt the need for a faux fur coat until last year. That Polar Vortex did a number on me. You too? Okay good, because the selection of faux fur coats and jackets right now is pretty epic. The best part isn't even that they look more comfortable than your best blanket, it's that there are tons of styles under $200. A steal! Now that you're convinced check out our picks in the slideshow. It's starting to get chilly outside... Don't miss: black faux fur vests, the belt bag trend and the best faux leather leggings [Photo: Peace Love Shea]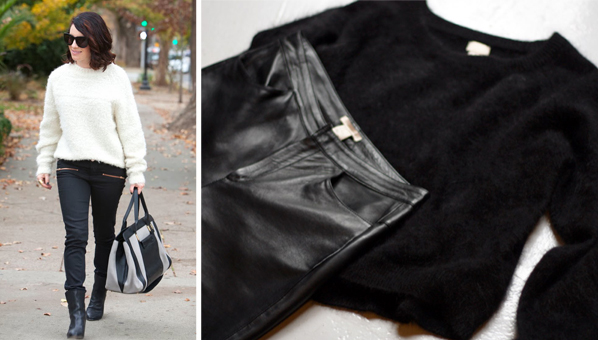 Who Needs A Fur Coat When You Can Wear A Fur Sweatshirt?
When we spotted Olivia Palermo in a faux fur sweatshirt, it seemed like the perfect addition to our winter weather layers. And it turns out a slew of other designers agree. Since Palermo, we've noticed a number of other fur (and faux) sweatshirts in all sorts of different styles, from leopard print to black and white. Is this a new take on the graphic sweatshirt? Not exactly. Sure, mixed media sweatshirts with leather accents and hologram details ruled the runways for Fall 2013, but this fur trend is just a cozy and warm addition to your sporty-turned-chic-apparel. Check out our slideshow to shop your favorite fur sweatshirt now. Check out more fashion and beauty news: shop Madewell's sale, lace dresses are the new sequin dresses, and Urban Decay's Naked3 palette. [Photo Credit: Cheetah is the New Black, AfterDRK]
Can You Tell The Difference Between Real And Faux Fur?
Who ever thought something could bring together PETA members and fur lovers? Well this post does. We know it's hard to tell the difference between real and faux fur, so we're here to help. We want to ensure that whether you're all for fur or totally anti, you find something to keep you warm this season. So we're giving you 10 different taste tests to see how good your fur meter is. We found real and faux fur items that look almost identical. There's shoes, bags, mittens, skirts, sweaters, vests, jackets, and more, so you won't miss out on anything whatever your fur preference is. Plus, we found some real and faux calfhair items too since that seems to be popping up everywhere this season. Click through the slideshow now to test your fashion savvy for real vs. faux fur. How many did you get right? Let us know in the comment section below! Don't forget to check out: how to cure your World Series hangover, fake a manicure and shop reversible coats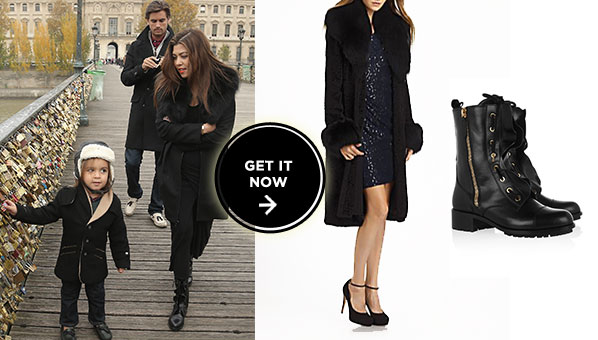 Well, Isn't Kourtney Kardashian's Family Just Picture-Perfect In Paris?
Kourtney Kardashian just stepped out in Paris looking surprisingly happy with Scott Disick (she does love him!) and friggin' cute son Mason, wearing the French uniform of head-to-toe black. She may be known for her surly attitude and bickering with Disisk, but Kourtney and her krew couldn't have looked happier - they even snapped a family portrait on this Seine bridge. Love her look? Get it: Alice + Olivia Faux Fur Coat ($997) and Valentino Ruffled leather Ankle boots ($1,295): Alice + Olivia Faux Fur Coat ($997) Valentino Ruffled Leather Ankle Boots ($1,295) ]Photo Credit: Splash News] Shop more celebrity style such as Taylor Swift's dress, Rihanna's alternative LBD, and Emma Stone's collegiate look.
Molly Sims, Olivia Palermo & More Rock LOFT's $100 Faux Fur Jacket — Get It Now
Considering that her stylist is faux fur-fanatic, it's no wonder Molly Sims stepped out in this furry LOFT Faux Fur Cheetah Jacket ($118) -- as did trendsetters Olivia Palermo and Michelle Trachtenberg (middle and right). The printed cropped jacket is not only super soft -- but pretty affordable (especially, by celeb standards) and perfect for the chilly season we have ahead: (more…)
Get The Supersoft Faux Fur Coat Shoppers Are Calling Their 'Best Purchase Of The Season'
While shopping for winter wardrobe updates on Nordstrom this morning, I found this insanely soft-looking Hinge Faux Fur Oversize Chubby Coat ($118) which caught my eye because of it's perfect, 5-star customer rating: (more…)
Sorry, Rachel Zoe: This Year, Naeem Khan For HSN Is The Faux Fur Must-Have
Naeem Khan for HSN Faux Fur When womenswear designer Naeem Khan debuted his faux fur collection for HSN this season, the reviews were beaming (and not just from PETA folks). It is, hands down, the softest faux fur I've ever touched. Sorry, Rachel Zoe, but it looks like Khan is out for your "best faux fur vest" title this year; the collection's faux chinchilla, black mink and ocelat are not to be missed. And with prices starting at $99, your wallet will be a fan, too. (more…)
Song Of Style Really Nails The Faux Fur During The Day Look: Copy It!
Ripped boyfriend jeans can make anything look dressed down in an effortlessly cool way. Song of Style pairs her ombre faux fur jacket with a casual tee, a pair of perfectly worn-in jeans and of course, an armful of chunky bangles. Topping it off with an edgy handbag, this outfit is nothing short of perfection. If you were wondering how to justify a new faux fur jacket, this is your answer. (more…)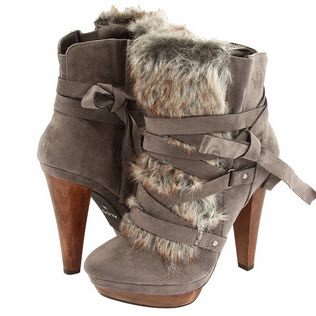 Faux Fur Boots That Look Snatched From The Runway, Not From Chewbacca's Cave
Fur boots were all over the fall runways, and finally, they've trickled down from Chanel to where they're affordable and cute. Ahem, Aldo. These Aldo Vanderau tape boots have got the crisscross moto trend down pat, and they've combined it with faux fur and a wooden heel that make me think of apres skiing in Aspen. Can't you just see celebs at Sundance rocking these? They're only $88, down from $120, so might want to jump on it now. Check out more best find of the day picks, plus the best sales and deals and all of our online sample sales from our calendar.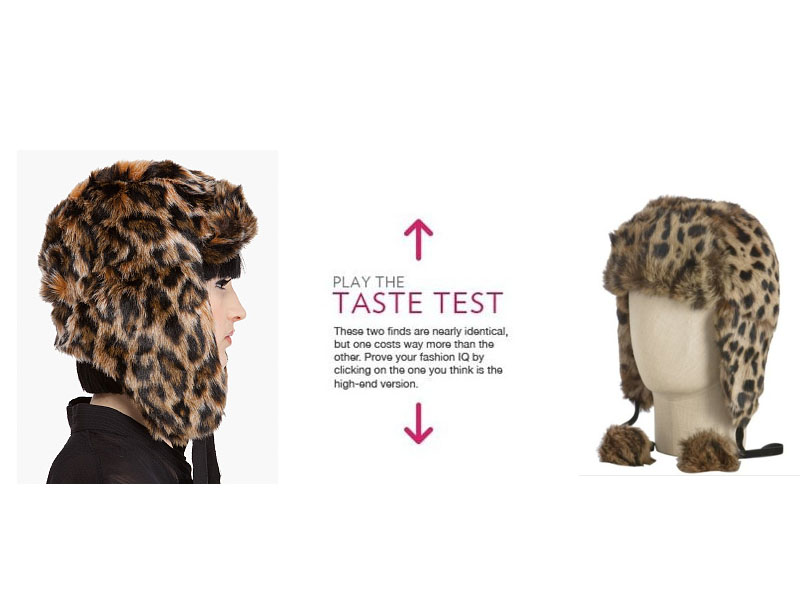 Can You Spot Which Leopard Print Trapper Hat Costs $110.50 Less Than The Other?
Press your fashion luck with all of our Taste Tests. Shop our guides to the best winter hats and the best faux fur. Subscribe to SHEFindsMail for exclusive fashion e-mails.
Stop Drooling Over Diane Kruger's Hollywood Glam Look And Get It For Yourself
Diane Kruger kept warm at a Gucci party while looking glamorous as ever. With her Isabel Marant fur jacket and Gucci dress (and shoes), this is definitely an outfit to drool over. And as much as we want a matching Gucci dress and shoes, we just can't take out a loan for that. So here's how to steal Diane's embellished style on a budget: Check out more celebrity styles. Shop our guides to the best faux fur and the best black dresses. Join our e-mail list for exclusive SHEFinds updates.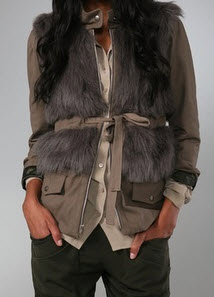 Two Trends In One: Loeffler Randall's Faux Fur Military Jacket
Finally, a faux fur vest that's functional, gorgeous, and 70% off at Shopbop. While we've seen faux fur adorn everything from Angelina Jolie and Kim Kardashian to stylish winter boots, this Loeffler Randall jacket ($157.50, from $525) takes it to a whole new level, mixing in the military trend for good measure. Let us count the reasons we love it: a) It isn't bulky b) It has pockets and a tie waist c) It looks cool combined with a military jacket d) And, oh yeah, it's on SALE for 70% off at Shopbop Not your style? No problem. Check out all of our celebrity style posts for inspiration, or our hand-picked editors' picks in the deal of the day section. Don't forget to peruse this week's sales and deals and online sample sales so you never miss out.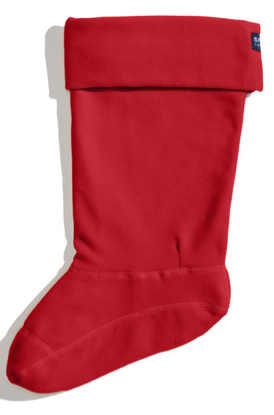 5 Ways To Winterize Your Wardrobe Without Spending A Small Fortune
There might be snow on the ground, but that's no excuse to leave your summer dress and rain boots to collect dust. Between boot liners and fur scarves, we can now turn our go-to summer staples into year round outfits. So what are you waiting for? It's time to pimp out your warm weather wardrobe with these affordable style converters: 1. Transform Your Rain Boots Into Winter Boots: Slip these cozy Sperry Top-Sider Rain Boot Sock Liners ($24.95) into your favorite rain boots to turn them into lined winter boots and to keep feet toasty. 2. Keep Legs Warms, Even On Skirt Days: Inside of boring knee socks, try adding a stylishly warm finish to any dress with a pair of DKNY Hosiery Pointelle Boot Toppers ($22).They hug your legs from the ankle up in sweet pointelle. 3. Weather-ize Your UGGs: Don't let your UGGs fear the snow with this UGG® Australia's Sheepskin Stain and Water Repellent spray ($8) that protect your boots (and clogs) from any unwanted weather. 4. Add An Instant Fur Collar For Any Coat: There's a chance you might actually enjoy the cold while wearing this Shopbop Basics' Faux Fur Neck Warmer ($78). This fully lined stole works under ever coat. 6. Wear Moisturizing Leggings Under Your Jeans Since we hate how dry our legs get in the winter, thanks to these mango butter and almond oil Lytess Micro Massaging Lift Leggings ($110), which layer under pants, we can have smooth legs all day. Jonesing for more winter ideas? Shop more accessories including rain boots, leggings and more. Sign up for SHEFindsMail for exclusive SHEFinds news.
Gwyneth Paltrow And Sarah Jessica Parker Make Bundling Up Chic In Fur Trim Coats
For the celebs who live in New York, sleek winter coats that don't make you look like the Michelin man are the key to good paparazzi photos. Bundling up, while still looking like a pro, is actually quite difficult. That's why it takes 2 fashion pro's - Gwyneth Paltrow and Sarah Jessica Parker to show how to do it in style. And the secret is: long black coats with fur trim. Genius. Follow the author of this post on Twitter @bridefinds. Shop all of the best sales and deals, online sample sales and then head over to our guides of the best peacoats, puffy coats, black dresses, faux fur vests, pumps and blazers.
What A Mess: Kesha And Fergie Show How Not To Wear Feathers And Fur
What They Did Wrong: When it comes to traveling in style, Ke$ha and Fergie take it a little too far (are you listening, Lady Gaga?). Lace up boots, faux fur vests, cross jewelry, fishnet tights, AND feathers? Sometimes, too much of a good thing really is a bad thing. What They Should Have Done: Both pop stars try to squeeze a bunch of winter trends into 1 single outfit. They should pick one trend and fill the rest of their look with neutral basics. Instead of a graphic tee, Fergie should have done a dark cardigan. And if Ke$ha really wants to wear a feather, she should have gotten a headband - not a Big Bird-esque coat: Check out more celebrity style. Shop our guides to the best leggings and the best faux fur vests. Join our e-mail list for exclusive updates.
Bring On The Blizzard With These Stylish Winter Boots
With the blizzard outside our front doors, it's time to make sure our feet stay toasty and dry. So whether you're shoveling or sitting by the fire, check out our favorite shearling boots and booties, for the perfect work shoes. We love these Topshop Dakota Boots ($170) for leggings or skinny jeans. If you're looking for more stylish snow boots, try these UGG Lonnie Nylon Boots ($230), which also double as rain boots in the Spring. Just think, in these boots, you'll be thankful it snowed. Check out more of our favorite winter trends. Shop our guides to the best boots and the best flat black boots. Join our e-mail list for exclusive updates.
Can You Tell Which Fur Trapper Hat Costs $55 More Than The Other?
Try your luck with all of our Taste Tests. Shop our guides to the best faux fur and the best winter hats. Join our e-mail list for exclusive updates.
Angelina Jolie Makes Holiday Dressing Look Easier Than Snagging Brad Pitt
Angelina Jolie makes everything look effortless--saving starving children, stealing the Sexiest Man Alive from America's Sweetheart...hell, this woman should have her own "Easy Button" Staples commercial. Angelina's most recent holiday look is simple, classic and glam all at the same time. Here's how to copy her look in four easy steps: Follow the author of this post on Twitter @shefindseileen. Check out the best black dresses, faux fur vests and pumps for even more options, and then peruse this week's best sales and deals, including can't-miss online sample sales.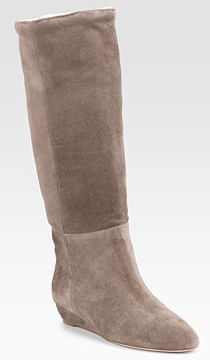 Shearling Boots: Not Just For Weekends And Leisure Suits Anymore
If you're Uggs have never seen the light of day, tt's time to upgrade to a pair of shearling boots that don't embarrass you in public. We're talking seriously cute insulated and fur lined boots. So grab your favorite skinny jeans and leggings because you're definitely going to want to show these furry babies off (and not just to the grocery story). Grab a pair: These Loefller Randall Suede and Shearling Boots ($698) might be more of a splurge, but you'll keep your feet toasty for years and seasons to come. If you dare you rock platforms in this weather, you're definitely going to need these Elie Tahari "Shelly" Shearling Booties ($167.16, down from $398). They're also perfect for next fall.  For a twist on the classic snow boot, try on a pair of these Juicy Couture Sarabeth Boots ($100), which are completely lined in faux fur.  Since we love UGG boots so much, we have fallen in love with these UGG Sundance II Boots ($225) that have the original UGG shearling on the outside and the inside. These Topshop Dakota Boots ($170) just look insanely warm with its faux fur on the inside and outside, so we can only imagine how wonderful they'll be for even the heaviest snowfalls. Sorel, a reliable winter boot company, stepped up their game this year with these Joan of Artic Boots ($130). They're waterproof and guaranteed to keep your digits safe and dry all winter long.  When Hunter boots, over the knee boots, and shearling all came together, these Hunter Over The Knee Cervina Boots ($329.90, down from $495) were born to keep not just your feet, but your whole leg extra warm. Shop more of our favorite boots. Take a peek at our guides to the best winter gloves and the best heavy scarves. Join our e-mail list for exclusive updates.
Can You Tell Which Fur Scarf Costs $154 More Than The Other?
Spot more designer lookalikes with all of our Taste Tests. Shop our guide to the best faux fur accessories and the best scarves. Join our e-mail list for exclusive SHEFinds updates.
Coming To A Fur Vest Near You: The Louisiana Swamp Rat?
There is and always has been a great debate over fur. PETA and rabid animal-lovers feel that real fur is wrong, and have been known to use a paint can or two to get their point across. On the other side, you have the Victoria Beckhams and Olsen twins of the world who love fur. The Telegraph is now reporting a resolution to the great debate: Louisiana swamp rats (not pictured above) which are "culled legally to protect marshland." Designer Cree McGree is arguing that since 400,000 of them go to waste every year, using their fur is pretty much guilt-free (albeit pretty gross). So, what do you think, should the rats not die in vain? What will PETA say? And most importantly, would you wear a swamp rat vest? Leave comments here. We've looked high and low to find you the best holiday gifts,  stylish rain boots, boots under $100, and faux fur vests. Join our e-mail list for exclusive fashion updates and sales.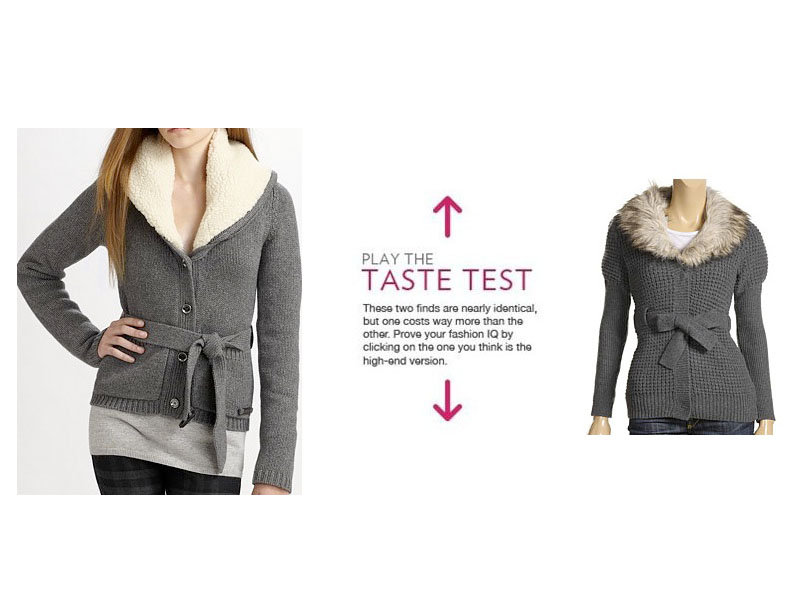 Can You Tell Which Faux Fur Trim Sweater Is Burberry And Which Is Juicy Couture?
Looking for no-fail holiday gifts? Check out our holiday Sold Out list 2010, and Part 1 of Oprah's Favorite Things for 2010. Then see all of our sales and deals, best find of the day posts, and online sample sales, too.
Week In Review: Kim Kardashian-Approved Faux Fur, Miraclebody Jeans, More
Must-Reads: These black faux fur vests are so on-trend right now and totally animal friendly. Miraclebody jeans - your butt has never looked so good. Rachel Zoe's Pentax digital camera is perfect for saving every moment this holiday season. Top 5 Gift lists for your reality TV-obsessed friend, your man, and your friend who likes to party. Get our sold-out list items from this week while you can: DANNIJO iPhone cover, iPad, and the Nars Bento box. Taste Tests: Can you tell which velvet blazer is $300 more than the other? Can you tell which pair of sequin shorts cost over $200 more than the other? Can you tell which studded wrap watch costs $57 more than the other? Can you tell which pair of leopard tights are Wolford and cost twice as much? Sale Alert: Party jewelry perfect for all your LBD's and they're 50% off! Coats at Nordstrom are 40% off - stay warm and keep your wallet full. Get happy with this cheery handbag that's 50% off. Celebrity Style: Wear leggings at night a la Whitney Port. Carey Mulligan looks fierce in leopard - you can too! Leighton Meester and Blake Lively take sheer dresses to a whole new level. Get Kate Middleton's cream coat...if only we could get William too. Beauty: So your friend wears a lot of makeup? We've got the great makeup gifts for her. Holiday gift sets galore - this OPI nail polish set is the way to go. Guides to Check Out: We've looked high and low to find you the best holiday gifts,  stylish rain boots, boots under $100, and faux fur vests. Join our e-mail list for exclusive fashion updates and newsletters.
Can You Tell Which Faux Fur Coat Costs $200 More Than The Other?
Did you guess right? Press your luck with more of our Taste Tests. Shop our guides to the best fall fashions and the best vests. Subscribe now for exclusive fashion news.
Being A PETA Member Never Looked So Good: 5 Black Faux Fur Vests
Faux fur vests are nothing new, but thanks to Rachel Zoe and some creative design, they're better than ever. This season, we've watched black faux fur vests take the lead, and it's no wonder: faux fur in that color looks more real. Check out our picks for the top 5 black faux fur vests that look real: Don't you just want to pet this Tinley Road Faux Fur Vest ($69)? The fur is so shiny and soft, you're friends will think you won the lottery or have a new sugar daddy. Nobody does faux fur vests like Rachel Zoe, her Faux Fur Vest with Hook & Eye Closure ($79.80) has a full collar that you will want to snuggle up in all winter long. And the price doesn't hurt either. No animals were harmed in the making of this super soft DKNYC Faux Fur Vest ($159) - although you can hardly tell it apart from real faux fur. This textured Aqua "Eyelash" Faux Fur Vest with Leather Belt ($148) looks like it costs 3 or 4 times as much as it really does. Wear it with the leather belt for a polished look or without for a cool, effortless one. The Splurge: If you are as obsessed with Halston Heritage as Sarah Jessica Parker, and us, you can easily justify splurging on this Faux Fur Vest ($375). Everything Halston puts out has a fancy, vintage feel and this well-made vest is no different. Peruse all of our favorite leopard print shoes, clogs and lace up booties. Don't forget a pair of leggings to go with it and a military jacket. Then check out our calendar of online sample sales and the best pages for group coupons.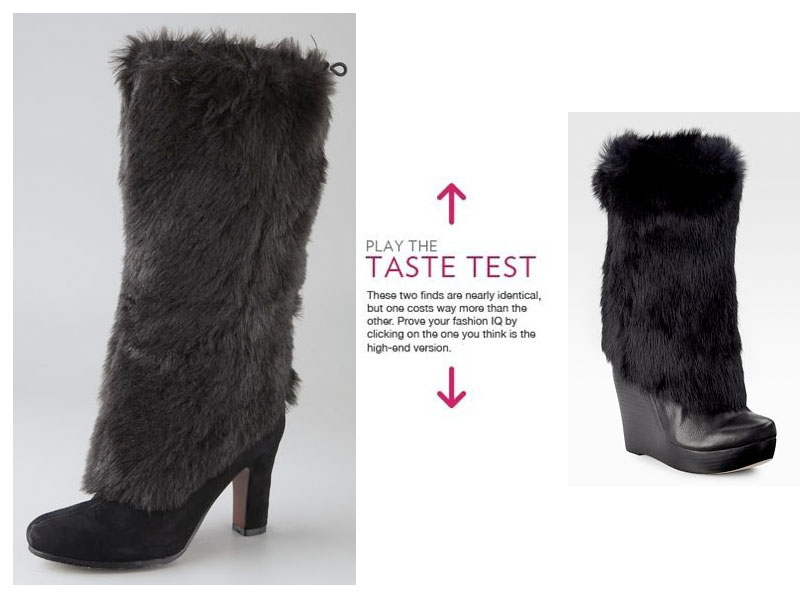 Can You Tell Which Black Fur Boots Are $130 More Than The Others?
Shop more faux fur accessories, faux fur vests and boots under $100.
Sick Of The Same Old UGGs? 4 New Styles You Never Saw Coming
Since UGG boots hit the scene a few years ago, the Shearling lined boots have been everyone's cold weather go-to. But with the styles year after year, we understand why the haters pick on UGGs, and while stylish gals forgo the sheepskin boots for more fashion-forward style. But UGG brought out the big guns this year - from a studded Jimmy Choo collaboration, to sheepskin lined clogs that will rock your world. Behold UGGs version 2.0: If you refuse to give up high heels and wedges during winter boot season (you go girl), these UGG Cassady Wedges ($200) are perfection. Wear them over leggings for a sexy snow-bunny look. Who ever thought you'd trudge through snow in Jimmy Choos? These rocker studded boots, the Jimmy Choo for UGG 'Mandah' ($795), are a Hilton sister-approved version of the classic tall brown UGG Boots. These UGG Sheepskin Cuff Boots ($199.95) look super cozy and just beg to be touched. With a fury white cuff, we understand if you make this pair your "inside boots." UGG can't deny the clog trend and why should they? Their version - the 'Lynnea' Clog ($179.95) - can be worn as a tall boot, or folded over like an ankle bootie. Genius. Make sure you're up to date with winter fashions before the first snowfall. Check out our guides to the best UGG Boots, the best rain boots, and the best faux fur. Sign up for our e-mail list to receive exclusive fashion updates.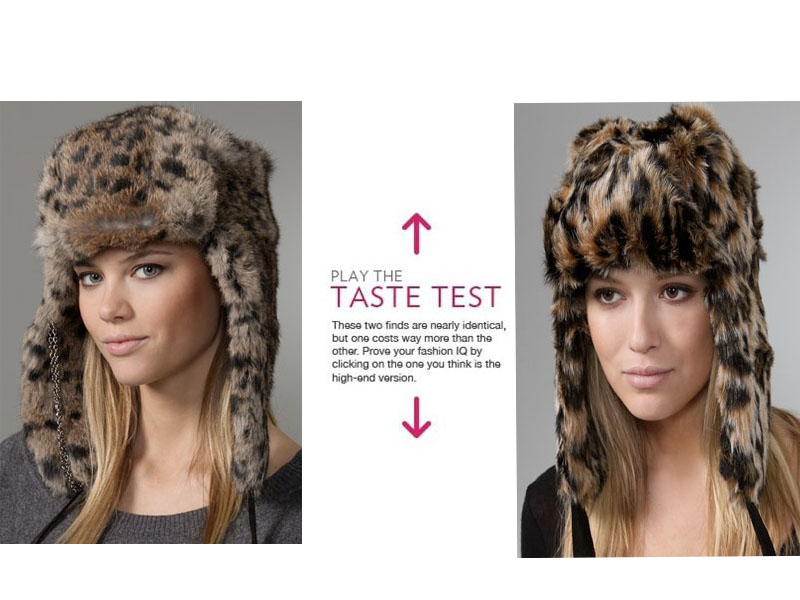 Can You Tell Which Leopard Print Trapper Hat Costs $155 More?
Shop more winter staples from faux fur, to scarves, gloves, fingerless gloves and hats.
How To Wear A Faux Fur Coat Without Resembling Cruella De Vil
Now that it's November, the weather is just going to get colder by the day. If you're looking for something dressier than a puffy coat, a luxurious faux fur coat is perfect, and will keep you warm for years to come. Unfortunately, some spotted and furry styles conjure up images of Disney villain Cruella de Vil - which makes us weary about wearing them. So, before you head to the fur shop, check out our tops for wearing faux fur this season: Dress Up A Basic LBD A faux fur coat is the perfect accessory for a formal evening out. Start with this Juicy Couture Faux Rabbit Fur Coat ($360) over a simple little black dress, like this one from Lounge Lover ($150). Throw on some lace tights - we love the Spanx Bloom Tights ($28) that tuck us in too. And slip into a pair of simple black booties, such as these Fergie 'Ruckus' Booties ($99.95) and you'll be looking like a diva in no time at all. Classic Black = Laid Back Look The rumors are true - you can wear a faux fur coat as an everyday jacket, especially this Urban Reneal Vintage Faux Fur Coat ($88). Try it with a loose cashmere sweater, like this Slouchy Sweater from J. Crew ($98, down from $168). Add some super dark skinny jeans, such as thee J. Brand Slit Ankle in Ink ($50, down from $99) tucked into these Unisa Rosina boots ($85), aka the ideal tall black flat boots. Check out how to wear more risky trends. Shop our guides to the best faux fur, the best faux fur vests, and the best cashmere accessories. Subscribe to our online newsletter to receive instant fashion updates.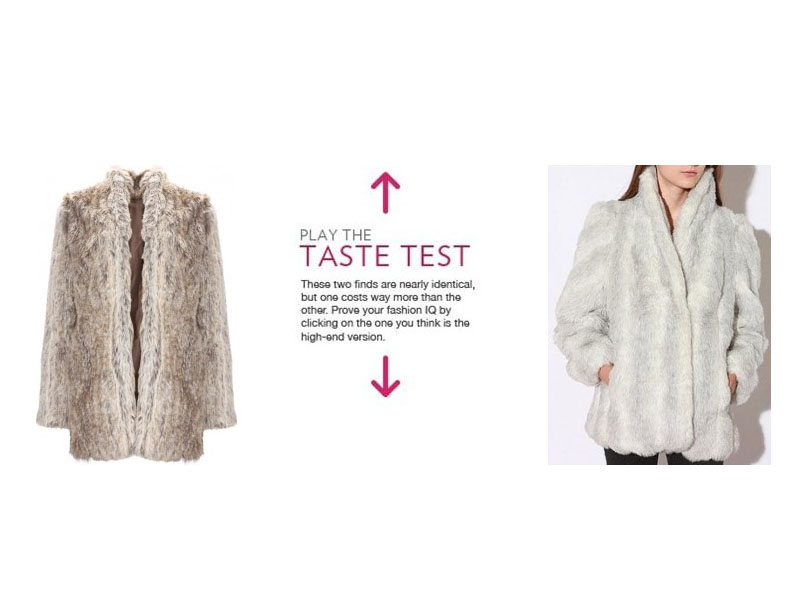 Can You Tell Which Faux-Fur Coat Costs $300 More?
Challenge yourself with some more of our Taste Tests. Then, shop our guides to the best faux fur coats and fall trends.
Can You Spot Which Faux Fur Vest Is Michael Kors And Which Is Ella Moss?
Spot more lookalike fashions with all of our Taste Tests. Shop our guides to the best faux fur vests and the best high heeled boots. Sign up for SHEFinds to receive exclusive fashion e-mails.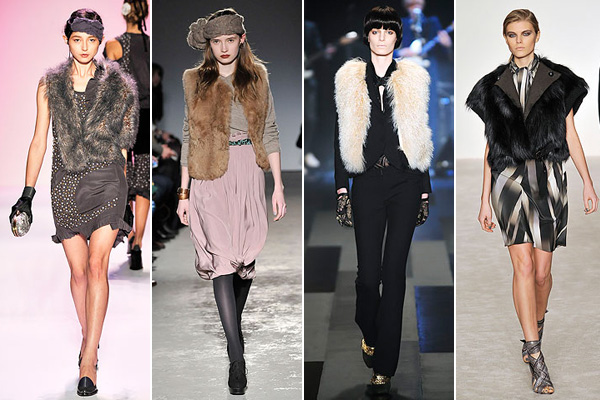 How To Wear A Faux Fur Vest Without Looking Like A Cavewoman
We love ourselves a great fur vest. Super soft outerwear is the bee's knees during winter months: not only is it incredibly warm and cozy - but totally chic and on-trend. We've shown you some amazing under $100 faux fur vests, our favorite faux fur accessories, and our fur selections from the fall 2010 runways. And now we bring you the essential guide to wearing faux fur without looking like a cave woman: Short Faux Fur Vest A short faux fur vest is a great accessory to throw on any casual outfit. Start out with a simple vest, like this Rebecca Taylor Fab Faux Fur Vest ($395). Add a little 70's glam with flare jeans, especially these by Vintage Revolution ($118). A comfy boyfriend cardigan - we like this Halogen Boyfriend Cardigan ($69) in any of the in 10 colors -  and a pair of Tory Burch Reva Flats ($235) and you're ready to go out to lunch, to work on casual Friday, or even a shopping trip. Plus you'll stay warm all day. Long Faux Fur Vest Longer faux fur vests beg to be dressed up - for work or a dinner party, but the vest has to be perfect. So grab this MICHAEL Michael Kors Faux Coyote Vest ($130) and think basic for the rest of your outfit. Since black clothes match this furry number so well, we decided on an Ella Moss Frida Ponte Skirt ($85) with a pair of Commando Richly Ribbed Opaque Tights ($34). Throw on a pair of vintage booties, like these Steven Madden Chelseey Platform Booties ($98.95) and the wolves will be howling right back at you. Check out more How To Wear posts. Shop our guides to the best faux fur vests, the best faux fur, and the best booties. Join our e-mail list for exclusive fashion updates right in your e-mail.
Would You Rather: A Mongolian Lamb Vest or A Closet Full Of Furry Style To Keep You Warm?
We know fur vests are are one of the hottest fall trends right now, but the J. Crew Mongolian Lamb Vest ($800) is not your average vest. Pure Mongolian Lamb fur, finished in Paris, lined in silk. Not to mention how amazing it looks. But before we empty our bank account, let's take a look at the alternatives - like these 6 soft and stylish pieces to keep you warm and fuzzy, for the same price. To keep you warm, the Spiewak McElroy Hooded Parka ($174) is the ideal jacket. With plenty of pockets, a detachable hood and toggle buttons, you'll continue to wear this every year. Pair it with these Sam Edelman Orlando Boots ($200) over leggings or skinny jeans and you can generate your own heat on those brisk mornings. There's no reason to stop halfway when dripping in furs, so we say rock this Topshop Faux Fur All Over Hat ($44) when sipping hot cocoa at the ski lodge or just trudging to work. Don't forget to attach these Saks Fifth Avenue Fur Cuff Leather Gloves ($125) to your sleeves, kindegarten-style, or they might get "accidentally" swapped. For indoors and outdoors alike, of course, a Michael by Michael Kors Faux Coyote Fur Vest ($130) in a perfectly neutral fur color that will look right at home with the rest of your tigress wardrobe. Finish off the look with this Asos Fantasy Fur Lady Bag ($60.66) to stash all your stuff. So, which would you rather? And trust us, we agree. Weigh your options on more important fashion questions with our Would You Rather posts, and don't forget to shop our guides on faux fur vests, peacoats and boots. Sign up for SHEFindsMail and receive exclusive style updates in your e-mail.
Rachel Zoe And Kim Kardashian Show How To Wear Inexpensive Faux Fur
Faux fur has never been hotter and with the temperature cooling down, it's the perfect way to stay cozy-- and chic. Celeb style icons like Rachel Zoe and Kim Kardashian have been on board with the trend for awhile now, showing how easy it is to incorporate faux fur into your everyday wardrobe. Below, five great faux fur options-- all under $100! Rachel's QVC line has some of the best faux fur out there - like this gorgeous Faux Fur Vest with Hook & Eye Closure ($79.80). Wear it over a white sweater and dark skinny jeans for an ski-bunny approved look. BB Dakota Ashland Vest ($95) is the perfect piece to throw on when you want to warm up in a hurry. The metallic toggles set it apart from other faux fur vests, and we love it paired with a plaid shirt or even over a leather jacket. This Topshop Faux Fur Stole ($50), which we'd wear as a scarf, looks luxurious. But at only $50, you'll have enough money left over for the perfect military jacket to pair it with. We love the idea of throwing on this Charlotte Russe Animal Print Shawl ($36.50) over a black dress on cold fall nights, especially with some long gloves. Instant glamour! Hats are also a great way to easily add faux fur to your outfit. What makes this Nobis Faux Fur Trapper Hat ($85) stand out from the pack is the neon feather on the side-- a touch of whimsy! Want more fall trends under $100? Check out our top 5 fall booties under $100 and then find more of this season's must-haves in our guides to the best leather jackets, bags under $250, and faux-fur vests.
Fall 2010 Trend: 5 Ways To Wear Faux Fur
Who doesn't love faux fur? It's easy on the wallet, animal-friendly, and oh-so-soft and on-trend. Adding little touches of faux fur (like a fur lined boot) or big statement pieces (like an oversize vest) is the easiest way to update your look for the new season. Shop our top 5 faux fur pieces here: Faux Fur Lined Boots: What's better than a boot clog? A luxurious faux fur lined one. These MICHAEL Michael Kors "Parker" Faux Fur Clog Booties ($198) are a treat for your feet. Belted Fur Vest: Belting a faux fur creates shape - try this under-$100 Kristen Blake Hooded Faux Fur vest ($98) to get the chic look. Best Under $50 Faux Fur: You will not find a piece of outerwear this on-trend for under $30 anywhere else. Snag one of these perfectly priced Faux-Fur Vests ($29.50) before they sell out online. Fur-Lined Trench: If you're not all about a full fur coat or vest, try a fur-lined coat like this Old Navy Wool-Blend Trench Coat ($99.50). The trench style is slimming and the fur lining is warm and seasonal. The Splurge: If you just won the lottery, or have just been saving your pennies - I would recommend you spend them on this uh-mazing Rebecca Taylor Fab Faux Fur Vest ($395). I'm kind of obsessed with this super-soft, knit lined vest and so will you. Get more fall 2010 must-haves - like the best of the camel trend, 7 fall shoe styles you need to own, and the best 7 jacket styles. Then shop tried and true fall staples in our guides of the best cashmere, faux fur vests and leather jackets.
Can You Find Which Faux Fur Scarf Costs $35 More Than The Other?
Press your luck with all of our Taste Tests. Shop our guides to the best faux fur, the best faux fur vests, and the best heavy scarves. Sign up for SHEFindsMail to receive exclusive fashion e-mails.
Winter Accessories Under $150: Fingerless Gloves, Infinity Scarves, And Faux Fur Galore
Today on Better.tv, we're showing off our favorite winter accessories trends: fingerless gloves, infinity scarves, and the now-ubiquitous faux fur. (Hi Rachel Zoe!) Best of all: all the items you see here are under $150. Also: Find even more faux fur, infinity scarves and fingerless gloves in our hand-picked shopping guides. Faux Fur Faux fur is showing up on everything from vests to hats to shoes this season. We love the luxurious look of this faux mink wrap ($40 – and from Target!) for pairing with holiday party dresses or even jeans and a tee – it's more versatile than you'd think. This vest ($150) from Stefani Greenfield's stellar HSN line is also a cold-weather workhorse. If you'd prefer your faux fur in small doses, try a fluffy hat ($15), or these cool socks ($39) that can freshen up the look of your boots with the fur cuff that peeks out the top. Infinity Scarves This of-the-moment scarf shape makes getting that effortlessly chic loop totally simple – just throw it over your head. Echo's chunky single-loop scarf ($45) is the simplest – it sits around your neck like a cowl-y collar. Wear Roxy's Glow Infinity Scarf ($28) or Echo's triangle pattern scarf ($35) the same way, or double-loop them for a cozier fit. Fingerless Gloves Since we're all tied to our Smartphones these days, fingerless gloves make communicating on the go a breeze: fingers are free to type and text. Free People's Doubs gloves ($28) have adorable metal buttons, and Mossimo for Target's pair ($11) is extra long for extra warmth.
Go Luxurious (On The Cheap) With Curations For HSN
Last night we checked out Curations with Stefani Greenfield (that's her, above, pointing out the butterfly logo on her faux fur vest, which also adorns the rest of the line).  Greenfield, who co-founded the stylish Scoop stores, also makes a super-luxe and completely affordable line for HSN, which she'll be promoting on air, throughout the day and night, on November 11. This striped chevron faux fur jacket will be coming out later this month, but luckily, the equally incredible vest version is available now. The faux fur on this tie collar (which also comes in a dark plum) looked and felt lovely...I know what my mom's getting for Christmas. Nothing quite says "weekend away" like an overnight bag done up in - you guessed it - more luxurious faux fur. From the great cuff bracelets to statement necklaces to animal-print scarves, the accessories were on point. Take a cue from Stefani Greenfield's playbook and keep up the fun, luxe look with the best necklaces, bracelets, and faux fur.
Project Runway: Going Around the World Looks Pretty Boring
Based on their favorite places around the world, the designers had to each create a look inspired by their chosen locales. Althea picked a safe St. Tropez shorts look, while Logan designed a cute, if poorly accessorized, young Hollywood look. Along with Logan, Christopher and Nicolas (Sante Fe and Greece, respectively) were chastised for being too safe. It was a shock, though, that Christopher got to stay after his third week in the bottom two. Bye, Nic. Gordana wowed guest judge Milla Jovovich with the flashy necklace on her Park Ave. dress, as did Carol Hannah's Palm Beach twisted sundress. But it was Irina's back-to-the-80s Aspen ski lodge faux fur vest and faux ski pants that got the judges panel panting this snoozy week. I thought the oversized cowl neck sweater was cute, but the look all together was a little ironic. Irina was on point, though: faux fur is hot for fall and winter. Just ask Rachel Zoe. The one thing to watch out for is looking too much like an extra from Where the Wild Things Are. To glam it up, I liked the Gryphon "Rocker" beaded collar faux fur vest. For something a little different, the Juicy Couture Faux Fur Vest is lighter-colored and fluffier, but just as adorable. And the cropped length on each is perfect for sipping hot toddies at the lodge. Shop for more of the best faux fur, and then pair it off with black jeans and button-down shirt for a trendy but not over-the-top look.
PETA Will Approve Of Our Favorites In Fun and Fuzzy Faux Fur
From glamorous swing jackets to trendy vests to cozy head gear, faux fur outerwear is set to be this winter's hottest look. So, since animal cruelty is very out and faking the furry look (well) is very in, we've searched high and low for our favorite faux fur items and of course, put them into a comprehensive guide. Check out the festive furry apparel we've picked and get fashionably decked for the cold weather. Don't forget to sign up for our newsletter and get the latest sales and deals delivered directly to your inbox. For more fall and winter duds you'll love, shop our guides to the best in plaid shirts, leggings, and gloves.
How To Wear A Faux Fur Vest
Looking around, it seems as if the faux fur vest is shaping up to be this fall and winter's [cruelty-free] must have item. We're all for this ultra-glam style, as it's an easy way to jazz up your daily duds. However, it's important to keep in mind when donning fake fur that you are not a famous female rapper, or heir to some European throne. Here's how to wear a faux fur vest in the real world, and wear it well. First things first. Whether it's fake or the real deal, the furry look catches attention, so start by dressing down your vest with a pair of flattering, skinny jeans in a dark wash. Next, wear a long sleeved top in black to offset the lighter colored fuzz. We'd wear flat boots rather than heels, but for a hint of embellishment try a harness style. Finally, while you don't want to over-bling it, a long and delicate gold necklace will perfectly complete your look. A Common Thread Faux Fur Vest, $294 J. Brand Marta Skinny Jeans, $196 Splendid Basic Tee, $48 Cynthia Vincent Watson Tall Flat Riding Boots, $395 Gorjana Willow Necklace, $84 For more in the way of winter fashion, check out our picks for the best in faux fur, hats, and gloves.
Taste Test: Which Faux Fur Vest's Price Will Leave You Feeling Warm And Fuzzy?
Test your fashion skills and try more of our Taste Tests. Prep for a stylish winter early and peruse our guide for the best in coat trends, hats, and of course, more faux fur.