The Ultimate Guide To Festive Attire: From Holiday Parties To New Year's Eve And Beyond
The holidays are right around the corner, and that means it's time to find the perfect holiday attire! Don't worry, you don't have to wear the same old thing that everyone will expect you to, show up in something that will turn heads! Whether you're looking to look great in a family photo, impress your significant other's family, or have all eyes on you at New Years, we've got you covered. Going out and trying on outfits can be stressful. You get overheated, you get frustrated, and sometimes you don't even find anything you like! Well, if you feel that way during the holidays, you're not alone. Last minute outfit buying is so last year. This year, we've made a list of some of the hottest outfits to wear this season. From velvet to sequins, the fashion trends this year are stunning. You're going to want to grab one, two, or even three of these outfits for the holidays! A lot of stores have released their holiday collections for the end of the year and in them you'll find everything from stylish dresses to comfy sweaters, and stunning jumpsuits. If you haven't had the time to grab your holiday outfit yet, or are looking for another one to add to your closet, this list is for you. Here are 10 great holiday outfits available now that are too fabulous to pass up: PrettyLittleThing Button Detail Tux Dress ($56) This tux dress is sophisticated and fashionable for the holiday season. Pair it was a great pair of boots and tights and wear it on a night out! ASOS PETITE Embellished Ultra Mini Cut Out Back Dress ($111)  Sequins are a statement this season that can't be passed up. Grab this beautiful dress and rock your New Year's away. Tracee Ellis Ross for JCP Velvet Bodycon Dress - Plus ($34) Velvet is another in style holiday item. This beautiful dress will keep you warm and the color will pop! Thalia Sodi Ruffled Jumpsuit, Created for Macy's ($69.99)  A stunning jumpsuit is great for the winter. It's warm and stylish, which are two things you'll want for the holidays. Lauren Ralph Lauren Bell-Sleeve Velvet Dress ($145)  This dress has two of the hottest statements of the season attached to it: Velvet and bell-sleeves. This dress will work for any holiday event this year! Emery Scoop Back Reversible Sequin Body-Con Dress ($260) This reversible dress is so cool, you can wear it twice and no one will know the difference! Wear one side for Christmas and the other for New Years! H&M Glittery Dress ($59.99) A forest green dress is the perfect pick for the holidays and you won't want to take this one off! It's a great look for a holiday party or a fancy holiday dinner. H&M Faux Fur Jacket ($129)  If you're looking for a statement jacket to wear this holiday, why not a pink faux fur? The pop of color will add style to any of your outfits. Oh My Love Allegre Plunging Sequin Romper ($129) This beautiful romper will look great with a pair of tights and boots! It's comfy and a great color for the holidays. UO All Night Sequin Bell-Sleeve Top ($79) Pair this wonderful top with a pair of pants, or skirt! The bell-sleeve top is in style this season and so are the sequins! Don't miss more fashion deals going on now! Check out SHEfinds.com for all your holiday attire needs, including the best Black Friday deals at Target, Zara, and Kohl's! [Photo: Gal Meets Glam]
10 Party Shoes On Sale: So Hot, They Make Hobbling Home Look Damn Good
I know it's not even Christmas yet, but it's time to stop thinking about presents and start plotting your sparkle plan. Go big on New Year's Eve - it's only 2012 for the first time once, right? We have lots of great excuses to buy new shoes, but a new year pretty much tops them all. Get started on the right foot. (Sorry, had to.) It all starts with a chic pair of shoe that are on MAJOR sale at The Outnet right now: (more…)
Looking For Some NYE Sparkle This Year? Try A Sequin Jacket A La Giuliana Rancic.
Giuliana Rancic wearing the Rebecca Minkoff Sequin Becky Jacket ($598) For as long as we can remember, a sequined minidress has been just as much a New Year's Eve staple as a bottle of bubbly. As while we're all for ringing in 2012 soaked in sparkle, we love the look of a bedazzled blazer, like this Rebecca Minkoff Sequin Becky Jacket ($598) donned by Giuliana Rancic. There's something about the touch of menswear that makes the look feel effortlessly glam. Not ready to pull off pink sequins? We found a bunch of more subtle colors to start with after the jump: (more…)
Rachel Roy's Crazy-Good Sale On Dresses & Jumpsuits Makes It Easy To Treat Yourself
The holidays are coming: do you know where your festive attire and party dresses are? My bank account is practically depleted after buying so many gifts for her and gifts for him...but I have just enough left over for a little treat from the Rachel Roy dress sale. Get yours just in time for Christmas if you order by tomorrow at midnight. See the goods after the jump. (more…)
Brooklyn Decker's #Genius Holiday Party Idea: A Flirty Lace Dress + Colorful Pumps
Brooklyn Decker stepped out at the Spike TV's 2011 Video Game Awards in this adorable lace mini with bright yellow pumps. What a lovely idea for holiday party dressing -- pairing a flirty, lace dress with bright pumps. Take a cue from the covergirl, and shop the look here. (more…)
7 Pairs Of Festive Flats That Practically Do All Of Your Holiday Celebrating For You
I love me some festive flats: not only do they dress up all of my regular old little black dresses for the holidays, but they also look super cute with jeans and black pants. Win-win. Here, I've rounded up my favorite 7 pairs so you can jazz up your own look without shelling out too much dough. (more…)
Kate Met The Obamas In A Reiss Dress–Make It Through Your Holiday Parties In One Too
So you've got a fistful of invitations to holiday parties, all requiring "festive attire." What will you wear? There's no need to break out the Christmas sweaters (unless it's that kind of party, in which, click here for some ideas.) Just think "What would Kate wear?" After all, the girl-next-door-turned duchess has dressed her way to the top of Best Dressed lists this year, overcoming parties with some pretty imposing guests lists--ahem, Obamas. She always looks flawless and amazing, so get yourself over to Reiss, where you can get the same exact or similar dresses in Kate Middleton's style. The best part is, you can wear them over and over again--to work and other parties, year-round. (more…)
Ooh, Shiny, Sparkly Things: 7 Sequin Dresses That'll Wow Everyone
Forget the tree--this year's best holiday trend is all about the sequins--on you. And not just a little--a lot. Take advantage: not since circa 1986 have sequins been so socially acceptable in all forms: during the day, at holiday parties...pretty much anything goes. So get procure one for yourself, girl, before they're all gone. Trust me, by the time the day after Xmas rolls around, they're gonna be scarce. (more…)
The ASOS Collection Sale Is So Good, You Can Grab A Handful Of Cocktail Dresses For Party Season
This is the busiest time of the year: you've got parties to go to, gifts to buy, and errands to run. So knock one easy thing off of your list now and make your life 10x easier later: get your party dresses at the ASOS Collection sale today. Everything is on sale, and you'll get free shipping. Give yourself a gift--you've got nothing to lose. (more…)
Here's An Alternative To Holiday Party Dresses: Oprah's Fave Jeans, In Velvet Form
Oprah's favorite denim company, CJ by Cookie Johnson jeans, are now in velvet form. ....Which is good news, because these babies fit curvy bodies like a glove. So if you're kind of sick of party dresses, which can truly be annoying when you have 10+ holiday soirees to attend, these are a brilliant alternative. (more…)
Kim Kardashian's Alice + Olivia Cocktail Dress: AKA What You're Wearing To Your Holiday Parties
The model kinda looks like a long lost Kardashian, right? It's never too early to start thinking about what to wear to holiday parties. This is festive attire at its best: a little tulle and classic black and white, which we all know is Kim Kardashian's thang. (more…)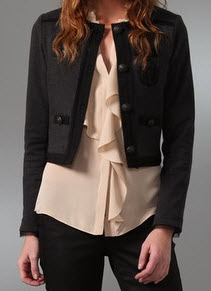 Deal Of The Day: Top Off Your Festive Attire With A 70% Off Blazer
Not sure what to wear over your one-shoulder dress or your sequin tank-and-leggings look? Here's your answer: try this Haute Hippie Ponte Jacket ($148.50, from $495). It's got enough structure to make everything look pulled together--from jeans to your most formal dresses. Give yourself the gift of versatility for 2011 by shopping the entire sale at Shopbop. You won't regret it. Follow the author of this post on Twitter @shefindseileen. Check out all of this week's best online sample sales, all of the best sales and deals, and black dresses, blazers and pumps for your big night out.
Angelina Jolie Makes Holiday Dressing Look Easier Than Snagging Brad Pitt
Angelina Jolie makes everything look effortless--saving starving children, stealing the Sexiest Man Alive from America's Sweetheart...hell, this woman should have her own "Easy Button" Staples commercial. Angelina's most recent holiday look is simple, classic and glam all at the same time. Here's how to copy her look in four easy steps: Follow the author of this post on Twitter @shefindseileen. Check out the best black dresses, faux fur vests and pumps for even more options, and then peruse this week's best sales and deals, including can't-miss online sample sales.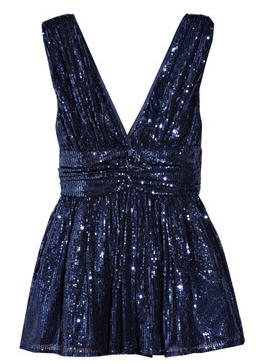 Get 70% Off Designer Tops And Party Dresses (And Then Go Spread Some Holiday Cheer)
If you'relike me, nothing gets you in the holiday spirit quite like sparkly dresses and amazing sales. So if news that The Outnet has both doesn't put you in a festive mood - I don't know what will. This Paul & Joe Cokeline sequined top ($164, down from $410) will look amazing with black skinny jeans and black peep toe pumps on New Year's or pretty much any big Saturday night this winter. If you're in the market for a dress, this Adam Metallic tweed dress ($112.50, down from $375) is one of those pieces that looks good on everybody. The plunge neckline is flirty, and just right for all those friggin' holiday parties. For more holiday must-haves, check our guides to the best cocktail rings, party dresses, earrings, party shoes. Follow the author of this post on Twitter @bridefinds.
5 Bridesmaid Dresses That Can Do Double Duty At All Those Holiday Parties
The oldest weddings joke in the book is that every bride thinks her bridesmaid dresses are pretty and on-trend enough to be worn after the big day. It's best to be subjective about these things  - if someone who is not the bride agrees that the b-maid dresses are cool enough for non-nuptial events, then you know it's true. That person is me, and I'm pleased to bring you 5 bridesmaid dresses that will work for all those friggin' holiday parties you have coming up: Walk into any party and you will stun in this Nicole Miller Side Draped Strapless Dress ($284, down from $355). Preferably one where your ex is a guest. For more conservative holiday parties and weddings, this Maggy London One Shoulder Dress ($128) is perfect. The longer hemline is great for black tie holiday parties, formal weddings and pretty much any event where you need to look like the classy lady you are. If the wedding or holiday party is younger and hipper, this Aqua Shimmer Pleated Bodice Dress ($158.40, down from $198) is perfect. The metallic short style is flirty and festive. Another elegant style, this Suzi Chin Maggy Boutique Stretch Satin Sheath Dress ($128) is perfect for formal and semi-formal parties and weddings. If the bride is cool, she will hook her bridesmaids up with these ABS by Allen Schwartz Strapless Flouncy Dresses ($330). The bow is not for the fashion faint of heart there - but if you go there, go all the way. For more great bridesmaid solutions, check our guides to the best black bridesmaid dresses, cheap bridesmaid dresses, and long bridesmaid dresses.
Meet Your Best New Year's Dress EVER: It's Sparkly, Black And 70% Off
Every its the same old song and dance: New Years Eve rolls around and I'm standing in my closet scratching my head. Why didn't I buy something cute ahead of time, and how do I stand out in the see of little black dresses and bar tops at the club? I think there is an old Chinese proverb that says what you wear on New Years dictates your good luck for the rest of the year. Ok, that might not be entirely accurate, but I can tell you if you show up in this sexy Juicy Couture Sequined silk-chiffon dress ($105, down from $350) you'll at least get lucky that night. This sequin mini dress is 70% off to boot. Shop more festive attire, from party dresses and little black dresses, to cocktails rings and statement jewelry. See what else we're wearing this season with all of our winter trends. Shop our guides to the best coat trends, the best jackets, and the best military jackets. Subscribe to our online mailing list for SHEFinds in your inbox. Follow the author of this post on Twitter @bridefinds.
The Perfect Tweed Jacket To Throw Over Your Cocktail Dress
This cocktail party season, tack on a tweed jacket over your party dress instead of a boyfriend blazer. This BB Dakota Herringford jacket ($77, from $110) fitted and refined enough to look great with even black tie looks, and dresses up skinny jeans or wide leg jeans for casual Friday. See, dressing in festive attire isn't all that hard after all. For more, see our guides to the best party dresses, party shoes, pumps, evening bags, cocktail rings and belts. Peruse this week's best sales and deals (there are a TON!) and check our calendar of online sample sales, too. If you haven't seen our Sold Out List of the 21 Gifts That WILL Sell Out and grab yours fast before they're gone.
Natalie Portman Rocks Lanvin For H&M — Bet She Didn't Have To Wait In Line
Everyone - including us - went gaga over the Lanvin for H&M line that recently hit (and immediately sold out) in H&M stores. If you missed it, drool over the fool collection in this quirky video, or shop for the line on eBay. Clearly, Natalie Portman knows people, because she wore one of the line's hottest pieces - a one shoulder black dress - at the Gotham Independent Film Awards. Start with a bold one shoulder dress like Natalie's - this Aqua One-Shoulder Draped Dress with Flower Detail ($198) is even $1 cheaper than her's. It's the perfect dress for all those friggin' holiday parties. For an option belted look, cinch your one shoulder dress at the waist with this Calvin Klein Lexi turnlock stretch belt ($29.99, down from $39.99). It's a great day or nighttime accessory that creates an instant sexy waistline. You'll need a sexy pump to really nail Natalie's look, and these on-sale GUESS Amazed Platform Pumps ($69.30, down from $99) more than fit than fit the bill. The platform pumps are sexy and leg-lengthening (good if you're petite like Ms. Portman). Nighttime sparkly jewelry is the best part: these Nordstrom Crystal Collection 'Henriatta' Round Drop Earrings ($88) ad touch of glam to pretty much any ensemble, and are expensive-looking so you can wear them to black tie-party, swanky holiday parties, weddings and more. You'll need a sparkly clutch like Natalie's to stash you red lipstick, this J.Crew Sequin minaudière ($98, down from $128) is perfect for the job. It's pretty, feminine and ready to get its party on. For more holiday party must-haves, check our guides to the best cocktail rings, party dresses, earrings, party shoes. Follow the author of this post on Twitter @bridefinds.
Get All 4 Of These Gossip Girl-Worthy Cocktail Dresses For Under $115
Did you miss the news about Gossip Girl costume designer Eric Daman's line for Charlotte Russe? Not only are they Blair and Serena-worthy, but the party dresses are now an extra 25% off + Free Shipping for orders over $50 at Charlotte Russe, which means you can buy a few and still be way under budget. Now you can wear something different for each party. Take that, Facebook photos. Shop even more party dresses, black dresses, festive attire and top off with cocktail rings, clutches, party shoes and pumps. Then check out all of this week's best sales and deals (there are a TON).
What To Wear To Thanksgiving (Or Any Over-Eating Holiday For That Matter)
We told you about the most forgiving Thanksgiving clothing (yep, maternity jeans made the list), and now we're here to style that perfect holiday look: a combination of festive, forgiving and fabulous (hello, in-laws). It may be the fattest day of the year - but it doesn't have to be the fugliest. Meeting the in-laws: A feminine, flowy top like this Joie 'Martine' Blouse ($198) is the key to snappy casual Thanksgiving: you look pretty enough to sit at the adults table, but the flowy top is forgiving enough so you can politely eat that second piece of his mom's homemade pie. If you must wear real pants (instead of sweatpants) Oprah's favorite CJ by Cookie Johnson jeans are the most forgiving ones out there. These Joy denim leggings in Deep Sea ($141) are Stuffy meal at Great Aunt Edna's: If you need to dress up for Thanksgiving (poor you!) this Winter Kate Lucy Dress ($285) is so festive and can totally be worn again for cocktail parties, Christmas parties and New Years (with a big sparkly necklace). Since it is Thanksgiving, you're going to need some extra mid-section support; do NOT forget your SPANX Tight End Tights ($26). At home with fam: If you're at home with loved ones, why not be totally comfortable? Curl up with thisSplendid Vintage Fleece Cardigan ($121) - the drapey front "hides all sins." I'm pro-stretch black pants when it comes to eating Thanksgiving at home with the fam. These So Low Solid Foxy Flare Pants ($60) are about as flattering and slimming as black stretch pants can come. For more festive attire solutions, check out our guides to the best party dresses, cocktail rings and party shoes. Follow the author of this post on Twitter @bridefinds.
How Embarrassing! One Balmain Dress, Six Magazine Covers.
You wouldn't be caught dead in the same dress as a co-worker at the office party, so imagine how these fashion editors feel.  This fall, six fashion mags (including 3 Vogues) put the same gold Balmain dress on the cover. How embarrassing. And we thought the Miu Miu dress on 3 covers was bad. If you don't have $3000 laying around for the original, but love the gold style as much as we do, shop these sexy party dresses now: For a more casual approach, grab this Halston Heritage Gold Shirred Dress ($345). It's versatile enough to wear to a party or even on a romantic night out. Get your Sasha Fierce on with this See by Chloe Sequin and Chiffon Dress ($136.50, down from $390). All you need is a killer pair of high heeled boots and you're good to go. Slip into this Modcloth Gold Dust Gal Dress ($89) for your most anticipated holiday party. Wear it again with a blazer and some platform pumps. Don't miss a thing with all of our fashion news. Shop our guides to the best cocktail dresses, the best platform pumps, and the best high heeled boots. Subscribe to our online mailing list for exclusive fashion updates.
What To Wear To All Those Friggin' Holiday Parties
In the height of wedding season, we told you what to wear to all those friggin' weddings, and now that holiday party season is nigh, we need to equip you with plenty of affordable, party outfit options, too. Check out our guides to holiday attire: Office Holiday Party: If you're looking for an option that is still mostly modest, with a dash of fun (hot co-worker to impress?), this Maggy London One Shoulder Dress ($128) won't make your boss blush, but still commands the right amount of attention. Pair it with some sparkly stud earrings like these Juicy Couture Pave Pyramid Studs ($48). Angling for a raise and want to be seen as a "power player" in your office? This J.Crew Crystal tracks necklace ($58, down from $78) is a statement piece that will have the big bosses remembering your name. In lieu of an open-toe (an office no-no), opt for a sexy pump like these Steve Madden Trinitie pumps ($79.95, down from $89.95). Black-Tie Holiday Party: If you have a black tie invite (lucky you!), you'll need a floor length evening gown for the occasion. This Lauren by Ralph Lauren Dress "Chana" One-Shoulder Long Dress ($220) is perfect for just that. You can never go wrong with an extra long strand of pearls like this well-priced Kenneth Jay Lane Pearl Rope Necklace ($154). You can't just throw any old winter coat over a ball gown, so make sure you have a faux fur or fur stole for the big night. This INC International Concepts Faux Fur Wrap Cape ($129) is great because it looks like it costs much more than it really does.You'll need drop or dangling earrings for black tie, and these under-$100 Juicy Couture Crystal Chandelier Earrings ($78) are pretty friggin' perfect. Party With The Girls: Now, for the fun part: if you have a parties with friends, get a sparkly dress like this Ella Moss "Majesty" Sequin Tank Dress ($159). Pair it with these Commando Matte Opaque Tights ($34), and you're good to go (a hint: opaque tights are the hosiery equivalent of sweatpants - they hide all sins.) For holidays with friends, don't bother with the strappy sandal, opt for a much cooler bootie like these Vince Camuto "Alexia" Ankle Booties ($129). Top off the look with a cool blingy bracelet like this J.Crew Soleil bracelet ($58) - it's perfect priced and will definitely light up the night. Ugly Christmas Sweater Party: If you've never been to an ugly Christmas sweater party, I highly recommend throwing one. When else can you wear grandma's hand-me-down elf sweater? If you don't already have one, this Quacker Factory Happy Dance Sweater ($48.50, down from $62) is perfect. Pair it with these Marc by Marc Jacobs Metal Bow Stud Earrings ($38) for an extra festive outfit. For more holiday must-haves, check our guides to the best cocktail rings, party dresses, earrings, party shoes. Follow the author of this post on Twitter @bridefinds.
Festive Attire For Your Merry-Making, Jam-Packed Party Schedule
So the holiday party invitations are starting to pile up, which means plenty of three of our favorite things: fancy dresses, open bars, and treats. But are you perpetually baffled by the oh-so-vague "festive attire" guideline you find on many an evite? We are too. So we've cracked the code and put together a guide full of ultra-merry styles that will definitely get you into the holiday spirit. Check out these just-right glittery frocks, skirts, and tops. Don't forget to sign up for our newsletter and get the latest sales and deals delivered directly to your inbox. Need party extras? Pick up some fancy shoes and an evening bag to go with your new cocktail dress.
Think Pink: The Necessary Accessory? Reaches Out
Problem: What do you do with your designer handbag when you're out and about? Hide it under the table? Sling it on the back of your bar stool? Balance it on your lap while trying to eat your fettuccine alfredo (or greens with exactly 2 drops of dressing)? The Purse Pal solves these riddles with ease, no more worries about theft, spills, or trampling your cherished handbags. The Purse Pal is a small hook that fits in your purse until you need it to secure your bag to virtually any size restaurant table. It comes in two different sizes, day bag (34.99) and evening bag (29.99) A combination of functionality and charity, each design contributes $5 per sale to a non-profit charitable organization. This charitable business practice has caught the eye of some big names like The Donald. A Purse Pal was included in the gift bag at the New York Best Benefit Party hosted by Donald Trump himself. It was also included in this year's Oscar goodie bag for the star nominees and presenters. For the month of October (and year round) the pink ribbon design beneficiaries are the Susan G. Komen Breast Cancer Foundation and Evelyn Lauder's Breast Cancer Research Foundation. And right now the folks at Purse Pal are taking it a step further. An additional $2.50 from every purchase will be donated to relief organizations for victims of Hurricanes Katrina and Rita. This is in addition to the money automatically donated per purchase! Find this fashionable way to give at purse-pal.com.
Think Pink: Wipe Out Breast Cancer
The ingenious creators of Miss Oops stain-removing sponges are donating $1.00 from every sale through the month of October to the Susan G. Komen Breast Cancer Foundation. I first learned of these wonder sponges right here on shefinds.com. It seems that no matter how hard I try, I always forget to apply my deodorant after I put on my top. And even though it says 'invisible' it never fails to leave a trail on my basic blacks. Miss Oops is a must-have tool based on economics alone, they come two per box (10.00) and depending on your own personal "oops factor" they can last up to a year. Small enough to carry in an evening bag, the sponges can be used safely on any fabric. Free yourself from the trauma of life's little emergencies while supporting breast cancer research. Find the oops-removing sponges at missoops.com.
Think Pink: A Planet 4 Creation Contributes
A Planet 4 Creation creates limited edition jewelry by independent designer Lilie Wells. This October they are donating 20% of their proceeds to The Susan G. Komen Breast Cancer Foundation. The Breast Cancer Awareness earrings are an obvious choice to fashionably display your savvy awareness this month. The sterling silver earrings are studded with pink Swarovski crystals and a pewter awareness charm (22.00). Make sure you browse the other collections, like the Bent out of Shape set (85.00) The set can be customized with your color and length preferences and since ALL sales for the month of October benefit breast cancer research, you can be a stylish contributor by purchasing unique accessories that stay on-trend year round. Find them at aplanet4creation.com.