These Are The Perfect Wear-Anywhere Leather Ballet Flats… And They're Only $34!
A classic pair of ballet flats should be a staple in every woman's closet. You need a pair that can be worn with any outfit--from jeans to dresses--for any occasion. And if they can be worn during every season? Even better. If you're hesitant to shell out lots of money on such a basic item, here's a deal you shouldn't miss: Lucky Brand's popular Eaden Flats are 50% off at Nordstrom right now in two must-have colors. We're talking just $34.98 for a pair of wear-everywhere leather ballet flats. They're super comfortable, look good with any outfit and are crazy durable so you can wear them day after day. This is a deal you do not want to miss. Lucky Brand Eaden Flat ($34.96, down from $69.95) Lucky Brand Eaden Flat ($34.96, down from $69.95) SHOP MORE GREAT SHOES ON SALE AT NORSTROM NOW Be sure to check out $39 suede booties that you need for fall and the brand that makes super flattering leggings. [Photo: Nordstrom]
8 Cute Flats You'll Actually Want To Wear
The grueling process of choosing an outfit every morning always presents one very important question: heels or flats? The shoes you pick out can make or break your outfit, and even your day if you don't choose wisely. We've all had our fair share of blisters from not wearing comfortable shoes. But, whether it's in the workplace or on a night out with friends, many women turn to heels over flats, despite their obnoxious levels of discomfort and the increased risk of falling over. Heels put the "beauty is pain" mantra to work, but it's hard to find flats that actually look cute and not like something your mom would pick out (sorry, Mom). However, they do exist! To help save your feet from further blisters and sporadic muscle spasms brought on by high heels, we rounded up eight stylish, comfortable flats that you can actually see yourself wearing. Do yourself a favor and save the heels for a special occasion. Steve Madden: This shoe brand is a powerhouse for trendy, affordable, and comfortable shoes all-in-one. For the workplace, the loafer/ballet flat hybrid shoe has taken over, and your feet will look more professional than ever—but in a cute way. The pointed style gives this shoe a more sophisticated feel and creates a slimming effect. The style is also called "Feather" for a reason—they're extremely light and comfortable, so no more blisters on your radar. Choose between suede, leather, and velvet in an assortment of colors. [caption id="attachment_611174" align="aligncenter" width="196"] Steve Madden Feather ($69.95)[/caption] We're also loving this Steve Madden edgy/feminine flat combo. The pink exudes strong girly vibes, but the studded embellishments on the straps keep the shoes in check. Not to mention, the crossover straps alone are absolutely to die for! Normal ballet flats can get really boring really quickly, so any shoe lover will be able to get behind the unique touches on this pair. If the pink still isn't your style, you can also get this shoe in black. [caption id="attachment_611173" align="aligncenter" width="196"] Steve Madden Mollie ($69.95)[/caption] J. Crew: J. Crew has a wide assortment of trendy kicks with preppy, classic roots, so it's no surprise they made the list. Even though their shoes tend to run on the pricier side, you know that you're investing in a comfortable, durable pair. These flats are made in Italy, so you have even more of a guarantee that they won't conk out on you after just a few wears. Plus, splurging on shoes is totally acceptable as long as you get a lot of use out of them, which you definitely can with this vibrant pair of flats. Even with such a simple style, the metallic pattern makes a huge statement and adds instant pizazz to even the most drab outfits. You'll be getting compliments left and right whenever you wear these. [caption id="attachment_611171" align="aligncenter" width="196"] J. Crew Lea Ballet Flats In Metallic Leather ($118)[/caption] Banana Republic: BR is another great hotspot for shoes, and we're obsessing over the chic variations on this pair of flats. You get a sleek pointed toe, straps with three bows, and they're made from an ever-popular material—suede. Sound too good to be true? Just wait, there's even more. These flats have an exclusive Padding System that uses memory foam and a cushioned insole. Breaking in new shoes has never sounded more comfortable. [caption id="attachment_611172" align="aligncenter" width="196"] Banana Republic Triple-Bow Flat ($108)[/caption] DSW: Something as simple as a scalloped border can easily elevate any shoe. With six colors to choose from, you can't go wrong with this staple ballet flat. Put your best foot forward while wearing these to the office, date night, and everywhere in between. And, at a price like this, it might be in your best interest to stock up on multiple colors for different seasons. Just saying! [caption id="attachment_611168" align="aligncenter" width="196"] DSW Audrey Brooke Winny Ballet Flat ($49.95)[/caption] Old Navy: Check out another gold take on plain old ballet flats. Based off looks alone, you would never be able to tell these shoes cost less than $20! This pair also comes in black, but gold is just so much more fun. You can dress up your look even more by wearing matching gold accessories. [caption id="attachment_611169" align="aligncenter" width="196"] Old Navy Pointy Ballet Flats For Women ($19.97)[/caption] Target: These shoes also look like something from a designer or high-end retailer. But, even better, they're actually from Target! The side cut-outs and structured front and back pieces give these slipper-like shoes a fashion-forward appeal.  Pair these with jeans or a dress for the ultimate polished look. [caption id="attachment_611167" align="aligncenter" width="196"] Women's Kelsey d'Orsay Pointed Toe Ballet Flats ($16.08)[/caption] [Photo: Shutterstock]
6 Shoes Every Woman Should Own This Spring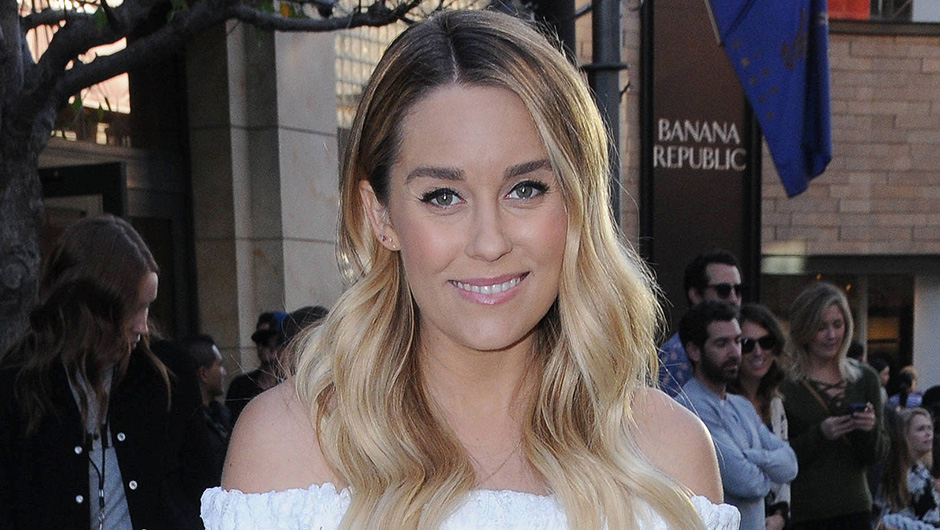 The One Thing You Should Always Wear On A Job Interview, According To Lauren Conrad
Celebrities Who LOVE Steve Madden Shoes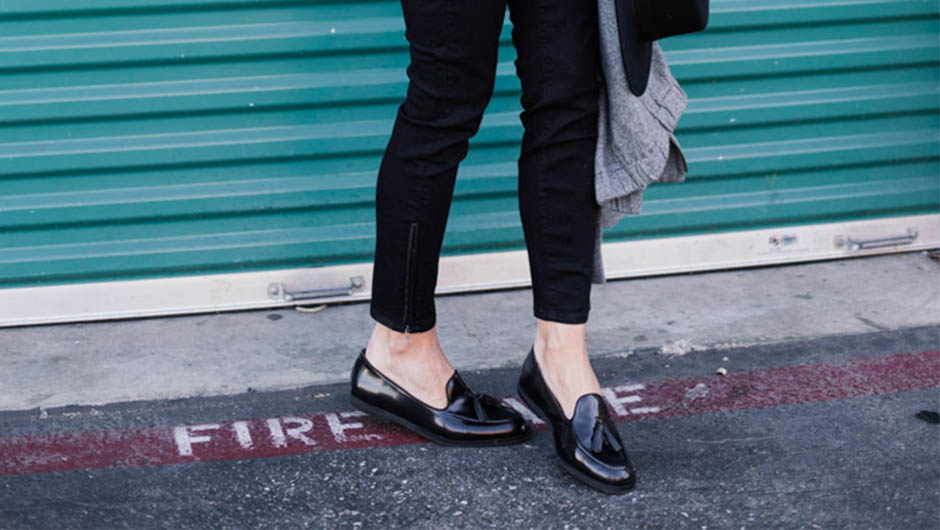 Shop Tassel Loafers Now Before They're Everywhere For Fall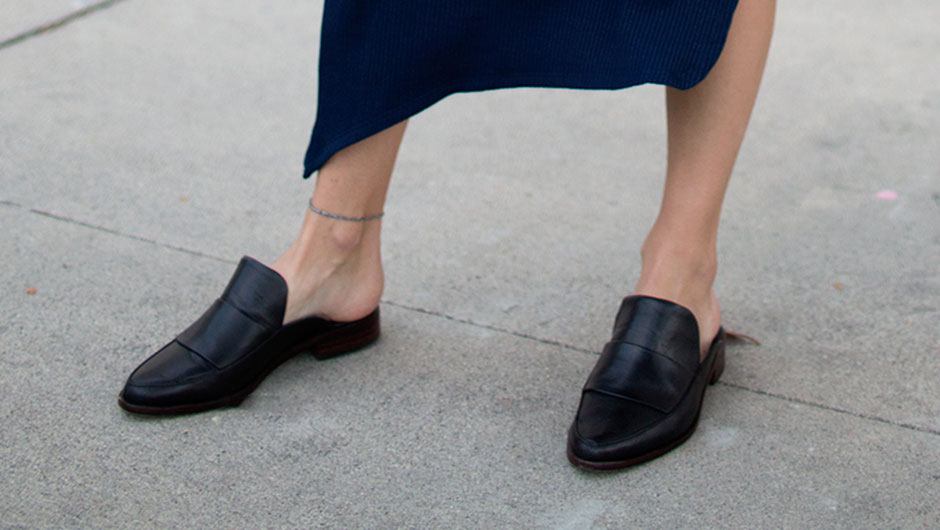 If You Only Buy One New Pair Of Shoes For Fall, Make Them Backless Loafers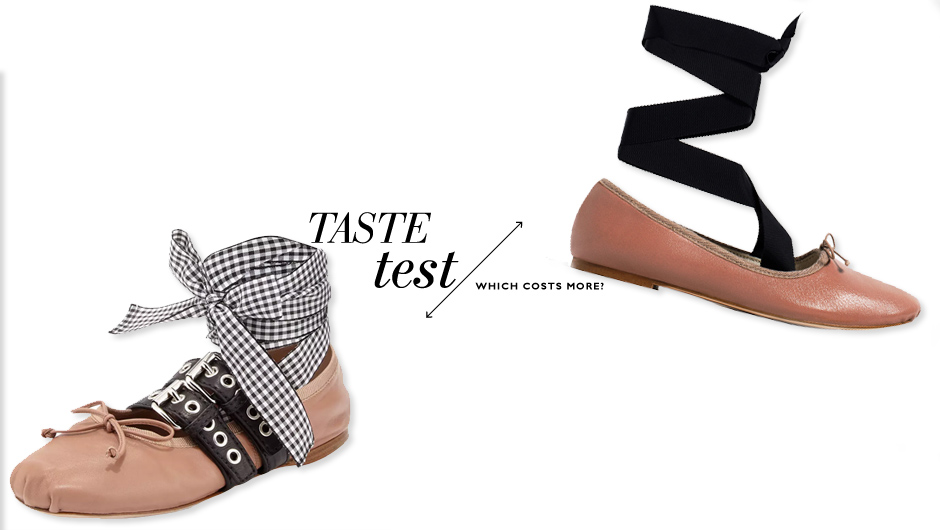 Can You Tell Which Lace-Up Ballet Flats Cost $560 More Than The Other?
These Miu Miu Belted Leather Ankle-Wrap Ballerina Flats ($620) are about to be everywhere. The shoes are already huge in the street style star crowd and are slowly making their way onto the feet of editors and bloggers. Whenever an item reaches this type of status, knockoffs come soon after. Hence, Zara's take on the edgy designer ballet flats. While there are slight differences in the design (like the gingham laces and leather buckle strap), they're pretty much the same idea. Can you tell which lace-up ballet flats cost $560 more than the other? Click below to find out! Did you guess correctly? Which pair do you like better? Let us know in the comments below! Test your fashion savvy some more with crop flare jeans and ghillie sandals
Kate Spade Made Flats That Look Like Rockstuds, But For 1/3 Of The Price
Will you be buying a pair of these Kate Spade flats that kinda look like Valentino Rockstuds, the shoe that a thousand Pins launched? Kate Spade Becca flats ($378) Sure, why not--they're pink, pointy and approximately one third the price of their designer counterparts. You can achieve the *general look* of Rockstuds (I mean, nobody's going to mistake them for the real thing--but you might get some compliments!). Or you can just deep *way down* in to your pockets and get the originals: Valentino Rockstud Flats ($975)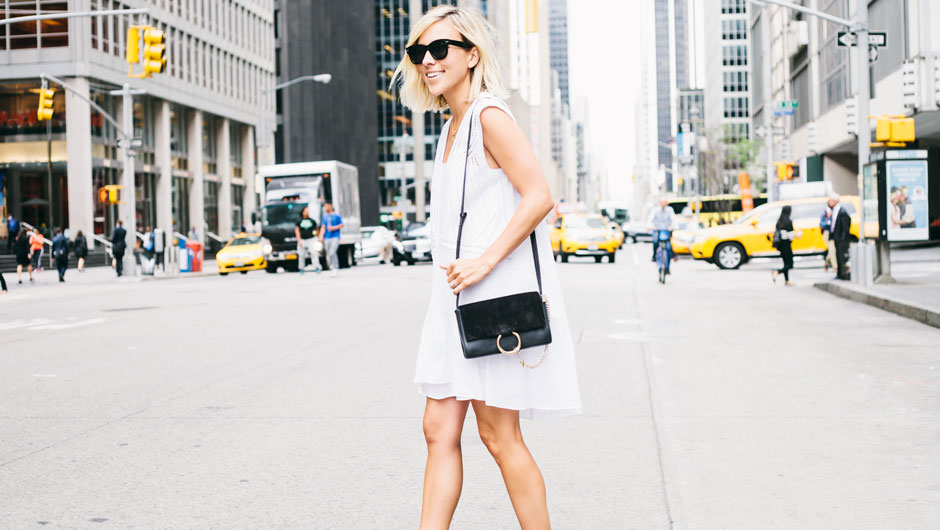 What Are 'Ghillie Flats' And Why Is Everybody Wearing Them?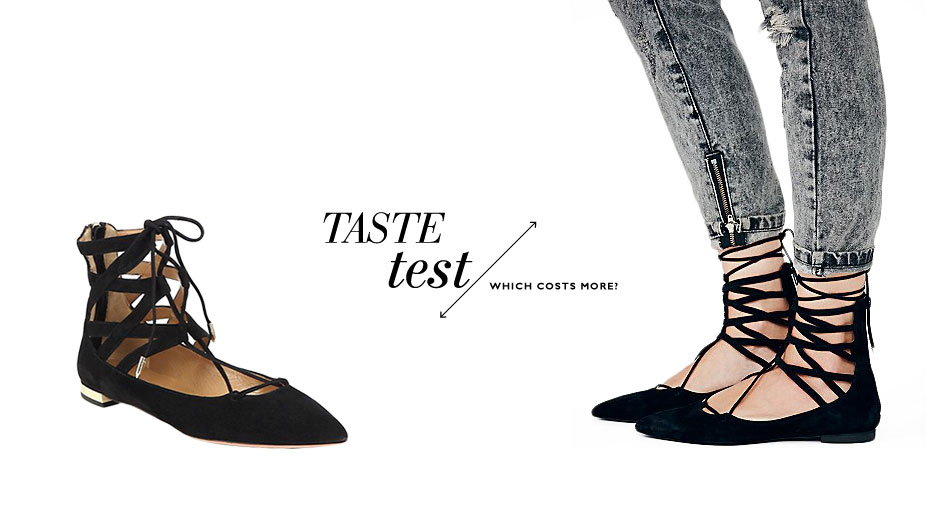 Can You Tell Which Lace-Up Flats Cost $565 More Than The Other?
Lace-up flats are everywhere. If you haven't bought a pair yet, we have two awesome options for you. First, we have the original Aquazzura Belgravia Suede Point-Toe Lace-Up Flats that retail for $695. We also found a lookalike pair from Jeffery Campbell that's slightly more budget friendly, if that's what you're looking for. But before you decide which to buy, can you tell which lace-up flats cost more than the other? Did you get it right? Let us know in the comments below! And don't forget to check out: Gabrielle Union Got The Memo--Box Bags Are About To Blow Up, PHOTOS: Amazing Celebrity Hair Transformations!, and Lord & Taylor's Sale Section Is Full Of Gorgeous Coats And They're An Extra 30% Off.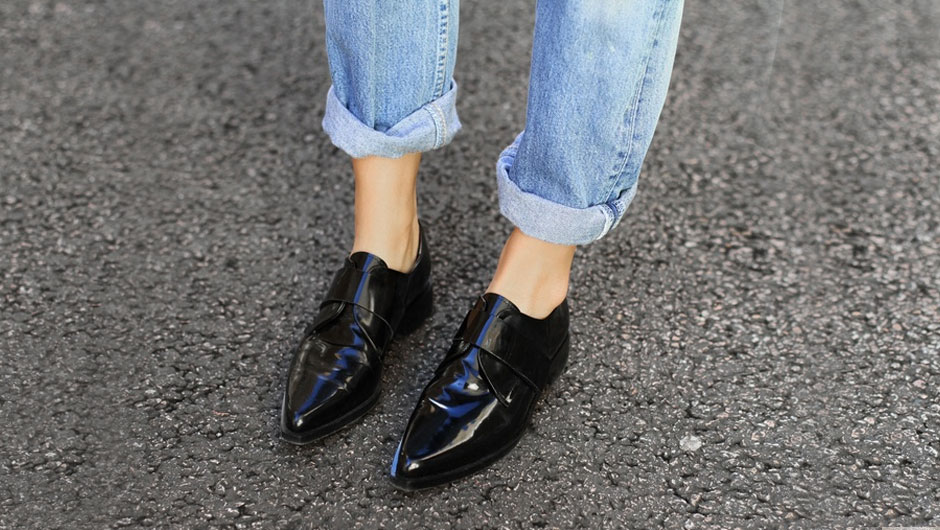 21 Pairs Of Flats And Loafers That Are A Must-Have For Fall
Don't Miss Out On Summer's Prettiest Trend: Lace-Up Flats
J.Crew Changed The Cece Ballet Flat & Customers Are Not Happy About It
J.Crew made a huge mistake and customers aren't taking it lightly. Before 2014, the preppy retailer was at the top of its game, producing women's clothing in bright colors with flattering silhouettes, and focusing on keeping the shoppers happy. Fast forward a year or so later, and J.Crew seems to have lost its magic touch. Gone are the timeless designs and, most importantly, the must-have ballet flat: Cece. J.Crew not only muddled with its classic women's clothing, but also the acclaimed, customer favorite Cece ballet flat. Cece flats were made in Italy with buttery soft leather, and customers absolutely swore by them. However, after being discontinued in 2014 and then brought back, the ballet flats are now made in America and aren't as good of quality. One customer review noted, "These aren't the same as the old (pre-2014) Cece flats. The leather is lower quality: not as buttery soft as before and stretches out too easily." J.Crew's CEO Mickey Drexler acknowledged the company's "missteps" in women's fashion. He says, "An iPhone looks like an iPhone. And I don't think J.Crew women's looked like J.Crew women's as much as it could have, nor do I think that we marketed it and messaged it as well as we could have." J.Crew noted the style problems and its design team is already hard at work "bringing back more color and refocusing on cool, classic clothes." Hopefully they bring back the old Cece, too! Don't miss 11 celebs in great shape on the cover of fitness magazines and order this Beyoncé-designed shirt to support kids in Haiti! [Photo: Flickr]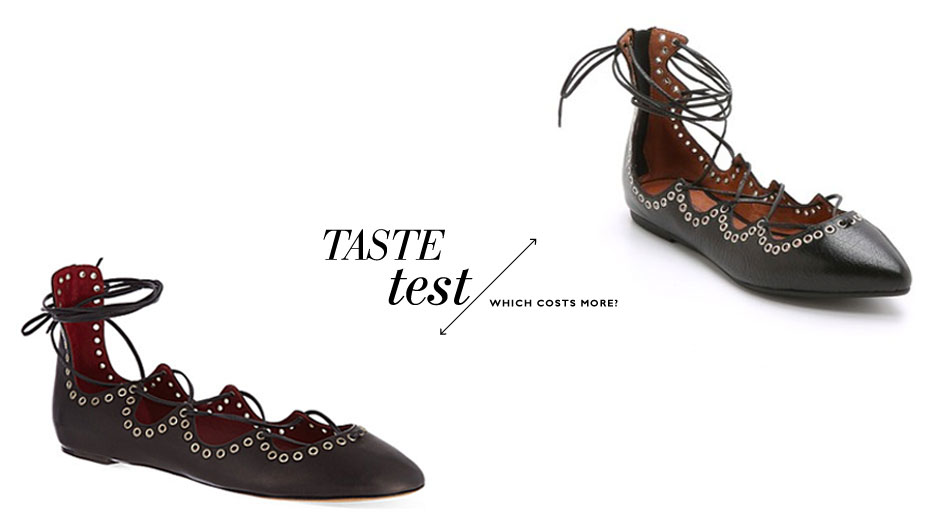 Can You Tell Which Leather Lace-Up Flats Costs $405 More Than The Other?
They say imitation is the sincerest form of flattery, right? Despite these Jeffrey Campbell and Isabel Marant leather lace-up flats looking almost identical, their price tag most definitely is not. In fact, one of these embellished flats costs $580 and the other costs $175. Can you tell which one is more expensive? Give it a shot. Click the images below to find out which costs more. Test your fashion savvy with: espadrille wedges, wrap bikinis and printed skirts!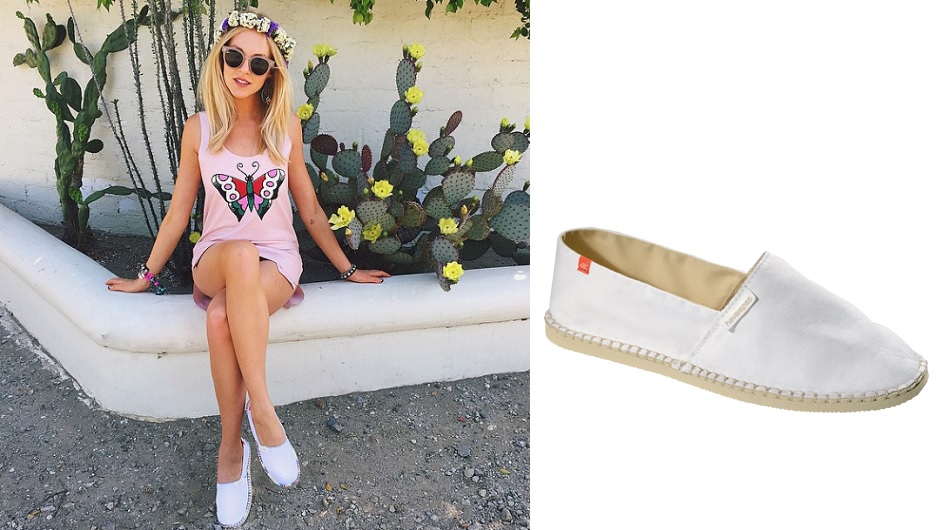 Shop The Insta: Peace Love Shea's White Havaianas Espadrille Flats
Thought Havaianas only made flip flops? Think again! They just launched a collection of perfect-for-summer espadrilles and they've already got a fan club. That's style blogger Peace Love Shea rocking a pair in white and we have to say they look pretty killer. Whether you pair them with a summer dress, cutoffs or a midi skirt, you'll be cute and comfortable. Plus, the price can't be beat! HAVAIANAS ORIGINE II ESPADRILLE ($38) Be sure to check out Splendid x Gorjana jewelry, Jessica Alba's ballet flats and Alessandra Ambrosio's overalls. [Photo: Instagram/Havaianas]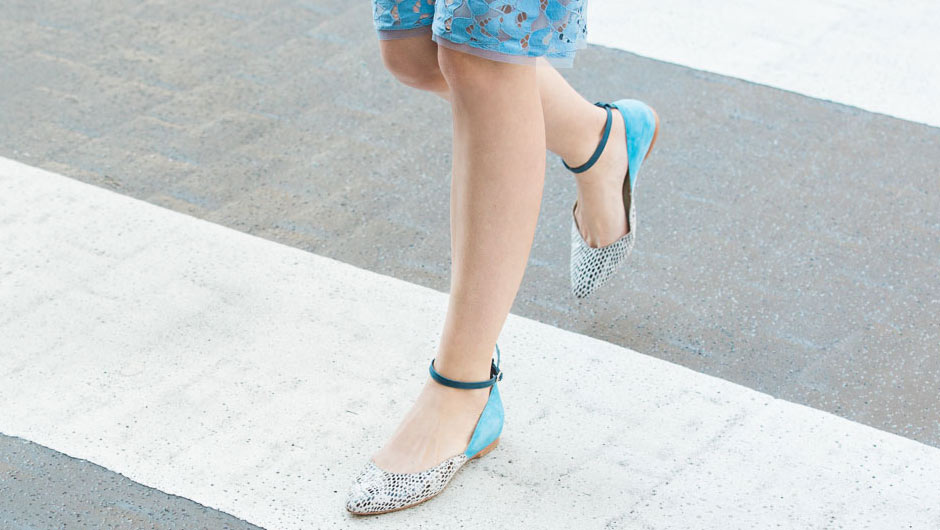 HACK: How To Break In Your Flats Without Getting Blisters
The feeling of buying a new pair of shoes is delightful. The feeling that comes with breaking them in? Not so delightful. But it turns out that you don't actually have to wear flats to break them in--we found a hack for doing it that is completely blister-free. All you need is a pair of socks and a hairdryer: First step is to put on socks - any kind will do, sport or dress - then step in to the new flats. Walk across the room to determine where the shoe is most uncomfortable/tight on your foot. Those will be your target points for the hairdryer. Turn your hairdryer on a low heat and aim it on the target points. Apply the heat for a few seconds at a time and then move on to the next spot. Another tip is to apply the heat to the inside of your flats, then slip them on and apply heat to the outside while wiggling your toes. Each step contributes to stretching the shoe out to fit your exact foot shape. Once you your flats start to feel comfortable, turn off the hairdryer, take off your socks, and give your broken-in flats a try. If they still need just a bit more stretch, repeat the process again. [Photo: Ania.B] Don't forget to check out: the 10 worst things for oily skin, Nordstrom's latest Pop-In with Nike, and how to solve stinky flats.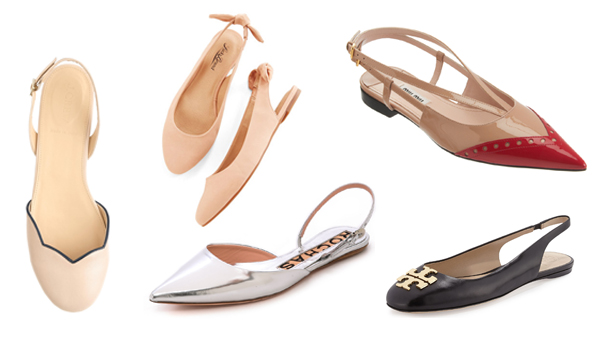 Your Shoe Collection Isn't Ready For Spring Without A Pair Of Slingback Flats
No matter how much we all love high heels (or so we say), there's one thing we can all agree on: they are EXHAUSTING. They look great, but by the end of the day and/or night, you're practically limping home, or, if you're me, you've shamelessly removed them and find yourself walking home barefoot on some sort of surface of questionable cleanliness. The smarter ones among us always carry an extra pair of fold-up walking shoes in our purses, but you know what? It's just not necessary. These slingback flats are the perfect compromise between style and comfort. If you're looking for your go-to pair of spring shoes, than you might as well just end your search here. Click through our slideshow for some of the season's cutest slingback flats. For more trends, check out: celebrity and street style-inspired fuzzy sweaters, La Mer's newest bracelet collection and cool loafers for spring
Laser-Cut Shoes Are The Only Way Your Feet Are Going To Survive This Summer
For some shoppers, an embellished shoe can sometimes be too much. Even a striped pattern might be considered loud. But with this new style, even the most conservative shoe lover will be a fan. This season, pretty much every type of footwear comes in a laser-cut design. Heels, flats, sandals and even sneakers in solid colors with cool geometric designs, like squares and scallops, are all over the place. We love the peep-toe bootie style, which can easily elevate your favorite LBD. Or wear brightly colored socks underneath your cut-out shoes for an interesting contrast. Check out our slideshow for all sorts of laser-cut details on every type of shoe you need for spring. Don't forget to check out these other trends: tropicool prints, lobster prints, and blue-and-white stripes [Photo: Sea of Shoes wearing Jerome C. Rousseau Juda heels]
50 Pairs Of Spring Flats Under $50 #Score
Spring is in full swing, and you can no longer get away with wearing the same pair of boots everyday like you did all winter. You'll be sporting mini skirts, boyfriend jeans, and maybe even a pair culottes, so your wardrobe is going to need a variety of options for matching shoes. Luckily, we did the hard work for you and found 50 pairs of flats that ring in under $50. With a wallet-friendly price like that, you can most likely buy more than one pair (score!) — or at least have enough cash left to treat yourself to another crop top set. The choice is yours, and you have plenty. From ankle-strap and slingback flats to embellished espadrilles and lace-up shoes, check out our slideshow of stylish spring flats that won't break the bank. Don't forget to check out more trends: gladiator sandals (new and improved!), mini skirts, and how to wear a jumpsuit
You'll Def Want To Wear These Flats All Winter Long #Adorbs
It's pretty tough to make flats look different since there's not that much material to work with. But adding graphics or animals just takes them to a whole new level. And some of them are just down right adorable. Who wouldn't want to rock a bulldog on your feet or show off the mustache trend with some graphic smoking slippers? If you have a favorite picture, or a weird obsession with hippos or something, we can almost guarantee that you can find it on a flat. And we can also guarantee that it won't be ugly either. Let's be honest, it's pretty hard to screw up a flat anyway. And designers are even jumping on the bandwagon with cute flats too. Alice + Olivia made a pair, and Marc Jacobs has a whole slew to choose from. We know that your flats need an update, so here are 15 different ones for you to pick. Click through the slideshow below to see your options. For other trends, check out rippped denim for fall, classic trenches, and fashionable baseball hats
Camo Isn't Just For Jackets & Pants: Shop Printed Shoes Now
It's no surprise that camouflage print is having a major moment. We've seen it on everything from jackets and skirts to sweatshirts and jeans. But for those of you who don't want your outfit to be confused for an army uniform, camo shoes are the way to go. Plus, the style options are endless! Whether you're looking to add the trendy print to your polished look with a pair of heels (a la Rihanna, Beyonce and Katie Holmes) or prefer comfy camo loafers for a day out like Olivia Palermo, there's a pair out there for everyone. Click the slideshow now to shop our camo shoe picks. For more shoe trends, check out: customized UGG's, badass buckled boots, and metallic flats. [Photo Credit: Splash News]
Metallic Flats: The Easier-To-Pull-Off, Less Trippy Version Of The Hologram Trend
Last season's hologram trend proved to be more of a fad diet than a lifestyle change, and the trippy, psychedelic prints are already pretty much over (sorry if you "invested" in a pair of Stella McCartney's!!). Here's the much cooler and quieter cousin of the trend that is taking its place: metallic flats! Gold and silver loafers, drivers, slippers and even sneakers are showing up on the streets, in your favorite catalogs (looking at you J.Crew!) and on the runways of Chloe, Dries van Noten and Giambattista Valli. And now, it's your turn. Check out these 11 brogues, loafers and booties to get your fill of the metallic trend. [Photo: Peace Love Shea]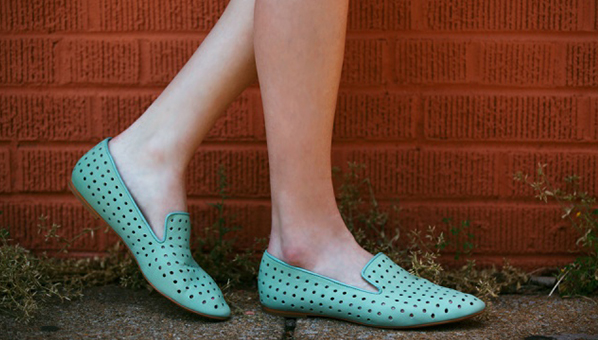 Toes Not Sandal-Ready? Make Perforated Flats Your Go-To Spring Shoe
Been a while since your last pedicure? We can't blame you--our own toes have been hiding snugly in socks and boots for the last seven months, too. But fret not because while you get ready for sandal season, we've got the perfect transitional shoe for you. Perforated flats not only let your feet breathe on warm days, but they also cleverly hide your less-than-red-carpet-ready toes. This spring, brands like Manolo Blahnik, Matt Bernson and Sigerson Morrison are all making perforated flats in seasonally-appropriate bright colors with fun details such as suede piping, studded toes and patterned accents. We can't wait to wear this fun shoe well into summer with denim cutoffs, colored skinny jeans and flirty spring dresses. Shop our favorite perforated flats in the slideshow. Plus, check out other shoe trends we're obsessing over: lace up sandals, open-toe booties, and jellies (yes, really).
It's Official: Jenni Kayne Created A Bonafide Craze With Her D'Orsay Flats
Thanks to Jenni Kayne, D'Orsay shoes are huge this spring. We know you've seen them. Everyone from Jessica Alba to Emma Roberts owns a pair of the pointy toe flat shoes with the sides missing. D'Orsay shoes had been gone for years, but thanks to Jenni Kayne's stroke of genius they're back in a big way. This spring a whole host of designers are following Jenni Kayne's lead with their own versions of D'Orsay shoes. We're talking Vince, Alice & Olivia, Rachel Comey, Jeffrey Campbell, Stuart Weitzman, Corso Como and more! If ever there was a time to test out the cutout shoe trend, this is it. Shop our favorite D'Orsay shoes--both heels and flats-- in the slideshow below. Browse more shoe trends we're digging: rose gold sandals, ikat-print flats, and Charlotte Olympia zodiac shoes! [Photo: Cupcakes & Cashmere]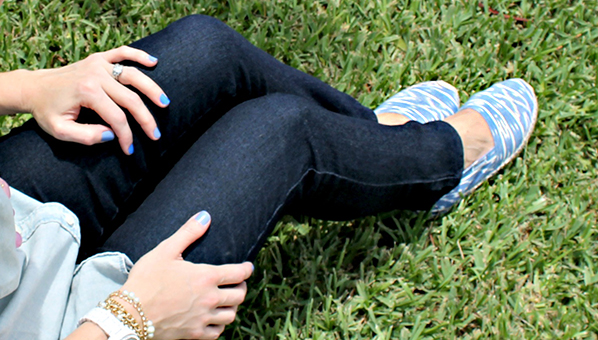 Can't Decide Between Tie-Dye & Tribal? Get The Best Of Both With These Ikat Shoes
We are huge fans of tie-dye and tribal prints for summer. But if you are looking for a trend that's not so over done, give ikat print a try. We love the print on handbags (like these new totes by Stella & Dot), but one of our new favorite trends is ikat patterned shoes. The print is a grown-up version of tie-dye and the patterns range from subtle to super-colorful, so there's a design for everyone.  From ballet flats to espadrilles to wedges, there's a variety of cute styles and prints of ikat shoes. We are convinced these are the perfect casual shoes for spring and summer. Click through the slideshow to shop some of our favorite designs.  [Photo: The Average Girl's Guide] For more spring trends, check out neon jewelry, metallic jeans and silk shorts.
Flash Some Skin–No Abs Workout Required–In Cutout Flats This Spring
Last season, we saw strategic cutouts all over fall clothing--from slivers on shoulders to discreetly baring torso side slits. This season? We're losing sections of our shoes! It all began with Jenni Kayne's doft-copied 'Orsay flats and from there designers like Marc Jacobs, Alice & Olivia, and Alexander Wang have all embraced cutout loafers and flats. So much so, in fact, that it's shaping up to be a less shoe season. But unlike cutout clothing, cutout flats don't require a full workout routine to get everything right and tight. Just make sure your toes are polished and your feet are tanned and you're good to go. Shop our favorite cutout flats in the slideshow. Check our more shoes we love: nautical-themed Taylor Swift Keds, pastel pumps, and Michael Kors' new sneaker collection! [Photo: Always Judging]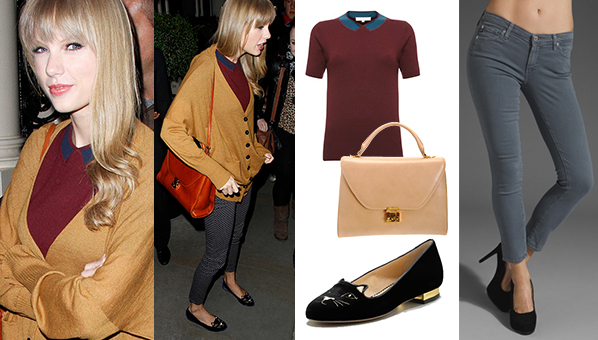 Taylor Swift Dresses Like A School Girl (Teenage Boyfriends Will Do That)
While toting her Starbucks around London, music-superstar Taylor Swift wore an outfit that reminds us of her teenage status in kitty flats and a collared tee. We think dating American royalty, (Robert F. Kennedy's grandson Conor) may be influencing her preppy and oh-so-cute style. With an adorable mock collar jumper (how British of her) and a pair of  Charlotte Olympia Cat-Face velvet skimmers ($695), Taylor looks every part the southern, blond girl running about town. She wears a French Connection Gina Geelong Peter Jumper  ($128) paired with AG Adriano Goldschmied Ankle Legging ($168) and carries all her London goodies in a Mark Cross Scottie Large Satchel ($2,350). Shop her entire outfit and watch the school boys come running! [Photo: Splash News] Looking for more Taylor Swift style? Check out her holiday-approved red, lace dress and her preppy Ralph Lauren look.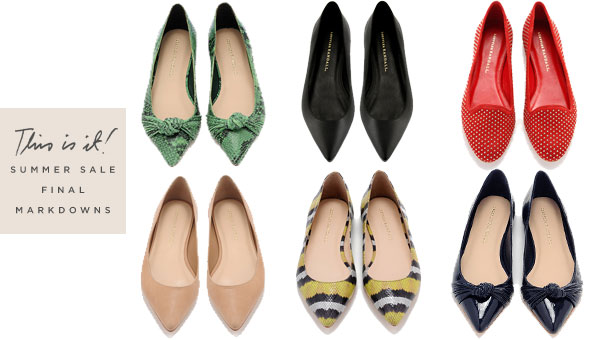 Loeffler Randall Knows Your Feet Are Aching Already: Shop The Flats Sale!
New season, new shoes, which means lots of blisters to go along with them. We propose giving your aching feet a break, post-Fashion Week. Get on trend with fall 2012's best flat shoe trend: pointed toe flats. Loeffler Randall must have heard us griping from our office, because now there's a whole slew of them on sale, from Loeffler Randall's Quinnie flats to a bunch of other styles that are classic and as close to perfect as you can get. Grab a pair before your size is gone! Shop more sales and deals, get in on fall's best trends with our comprehensive fall preview, and finish off your wardrobe with a new pair of skinny jeans, the best booties this year, and leather jackets that only get better with age.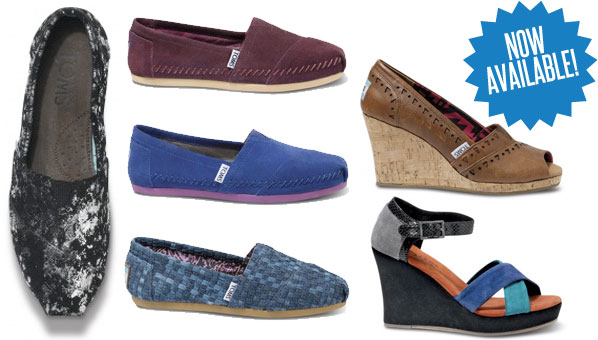 TOMS' Higher-Priced Line Quietly Launched: Let's See What $140 Gets You…
A few months ago the blogs were a-flutter with news of TOMS' plans to launch a higher-priced line, called TOMS+, but it turns out the luxe 12-piece collection quietly launched this morning without so much as a whimper. Weird. Anyway, after the brand's successful collaboration with The Row, we knew the folks over at TOMS  had a hint of luxe in them. While some of the shoes are exactly what you'd expect from the original "buy a pair, give a pair to someone in need" company -- canvas slip-ons with pleated cap toes -- other designs take on a whole new silhouette. The Cobalt Montage Strappy Wedges just might be the be-all-end-all summer-to-fall transition wedge, and the Denim Slip-Ons could replace your ratty loafers as your wear-with-anything flat. As expected, prices range from $104 to $140. Though WWD originally reported that TOMS+ would be available at Neiman Marcus, Bergdorf Goodman and American Rag, it looks like each retailer only picked up a few styles. We've rounded them all up in the slideshow above. Looking to build your shoe closet? Find out which seven shoes every woman should own, how to rock the needlepoint footwear trend, or get your paws on the swoon-worthy Kenzo x Vans collaboration.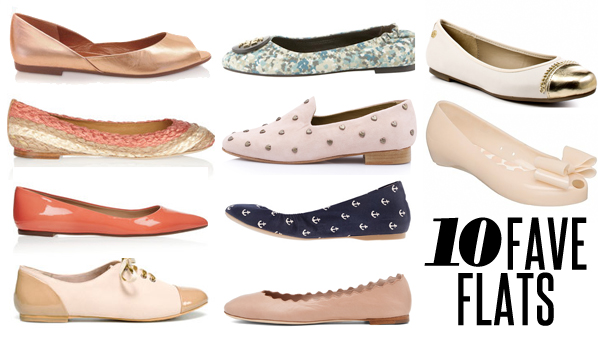 The Best Flats Of The Season: Stop Changing Your Shoes On Street Corners
As much as I love a sky-high stiletto, I am and always have been a flats girl at heart. I mean...cute shoes that don't make me want to amputate my feet? It's a win-win for everyone, my toes included. CHECK OUT THE SLIDESHOW! This summer, I'm loving flats in all shades of neutral--especially tan, beige, gold, and silver. Check out the slideshow above for my fave flats that will look great with everything--from jean cutoffs, to flirty dresses, to silky pants and more. Want more? (Us too). Shop our guide to more flats, or check out the next best thing--wedges or espadrilles!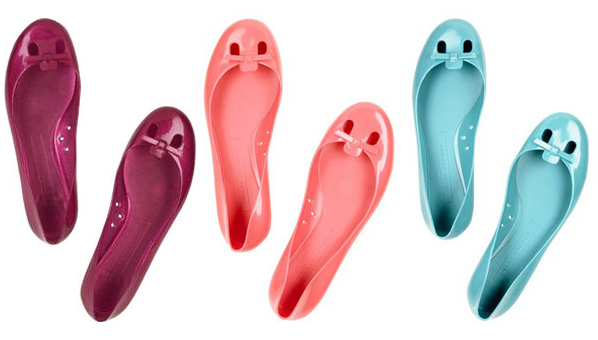 Jelly Flats Are Back! And A Welcomed Open-Toe Alternative To Rain Boots
Even in the rain, a fashionista must look stylish. In fact, it's an excuse to rock the cutest rain gear out there and we have you covered. But when it's hot and muggy, the last thing you want to do is don a big rubber rain boot - don't get me wrong, we LOVE our Hunters - but in this weather? No thanks. What's a girl to do? Meet the jelly flats. A combination of a rain resistant shoe, a childhood memory, and a ballet flat the jelly flats will let your feet breathe easy and bring about nostalgia over the days of jelly sandals worn at (well, in) the pool and ocean. The perfect worry-free show, the jelly is a no brainer. Although it may not be the most stylish thing you own (it has the ugly cute thing going), we promise it will see much wear this spring and summer. Plus, if Jason Wu, Marc Jacobs, and Missoni designed some of our picks, then we really can't argue with the fashion moguls. TAKE A WALK DOWN MEMORY LANE Don't forget to shop our guides to the most stylish rain gear out there, bold stripes, and ballet flats
Shop The Tory Burch Private Sale An Hour Early: HURRY!
Tory Burch is a hot commodity. So much so that even her ex-husband is trying to rip her off with his new fashion project. It's rare that her prices go down to 70%, but once in awhile she likes to treat her fans. Which is why the Tory Burch Private Sale happening now is big, big news. Go crazy and don't feel bad about it. We got you early access--a head start by one hour - so better hustle! See more sales and deals, best find of the day picks, celebrity style looks, and of course, all of the latest fashion news.
TOMS Is Launching A Higher-Priced Line — TOMS+ — This August
TOMS is proving to be more than just a one-note; since last year, they've diversified with ballet flats,  a collaboration with the Olsen twins, and the launch of sunglasses. Now they're adding a higher-end collection of flats to their roster this fall; according to Racked, the company will launch TOMS+ in August, which will retailer for $100-140 and sell at Neiman Marcus and Bergdorf Goodman. Founder Blake Mycoskie told WWD's Footwear News: We've spent a lot of time creating this line, picking out premium materials and using different design techniques. We can't wait to see what $140 TOMS will look like! In the meantime, shop the TOMS bridal collection, including these uber-popular crochet pair.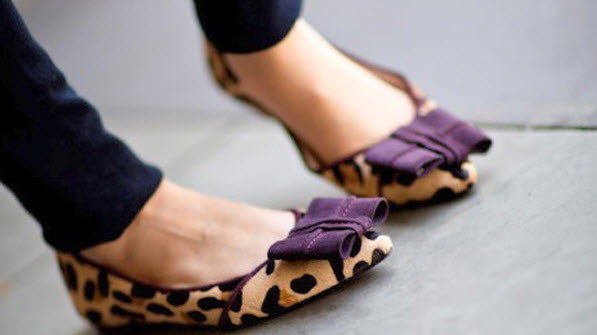 Skinny Jeans + Ballet Flats Go Together Like Peanut Butter And Jelly: Get 'Em On Sale
Great, now I really want a PB&J sandwich. Anyway, it's true: what would we wear during springtime if not jeans and flats? Without them, we're completely lost, so we found a few good pairs of each--all on sale--so you don't have to have that "HOW MUCH!?" reaction during checkout while bulking up your wardrobe this season. Yep, we're that nice. Pay us back by sending some comments our way - which are your fave pairs of jeans? Flats? Or are you more of a heels girl? We want to know! SEE MORE FLATS ON SALE SEE MORE SKINNY JEANS ON SALE See more of the best sales and deals, trends we love and upcoming collaborations you need to know about.
7 Pairs Of Festive Flats That Practically Do All Of Your Holiday Celebrating For You
I love me some festive flats: not only do they dress up all of my regular old little black dresses for the holidays, but they also look super cute with jeans and black pants. Win-win. Here, I've rounded up my favorite 7 pairs so you can jazz up your own look without shelling out too much dough. (more…)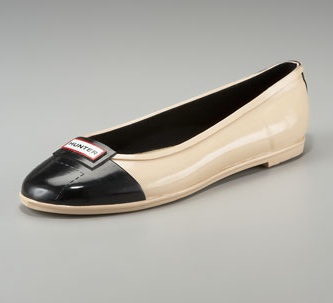 These Hunter Rain Flats Look Suspiciously Similar To These Marc Jacobs Ballet Flats
From left: the Hunter flats ($98) and the Marc by Marc Jacobs flats ($158.94, down from $195) Hunter (the infamous rain boot company) came out with a line of water-resistant ballet flats that look eerily similar to these Marc by Marc Jacobs flats (right).  But let's address matters one at a time: Hunter makes ballet flat rain shoes?! When did this happen? Well, we must have been living under a rock, because apparently they've also come out with really adorable Hunter Boat Shoes, too. But onto the next point, their waterproof ballet flats look strikingly similar to these Marc by Marc Jacobs flats, which happen to be on sale here at Endless.com (Get 'em while they're hot, though---a little birdie tells us there are only 2 left in stock). But copycats aside, both shoes are well under $200, so why not just buy both and use them interchangeably pending the weather forecast? Shop these, and two other styles of Hunter flats right here at Bloomingdale's. Be sure to check out all of our posts on Rain Boots, as well as our buying guides on Stylish Rain Boots and the Best Rain Gear.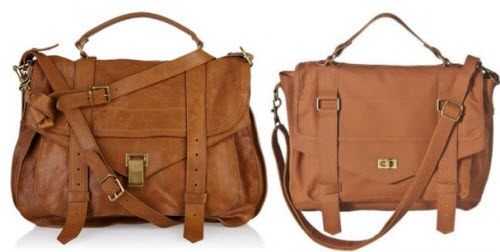 Target Copies Proenza Schouler's PS1 Bag–But What About All The Other Fashion Copycats?
Proenza Schouler's PS1 bag at Net a Porter vs Mossimo's satchel at Target. Target's newest messenger bag, by Mossimo, looks just like the uber-coveted Proenza Schouler PS1 bag and Proenza Schouler is not happy. Granted, they're not exactly the same, but close enough where Target's are all sold out. Nobody has sued just yet, like Burberry or Juicy Couture, but we'll keep you posted. In the meantime,we've rounded up the best knockoffs we've seen lately. (more…)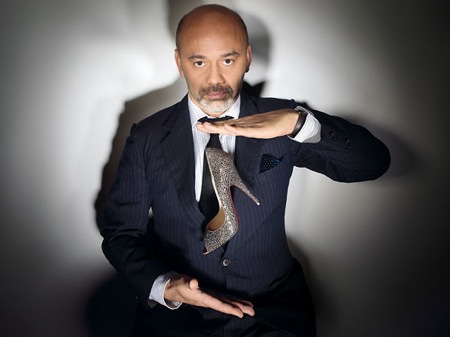 Christian Louboutin Hates Flats (7 Sky High Heels To Shop Now If You Agree)
While Kate Middleton is wearing flats down the aisle, not everyone is a fan of the comfortable wedding shoe style. Christian Louboutin, whose made his fortune on back-breaking heels, is not surprisingly one of them. The designer recently told the New Yorker, "'I HATE the whole concept of comfort!" Meow. If you're with Christian, and think style trumps comfort any day of the week, especially the wedding day, check out these sky high styles we found, which are so sexy, they're practically shoe porn: (more…)
Can You Spot Which Moccasins Cost $495 Less Than The Others?
Keep yourself guessing with all of our Taste Tests. Shop our guides to the best flat shoes and the best flat sandals. Subscribe to our e-mail list for exclusive SHEFinds updates.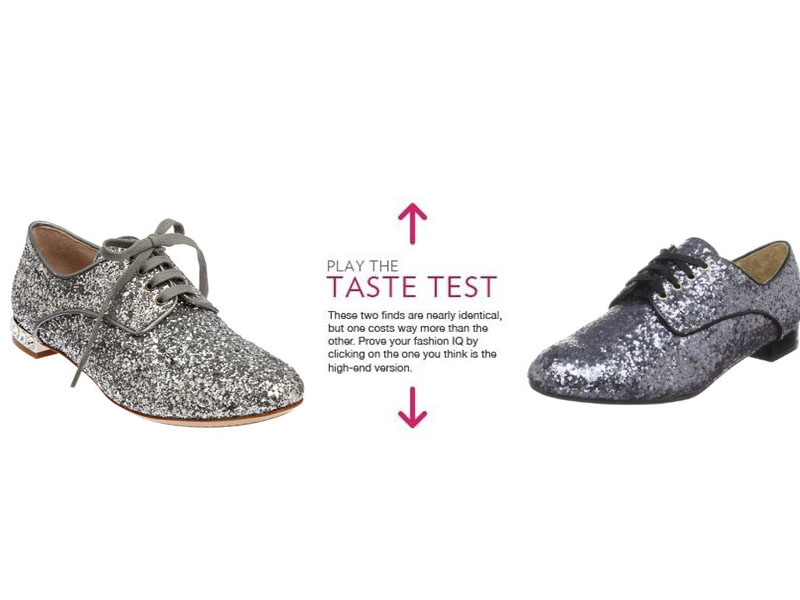 Can You Guess Which Glitter Oxfords Cost $390 More Than The Others?
Guess more designer lookalikes with all of our Taste Tests. Shop our guides to the best oxfords and the best comfortable shoes. Subscribe to SHEFindsMail for exclusive updates.
Valentine's Day Is Actually Just A Really Good Excuse To Treat Yourself. Why Not Celebrate Early?
The best part about being single on Valentine's Day is you don't have to blow your paycheck on a video console for a guy. Instead, use the spending money for something you deserve. Here are some indulgent ideas. After all, you deserve it. Be sure to check out all of our favorite gifts. Shop our guides to the best platforms and the best leather jackets. Subscribe to our e-mail list for exclusive fashion updates.
Rodarte For Opening Ceremony: The Black Swan Designers Enter Even Hipper Territory
Even though they sell $500 socks, and give questionable names to their beauty products, we love Rodarte. The Mulleavy sisters always deliver, so when we heard about Rodarte for Opening Ceremony - we were intrigued. Now that Opening Ceremony has the capsule collection online, we can't resist: Shop our guides to the best leggings, the best sheath dresses and the best sexy underwear, earrings, party shoes. Follow the author of this post on Twitter @bridefinds.
Flat Wedding Shoes To Take You From The Aisle To The Late Night Dance Party
Whether you are taller than the groom or don't want your feet to throb during your big day, flats are the way to go. You'll have enough to worry about that day than to have achy feet, blisters and back aches from sky high heels. Slip into one of these instead: For more great deals on all things wedding, follow BRIDEfinds on Twitter and check out our guides to inexpensive wedding dresses, cheap wedding invitations, and even more inexpensive wedding shoes. Follow the author of this post on Twitter @bridefinds.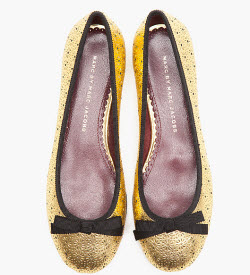 Pretty Shiny Things On Sale: Marc by Marc Jacobs Gold Flats Are 40% Off
New Years is over, but 2011 is still paved in gold: that is, metallics are more on-trend than ever. Pair these Marc by Marc Jacobs Love Gold flats ($165, from $275 with code ACTNOW) with black tights and a cute skirt, or a pair of black pants and you've got yourself two instantly cute looks. Wear 'em with skinny jeans come spring, too--they're seriously versatile, and 40% off. Here's to a new year filled with lots of sales and deals. Follow the author of this post on [email protected] Check out all of this week's online sample sales, leopard print shoes, pumps and little black dresses.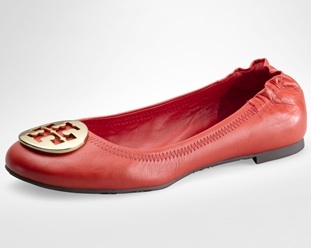 Holy Tory Burch Heaven: 30% Off Reva Flats Today
Anybody who knows me knows that I have a soft spot for Tory Burch. I've been on the Reva-train since they first came out, and I am still loving them more than ever. So, when I say that Reva's rarely go on sale - I mean it. They also make the perfect gift - every girl loves Tory. So, Merry Early Christmas, folks, these styles are 30% off today: These colorful Tory Burch Afrikan Reva Ballerina Flat ($118.00, down from $235) are about to sell out - if you're a size 9 or know someone who is, move fast. These Tory Burch Katie Glitter Ballet Flat ($175, down from $260) are my personal favorites - you will LOVE the glitter toe and leather knot detail. These Tory Burch Quilted Nylon Reva Ballerina Flat ($165, down from $235) are the ultimate preppy pair - the perfect gift for any lady in your life you wears pearls on a daily basis. They are also timeless and will never go out of style. For the exotic-skin lover in your life (or you), grab a pair of these Tory Burch Snake Print Reva Ballerina Flat ($165, down from $235). Niiiice. See what else we're wearing this season with all of our winter trends. Shop our guides to the best coat trends, the best jackets, and the best military jackets. Subscribe to our online mailing list for SHEFinds in your inbox. Follow the author of this post on Twitter @bridefinds.
Get Off The Naughty List: TOMS Gold Herringbone Flats Come With Good Karma
From the Ugg Lynnea clog booties to the Tory Burch flannel Reva flats, our Holiday Sold Out list is full of must-have footwear this year and here's one more:  these TOMS Gilded Herringbone shoes ($54) are a brand new style that have a good shimmery finish that makes them dressier than most TOMS shoes. An added bonus to picking up these babies is that for every pair of TOMS you buy, TOMS donates a pair of shoes to kids in third world country. So, even if you've been on the naughty list all year, you can get more than a lump of coal. For more gift ideas, check our holiday sold out list, then check out the perfect gifts for your party girl friend, your reality-TV obsessed friend and your man. If you're still stumped, hit up Part 1 of Oprah's Favorite Things for 2010. Then see all of our sales and deals, best find of the day posts, and online sample sales, too.
Sienna Miller Shows How To Fake A Pulled Together Look For Thanksgiving Travel
There's not much you can do about the impending turkey-hungry crowds that will materialize in airports everywhere this week, nor can you deflect much of the familial awkwardness that will likely ensue at the Thanksgiving table. But you can control your outfit. Channel Sienna Miller's breezy travel style and we promise at least the ride to your destination will be a tad more tolerable. Feeling antsy about seeing the family? Just remember, you can block your grandma from Facebook, but Sienna can't prevent hers from picking up Us Weekly. We can't copy her Zen attitude but--consolation prize!--here's her look for less: Follow the author of this post on Twitter @shefindseileen. See more celebrity style posts, plus our shopping guides to the best skinny jeans, cardigans, earrings, belts, cashmere, sunglasses and handbags.
Channel Your Inner Schoolgirl: Steve Madden Oxford Shoes Are Up To 40% Off Today
Everyone from Taylor Swift to Alexa Chung has been loving Oxford shoes, and we can't blame them. They are the perfect in-between-seasons shoe (better than boots, and warmer than ballet flats). If you've been wanting to try the trend, but don't want to break the bank doing it, today is your day: Steve Madden Oxfords are up to 40% off today. Yay: My personal favorite are these Steve Madden Tuxxedo Oxfords ($69.95, down from $79.95) in this rich, cognac color which goes with everything. For a laceless version (so on-trend) try these Steve Madden Tastee ($47.97, down from $59.95). The Steve Madden Tuxedo Oxfords ($52.50, down from $70) are even cheaper in black - and tres chic. We are also loving these grey-ish Steve Madden Jezebell ($59.95, down from $99.95). Grey is so hot this fall - how can you resist? For more amazing shoe suggestions, check out our guides to the best over the knee boots, boots under $100 and leopard print shoes.
Marni's Vintage Line Takes Its Best-Selling Pieces Out Of Retirement
No more fashion regrets. Luxury Italian line Marni has re-released a collection of vintage pieces, and now you can buy them. So if that runway skirt you wanted a few years ago sold out, get it online. But hurry--they're only available until December 2! Check out two of my favorite vintage Marni picks below: 'Gorgeous' is a mild term for this Marni Vintage Short Sleeve Top ($760). The contrast makes it stand out, without being too flashy.  And we love these Marni Vintage Calfskin Boots ($910), which are totally perfect for right now--albiet maybe not for your budget. But if vintage isn't your thing, go with these new Marni styles that are on sale at YOOX: Try this Marni Sleeveless Top ($215, down from $230) under a blazer for an all-season look. Since we're all about versatility, grab these Marni Ballet Flats ($225, down from $240) in nude and wear them with literally any kind of bottoms, any time of the year. Don't miss a minute with all of our fashion news. Shop our guides to the best flat shoes, the best evening tops, and the best high heeled boots. Join our e-mail list for exclusive updates.