Flip-Flop Favors From $0.97 At Old Navy — I'd Say Pull The Trigger, Girl
Giving flip-flops as favors to guests is really one of the best gifts you can give them: after standing for hours in fancy shmancy shoes, all your female guests want to do is kick off their heels by the dance portion of the evening. Old Navy is one of the best places to get them (BRIDEfinds editor Justine loved hers), because they are perfectly priced and come in a wide variety of colors. (more…)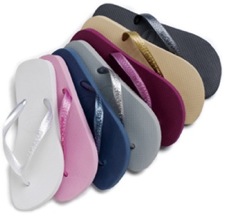 50% Off Havaianas And Personalized Guest Favors At The Knot Wedding Shop
The Knot Wedding Shop has an ongoing selection of sale and clearance items, but today they have an item I wish I'd seen for my wedding: 50% off Havaiana flip-flops in a ton of great colors. Other favors - like personalized candy bars and crystal "Team Bride" tanks - are also marked down. (more…)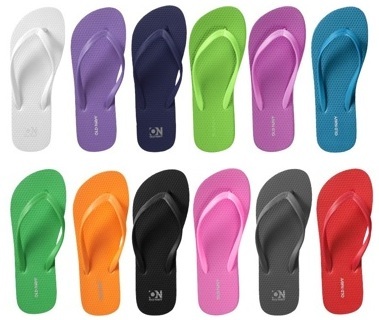 35% Off Any Old Navy Purchase… I'm Thinking It's Time To Buy Those Flip-Flop Favors
I gave out Old Navy flip-flops at my June wedding, and I can't tell you how useful they were. Not only did they protect guest's heels from digging in to the mud, but they also got a lot of people with uncomfortable shoes up and dancing. Plus, this relatively cheap favor goes a long way, because guests can/will wear them long after the wedding. Luckily, Old Navy is having a major blow-out today; get 35% off all Old Navy purchases with code BRONGAP35. Shop our guides to the best long bridesmaid dresses, satin wedding shoes, and inexpensive wedding shoes.
Make Your Own Havaianas = The Best Guest Favor Idea Ever
Today, Havaianas launched Make Your Own Havaianas today and we are psyched. The customizable sandals are perfect for matching your color scheme with guest favors, or choosing one-of-a-kind sandals for your bridesmaid gifts. How it works: there are 15 foot bed colors and 15 straps to choose from, plus 35-40 different pins, including the letters of the alphabets and shapes like hearts, stars and skulls. MYOH are $25 plus $2.50 for each pin. Shop our guides to the best wedding jewelry, lavender bridesmaid dresses, and outdoor wedding dresses.
Real Wedding Find: 90s Neon Sunglasses That Make For A Very Memorable Dance Party
Name: Kirsten Halle & Henry Warnock Location: Bride's parents home, Stevenson, MD. Best find: Customized 90s neon sunglasses. (more…)
Havaiana Launches A Bridal Collection Fit For Destination Weddings & Bridesmaid Gifts
Havaiana Bridal is here, and although there aren't aisle-friendly styles, this collection is perfect for bridal party gifts and getting ready. If your "Team Bride" is getting decked out - hook them up with these slim crystal styles, like Ivanka Trump and Nicole Richie did. (more…)
Real Wedding Find: Sweet Treats & Practical Favors That Keep Guests Happy
Name: Margaret & Todd Muhlfelder Wedding location: Abigail Kirsch at Tappan Hill, Tarrytown, NY Best finds: Pink pashminas and flips flops to keep guests warm and comfortable; candy-filled mason jars with custom labels. (more…)
Sneak Peek: Get Ready For Bikini Weather With Banana Republic's New Luxe Leisure Line
Banana Republic is one of those stores you can go to and almost always find something you love. And starting in March, the odds of you walking out the door with a great find will increase thanks to Banana'a new Luxe Leisure line. The line is sort of like a resort collection and will include swimsuits, tunics and other lightweight beachwear. Here's a sampling of what's to come: Sadly, the line will only be available in select stores, so if you're looking for some stylish resort-wear, check out these vacation-ready finds. This pretty twist front bandeau bikini is available up to a D cup. This bright caftan is the perfect cover-up for lounging poolside. Need a chic pair of sandals that will take you from the beach to the boardwalk? Found them. Shop more great bathing suit styles and sandals in our buying guides.

Runway's Designers Take a Shine to Working With Sparkle
This week's episode saw the designers blinging out over-the-top stage costumes for pop star and guest judge Christina Aguilera. We had legendary costumer Bob Mackie extolling the virtues of the diamond-encrusted crotch and we got to hear the words "super sexy slut" come out of Tim Gunn's mouth. Nicholas, the self-named Feather Prince, was all in a tizzy for this challenge. His top-three look—a white feathered ultra-minidress— was perfect for on-stage hip shaking. Get the same effect with Sue Wong's ostrich feather party dress. Althea ramped up the glamor with a long-trained sequined gown. Her chevron pattern was praised for being super flattering; you can get similar waist and booty accentuation with Alexia Admor's sequined dress. This week's winner, Carol Hannah, played with texture, layering sequins, feathers, and varying panels of shiny and matte fabric on an elegant black gown. Choose depth and dimension over wow-factor color with a textured sequin and tulle gown from Badgley Mischka. Shirin's stuffy, ruffly "upscale witch costume" earned her a "boring" critique and got her a one-way ticket home. Christopher, who's on a surprising losing streak, redid Christina's Moulin Rouge look, complete with a sorry-looking bustier and sparkle panties. If you haven't had your Lady Marmalade moment yet and have been longing for shinier knickers, try out American Retro's sequin shorts. For more dressy looks, shop for a cocktail dress, and then top it off with a swipe of the best mascara and eyeliner.
News: Madonna's Photoshopped By Vuitton Again, Twiggy's Back At Olay, And More
1. New pictures from Madonna's ongoing Louis Vuitton ad campaign have come out, and she's just as photoshopped as ever.  We'll skip the Vuitton for other celebrity-approved handbags, thank you very much.  [fashionologie] 2. Who needs America's Next Top Model?  Sixties icon Twiggy will be the face of Olay, a job she also held in 1985.  If Olay's not your fave, we highly suggest Kiehl's.  [Daily Mail UK] 3. Apparel firms such as Guess are keeping a close watch on Honduras, where a military coup just took place.  Honduras is the fourth-largest apparel supplier to the U.S., but we'd rather find goods made close to home. [WWD] 4. The first photos of Project Runway winner Leanne Marshall's line for Bluefly have been released.  If these are too pricey, plenty of cheaper options are just as colorful. [Racked]
How To Buy: Swimsuits for Bootyliscious Babes
Picking the right bathing suit style for your shape can seem like an insurmountable task. Should you pair a dark-colored top with a light-colored bottom? Should you match a patterned tankini top with a solid-colored sarong? Should you just scrap the whole summer and stay indoors? With more and more designers throwing their hats into the swimwear ring, and with good old technology brining us figure-fixing fabrics galore, it's tough to feel like you're making the most informed decision. So let SheFinds break it down for you, with a list of shopping goals, shape-enhancing solutions, and a few foolproof picks of our own. Today, we'll focus on the pear shaped ladies out there. If you're smaller on top with a little extra padding around your hips and bottom, you're considered pear shaped. When picking a figure-flattering and confidence-boosting swimsuit, consider these goals: • Balance out your proportions • Give your bust a boost • Cover up without going overboard Solution 1—Let their eyes play tricks on them: There are a few illusion-creating tricks to making your top half match your bottom half proportionally. First, you could choose a suit with a high, horizontal neckline. This will make your shoulders appear broader. ShapeFX's high-neck tank ($39) pulls a double whammy of widening your top half and minimizing your lower half with a slimming white and black contrast. You can also be strategic in pattern-picking. Keep the eye moving by pairing a busy patterned top with a darker, solid colored bottom, or opt for vertical stripes that create the look of an hourglass figure. Gottex's Iris one piece ($168) is a veritable optical mastermind: bright, busy violet-colored flowers draw the eyes upwards, while slimming stems come down and to a point, giving the illusion that you're actually an inverted triangle shape. Get a little extra coverage from Gottex's matching Iris pareo ($158), a lightweight option that won't weigh your look down. Solution 2—Pump up the volume up top: Have you always yearned to use the line "Um, my eyes are up here"? Give the girls a lift with help from the bust-boosting masters at Victoria's Secret. Mix-and-match their Miracle Bra push-up tankini top ($44) in a bright, eye-catching scroll pattern with booty-downplaying high-waist bottoms ($28) in solid chocolate. Or make the most of your minimal chest: wear a bandeau top that more top-heavy girls couldn't dream of pulling off. Calvin Klein's yarn dyed striped bandeau ($68) adds virtual volume by stretching horizontal stripes straight across your chest, while matching Perfect Fit bottoms ($52) in basic black downplays your derriere. Solution 3—Balance concealing and revealing: Finally, you may feel most comfortable with a little extra fabric to hide your figure flaws. But that doesn't mean you have to wear a bulky, old-fashioned swim dress a la grandma. Pick something with a retro vibe and just enough coverage, like Anne Cole Swimwear's Mio one-piece ($118). It covers your rump enough to keep you from feeling over-exposed, but it doesn't attract attention where you don't want it. Remember: more fabric equals more volume, so frilly skirts or boy-cut bottoms aren't a good idea. Check out Spanx new line of swimwear, then see other bathing suit styles that will work for your figure.
Solution: Soothe Your Itchy, Dry, Sunburnt Skin
There are hundreds of folk remedies for dealing with sunburn, and everyone you encounter seems to have a tried-and-true favorite that trumps the rest. But one thing everyone can agree on is that once you take the initial sting off, moisturizing is of the utmost importance. Use one of these heavy duty body creams rich in soothing ingredients to keep redness to a minimum, prevent painful tightness, and stave off that icky peeling phase for as long as possible. Best for Always-Outdoor Divas: Though it may sound more like a pizza than a prettyfier, Mega-Mushroom Body Cream by Dr. Andrew Weil for Origins ($45) means serious business. Packed with a signature blend of exotic mushrooms (try saying "hypsizygus ulmarius," "reishi" and "cordyceps" five times fast!) and skin-imitating lipids, this cream from the Plantidote line combats all the outdoor toxins that are at war with our skin. Slather this on and say adios to damage caused by sunlight, pollution, weather, detergents, perspiration and friction. Best for Exotic Eco-Friendlies: The best thing about Shea Terra's all-natural body products is that the entire lush line serves a double purpose. The rich, silky Miombo Mango Indigenous Silk & Shea Butter Lotion ($18), for example, soothes your burn with sweet-smelling mango from the Miombo forest in Central Africa. Sales of the indigenous mangos are keeping the forest—home to endangered elephants and exotic birds—from being torn down by foreign logging. Win win! Best for Bargain-Minded Burners: In that long list of household items that soothe sunburn, milk is almost always at the top. Why not pull a double-whammy on your bummer of a burn by hitting it with milk and moisture in one fell swoop? SkinMilk Body Cream ($6) comes in a huge tub and is packed with skin-softening vitamins A, D and E on top of real milk proteins. As the saying goes, milk does a body good, and that includes your sunburnt skin, too. Avoid the scorching sun altogether with products from our Guide to the Best Self Tanners.
Carasol Parasol Saves You From The Sun – But Do You Have The Guts To Walk Around With One?
We all know them. The tanorexic. They're slightly orange and never too far from a tanning booth. And as middle age approaches, that sun worship turns their once admirable complexions to a leathery debaucle. At best, they have more wrinkles than their sun-screened counterparts. At worst, they develop skin cancer.But now a new sun-saving alternative has hit the market. Straight from period films and Gone with the Wind, the Carasol Parasol is a throwback to the days when pale skin connoted high economic status and desirable beauty. Now, it mainly just denotes someone who is willing to stand out in their attempts to avoid UVA and UVB rays.The Carasol Parasol is designed with UV blocking fabric in ultra-girly styles. Stylish and smart? Definitely. Really something I'd ever use? Probably not.Because, frankly, while I think this is a good idea... I couldn't actually imagine using it regularly. As I took it out for a spin in the city, numerous people turned their heads upward, looking for the imaginary rain. Others stared. I felt awkward and kind of weird. Maybe on a beach or on a vacation... but on the streets of New York, the Carasol Parasol made me feel a tad out of place. For those of you who are braver than me, the Carasol Parasol is available at www.carasolparasols.com and costs between $85 and $325.What do you think of this new way to battle the sun's rays? Would you sport a parasol around town? Let us know your thoughts in the comments section below.
News Updates: Siriano Pops Up At Bluefly, Hayden-Harnett Next At Target?, And More..
Christian Siriano's first collection arrived at Bluefly.com yesterday. Shop the fierce designer's duds now, and check back in with SheFinds later today for our review of the line. [Racked]Rumors are circulating that accessories brand Hayden-Harnett will be the next designer to collaborate with Target on a discount line. Shop Target now for the much anticipated Botkier bags (although we didn't think they were so hot). [WWD]Jessica Simpson is adding a dress collection to her massive apparel brand, which already includes shoes, accessories, swimwear, and lingerie. What do you think of the Jessica Simpson line? [CatwalkQueen]According to a report from DeBeers, diamond sales for the first half of the year grew significantly. Could the diamond be recession-proof? [Portfolio]
Only 1 Day Left To Win A $200 Shopping Spree At Julia Bristow Jewelry
Sure, it's nice to pine over astronomically priced, luxury designer accessories, but we all know most of us will never be able to afford them in our lifetimes. And when we find amazing boutique designers like Julia Bristow, we think, why would we want to spend all that money anyway when we can own unique and beautiful gems for a fraction of the price. Or even for free! This week, SheFinds is giving away a $200 shopping spree at Julia Bristow Jewelry. To enter, go to the site, pick out what you'd buy if you won, and then come back to SheFinds and post about it. So far, our readers love the Pink Quartz necklace, the Fertility bracelet, and the entire Nature's Presence collection. You have one more day left, so let us in on your favorite for a chance to win.
Be Sporty, Look Good, And Protect Your Skin When Working Out In The Sun
I'm a runner and there is no better time than summer in Chicago to put the miles in outdoors. However, leaving the treadmill behind means I need to upgrade my athletic routine to include a few more things. Here are my favorites for getting the most from my outdoor workouts. IM Active Hair Accessories: I love the Activehold Tough Tread Head Wrap ($8) and the Activehold Sport Clips ($6) because they don't slip out of my fine hair. Each has a tactile rubber tread that gently grips hair to prevent slipping but doesn't pull. Beyond Coastal SPF 30 Lip & Face Screen ($7): Here's another water resistant product that will protect your lips while hydrating and moisturizing. It goes on clear, unlike some of the other heavy SPF lip balms that leave your lips white. Oakley Polarized Ravishing Sunglasses ($177): The glasses are a perfect blend of fashion and function, ensuring that you aren't sacrificing style for science. The oversized lenses are polarized and tinted to protect your eyes by blocking out 100% of UVA, UVB and UVC light, while still giving you celeb-ready coverage.Also check out our review of the Footloose Running Dress for a chic alternative to shorts and a tank.
Design For All? Target Misses The Mark (Again) With Botkier
Once upon a time, someone at Target hit on a brilliant idea: bring in mid-range accessories designers and have them design a bag (or bag and shoe) line for the people. But this story doesn't have a happy ending.It would be unrealistic to expect a $50 handbag or $30 shoes to be on par with their $600 and $300 counterparts from the designers' regular lines, but Target's proven that cheaper doesn't necessarily mean ugly. eBay buyers are still hunting down Devi Kroell's oversized Target totes (famously carried by Anne Hathaway, above). As the owner of the structurally perfect Trigger bag from the designer's regular line – which, by the way, was bought after massive scrimping and saving – I had hopes that Monica Botkier's collaboration would be more like Kroell's and less like the sad-sack offerings from Loeffler Randall and Hollywould. Sadly, she goes where the latter designers have gone before. The gold and silver crackle bags look dull, and the crackle from the handle immediately came off on my shoulder. The PVC shells of the fuschia hobo and black satchel feel unbreathable, as if carrying one while wearing a cami will result in a blister. The python embossing looks like shiny, happy plastic (come on, Target, we know you can do better). One accidental flick of my nail, and the embossing started to peel off. And in real life, the goldtone clutch has clashing, plasticky gold accents.Target should give its customers something affordable, revelant, and attractive – these bags fail on all three levels. And while I can't speak to their durability, I can tell you that my Loeffler Randall for Target clutch lasted one outing before the attached rosette started to unravel.Now we're all about finding a chic handbag for less - but we think sites like Urban Outfitters and Nine West usually offer better quality goods than the latest crop from Target. Have you seen the new Botkier bags for Target? Have you bought one? Tell us what you think of them in the comments section below.
Deal Of The Day: 50% Off Flats At Shoes.com
There's definitely some digging to be done at the Shoes.com sale, but we think the three pairs below were worth clicking around for. The contrast stitching and soft grey color make Rafe New York's Carly Flat ($147.50, were $295) casually elegant. These pink leather flats ($111, were $222) would look perfect with a pair of white jeans. Anne Klein's Gwen Flat ($137.50, were $275) is definitely polished enough to wear to work – and complements a red pedicure nicely. More frugal finds this week: Get an additional 10% off all sale items at Pink Mascara with coupon code HOTSUMMER. Up to 55% off casual summer staples at Armani Exchange.From the SheFinds Forum: Up to 70% off at MeghanShop.com
Oregon's Got Style – And Eco-Sense, Too
Since we know how important environmentalism has become, SheFinds tries hard to bring our readers the best of eco-chic design. We can't think of anything better than looking great while knowing you're doing good. So when this month's Travel + Leisure magazine chose the city of Portland's eco-fashion scene as the reason to visit Oregon this year ("50 Reasons to Love the U.S.A. Now"), we figured we should follow suit and check out what green design looks like out in the Northwest. Here are some of the new names that their reporters sniffed out (and since not all of you live within driving distance of Portland, we've also done some sleuthing--to make sure you can get all this gorgeous stuff online):Anna Cohen. With their "Italian street couture" look and environmental grounding (you won't believe the brilliant and cotton-soft materials she uses, including hemp and bamboo), Cohen's dresses have been wowing this year. We love the Soy halter dress (was $281, now $84), a fresh take (and fabric) on the classic little black dress. Suzi Johnson. Her cashmere sweaters, dresses, and even bikinis are hand-loomed from organic Tanzana cotton. This off-the-shoulder tunic ($446) is comfortable enough to wear while you lounge around the house--and hot enough to show-off on a night out with the girls. Julia Barbee. For the Frocky Jack Morgan collection, Barbee bedazzles vintage finds, adding sparkle and flair--and recyled material--to her wares. This Green Leaves necklace ($73) combines vintage charms and found objects to create a unique, whimsical accessory that will get lots of attention at the office. In fact, it'd go great with the above off-the-shoulder tunic!
Taste Test: Which Metallic Handbag's Price Tag Outshines The Other?
Both of these bags will add some sparkle to your evening outfits – and both can be carried as is, or folded over for more compact carrying. But one costs more than five times the other. Can you spot the steal? Click on the images to find out the actual prices. Test your Fashion IQ with other Taste Tests.
Good Question: Where Can I Find A Portable Purse Hook?
From A SheFinds Reader: I mentioned that purse hook for restaurant tables to a group of women, and now they all want one! Where should I send them?We don't blame them – these things are ingenious. The small metal contraptions are tiny enough to stick in your bag, and strong enough to hold it while you're enjoying your meal, worry-free. Just set the flat part on top of the table so the metal hook hangs down, hook your bag to the bottom, and be done with it. The Glam Rock Stud Purse Hanger (left, $30) is almost chic enough to qualify as an accessory by itself. Somehow, it can hold on to a big bag even if only half of the studded square is anchored to the table. Find other Glam Purse Hanger styles at FashionBliss.com. The Purse Hand (right, $25) performs similar feats, and you can create tons of color combinations by customizing your own hook at PurseHand.com. And we loved Purse Pal's pink ribbon design, which puts some of your cash towards a good cause.Take a look at our past coverage of the purse hook trend for even more options. For chic and budget-friendly purses that will put these gadgets to good use, check out our Guide to the Best Bags Under $250.
News Updates: Siriano's Hair Helps Prolong His 15 Minutes, Gucci Taps Rihanna For UNICEF, And More
With Project Runway's fifth season premiere on the horizon (it's Wednesday), Christian Siriano has announced his plans to debut a line of hair products. [NYMag]Rihanna will appear in Gucci's newest ad campaign highlighting the design house's collaboration with UNICEF. [WWD]Although Heatherette is defunct, Richie Rich is keeping himself busy with a the launch of his own CD, clothing line for Hot Topic, and shoe collection named Rox & Riley. [FWD]Alexander McQueen has launched an online store accessible to any shoppers within the United States. [Styledash]
Deal Of The Day: Up To 70% Off Mixed Media Necklaces At Tobi
Mixing materials makes these necklaces incredibly versatile – not too sweet or too tough, they'll add a bit of extra punch to jeans and cocktail dresses alike.Rachel Leigh's Crystal Drop Necklace ($106, was $176) mixes feminine crystal and silk with gunmetal and silver chains. This Twinkle by Wenlan Kasbah Necklace ($52, was $172) has a funky, ethnic feel. A silk and chain necklace ($144, was $240) is a nice alternative to a long string of beads. More steals and deals:As seen in the SheFinds forum: 30% - 60% off at Velvet Maven. Up to 70% off at J. Crew's Final Sale. 20% off full price items at Ann Taylor LOFT with code 104016307.
Latest Blog Posts From MomFinds
Top Five Sunblocks for Moms and KidsThere are hundreds of sunscreens on the market, and the very best use the most current UV block technology to keep you and your sun bunnies protected - even after an entire day at the beach. Win it Wednesday: Win a Dante Beatrix DB Haul ToteHere's the one bag you'll need to tote everything around this summer--whether you use it for day trips with baby, beach outings or overnight stays at Grandma's.Deal of the Day: Bastille Day Gifts For Under $30Ooh la la. Get festive and celebrate Bastille Day with these fun gifts.
Fashion Top Five: Embroidered Tanks
The crop of breezy, feminine embroidered tanks that's in stores this season goes to show that these tops don't have to follow a specific formula. In fact, we're particularly enamored of these five tanks precisely because they're modern and a bit different – without, of course, sacrificing any of that gorgeous femininity that makes embroidered pieces perfect for laid-back summer nights. The geometric pattern on this Embroidered Flower Bubble Top ($86) is so chic in a single, muted tone. For more color, layer a tank under the ultra-scooped neck. This Embroidered Floral Tank ($16, was $28) is simple – and affordable – enough to wear as a camisole. A black and white combo is sleek enough to carry off the big pattern and ample volume on this Embroidered Long Tank ($114). We love the combination of peplum, thick straps, and pintucks on this Counted Cross-Stitch Tank ($98). Rebecca Taylor's Embroidered Camisole ($208, was $297) would be beautiful peeking out under a blazer, or as the volume piece on top of skinny jeans and peep-toe heels.
Taste Test: Which White Dress Is The Brighter Buy?
These two form-fitting dresses are striking and sleek, with shiny black belts to add contrast and emphasize an hourglass figure. One is on sale for 60% off, and still costs more than the other. Can you tell which one's which? Click on the images to see what they really cost. Test your Fashion IQ with other Taste Tests.
Solution: If You Own A TuNix, You May Never Have To Change
What: TuNix Limited Edition Tunics, $170 - $190Why: The New York Times just hailed the beach cover-up as "a girl's best friend" pronouncing it the perfect piece to "travel well from lavish pool party to simple country lake." Well, we couldn't agree more, and we think we've found the perfect one for summer. TuNix limited edition tunics are U.S. made, 100% cotton lightweight tunics that come in a variety of fun patterns and colors - perfect for covering up at the pool and then frolicking right over to your friend's casual get-together. With irresistibly kitsch names like British Boho Socialite, Could You Be More Preppy?, and Take Me To St. Tropez, I would even choose my fave according to the name (much like I do my nail polish colors). Thankfully, you can't go wrong with your choice, as each design seems better than the next. The tunics come in short and long versions, so pair them with some white linen shorts, or wear alone as a flirty summer dress after the sun goes down. Bonus: SheFinds readers will receive a 15% discount through July 31st when they enter the code she15 at checkout. And since TuNix always offers free shipping, what exactly are you waiting for? Get Yours: tunixcollection.com
Deal Of The Day: Up To 50% Off Spring Green Gear At Old Navy
How did you celebrate Earth Week? If you didn't get your fill of tree planting, rainforest saving, and green-going last week, show your springtime support for planet friendliness by donning some green attire on the cheap. At Old Navy, kelly, lime, and shamrock shades aren't reserved for St. Patty's Day; they're a celebration of the rebirth and renewal signaled by spring. So go green, wear green, and save green. The Earth (and your wallet) will thank you for it. Springtime means sleeves get shorter—or disappear altogether. But that doesn't have to cancel out the old loungey standby, the hoodie. This cap-sleeved drawstring hoodie ($17, was $25.50) doesn't have much in the way of arm warmers, but its cozy sweater knit makes it an ideal extra layer to toss in your bag for a day-to-night date. Step lively in metallic mint green T-strap sandals ($15, were $19.50) with pearly coin embellishments. Put a sweet citrusy-hued spin on the season's fave footwear look, the gladiator sandal, and you've got these blingy and barely-there thongs. Whether you dress it down by throwing it on over your new swimsuit, or you dress it up by pairing it with a tailored white jacket and heels, this print halter dress ($20, was $34.50) is a springtime closet staple. The whimsical pattern and figure forgiving cut make it a great transition piece while you're burning off the last of that winter hibernation bulk, and the goes-with-the-flow jersey fabric makes this a dress you'll want to lounge and lunch in.More ways to save on the web:Every pair of shoes at Famous Footwear is eligible for the Buy One Get One Half Price sale. Get $10 off your purchase of $150 or more—plus free shipping—at Couture Candy. Celebrate Mom by saving 12% on your Boden purchases.And check out our forum for more deals posted by our own SheFinds readers.
Deal Of The Day: 70% Off Cozy Transition Sweaters At Pink Mascara
Today it's cold. Tomorrow it's supposed to be rainy. And then warm. And then cold again. Spring weather can be as unpredictable as Blair Waldorf's next devious move on Gossip Girl, and a girl's gotta be prepared. Keep one of these timeless sweaters handy at all times—you never know when the weather's going to shift on you (or when you might need to protect yourself from a notoriously chilly frenemy). Indoor scarfs are a topic of much heated fashion debate—are they a do (according to the ladies of American Idol, yes) or a don't? The point is moot when your neck warmer du jour is built right into your wardrobe, as on this neck tie sweater from Jamison ($72.60, was $242). Tie the scarf up to beat a breeze, or leave it loose for a chic, instant accessory. Demylee's cashmere Ava cardigan ($105, was $350) is such a clean, modern update to the classic cotton hoodie. Pull a jeans-and-tee look together with a touch of class, or keep this heather gray knit at your office desk to pair with dark slacks and a bright button-down. Cozy up in this chunky knit Sea sweater from Karoo ($115.50, was $385) and read a good book on a rainy day. A luxurious collar, an ultra-warm cashmere blend, and just-the-right-length sleeves will make this wrap something you'll want to curl up in all year long.More sales and deals:Get up to 70% off Viktor & Rolf outerwear at YOOX. Take 15% off all gift cards at True Jeans when you enter the code MOM at checkout. Spend $65 at The Body Shop and get a free five-piece gift bag.And click here for more deals posted by SheFinds readers in our forum.
Bargain Find: Candy Colored Clutches For Under $150
Looking for a little pop of color? I sure am. After a long winter of dressing in mostly black, (I'm a New Yorker, it's what we do) I'm looking to add a bit life to my otherwise drab wardrobe. When I got dressed this morning I had to choose between a black tee, black pullover sweater, and a black button-down polo. The inside of my closet looks like the black sea.So nothing sounds better to me than a candy colored-colored clutch to brighten up my day. These great grabs are all under $150. The Jessica Simpson Pacha Clutch has a silver decorative buckle and gingham interior lining. Comes in green apple, lemon yellow, and pink lollipop for just $68. The Lacoste Classic Clutch has the cute little alligator and is made of textured PVC for just $51. The Hobo International Quilted Patent Leather clutch has great glossy shine and a quilted envelope flap. Comes in blue, yellow, and orange for $138. Color plus shine gives this great patent leather clutch some serious style. Get your Alfani Gloss Garda Clutch for just $78. It comes in pink, yellow, green, black, and white. Banana Republic's 100% leather snake-embossed clutch comes in blue, red, or purple for $89. Perforations create a graphic pattern in this sleek Patent Leather Clutch from Lodis for $142. Lodis Accessories makes this croc checkbook clutch in genuine patent leather. Get yours in ochre or fuschia for just $122. This adorable Sigrid Olsen Calista Crinkled Patent Leather Convertible Clutch Bag can be held as a clutch or converted into a small tote. Just $128. The slim and sleek Hinge Wallet from Urban Outfitters has metal trim and clasp opening for just $20. Check out last week's Nine Flame Colored Bags for Under $125.
Deal Of The Day: Up To 60% Off Miss Sixty Jeans At Bluefly
So you're doing a little light spring shopping.... Oh, who are we kidding? You're giving your closet a head-to-toe warm weather overhaul. But while you're out snatching up the most strappy, lightweight, pastel things you can get your little mitts on, don't forget about your trusty old standby, denim. Jeans don't discriminate by season; they're a sure thing all year round. Ergo, you should be buying them all year round. If you follow this logic, here are three to try. Wear 'em today, wear 'em next month, wear 'em six months from now. It's all good. Warmer weather calls for lighter colors, and these Extra Low Ty flares ($70, were $159) are just the ticket. Super-faded with a goes-with-everything gray tint, these jeans offer a nice break from your basic blues. Everyone deserves a fabulous pair of weekend pants (and we're not talking about those Juicy Couture sweats you can spend 48 hours straight in). Pair these cropped cargo pants ($77, were $99) with an earth-toned cotton tee for a relaxed weekend vibe. Casual Fridays call for darker, more streamlined jeans. Miss Sixty's Tommy Ones ($70, were $149) fit the bill from boardroom to bar. Matched with an appropriately high heel, a button-down and tasteful jewelry, you'll present a pulled-together front instead of falling into the dreaded Casual Friday slouchiness trap.More sales and deals:It's Saks' First Big Sale of the Season. Save up to 40% on women's apparel, shoes and handbags. All figure-flattering swimwear is 25% off at One Hanes Place. Select jackets from Marc Jacobs, Nanette Lepore and Diane Von Furstenberg are 40% off at Nordstrom.For more sales posted by SheFinds readers, check out the message boards.
Taste Test: Which Spring Scarf Is A Pricey Investment?
Scarves are hot this season, especially bright colored ones in light airy fabrics. And with Ikat and tie-dye coming back in fashion, you can't go wrong with one of these trends wrapped loosely around your neck. Can you guess which scarf is double the price of the other? Test your fashion intelligence with other Taste Tests.