Taco Bell's Forever 21 Collection Is Here & It's Fire
The Forever 21 x Nintendo Exclusive Collection Just Launched & Our 90s Hearts Can't Get Enough!
The days of cramming in front of your television set speeding down the roads of Super Mario Kart may be well over, but the 90s continue to live on-- and Forever 21 knows it. Fashion favorite retailer Forever 21 just launched the Super Nintendo x Forever 21 collection and we're literally adding it all to our shopping carts right now. Even when it comes to Super Nintendo, Forever 21 has served up some serious streetwear-inspired looks for this collection. Plus, the comfier clothes the better. The Super Nintendo x Forever 21 exclusive collection offers everything your 90s heart could want from a graphic tee to a windbreaker. Okay, less talk and more shopping-- check out the five women's pieces you need to buy right now from Super Nintendo x Forever 21. The most basic fall essential? Graphic tees of course. Graphic tees serve as an edgy way to add extra style underneath your go-to fall denim jacket or favorite leather jacket. This Super Mario Kart graphic tee gives us some serious checkered Vans vibes with its patterned sleeves and puts us all in a deep nostalgic mood. You can snag this tee before it sells out for less than $16! Forever 21 Super Mario Kart Graphic Tee ($15.90) Move over Adidas windbreakers, Forever 21 is coming for you. I mean, come on, how has Forever 21 and Super Nintendo combined its designs into modern day athleisure so effortlessly?! We're at a loss for words, but what we do know is that you should purchase this affordable windbreaker ASAP. Forever 21 Nintendo Colorblock Windbreaker ($34.90) Nothing beats a warm hoodie on a cool fall day-- nothing. The checkered pattern is back but this time it's on on this amazing red hoodie featuring all of your childhood favorite Super Nintendo characters. We're sure this will become your new go-to hoodie, especially since it's only less than $25. We're not sure how Forever 21 does it, but we love it. Forever 21 Super Mario Kart Graphic Hoodie ($24.90) Bodysuits never seem to go out of style, no matter the season. And we never thought we'd live to see the day where Super Nintendo characters are designed onto a women's bodysuit-- that's for sure. We'd pair this one from the Forever 21 x Super Nintendo collection with a pair of black skinnies and leather jacket. Now that you have that styling tip you can order this affordable piece right now. Forever 21 Super Nintendo Checkered Bodysuit ($19.90) Everyone loves hoodies and Forever 21 definitely seems to know that. That's why they offer not just one, but two hoodies in their collaboration with Super Nintendo. This white option is the same affordable price as the red hoodie, but features a raw cropped hem. That way, it's perfect for pairing with your 90s-inspired mom jeans and you might as well turn on some Britney Spears throwback jams too while you're at it. Forever 21 Super Nintendo Graphic Hoodie ($24.90) Exclusive fashion collaborations have been thriving this season. For more news on all of the collabs you need to know right now make sure to check out this one from Lisa Frank x Reebok and this one from Something Navy x Nordstrom. [Photo: forever21.com]
Forever 21 Just Got An Epic New Makeover & We're Obsessed
Forever 21 Finally Changed Its Return Policy
5 Forever 21 Beauty Products Every Woman Should Own
7 Things You Never Knew About Shopping At Forever 21
6 Outfits You Wouldn't Believe Are From Forever 21
Here's What To Wear To The NBA Finals, Ladies
Calling all basketball fans! If you're the girl who's always right there with the guys cheering on your favorite team, then we have the collab for you. Forever 21 teamed up with the NBA on a limited-edition collection back in 2015, so that you can support your squad and look cute doing it. Yes, you can finally give your guy back his jersey--from tees and hoodies to shorts and sweats, the new Forever 21 x NBA collection just made it hella easy to show off your fandom. And now that the Cleveland Cavaliers are facing off with the Golden State Warriors, it's the best time to show you spirt. Wear one of the finalists' gear, or if your team didn't make it this far--rep 'em anyways. They have Lakers, Bulls, Nets and more jerseys, jackets, hoodies and even bodysuits. Love! SHOP FOREVER 21's NBA COLLECTION NOW Warriors Anorak ($35) Brooklyn Nets Tee ($18) Lakers Bodysuit ($18) Be sure to check out Beyonce's cool sunglasses, 50% off Stuart Weitzman shoes and pretty winter-to-spring skirts. [Photo: Forever 21]
You've Been Wearing The Wrong Leggings All Along: 7 Under-$25 Cult Brands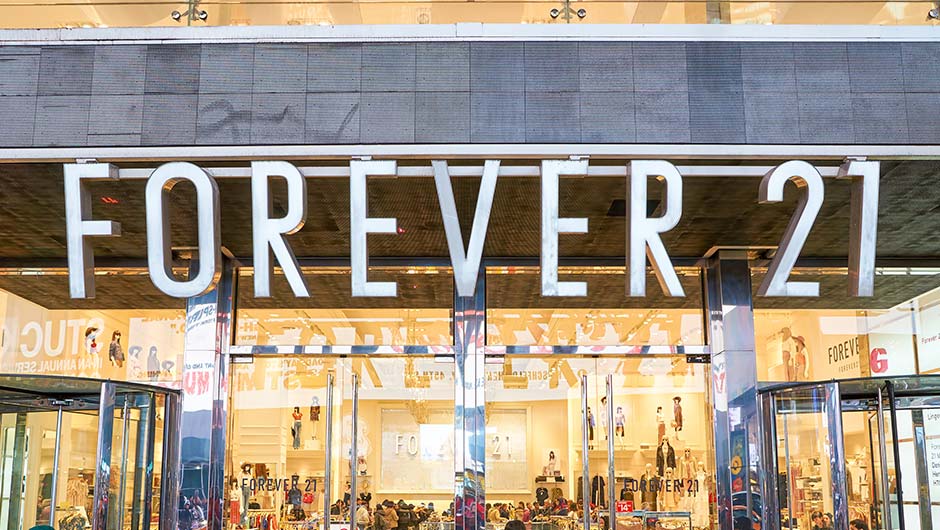 3 Hacks That Will Change How You Shop At Forever 21
11 Legit Beauty Brands They Now Sell At Forever 21–Did You Know?
Can You Tell Which Off-The-Shoulder Dress Costs $406 More Than The Other?
Everyone and Solange Knowles was freaking out about the Milly Selena Dress this summer. I mean with an off-the-shoulder and ruffles combo, what could be bad?? So it's no surprise that now brands are making knockoffs. Forever 21 makes a lookalike in black that's $406 less than the real thing, and that's the only real difference between the two dresses! Can you tell which one costs more? Click below to find out. Test your fashion savvy some more with crop flare jeans and emoji chokers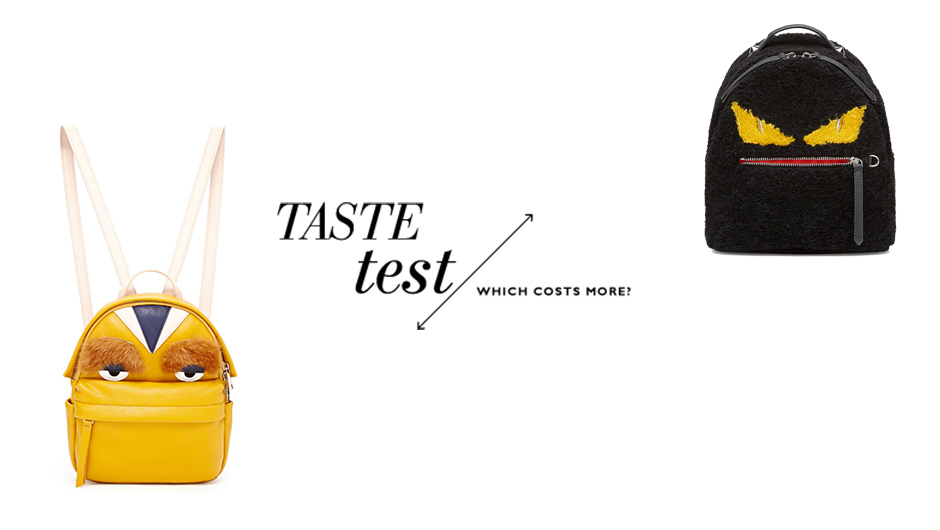 Did Forever 21 Really Just Knock Off Fendi's Monster Backpack?
Fendi was the first to put menacing eyes and a smirk on something and call it a "Monster." The trend started with keychains, followed by, well, everything. Sweatshirts, hats, phone cases, handbags, you name it. So when I came across a similar Monster design in Forever 21's New Arrivals section, I wasn't that surprised. But what was kind of shocking was the fact that "Monster" was in the product name. Has "Monster" just become the term to describe a character on a piece of clothing or accessory regardless of whether or not it's Fendi? Someone let me know if I'm late on this--but before you respond, play our guessing game! Click below to find out which backpack is Fendi and which is Forever 21. Test your fashion savvy some more with fur slides and velvet chokers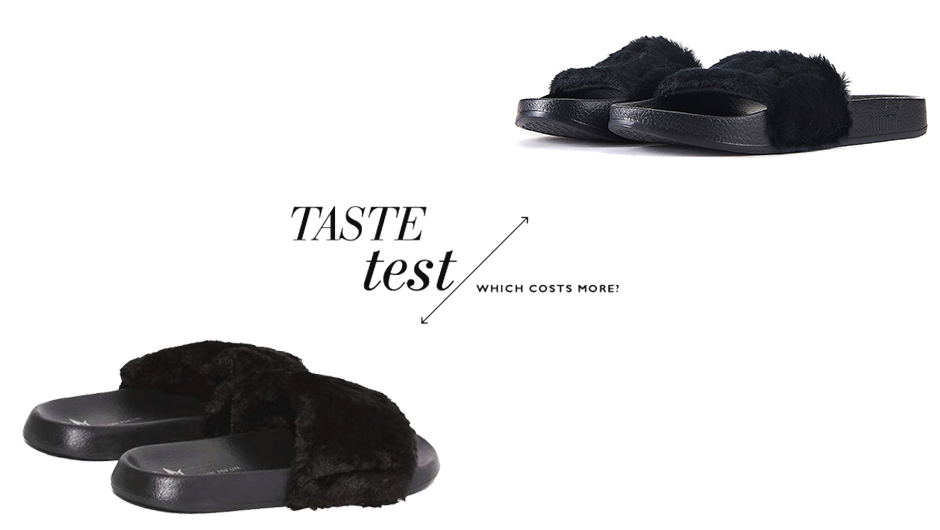 Can You Tell Which Fur Slides Cost $50 More Than The Other?
Rihanna's PUMA Fur Slides by Fenty ($79.99) are basically sold out everywhere. Sure, you can find a stray size 11.5 deep in the depths of the Internet, or shell out triple the price to buy them on resale sites. But if neither options are ideal for you, there's hope yet. Nasty Gal sells these lookalikes LFL by Lust For Life Slides ($30). They even come in white and pink too (and for $6 less) at Forever 21! OK, so I know it's obvious from the picture which one is Puma (solid branding), but let's pretend the logo is not there and just acknowledge these slides are basically the same? K, great. Test your fashion savvy some more with off-the-shoulder tops and lace-up ballet flats
Forever 21's 24-Hour Flash Sale Just Started–Go, Go, Go!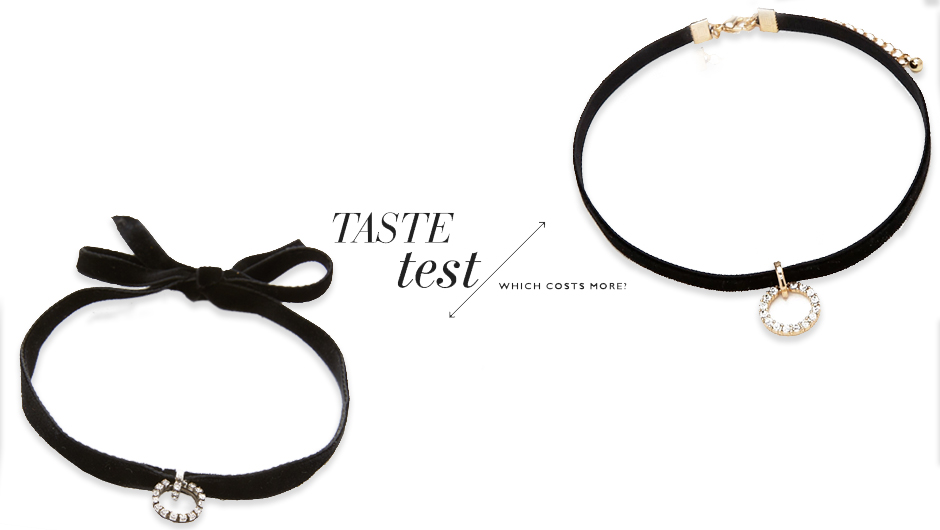 Can You Tell Which Velvet Choker Costs $94 More Than The Other?
Victoria's Secret Angel Josephine Skriver wore the DANNIJO Vix Choker ($98) to Coachella this year. When I saw it on Instagram, I was like, "I want that!" It's pretty tame for the jewelry brand, which is known for starting all the body part parties with Man Repeller back in the day. So I was pleasantly surprised to see their simple velvet ribbon with a touch of detail, the perfectly-sized rhinestone circle charm. Subtly different from every other girl's black choker. Score!! https://www.instagram.com/p/BGElocruWzu/ OK, so I still haven't bought the DANNIJO one yet--but I'm happy I waited! I was playing my favorite game of "What do I want from Forever 21's New Arrivals???" when I came across a $3.90 knockoff of the Vix Choker. Score again!! Can you tell which one costs more? Click below to find out, you might be surprised! Test your fashion savvy some more with crop flare jeans and emoji chokers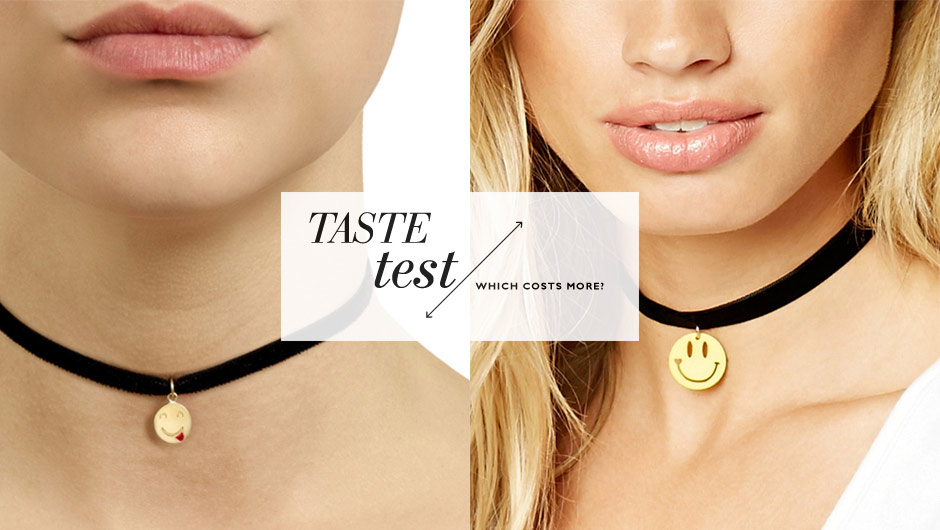 Can You Tell Which Emoji Choker Costs $246 More Than The Other?
When I spotted Alison Lou's emoji chokers on Instagram, I was obsessed--what millennial wouldn't be? https://www.instagram.com/p/BHkGielhWkp/ The only downside was when I went to go buy one and saw the price: $250. I was pretty bummed out. Don't get me wrong, if I had that money to drop on a ribbon and metal charm, I would, but it's just not in the cards for me right now. Luckily, when scrolling through the New Arrivals at Forever 21, I found a knockoff for just $3.90 that satisfied my emoji choker needs. Both of them are pretty much the same idea--can you tell which emoji choker costs more than the other? Click below to find out: Test your fashion savvy some more with lace-up ballet flats and crop flare jeans!
2 Things You Should Never Buy At Forever 21, According To People Who Work There
While Forever 21 is a great place to pick up on-trend finds at so-cheap-it's-unbelievable prices, some of the chain's pieces are simply too good to be true - in many cases, you get what you pay for. The trick to shopping at Forever 21? Knowing what's worth the steal - and what you should splurge on at other stores. So how do you know what you should pass up on your next F21 run? SHEfinds got the inside scoop from two employees on what they'd never buy. Their answers? Emily* and Liz*, who both work as sales associates at Forever 21 in Cincinnati, Ohio, said that they'd avoid anything with beaded or embellished details or shopping online. While a pretty beaded dress that looks like it costs $200 but is actually $20 might be tempting, Emily says the beaded, embellished and blinged-out pieces won't hold up. "I would never buy anything beaded," she says. "It really won't last longer than one wear." Liz's thoughts? According to her experience, it's best to avoid shopping online since it's hard to tell how something will fit - and since some pieces end up looking different IRL. "A lot of people return online stuff because most of the clothes need to be tried on due to how everything fits and is sized different," Liz says. "Honestly, I see mostly returns that were online stuff." Considering their infamous return policy (store credit only), and the fact that Forever 21 charges for shipping for all orders under $50 (and really, who ever ends up spending over $50 at Forever 21?), we feel like this is pretty solid advice. *Employee names have been changed. For more shopping and style, check out: The One Color You Should Never Wear When It's Hot Out (It's Not Black!) and Pom Pom Sandals Are Like Confetti For Your Feet - How Could You Say No To That? [Photo: Shutterstock]
7 Ways To Make Anything From Forever 21 Look Really, Really Expensive
When you're a babe on a budget trying to build a killer wardrobe, resorting to fast fashion stores like Forever 21 becomes entirely necessary. It's an easy way to wear the same trends we've seen on the runways for less. The only problem? As they say, you get what you pay for - and sometimes, it can be hard to make the $20 dress look on par with the $200 one. But fear not - use these tips and tricks when shopping at and wearing Forever 21 and nobody will be able to spot the difference. 1. Befriend your tailor Even the cheapest of dresses from Forever 21 can look hundreds of dollars more expensive simply by taking them to the tailor. Oftentimes, the reason Forever 21 ends up actually looking like Forever 21 is simply because a piece is ill-fitting. Having a piece tailored to your unique shape will work wonders. 2. Pair with expensive accessories When you wear expensive accessories, like a really killer bag or shoe with F21 finds, it automatically upgrades the look. Plus, it's much more economical to buy a pair of shoes or a bag that you can wear several days of the week, paired with cheaper clothing that you'll only wear once every week or two weeks. 3. Buy it in black Not only is black insanely flattering, but the color somehow always manages to make anything and everything look more luxe. If you're at Forever 21 and have the choice between another color and black, always choose the latter. 4. Swap out buttons Sometimes, it's the little details that matter most, and a Forever 21 blazer can instantly look more expensive if you simply swap the buttons. Check fabric stores or online for higher quality buttons than the plastic ones that come on F21 pieces. No need to sew them yourself - most dry cleaners will do it for cheap. 5. Be on the lookout for 'Love 21' Forever 21's contemporary section, called Love 21, is aimed at an older age group than the rest of the store's clothes, and the pieces usually end up looking a little more upscale. Most Forever 21 sections have specific Love 21 sections, but you can also shop the collection online. 6. Invest in a steamer The easiest fix for any Forever 21, or fast fashion piece in general, is to steam it. Weird wrinkles and bulges in fabric are what make Forever 21 look cheap in the first place - you'd be surprised what a difference 30 seconds with a steamer can make. 7. Avoid faux suede When hitting up F21 just say neaux (ha, see what we did there) to faux suede. While textiles like leather or wool are easy to fake, it's pretty impossible to recreate suede (in a way that doesn't look cheap) at a Forever 21-friendly price. Invest in the real thing, or a better replica from a slightly pricier brand. You'll be glad you did - trust us. For more style tips and tricks, check out: How To Wear Cheap Earrings Without Irritating Your Ear Holes and This Is The Most Flattering Bikini Bottom [Photo: Shutterstock]
The 7 Best Beauty Buys From Forever 21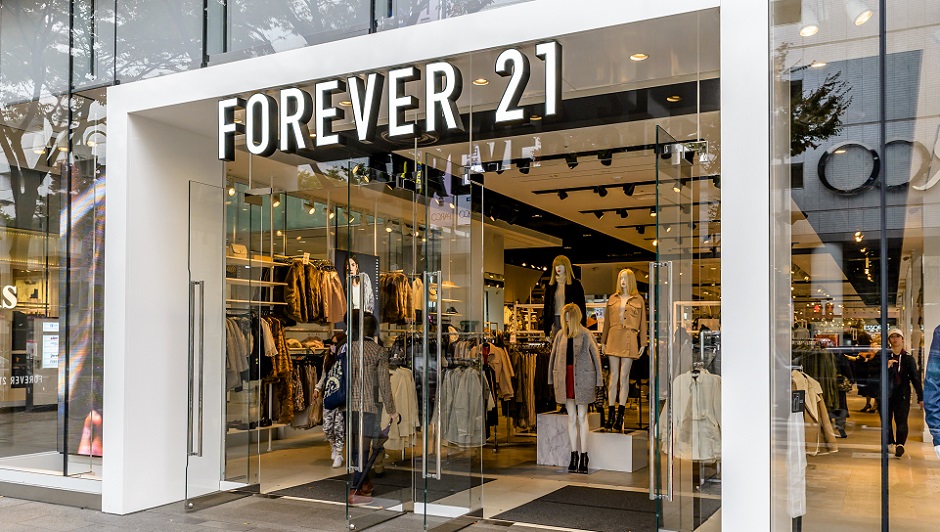 Cute Dresses, Rompers And Accessories Start At Just $7 At Forever 21's Spring Sale
SHEfinds receives commissions for purchases made through the links in this post. What better way to end the weekend than a little online shopping? It's definitely my favorite way to spend a Sunday night, so here's a tip from me to you: get over to Forever 21 ASAP. They just launched their spring sale and tons of great items are up to 50% off. I already have a bunch of cute dresses in my cart, plus a killer romper and even a few handbags. Sure, that may seem like a lot but here's the sweet news--almost everything is under $20! Hurry, because sizes are selling fast! Watercolor Stripe Print Romper ($16.03, down from $22.90) Crinkled Lace-Up Dress ($17.43, down from $24.90) Studded Faux Leather Crossbody ($19.53, down from $27.90) Cutout-Back Denim Dress ($12, down from $22.90) Utility Linen Popover Dress ($7, down from $27.90) Elasticized Chambray Shorts ($7, down from $14.90) Textured Wrap Dress ($20.93, down from $29.90) Genuine Suede Bucket Bag ($44.73, down from $63.90) SHOP THE FOREVER 21 SPRING SALE NOW Don't miss Anthropologie's sale on sale and everything you need to know about ColourPop.
The Buy More, Save More Event At Forever 21 Is Happening NOW
SHEfinds receives commissions for purchases made through the links in this post. What a perfect way to start your weekend! It's the buy more, save more event at Forever 21. It's online only and lasts until Sunday. Here's the breakdown: Buy 2 sale items, take 20% off with code EXTRA20 Buy 3 sale items, take 30% off with code EXTRA30 Buy 4 sale items, take 40% off with code EXTRA40 Plus, there are tons of spring break deals starting at just $3! There are seriously tons of deals going on at F21 that you can spend the entire weekend shopping online. We dare you! BUY MORE, SAVE MORE NOW Don't miss 5 Old Navy items that look expensive but cost less than $35 and shop DVF's friends and family sale! [Photo: Forever 21]
You Need To Buy All Three Of These $10 Dresses From Forever 21 ASAP
SHEfinds receives commissions for purchases made through the links in this post. Do I even need to tell you why maxi dresses are so amazing? It's that one versatile piece that always looks good when you're in a pinch no matter what you pair with it. Now you could spend a fortune on fancy designer maxi dresses or you could just snatch up this simple, yet perfect maxi dress from Forever 21 for just $10. Yes, you read that right--$10. Not only is this particular maxi dress super soft and insanely flattering, but it has a modest slit and v-tie back to make things a little interesting. When I tell you you need to drop everything and order this dress right this second, I mean WHY. ARE. YOU. STILL. HERE?? V-Cut Maxi Dress ($10, down from $14.90) V-Cut Maxi Dress ($10, down from $14.90) PS: Another great score at Forever 21 you just shouldn't pass up? This wear-everywhere midi dress that looks great with flat sandals and chambray shirt or with heels sexy going-out makeup. Go! Racerback Midi Dress ($9.90) SHOP DRESSES AT FOREVER 21 NOW Be sure to check out the best home decor under $30 a Target and the best cheap workout clothes. [Photo: Forever 21]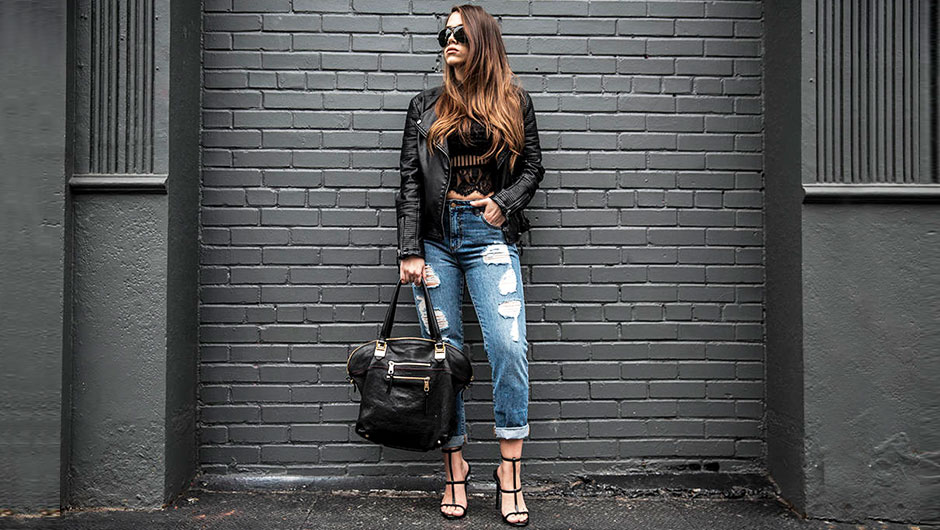 11 Forever 21 Items That Are Less Than $40, But Look Really Expensive
SHEfinds receives commissions for purchases made through the links in this post. Though we live in a world of thousand dollar handbags and hundred dollar jeans, Forever 21 makes us feel like high fashion is just a few dollars away. The carefully curated items below are beyond fab, just like the stylish bloggers who wear them so well. Best of all, every item in this haul is under $40! Shop to your heart's content! https://www.instagram.com/p/BDD5v5hjrIF/?taken-by=victoriavanness Faux Leather T-Strap Stiletto Sandals ($29.90) https://www.instagram.com/p/BDDskEfwmU9/?taken-by=k.els.e.y Ribbed Knit Maxi Dress ($22.90) https://www.instagram.com/p/BCbPtiDmhJg/?taken-by=alexandr_ford Floral Self-Tie Romper ($24.90) https://www.instagram.com/p/BC6I1JpEwkk/?taken-by=sidewalk.stories Buttoned Denim Romper ($32.90) https://www.instagram.com/p/BCyHVlTTcco/?taken-by=velvet_sugar Contemporary Patterned Sweater ($19.90) https://www.instagram.com/p/BCn8wYCsb9Y/?taken-by=alexisjadekaiser Floral Lace Mini Dress ($24.90) Faux Leather Sandals ($19.90) Spitfire Sonic Sunglasses ($39.00) https://www.instagram.com/p/BCG6elMhhgq/?taken-by=joandkemp High-Rise Skinny Jeans ($12.90) https://www.instagram.com/p/BCTQAyNi-Wo/?taken-by=carriebradshawlied Contemporary Life in Progress Denim Overalls ($34.90) Metal Trim Crossbody ($22.90) Don't forget to check out: 5 Zara Items That Are Less Than $150, But Look Really Expensive and 16 Target Decor Items Under $30 That Will Totally Transform Your Home [Photo: Instagram]
I Got The Best Fedora Ever From Forever 21
I love a good braid or beach wave as much as the next girl, but truth be told I legit hate doing my hair in the morning. As a result, I have quite the extensive hat collection because, well, it's so much easier to just put on a fedora than spending 45 minutes trying to do something "cool" with my curls. Over the years, I've invested in pricey hats that would "last a lifetime," but I have to tell you--one of the best hats I own is from Forever 21. For real. Their Classic Wool Fedora is not only the perfect weight and shape, but it's super soft and gentle on the hair considering it's wool. Even better, it comes in two sizes so if you have a large dome like mine you're still golden. Of course, the best part is the price! I've shelled out over $100 for designer hats in the past, but this one is only $22.90 and just as good. Maybe even better. I have the grey one, but I'm currently debating the navy. Get yours below! Classic Wool Fedora ($22.90) Classic Wool Fedora ($22.90) Classic Wool Fedora ($22.90) SHOP FOREVER 21'S CLASSIC WOOL FEDORA NOW Don't miss designer shoes on sale and Reese Witherspoon's favorite jeans. [Photo: Forever 21]
Everything Is $20 Or Less At The New Forever 21 Online Outlet #Major
One of the many reason so many women love Forever 21 is their can't-beat prices. But what if I told you there was a way to get Forever 21's cool clothes for even cheaper? Well guess what? There is! The brand just debuted Forever 21 Outlet online and the deals are seriously unbelievable. There isn't a single item in the outlet that's more than $20 and tanks and tees are literally only $4. Take a peek at what we're loving from F21 Outlet below, then go crazy. You can totally afford to ball out! Chevron-Patterned Raglan Top ($10, down from $17.99) Boxy Faux Suede Top ($8, down from $17.99) Ribbed Knit Pants ($10, down from $22.99) Pintuck Smock Dress ($12, down from $22.99) Raglan Stitched Stripe Top ($6, down from $15.90) Striped Open-Front Poncho ($14, down from $27.90) SHOP FOREVER 21 OUTLET NOW Be sure to check out this massive UGG sale and cheap Club Monaco leggings.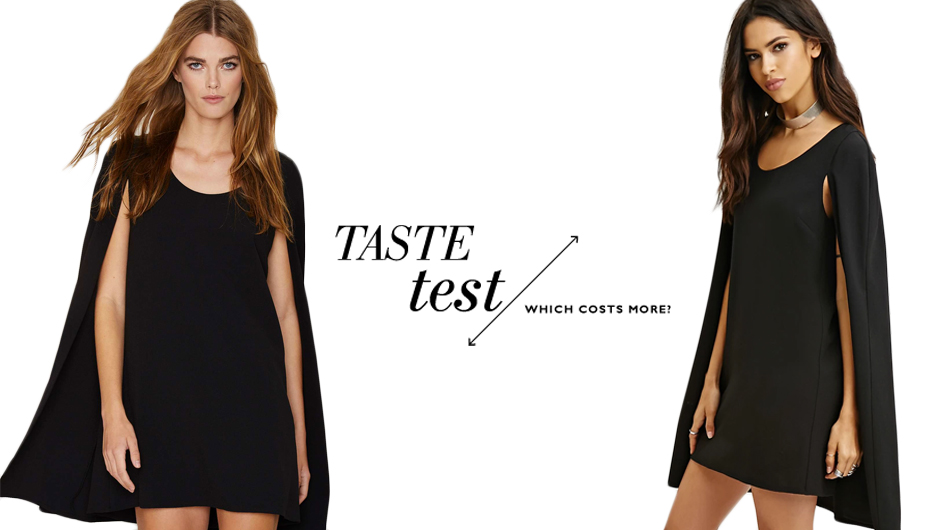 Can You Tell Which Cape Dress Costs $37 More Than The Other?
Copycat alert! Nasty Gal debuted their amazing cape dress last year, and five seconds later (JK, more like 12 months later) Forever 21 struck back with a nearly identical version — just cheaper! F21, we love that you save us $$$ on the hottest looks! Click on the photos below to find out which dress costs more than the other: Don't forget to check out  Search or use up and down arrow keys to select an item. Here Are The Results Of My Search For The Perfect Chunky Cable Sweater, Don't Go Somewhere Warm Without Candice Swanepoel's Cat-Eye Sunglasses, and 15 GIFs That #Blessed The Internet With Their Awesomeness This Year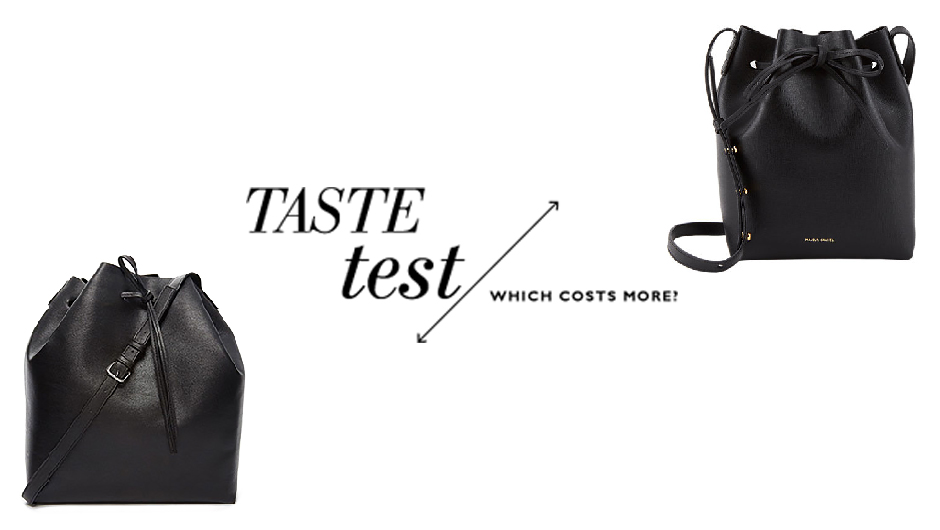 Can You Tell Which Black Bucket Bag Costs $465 More Than The Other?
Leather bucket bags are all the rage these days—and for good reason, so cute!—but, sadly, genuine leather has the habit of undermining smart shopping budgets. Lucky for you, Forever 21 is back with another Mansur Gavriel bucket bag knockoff. Everyone wants the Mansur Gavriel Mini Bucket Bag ($495), but that price tag isn't ideal. However, the near identical Forever 21 Faux-Leather Bucket Bag ($29.90) is an absolute steal. Can you even tell which is which? Click the items below to see which bag costs more than the other! And don't forget to check out: Add This To Your Holiday Wish List: Taylor Swift's Under-$100 Pendant Necklace, VIDEO: This Two-Year-Old Girl Just Became The Best Adele Impersonator, and Monogrammed Gifts Are Always A Good Idea: Mugs, Jewelry, More
Can You Tell Which Lace-Up High Heels Cost $1,160 More Than The Other?
The Giuseppe Zanotti Lace-Up Suede Gladiator High-Heel Sandal are iconic. The lace-up front gives them an edge and the cut-out rimmed detail adds a nice dainty touch. With shoes like these, you don't have to say a word to make a statement. While these one-of-a-kind heels are currently sold out, we made it our mission to find lookalike pairs. We already told you about these knockoffs by Steve Madden and Just Fab, but we found the cheapest pair yet from one other than Forever 21. While the original retails at $1,195, this uncanny lookalike is priced at $34.90. But can you tell which pair costs $1,160.10 more than the other? Find out by clicking below: Don't miss the "it" bag every girl wants and Heidi Klum's grey booties
Can You Tell Which Crossbody Bag Costs $637 More Than The Other?
A crossbody purse is a must-have for any fashionista, and the Stella McCartney Falabella design is practically a work of art. It is so chic with its silver chain detail, and it's very sleek in that it has a very narrow width. Plus black leather goes with anything and everything! We weren't that surprised to come across an almost identical crossbody bag from Forever 21. It has the same aspects of the silver chain and the sleek shape with a much more affordable price tag! While the two purses look pretty much the same, the Stella McCartney one costs $637 more than the one from Forever 21! Can you tell which crossbody purse is more expensive? Click below to find out: And don't forget to check out: Gap's Friends & Family Sale Starts TODAY--Take 40% Off Everything, Hostess Announced A New Ho Hos Flavor For The First Time Ever, And It's Not Pumpkin Spice, and Keep On Snappin' Because Snapchat Is Proven To Make You Happier--Yes, Really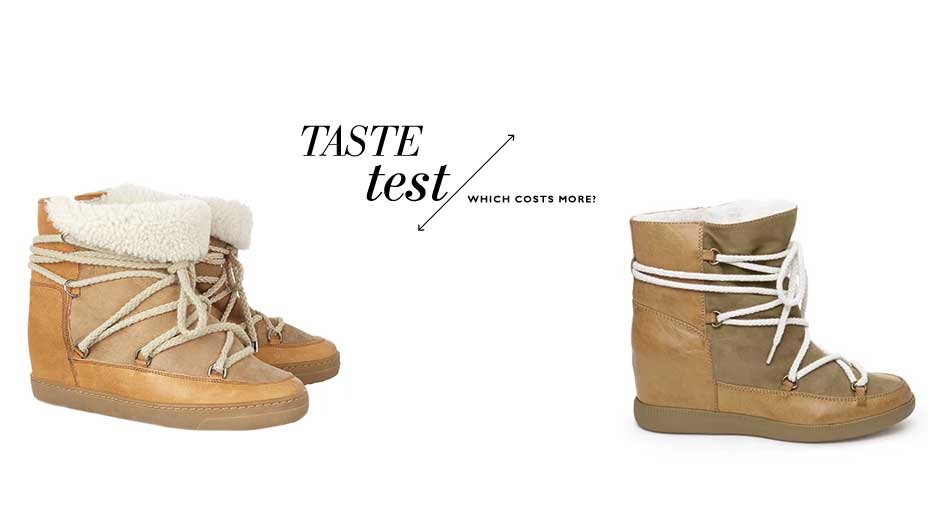 Can You Tell Which Shearling Boots Cost $317 More Than The Other?
Bracing yourself for the winter ahead? You're not ready for freezing temps until you have a pair of warm boots to keep your feet toasty. Celebs love Isabel Marant's Nowles shearling-lined leather concealed wedge boots, but even on sale these babies are $336. Lucky for you, we found a pair that looks almost identical for a fraction of the price. These Chukka Wedge Booties are currently on sale for just $18.99! Who says style has to cost a fortune? Take a look at both boots below and see if you can tell which pair is the more expensive one. Did you guess right? Share in the comments. For more taste test challenges, check out these lookalike chain boots and these identical trench coats.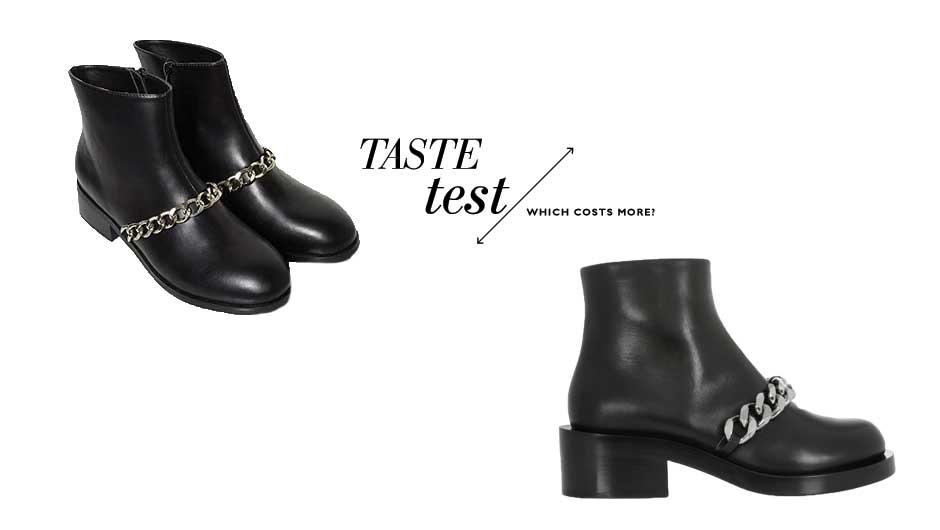 Can You Tell Which Chain-Trimmed Boots Cost $1,610 More Than The Other?
Sometimes even the girly-est of girls finds herself longing for a little bit of a Rihanna-esque edge. This feeling is exactly what I experienced when I discovered Givenchy's Laura Chain-Trimmed Leather Ankle Boots. What I love about these boots is that they're bold in a subtle manner. They're unique in the bulky shape and thick heel, and they stand out with that delicate silver chain around the base of the boot. When daydreaming of these shoes, I came across a lookalike that definitely does the original justice! They're the Chained Faux Leather Booties made by Forever 21. But I have to ask, can you spot which is the real deal versus the lookalike? Can you tell which chain boot is $1,610 more than the other? Did you guess right?! Let us know in the comments below! And don't forget to check out: 11 Ikea Pieces That Will Transform Your Small Apartment, 2 Makeup And Skincare Bad Habits To Break: Expert Tips From Sebastien Tardif, and Does Chocolate Really Make You Break Out? The Answer.
There Is So Much Good Real Suede For Under $75 At Forever 21 Now
Can You Tell Which Embroidered Dress Costs $84 More Than The Other?
This spring is all about hippie trends, so it's no surprise that crochet tops, peasant blouses and maxi dresses have trickled down to the racks of Forever 21. One dress in particular looks almost identical to this Free People style. Both come in white with dark floral embroidery and a deep v-neckline. The only difference between the two? One has a slightly shorter hem and, oh yeah, the $84 price difference. Can you tell which dress costs more than the other? Click below to find out. Test your fashion savvy some more with chambray dresses, cutout jumpsuits and crossbody bags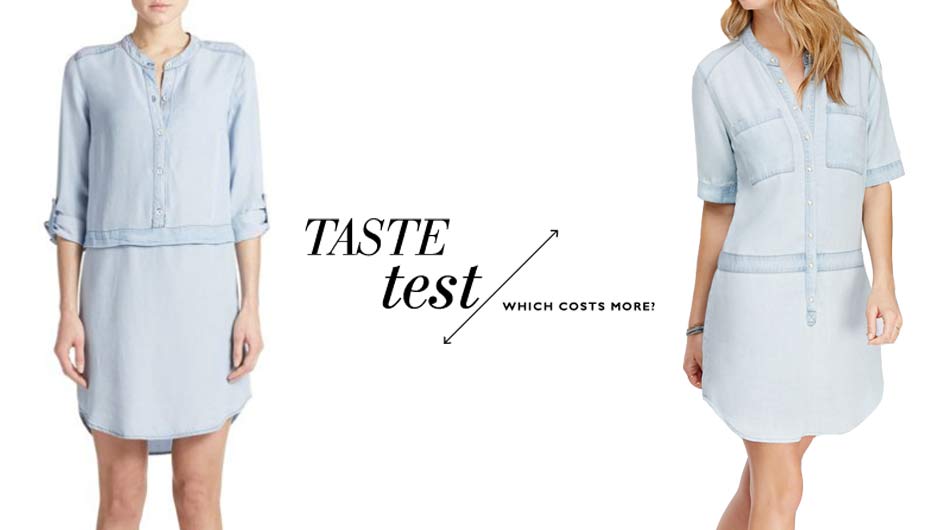 Taste Test: Can You Tell Which Chambray Dress Costs $158 More Than The Other?
I love denim and I've made it my mission over the last few weeks to find the perfect chambray dress for summer. I immediately fell in love when I came across this Splendid Chambray Shirtdress ($188), but hesitated buying it because of the price. Then, lo and behold, I stumbled upon this Forever 21 Buttoned Chambray Shift Dress ($29.90) and wowza--they're basically identical. Save for the price, of course. The Splendid one is more than $150 more expensive than the Forever 21 version. Obviously, I can tell the difference because I've been deciding which to buy for a few days now, but I'm wondering can you? Click below to find out which dress is by Splendid and which is from Forever 21 and then share in the comments if you guessed correctly. Don't miss 70% off at Net-A-Porter, the best sunscreen for sensitive skin and cute wedge espadrilles.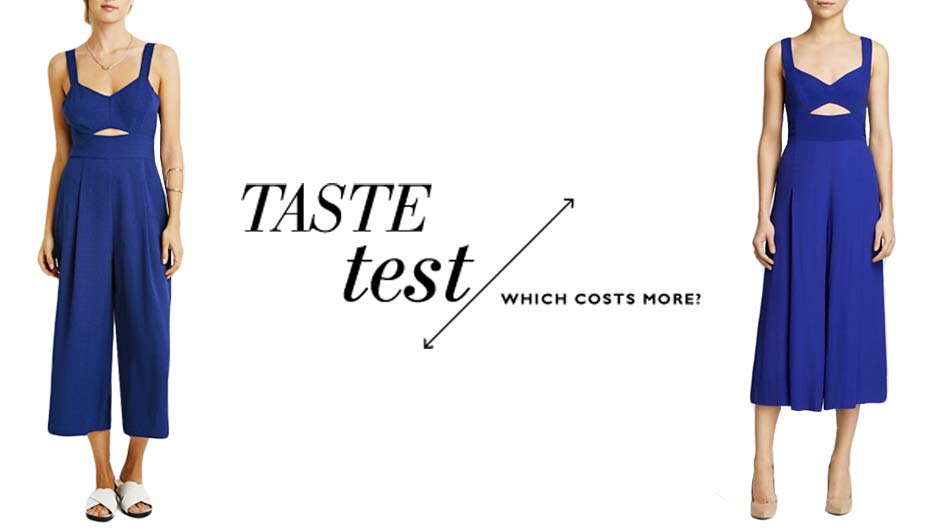 Taste Test: Can You Tell Which Cutout Jumpsuit Costs $193 More Than The Other?
Jumpsuits have come back in a big way. Once a fashion risk, these babies are so commonplace just about everyone owns one now. And given how ubiquitous they've become, designers are pushing the envelope when it comes to new styles and silhouettes. Take, for example, this cool blue culotte version with a cutout in the midsection. We first spotted the Rebecca Taylor Jacquard Jumpsuit which was originally $450, but is now on sale for $221.20, and couldn't help but notice the striking similarities when we came across this Forever 21 Textured Woven Jumpsuit which retails for $27.90. Even with a 50% mark down, the Rebecca Taylor version is still $193.30 more than the Forever 21 style. The question is: can you spot the difference? Click on the pics below to find out which is which. Don't miss gorgeous Chanel bags you can buy online and Kim Kardashian's 30% off maxi dress.
Sale Items Are Buy One, Get One Free At Forever 21 Today
You've been warned: Forever 21 is currently running a buy one, get one free deal on sale items but today is the last day to take advantage. If you've been fiending for some new goodies to spice up your closet, this is the sale for you! Just head over to the sale section and add an even number of products to you cart. Enter code BOGOFREE at checkout and watch the total drop! SHOP FOREVER 21'S BOGO SALE NOW Be sure to check out Jessica Alba's pretty maxi skirt, the Bloomingdale's private sale and 7 dresses every woman needs for summer. [Photo: Oversized Multi-Tone Cardigan; Geo Daze Strapless Jumpsuit; Quilted Faux Leather Jacket]
Leave It To Kourtney Kardashian To Look #Flawless In Forever 21 And Saint Laurent
Kourtney Kardashian recently hit up Sin City with her girlfriends and surprise, surprise, she basically Instagram-d the entire affair. Which is lucky for us because we discovered this super celebrity is actually a fan of Forever 21. It's true! Kourt paired her Forever21 Sheer Lace-Paneled Kimono ($32.90) with a gorgeous Saint Laurent Anita Small Crossbody Bag ($1,490), mixing her incredibly affordable top with an investment piece. We love both and together they make one amazing boho chic outfit. Shop both items below!  Forever 21 Sheer Lace-Paneled Kimono ($32.90) Saint Laurent Anita Small Crossbody Bag ($1,490) Don't forget to shop Sienna Miller's string bikini, Jenna Dewan's floral capris, and Selena Gomez's black jeans. [Photo Credit: Splash News]
10 Forever 21 Bestsellers Everyone's Buying Right Now
Forever 21 Doesn't Just Make Amazing Adult Clothes–Their Kids Collection Is Hella Cute, Too
VIDEO HAUL: What To Buy At Forever 21 Right Now
If you haven't been to Forever 21 this spring, you need to get there stat. They are killing it! From boho tops to gorgeous rose gold jewelry, I basically went on a mini shopping spree the last time I was there because I found so much good stuff. Which leads to my haul--what's the point of shopping if you can't share you scores with your friends, right?! Check out the video below to see what I bought. (Links to buy everything in the video after the jump!) Shopping Credits: Fringed Suede Shoulder Bag ($44.90) Fringed Embroidery Peasant Top ($24.90) Life in Progress Patched Cutoffs ($19.90) Floral Print Peasant Dress ($27.90) Striped Tie-Front Buttoned Romper ($24.90) Tasseled Charm Necklace ($5.90) Tasseled Rhinestone Statement Necklace ($14.90) Be sure to check out how to remove deodorant stains, the best white jeans and how to get smooth feet by summer.
Sale Items At Forever 21 Are Buy One, Get One Free Until Monday
Talk about a Sunday surprise--instead of stalking Instagram while you're watching the VMAs, why not head over to Forever 21 where sale items are buy one, get one free with code BOGOFREE at checkout. Now if you're thinking about putting this off, don't! This promo ends tomorrow so you want to get there ASAP while there's still tons of good stuff to choose from. Go! SHOP THE FOREVER 21 BOGO SALE NOW! Don't miss the Neiman Marcus Last Call clearance sale and 25% off designer shoes at Forzieri. [Photo: Floral Print Tunic; Relaxed Corduroy Shorts; Ornate Crochet Top]
11 Facts You Never Knew About Forever 21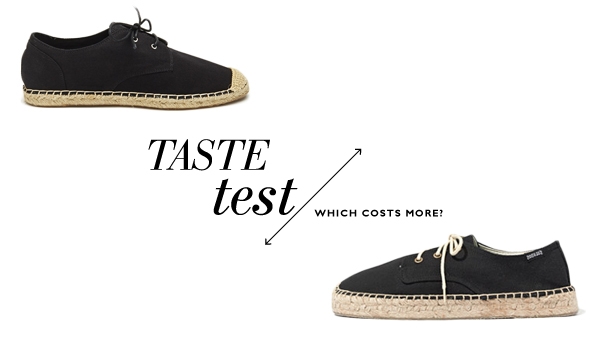 Can You Tell Which Lace-Up Espadrille Flats Cost $60 More Than The Other?
You know Soludos, right? They're the brand that's been doing the jute-heel shoe since before it was considered "cool." Actually, you can probably blame them for the whole espadrille trend--and by blame of course we mean thank! So since everyone is in on espadrilles now, it's not really surprising that copycats are happening. Take for instance this Soludos lace-up flat lookalike from Forever 21. It's practically the same shoe, just $60 cheaper. Can you tell which pair is more expensive? Click below to find out: Test your fashion savvy some more with: Birkenstocks, lace booties and quilted bags
Sale Items Are An Extra 30% Off At Forever 21 Right Now
Need an excuse to update your spring wardrobe? Here's one: when you use the code EXTRA30 at Forever 21, you can take an extra 30% off of all sale items! Get last-minute coats for the final days of winter, dresses for literally every occasion imaginable, airy tops to encourage the warmer weather, and even culottes (yes, those are actually a thing for this season, unfortunately). With basically every item under $20, this is our kind of sale. SHOP THE FOREVER 21 SALE Editor's Picks: Crepe Sheath Dress, Abstract Printed Surplice Jumpsuit, Quilted Velveteen Crossbody Bag, and Sateen Peep Toe Pumps And don't forget to check out: the Milan Fashion Week livestream schedule, Beyoncé's workout routine and Khloe Kardashian's velvet bralette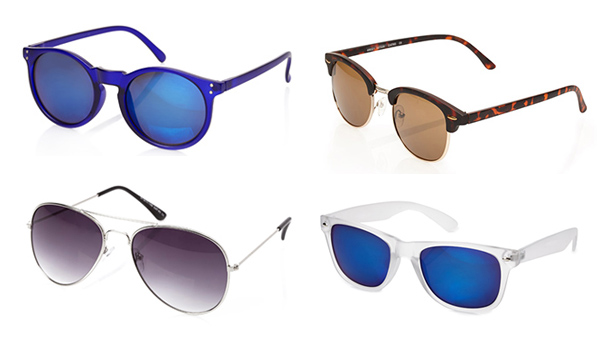 Confession: I Buy My Sunglasses From The Men's Section At Forever 21
It all started a couple of years ago when I accidentally bought a pair of sunglasses from the men's section at Forever 21. I wanted a pair of tortoise wayfarers similar to the Ray-Ban ones everyone was wearing at the time. As I got on line to check out, I saw one lone pair sitting in a plastic bin by the register. I tried them on and they didn't just fit well, the fit great. The square shape frames were slight larger than what I was looking for, but this actually worked in my favor since, well, I have a big head. I bought the sunglasses on the spot, only to find out later that they were actually for dudes. Since the only thing getting me through the coldest days of the season is thinking about my summer outfits, I decided it was time to buy a new pair of shades--or at the very least, check out what F21 Men has going on in the sunglasses department. You guys, they have really good stuff! Aviators, mirrored lenses, basically all the trends us ladies look for in some stunna shades. And like I said, these sunnies fit great if you got a big noggin (it's because our brains are bigger, obvs) Click the slideshow to see our picks. SHOP FOREVER 21 MENS SUNGLASSES NOW Don't forget to check out: Nordstrom's clearance sale, Reese Witherspoon's jeans and dry skin hacks that actually work (we tested them!)
Here's How To Access Forever 21's Super Secret Flash Sale
Forever 21 is having a super top secret Flash Sale right now which includes 40-70% off select styles. Here's how to get it--click the link below and use code VIPFLASH at checkout. Go, go, go! SHOP THE FOREVER 21 FLASH SALE NOW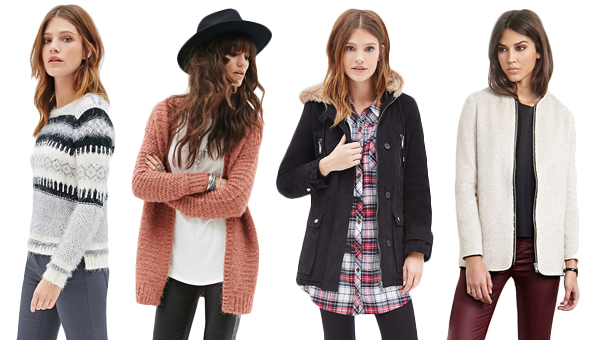 Forever 21 Really Wants You To Shop Their Sale–All Items Are An Extra 30% Off
What's better than the fact that it's Friday? All sale items are an extra 30% off at Forever 21! Since everything is already so cheap, you really have no excuse not to buy something. We promise it will make the bitter cold slightly more bearable if you're not wearing the same thing over and over again. Treat yo self to a cozy sweater or a brand new winter coat. Make sure to get over to the sale before it ends on Monday, January 19th. And don't forget to use the code SALE21 at checkout. SHOP NOW For more sales, check out: 40% off Anthropologie, Wildfox sweatshirts from $30 and DVF's sale on sale
Forever 21's Buy 1, Get 1 Free Sale Means You Could Have 2 New Coats This Week
As if we didn't already love Forever 21 enough for the crazy affordable clothes, shoes and accessories, they went and made the site even more irresistible. How? Sale items are now buy one, get one free. Yes--F. R. E. E. Now if you're thinking this must only be the crap they're trying to get rid of, you're wrong. Not only did we spy loads of good sweaters and accessories like hats and scarves, but there are tons of amazing jackets (like this one and this one) on sale, too. And what could be better than getting a free coat in the middle of winter?! We'd love to stay here and tell you more about the sale, but we wanna shop, too! Click through the slideshow to see the coats you should snatch up. SHOP FOREVER 21's BOGO SALE NOW You'll also want to hit up Gap's winter sale, plus check out Kate Bosworth's sweater on sale. loads of good sweaters and accessories like hats and scarves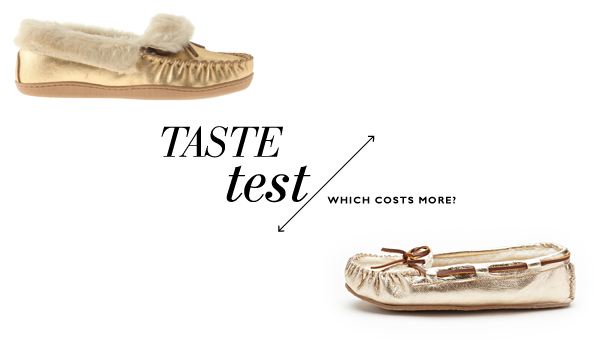 Can You Tell Which Metallic Moccasins Are Forever 21 And Which Are J. Crew?
Comfy and cozy slippers are the cherry on top of a layered-up outfit ready to laze around at home this winter. But instead of the usual neutral-toned materials that color your trusty pair of moccasins, why not mix things up a bit with a hint of metallic? The gilded accent will turn your hoodie and sweats look from drab to fab. After browsing online for our own pair, we realized that a lot of labels are churning out super similar designs. Can you tell which metallic moccs are Forever 21 and which are J. Crew? Answer: The Metallic Faux Leather Moccasin on the right is Forever 21 ($19.90) and the Women's Metallic Shearling Lodge Moccasin on the left is J.Crew ($45, from $55). Now can you tell the difference? For more Taste Test challenges, check out these lace-up heels, Santa sweaters, and plaid ponchos.