The One Foundation You Should Stop Using, According To Dermatologists
5 Foundations That Actually Make Your Skin Better, According To A Dermatologist
HUDA Beauty's #FauxFilter Foundation Is Here–And We've Got Swatches!
7 Cheap Foundations With Incredible Reviews And Reputations
Besides skincare, foundation is your first step to creating a flawless base for any makeup look. And while skincare treatments and products can often times be expensive, there are many drugstore foundation makeup products that are seriously amazing. It's understandable to be a bit skeptical when it comes to affordable makeup, but these seven products work just as well as any high-end foundation you'd purchase. We've got the scoop on the best drugstore foundations with great reviews and reputations so that you can get your skin looking extra flawless. From Walgreens to Amazon, these foundations are incredible and you'll definitely want to add these to your cart ASAP. 1. Revlon Age Defying Firming & Lifting Makeup, SPF 15 The Revlon Age Defying Firming & Lifting foundation tightens your skin as it covers any imperfections. It's also available in a wide range of shades and contains SPF 15 so that your skin can stay protected from the sun all year round. Walgreens Revlon Age Defying Firming & Lifting Makeup, SPF 15 ($15.49) 2. Wet n Wild Photo Focus H2O Fond This super affordable foundation is available in 19 different shades, which is amazing and suitable for many skin tones. It's also super buildable and dries with a flawless matte finish. Walgreens Wet n Wild Photo Focus H2O Fond ($5.99) 3. L'Oreal Paris Infallible Pro-Matte Foundation Makeup Yes, you can even order makeup off of Amazon. This L'Oreal Paris Infallible Pro-Matte Foundation has a long-lasting 24-hour wear. The consistency is lightweight and creamy, and the product applies smoothly so you can get all-day coverage. Its goal is to give you an airbrushed photo shoot ready look at an affordable cost. Amazon L'Oreal Paris Infallible Pro-Matte Foundation Makeup ($11.15) 4. Maybelline New York Dream Liquid Mousse Foundation Unlike the L'Oreal Paris foundation, this Maybelline liquid foundation has a mousse consistency. For best results you should shake the product well before applying. That way, you can guarantee a smooth finish for your foundation base. Note, this product is also suitable for sensitive skin. Amazon Maybelline New York Dream Liquid Mousse Foundation ($7.54) 5. Black Radiance Color Perfect Oil-Free Liquid Make-Up Black Radiance makeup, available at Walgreens, is available in a range of five different deep skin tone shades. This foundation enhances your natural undertones while being easy to blend. It's so amazing that it has received 26 5-star ratings from customers on the Walgreens website alone. Walgreens Black Radiance Color Perfect Oil-Free Liquid Make-Up ($5.29) 6. Maybelline Fit Me! Matte + Poreless Foundation The Maybelline Fit Me! Matte + Poreless Foundation is available at Walgreens in a total of 24 different shades. Besides giving you flawless coverage, the product also contains micro-powders that eliminate pores. It's both dermatologist and allergy tested, and is also oil-free. It has received more than 1,000 5-star ratings on the Walgreens website alone, so you know it's seriously good. Walgreens Maybelline Fit Me! Matte + Poreless Foundation ($7.99) 7. NYX Professional Makeup Mineral Stick Foundation The NYX Professional Makeup stick foundation is both easy to apply and has super buildable coverage. It's also ideal to purchase this stick in shades lighter and darker than your skin tone so that you can also have the best highlight and contour shades too. Ulta NYX Professional Makeup Mineral Stick Foundation ($9.99) We've got you covered on all of the best drugstore makeup and beauty products you need to know (and shop) right now. For more tips, make sure to check out four drugstore products celebrities use for flawless skin, and drugstore concealers dermatologists recommend for women over 30.
Once And For All, Here's How To Remove Makeup From Your Shirt Collar Without Changing Your Shirt #SHEfindsSolutions
How many times have you almost walked out the door and noticed a little lipstick stain or a smudge of foundation on your shirt collar? I'm guessing the answer is a bunch. But that doesn't mean that you have to change your shirt. Here are a few simple ways to remove those annoying makeup stains that won't take up too much time. 1.Invest in a portable stain remover. If you looking for a quick way to get rid of the most minimal stain, try pulling out a stain removing pen. These handy little tools are lifesavers! Though, make sure you test out a small area to make sure that it will work for the stain and the fabric that you're wearing. 2.Use your everyday makeup pads. If you've dealing with a power foundation spill on your collar, a makeup pad may do the trick. Try to remove as much makeup as you can by dabbing a paper towel over the area or brushing away power with a clean makeup brush. (Make sure you don't smear.) Then gently pat the stained area, and repeat to remove as you would your daily makeup. 3.Pull out grease-fighting household items. Dish washing liquid such as Dawn is a great tool to fight oily makeup stains like lipstick. Start by trying to remove any excess makeup with a paper towel. Put a little bit of water on the stain and rub it in and let the soap do it's job. After about 10 minutes, grab a wash cloth and gently rub away the stain. While these tips may offer a fix for the moment, don't forget that throwing your shirt in the wash is the only way to make sure that the stain is really gone. Be sure to check out how to untwist elastic under fabric and how to remove long-wear lipstick. [Photo Damsel in Dior]
The One Drugstore Foundation You Should Stop Using, According To A Dermatologist
The One Foundation Mistake Women Over 40 Make That's Aging Them
5 Cheap Natural Foundations Dermatologists Swear By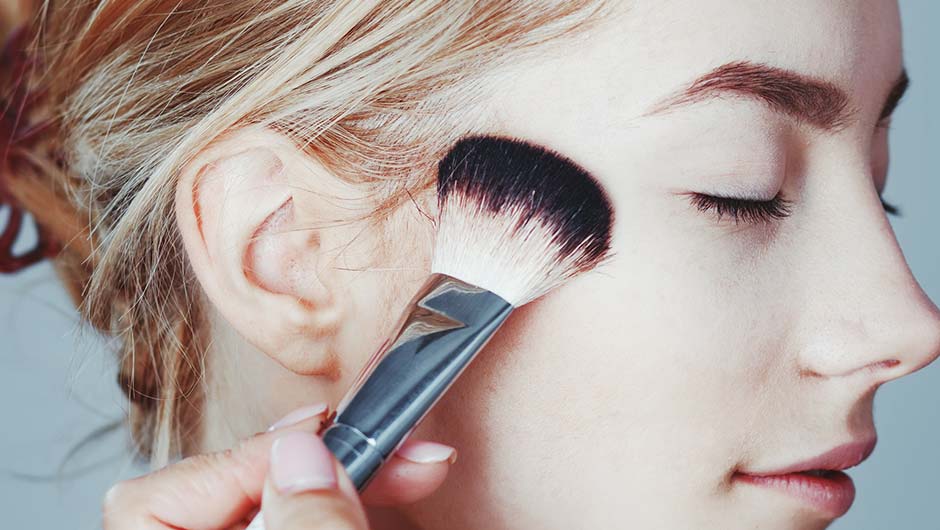 4 Foundation Hacks Every Woman Over 30 Needs To Know
Once And For All, This Is The Best Foundation For Every Skin Tone (& It's Only $5.99!)
How To Use Foundation To Fake Clearer Skin
No matter how old you get, clear skin can seem like an unattainable goal. Whatever stands in your way, whether acne scars or sun spots, few things are more frustrating than trying and failing to hide them with certain makeup products. Some products claim to help acne-prone or aging skin, but are they actually all they're cracked up to be? The next time you break out before a big date night or need to hide that gnarly sunburn from vacation last week, don't panic. Check out these tips for correctly applying foundation to fake clear skin. First, if you haven't done so already, pick out a foundation that matches your skin's needs. Every complexion is different, so find one that's right for you. If you have oily skin, makeup artist Daniel Chinchilla recommends using oil-free or matte products and staying away from products for dry skin. On the other hand, if you're skin has seen less moisture than a California drought, you definitely want foundations packed with moisturizer. If you have sensitive skin, you also want to steer clear of products that might make you break out, so opt for hypoallergenic foundation brands. After you've gotten that out of the way, now comes the hard part: correctly applying said foundation without making it look caked on and/or melting off as the day drudges on. You want to prep your skin with primer to ensure that your foundation stays on longer and has a flawless finish. It gives you that extra layer or coverage for hiding unwanted blemishes and pesky pores. The same rules apply for primer products—find one that matches your skin's unique needs so that it stays on and helps moisturize, if needed. I suffer from perpetually dry skin on my face, so I recommend the Laura Mercier Foundation Primer. It gives my moisture-deprived skin a helping hand and goes on extremely light. There's also an oil-free version for those of you with the opposite problem. Whichever product you choose, use your fingers to rub it all over your face and let it sit for a few minutes so it can soak into your skin. Even with only primer on, you're already well on your way to faking clear skin! If you have specific blemishes or spots you want to hide, now's the time to grab a dash of concealer. However, only apply concealer before your foundation if you're covering specific spots. If you use concealer for contouring or hiding under eye circles, wait until after you've applied foundation. This actually helps you use less concealer. Certain shades of concealer also mask specific skin problems. A green-tinted version works wonders on covering pimples, but go for a yellow-y shade for under eye marks. Once you've covered any spots on your face, let the concealer sit for a few minutes. Then, gently dab it with a damp beauty blender. Make sure you don't wipe, or else you run the risk of removing the concealer completely. Next, arm yourself with your go-to foundation of choice and get ready to go to town on your face. Make sure you have a clean brush, and start applying in the middle of your face. Use round motions with the brush to spread the foundation deeply into your skin. Finally, grab your beauty blender again to dab it out and spread the foundation evenly. If you want an even higher guarantee that your makeup will stay put, invest in a setting spray or translucent powder for the finishing touch. If you bought a powder, use a small brush to gently sprinkle the product on your face. If you'd rather go the setting spray route, just give your face a quick spritz and you're good to go! No one will ever know you had a breakout in the first place. [Photos: Shutterstock]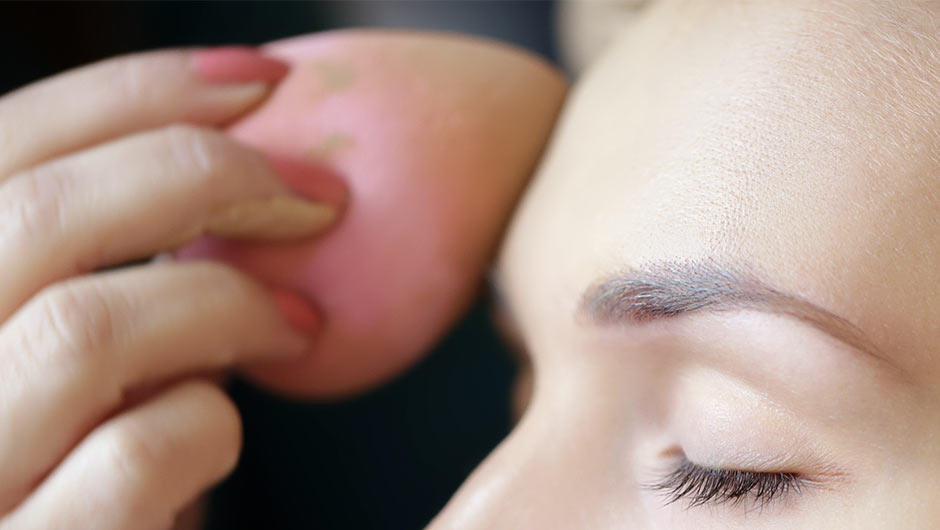 4 Weird Ways To Put On Foundation That Makeup Artists Swear By
The Only Foundation That Will Actually Match Your Skin Tone!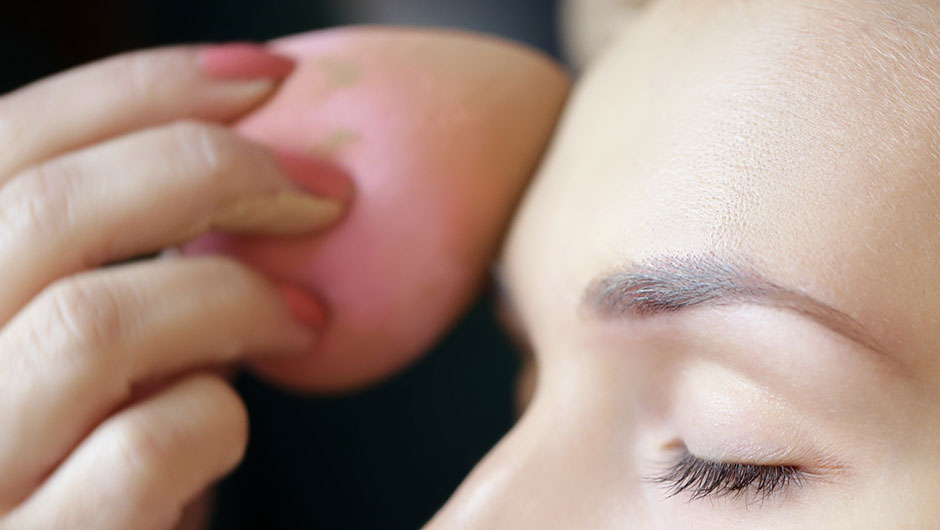 4 Major Foundation Mistakes That Cause Breakouts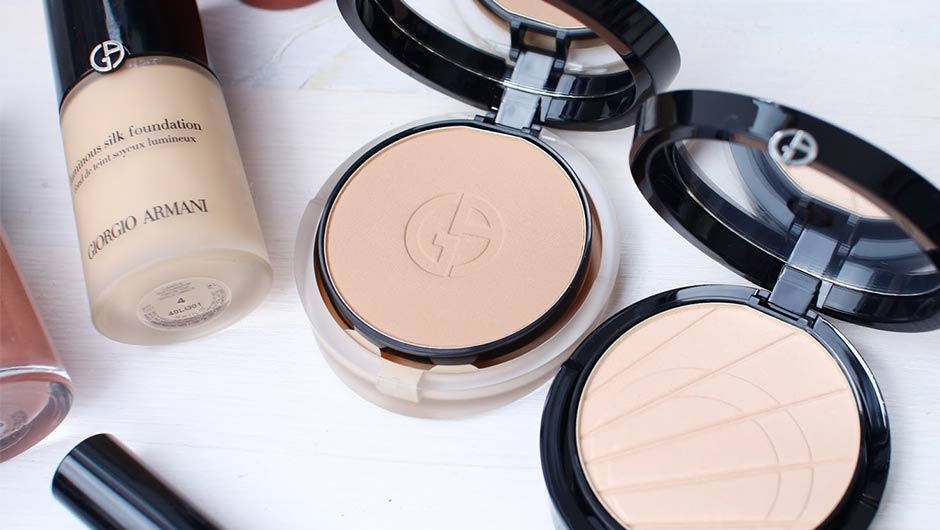 These Are The 10 Bestselling Foundations At Sephora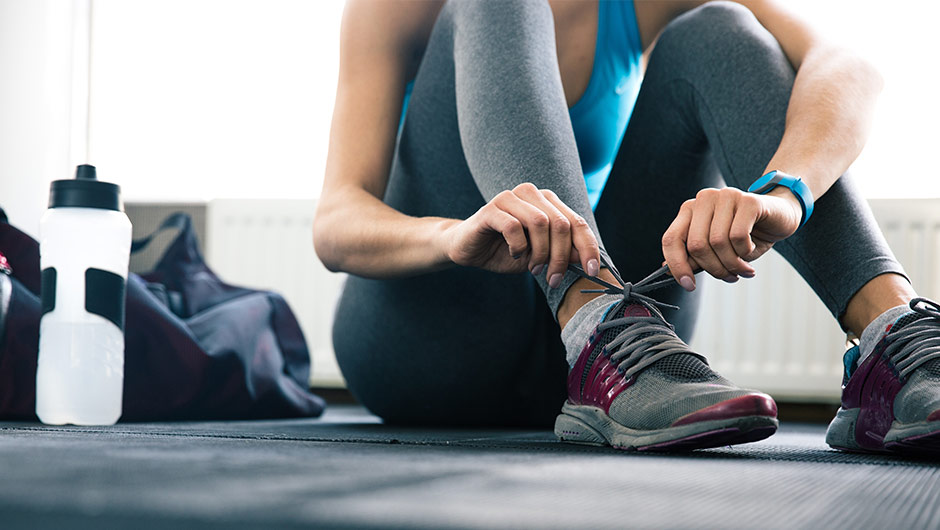 The One Beauty Product You Should Never Use Before Working Out, According To A Dermatologist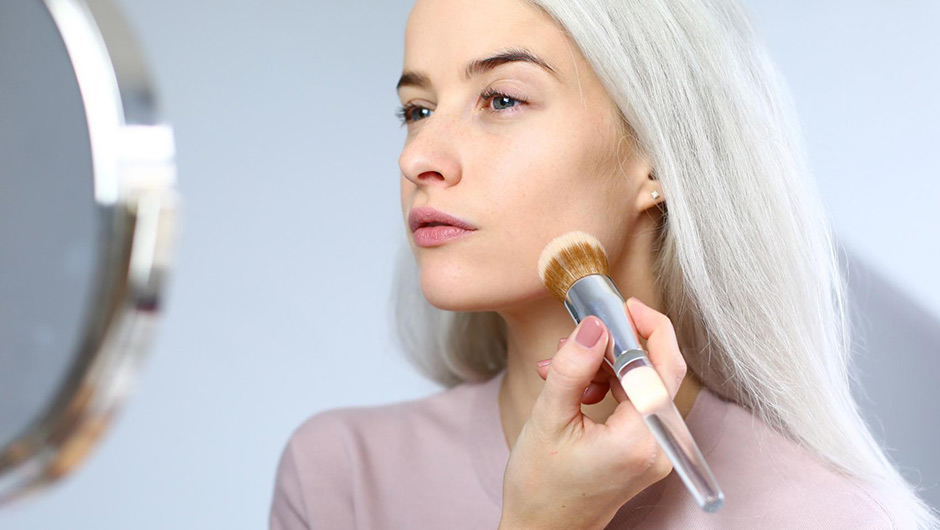 The Best Anti-Aging Foundations That Dermatologists Swear By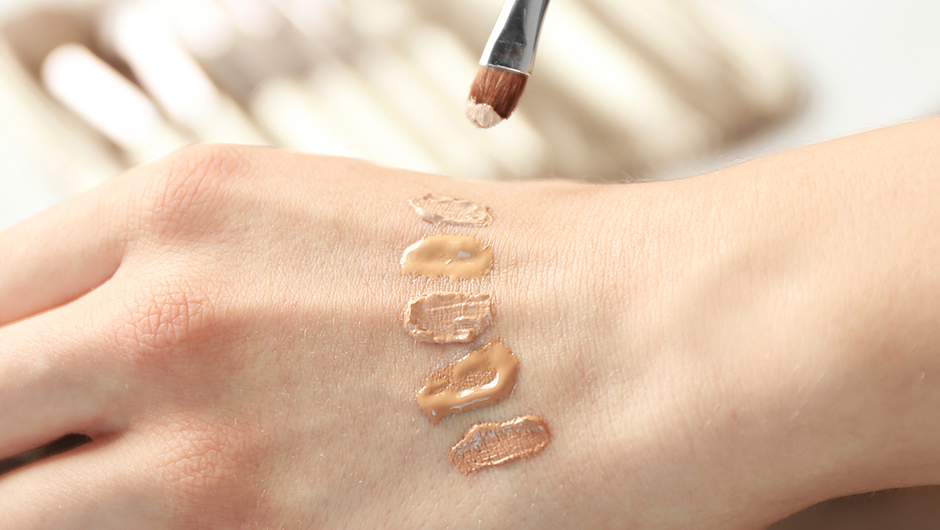 The Scary Downside To Foundation That No One Tells You About
A great foundation does exactly what its name suggests: it evens out your skin tone, hides imperfections, and provides a base upon which you can apply your makeup and look flawless and refreshed. Many mineral foundations have been lauded in recent years for their ability to actually improve skin conditions like acne and rosacea while delivering a much-needed boost of SPF protection. In other words: don't toss out your foundation just yet. But there is still one frightening downside to some other types of foundation that needs to be kept in mind: if your foundation contains parabens, it can actually age you — and be dangerous to your skin and health. Parabens are chemical preservatives that can disrupt your hormones and increase your risk of breast and skin cancer. Many makeup brands continue to produce foundations and other products that contain parabens, which is obviously bad news. In addition to causing adverse hormonal changes, the metylparaben in your foundation can react adversely with UVB rays to cause DNA damage that can not be reversed — and this will, of course, only accelerate the aging process and could leave you with more fine lines, wrinkles, and hyperpigmentation. Although less dangerous, another thing to keep in mind is that other ingredients in your foundation — like alcohol and powders that do not contain nourishing minerals — will prove extremely drying to your skin. Over time, using these products can strip your skin of its natural and essential oils, make fine lines more evident, and completely thwart your efforts to get the loveliest skin of your life. Play it safe by switching to a chemical-free mineral foundation and always carefully checking labels (yes, even on mineral brands) before dropping a dime on them. Your skin will thank you now and in years to come. For more skincare and makeup tips, check out How to find the perfect shade of foundation online and Once and for all, does foundation clog your pores? Follow me at @lisacfogarty on Twitter.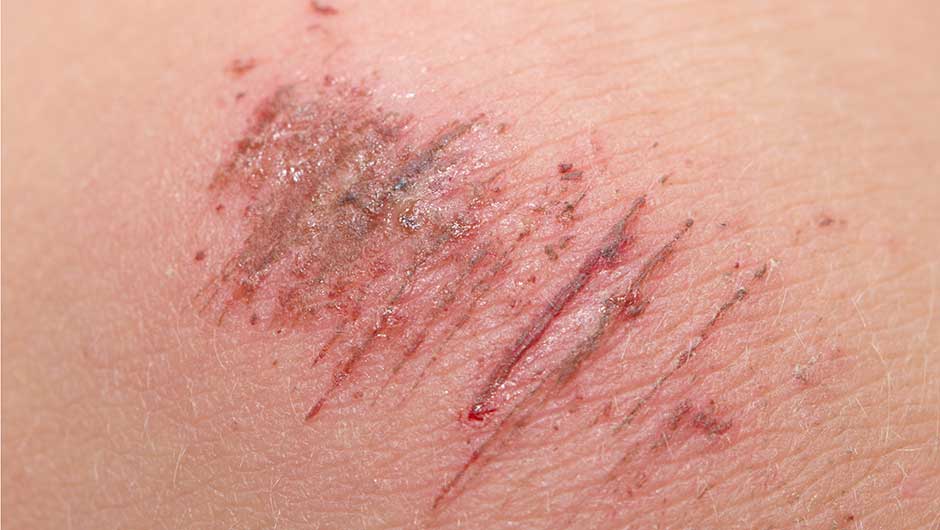 The One Makeup Product You Should Never Use On A Scab
Scabs are the absolute worst, and that couldn't be truer than when they are on your face. Eeeek! The only good thing about them is that they are actually the start of the healing process for your skin. Scabs are actually a protective barrier between your old wound and the new skin forming underneath. That's why it's extremely important just to let your scab breathe so it can do its thing. Applying foundation on top of a scab not only ruins the healing process but actually looks horrible. If you put foundation on skin while it's in the process of healing itself, it will make the area look super crusty and flaky. Avoid any mishaps by skipping the foundation for a few days and just going au naturel! This will allow for a quick recovery and you will back to beating your face in no time. Don't forget to check out: why you should never apply foundation directly onto bare skin and the one thing you should never do if you have eczema [Photo: Shutterstock]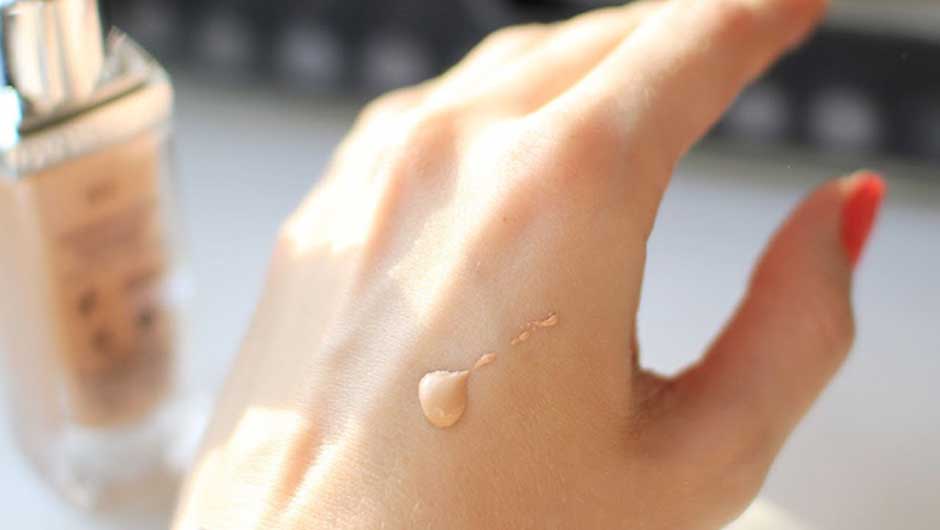 Why You Should Never Apply Foundation Directly Onto Bare Skin
Foundation is a priceless makeup product that can take your skin from pretty to flawless in seconds. But it isn't enough to find your perfect foundation shade match — application techniques are just as important in achieving a gorgeous canvas. If you are applying foundation directly on bare, clean skin you are skipping one crucial step that can make all the difference: primer. After you have cleansed, toned, and moisturized your face, you will likely be left with dewy, slightly sticky skin. If you slather a layer of foundation directly on top of moisturized skin without first applying an in-between barrier like primer, you run the risk of having it slip and slide all over your skin. You'll spend longer than necessary blending it in, and when you finally do, you may find it doing a less than stellar job at covering up fine lines and blemishes. The problem is: you may be expecting miracles from foundation and relying on it to do the work of other products. A better way to think about foundation is as one important makeup tool — but not the only tool — needed to get clearer-looking skin. After you've cleansed and moisturized, pat down your skin with blotting paper and then assess its needs for that day. If you woke up slightly red, consider dabbing a product like IT Cosmetics Bye Bye Redness Correcting Créme ($32) on irritated spots. Play with a color correcting palette by NYX ($12), which features six shades of concealer that can address everything from sallowness to dark undereye circles. After you've addressed these skin issues, always apply a primer (Benefit Cosmetics The POREfessional Face Primer ($31) is fantastic) that feels like a silky balm, minimizes the appearance of pores, and provides a perfectly smooth canvas upon which your foundation will then glide on. A minute or two spent prepping the skin before foundation will make a huge difference in your skin's appearance. For more makeup tips, check out The best beauty buys from Etsy and The 6 best beauty reward programs for people who buy a lot of makeup [Photo: In the Frow]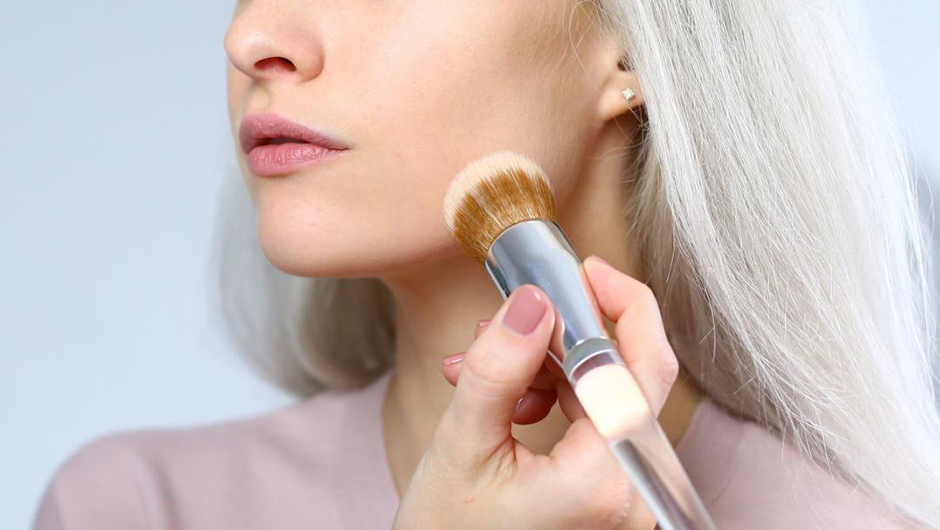 This Is Why You Break Out From Foundation–It's Not The Makeup Itself!
There are times when using a great foundation that evens out your skin tone and makes blemishes and imperfections vanish in seconds just makes you feel and look like a more polished version of yourself. But if the tradeoff is being forced to deal with pimples and blackheads that may result from full-coverage makeup, you have to wonder if it's worth the trouble. The good news for foundation devotees is that, while certain ingredients in makeup may aggravate skin and contribute to acne, there are a slew of other reasons why you may be breaking out — and many of them can be controlled. "Many factors play a role in clogged pores: bacteria, pollution, skin type, dead skin cells, work environment, hygiene habits, and many other things can contribute to the cause," says Connie Elder, the founder and brand developer of  PEAK 10 SKIN professional spa brand of skin, body and sunscreen products. "Certainly makeup has the potential to clog pores. If you happen to be someone who sleeps in your makeup the potential is much greater. Ingredients contained in various makeup, paired with other circumstances and skin types can result in clogged pores." Elder recommends avoiding ingredients that are usually known for clogging pores such as lanolin, isopropyl myristate, and many fragrances. "These ingredients can also aggravate existing acne and slow down the process the skin clearing up," Elder says. As long as you are vigilantly removing your foundation every night and taking good care of your skin, Elder says there is no reason why you have to stop wearing foundation or makeup. "It simply means be smart about your choices of makeup, be diligent in cleansing your face before bed and allow your face to be free of makeup when possible (weekends, evening while watching TV, etc)," Elder says. "Consider mineral makeup, which provides the coverage you are seeking without all the unnecessary ingredients that can cause undesirable results. Whether it be makeup or skincare, search for products with the shortest ingredients list. These products are less likely to have lots of fillers, which are usually the undesirable ingredients and most likely to react with your skin." For more skincare and makeup tips, check out 7 Skincare mistakes that are aging you and The one thing you should never do when applying foundation. Follow me at @lisacfogarty on Twitter. [Photo: In The Frow]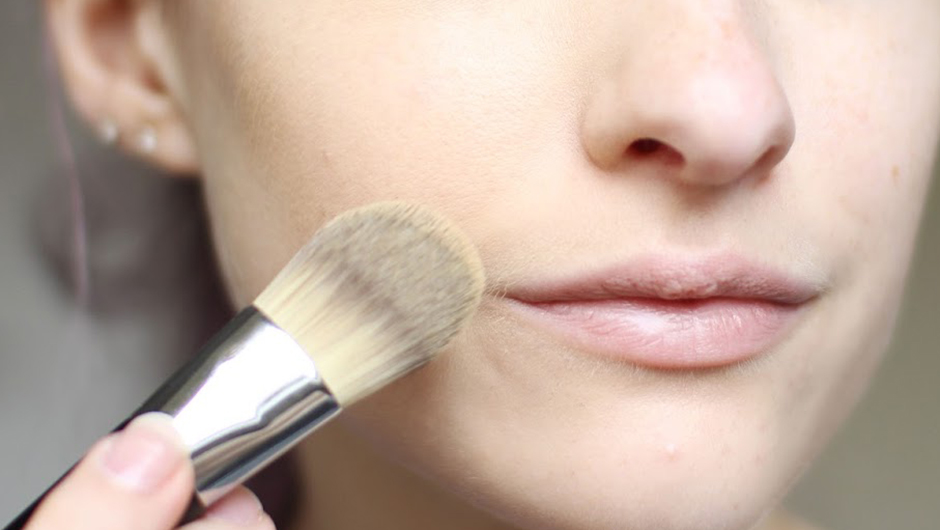 Once And For All, Does Foundation Actually Clog Your Pores?
Foundation is the one makeup product that can create a smooth and flawless canvas — and we know how important clear and radiant skin is to our overall appearance. But we also know that clogged pores cause pimples, blackheads, and whiteheads and it makes logical sense that foundation creates a barrier between our pores and the air. So, what's the deal with the foundation? Should we avoid it like the plague if our goal is to have clear, beautiful skin? First, the facts: dirt, sweat, oil, and, yes, makeup can all contribute to blocking our pores, leading to inflammation, uneven skin texture, and conditions such as acne, says Dr. Arash Akhavan, MD, FAAD, founder and owner of The Dermatology & Laser Group in NY. But a person's individual skin type and even their lifestyle has more to do with the way their skin reacts to makeup than the makeup itself. "When it comes to makeup, everyone is different in terms of the type and brands that work for their skin," Akhavan says. "Someone with oiler skin and larger pores will generally have more makeup-related issues than those with normal skin. A person's lifestyle also plays a role in how makeup affects your pores. Sweat and dirt can mix with makeup and change its characteristics, making it more likely to cause skin issues." If you're concerned that the foundation you are using is causing breakouts, you needn't swear off makeup for the rest of time. There are ways you can prevent pimples while wearing makeup. "Foundation/coverup is the main area where people run into issues with clogged pores," Akhavan says. "In general, powder based foundations are less likely to cause clogged pores than liquid foundations. And when it comes to makeup, people generally are better off going as light as possible. Even a non-comedogenic product can clog pores and cause acne if you use too much of it." Make sure you cleanse your skin thoroughly every night with a gentle makeup removing cleanser and that you check your pores in a magnified makeup mirror, Akhavan says. "If you see any remnants of your makeup in your pores, you are putting yourself at risk for pore related skin issues." If you have been battling acne issues forever, Akhavan cautions against getting into what he calls the "acne-makeup vicious cycle," where you breakout and try to cover it up with makeup, thereby making your acne worse. "Sometimes, you just need to bite the bullet and let your pores rest and breathe for a couple of weeks," Akhavan says. "If walking around with acne and no makeup sounds like a dreadful option, talk to your dermatologist to see if there is a quick fix to get you through your first couple of weeks with less makeup. Options such as certain prescription medications, chemical peels, and certain other procedures we do in our office can clean out your pores, decrease skin inflammation, and give you a fresh start with your skin." For more skincare tips, check out 7 Skincare mistakes that are aging you and Do you need to change your skincare routine for fall? Follow me at @lisacfogarty on Twitter. [Photo: In The Frow]
Why You Should Never Use A Makeup Sponge To Apply Foundation
Unless your a beauty newbie, you know that the beautyblender has changed the way people apply foundation. It's become a staple in almost every makeup artist's kit. However, reusable makeup sponges like the beautyblender require a lot of maintenance. In fact, some makeup experts argue that you should never use makeup sponges to apply foundation. So before you get on the beautyblender bandwagon, you should know the facts. READ MORE: The Only Place You Should Test New Foundation (FYI, It's Not Your Face) Makeup sponges can be a breading ground for germs if you don't wash them the correct way. They need to be cleaned before every use. Otherwise, you run the risk of spreading bacteria all over your face. Sponge tend to be difficult to properly wash and sanitize. They also have a limited life span. A beautyblender ($20) only last 2-3 months. However, if you invest in a a good foundation brush, it can last you for years. READ MORE: The Right Way To Apply Foundation If you don't clean your makeup sponge after every use, it isn't as effective. Leftover makeup on your sponge can cause your foundation to cake up, making product hard to blend. If you also can't use a dirty makeup sponge with different types of products because it the products will mix and become muddled. Unless you want to buy a separate beautyblender for each face product you use, it is more cost effective to invest in a set of foundation brushes. READ MORE: 5 Foundation Mistakes That Are Aging You Most importantly, beauty sponges soak up a huge amount of your foundation. This is a total waste of product, especially since foundations can be so expensive. In order to save every last drop of your foundation, you should apply it with a microfiber brush. A brush provides more consistent, seamless finish. It also allows you to build coverage in areas that need it. I recommend applying foundation with a brush, and then using a makeup sponge to smooth out the foundation. READ MORE: The Right Way To Clean Makeup Tools & Brushes [Image: @beautyblender]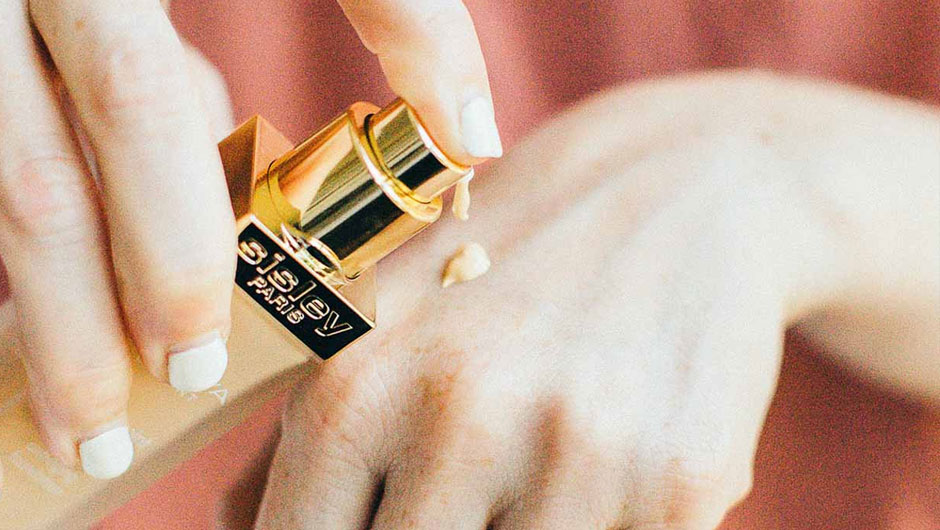 3 Foundation Hacks That The Pros Swear By
The 2-Second Trick For Finding The Best Foundation Shade For Your Skin
Finding your perfect foundation match is hard. If only there was dating app for trying foundations. You could swipe right on a color and see if it works for you. Unfortunately, it's not always that easy to get a match (foundation wise). It can be especially difficult if you're something for foundation online. Thankfully, there is a 2-second trick takes the guesswork out finding the perfect foundation. All you have to do is look at your wrist. What color are your veins? If your veins are olive-colored, that means you have a warm skin tone. If your veins are blue, that means you have a pink undertones. If you have both, then your undertone is neutral. Once you know your undertones, discovering your foundation match will be a lot easier. READ MORE: The One Mistake Women Make When Purchasing Makeup In-Store It's important to recognize the difference between skin tone and undertone. According to makeup guru Michelle Phan, your skin tone is how light or deep your shade is, which can usually be determined by how your skin reacts to the sun. This can basically be narrowed down to light, medium, or dark. Your undertone represents your skin color, which is something that never changes, no matter the season. People with warm undertones tend to look better in foundations that have a gold or yellow base. Cool skin tones should gravitate toward foundations with hints of blue or pink. If your neutral, you fall somewhere in between. Try shades like buff, nude, and ivory. READ MORE: 8 Useful Tricks For Anyone Who Uses Foundation The best way to test foundation is to test it out on your jawline (not your hand or face). This is because your jawline is where your complexion is the most even. The trick is to test three different foundation shades in this area. Swatch three different shades on your jawline. You want to pick the shade that looks "invisible." This is your perfect match. If you're shopping for foundation online, there are some great guides available to help you find the best shade. Check out this amazing foundation guide from Ulta. It allows you to shop by brand and then categorizes each shade by skin tone. There are also some really good apps that can help your narrow down for your foundation choices. Check out our list here. For more foundation tricks, check out 5 foundation mistakes that are aging you and the one thing you should never do when applying foundation.
The Best New Sephora Beauty Launches For Fall
The One Makeup Product You Should Never Buy At The Drugstore, According To A Beauty Exec
While the drugstore is a great place to score beauty finds that won't break the bank, much like with your closet, it's never a bad idea to have a mix of high and low products in your arsenal. Drugstore brands are great for some products, but others will always be worth the splurge. So what's the one product that you should always avoid buying at the drugstore and splurge on instead? According to Erica Russo, Fashion Director, Accessories and Cosmetics at Bloomingdales, a good foundation is always worth investing in. "One beauty product every woman should splurge on is her foundation," Russo says. "Finding a foundation that works for your skin type and tone may take some effort, but once you find your match, it's the one beauty product that can transform the look of your skin in an instant. Make sure to purchase a foundation that contains SPF and added skin care benefits, like anti-aging properties, to help protect while creating that flawless finish every girl craves." As for a splurge-worthy foundation, Russo recommends Armani Lasting Silk UV Foundation SPF 20 ($62), which provides medium coverage with a matte finish and SPF to protect your skin throughout the day. While there are some seriously amazing drugstore products out there, it makes sense that a product like foundation - which sits on your skin all day and creates a base for the rest of your makeup - is worth investing in! For more beauty tips, check out: How To Wear Eyeliner In Colors Other Than Black And Brown and The One Thing Girls With Short Hair Should Never Do [Photo: Shutterstock]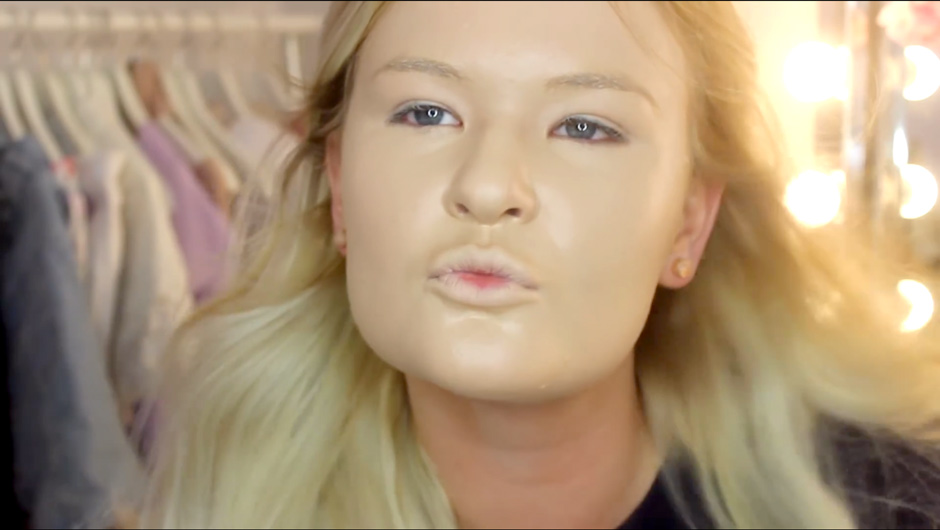 Definitely Watch This Woman Apply 100 Layers Of Foundation Because It's Absolutely Absurd
Remember this insane 53-layer manicure? Well, now, someone is trying to make 100 layers of foundation happen. In this can't-look-away Youtube video, vlogger Jeely cakes on layer after layer of foundation and becomes unrecognizable under all the makeup. "Am I flawless yet?" she asks 20 coats in. I feel like I'm breaking out just from watching this! It took her a total of three hours to apply all the foundation (the video isn't that log, obvs). Let's think about things you can do in that same time frame: 1) Drive from New York City to Philadelphia 2) Take 3 SoulCycle classes 3) Watch Justin Bieber's entire Purpose Tour set. Twice. She also spent 5 hours applying 100 layers of mascara. So, priorities I guess? [youtube]https://www.youtube.com/watch?v=4eCkdfDYcmU[/youtube] Don't forget to check out: the most unhealthy items on the Chipotle menu and what your favorite fast food says about you [Photo Youtube]
Definitely Watch This Woman Apply Foundation With A Sock (Yes, Really)
File this one under weird but shockingly good beauty hacks. Beauty vlogger Mayra Touch of Glam used socks, yes, the things that go on your feet, as a makeshift tool for applying foundation. While you might think this is kind of ridiculous at first, watching her tutorial will completely change your mind. One day while digging through her sock drawer, Mayra noticed that the texture of the heels and toes was soft and fluffy, like a sponge. So, Mayra bought a fresh three-pack (thank goodness) of ClimateRight by Cuddl Duds Low-Cut Socks ($6) and tested them out with her makeup routine. Mayra used the sock to apply her foundation as well as blend, and the results were kind of amazing! She looked like she had her makeup professionally done, which, she kind of did since this IS her job and all, but the fact that it was almost all done with a sock is mindblowing. Watch for yourself below: [youtube]https://www.youtube.com/watch?v=29J5JPZJnWs[/youtube] And the best part is, you can just throw the socks in the wash and use them again! "This might be the next BeautyBlender, just saying," Mayra told her viewers, and we have a feeling she's spot-on with this one. Don't forget to check out: things brides forget to do before walking down the aisle and should you wash new clothes before wearing them? [Photo: Youtube]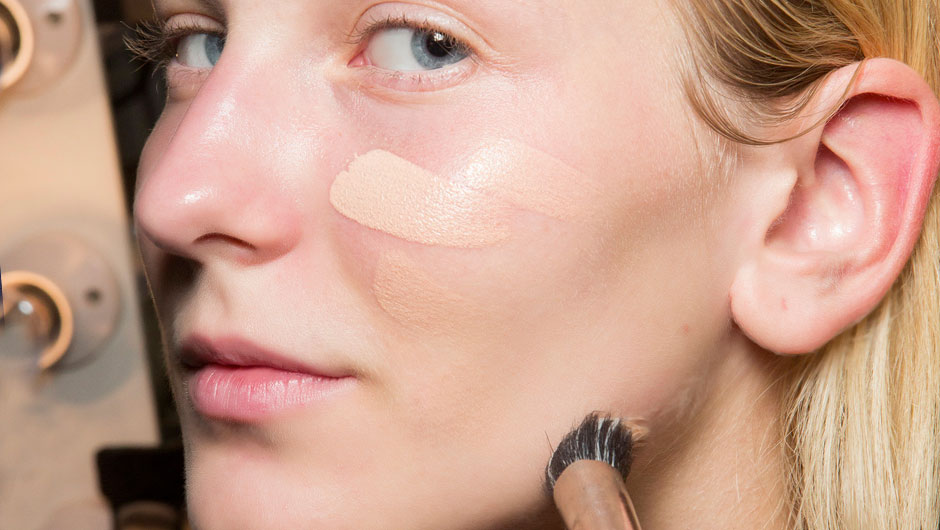 The 7 Best Drugstore Foundations With The Highest Customer Ratings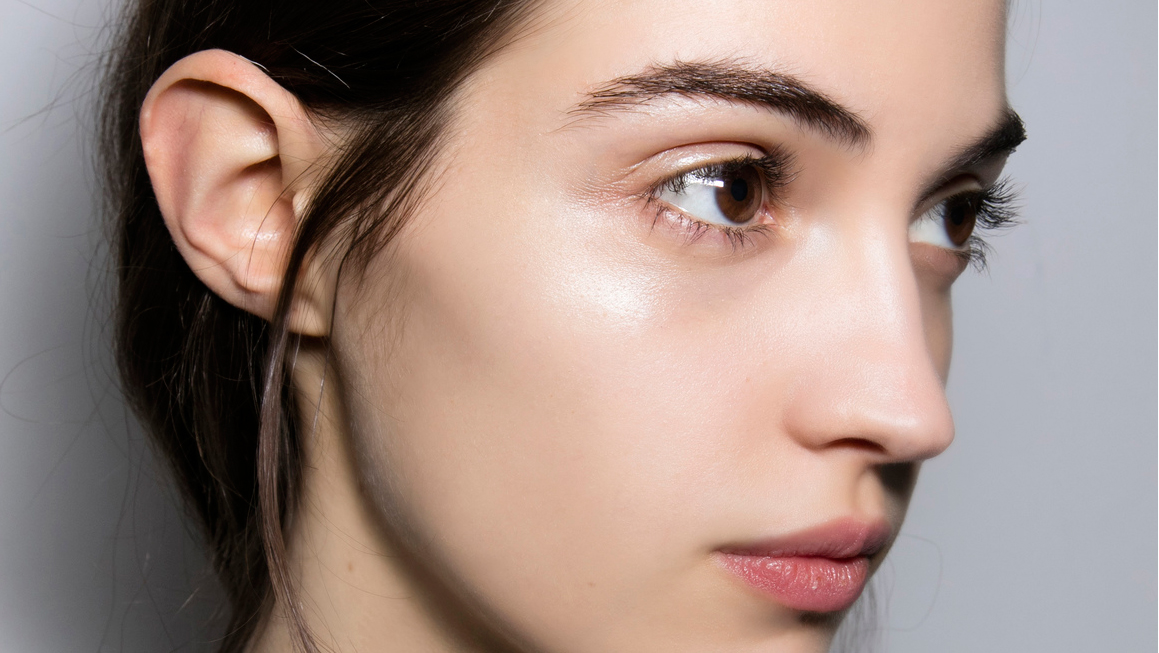 The 1-Minute Trick To Buying The Perfect Shade Of Foundation Online
SHEfinds receives commissions for purchases made through links in this post. If there's one makeup product you can't afford to get wrong, it's foundation. The wrong shade of foundation can make you look like a ghost or as if you were attempting to trick everyone into believing you spent the weekend in Miami. Flawless-looking skin requires a perfect foundation match, but how can you ensure that happens when you're ordering cosmetics online? Gone are the days when we blindly chose a hue online, crossed our fingers and hoped for the best. Instead, there's now amazingly innovative technology that makes finding a foundation that matches your skin not only fast, but also crazy accurate. Veleza is a brand new mobile app for beauty lovers that offers tons of beauty tips and advice. Our favorite feature, however, is their foundation finder. To find your ideal foundation shade, all you have to do is upload photos of the makeup products you currently use to your virtual shelf and answer a few questions about your skin. Veleza works its magic and then voila!--you get your best matching foundations, plus unbiased reviews so you can make an informed purchasing decision. The best part of it all? You can your rec in under a minute! We love Veleza because it isn't tied to one specific cosmetics company, but here are three additional beauty brands that allow you to custom match foundation to your skin tone right on their site. Once you've found your match, you just add their foundation to your cart and boom--buying foundation is off your to-do list. Cover FX. Let's say you're new to foundation and feel lost when it comes to figuring out which formulas and shades work best for your skin type. Do yourself a favor and visit Cover FX, a five-free makeup brand developed under the supervision of dermatologists that offers more than 40 foundation shades. The brand's online Makeup Shade Finder quiz is fantastic because it doesn't simply lead you to a great color, it also teaches you. For example, it will tell you that liquid foundations are best for dry skin and you can opt for more or less coverage, depending on your everyday preference or the event you'll be attending. At the end of the quiz, you'll even get to see how your recommended product looks on a model who shares your skin tone. Glossier. We love Glossier's "skin first, makeup second" approach to beauty and truly appreciate that even as a relatively new brand, they have a pretty diverse spectrum of coverage options. Their skin perfecting tint is significantly less heavy than traditional foundation, but nailing the perfect shade can still be tricky. That's why Glossier introduced the Shade Finder. All you do is upload a well-lit picture of yourself and they'll match recommend which of their five colors will best match your skin tone. Sephora. Thanks to Sephora's partnership with Pantone, you can visit a Sephora store and use its handheld IQ color device to capture an image of your skin that allows its computer system to generate a Color IQ number for you. Save this number forever because it's going to allow you to shop online at Sephora for foundation, concealer, and even lipstick shades that complement your skin. Another amazing addition to Sephora's website? Even if you don't have your Color IQ yet, you can shop for foundation shades that will work on your based on the foundation you already use. How effortless is that? For more beauty advice and news, check out 5 foundation mistakes that are aging you and the one thing you should never do when applying foundation. Follow me at @lisacfogarty on Twitter. [Photo: Imaxtree]
The One Thing You Should Never Do When Applying Foundation
When you buy foundation, you usually pick the one that matches your skin tone best and go with that one, right? Wrong! It turns out that the one thing you should NEVER do when applying foundation is only wear one shade of it. Why? Because your skin tone has highs and lows (it is unlikely if not impossible that it's perfectly even!), so you need to go with two shades and then blend. I know--life changing!! This is something that makeup artists know that the average woman does not. Here's more on that: "The trick is to always keep two foundations on hand," Shain Kish, a makeup artist with Birchbox explains. "I suggest a medium coverage foundation in your lightest shade and a more sheer tinted moisturizer or BB cream in your darkest." This way, you can adjust the color and coverage for the season, too. Shain's product picks? For the medium coverage foundation, he recommends using this Benefit Hello Flawless Oxygen Wow Liquid Foundation ($36). For the sheer tinted moisturizer, he prefers Stila Sheer Color Tinted Moisturizer ($34) and for the BB cream, he loves Smashbox Camera Ready BB Water ($42). So, how to do it? "Using your fingers, apply the light/medium coverage foundation onto the high planes of your face (in the shape of a sunburst and you only need a dime size. Then, I like to use a beauty blender and place a more generous amount of the dark/sheer foundation to the contours and outer rim of the face. To top it off, overlap the darker color over the lighter color and blend seamlessly." Well, there you have it ladies! Now you can actually [Photo: Peace Love Shea]
Kim Kardashian Can't Get Enough Of These Two $8 Drugstore Foundations
It's no secret that Kim Kardashian is obsessed with makeup. She's the queen of contouring and flawless skin. In a new post on her website talking about her favorite liquid foundations, we were shocked two of them can be found in a drugstore for under $10. RELATED: The face wash Khloe and Kylie swear by The first is Rimmel Lasting Finish Liquid Foundation ($8) that features a comfort serum. It is dermatologist tested and lasts through sweat, heat and humidity up to 25 hours. RELATED: Kendall's favorite eye mask The second is the Maybelline Fit Me! Matte + Poreless Foundation ($8) that is ultra lightweight and perfect for oily skin. It mattifies, erases pores and matches your natural skin tone. RELATED: Kim's go-to face mask (it's $7!) It's nice to know we can attempt to achieve Kim's look without breaking the bank! Don't miss 8 cheap drugstore eyeliners with amazing customer reviews and shop Kendall Jenner's new eyeshadow palette! [Photo: Splash News]
Kylie Jenner's Go-To Foundation–Revealed!
Sometimes we see pictures of Kylie Jenner, and it amazes us that she is just another person in this world because of how flawless she looks all the time. Her lips have gone viral, and now she's revealed her go-to foundation to a rather unlikely source... The New York Times?! According to the 18-year-old beauty queen, she is a big fan of Charlotte Tilbury's Light Wonder Foundation ($45). Kylie recommends this product because "You can still see my skin through it," she tells the NYTimes. Despite the criticism the Kardashians get for a makeup routine that seems like all-fake-everything—contouring, falsies, lip plumping, etc—it turns out that these gorgeous women do appreciate the feeling of looking au natural, too! Although we don't wake up looking like Kylie, all it takes is finding the right products to fake it till you make it. We are so excited to try Jenner's foundation must-have, because while we may never be a Kardashian, we can at least try to come close, right?! And make sure to check out: Here's How To Get Yourself A Starbucks Pumpkin Spice Latte Before Their Official Return Date, How To Get Rid Of A Scar, and There's A Reason Why Jennifer Garner's Chambray Top Is Called The "Perfect Shirt" [Photo: Splash News]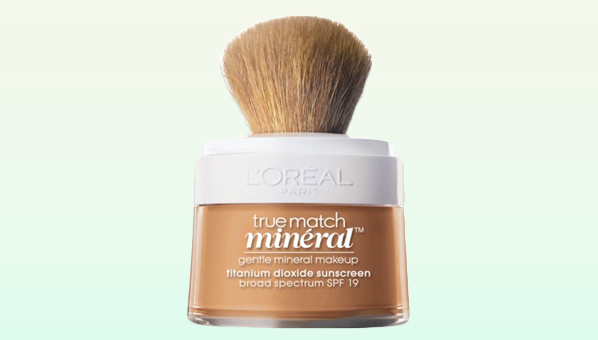 I Get Brand-Name Makeup For Free, But I Still Buy My Foundation At The Drugstore
Alright, I'm going to be honest. I have suffered from acne since I was 11-years-old. For the past twelve years, I've been popping, picking and covering all of my white AND black heads. And since that first zit popped up all those years ago, I've been in a never ending search for the best foundation to cover my pimples without causing more to form. If you've suffered from any type of acne, you probably feel my pain. After years of using oil-causing, pore-clogging liquid foundations, which obviously made my situation worse, I was finally turned on to mineral powders. Of course, the bratty teenager in me begged my mom to spring for the pricey mineral foundation starter kit, and she did, because she understood my dilemma. (She also struggled with acne during her teenage years.) I used the brand-name product for a few months after I purchased my starter kit, and even got refills, but over time, it became hard to justify spending hundreds of dollars on an eleven-year-old's makeup. I technically wasn't even "allowed" to wear makeup to school for heaven's sake (silly private school rules). So, my parents didn't want to waste the money on something that I might get in trouble for, or that I might have to wash off in the bathroom. (Luckily, I almost never got caught... SHHH!) But like every good mom, she found a solution. She did what she does best:  found a good knock-off. And that knock-off turned out to be the best beauty discovery that she and I have ever made. When I ran out of my over-priced minerals, my mom drove me to our local CVS, and we picked out L'Oreal Bare Naturale Mineral Foundation ($11.59). See...even the name is similar to other brands like Bare Minerals and Pure Minerals. But in reality, these foundations aren't the same at all. First off, L'Oreal's mineral foundation offers way more coverage than other mineral brands (no matter how much you cake on). It actually provides sooo much coverage that I've had multiple people tell me that I have "great skin." Ha! I've got them fooled. And it stays on all day. With other brands, I found that I had to reapply my minerals half-way through the day. What's also great is that every container comes with a new brush and brush cover. That means that pizza-faces, like me, never have to worry about not having a clean brush. (yes, I've been called that before) With this stuff, you'll never spread germs and bacteria around your face with a dirty brush again. Though I've cheated and been unfaithful to my beloved drugstore brand a few times and went searching for "something even better," I have always gone back to good ole' L'Oreal. I can't say that it has solved all of my skin problems, but it is by far the best foundation I've found for my acne-prone skin, and I can assure you that I've tried A LOT. Who would've thought that the best mineral foundation would only be $11 and come from aisle 6, instead of a department store or beauty shop like Sephora? Now, I expect you all to go out and try it. You've got nothing to lose. After all, it won't give you acne. I promise. For more beauty products and reviews, check out: L'Oreal Blush, NARS 'Audacious' lipstick collection and AHAVA body serum.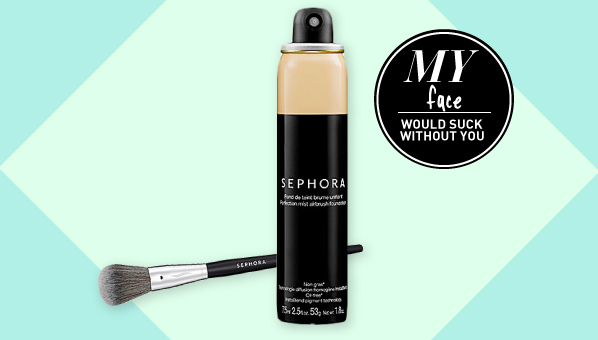 My Face Would Suck Without You: Sephora Perfection Mist Airbrush Foundation
A few months ago, I made a game-changing discovery: airbrush foundation. I was getting ready for a girl's night out when all of a sudden my friend started spraying her face. I was so confused, I had to ask her what she was doing. She explained that she just bought this awesome Sephora Collection Perfection Mist Airbrush Foundation ($26), which makes complete sense. I was wondering why her skin was looking so flawless lately. So when she went on and on about how great it is, I knew I had to try it. The next day, I walked to my neighborhood Sephora store and bought some for myself. And I have to say, it's definitely life-changing. What it is: Basically, airbrush foundation is liquid foundation in an aerosol bottle. It is so easy to apply and has great coverage. All you have to do is spray it on your face (I suggest covering your hair with a towel just to be safe) and use a makeup brush, like the Sephora Collection Pro Airbrush #55 ($34), to blend it in. It is also oil-free and lasts up to 10 hours. Why I love it: Applying foundation has never been easier, and my face has never looked so natural. Now that I have this foundation, I can apply my makeup ten times faster than before, which means I can sleep in 10 minutes later or procrastinate longer when I am getting ready. Since this spray works so well, I wouldn't be surprised if airbrush foundation became a trend. Why wouldn't it? If you want to be the first to try this product , look flawless, and cut down your "getting ready" time, you should definitely head over to Sephora and check this spray out, because my life would definitely suck without it. Sephora Collection Perfection Mist Airbrush Foundation ($26) Sephora Collection Pro Airbrush #55 ($34) For more beauty products check out: bestselling beauty products, the MAC x Maleficent collection, and Alexa Chung x Eyeko.
Look Like A Model: Backstage At Elise Overland and Rebecca Minkoff
With Fashion Week in full gear, it seems that one designer after the next has been sending inspiring hair and makeup looks down the runway. But we have to say, in terms of tresses, we especially loved the soft, tousled waves at Rebecca Minkoff. To achieve the look, Ouidad stylists used some of these key products. Stylists worked Ouidad's PlayCurl Volumizing Foam ($22) through models' hair, giving it a needed boost so that curls would take hold. After loosening the curls, Ouidad Styling Mist Setting & Holding Spray ($15) was applied to hold waves in place, while also adding long-lasting shine. Voila: instant bedhead. a sea of bold lips, the muted makeup at Elise Overland's Fall 2011 show caught our eye. The models, who stood on an ice rink, looked (fittingly) like snow queens, with clean skin, highlighted cheekbones, and pale lips. Makeup artist Napoleon Perdis was the man behind the look, which is easy to DIY with the below. Get airbrushed-looking skin like the models at Elise Overland with Napoleon Perdis Boudoir Mist Spray Foundation ($49), which also reduces fine lines and wrinkles. We'll take two. With such a neutral look, it's easy for eyes to get lost. Define them with Napoleon Perdis Long Black Mascara ($22), which contains a built-in curler to make lashes super fluttery. Get glowing like Overland's models with NP Set Liquid Veil Makeup ($14), a highlighter that adds sheen to lips, eyes, and cheekbones. Find more beauty picks in our guides to the best eyeliners, concealers, and waterproof makeup. Then, check out more backstage beauty from Fashion Week.
Backstage, Lela Rose Shows Us How To Achieve Modern 40s Glam From Her Fall 2011 Show
Lela Rose's Fall 2011 collection debuted yesterday, and, in keeping with the line's ladylike style, Rose sent a mix of pale floaty fabrics down the runway alongside bolder, sharper prints. But we were even more inspired by the hair and makeup: vixen lips, clean skin, and 40s-era hair made for a vintage glam look that we'll surely want to mimic next fall, if not before. We checked in backstage, where Ted Gibson hairstylists and Stila makeup artists shared the look's key products. Makeup artists kept models' skin clean and dewy with Stila Sheer Color Tinted Moisturizer ($34), creating a perfect canvas for the scene-stealing bold lip. The inspiration behind the makeup was "sexy siren," and Stila's Long Wear Lip Color in Darling ($20), a plum wine shade, evoked the moody glamour perfectly. Skin was topped off with Stila All Over Shimmer Liquid Luminizer ($22), giving the models an otherwordly glow. And even just a smidge on cheekbones brings them out-- ideal for even non-models looking for some sheen. Hairstylists at Lela Rose aimed to create a look that was old-Hollywood glam with a modern spin. After spraying Ted Gibson Beautiful Hold Hairspray ($19.95) on curls, stylists brushed models' hair out, and pinned it in place. Ted Gibson Tame It Shine Lotion ($19.95) was also added along the parts in the models' hair to prevent flyaways and tame frizz. This is a product that will sure to come in handy in those humid summer months, so we're stockpiling come spring. Want more inspiration for Fall 2011? Check out everything Fashion Week and then get your skin and hair runway-ready with the best skin care, moisturizers, and dry hair care.
Sponsored Post: Saving Face – The Miracle Foundation + Concealer That Does It All
Our skin is the first thing someone sees. It's also the first line of defense our body has from the elements.  It seems like it'd take a million products to get the right look and protection that your skin deserves - and who has that kind of time or money? Good thing we found the perfect solution. Enter Hissyfit's Saving Face Foundation | Highlight - the product that does it all. Excuse us as we get gushy. Saving Face features a dual-purpose formula that acts as a foundation, a highlight, and offers broad spectrum UVA/UVB protection (it's SPF 50!). Saving Face also isn't thick and cakey like regular concealers, which can pull and tug on delicate skin. On top of it all, this miracle formula moisturizes as it conceals and evens your skin tone. It comes in 17 different shades, so you'll be sure to find the one that's right for you. Saving Face pretty much had us at SPF 50, but here's the kicker; Reggie Wells is Hissyfit's creative director. He also happens to be Oprah's makeup artist, and he prides himself on educating women about makeup and their skin so every woman can get the best results. We think if Oprah trusts Reggie, we'll trust Reggie. So stop paying a ton for a bunch of different products when you can get one product that does it all, and more. Try Hissyfit's Saving Face now. For a limited time, SHEfinds readers will receive free shipping!
Solution: Intuitive Makeup That Does The Early Morning Thinking For Us
Mornings can be tough. Pre-coffee, it's even more challenging, when it's completely possible we could end up leaving the house with only one eye lined, or a less-than-blended foundation line. It's all about to get a lot easier thanks to the advent of intuitive makeup that does the thinking for us. Check out our finds: No longer will we have to stand perplexed at the makeup counters wondering if our skin is more Bisque than Bone. BeneFit's cream-to-powder Some Kind-A Gorgeous foundation compact ($28) comes in one universally flattering shade. One. We don't even have to debate between fair, medium and dark anymore. Almay's line of  Smart Shade liquid makeup ($13.50) reads the pigmentation of the skin, matching it flawlessly and smoothing out any little imperfections and blemishes. It's super sheer and blendable, so there's no more need to fear iffy lines around the jaw and forehead, and it has SPF 15, so we save some time skipping the greasy sunscreen. Smashbox's O-GLOW ($26) and O-GLOSS ($22) look a little scary straight out of the packaging—they're bright bubblegum pink—but they're pigment-readers, too, and they replicate the healthy flush that comes from their namesake moment. With all these smart new developments in the cosmetics world, we'll be hitting the road earlier and more put together than ever. Now if someone could invent a pair of tweezers that can zero in on which hairs to pluck and which to leave alone, we'd be all set. Check more of our favorite beauty products, tried and tested beauty roadtests, and the best mascara and best lip balms.