Pay Day Couldn't Have Come Sooner–Sale Items At French Connection Are 50% Off
Just got paid? Good, because you're going to need it. In addition to all the other great sales going on today, French Connection just announced that all sale items are an additional 50% off with code 50SALE at checkout. But that's not all--you'll get free ground shipping, too! Not sure what to look at first? Well dresses start at just $50, while jeans are only $40 and tops are $20. And let's not forget coats and jackets--they're as cheap as $75! Here's the catch: the sale ends on Wednesday January 21, so you have to shop soon. Don't miss out! SHOP THE FRENCH CONNECTION SALE NOW
French Connection's $69.99 Dress Sale Is Just What Your Closet Needs Right Now
Who says you can't get a good deal under $100 anymore? Apparently, they haven't hit up French Connection recently because right now all sale dresses are just $69.99. Yes, as in less than $75! And believe it or not, these dresses aren't lightweight summer frocks you won't be able to wear for much longer. Not only are there tons of super cute LBDs, but there are also sexy bodycon styles and even bold red dresses that we'd totally rock to a holiday party in a few months. Obviously, it goes without saying that French Connection dresses are designed to last--the quality is top notch and the silhouettes aren't so trendy that they'll be out of style in a season or two. So get to it--you know you need new dresses for fall anyway. We rounded up our faves in the slideshow. SHOP THE FRENCH CONNECTION DRESS SALE NOW Don't miss Loeffler Randall's new rain boots, Peace Love Shea x Steve Madden and what SHEfinds staffers want for fall.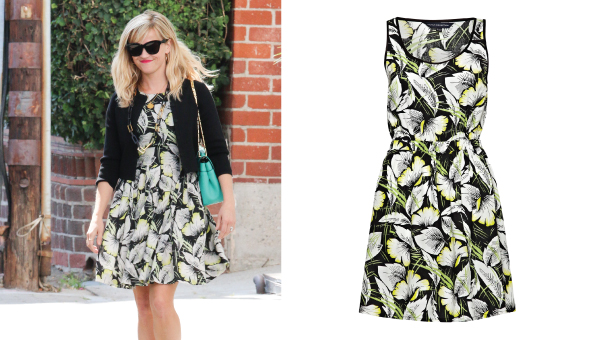 In Today's Really Good News, Reese Witherspoon's Dress Is 50% Off
August means one thing in our minds--SALES. Now is the time to splurge on the summer goods you have been coveting because most of them are red-tagged, like Reese Witherspoon's French Connection Hot House Short Dress ($49.99, down from $98). The cute blonde wore her fresh sun dress for running errands in Beverly Hills and we love a great summer dress, more so when it is 50% off! Shop it before it sells out below! French Connection Hot House Short Dress ($49.99, down from $98) Don't forget to shop Jessica Alba's plaid shirt, Beyonce's crop top and Kate Hudson's $24 sandals. [Photo: Splash News]
If Your Old Summer Dresses Suck, Get New Ones (On Sale!) At French Connection
Ready for this week to be over? Join the club. And that's exactly why we'll be killing time 'til Friday at the awesome sale going down at French Connection right now. Just use code S14THIRTY at checkout and you'll save an additional 30% on already-reduced clothing, shoes and accessories. As if you needed more convincing to just take a peek, dresses start at $28 and tops are as low as $24.50. The accessories are even cheaper with pretty printed scarves selling for just $11. Go now! SHOP THE FRENCH CONNECTION SALE ON SALE NOW! Don't miss 60% off at Loeffler Randall, Gap's massive summer sale and 30% off Kate Moss x Topshop.
French Connection Has So Many Good Spring Dresses–And They're All 25% Off!
One the wonderful things about spring is that you can just throw on a pretty dress and go. It's easy and always a good look. Of course, the key to pulling off this fuss-free approach is a hefty selection of amazing dresses. Feeling like your closet isn't up to par? We've got an easy fix for you. Just head over to  French Connection where you'll save 25% with code S14CDM at checkout. When you get there make a beeline for the dresses and boom, you'll have tons of perfect options to choose from. You're welcome. SHOP THE FRENCH CONNECTION SALE NOW! Don't miss your last chance to save 25% at Piperlime, how to wear a jumpsuit and Kate Spade x Keds.
We Bet You Didn't Know All These Celebs Were Diehard French Connection Fans
You know it's a good sign when rather than wearing pricey designer items, celebs reach for more affordable finds. That's why we're tipping out hat to French Connection--tons of celebs have been rocking their sweaters recently. Reese Witherspoon chose a sunny yellow "jumper" for running errands; Emmy Rossum got silly at a basketball game in her striped, V-neck sweater; and Selma Blair looked every part the mom as she toted her tot, Arthur, in a speckled top. So what is it that has the stars flocking? What we've known all along--French Connection is comfy, stylish, and totally affordable. Get on this band wagon and amp up your wardrobe with warm weather knits by shopping their exact sweaters in the slideshow! Shop more A-list style like Eva Mendes' printed dress,  Jennifer Lopez's pink romper and  Beyonce's sunglasses. [Photo: Splash News; Instagram]
Don't Mind Us–We're Just Buying Everything At French Connection's 25%-Off Sale
Can't bring yourself to do any work on a Thursday afternoon? Head over to French Connection  where we've been busying ourselves by going a little crazy at the sale on sale. Not sure what that means? All sale items are an additional 25% off from April 10- April 14 using code S14EASTER at checkout and 25% off full price items. Even better, spend $150 or more and you'll get free shipping. Everything on sale is pretty much amazing, but we're seriously considering this biker jacket, this polka dot dress and this cute bowler bag. Found something else incredible? Share the love in the comments SHOP THE FRENCH CONNECTION SALE NOW! Check out Reese Witherspoon's pink sunglasses, how to wear a backpack like an adult and the Bare Necessities friends & family sale.
We're Sharing French Connection's 30% Off Promo Code: Time To Pounce!
French Connection has so many gorgeous pieces this season. There are enough bright colors, cool pastels and beading to satiate you for a few months, so we absolutely have to share the French Connection coupon code with you so you can get your shop on for less. Use code FCWANT at checkout and get 30% off your order. Even better: if you spend $150 or more, you'll get free shipping. Now that we've justified your impending spring shopping spree, you'd better get going! Check out more of our favorites, from floral dresses to sheath dresses, summer hats, flat sandals, pumps and nude shoes.
Olivia Palermo Stays Relevant In A Sequin French Connection Jacket
Here at SHEfinds, we're a sucker for sequins. It's the best way to instantly dress up a casual outfit (ask Emma Roberts) -- or get yourself some attention. Olivia Palermo proves the latter in her French Connection Pearl Queen Jacket ($528). These are the kind of well-styled outfits that have kept the former City star relevant: The shimmery French Connection Pearl Queen Jacket ($528)  jazzes up Palermo's simple 'fit of denim jeans and a white collared shirt (half tucked, half untucked—BTW), making her ready for any red carpet appearance -- that she can get an invite to. Shop more celebrity style finds: Fearne Cotton's pants, The Kardashian sisters' dress, and Katie Holmes's outfit.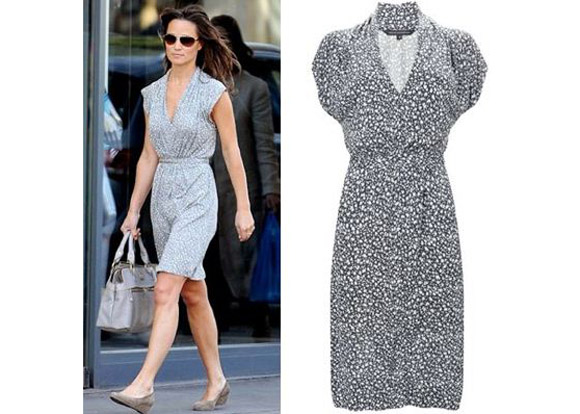 Get Pippa Middleton's $100 French Connection Dress Now Before All Her Loyal Followers Do
Pippa Middleton just stepped out in this Talias Tale Dress ($108), and we have to say this is a Pippa-item worth getting. Her newfound fans are already snatching up her Aspinal of London clutch, Modalu grey handbag, and knock-offs of her cowl necked royal wedding dress, so why not grab one of these affordable, seasonal dresses. You could always resell it on eBay when it inevitably sells out. Shop our guides to the best strapless wedding dresses, white wedding shoes, and inexpensive wedding dresses.
Week In Review: Kate Hudson's Jewelry Line, Your Handy Guide To The Royal Wedding, More
Must Reads: Just in case you haven't been awake for the past few months, stay up to date on the Royal Wedding with our handy guide. Feeling a bit heavier than usual? Shop at a lower priced store, their sizes run much bigger. Hello, size 0. If you need help finding a gift for Mother's Day, just consult us - we have everything you need. Or check out Oprah's new obsession with her 20 Years Younger skincare pledge. Go from the pool club to the night club - just put a skirt on over this schnazzy swimsuit. Jewelry Collaboration Alert: Kate Hudson teams up with Chrome Hearts for some boho jewels. Celebrity Style: See how you can copy the looks from Miranda Kerr, Rachel Bilson and more at this year's Tribeca Film Festival. If you're loving Victoria Beckham's Royal Wedding ensemble, get it for yourself here. We uncovered the truth as to why men love Jessica Alba. And how Alessandra Ambrosio stays cool when it's hot out. Selma Blair was seen hiding her (very large) baby bump in this draped dress - we're using it to hide our love handles. Or for those of you toned ladies, try Whitney Port's knotted top. Sales and Deals: Dear French Connection, thanks for 70% off spring dresses sale. Save 35% on your favorite basics from Gap, Old Navy, AND Banana Republic. See what Bloomingdale's is offering with their invite-only sale. (more…)
Take Up To 70% Off A Slew Of Spring Dresses At French Connection
From left: Redford Dress, Jersey Dress, Stella Silk Dress, Smooth Maneuver Dress While The Royal Wedding is officially over, spring is just beginning, which means it's time to get some cute dresses for the awesome weather to come. French Connection is the place to shop--these prices are way too good to pass up. So get shopping--after all, it's Friday! Check out all of our favorite summer dresses, maxi dresses, nude shoes and wedges.
Knee Length Dresses – The Newest Addition To Hollywood
Gone are the days when we were all about showing tons of leg in mini skirts and dresses. The rumor is true, the more you have covered the classier you look, which is why we're super pleased that knee-length dresses have been sneaking into the closets of celebrities. So ladies, cover up and prepare to turn heads. (more…)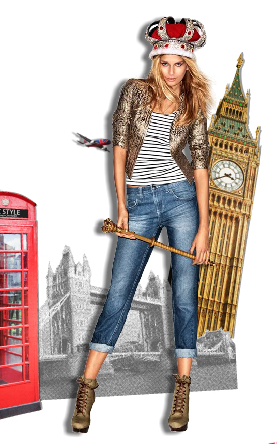 Sears Brings French Connection's London Looks To Us And We Say A-Ok To The UK
Sears' newest collaboration with French Connection is available online--and it's way cheaper than the original line. UK Style by French Connection features an entire full line of tops, dresses, pants, jeans, jackets, skirts, and more. And with nothing over $75, we think we just hit collaboration heaven. (more…)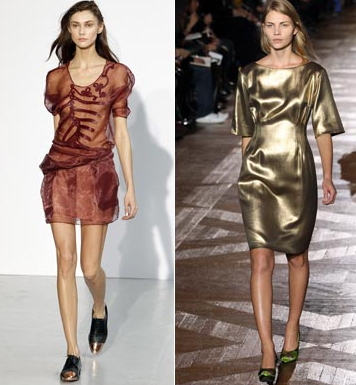 Fashion News, Events And Dates To Know For March. Love, SHEfinds.
March 1st: If you missed New York City or Milan's fashion weeks, now is you chance to catch up with Paris' Fashion Week starting today. March 4th: John Galliano's most talked about Dior show in Paris will have to go on, with or without him, due to his recent encounter with the police. March 4th: What better way to travel back in time than with Anna Faris' new movie, Take Me Home Tonight? Hello, big hair and nonstop laughter. March 6th: See who gets fired from Hollywood with Donald Trump's newest season of Celebrity Apprentice featuring Star Jones, David Cassidy, Mark McGrath, and more. (more…)
Can You Tell Which Ruffle-Sleeve Dress Is DVF And Which Is French Connection?
See if you can spot all the deals in our taste test archives, and then head on over to our guide to the best black dresses. Get the best sales and deals on our online sample sale page.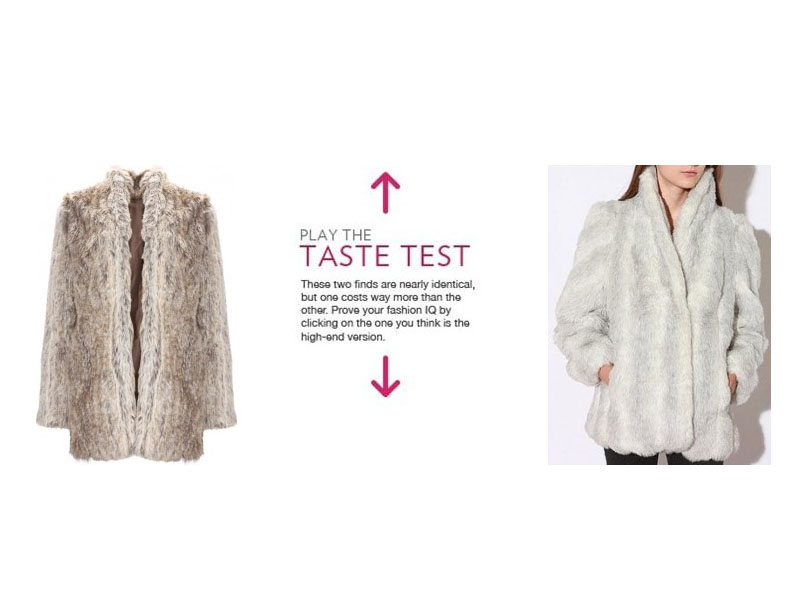 Can You Tell Which Faux-Fur Coat Costs $300 More?
Challenge yourself with some more of our Taste Tests. Then, shop our guides to the best faux fur coats and fall trends.
From Lady Gaga To Ladybug: One Leotard, 6 Halloween Costumes
Halloween is right around the corner and you're stuck - you don't have a costume. And if dressing like Lady Gaga or Heidi Montag isn't exactly your style, don't panic. Even if you haven't decided what your costume will be - we're 90% sure it will work with this black leotard: Get this French Connection Vita Viscose Bodysuit ($48, down from $68) and a costume kit and you're good to go in under 5 minutes. Don't panic, this bodysuit can be delivered either in time for the weekend. And for less than $6, they'll arrive byThursday: 1. For the less adventurous, go for the classic Black Cat Costume Kit ($14.99) in black and silver. A steady hand for perfect whiskers not included. 2. Be a thriller this Halloween and go as the king of pop himself, Michael Jackson. Grab this Performance Kit ($29.99, down $52.99)  and throw one the sequin glove, fedora, aviators, and of course the infamous wig. 3. Whether you're caught in a bad romance or not, this Lady Gaga Costume Kit ($26.99, down from $29.99) is ideal to live life glamorously. That is, of course, if you haven't already put together your Lady Gaga ensemble with these Etsy  finds. 4. If you're feeling sassy, try this Playboy Bunny costume. Just grab this Bunny Accessory Kit ($5.99) and grab your highest heels. Girls Next Door, eat your hearts out. 5. You'll have no problems finding someone to walk the plank with this Sexy Pirate Kit ($14.99, down from $17.99). The belt can even be worn over a baggy sweater when Halloween is over. 6. Forget the typical bumble bee costume and go for something even cuter, try this Ladybug Accessory Kit ($9.99, down from $12.99). It comes with the antennae headband and choker--just add the leotard and go. Still can't decide on a costume? Try a Mad Men character, Michelle Obama, or even Katy Perry. Shop our guides to the best shapewear, the best Spanx, and the best push up bras. Subscribe to SHEFindsMail for instant e-mail updates.
Snag Lo Bosworth's French Connection Dress – And Polished Look
Lo Bosworth may be one of The Hills lesser known/controversial stars, but she is definitely one of the best dressed. Her polished look rivals Lauren Conrad's; this beaded mini dress, black bow peep toe pumps and chain strap bag look definitely delivers. Try the look at home - including the exact French Connection dress Lo wore - here: Lo shops one of our favorite stores, French Connection, and we love it. This Rebecca dress ($228) is a great party piece for fall - wear it with black tights and heels for all your upcoming events. It will get you straight through to the Christmas party. Snag the black quilted/chain strap bag look, without spending $2,000 on the real thing, with this playful, Modcloth Too Legit to Quilt bag ($43.99). We love the bow detail on this party-size bag. Lo chose peep toe pumps - the perfect pairing with her red ladylike dress. Try these perfectly priced Kelly & Katie Take A Bow pump ($39.95) for yourself. To nail the polished-girl look, check our guides to the best blazers and the best pleated skirts. Subscribe now for exclusive fashion news.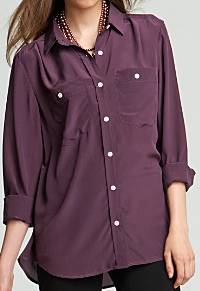 Under-$100 French Connection Clothes You Can Wear To Work (Hint: No FCUK Here)
In case you felt awkward sporting a "FCUK" t-shirt at the office, French Connection has launched a new line, Pippa, filled with more professional clothes. Available for pre-order only at Bloomingdales are tweed jackets, silk tops, cotton pants, and shift dresses - all of the essentials of a working woman's closet. Shop our favorite under-$100 pieces to freshen up the workplace: This Island Silk Button Down Shirt ($88) comes in two of fall's newest basic colors: plum and ivory. Pair it with leggings or a pencil skirt and it hides everything. Office-approved leggings are one of the best creations since the shirtdress. Grab a pair of Sabby Leggings ($98) - the tailored fit and wide waist band are professional yet comfortable. Either under a blazer or on its own, the Jezebel Jersey Top ($88) is a fun twist on the basic tee. The puff sleeve and ruching at the wrist add a sophisticated touch. You will definitely wear this classic (and extremely slimming) Stretch A-Line Skirt ($98). Mix up your look with boots or heels, depending on the weather. If you need new work clothes shop our guides to the best sheath dresses, the best black pants, and the best comfortable high heels. Subscribe to SHEfinds for exclusive fashion news.