Charm Your Guests With A Garden Party-Theme: Seed Favors, Floral Bridesmaid Dresses, More
Here's a (well known) secret for saving big on wedding flowers - have your wedding in a garden. Big, fresh spring blooms guarantee a gorgeous wedding backdrop, and an enchanting, picture perfect affair! We took a little time to stop and smell the roses today...and then we found all this fab floral garden wedding inspiration! (more…)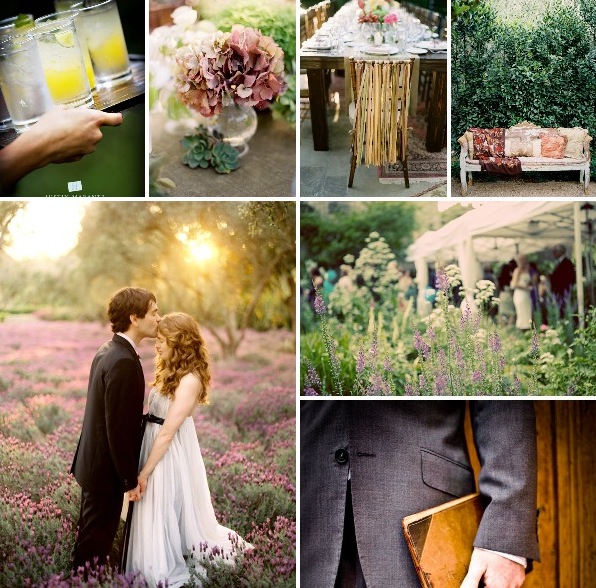 Theme Thursdays: Transform Your Wedding Into A Secret Garden With Etsy
If you're obsessed with the idea of a gorgeous outdoorsy garden inspired wedding, we've got you covered. With the help of Etsy, we've found everything you'll need to create an over-the-top, fresh blooming garden themed wedding. (more…)
A Strapless What? G-String? But How…?
No one can argue that SheFinds is a fan of panty lines. We've told you about Jockey's Modern Brief ($8.50), a silky-smooth, seamless underwear; the C-String which is held up by a just small wire in the back, and nude underpinnings to keep it neat under white. So you'll understand why our immediate reaction to Shibue's Strapless G-String ($25-$30) sounded something like, "Yeessss!" rather than, "Huh?" It wasn't until we read the company's advertising of the product as being "perfect for form-fitting dresses, pole dancing, and sunbathing" that we started to wonder if we're really the kind of clientele who'd enjoy such a product. Before we talk about our experience with the uber-bizarre strapless g-string, though, let's take a little look-see at it: A little creepy, right? Like a pretty maxipad, or the most popular panties of a magical stripper. Here's how it works: the front and back of the panties are stuck to the body with double-sided tape (one just hopes it's super adhesive). But before you judge Shibue Couture's little oddity, check out the reported improvements in panty line exposure: BEFORE AFTER SheFinds knows that g-strings sometimes show - they escape from your jeans when you bend over, or they squeeze your lovey-dovey-handles just a wee too much, giving you two sets of hips. And in that sense, Shibue Couture has invented a smart ware for the modern woman. On the other hand, I'm wearing my strapless g-string right now, and evaluation in the mirror reveals that I look...kinda kinky, and more than a little absurd (though we imagine hubby will really dig the new skivvies). Whether you simply want fuller coverage or just need more skivvies options, check out our guides to the best underwear, the best sexy underwear, and the best bras out there.
Only 1 Day Left To Win A $200 Shopping Spree At Flotoimports.com
So we gather from your overwhelming responses to this week's Freebie Friday that not only do our SheFinds readers want to get away, they want to get away in style. And flotoimports.com is where you'll find everything from that perfect beach tote to a chic leather duffle. Some reader favorites so far include the Sorento Tote, Milano Trolley, and the Piana Mini. But the contest isn't over yet, so keep 'em coming! You have until tomorrow to go to flotoimports.com, pick out your favorite piece, then come back to SheFinds and post about it in the comments section. May the chicest jetsetter win!
Only 1 Day Left To Win A $100 Shopping Spree At Swimsuitsforall.com
With the heat wave New York just had, all I could think about was swimming in a lavish pool somewhere, getting out only for a refreshing cocktail in the shade. But of course, no fantasy like that would be complete without the perfect swimsuit, and it just so happens that this week's Freebie Friday is all about dressing you up for the water. Unfortunately, your chance to win a $100 shopping spree at swimsuitsforall.com ends tomorrow, so you better get to it and enter right away. Go to swimsuitsforall.com , pick out your favorite suit, and then come back to SheFinds and post about it in the comments section. And when the next heat wave hits, you'll be prepared.
Protect Your Tiny Laptop With A Waterfield Custom Sleeve
Ever since the ASUS eeepc debuted last year people have gone crazy for this cute little laptop. Less expensive than the tricked out Sony Vaio UX and less toy-looking than the XO/One Laptop Per Child machine, the eeepc is definitely the top choice for people looking for an extra portable work machine. And of course the next step after acquiring a new bit of technology is to figure out what stylish accessory you're going to carry it in. The eeepc is pretty durable, but I don't feel comfortable letting it rattle around in my bag without protection. You won't find too many pre-made laptop sleeves that are small enough, but Waterfield Designs makes custom sleeves that fits the unit perfectly (size 18-13). Slip it on and drop the eeepc in your purse (or this cute Sling bag, also from Waterfield) without worry. Even with the sleeve it's so light you'll hardly notice it in there. And because Waterfield's sleeve cases are made to order, you can get one for all the tiny (and regular-sized) laptops out there, customize colors, and add extras, like a flap. eeepc sleeves start at $38. The Sling starts at $99.
Potato Sacks Of The Rich And Famous
What: Oat Couture by WeBe Bags , $30 -$100 Why: Born on the Grenadine Islands in the Carribbean, WeBe Bags (short for "We Be Bags, Mon!") is a clever-- if not post-trendy-- way to carry your goods, and be kind to our Mother Earth. Touted as Oat Couture (get it?), the bags are reconstructed coffee, feed, and money sacks, using only colorful fabrics and sail ties. Coming in styles ranging from purse to hand to messenger, the bags have also garnered quite the celebrity buzz. Rapper 50 Cent requested the Australian Money Bags for him and his friends at Sundance, and the bags were the official bag of the 2008 Cannes Film Festival. It works well that the creators are originally from Park City, UT, but hey. If it's good enough for Fitty, it'll look oh-so-much cooler on us, ladies. And it won't take a superstar rapper's salary to own one.Get Yours: webebags.com
A Vest Can Class Up That Ratty Old Tee You Slept In Last Night
I bought a vest this weekend, and not because The New York Times told me they were cool. I swear, that was utter coincidence. I just happened to love the looks I've been eyeing on the streets lately - a casual, disheveled ensemble automatically classed up thanks to a simple black (or grey or white) vest. And there's something so sexy about adding this masculine touch to your feminine pieces - think super skinny jeans or a flowy summer dress. The combo is unexpected and just plain fierce. Dress up your basic tee with this 3-button pinstripe vest from Urban Outfitters ($30). Or opt for a crisp white version from the Gap ($49.50). If backless is more your style, then this Robert Rodriguez number ($188, was $288) would go perfectly with your favorite pair of jeans.
News Updates: Anne Brings Lancome Scent To Paris, Urban Outfitters Offers Cool Baubles, And More..
Anne Hathaway debuted Lancôme's new fragrance, Magnifique, this week at the Grand Palais in Paris. Shop our favorite Lancôme products here. [FWD]Urban Outfitters will unveil a jewelry collection by Erickson Beamon in stores at the end of June. In the meantime, shop their sale on intimates and swimwear. [VogueUK] Denim brand Key Closet has announced the premiere of their $10,000 jeans, which are decorated with over 1,000 Swarovski crystals. Shop our denim guide for more reasonable finds. [PRNewswire]The Sex and the City book is now available for every SATC fan to snatch up. It offers behind-the-scenes tidbits and little known fashion facts. Click here for SATC trends to watch for from the movie. [StyleDash]
Latest Blog Posts From MomFinds
Deal of the Day: Up to 40% Off Summer & Outdoor Shop at BabyCenter Store Head outside and have some fun with these fantastic outdoor products we found on sale at BabyCenter Store. Beauty Find: Revolutionary Lip Gloss That Adjusts To Your Own ChemistryThis revolutionary gloss is clear going on, then adjusts to your own chemistry to reveal a pretty shade of pink just for you. Win it Wednesday: Win a $150 Shopping Spree at BeanNewYork.comWe're giving away a $150 shopping spree to the delightful Bean New York baby boutique, and the site is overflowing with the most charming baby clothes for newborns up to 24 months.
Fashion Find: Magnes Sisters Handbags
What: Magnes Sisters Handbags, $200-$400 Why: According to all the latest fashion mags, this season is heralding a return to the female form. Skinny belts, pencil skirts, and tailoring are replacing the figure-obscuring trapeze and bubble silhouettes. And, if you're like me, you're finding that last season's bulky, oversized bags aren't exactly matching up with these new sleeker styles. That's where Magnes Sisters comes in! Their collection of handbags are graceful, clean, and resonate with a modern vintage appeal. Stylish and versatile, the bags are crafted in NYC with exclusively designed hardware, sumptuous Italian leather, vintage wools, and playful silky linings. They're perfect to pair with everything from your skinny jeans to your DVF wrap dress. You can still bring out your ginormous bags from last season when it's time to smuggle popcorn and other contraband into movie theaters, but when you're not sitting in the dark, grab one of these adorable, fashion forward bags.
Style Swap: Tell Your Aviators To Go Fly A Kite
You really can't go wrong with standard aviators—the Tom Ford Hunters above are an undeniable classic. But peanut butter and jelly sandwiches are a classic, too, and you wouldn't want to subsist on a diet of only the sticky kiddie favorite. Add some spice to your summer shades menu by plunking down for a pair of shield sunglasses. They're like aviators' edgier, more rockin' cousin. The Gucci Oversized Shields with logo detail above ($350) fuse a sporty, starworthy shape with timeless tortoise for a total glam rock look. Three of our other faves (in every price range) are below: Have a mint to invest in a new pair of shades? Pick Christian Dior's Escrime wrap shields ($225) with brown-to-ocean-blue ombré lenses and coral colored stems. The huge label at the temple will let everyone know you have high-class taste, just like fellow Dior fans Gwen Stefani, Beyoncé and Paris Hilton. You can still snag a designer label, even if you don't want to pay top dollar for a pair of sunglasses you'll probably either lose or sit on sometime during the summer. $70 will get you these peachy Armani Exchange shields . With rose colored glasses as swanky as these, it's impossible not to have a positive outlook. Embrace the white hot heat of summer with Nine West's white plastic shields ($34). The slightly masculine shield shape takes on a feminine twist with this sleek, frosty color. If you're still getting used to the idea of swapping aviators for the more rock 'n' roll shield shape, this pair is a little less severe and a great place to start the trend.And be sure to peruse our Sunglasses Guide for more hot trends.
Deal Of The Day: Up To 30% Off Pink Pumps At Bloomingdale's Summer Shoe Sale
This summer, as usual, metallics, animal prints, and beachy shades of ocean blue, sandy tan, and sunshine yellow will be hot, hot, hot. But in a sea of tropical hues and blinding bling, don't forget about perennial favorite pink. Let your inner Barbie out by slipping into a pair of pink pumps, then hitting Malibu in your cotton candy-colored Corvette (or the local mall in your hybrid - your call!) Bows, buckles and big ol' straps: these Nanette Lepore Bad Girl sandals ($238, were $340) have them all. If you're already taking the color over the top (and you are, if you pick these orchid-hued suede pumps) why not go overboard on the details. The best part of these might be the thick, wood-grain heels, a whimsical contrast to all that fuchsia. Think your feet have to be molded like Babs' to fit comfortably into pumps? Then you haven't tried a pair, like these Cole Haan Sari Air slingbacks ($206, were $295), that have Nike Air cushioning built in for comfort's sake. You probably couldn't run a marathon in these three-inch patent pumps, but you could at least make a decent stand on the dance floor. If there's anything girlier than a magenta satin peeptoe, it's a magenta satin peeptoe with a huge Swarovski crystal smack in the middle. Exhibit A: these oh-so-feminine Solitaire pumps from Stuart Weitzman ($227, were $325). The ultimate in girl-glam, these evening shoes are sure to add pop to even the most modest of LBDs.More fab finds on the web:Macys' Summer Sale starts today! Take 10-50% off women's clothing, shoes and jewelry. Stock up on your cotton basics, and take 15% off your entire order at Hanes. Take 25% off all the Vera Bradley bags that feature retiring patterns.Check out our SheFinds Forum for 40% off handcrafted jewelry.
News Updates: Thom's Pants Fall Short, Dooney & Bourke WIn In Court, And More…
Rumor has it that Brooks Brothers is dropping its Black Fleece line designed by Thom Browne due to lack of sales. [NYMag]Dooney & Bourke finally won a 4-year trademark suit against Louis Vuitton. The court decided that Dooney & Bourke's monogram bag did not infringe upon that of Vuitton. [WWD]Billabong USA asked several celebrities to design their own bikinis for a charity event and auction that took place last evening. [FWD]The Olsen twins have added an accessories collection to their Elizabeth and James clothing line. [StyleDash]
Latest Blog Posts From MomFinds
Save an Extra 25% Off All Sale Shoes at Shoes.comUse code SUMMERSALE08 before June 13th and take an additional 25% off all sale items sitewide. Add that to the free shipping and free returns and it's cheaper than driving to the mall to get your kid's summer sandals. Beauty Find: Summer Nail Polish Without Creepy ChemicalsForever, nail care products have contained creepy chemicals such as Formaldehyde, Toluene, and DBP. Now, some companies are taking notice and coming up with "healthier" types of nail products for not a whole lot more money. Win it Wednesday: Win a Homedics Shiatsu Massage Cushion Forget the tie. Give Dad something he can really use...like this Shiatsu Massaging Cushion from Homedics. This is serious, kneading massage that will really loosen up those knots in his back.
Taste Test: Which Shades Are Prim Enough For Charlotte?
While strolling down the streets of Manhattan with her girlfriends, Charlotte shields her eyes with a pair of oversized glam shades reminiscent of Jackie O. Can you guess which pair below were the ones she wore in the movie and which ones are over $200 less expensive? Test your Fashion IQ with other Taste Tests.And for more celeb shades and their affordable counterparts, check our Guide to Celeb Sunglasses.
Deal Of The Day: 30% Off Kenneth Jay Lane Jewelry At Pink Mascara
"Well, looks like gold jewelry is making a comeback." This is the first thing my mom said to me after watching Sex and the City: The Movie. And she's right. While the clothes, shoes, and bags really stole the show, the shiniest accessories deserve a little love, too. This summer, don't let bright colors, bold patterns, and risqué hemlines steal the spotlight from all your fun jewelry. Scoop up a few pieces from seen-in-every-magazine designer Kenneth Jay Lane, and set the gold standard ahead of trend. Bold bamboo hoops aren't going anywhere (remember when a SheFinds editor drooled over Gossip Girl Vanessa's pair way back in December?) This slightly more subdued pair of bamboo-inspired earrings ($44, were $63) adds a little exoticism to your wardrobe, even if you stay stateside this summer. Surprisingly enough, the flower that took center stage in SATC wasn't Carrie's ginormous pin-on. It was the outrageous diamond-encrusted ring one of the gals snags for $55,000. Get a more budget-friendly flower in the form of this gold plated ring ($57, was $81) with just a hint of bling in the center. It's a wearable alternative to the face-eating flower pin, and it's chic and summery to boot. If gold isn't your metal, pick a sleek, sophisticated and goes-with-everything black bangle ($121, was $173) that's covered in tiny crystals. Give your jeans and black top uniform an instant upgrade, or layer this sparkler in with a whole wristfull of colorful baubles.More deals on the web:A.B.S. evening dresses are up to 56% off at Bluefly. Get up to 70% off Fabulous Fit bras at Maidenform. Take up to 65% off jackets and blazers at JCrew.40% off designer spring lines at shopjake.com.
News Updates: Bloomie's Named Best Store Ever, Proenza Takes On Bags, And More…
Bloomingdale's has been named the Department Store of the Year by the Global Department Store Summit. [Examiner]Along with its venture into shoes, the Proenza Schouler label will now put out a much anticipated handbag collection. [NYMag]Starting in September, FIT will feature an exhibit devoted to gothic style in fashion. [FWD]The New York Times' Sunday Styles Section will launch an etiquette column beginning this month. [WWD]
Embarrassing Question: I've Got Pimples…But Not On My Face
Q: Sometimes I get painful (and gross) outbreaks of pimples on my butt. Why does this happen, and how can I get rid of them?A: If you're talking about what I think you are, you'll be relieved to know that the blemishes on your behind probably aren't actually pimples--not in the technical sense. These red sores, which can be quite large and painful, but rarely deveop white heads, are not caused so much by bacteria under the skin as they are by outside bothers: the chaffing of tight pants, synthetic underwear, or sweaty clothing. Many people get this rash- or boil-like outbreak after many hours of sitting--at work, or on an airplane, or in a car--when the constant rubbing and pressure of pants can irritate your bum's pores. Others find that if they don't shower immediately after a workout, their sweaty underwear can clog their pores and cause more pimple-like problems. There's really no "cure" for this situation--no zit cream especially made for bom-boms--but you can chase away your pimples faster, and prevent their appearance, by following these useful tips: 1) Exfoliate your derriere every day to make clogged pores less likely. It doesn't hurt to use an acne scrub, like Neutrogena Body Clear with blemish-battling salicyclic acid ($6.99) or L'Oreal Pure tZone ($6.99) with scrubalicious body beads. 2) Shower often, especially when you've been perspiring--even up to twice a day--to keep the area really clean and bacteria-free. 3) Do not use moisturizers or creams on the affected area.4) Give your butt some room! Pantyhose, tight jeans, and control-top underwear don't allow any air in there. Choose instead cotton panties, sheer pantyhose, and skirts--they'll let air penetrate the region. And lest you think that cotton panties can't be cute, just remind yourself of Victoria's Secret's classic 5-for-$25 style: Do you think that model has pimples on her tiny little bottom? Not a chance. Once you learn the reasons for your breakouts--whether they come from sitting too much, from wearing too-tight jeans, or from not keeping the area clean enough--you'll know which of the above advice will best apply to you. Just remember: you're not alone!
Embarrassing Question: So Your Feet Don't Smell Like Roses, Huh?
Q: My feet smell terrible when I get home from work, especially if I've been wearing hose. How can I control nasty foot odor?A: There are as many smelly feet in the world as there are people. Two per person, in fact. So this isn't so much an embarrassing question as it is a good one, and one we should all know the answer to. Simply put, that foul odor develops from bacteria that grows in moist, hot places--like sweaty feet. By the time you get home after a long day of walking, running, or simply sitting and steaming in summer...yikes! So the only way to prevent the smell is to stop the sweating. Some classic tricks:1) Wear open shoes. Closed shoes make your feet hotter--and keep the odor all cramped up in there. Sandals, open-toe shoes, or even sneakers with breathable patches, will keep your feet cooler, and allow them to air out when they do start to sweat.2) Change socks. If you've got to wear closed shoes, try changing socks half way through the day. You'll be at least half as smelly when you get home. And always wear socks made of natural fibers that allow your tootsies to breathe. Your odor is worse when you wear pantyhose because synthetic fabrics cause your feet to sweat more, and neither absorb the resulting odor nor allow it to escape. 3) Keep 'em clean. Don't forget to wash your feet when you shower, using soap and water. In this way, you'll at least start each day with a fresh scent.4) Deodorize! As with any sweat gland, your tootsies will sweat less if you apply a good anti-perspirant-and-deodorant-in-one. Experts recommend roll-on rather than powder products, as you can then target the particularly sweat-prone area between your toes. If you don't like the idea of rolling your Secret all over your nasty feet, Odor Eaters makes a spray ($5.24) that promises to prevent sweating, deodorize your foot, and absorb odor as it develops. 5) Don't forget the insole. When you sweat in your shoes, your insoles absorb a lot of that moisture. In fact, stinky insoles can be at least as much of a problem as your feet themselves--if not more. So try to air them out at night, and even wash them once a week to keep odor from building up inside your shoes. Or, to make your life easier, just check out a few of the many many products out there that will do all that for you like Dr. Scholl's Odor Destroyers Super Comfort Insoles ($5.69). Odor-Eaters makes a similar product, which contains charcoal, baking soda, and the ultra-absorbent material Zorbitex. Get their version for $9.99 at Walgreens.
Deal Of The Day: Up To 50% Off Jersey Dresses At Tobi
Fancy schmancy dresses are great for special occasions, but does a girl always have to feel dressed up when she's wearing a dress? Not if the dress is made of comfy, flowy jersey. When you're feeling jeans are too constrictive (like right after you take them out of the dryer) and trousers are too time-intensive (ironing can take forever!), opt for one of these breezy jersey dresses from Velvet and head out the door feeling free and looking fabulous. Take a page out of Nikki Hilton's book (she's the more fashionable sister, after all) and pick something short and strapless for a night out. This Heather dress ($93, was $185) in pretty sea blue adds a little volume at the top, so it's ideal for less busty girls. The shape of this empire-waisted Avary dress ($92, was $152) is simple, but the watermelon red hue is anything but wallflower-ish. Perfect for a day out that will stretch into evening, this three-quarter sleeved dress will take you from the great outdoors to a chillier inside with no sweat. The plunging neckline on this berry-hued Megan dress ($65, was $130) is just begging to be paired up with a killer necklace. Don't be afraid to show some cleavage. This flattering ruched-waist dress is all about showing off your shape. More deals on the web:Get 20% off any one cosmetic or bath & body product at Ulta. Find Designer Savings at Nordstrom: Burberry, Dolce & Gabbana and Versace are all up to 40% off. Take up to an extra 25% off designer duds during YOOX's spring promotion. 20% discount on vintage style jewelry - for SheFinds members only.
News Updates: SATC Doesn't Disappoint, Yves Saint Laurent Passes Away, And More…
Sex and the City: The Movie was number 1 at the box office this past weekend, bringing in $55.7 million. [LATimes]Yves Saint Laurent died in Paris on Sunday at the age of 71. [NYTimes]According to a new Harpers Collins book out this weekend, Vogue and Anna Wintour were heavily involved in the planning of many details of the SATC movie. [FWD]Kristin Davis has announced she will be designing a line for Belk department stores. [WWD]
What To Watch For When You Sit Down For Some Sex And The City
There's just nothing like good sex in the morning. No, you haven't stumbled upon Julia Allison's blog by mistake. This is still SheFinds, just a little more riled up after having finally seen Sex and the City: The Movie Friday morning. And oh what a fabulous movie it was. Don't worry, you won't find any plot spoilers here, but for those of you who have yet to see it (and what exactly are you waiting for?), may we just say, you're in for a mighty Big treat (okay, I had to throw that in there). Below are major trends and big ticket items to watch for when you go to see the SATC movie - we guarantee they'll be generating mega-buzz over the next few weeks. The New York Times pointed out yesterday that although the fashions of the movie were fantastic, they were indeed matchy matchy among the leading ladies. Every time the four were onscreen together, their outfits neatly coordinated - and the Mexican honeymoon was no exception. Carrie, Miranda, Charlotte, and Samantha all opted for classier, more demure one-pieces. SheFinds pointed this trend out a couple weeks ago, when we noticed the popularity of the bikini taking a rapid nosedive. And as for Miranda, Pat Field must have felt sorry for her bikini wax situation, because she put the character in the much-coveted red Norma Kamali suit - an Oprah favorite. For other trendy and flattering one-pieces, peruse this season's SheFinds Swimsuit Guide. Statement jewelry was on every character in every scene - except for maybe Anthony and Stanford, but we're sure they wouldn't have been opposed if asked to don some big, bold pieces. Standouts were Miranda's oversized earrings, and the gold stacked bracelets that Carrie wore to her rehearsal dinner. For a similar look try these cone shaped earrings from Emitations (where there's a great sale now ) or this Emporio Armani multistrand zipper bracelet. And click here for more options on how to score Carrie's blinged out stacked look for less. Jennifer Hudson, who plays Carrie's assistant, totes a gold keyring made up of a single word. You guessed it - LOVE. The ladies take a field trip to Christie's to scope out a gigantic diamond flower ring. We won't tell you yet which one of the bunch has her eye on it (or if she scores the prize). Quite possibly the fifth star of the film, Bag Borrow or Steal literally steals the show away with placements of its must-have handbags on one of the main girls - not to mention several well-deserved callouts.