This New Show Is Bound to Be The Next 'Gossip Girl' And We Can't Wait!
Eric Daman For DKNY Makes Its Gossip Girl Debut; Shop The Patterned Tights Now
If you watched Gossip Girl this week, you probably spotted Blair in a pair of stand-out striped tights while in the therapist's office (good luck, to HIM). The show is known for its awesome legwear, but this pair was special: GG's very own Eric Daman designed them. The costume designer just launched his collaboration with DKNY and the result are uptown-meets-downtown striped, lace, polka dot and fishnet hosiery -- all under $30. (more…)
Blair & Serena Make Us Wanna Spend Some Time In The Citrus Aisle
Have your butler scoop up some oranges, lemons and limes. Gossip Girl's Season 5 premiere debuted tonight, and while I'm totally in it for the fashion, not fact that Blair is engaged and office girl crush Elizabeth Hurley has joined the cast, I couldn't help but notice these gorge citrus hues aren't only reserved for Palm Beach socialites... (more…)
Romeo & Juliet's Gossip Girl Line Premieres Today Exclusively On Hautelook: Get It Here Now
Remember DKNY's Gossip Girl hosiery collection? Well Romeo & Juliet Couture has now got you covered for the rest of your Blair and Serena-inspired wardrobe, with their Warner Brothers-sponsored Gossip Girl collection, which premieres today exclusively on Hautelook. See our favorite picks from the entire line of sequin tunics, leggings, and LBDs after the jump, or check out the entire collection at Hautelook here now. (more…)
'Gossip Girl' Costume Designer Eric Daman To Launch Legwear Collection For DKNY
From left: Blake Lively, and tights from Eric Daman's line for DKNY This fall, Gossip Girl Costume Designer Eric Daman will design a capsule collection of legwear for DKNY. (more…)
Blake Lively's Eyelet Tibi Dress Is On Sale Now At Shopbop…Finally!
You can get Blake Lively's exact eyelet Tibi dress in white on sale at Shopbop for $539, down from $770 We can't get enough of this Gossip Girl's style.  Whether it's palazzo pants or floppy hats - Blake Lively always gets it right. We've been coveting her Tibi eyelet cap sleeve dress ever since she was spotted in it a few weeks ago...but covet no longer: this straight-from-the-runway frock is finally on sale at Shopbop for $539, down from $770. Granted, the dress is no longer available in blue like Lively sported, but the white version is just as cute - maybe cuter! After all, things are always cuter when they're on sale, right? Stay up to date on sales & deals and celebrity style by signing up for our newsletter.
Don't Be Green With Envy: You Can Get Kelly Rutherford's Exact Alice + Olivia Maxi At Shopbop Now
Kelly Rutherford stuns in this Alice+Olivia Adalyn Pleated Maxi Dress ($367) at Shopbop We're obsessing over the Alice+Olivia Adalyn pleated maxi dress that Gossip Girl star Kelly Rutherford donned for NYC's "Bent on Learning" benefit earlier this spring. The vibrant kelly green shade is universally flattering, but it looks especially striking on those with fairer skin tones. I mean, did you see Miss California - now Miss USA - last night? She rocked that glam, green evening gown. So if you thought a vivid green was only appropriate for St.Patrick's Day, think again. It's more wearable than ever, perfect for summer, and we've rounded up our favorite green maxi (and mini) dresses just for you. See them all after the jump. (more…)
Tired Of Ankle-Suffocating Skinny Jeans? Try Olivia Palermo-Approved Palazzo Pants Instead
Looks like we have a trend here, ladies. Palazzo pants come from the Italian word "palazzo," which means "palace"---perhaps to indicate how palatially wide the leg is.  I first fell in love with the style last year on the pivotal Paris episode of Gossip Girl when Blake Lively wore the high-waisted pink pair (pictured far left), which Olivia Palermo mimicked at this year's New York Fashion Week (3rd from left). However, last week Annalyne McCord (2nd from left) stole a page from Ms. Palermo's book, pairing a cream top with her camel palazzo pants. Though camel and peach seem to be the tones to wear them in, we found plenty of other adorable palazzo pants that just beg to be taken on an Italian getaway: (more…)
Midday Catch Up: The Outnet's Wedding Sale, Kelly Rutherford & Children Model For Fendi, Architecture Rings, More
Gossip Girl Star Kelly Rutherford Takes The Fendi Catwalk Alongside Her Children Rutherford co-hosted and modeled for Fendi's Children's Spring/Summer 2011 launch in NYC. Don't Miss: The Outnet's Wedding Sale On April 26th, you can receive up to 75% off dresses from Diane Von Furstenburg, Alberta Ferretti, and more. Can't Afford A New House? Buy A Ring Instead. French Jeweler Philippe Tournaire designed these statement rings based on different buildings around the world. For more non-bridal, non-baby news: shop 65% J.Crew, check out Pamela Love's line for Topshop, and get Coachella's festival-chic style.
Spotted: Over The Knee Heeled Boots For 70% Off At Shopbop
Isn't there something about over the knee boots that just screams Gossip Girl's Serena Van Der Woodsen? Just when we thought we were ready for sandal season, it starts pouring and made us reach back into our winter wardrobes for some of our favorite pairs.  Luckily, there's a whole slew of heeled over the knee boots on sale for 70% off on Shopbop, to help us get through these first few dismal weeks of "spring." And don't be dissuaded by "over the knee" and "heels" both being descriptors: all of these boots are lunch with Grandma appropriate. No one wants to work the corner in this weather, anyway. (more…)
Hey Taylor Momsen, Here's A Tip: Try Lucite Jewelry Instead
When Taylor Momsen performed at this weekend's South by Southwest music festival wearing certified stripper shoes platform lucite heels adorned with the word "tips" and stuffed with dollar bills, we were enthusiastic to see the Gossip Girl star found something to match those crazy garters.  It seems like Little J is finally learning the art of stripper outfit coordination. We're bigger fans of lucite jewelry, a fun way to wear it without looking, well, cheap. We've rounded up our tip picks for lucite jewlery, so you don't feel compelled to make a Momsen-esque sartorial statement.
Jessica Szohr Combines Trends For A Fashion Week Look Worthy Of Gossip
Sometimes too much of a good thing isn't always bad and Jessica Szohr shows us why. While sitting front row at a Rebecca Minkoff show in NYC for Fashion Week, Szohr combined numerous trends including a chain strap bag, a boyfriend blazer, and some peep toe booties.  Here's how you can  do it too: See more celebrity styles. Shop our guides to the best booties and the best blazers. Join our e-mail list for exclusive updates.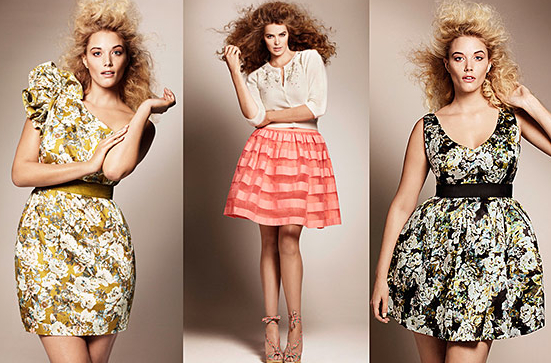 8 Juicy News Items To Impress Your Girlriends With This Weekend
It's Friday - and you know that that means. It's time to freshen up on the week's past events. Whether your group of friends prefers the lowbrow (Jersey Shore goes to Italy!) to the somewhat high brow (Kate Middleton's Lifetime movie), we've rounded up the top news, so you'll always have something to gossip about: H&M's newest plus size line features a size 6 woman - makes sense. Oh, and you can shop H&M.com next year. Michelle Obama, the trendy first lady she is, wore a Rachel Roy dress to the State of the Union dinner. How regal. "Oh yeah, Rome, yeah" is the new motto of  Jersey Shore 4, taking place in Italy. We hope that's where Snooki gets inspiration for her accessories line. Prince William and Kate Middleton are over the royalty scene - their story will become the newest Lifetime saga. Meet the newest Orange County housewife: a Brazilian lesbian fitness guru. We can't say we're not enticed. Funny man Will Farrell plans to guest star on The Office, probably causing us to pee our pants. Men treat skinny jeans with respect since they now have specifically made a line of tight pants for men. As if Gossip Girl isn't fashionable enough, W Magazine's Fashion Closet steps in for an appearance in a future episode. Read up on more fashion news and shop our guides to the best skinny jeans and the best celebrity style dresses. Subscribe to our e-mail list for exclusive updates.
Top 10 Of 2010: The Worst Dressed Celebs (GaGa, Lohan, More)
As much as we love to look back on the year's best dressed celebs, we figured we'd round-up the worst dressed ones too: Jessica Simpson: Repeat Offender Come on, Jess, printed tents and picnic blankets do not make maxi dresses. Too bad you didn't learn that the first time. Lady Gaga: Most Likely To Get Stopped In Security Whether its 7 inch platforms or a white lace bra, neither of which are quite airplane appropriate. Britney Spears: Lifetime Achievement Award Yikes - we think a Dr. Phil "What Were You Thinking?" intervention is the only cure for Britney's poor fashion choices. Madonna: Head-To-Toe Hot Mess The queen of pop really has no other excuse as to why she combined swishy pants, argyle socks, and a fedora. And if she does, she should lie. Dancing With The Stars: Worst Of Prime Time Although we love see Kate Gosselin make a fool or herself, these 16 worse DWTS outfits were hard to watch. Christina Aguilera: Worst Coffee Run It looks like Christina is hiding more than just a genie in a bottle under her extremely baggy sweats. Lindsay Lohan: Most In Need Of Fashion Rehab Lilo's beyond ugly outfits might have something to do with why she's isn't Hollwood's next It Girl. Miley Cyrus: You Can Take The Girl Out Of The Country... Miley, we get it - you have nice legs. Stop dressing like a hooker to show them off. Gossip Girls: When Good Girls Do Bad Things Blake and Leighton are going to start their own gossip in these dresses, which should have been left in the bedroom. Katherine Heigl: Worst Cupcake-Like Confection The brown hair aside, we'd rather see Heigl's ruffled cupcake dress at a birthday party than on the red carpet. For more holiday must-haves, check our Sold Out list, more Going Going Gone posts, and then head over to our guides of the best cocktail rings, party dresses, earrings, party shoes.
The Gossip Girls Ditch The Bare Legs Look For Warm DKNY Knit Tights This Week
If you live for the fashion on Gossip Girl, you probably want to nail Serena, Blair and Jenny's looks all the way down to the legwear. Luckily, this Monday's episode was taken over by DKNY hosiery - actually affordable pieces you can buy straight off the set. If you were in the market for textured, warm winter tights, look no further: Serena wore these DKNY Hosiery Chevron Knit Tights ($22) which much more opaque on Blake Lively than this Bloomies model (apologies for those fug boots). You will love these textured, warm knits - pair them with Oxfords a la Serena for a school girl look. Ms. Leighton Meester wore these sexy DKNY: Sheer Baroque Lace Tights ($18) as Blair. Pair these with a tweed skirt for work or LBD for Friday night - you're golden either way. Taylor Momsen cleans up nice as Jenny Humphrey in these DKNY Knit Piercing Tights ($15). Wear them with pretty much anything - they look good with daytime looks like little black skirts and boots or silk parties dresses for all those friggin' holiday parties. Check out more hot trends in legwear, from opaque tights to patterned stockings and tights. For more holiday must-haves, check our guides to the best cocktail rings, party dresses, earrings, party shoes. Follow the author of this post on Twitter @bridefinds.
Have The Gossip Girls Gone Mad? A Sheer Dress Does Not A Red Carpet Outfit Make
There's a right and a wrong way to pull of black lace. Pearl Lowe's $72 lace dress is the right way. Gossip Girl stars Blake Lively and Leighton Meester showed the wrong way this week lookin' a big old hot mess in too-sheer lace dresses on the red carpet. What they did wrong: Lace is hot for fall, but only as overlay or in ruffle or sleeve details. Not alone (doesn't leave much to the imagination, eh?). In Blake's case, the sheer stomach area is completely gratuitous; a lacy hemline would have been sexy enough. Don't even get me started on Leighton. What they should have done: Check out our index of hot messes, our Red Carpet Re-Do series. For more holiday must-haves, check our guides to the best cocktail rings, party dresses, earrings, party shoes. Follow the author of this post on Twitter @bridefinds.
Get Rachel Zoe's Gold Alexis Bittar Jewelry From Her Gossip Girl Cameo
The omnipresent Rachel Zoe appeared on Gossip Girl last night for Blair's birthday party, and found herself in - spoiler alert - a bit of a sticky situation. Before the hot fudge incident, we were dying over Rachel's floor length navy Pucci gown and armloads of Alexis Bittar jewelry. Get the look for yourself: Get the exact gold bracelet Rachel Zoe wore on Gossip Girl, this stunning Alexis Bittar 'Miss Havisham' Medium Crystal Hinge Bracelet ($250), before it sells out online. Rachel Zoe knows the importance of a handful of oversize cocktail rings. This Alexis Bittar 'Miss Havisham' Oversized Ring ($175) and Alexis Bittar 'Miss Havisham' Crystal Encrusted Oval Cup Ring ($140) are such gorgeous statement pieces, you really don't have to wear much else. If you have super skinny arms, you can wear this Alexis Bittar 'Miss Havisham' Crystal Hinge Cuff ($195) as an elbow cuff like Rachel did. If not - no worries - its absolutely stunning around the wrist (and perfect for all those friggin' holiday parties). For more jewelry must-haves, shop our guides to the best cheap jewelry, jewelry staples and cocktail rings. Follow the author of this post on Twitter @bridefinds.
Dress Like A Gossip Girl For Under $50: Eric Daman's Charlotte Russe Line Launches 5 Days Early
Eric Daman, the genius costume designer behind all every genius Gossip Girl outfit, has answered our prayers and created a line of party dresses with Charlotte Russe. The collection secretly launched today--5 days before its scheduled date, and everything is under $50. Time to stock up: after all, Blair Waldorf wouldn't tolerate having just one option. Be on the lookout for sparkly sequined crossbody bags, which will launch soon: This sculptural black dress ($39.50 down from $49.50) features a puff sleeve detail Serena would rock in a second. This Velvet and Lace Dress ($39.50, from $44.50) is a cool way to wear the cut-out trend: with lace, so you'll never feel too exposed. Save this Asymmetrical Sequin Dress ($49.50) for all of those holiday parties coming up. The open shoulder detail and built- in necklace on this Embellished Neck Dress ($34.50 down from $44.50) are enough so you won't have to splurge on any extra accessories. This one-shoulder polka dot Mini dress ($39.50 down from $44.50) is a little bit retro, and a lot sexy--sure to get you noticed. The sheer black overlay and retro peplum style (perfect for hiding a tummy) make this Dot Dress perfect ($39.50 down from $44.50). For more, shop our guides to the best fall maxi-dresses, black dresses and party shoes. Subscribe to SHEFinds for fashion updates and exclusive newsletters.
Spotted: Vanessa And Georgina Wearing Carol Marie Jewelry On Gossip Girl
Remember when I told you about my former fashion editor friends-turned-jewelry designers Jen Kramer and Heather White? They're the geniuses behind Carol Marie jewelry.  Both have an incredible eye for jewelry--they're always decked out in really cool pieces...and finally, everyone is taking notice. Including Gossip Girl: Though it looks a little different on Vanessa here (the photo was very dark--I lightened it), this Carol Marie jewel & multi-chain necklace ($262.50, from $375) is the exact piece. Don't you love the decadence of the glass rhinestones? There are only 3 left, so hurry! Georgina's effortlessly cool necklace is in fact this Carol Marie tangled chain necklace ($245). I love how it looks a little messy but refined at the same time, adding texture to every single piece of clothing in your closet. (Side note: Carol Marie designer Jen is also the expert market editor who hand-picks all the shoes in our guides.) Check out all of our guides to jewelry--from the best handmade jewelry to brooches, cocktail rings, bracelets and necklaces. Follow the author of this post on Twitter @shefindseileen.
Blake Lively Shines In A Sparkly, Cut-Out Little Black Dress
Usually, we're drooling over her Gossip Girl wardrobe, but this time Blake Lively (the person, not the character) is doing the jaw-dropping. Outside of the David Letterman show, Blake wow-ed in the old little black dress formula revised: just add subtle cut-outs and little glitz, and you have a girl's new best friend. Get a piece of the cut-out trend with this sexy Donna Mizani One Shoulder Cut Out dress ($194). Blake Lively legs not included. If it's sparkle you're after, this LaROK LUXE Double-Sided Sequin dress ($298) will light up the night. For an even sexier, under-$100 version, look no further than this French Connection Samara Stretch Dress Cutout bodice ($98.70, down from $188). Another best bet for the little black dress look? This Nicole Miller Cut-Out Pleated Tank dress ($310). And last but not least - this Alice + Olivia Nika Zip Back Sequin dress ($484) definitely delivers the dress drama - and we like it. For more fail-proof dress options, check our guides to the best black dresses, sheath dresses and maxi dresses.
The Gossip Girls Would Not Approve Of Michelle Trachtenberg's Clunky Red Carpet Look
You may know her as the vicious (and stylish) Gossip Girl villain Georgina Sparks (or as Harriet the Spy if you're references are a little outdated), but Michelle Trachtenberg will now be known for wearing this clunky outfit. Michelle's over-accessorized, unflattering get-up looks more like something Georgina would rip apart than wear herself. What she did wrong: Michelle went overboard accessorizing what could have been a sexy, sparkly LBD. She should have chosen the jacket or the bag or the belt - not all three. Pale legs and gladiator-style sandals do nothing to elongate or slenderize the leg. A little self tanner and peep toe pumps could have gone a long way. What she should have done: Never underestimate the power of the LBD; sexy numbers like this Ann Taylor Asymmetrical Neck Knit Dress ($98) don't need tons of accessories - they stand alone. Michelle should have skipped the oversize, distracting belt and gone with a skinny, metallic one. We love this versatile Cole Haan Ali Center-Bar Leather Belt ($48); belt any black top or dress with it for an instant nighttime look. Rather than the noisy jacket, Michelle should have gone with an arm full of bangles. We love this GUESS Metallic Silver Bangle Bracelet ($25) - it's an accessory we can get behind. Rather than a Grecian style that makes calves and legs look thicker, Michelle should have gone with a slimming peep toe like these sexy ASOS PRINCESS peep toe shoe ($47.35). We kind of think her blue sequin clutch is awesome; if you are bold enough to try the look, this Menbur Sequined clutch($69) pretty much nails it. Avoid being a fashion disaster Check out more celebrity style, plus the best black dresses, maxi dresses, nude shoes, and evening bags.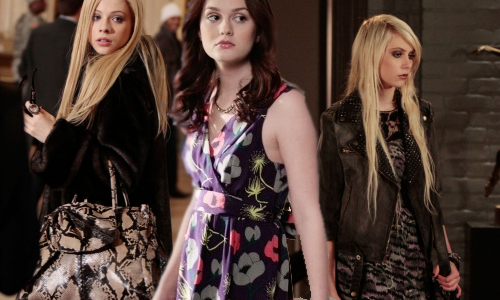 Gossip Girl's Season Finale: The Style Showdown
Gossip Girl bids adieu for the summer and did it do so in dramatic fashion figuratively and literally. The fashion was turned up as our favorite New York City girls faced a slew of troubles, one of them being super villain, Georgina Sparks, who decided to swing through and bring a heap of trouble with her. Georgina kept the attention on her feet as she stomped her way back to the Upper East Side in a sexy pair of animal printed pumps. This pair of Dolce Vita "Trinity" animal print stiletto's ($137.99) will help you raise the heat in any situation. Slip these on with a pair of dark skinny jeans to help complete your bad girl image. Jenny Humphrey wants you to think she's the ultimate bad girl and does so in this studded jacket covering a very short and fitted dress. This Kenneth Cole Reaction asymmetrical zip jacket ($78) keeps the studded spread collar like Jenny's and provides an air of bad ass without even riding a motorcycle. Blair may have lost the headbands but gained a delicately sinister sense of style in the progress. She is demure yet modern in this purple frock. This Liquorish Floral Box Sleeve Dress ($50.73) has a more literal floral  image. Get it now for 54% off yet still 100% Blair Waldorf. Check out more Gossip Girl style, plus our favorite summer dresses, floral dresses, blazers, flat sandals and of course, all of the best sales and deals. http://www.tvfanatic.com/gallery/miss-blair-waldorf/Liquorish Floral Box Sleeve Dress
Daily Links: Paris Hilton Is Stuck in 2001, Tory Burch Wants To Bring Back The Backpack, More
1. Paris Hilton still isn't over hot pink. The socialite showed up at a pool party in Las Vegas wearing an outfit that looks straight from 2001. She should get some style tips from former bestie Nicole Richie.[Betty Confidential] 2.Tory Burch wants to bring back backpacks with her $295 Palma backpack that's sporty and kinda elegant at the same time. Gossip Girl wannabes are having a field day. [Huffington Post] 3. There's a new iPhone App from TotalBeauty.com that brings 300,000 reviews of 45,000 beauty products to your phone. We're intrigued. Check out our guide to the best hair removal products, and the best mascaras.  [Stylelist] 4. We showed you five pieces you need to survive a fat day and today The Frisky has 30 things that will make you feel beautiful--the list includes a great dress and bra. Read both and you might be able to skip the gym this week. [The Frisky] Check out more of our daily links, and if you decide to hit the gym, see our guide to the best cheap workout gear, and the best cool sneakers.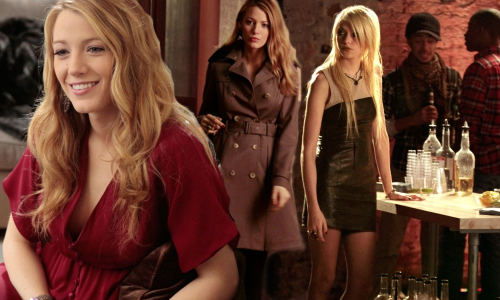 Battle of the Gossip Girl Blondes: Who Wore What and Where
As Serena van der Woodsen prepares to be reunited with her father on next week's Gossip Girl, she reminds us of how to be chic and casual all in under 60 minutes. But as usual, young and problematic Jenny Humphrey wants attention as well. Check out some wallet friendly options similar to what these blonde hotties strutted around in across the Upper East Side. Serena is a classic beauty and so is the fitted trench coat she wears as she confronts her boyfriend. Snatch up Eddie Bauer's classic trench ($149) in saddle or black. Spousal confrontations optional. As she sits with her father, Serena displays the perfect balance between style and comfort. To help you do the same, check out this Tbags button front belted dress ($126) which is 40% off. Lil J steals the show as she attempts to steal Serena's guy in a L'Agence leather and lace dress for $770. You can sport this ASOS leather paneled one shoulder dress ($50.73), which is even sexier, as it's 90% cheaper. Check out more great info on trench coats, black dresses and summer dresses.
Daily Links: Leighton Meester's Busy Washing Her Hair, Aldo's New Nail Polish, More
1. Gossip Girl favorite Leighton Meester has been named the new global ambassador of Herbal Essences.  Get the same dress that her character Blair Waldorf wore in last week's Gossip Girl episode. [InStyle] 2. Aldo will release a line of nail polishes to match their spring 2010 collection of shoes. Why hasn't anyone thought of that before? For more nail polish news, check out this season's top five colors. [ InStyle UK via Stylelist] 3. Street style photographers (and couple) Scott Schuman, of the Sartorialist, and Garance Dore are working on a television show about fashion, music,  and food. We're there. [Elle UK] 4. Leather makers from Gucci will show shoppers how they make those $1,000 handbags next week in select stores. See which cities they'll be appearing in. We've got a roundup of the best handbags under $250 that look just as expensive. [The Thread] See what else is going on by checking our fashion news section, and then check out our guide to the best denim skirts, and the best celebrity sunglasses.
Gossip Girl: Sex, Lies, And What They Wore Last Night
Betrayal, sexual tension and heartbreak. This, in three words, sums up last night's Gossip Girl episode. Matthew Williamson made his presence known this episode by dressing the windows of his NYC Meatpacking District store with Gossip Girl displays (above). Talk about product placement: the gown in the window display above, from Williamson's Resort 2010 collection played a role in tonight's episode, when Blair spots that very dress. Not surprisingly, as product placement would have it, this $4,000 Matthew Williamson dress is sold out after last night's episode. Never fear: this 3.1 Phillip Lim embroidered draped gown ($895) is still available. It's a little pricey, so check out more seen-on-Gossip Girl styles we spotted: Blair wore this Marc Jacobs Lurex Blocks dress ($264, down from $528). It's still available in a few sizes. Vanessa knocks it out of the park this episode wearing a simple black blazer and an embellished jumpsuit underneath. The studded jumpsuit ($258) by Robert Rodriguez. Click here for the one thing you can wear with all of these styles--the best blazers, and check out our favorite pairs of skinny jeans and maxi dresses, plus all of our celebrity style posts.
Red Carpet Re-Do: Taylor Momsen, We're Calling Your Mom
If you were 16 year-old Taylor Momsen's mom would you let your daughter leave the house like this?  Yeah, we wouldn't either.  Let's play red carpet re-do to the Gossip Girl who looks more like a lady of the night then a high school student here.  Taylor, you're a teenage girl in a hit TV series, surely that you can at least afford some pants and a hairbrush.  But let's completely revamp her look and make it look much more appropriate for any girl no matter what their age with Red Carpet Re-Do: What Taylor Did Wrong: Unless you are Lady Gaga, you must wear pants, skirt, short, something, anything; you cannot just wear a shirt in public (see our rant on the pants vs. no pants debate) No one wants to see your garters unless you're auditioning for Pretty Woman 2 As though Taylor wasn't naked enough to begin with, she opted for a sheer shirt with a black bra underneath What She Should Have Done: A sheer blouse can be sexy and feminine if paired  with the right bottoms. Pair a loose sheer blouse with a cami underneath and a tight bandage skirt for an evening friendly look.  Tuck it into the skirt for a less sloppy ensemble than Taylor's failed attempt.  Try this button down by Acne ($299) with this sung pink mini by Pleasure Doing Business ($90), at steal for under $100. Thigh high tights with lace tights are ultra sophisticated and feminine, but please, make sure you they are hidden under hem of your skirt.  Wolford ($40) always makes the most comfortable and run-proof stockings.  We do envy Taylor's ankle strap leather booties, and we love the price of this nearly identical pari by  Nine West ($67.43-$78.66). Finish off the look with a patent leather doctor bag like Taylor's.  This Hype Corey bag ($238.90-$293.3) has enough space to carry to work, but the patent leather finish makes it also function for nighttime. Find out how we made over other celebrity fashion faux pas's with all of our Red Carpet Re-dos.  Get the low down on all the best online sales with our guide to this week's online sample sales.
News: Gossip Girl Clothes, Wintour's Fight With Italy, More
1. British clothing line Miss Selfridge is Gossip Girl-crazy, and soon will roll out a collection based on the style of each of the characters. It will include boho styles for Vanessa, a bandage dress (Serena) a Blair-worthy pretty floral skirt with ruffle top, and a nude and black tulle skirt Jenny would lust after. See our collection of party dresses we love, in all different styles, plus party shoes, of course. Would you wear designs modeled after a character? [Vogue UK] 2. After announcing she'll only attend 3 days of the 7 day Milan Fashion Week, Anna Wintour asked that some events be switched around, but Italy's mayor wrote the editrix a letter repremanding her: "No one, not even if her name is Anna Wintour, can take the liberty to do and undo our fashion calendar." See our calendar of online sample sales to get really great deals no one can undo. [Vogue UK] (more…)
Get The Dress That Works For Everyone
On the heels of all the buzz about plus-size models like Crystal Renn in the fashion industry, Gabby Sidibe, the breakout star of the film Precious, graces the February issue of Harper's Bazaar looking smashing. Contrary to Miley Cyrus, who looked like she aged 10 years on the cover, Sidibe really knows how to dress for her body type in a bright poppy colored Tommy Hilfiger dolman sleeve wrap dress, with precious metal jewels draped over it. The dress is the perfect choice if you don't feel comfortable in a body conscious dress, as it offers a slouchy arm and forgiving waist: In the interview, Sidibe mentions people tend to ask her where her confidence came from and she says, "It came from me. One day I decided that I was beautiful, and so I carried out my life as if I was a beautiful girl. I wear colors that I really like, I wear makeup that makes me feel pretty, and it really helps." See our picks for the best dolman sleeve  dresses around to get her look for less: This Classique dolman sleeve dress ($78) that offers roomy arms but is still incredibly sexy. This green T Bags dolman sleeve dress ($114) is perfect for spring. This BR Monogram silk dolman dress version ($130) is roomy for every body type, and pretty with tights and booties or sandals. Ideal for nights out, this gray Alloy off-the-shoulder boatneck dress ($29.90) hides your tummy but keeps a really flirty shape. See our guides to how to dress for denim for your shape, shirts to hide your tummy, shapewear,  and how to dress for your body type. Also, check out Oprah's favorite, CJ by Cookie Johnson jeans.
Have A Bliss-Ful Morning Filled With Beauty Discounts
If you're in New York near the NASDAQ at 4 Times Square this morning, consider stopping by--Bliss Spa is ringing the opening bell to the stock market at 9:15 this morning and is giving away free gel-lined glamour gloves to the first 100 people to stop by. The earliest birds will get the, er, gloves. Don't feel left out if you're not in New York--you can still celebrate with Bliss's 15% off sale; use promo code JAN110 to get the discount on Bliss and Remede products like this one: Bliss's Triple Oxygen Instant Energizing face mask is legendary for brightening skin in a remarkable five minutes, and it's 15% off.  Have a great morning. See more of Bliss's 15% off sale, and check out our makeup tips for faking a full night's rest, along with the guide to the best mascara and acne treatments. Can't get enough discounts? See more sales and deals (like marked down Kate Spade bags we're obsessing over) and all of this week's online sample sales.