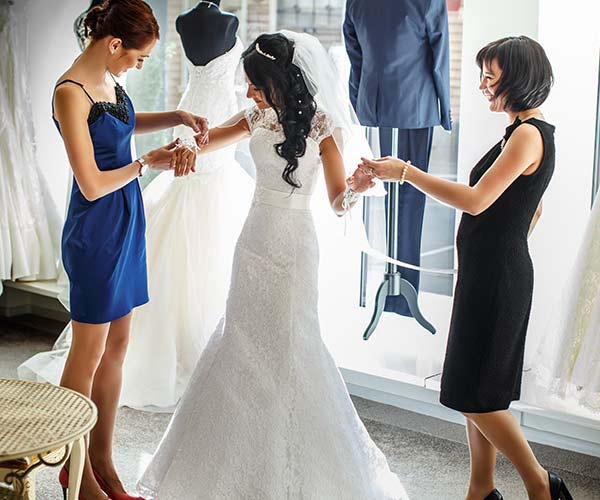 18 Wedding Dress Trends That Are Going To Be HUGE In 2018
Spring's American Hustle-Inspired Trend: Disco Dresses!
Ever since the Oscar-nominated film American Hustle hit movie theaters, disco dressing has been on our minds. (Think deep v-neck gowns, sequins, and all things metallic and shiny.) Jennifer Lawrence and Amy Adams flaunted these 70s looks with ease (and sass) thanks to costume designer Michael Wilkinson. The bold looks were so on-point that Wilkinson snagged an Oscar nom for Best Costume Design. But Wilkinson and the folks behind American Hustle weren't the only ones who were inspired by such a stylish decade. Designers like Givenchy, Gucci, and Reem Acra, sent disco-worthy gowns down the runway for their spring 2014 collections. While these dresses aren't exactly wedding reception-friendly, they're the perfect look for a night out in Vegas, Miami, or any big city with a dance floor. And if you're looking to sport a deep v-neck gown, we suggest stocking up on some Hollywood Fashion Tape ($8.99) before you party the night away. Shop more spring fashion trend stories: pink handbags, rainbow palette, and daisy print. [Photo: IMAXtree, Givenchy, and Sony Pictures]
Got A Black Tie Invite? Here's Your Perfect Stand-Out-Without-Standing-Out-Too-Much Look.
Decorate to taste. If you were invited to a black tie gala, holiday party or New Year's Eve bash, stop stressing about what to wear and relax: we've found your look. It's the perfect mix of fun and refinement all in one: with a flouncy pink skirt or gown, a scalloped evening top and piled-on matte gold jewelry with crystals and cocktail rings galore, you're guaranteed to be the belle of the ball drop. Here's what to wear on New Year's Eve and otherwise: (more…)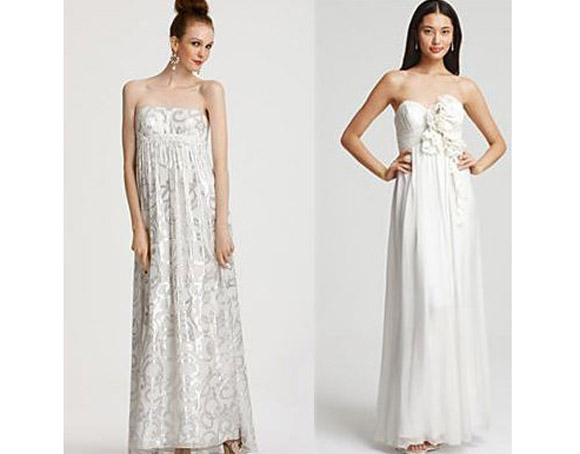 50% Off Gorgeous Gowns — Including A Jacquard Style That Will Knock Your Socks Off
I don't know what is going on over there, but Bloomingdale's has up to 70% off bridal gowns today, including these two stunners: Aqua Strapless Foil Jacquard Gown ($119.04, down from $248) and ABS by Allen Schwartz Silk Strapless Rosette Gown ($184.50, down from $410). I would hightail it over there, if I were you. Shop our guides to the best strapless wedding dresses, white wedding shoes, and inexpensive wedding dresses.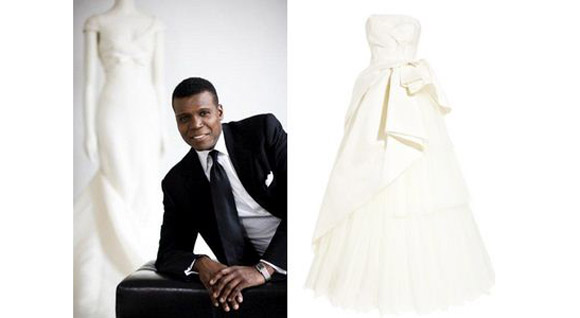 Find A Dress That Truly Flatters This Spring: Mark Ingram Helps Us Navigate The Trends
Mark Ingram's wedding dress expertise has made him a go-to personality for styling, trends, and flattering fit tips -- and with good reason. The man not only owns the gorgeous Mark Ingram Bridal Atelier in NYC, known for its cutting-edge collections, but also helped found the members-only luxury bridal shopping site The Aisle New York. Now he's offering words of wisdom to brides-to-be on the verge of heading down the aisle: (more…)
Thanks, Joan Holloway, For Bringing The Hourglass Silhouette Back To Bridal
When New York Magazine declared Christina Hendricks (aka Joan Holloway on Mad Men) "the return of voluptuous," we stood up and clapped - figuratively. Joan's influence now extends to wedding dresses, according to Wedding Gown Town, which highlighted 50s-inspired silhouettes as one of the top trends for 2011: (more…)
Love Anthropologie? Meet Your New Obsession, Their BHLDN Wedding Collection
Fans of the feminine, one-of-a-kind clothing line at Anthropologie were overjoyed to hear about the launch of BHLDN, the brand's Anthro-inspired bridal collection. And although we had our doubts first (the press photos were awful!) it turns out the BHLDN collection is actually gorgeous. Check out some of their unique gown options -- you might just find the one right now. (more…)
Bookmark Our Weddings Sample Sale Calendar For Daily Deals On Gowns, Honeymoons, More
Introducing the BRIDEfinds Weddings Sample Sale Calendar (bookmark it now!): a one-stop-shop for amazing deals on honeymoons, designer gowns, fine jewelry and more. Impress your husband-t0-be by saving on the big ticket items that are blowing your wedding budget. With destinations such as the Bahamas, British Virgin Islands, and Europe, and designers like Vera Wang, Oscar de la Renta, and more, the options are endless. You can thank us later. Check today's best sales >> Want more inexpensive finds? Shop our guides to the best inexpensive wedding shoes, wedding costume jewelry and black bridesmaid dresses.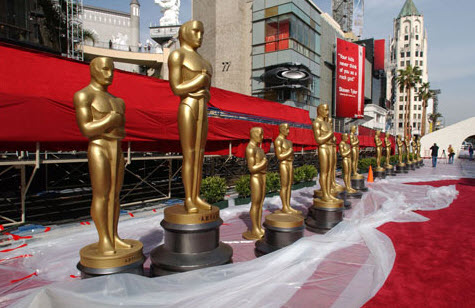 Twitter Stalking The Oscars Behind The Scenes (Plus, 6 Fashion Spoilers)
Our invitations must have gotten lost in the mail, so we're back to Twitter Stalking--finding the best tweets from behind the scenes at the Oscars. Some Oscars fashion spoilers we've learned from Twitter tonight: - Anne Hathaway will change outfits at least 5 times, and rumor has it she'll definitely be in a Valentino Vintage couture gown from '02 and a Givenchy gown tonight. - Natalie Portman will be wearing Rodarte, the designers behind her Black Swan costumes (and our favorite Target collection). - Amy Adams is wearing $1.3 million in Cartier jewels. - Halle Berry will wear a nude beaded Marchesa dress. - Cate Blanchett is wearing a 1947 vintage bracelet with 127 diamonds. - Scarlett Johannson will show up in a one-of-a-kind Dolce & Gabbana lace gown. Watch the Oscars live stream here (more…)
These Celebs Have No Alibis For Their Hideous Oscar Dresses
As we count down the days to this Sunday - the 83rd annual Oscar Awards - we can't help but reflect on some of the not-so-worthy Oscar dresses. So while Anne Hathaway and James Franco take charge, we'll just point and laugh at the ugly dresses of Oscars past. (more…)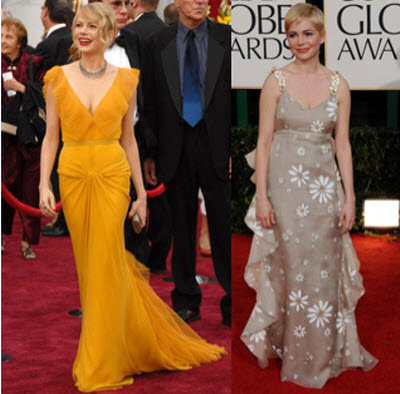 The SHEfinds Crystal Ball: Predicting Michelle Williams' Dress For The Oscars
Since she's nominated for Best Actress this year, we decided to highlight Michelle Williams' best red carpet looks. Of course no one can forget her gorgeous yellow Vera Wang gown in 2006. And we also love the feminine details of her Valentino gown that she wore for this years Golden Globes. One thing is for sure, Michelle Williams loves her couture and we think she'd look fabulous in the following dresses: Click to see--they're all on sale! (more…)
Planning A Big Indian Wedding? Shop Lenghas, Jewelry & More On Sale At Exclusively.in
Indian brides, rejoice! If you already love members-only shopping sites like Gilt Groupe and Rue La La, you'll adore Exclusively.in, a new sample sale site with everything from bridal lenghas to traditional Indian jewelry, scarves, hats, and more. Register for free now and enjoy sales on Jamini Ahluwalia jewelry, Zoya, D.M. Shrimali, Sonia Malhotra jewelry, Payal Luthra scarves, Sangeet bags and jewelry, Twisha Alisha bags and Divya wines. We're especially loving the gorgeous Garden Party sale: A selection of saris in fresh, spring colors, all incredibly chic, and the oh-so-charming Ganesh charm bracelets by Gem Palace. But you have to be in it to win it, so register now. Brides of all kinds can benefit from our shopping guides: check out ideas on everything from bridal hair accessories to designer wedding shoes.
Mila Kunis Proves Red Isn't Hard To Pull Off (Or Just For V-Day) After All
It looks like Alexander McQueen red dresses are hot and heavy this season as shown by Mila Kunis (and Michelle Obama, remember?) Mila looks sultry and sophisticated in this Alexander McQueen red printed chiffon gown. And the $300,000 worth of borrowed Cartier jewelry doesn't hurt her look either. Check out more of our favorite celebrity styles. Shop our guides to the best cocktail dresses and the best floral dresses. Join our e-mail list for exclusive updates.
No More Pushy Salespeople: Designer Gown Site The Aisle New York To Open Jan. 3rd
Busy brides everywhere are about to let out a collective sigh of relief. On January 3rd, the click-to-buy designer gown void will be filled:  The Aisle New York, a membership bridal site, will carry all the bridal names you love - Oscar de la Renta, Monique Lhuillier, Amsale, Marchesa, and many more - as well headpieces and other accessories. Not only will the site feature amazing deals (up to half off), but proceeds of some sales will go to charity. So, no more bitchy saleswoman, florescent lights or awkward mother-daughter moments. Pre-register now. Looking for more great deals on cheap gowns and accessories? Check our guides to the best inexpensive wedding dresses, inexpensive wedding shoes and cheap bridesmaid dresses. For non-wedding sales, check SHEfinds' online sample sale calendar. Follow the author of this post on Twitter @bridefinds.
Up To 60% Off Wedding Dresses + Free Shipping At Nordstrom Today
If you've been waiting for an excuse to pull the trigger on a wedding dress, today is the day: Nordstrom has up to 60% off wedding dresses plus free shipping (gotta love the holidays): This Aidan Mattox Beaded Strapless Chiffon Gown ($279.90, down from $470) is not your average strapless - the bodice is beaded and chiffon skirt has beautiful movement. This elegant BCBGMAXAZRIA Rosette Chiffon Gown ($129.90, down from $328) is 60% off - doesn't get much better than an under-$150 wedding dress. This ABS by Allen Schwartz Ruffle Trim Satin Gown ($255.90, down from $428) looks like it costs way more than it really does: the ruffle detail on the neckline is gorgeous and flattering for most bust sizes. This Sue Wong Beaded Gown with Deep V-Back ($289.90, down from $488) is simple, yet elegant enough for a formal wedding. Looking for more great deals on cheap gowns and accessories? Check our guides to the best inexpensive wedding dresses, inexpensive wedding shoes and cheap bridesmaid dresses. For non-wedding sales, check SHEfinds' online sample sale calendar. Follow the author of this post on Twitter @bridefinds.
The Sketches Are In: Valentino, Vera Wang, And More Take A Stab At Kate Middleton's Gown
Don't act like your not freakin' excited about the royal wedding. How could you not be when top designers like Vera Wang, Reem Acra, Jason Wu and more, are drafting sketches for Ms. Middleton. WWD has the drawings, and the designer's inspirations (ok, Karl Lagerfeld's may be a little off course): Follow the author of this post on Twitter @bridefinds. For more bridal gown inspiration that you can actually buy - check our guides to the best strapless wedding dresses, simple wedding dresses, and inexpensive wedding dresses.

Happy Early Christmas: 30% Off J.Crew Bridal Today
If you've been eyeing a J.Crew gown or bridesmaid dresses for awhile, today is the day to pull the trigger because the site is offering 30% off orders of $150 or more (code MUSTHAVE): This elegant J.Crew Silk chiffon Arabelle gown ($346.50, down from $495) is already well-priced - so there's really no reason you can't make a move on it now that's its 30% off. And under-$400 wedding dress is a rare find, so one from J.Crew is like seeing a Blue Moon. This J.Crew Silk tricotine Gracie gown ($332.50, down from $475) is actually gorgeous, too. Don't let great shoes be an afterthought - get these gold J.Crew Rory strappy sandals ($131.60, down from $188). The kitten heal will make your walk down the aisle that much easier, and the gold style works for both winter and spring.A great jewelry style for weddings is multiple layers of medium pearls. Wrap yourself in these J.Crew Opera-length pearl necklace ($346.50, down from $495) and save over $100 if you buy them today. If you still need bridesmaid dresses, this J.Crew Silk taffeta Nanine dress ($157.50, down from $225) is gorgeous for a winter wedding and is now on sale. Ditto for this J.Crew Silk taffeta bow monde dress ($138.60, down from $250). The silhouette is on-trend and the color will really pop against your white gown. Looking for more great deals on cheap gowns and accessories? Check our guides to the best inexpensive wedding dresses, inexpensive wedding shoes and cheap bridesmaid dresses.
Let Fergie And Kate Hudson Be Your Party Dress Inspiration
Every holiday party season we make the decision whether to glam it up or go easy, whether to splurge on that new dress or just wear last year's duds, and of course whether to diet or to enjoy the season's sweet (that's what SPANX are for, right?). Well, this year, let Fergie and Kate Hudson be you fashion and gym-inspiration for all those friggin' holiday parties. The ladies looked glam, and so can you: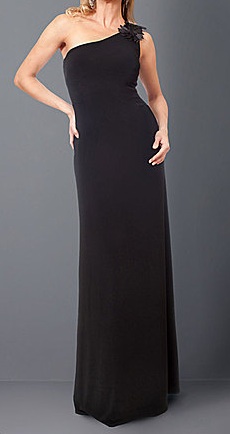 Lucky You–You Know Somebody Rich. Now What Does A White Tie Dress Code Mean?
If you got a wedding invitation that says, "White Tie" the bride and groom aren't kidding around. White tie is even more formal than black tie, so you need to bring your game face. Unlike black tie where cocktail dresses are acceptable, you need to find a floor length gown, faux diamond jewelry and some black strappy heels. Then you can make a beeline to the champagne server. Stick with solid, dark colors for your white tie gown; we love this J S BOUTIQUE Flower-Detail One-Shoulder gown ($178). The one shoulder is current, but the floor length style is classic. Rather than a faux diamond necklace, which is hard to nail, get your bling fix with these gorgeous Kate Spade Glass Stone Stud earrings ($42.00). You will love the shape and detail of this pretty pair. Have some fun with an oversize gold and stone cocktail ring; this Stone Dome ring ($26.90) only looks like it costs a fortune. No flip flops or wedges here; it's time to buy a pair of sexy, strappy black heels if you don't have any in your closet. These Chinese Laundry Weekend Satin sandals ($49.95) are perfect for the occasion. Shopping for everyday life, in addition to all those friggin' weddings? Check out the best black dresses, evening bags, and best sunglasses, and what to wear to a beach wedding.
Deal Of The Day: 60% Off Saks Summer Heels
Warm-weather clothing can be so simple - no crazy layers, not too much room for multiple zany prints.  I like to dress up a plain summer outfit with a pretty pair of heels, and then I'm good to go. These Costume National slingbacks ($291.41 from $625) have a very cool, contemporary-feeling wooden heel. Kate Spade is so good - she somehow applies zebra print to a sling back and makes it look like a totally classic shoe ($137.34 from $295). I can't believe how fun these blue Loeffler Randall wooden heels are, and can't wait to wear them everywhere ($268.07 from $575.) More Sales and Deals: Ralph Lauren: Now take up to 60% off sale items Couture Candy: Take 30-60% off denim 6pm: Save 50% on Kensie Girl clothing
Thursday's Sample Sale Scoop: Marc By Marc Jacobs, Badgley Mischka Swimwear, And More
Editor's Pick: Marc by Marc Jacobs at Gilt Barbara Lingerie at Editors' Closet Ed Hardy watches, Badgley Mischka swimwear, and Jalda clutches at The Top Secret Gucci watches and Pink Tartan clothing at Beyond The Rack French Connection clothing and Michael Kors sunglasses at ideeli Peachoo + Krejberg clothing at Juxzy. Use code cc8570. Accutron watches, Rory Beca clothing, and Tokidoki bags at Hautelook
Latest Blog Posts From MomFinds
Cool Water Toys Your Kids Will Love Can't get to the beach, lake or pool any time soon?  Here are some cool water toys to enjoy at home with your babies, toddlers and big kids. Deal of the Day: Save 25% and Get Free Shipping Sitewide at SteveMadden.com Now through Friday, use coupon code WeLoveCJ25 at Steve Madden and take 25% off your order and get free shipping. Win it Wednesday: Win an I SPY Gift Pack with Wii Game, Board Game and Books With more than 30 titles and 36 million books in print, the I Spy series continues to win the hearts and minds of parents and kids everywhere. This week, five lucky readers will win a few goodies from I SPY.
Soak 2008 Away In A Nice, Long Bath
With the economy going down the tubes and holiday stress looming over us like a big Grinch, a luxurious bath is a rare treat. With all the bath products out there, we've done the homework and suggest the following cost-effective products to help make your bath time work a little overtime. If you have muscle soreness from working off that Xmas meal or hauling toys to the car, this Aromafloria Ocean Mineral Muscle Soak Bath Salts ($14) will change your life. With eucalyptus, peppermint, and lemongrass to soothe the aches and your senses, watch that your guy doesn't steal it. Partying a little too hard or just have skin that is environmentally whiplashed? MD Skincare's Beauty In: Toxins Out Detox Duo ($55) is a product that will show your skin some love by exfoliating, boosting immunity, removing toxins, and relieving tension. If you just kicked on the heat in your place, this is worth every dollar. Just want to relax and soothe your soul in a mountain of bubbles? The Lush Temple of Trush Bubble Bar ($5.85) is an inexpensive way to relax your mind and body with heaps of bubbles and a light earthy smell. Plus, it's vegan. Need a better night's sleep? Boots Lavender Bath Milk ($10) has a soothing scent, moisturizes, and is tried and tested to knock you right out.
Sponsored Post: Add To Your Intimates Drawer With Fruit Of The Loom
We've all been there a few times: you need to re-stock your intimates drawer with a bunch of everyday panties without breaking the bank. Fruit of the Loom has the perfect solution in their colorful Cotton Stretch collection. They're made of 95% cotton, plus just enough stretch to keep you comfy all day. In various sizes and colors, you're bound to find one you'll want to buy in multiples.For more information on Fruit of the Loom intimates, visit fruitforher.com.
Sponsored Post: What To Wear To Bed? Fruit Of The Loom Has The Answer
Looking cute and staying comfortable when you turn in for the night can present quite the challenge. For an easy outfit that works every time, try any of the great colors and styles of A Fresh Collection Sleepwear by Fruit of the Loom. They're totally comfortable, casual, and stylish. For more information on Fruit of the Loom, visit fruitforher.com.
Urban Decay Would Be The Perfect Gift For Your Uptight Mother-In-Law
Do you secretly wish you were just a smidge edgier? Check out my new favorite finds from Urban Decay for some sinfully hot new beauty products that will bring out the rock rebel in you this holiday season. Or give to someone else who needs a little loosening up. Their Limited Edition Lipstick Cap ($15) will really get tongues wagging at the holiday party. The gorgeous case looks like a Gothic tinted window and can house any of the Urban Decay Lipsticks ($22). Looking to kiss someone before the night is over? Don't worry about heading to the bathroom. This Stoned Poison Ring ($50) opens up to house any one of three universal shades contained in the bottom drawer of its ring box. Just pop one in and lacquer up before your close-up. If you or someone you love has a thing for eyeliner (who doesn't?), the 24/7 Travel Sized Sets of Five ($29) are perfect purse stashers for nights out. Long nights used to smudge your eye makeup but no more! Award-winning Eyeshadow Primer Potion ($16) goes on smoothly under eyeshadow and keeps eyes looking smooth and crease-free. Plus, the shadow stays put until you say so.Don't let the attitude fool you. Urban Decay doesn't test on animals so you can use the products without fear. Take these little gems with you this holiday season and turn up the volume on your makeup routine.And check out our Invitation Translation Guide for what to wear with your festive new makeup palette.
Freebie Friday: Win A $500 Shopping Spree At Palm Beach Jem
What: $500 to spend at PalmBeachJem.com Why: You could buy a whole little jewelry wardrobe with this prize – not to mention the selection of interesting but totally wearable pieces that are available. From big-name favorites like Alexis Bittar and Kenneth Jay Lane to lesser-known brands like Jennifer Zeuner, there's a ton of unique jewelry to choose from. We thoroughly enjoyed clicking through the collections for a full hour last night.While you could also spend it all on one standout piece, we'd rather spread the wealth and build a little collection.We'd start with an everyday necklace by Jordann Jewelry like this simple pendant in sterling silver, and a glamorous pair of earrings from Alexis Bittar – gorgeous with a turtleneck dress and a ponytail, and equally stunning with a white tank in the spring. Next, we'd add a fun cocktail ring to add the right amount of color to our black go-to party dresses. Even with three great items in our cart there'd still be enough left over to snag an 11-bangle bracelet set from Amrita Singh. And voila – a bunch of new looks for our winter wardrobe. How to enter: Read the rules, then go to PalmBeachJem.com and pick out what you'd buy with the $500 prize. Then come back to this post and tell us what you chose, and we'll enter you for a chance to win the shopping spree – and, if you don't change your mind, all that stuff.And don't forget to check out the 12 Days of Giveaways at Momfinds – today, you can enter for a chance to win a Skip Hop Studio Diaper Bag. 1. Post in the comments section about what you'd buy with $500 from PalmBeachJem.com.2. You must supply us with a valid email address and sign up for the SheFinds newsletter.3. The contest starts now and entries must be date stamped by our server no later than Friday, December 12th, 2008 at 11:59 AM Eastern Time to be eligible.4. One winner will be selected during a random drawing and will be announced in the December 16th SheFinds newsletter. The winner must reply via email as instructed in the newsletter to claim the prize.5. No prize substitutions.6. You must be 18 years old or older to enter and a resident of the USA.7. No purchase necessary.8. Void where prohibited.9. Click here for the full rules.
Taste Test: Which Grey Turtleneck Dress Is Recession Friendly?
The exciting news broke this week that we are actually in a recession, but even after two quarters of negative GDP growth, a $35 dress still seems pretty reasonable. Add a pair of tights and a belt you already own, and you're good to go with a new daytime ensemble. So which one is the bargain? Click on the images to find out what they cost. Play more Taste Tests and find even more look-alikes for less.
Heels Getting Higher As The Economy Dips? Your Feet Will Hate You Less In A Platform
Historically, heels get higher when the economy is good and lower when the economy is at a decline. Well, you only have to look at the red carpet and your own recent purchases (including a possible trip to the chiropractor) to prove that this is obviously not the case right now. As we reported earlier, when the going gets tough, the heels skyrocket.So how do you wear high heels but minimize suffering? Platforms, of course! The platform underneath the ball of the foot gives you some additional stability and prevents the pad of the foot from continuously striking the ground. Here are some options if you want to reach for the sky: Cash: These French Connection Jelena Heels ($70) are stylishly studded and have the platform already built into their office-to-evening style. ATM: A cross between gladiator and the bootie style, these Pour La Victoire Bianca Leather Cut Out Heels in Black ($288) are super hot and could be worn with tights for colder nights. Credit: Invite us along on your private jet when you step out in these Christian Louboutin Satin Platform Sandals ($519), which will bring you years of happiness along with stares of envy.
Blog Round-Up: Heard On The Web This Week
Pinching your pennies this holiday season? StyleBakery found 75 chic gift ideas under $50! SheZoom goes behind the scenes with Heidi Klum at Victoria's Secret new store opening. Smarter Fashion features some more great online coupon codes for clothing and accessories stores from CouponMountain.com. SheFinds wants to take Madonna shopping to help her out of her current sartorial slump. Girlawhirl finds the coolest sci fi gifts for the holidays. SeenON! is giving you 50 % Off all Lauren Conrad Collection at the SeenON! Boutique. At Real Simple's Simply Stated, we seek out multi-tasking beauty products that give you more bang for your buck.
Week In Review: VS Brings The Harness Back, What's Happening In December (Besides Xmas), And More…
Must-Reads:This year's Victoria's Secret Fashion Show was chock full of leggy supermodels, giant wings, harnesses, and glimpses of buyable lingerie. December is here, and believe it or not, there's more going on in the retail world than Cyber Monday and December 25th. Guess may be all about the flashy logo, but we found some chic shoes untainted by the metallic G. Sales and Deals:Up to 40% off walkable riding boots at EndlessTanks and tees for $7 at J. Crew Up to 70% off (!) little black party dresses at SaksTaste Tests:Which is the costlier brown bag?Which toggle coat is the ultimate bargain find? Thanks, Advertisers:We'd like to send a giant thank you to this week's advertisers: Bare Necessities, Izea, Lucky Brand, Sephora, Think Her!, Deckersbrand.com, Lucy, Yumi Chen, John Varvatos, NARS, Games for Dames, VMV Hypoallergenics, Mobile Edge, Melissa Joy Manning, Urban Minx, eLuxury, Tucker Paisley, Burkedecor.com, KimMarie Designs, Manhattanite, Luxual Boutique, Hatley, Lanikai, Aria Boutique, and Avelle. Click here to find out how to advertise with SheFinds.
Bagels, Updos, And Robert Verdi. Courtesy Of TRESemmé
SheFinds recently attended a holiday expo at celebrity stylist and lifestyle guru Robert Verdi's Lifestyle Lab, a gorgeous rooftop space where he introduces us to everything that's new and noteworthy. This time, it was a brunch and hairstyle makeovers courtesy of TRESemmé who just launched their new lifestyle site StyleSeeker. Want to try something new on your hair for the holidays? Here are the hot new products you'll want to use: Before you grab that flat iron, spray on this TRESemmé Thermal Creations Heat Tamer Protective Spray ($4.75). It works on both wet and dry hair and uses the heat from styling tools to condition while protecting from the heat. Smoothing rebellious hair for a classic updo or a sleek new look requires some pomade and this Anti-Frizz Secret Smoothing Crème ($4.75). This European Tres Two Extra Hold Hair Spray Climate Control Formula ($4.35) will become your new secret weapon, protecting against winter's dodgy temperatures. (It held our style in a rainstorm.)Thanks so much for the sneak peek at all the cool TRESemmé products! We're officially hooked.Shop our Hair Tools Guide for more ways to keep your mane in check.
News: Wear Your Mimosa With Pride In 09, Madonna Dons Fishnets And Feathers For LV, And More…
1. Mimosa has been named the Color of the Year for 2009. Celebrate the win with a new sunny coat and appropriate drink in hand. [VogueUK] 2. The first few images of the Madonna for Louis Vuitton ads shot by Steven Meisel have been released. We wonder what fishnets and feathers says about Madge's mood. [WWD]3. Rachel Zoe is set to return to Bravo for a second season of her reality show. Check out our coverage of last season's crazy antics and even crazier fashion. [LATimes]4. Shop designs for Count Me In and support women entrepreneurs. Purchase soap from Lindsay's Candles & Stuff or a bracelet from Karen's Kitsch. Enter MomFinds 12 Days of Giveaways! Today's prize: Skip Hop Studio Diaper Bag
The Victoria's Secret Fashion Show: Harnesses, Wings, And Lingerie Somewhere Underneath It All
So, we watched the Victoria's Secret Fashion Show broadcast last night and we have just one question: when did showing zero-fat supermodels walking the catwalk in their underwear, harnesses, and wings become quality programming? We know the show is primarily for the guys but we're the ones who have to wear this stuff. Frankly, watching models that must wax from the neck down is not exactly a sexy-time inducing activity. Our other gripe is that you couldn't really see the cute lingerie underneath all the harnesses and belts. Who wears a belt with a bra and panties? We'd like to suggest some options from VS that are plenty sexy by themselves, without the extra help of six-foot sequin bow. Put this Very Sexy Demi Push Up Bra and matching Cheeky Panty ($58 and $28) under your holiday outfit and we can almost guarantee your significant other will want to unwrap you. For the girls who have a little more to hold up and in, this Very Sexy Plunge Demi Bra with matching Garter Skirt with Thong ($45 and $28) will definitely do the trick. Just want some sleepwear? If you want demure, grab this gorgeous Pleated Swingy Slip ($58). If you are looking for cozy and comfortable, how about kicking it up just a little with this Flowy Cami and Pant Set ($49)? Comfort doesn't have to be sloppy.If you buy these for yourself or someone else you love, just remember that sexy starts in your own skin. We're pretty sure that's really Victoria's little secret. And check out our guides to the best bras , underwear , and shapewear while you still have lingerie on the brain.
How To Give Gifts To Your Co-workers (Without Losing Friends And Alienating People)
Ok, so office gift-giving is a little dicey this year: second-year banking analysts aren't getting bonuses that are five times my salary, some companies are closing (RIP Te Casan), others are downsizing and lots of people seem sad. All of which could make the already-awkward co-worker gift exchange a whole lot more awkward.Here are a couple of tips (with gift ideas, obvi) to make sure nobody's more uncomfortable than they have to be.1. Be ModestEven if you can afford to go all out, now's not the time. It could get co-workers thinking about how much more you make, or about how secure you are in your job. This holiday season is a good opportunity to be thoughtful instead of lavish – because nobody could reasonably expect lavish anyway. If a woman you work with loves the color yellow, try tying this set of three enamel bangles ($5) with a yellow ribbon, and pairing them with a simple card. 2. Go Green (Or Charitable)Eco-friendly or charitable gifts take the excessive slant off holiday gifting – there's something positive to think about other than your personal enjoyment. Envirosax makes cute, affordable bags ($8) that can hold up to 44 pounds – the perfect re-usable grocery tote, and it rolls up small enough to keep in a desk drawer. 3. Keep It G-RatedMaybe PG. But definitely don't give a personal or controversial gift to a colleague you only see at work. Use this rule of thumb: if you'd be uncomfortable discussing the gift in front of another co-worker, best to opt for something safer. Candles can be bland…but who doesn't love candles? These cinnamon stick candles ($8.49-$10.39) are holiday-appropriate, but not in a cheesy way. 4. Don't Fear The Gift CardThere's been a lot of talk about staying away from gift cards, which usually become valueless if a company folds. But if you plan to buy your card from a corporate behemoth that you know is not teetering on the edge of Chapter 11, go for it.Because coffee drinkers love Starbucks cards, readers love Barnes & Noble cards, and everyone loves Target. And those companies will still have branches after the New Year.
Deal Of The Day: Up To 40% Off Walkable Riding Boots At Endless
Riding boots are the fall/winter answer to summer's bare flat sandals; wear them on the weekend to looke more put together than you would in sneakers or UGG boots, or to a casual office when you can't stand the sight of heels.The small heel on these STEVEN by Steve Madden boots ($120, were $200) offers a bit of height, but you'll still feel like you're in a flat. Sudini's Prestige Boot ($181, were $230) is a classic take on the style, and is available in sizes 4-13. Wear these unembellished boots ($158, were $190) with jeans tucked in, a relaxed skirt, or even a light dress plus lots of layers. More sales and deals on the web:20% off all fine jewelry at Netaya with coupon code HSALE8. Up to 80% off at LuggageGuy.com's holiday sale. Get 15% off your entire order at Chadwick's with promo code CH15. The sample sale scoop – shop these sales today for huge savings: Tahari, Burning Torch, and Mre Jewelry at Hautelook Fendi Handbags and Versace Handbags at ideeli. Use invite code shefinds.com. Cynthia Vincent Shoes at Gilt Groupe Magaschoni at Rue La La
Only 1 Day Left To Win A $200 Shopping Spree At Anonymous Venice
This week we're giving away a $200 shopping spree Anonymous Venice, hip purveyor of clothes and accessories with West Coast style. You'll find relaxed tees and swingy dresses in the virtual aisles at Anonymous Venice, but you'll also find dark jeans, sharp jackets and lots of cool inexpensive jewelry. Basically, you can get your high-school-aged cousin something she'll love, and still have plenty left over to do some winter shopping just for you. So hurry up and enter – the contest ends at 11:59 AM tomorrow. Just click on over to this post to read about the contest, then go to Anonymous Venice, pick out what you'd buy with your prize, and come back to SheFinds to tell us in the comments section. Yup, it's that easy.
Deal Of The Day: Tanks And Tees For $7 At J. Crew
To get the prices listed, enter EXTRA30 at checkout – you'll get an extra 30% off sale items until midnight.The ringspun v-neck tee ($7, was $32.50) is long and light, great to wear under a casual blazer or an open vest. Also, it's 78% off. The perfect-fit tank ($7, was $18), a J. Crew classic, at a price you can afford to pay for a layering piece (or three). Currently available in four neutral colors, you'll be able to wear the perfect-fit short-sleeve crewneck ($5.62, was $19.50) year-round. More sales and deals on the web:Save an extra 20% on all cashmere today at Bluefly. Buy one get one half off all shoes at Payless through 12/21. You can still get 20% off almost everything at Singer22 – enter coupon code CYBER20 at checkout. This offer lasts until Sunday. The sample sale scoop – shop these sales today for huge savings: Stila, Spiewak Uniform Workwear and Development by Erica Davies at Hautelook Rich & Skinny and Rebecca Minkoff Handbags at Gilt Groupe James Perse and Judith Leiber at Rue La La Candace Ang Jewelry at ideeli. Use invite code shefinds.com.
Madonna Should Take Us Shopping
In yesterday's UK Daily Mail, columnist Liz Jones wrote that by looking at a woman's clothes, you can tell a lot about her current emotional state and she claims Madonna is out of touch with her age, devastated by her divorce, and completely unaware of who she is. Jones focuses in on outfits like the Jolly Green Feathered ensemble from a recent Gucci party to an outlandish bowtie dress. Considering that she's still got the body of a 25-year-old dancer and she's taking great pains to maintain some semblance of youth, I say let Madonna bring the crazy until she just doesn't feel like it anymore - with some minor exceptions, like wearing pants with the Jolly Green Feathered tunic. I would also cut down the excess exposure of her body. Sometimes the best way to show how great your body looks is to simply wear clothes that fit well. I personally would advise something hot like this Alice + Olivia Open Seamed Lace Yoke Dress ($440) or even this Issa Print Dress with Tie ($658) to show off those legs.Madge, make you a deal: you take us on a workout and we'll take you shopping. Yes?
News: Obama Bling Ring Looks Like A No-Go, Siriano Soon To Make A Hot Mess Of Our Feet, And More
1. Rumors that President-elect Obama intends to purchase a $30,000 rhodium ring for his wife have grown increasingly suspect. We'd hope style-savvy Michelle would never okay something so garish. [Gawker]2. Christian Siriano is set to design a line of shoes and handbags for Payless. Thankfully, they won't be nearly as expensive as his Bluefly collection. [PeopleStyleWatch] 3. Designer discount retailer Century 21 is now offering mobile alerts for each of its departments. Unfortunately there's no ecommerce, so stick to our Deals of the Day for steep discounts without leaving home. [Racked] 4. Shop designs for Count Me In and support women entrepreneurs. Pick up lavender lotion from Bath-a-holic or a clutch from Faite Designs.
The Must-Have Winter Boot: UGG® Nightfall
UGG® Nightfall and all the top winter boots here! What: UGG® Australia Nightfall Why: Are those UGG®s from last season looking like you haven't taken them off since you've bought them? Then it might be time to invest in a second pair. If you've never bought a pair of UGG® boots, pay close attention to the following sentence: These are quite possibly the most comfortable pairs of winter boots ever made. Let me retrace my steps and explain where I'm coming from. Ever heard of Sorels? Mom, I'm sorry, but I have to be honest -- they were never cool looking and they were heavy, clunky and still rarely kept my feet that warm (or dry) despite your best intentions. These lovely boots by UGG® Australia, on the other hand, are not only fashionable, comfortable and warm, but they are lightweight and easy to move in. You can easily wear them on your commute without fearing you'll look like the abominable snowman and if you're late for the bus, you can run without the fear of falling on the slippery snow (or slush, depending where you winter). Price: $200 Get Yours: UGGAustralia.com More from SheFinds: The UGG® Guide
Workout Find: Haute Gear for Your Hot Workout from Marika
What: Chic Athletic Apparel from Marika .Why: You've probably heard the sport-related names Nike, Reebok and Adidas, but have you ever heard of the name Marika? Maybe you've seen the Marika gear at Dick's Sporting Goods or another sporty retailer, but if you've never paid this brand attention before, now is the time. Marika offers simple, but chic workout gear at totally affordable prices. Take this pair of Perfect Crop Pants at right. For less than $40, these are a steal and in simple black, are sure to become a staple of your fave workout ensemble. Or how about this cute Flower Back Bra? It has an interesting design on the back that not only looks cool but helps to keep you cool. Better yet, it will onbly put you back $15. Next time you need some clothes for your workouts but don't have a lot of money (or just want to get a good deal), look for the "Marika" tag at the store or simply shop for this brand online. Now, you can easily and affordably look haute for your next hot workout. Get Yours: Marika.com
The Comfortable Celebrity: Liv Tyler Wears UGGs
Celebrities' 2007 UGG picks here! What: The UGG Australia Coquette in Chestnut Why: You know how we know that Liv Tyler is cool? Well, actually, all we can really vouch for is her good taste in comfortable footwear, but we'd like to think that she's cool anyway just for being so smart and sensible. Of course, dear readers, you too know the value of a deliciously soft pair of UGGs, and if you don't, well, we're incredibly sorry that you've been missing out. The Coquette, an adorable rendition of the UGG Ultra Short Boot, was spotted on Ms. Tyler filming on the set of the Incredible Hulk in Canada. What makes this slipper more than your run-of-the-mill department store slipper is that it features a heavy-duty sole for making those early morning jaunts to the mailbox, but also a heavenly 360 degree sheepskin lining that keeps feet toasty, dry and cushioned for every step. Price: $80 Get Yours: UGGAustralia.com More from SheFinds: The UGG Guide
Site Review: JessicaStyle.com
The red bikini worn by Simpson in "These Boots Were Made For Walkin'" SheFinds gets a number of questions about what Jessica Simpson is wearing, which bag she's carrying and the like. Researching the styles of the rich and famous is a fun pasttime for me. But, boy, can it be tough sometimes! If you've been on the hunt for months for, say, the red bikini she wore in the video for "These Boots Were Made For Walkin'," your prayers have been answered. The two-piece came from Julien MacDonald. Know how I know that? I got it from jessicastyle.com, "Your guide to Jessica Simpson's clothes." Be sure to stop by "Jessica's Closet." It's broken down into shirts, shoes, bags, dresses and every other category imaginable, making it easy(-er) to find what you're looking for. In viewing her handbags alone, I combed through 11 pages of results. Happy hunting! There are a gazillion exclusive Jessicastyle.com discount offers from places like CoCo & Delilah, Glam Girl Boutique and Pookie & Sebastian. But, wait, there's more! Do you like Jessica Simpson but love Lindsay Lohan? There's a style site for her, too, as well as for Britney Spears, Paris Hilton, Mischa Barton and Rachel Bilson, Nicole Richie, Nicky Hilton and, of course, little sis Ashlee Simpson. Still want more? You can click on over to jessicacouture.com and talk about all things Jessica. Find Jessica Simpson's style and links to other celeb styles at jessicastyle.com or jessicacouture.com.
A Pet Fashion Find: Cat Couture
We all know people who use their pets as fashion accessories. I've been to parties where girls show up with their adored Pomeranian who happens to being wearing a sweater in the exact same hue as their owner. And thanks to a certain willowy heiress, it is now en vogue to cover your tiny companion in crystals. I must say that I find this trend to be a little disturbing. That said, there is nothing wrong with pampering your pet. As a new cat owner, I've noticed that all the cute stuff goes to the dogs. It's next to impossible to find a really nice or unique looking collar for your kitty, but there is everything from ski jackets to nail polish available for the posh pups. Well I found the perfect site for cat lovers who just want to indulge their prized pussy. Miss Glamour Puss offers bling for your baby. Granted, some of the pieces like the Paris Carnival Ballgown seen here are a less Paris carnival, and more Paris Hilton's poor pet, but I do love this Beatrice Collar. It's pretty and intricate but not too over the top. Check out more fetching fashions for your feline at Missglamourpuss.com.
Designs to Fight Ovarian Cancer: J Balducci Jewelry
What: Ovarian Cancer Research Fund Necklace Why: This 16-inch sterling silver necklace features and hand hammered ring hanging from fine silver chain and is accented with a faceted apatite stone. It's simple and modern, but makes the perfect point and easily goes with anything in your wardrobe. Proceeds to Be Donated: 20% Get Yours: $58 @ JBalducci.com Hope Is Not Enough: The Ovarian Cancer Research Fund needs your help. With each SheFinds charity purchase, you're supporting their cause: formulating early diagnostic treatment programs in order to conquer ovarian cancer. With each new research grant awarded, new steps are being taken toward finding a cure while making a difference in thousands of women's lives and the lives of their families.
Designs to Fight Ovarian Cancer: The Beautiful Garden Boutique
What: OCRF Fundraiser Bracelet Why: This stunning, sparkling bracelet is a true attention getter. What a better way to spread the awareness about Ovarian Cancer Research Foundation, then to wear this bracelet around town and remind yourself and others about ovarian cancer.This unique bracelet is made with teal dyed long brick Mother of Pearl, the official color for OCRF, an "O" Swarovski Crystal Charm, sterling silver, and Swarovski Round Crystals. Don't miss out on this fabulous opportunity to give to a great cause and receive a stunning bracelet to grace your arm and those who are close to you! About the Designer: "When I was in high school a dear friend of mine was diagnosed with ovarian cancer. At the time I had no idea what it was or that something like that could even happen to someone our age. Fortunately, she was able to catch it in time. Her experience opened my eyes to be more concerned about taking care of my body and have my annual check up, be aware of my ever changing body, and if I have concerns, to get them checked out. The importance of taking good care of your body has been instilled in me since I was a little girl from my mom, and I hope I can pass this on to my daughter." Proceeds to Be Donated: 20% Get Yours: $65 @ BGBJewelry.com Hope Is Not Enough: The Ovarian Cancer Research Fund needs your help. With each SheFinds charity purchase, you're supporting their cause: formulating early diagnostic treatment programs in order to conquer ovarian cancer. With each new research grant awarded, new steps are being taken toward finding a cure while making a difference in thousands of women's lives and the lives of their families.
Designs to Fight Ovarian Cancer: Elle-a-Belle Designs
What: Bea Earrings Why: The Bea Earrings feature teal freshwater pearls in a array of shapes and sizes interspersed with large, smooth, golden citrine rondelles, smaller faceted citrine rondelles and exquisite genuine Peruvian blue opal rondelles. Not only are these dangly earrings glamorous and showstopping, but they help fund an important cause. Proceeds to Be Donated: 50% Get Yours: $108 @ Elle-a-BelleDesigns.com Hope Is Not Enough: The Ovarian Cancer Research Fund needs your help. With each SheFinds charity purchase, you're supporting their cause: formulating early diagnostic treatment programs in order to conquer ovarian cancer. With each new research grant awarded, new steps are being taken toward finding a cure while making a difference in thousands of women's lives and the lives of their families.
Designs to Fight Ovarian Cancer: Sweet Tooth Designs
What: O Sapphire Pendant Why: This keepsake piece was custom-designed by Laurie Chapman specially to support the Ovarian Cancer Research Fund. Made of hand-hammered 18-karat gold ($275) and sterling silver ($75), the "O" also holds a pink, orange, light blue or green sapphire that dangles from an 18-inch 1.5 mm ball chain.The inspiration behind the pendant necklace comes from a number of places: Laurie Chapman set out to create a piece that was soothing, feminine and versatile—something that any woman would love to wear with both casual and formal attire. She also responds to circles and the idea of the "circle of life"— something that is life-affirming and represents unity. It also a beautiful shape to work with.About the Designer: Based in Southern California, Laurie Chapman founded Sweet Tooth Designs more than three years ago after extending her creativity as a graphic designer into the world of jewelry making. Today, as a full-time jewelry designer, Laurie Chapman brings her passion for the accessory to every piece she creates. Her "ingredients" include carefully considered gemstones and oxidized sterling silver. She also draws added inspiration from fashion and the every day to textures, architecture and the art of play.Proceeds to Be Donated: 25% Get Yours: Sterling Silver, $75 & 18-karat Gold $275 @ SweetToothDesigns.com Hope Is Not Enough: The Ovarian Cancer Research Fund needs your help. With each SheFinds charity purchase, you're supporting their cause: formulating early diagnostic treatment programs in order to conquer ovarian cancer. With each new research grant awarded, new steps are being taken toward finding a cure while making a difference in thousands of women's lives and the lives of their families.
Look of the Week: Who's That Celeb?
Here it is, our first look of the week! Although many celebrities are guilty of numerous fashion blunders and faux pas, occasionally they do actually come up with a great outfit. Instead of just posting a plain old photo showcasing this celeb's style, we thought it would be fun to make a little game: Guess the celebrity. Just click on any of the puzzle pieces to find out where to get that part of the look, and then take the poll to vote for you think is the mystery style star. Check back at the end of the week to see the puzzle pieced together!