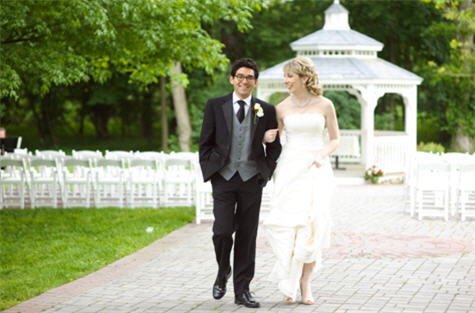 Real Wedding Finds: Chocolate Favors, Cinderella-Worthy Shoes, More
Phillip & Lisa Van. June 4, 2011, Chateau Hathorn, Warwick, NY. Shot by Julia Newman. (more…)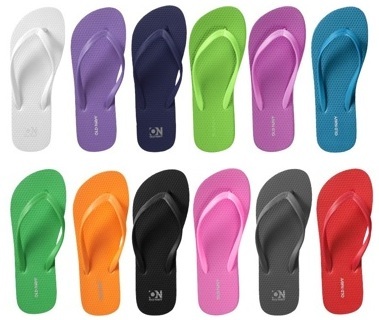 35% Off Any Old Navy Purchase… I'm Thinking It's Time To Buy Those Flip-Flop Favors
I gave out Old Navy flip-flops at my June wedding, and I can't tell you how useful they were. Not only did they protect guest's heels from digging in to the mud, but they also got a lot of people with uncomfortable shoes up and dancing. Plus, this relatively cheap favor goes a long way, because guests can/will wear them long after the wedding. Luckily, Old Navy is having a major blow-out today; get 35% off all Old Navy purchases with code BRONGAP35. Shop our guides to the best long bridesmaid dresses, satin wedding shoes, and inexpensive wedding shoes.
Make Your Own Havaianas = The Best Guest Favor Idea Ever
Today, Havaianas launched Make Your Own Havaianas today and we are psyched. The customizable sandals are perfect for matching your color scheme with guest favors, or choosing one-of-a-kind sandals for your bridesmaid gifts. How it works: there are 15 foot bed colors and 15 straps to choose from, plus 35-40 different pins, including the letters of the alphabets and shapes like hearts, stars and skulls. MYOH are $25 plus $2.50 for each pin. Shop our guides to the best wedding jewelry, lavender bridesmaid dresses, and outdoor wedding dresses.
Paper Crowns, Wedding Slingers, More: Welcome Bag Gifts That Set The Tone For A Good Time
Welcome bags are a great way to kick your wedding weekend off right: guests get a present the second they check in, and you can set the tone for the whole part. While most folks rely on tried and true favors like maps, fans, and snacks, why not throw a totally random but awesome favor in there, like Hello Lucky's Creative Director Eunice did with animal cut-outs (above). We think its a damn good idea. (more…)
Real Wedding Find: 90s Neon Sunglasses That Make For A Very Memorable Dance Party
Name: Kirsten Halle & Henry Warnock Location: Bride's parents home, Stevenson, MD. Best find: Customized 90s neon sunglasses. (more…)
Havaiana Launches A Bridal Collection Fit For Destination Weddings & Bridesmaid Gifts
Havaiana Bridal is here, and although there aren't aisle-friendly styles, this collection is perfect for bridal party gifts and getting ready. If your "Team Bride" is getting decked out - hook them up with these slim crystal styles, like Ivanka Trump and Nicole Richie did. (more…)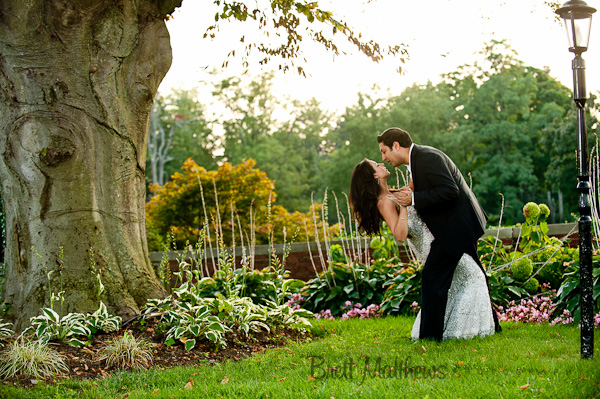 Real Wedding Find: Send The Trend CEO Divya Gugnani's Garden Party Seed Favors
Name: Divya Gugnani, CEO, Behind the Burner & Send the Trend. Author of Sexy Women Eat. Garden party and ceremony: Glen Cove Mansion Glen Cove, NY Best find: Cilantro Herb seed packs ($4.39) as wedding favors for the garden party. A word from the bride: "I loved the significance of giving seeds to grow and provide a new start to a plant and also a relationship/marriage. Since I am a chef, I gave out cilantro seeds and also my favorite recipe using cilantro!" (more…)
News: Madonna's Photoshopped By Vuitton Again, Twiggy's Back At Olay, And More
1. New pictures from Madonna's ongoing Louis Vuitton ad campaign have come out, and she's just as photoshopped as ever.  We'll skip the Vuitton for other celebrity-approved handbags, thank you very much.  [fashionologie] 2. Who needs America's Next Top Model?  Sixties icon Twiggy will be the face of Olay, a job she also held in 1985.  If Olay's not your fave, we highly suggest Kiehl's.  [Daily Mail UK] 3. Apparel firms such as Guess are keeping a close watch on Honduras, where a military coup just took place.  Honduras is the fourth-largest apparel supplier to the U.S., but we'd rather find goods made close to home. [WWD] 4. The first photos of Project Runway winner Leanne Marshall's line for Bluefly have been released.  If these are too pricey, plenty of cheaper options are just as colorful. [Racked]
SheFinds Designs to Fight Ovarian Cancer: Funky Oysters
What: Madeleine Pearl Bracelet Why: This Madeleine Pearl Bracelet is made with fresh water pearls, turquoise stones and little charms on rolo links. It has a toggle clasp in the shape of an "O," and while simple, this 7" bracelets is quite stylish. Made to be worn for any occasion and to enhance any outfit, whether formal or casual, it's a great addition to any jewelry collection. The inspiration behind this Madeleine bracelet and all Funky Oyster fresh water pearl jewelry is to help women develop and show off their own personal style by bringing back a classic look and giving it a modern, funky twist.Proceeds to Be Donated: 10% Get Yours: $25 @ FunkyOysters.comHope Is Not Enough: The Ovarian Cancer Research Fund needs your help. With each SheFinds charity purchase, you're supporting their cause: formulating early diagnostic treatment programs in order to conquer ovarian cancer. With each new research grant awarded, new steps are being taken toward finding a cure while making a difference in thousands of women's lives and the lives of their families.
Designs to Fight Ovarian Cancer: SeaGlassWear
What: Teal Seaglass Drop Pendant on Silver Chain Why: Seaglass is formed when discarded glass bottles are thrown into the ocean. Over time sand, saltwater and rocks smooth away the rough edges and create these jewels of the sea. Today seaglass is more difficult to find because of the popularity of plastic bottles and recycling programs. Interest in the jewelry sparked when Gates wore one of her first creations to a party. Since then, SeaGlassWear and SeaStoneWear have been featured by an array of national museums and fine galleries including the Boston Museum of Fine Arts, The Smithsonian, and The Natural History of Art. About the Designer: "My work is purposefully simple. I create my jewelry with only naturally-found or recycled materials, such as smooth beach stones and sea glass. I like the statement it makes on many levels about recycling and the simple beauty in nature. I love helping nature recycle these ocean gems; what once was rejected is now revered and we get a second chance to see its beauty," says Gates. "My aunt loved walking the beaches of Woods Hole year-round, and over 40 years amassed a huge collection of sea glass," Valerie explains. "This jewelry line is also my way of honoring my aunt and her connection to the sea." The necklaces, bracelets,earrings and cuff links -- featuring either green, blue-green, brown, white or multi-colored seaglass -- are all one-of-a-kind and handmade by Gates in her studio, and featured on her site. Proceeds to Be Donated: 25% Get Yours: $68 @ Seaglasswear.comHope Is Not Enough: The Ovarian Cancer Research Fund needs your help. With each SheFinds charity purchase, you're supporting their cause: formulating early diagnostic treatment programs in order to conquer ovarian cancer. With each new research grant awarded, new steps are being taken toward finding a cure while making a difference in thousands of women's lives and the lives of their families.
Trend Alert: Tailored Jumpsuits — Hot or Not?
What: Tailored Jumpsuits Why: I'm really struggling with why anyone would actually want to wear one of these hideous creations. To me they're along the same lines as overall shorts from the summer, and we know how long that trend lasted. The cut is unflattering, especially the tapered leg styles which never fail to create a saggy crotched look, the material calls out every little bulge and curve on your body so unless you are completely svelte you look like a walking sack of potatoes, and shall I also add that they're a pain in the butt when you have to use the bathroom. OK, so fashion doesn't have to be practical, but it should at least do something for your figure and these definitely don't. On the other hand, Ms. Olsen looks darling (I'm not forgetting she's a size 0, though). I think fit and trim girls could probably get away with the look for evening if they chose something of a similar style -- wide leg and roomy from the waist down made of a beautiful silk material featuring an impeccably crafted top. She looks classy and elegant, and the uniform color makes her look even more streamlined. Check out the trend on the runway and see the selection of jumpers and jumpsuits below. What do you think? Are jumpsuits cool and classy or do they remind you of an auto mechanic? Leave us a comment and let us know.
Beauty Find: SPF for your Lips
What: theBalm BalmShelter SPF 17 Tinted Gloss, Daddy's Girl For lush lips by land or by sea, try BalmShelter Lip Gloss. In an array of fresh shades, the Jojoba-enriched lip gloss will soothe and moisturize while protecting from harmful UV rays. It's also made with beeswax so unlike other glosses or balms, it lasts without getting sticky in the heat. An added bonus: the banana strawberry scent goes perfectly with Pina Coladas and other beach accessories! Price: $18 Find It: Drugstore.com Looking for other ways to enjoy your summer without feeling the burn? Check out SheFinds Summer Skincare guide!
Chicago Beauty Find: Fabulous Facials
Where: Stephanie Welles Skin Care, Lake Bluff, Illinois Why: Off the beaten path along Lake Michigan's north shore is a gem of a spa: Stephanie Welles' Skin Care. A trained aesthetician who has worked along side physicians, Stephanie doesn't just slather on oils and pray that your skin responds. She carefully selects treatments to match not only her clients skin care needs, but also the results they are seeking. My dry, flaky skin which was a shimmery oil slick by the end of the day has never looked better… and it's been a week since I relaxed in her office. An added bonus: She's an eyebrow goddess who reshaped and redefined my squirrelly brows in minutes… and made me promise not to touch them without help ever again! Ready for an appointment? Contact Stephanie at: 847.283.9101 for prices and treatments. Seeking other beauty treatments in the Chicago area? Check out ChicagoBeauty.com or PrettyCity.com Recreate the Treatment at Home: For spa quality results at home, we recommend Bioelements. This company's line of specially formulated skin care products and cosmetceuticals are made to help balance each type of skin (what they call "Biotypes"). This Kerafole Mask is the perfect at-home indulgence to exfoliate, unclog pores, add moisture and tone the skin without encouraging overactive sebum production. Follow up with the Oil Control Sleepwear night cream, a highly nourishing restorative overnight treatment that won't leave you with an oil-slick the following morning.
Coming Soon: The Paris Hilton Denim Line
As it was reported by TMZ, Paris Hilton flew to San Francisco on the DL on July 7th to meet with Macy's executives. It seems the world's most famous celebutante and former inmate # 9818783 will be releasing a line of denim via Macy's everywhere. A source has been quoted as saying: "The reaction from Macy's was amazing. They'll be on sale as soon as possible." Evidently, we've already seen a brief sample of the line, as Paris wore a skinny dark rise jean from her collection upon release from prison. Ladies, we've got to know: is the world really breathless with anticipation over the Paris Hilton denim line? After fragrances, jewelry, a book, a CD and existing tween and pet lines, is this assault on the American consumer really necessary? SheFinds wants to know: are you dying to get your hands on some Hilton denim or are you literally ready to tell Paris to get off your ass? Let us know in the comments section. Speaking of Macy's (since we know it will be a while until we can get into Paris's pants) we're loving these Paper Denim & Cloth Low-Rise Peg-Leg Jeans in 1-Year Wash, on sale for a mere $43.99. These are skinny but wearable and the dark wash is very slimming -- key when wearing fitted shapes such as this. They look quite a bit like the style worn by Paris and will make a great substitute in the meanwhile. Sashay in these for the rest of the summer and use them to transition into fall with a great pair of tall boots.