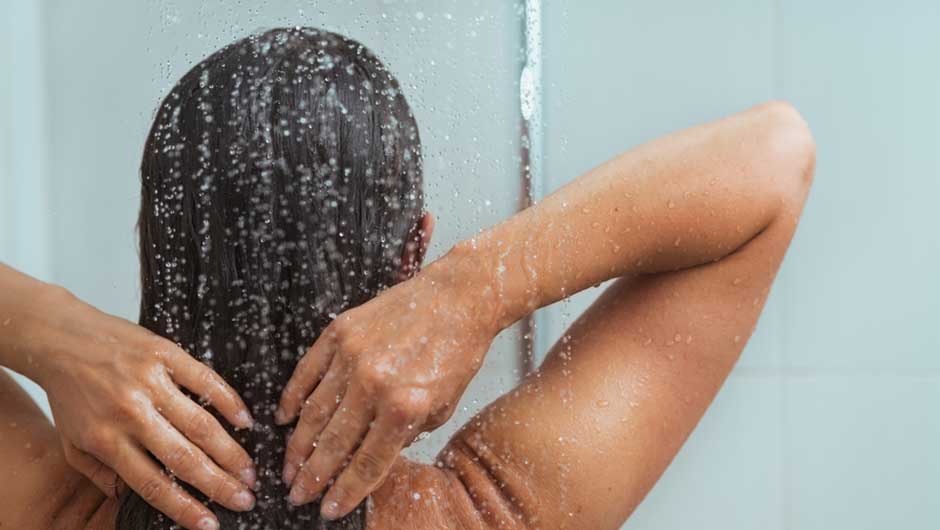 Cold Water Is Way Better For Your Hair Than Hot Water
Cold showers are seriously not ideal, but as I've previously mentioned, cold showers are way better for you than hot showers. Specifically, cold showers will do wonders for your hair. If you want more shine, less frizz and an overall healthy look, you don't have to go spending tons of money on expensive hair products. Simply switch the temperature of the water you are showering with. Expect shinier hair. Cold water seals your hair cuticles, which makes your hair look more smooth and shiny. No more frizz. Prevent frizzy hair from happening with cold water. Cold water locks in all the moisture you have in your hair because it doesn't strip your hair of its natural oils. More moisture = less frizz. Cleaner scalp. Cold water closes the pores on your scalp, therefore preventing dirt and oil to get trapped inside. Your scalp will feel much cleaner after rinsing with cold water! If you don't your entire shower to be cold, then just try rinsing your hair with cold water after washing and conditioning. Don't miss why you should never buy hair products that claim to fix split ends and the one thing you should never do when washing your hair! [Photo: Shutterstock]
5 Super Hydrating Hair Products You Need To Start Using Before Winter Gets Here
The Top 10 At-Home Hair Mistakes That Drive Hairstylists Crazy
Despite not having a minute's worth of training in the art of cutting or coloring, many of us insist on taking our beloved locks into our own hands in the privacy of our bathrooms. Why?! Then, to make matters worse, some of us trot into the salon and play innocent about it. Little old me? Why, I'd never try to put a red toner over the gorgeous highlights you spent two hours painting onto my hair the last time I was here. You may have good intentions, but most hairstylists agree: attempting to fix and/or change your hair at home often only makes things worse. So before you pick up the shears or buy another box of hair dye, find out if your dirty little hair secret is on the list of worst at-home mistakes below. If so, break the bad habit ASAP, then promptly call your stylist to apologize (before making your next appointment and swearing off at-home balayage for eternity). 1. Cutting your own bangs. "My pet peeve is woman who cut their own bangs," says Joico Celebrity Stylist Paul Norton. "This is something that requires the utmost precision and balance. And most bangs tend to need texturizing a bit on the ends as well which is just far to hard to do on your own at home." 2. Covering grays. "Covering your grays is so tricky to do at home," Norton says. "Most people have a hard time reaching the back and therefore end up with areas very visible to everyone else that remain gray." 3. Lightening your own hair. "One of the riskiest things to do in or out of the salon is to apply a lightener to the hair," Norton says. "If you don't carefully watch it as it lifts you can cause irreversible damage or even breakage which is why it's best to leave it to the pros. Also [at-home] highlighting can be bad because the pattern you end up with might be a bit too severe." 4. Flat ironing or curling your hair before it's fully dry. "This can be bad for not only your hair but for your expensive tools as well," Norton says. "The moisture in your hair can fry the hair when heat is added." 5. Not washing conditioner out of your hair. "People think that leaving the conditioner in the hair can be beneficial after the cleansing process, but it actually can weigh your hair down and attract way more oils and dirt to the hair, leaving it super hard to style," Norton says. 6. Not trimming your hair often enough. "Many women wait too long in between hair cuts," says Gina Capano at Luxebar. "If you have chemically treated hair, or you are generally more prone to split ends, you should be getting a cut every 6- 8 weeks. Once breakage sets in, the split ends begin working their way up the hair shaft. The longer you wait, the more you'll have to trim." 7. Drying your hair with a towel. "Once you've hopped out of the shower be careful not to disrupt the cuticle by towel drying too rough," Capano says. "Remember: we don't want to raise the cuticle. Never create friction between the towel and your hair. Always rake toward the ends and pat dry. Never ring the hair. Friction will raise the surface of the hair and make your hair more susceptible to damage. If you use the towel correctly, you'll remove most of the moisture and this will also lead to faster blow-drying." Pro Tip: Use a microfiber towel--it will reduce friction. 8. Washing your hair every day. "You don't need to wash your hair every day," Capano says. "Washing frequently can cause your hair to become dry and over worked. Shoot for every 3-4 days, if possible." 9. Over-brushing your hair. "I know your mother probably told you you had to brush your hair constantly, but you don't have to and you shouldn't," Capano says. "Brushing disrupts the outer layer or surface of the hair, leading to more frizz and potential breakage." 10. Coloring your hair at home. "Often times when coloring at home, a woman's hair will either become stripy or too dark," says Matrix SoColor Celebrity Stylist George Papanikolas. "Both of these problems require a very complicated, time-consuming, and expensive color correction process. What's more is that even after these corrections are made at the salon, it will leave hair feeling dry and dull, so it is important to moisturize hair with a mask such as Matrix Biolage HYDRASOURCE Mask, which will help optimize moisture balance for healthy looking hair." For more beauty tips, check out why every woman should be using facial oil and how to treat and prevent dull hair.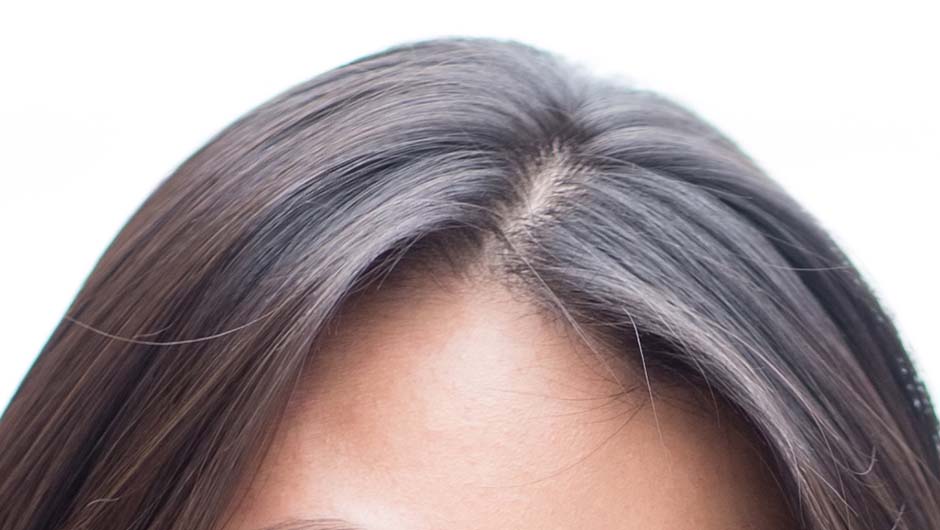 Scalp Botox: What It Is And Why It's Becoming Popular
It's common for people to get Botox injections on their feet, hands and underarms to prevent sweating, but now the latest hair care trend is scalp Botox. Say what?! Exercising tends to make most women and men sweat, therefore messing up their hair situation. Women are getting increasingly tired of having to re-do their hair after exercising because it takes extra effort and time. Now, one doctor has come up with a solution to sweaty scalps and it's in the form of Botox injections. First, how do Botox injections prevent sweating? Botulinum toxin (Botox) affects the nerve endings and the eccrine (sweat) glands. It basically blocks any communication between the nerve ending and sweat gland so there's no message received to produce sweat. Dr. Dendy Engelman, a dermatologic surgeon and dermatologist at Manhattan Dermatology & Cosmetic Surgery, is one of the first professional to perform this procedure. How did she come up with it, though? "A patient came in complaining of excess scalp sweating—how it was ruining her blowouts or making her skip workouts because she didn't have time to restyle her hair. I mentioned botulinum toxin injections (Botox), and she said she wanted to try it," Dr. Engelman told Nylon.  After prepping the area with alcohol, Dr. Engelman applies anywhere from 100 to 200 injections in the scalp. She said it doesn't hurt because she uses a very small needle and injects it into the hair follicle opening. She said, "To date, everyone has tolerated the procedure beautifully and no one has complained of pain or discontinued the treatment due to pain." Scalp Botox will cost an average of $1,200 to $1,500 per treatment and last anywhere from six to 12 months. Dr. Engelman says the treatment won't negatively affect hair, either. She also thinks the treatment is only going to increase in popularity. "So many people agonize over the effects sweating has on hair, but until now, they didn't know treatment options were available," she said. Would you get scalp Botox? Don't miss everything you need to know about baby Botox and how to properly air-dry your hair! [Photo: Shutterstock]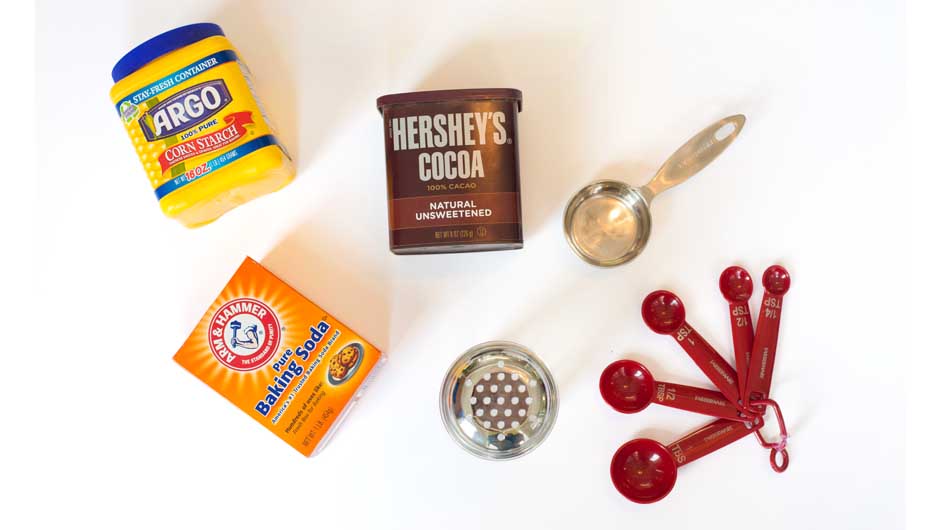 HACK: How To Make Dry Shampoo For Light And Dark Hair
My hair gets oily really fast because it's so fine. I know it's not ideal, but I need to wash my hair every day or else I would look like a greaseball. Dry shampoo is obviously an option, but I haven't found one that's really worked for me. Instead of spending tons of money trying to find a store-bought dry shampoo, I decided to make my own! The following recipe can be tweaked for light and dark hair. Dry Shampoo Ingredients: 1/4 cup cornstarch 1 tablespoon baking soda 2 tablespoons unsweetened cocoa powder (for dark hair only) glass or plastic shaker (you can buy one at the dollar store or use an old salt/parmesan shaker) Directions: For light hair: Masure out the cornstarch and baking soda. Mix together and pour into the shaker. For dark hair: Measure out the cornstarch and baking soda, in addition to cocoa powder. If your hair is super dark, add a little more cocoa. Make sure you use unsweetened cocoa powder so your hair doesn't get sticky! Just shake a little of the dry shampoo onto your roots and gently massage it into your scalp with your fingers. Lift different sections of your hair to make sure you reach all the necessary areas. That's it! Don't miss how to get super simple beach waves without going to the beach and how to properly air-dry your hair!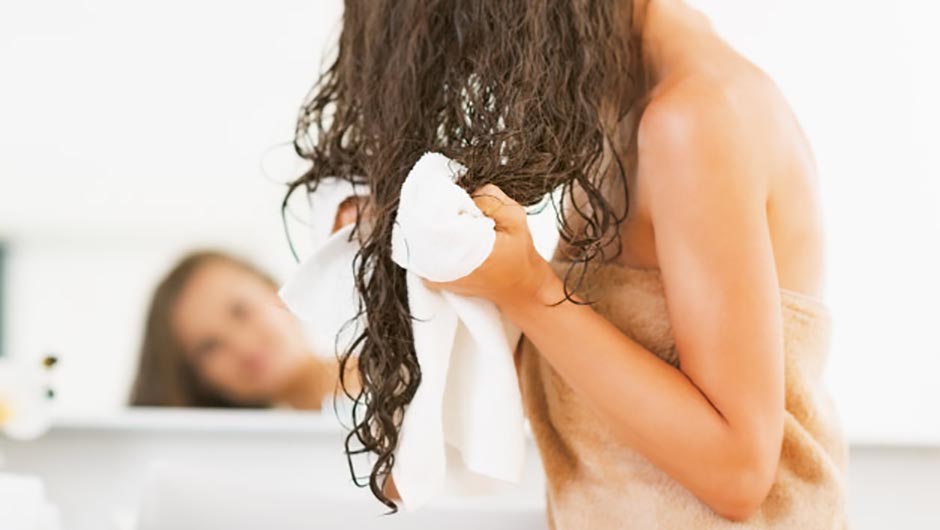 You're Doing It Wrong: Air-Drying Your Hair
Up until six months ago, I used a blow dryer (well, diffuser) on my hair every single night. Why? Since the 8th grade I got regular perms, so diffusing my hair was the best way to bring out the curl and volume. My natural hair is straight, pretty fine and has zero volume. Nearly ten years later, I'm giving up on perms (although I miss my curls) and embracing my natural hair. This led me to the world of air-drying and I have to say, not only is it super convenient but my hair doesn't feel dry/brittle from constantly using heat. Even though it sounds like a somewhat straightforward process, there are little tips and tricks to get the most out of air-drying your hair. For instance, you should always use a wide-tooth comb because it will detangle your hair without ruining your hair's natural texture. Vogue spoke to celebrity hairstylist George Northwood on the best way to air-dry hair for the summer. Here's what he had to say. The first step is to always towel-dry your hair. He says, "Really try to get most of the water out - that way it should be dry by the time you get to work, plus it adds more body. Rigorous towel-drying tends to make the hair a bit knotty, so lightly comb it through once if necessary, but then don't use a comb again after that - you're trying to work with the natural texture." He then suggests using a little bit of product, like a wave or curl cream, so you can play up your hair's natural wave. Don't worry if your hair isn't naturally curly, you should still use a curl/wave cream because "these are products designed for air-drying, whereas a lot of styling products are heat-activated." Northwood recommends using Bumble and bumble Don't Blow It because it's designed specifically for air-drying and it's perfect for all hair types. Finally, after working some product into towel-dried hair, leave your hair alone. Northwood says, "Just part it where you want and then leave it. The more you play around with the hair after that, the more you'll ruin it." However, once your hair is dry you can scrunch it a little or add some more product. Don't miss 11 secrets women with great hair swear by and 5 DIY hair treatments that will totally transform your strands! [Photo: Shutterstock]
How To Protect Your Hair From The Sun
Summer is right up there with chocolate and red wine when it comes to things in life we love unconditionally. Sadly, it doesn't always love us back. As glorious as the sun feels after a long, cold winter, it also gives off damaging UVA and UVB rays that--serious health risks aside--do a number on your skin and hair. Yes, even your hair needs protecting from the sun. So before you spend hours upon hours outside over the next three months, here's how to prevent the sun from doing serious damage to your hair. 1. Shower the right way. If you hair is dyed--whether your full head or just a few strategically placed highlights--there is a right and a wrong way to shower and the difference could mean having healthy, glossy hair or brittle, dried-out locks, explains beauty expert Julie Ricevuto from YouBeauty. "Keeping color-treated hair vibrant should always start in the shower. First, use shampoo and conditioner specially formulated for colored hair to to keep from stripping the shade and becoming brassy," Ricevuto explains. She recommends Pantene Expert Fade Defy Vibrant Color Shampoo and Conditioner to help develop better color permanency so that your color will last as long as possible. Also, don't forget to finish off your shower with a burst of cold water! It'll seal the cuticle and keep color from fading prematurely," Ricevuto says. 2. Cover up. "Salt water and sun may sound like paradise, but the combo is actually one of the worst things for colored hair," Ricevuto says. "If you forgot a hat, shield your strands with a UV protecting product before you step out into the sun. My top pick is the Alterna Haircare Bamboo Beach Summer Shine Spray. It has UV filters to combat the damaging effects of the sun, the pool, and any saltwater your hair comes in contact with. It also adds shine while infusing sun-parched hair with extra moisture to prevent future damage." 3. Deep condition regularly. Ricevuto stresses that prevention is key when it comes to keeping your hair in tip-top shape during the hot summer months so that you don't need to run to the salon with a head full of straw-like strands. "Use a deep conditioning treatment once a week to protect your hair from becoming dry and brittle," she recommends. "Since dry hair is more susceptible to color fading, a deep conditioning mask will help to increase durability and vibrancy for a long-lasting dye job. Try Shu Uemura Color Lustre Brilliant Glaze Treatment Masque for some extra hair TLC." 4. Coat your hair before taking a dip. Joanne Starkman, co-founder of InnersenseT Organic Beauty, says the number one complaint she hears about summer hair is dryness. The major culprits? Chlorine and the sun. "Before plunging into the pool, make sure your hair is saturated with water," Starkman says. She suggests coating wet hair with a conditioner like Innersense Color Radiance Daily Conditioner before getting into water and then rinsing hair thoroughly and shampooing right after you get out of the water. 5. Give your hair a heat break. "Consider taking a break from the blow dryer and curling or flat irons during the summer," Starkman suggests. "As an alternative, set your hair with rollers or braid it when damp to beat the heat and help create 'beachy' waves." 6. Embrace oils. Summer is the ideal time to incorporate nourishing natural oils into your hair regimen in order to add moisture and protection to locks that--regardless of how may hats you wear--will likely be exposed to the sun. Harmonic Healing Oil contains tamanu oil, organic safflower and evening primrose oils to ease dry scalp and hair. Josie Maran 100 Percent Argan Oil is also a classic treatment for split ends. 7. Get a good haircut. Prevention 101: A great haircut grows out well and adds bounce and shape back into the hair, especially after over exposure to the sun, wind, and surf," says Stacy Wells, CEO of L'esprit Academy, Schools for Hair, Skin & Nails. "When layers are too grown out or the ends are damaged, it's difficult for even the most talented professional to make the hair look great." 8. Use products that work with the elements. Instead of fighting the strong sun and humidity, Wells suggests finding great products that are specifically designed to keep your hair looking great all summer long. "AG's Conditioning Mist is a summertime must-have because it contains PABA free sunscreen which protects your hair and scalp from UV rays. After all, a sunburned scalp is no fun! Pureology's ColourMax spray is another great go-to product for protection and repair." Have curly hair? If you want to straighten it during the summer months, Wells recommends relying on professional products that lock out environmental moisture, are humidity resistant and protect from thermal damage. If you are going to be near water, forget the smooth look and use products that encourage curl like detailing creams and curl activators that can retain curl with some hold factor. One of Wells' favorites? AG's Beach Bomb, which is specifically formulated to add moisture for holding your gorgeous curls and waves all day long. For more beauty tips, check out how to make brown eyes pop: how I finally learned to love mine and 12 cheap makeup products with incredible reviews and reputations.
7 Things To Consider Before Going Platinum Blonde
I can pinpoint exactly when my obsession with the lightest of light locks started: 2002, right when Jason Isaacs made his debut as Lucius Malfoy in Harry Potter and the Chamber of Secrets. There was something captivating about him (and not just because he was, well, Jason Isaacs); the way his hair looked both cool and regal all at once was something I couldn't get out of my mind for years. So naturally, I went blonde. And I don't mean just a few highlights here and there--I mean platinum, darn near white blonde. And now that I'm nearing the tail end of my platinum journey (just one more round of toner!), I've discovered that there are an awful lot of things that I wish I knew before making the giant leap from brunette to silvery-white. With the help of Ted Gibson Color Director Kitty Nadel, here's a list of things you need to consider prior to reaching for the bleach. Be prepared to deal with damage. "The biggest misconception about going blonde is definitely that it's super damaging and all your hair will fall out immediately," Kitty explained. "I'm sure back in the Marilyn Monroe days that happened more, but now with newer technology in lighteners (and conditioners and masks for that matter) you can keep your hair looking pretty healthy." Kitty's one word of warning: make sure your expectations are realistic. It's 100% necessary to factor in time and upkeep to maintain the integrity and health of your color. Chat with a colorist first. Kitty always recommends a consultation with a well-regarded, experienced colorist about a week before you want the appointment so that you can determine the pricing, damage and how long the process will take. During this convo it's also super important to be honest with your colorist: if you're using box dye or had it chemically treated, don't be ashamed. "All the secrets of your hair history past will be revealed during the lightening process and can impact your road to becoming platinum." Pro tip? Always ask for a strand test ("a few a few hairs usually from the lower back of your head lightened to see how it will lift"). Start a platinum upkeep savings account. At Ted Gibson, application on virgin hair starts at $350 and touch-ups are $250. Kitty recommends returning every 3-10 weeks--any longer than 10 weeks and your hair becomes harder to work with. "Without getting too scientific, the heat from your head will lift the re-growth only to a certain distance away. If the root is too long you can either expect to pay more, stay longer at the salon, risk walking away with a yellow band and/or more damage," Kitty says. Be realistic about what your hair can handle. This is why it's important to have that consultation: both you and your colorist can have realistic expectations of how long it'll take. However, if you've dabbled with box dyes (or already have damaged hair), you have to be transparent with your colorist. "It's not fun, but I'd rather keep the integrity of the hair than lighten her up, and have it be extremely damaged," Kitty explains. "I have had to have clients stick with middle tone and wait a month for the hair to relax before we could get them to platinum, which is sometimes what has to happen to keep the integrity of the hair." Basically, if you box-dyed your hair black or had an extreme color in the last two years, going platinum in one sitting is unlikely. Clear your calendar for a day. If you go completely platinum blonde in a single sitting, be prepared to be at the salon all day. Here's the step-by-step: lightening the mid-to-ends of the hair first, then the root. After the color is lifted, a gloss or toner is added to make the shade more compatible with the client's skin tone. Kitty also likes to shadow the root because "it has a more natural,interesting appearance rather then bright roots solid look." After the initial process, the touch-ups will be between two and a half to three hours. Give your hair a break. "I tell all my platinum clients to be very gentle with it right after the process for the first week," Kitty explains. "It's gone through a process, it's tired and needs to rest, so brush and comb it gently and nicely. And don't tie your hair back as the hair can lose elasticity and by stretching it back in the first few days you can damage it further." She also recommends not shampooing it for a few days after the process and not using high heat irons or dryers, as they can further damage the hair. Invest in stellar at-home care. "I recommend Kerastase products to all of my platinum blondes," Kitty says. The basics? A great shampoo, conditioner, masque, and thermal protectant. Want more tips? Check out 8 things every woman who does her nails at home should own and how to get foundation makeup off your clothing.
5 Ways To Use Argan Oil: Leave-In Conditioner, DIY Exfoliant & More
When someone gave me a bottle of Josie Maran Argan Oil as a gift last year, I was completely perplexed. I really had no idea what I was supposed to do with it. I'd gotten oil on my hands while cooking before, and I never found it to be a particularly pleasant sensation. On top of that, at the time, I was really concerned with how greasy I thought my hair always looked (it didn't look greasy at all, I'm just a crazy person), and I wasn't about to voluntarily put anything with the word "oil" in it anywhere near my body. Still, I always brought the little bottle with me whenever I moved to a new place just in case I ever found a use for it. It wasn't until earlier this year that I actually opened it for the first time, after having extensively Googled the phrase, "how to use argan oil." And guys, I know I probably use this phrase too much for it to have any real meaning whatsoever, but it has totally changed my life. At $48, it seems like a pretty steep cost for a smallish bottle of oil, but it lasts for so long and has so many different uses that, in the end, it's totally worth it. Here are five amazing ways to use argan oil: 1. Moisturizer Just make this part of your nightly ritual. After you've washed your face, take a few drops of it and rub it into your skin. It's a pretty dry formula, so it absorbs quickly and leaves your skin feeling soft and not-at-all greasy. 2. Leave-in conditioner This one made me nervous, but I figured if I was going for it, I was really going to go for it. Again, you only need a few drops, and you can apply it to your ends and scalp to add some moisture. I blow dry my hair almost every day, and after doing this just once, my hair felt so much softer. 3. DIY exfoliant I found this during my lengthy perusal of the Almighty Google. Combine a few drops of argan oil, vanilla extract and brown sugar, and mix well. I obviously wouldn't recommend eating it like I did (accidentally, of course), but it smells amazing and works like a charm. 4. Cuticle oil If you tend to get dry, cracked skin around your nails in the winter that normal moisturizers just don't seem to fix, argan oil is the perfect solution. Just a couple of drops around your cuticles, and they'll be back to normal in no time. 5. Frizz-tamer or styling product You may remember me mentioning that I have very thin, frizzy, curly hair, and that getting it to behave without having to heat style it every single day is extremely difficult. All you need to do is take a few drops and rub it directly into your dry hair to tame frizz and even add some nice shine. If your worried about your hair looking greasy like I was, just try to avoid putting it directly on your scalp, and remember that less is always more. So, what are you waiting for? Get your own bottle here: Josie Maran 100 Percent Pure Argan Oil ($48) For more beauty tips, check out: a beginner's guide to nail art, Too Faced bronzer dupes under $15, and how to contour your face. [Photo: josiemarancosmetics.com]
15 Sprays, Shampoos & Serums That Will Protect Your Hair From The Evil Sun
Sunscreen isn't the only thing you need to protect yourself from the sun's harsh UV rays this summer, you also need products to protect your hair. Believe it or not, the sun can do some serious damage to your hair, especially if it is color treated. Dangerous UV rays can dry your hair out and make it very brittle, which causes breakage and will ultimately lead to split ends, discoloration and give you that "fried hair" look. Have you noticed that your hair is more coarse this summer even though you are using the same products you always do? That's because you aren't protecting yourself. Basically, your hair is getting sunburnt and you didn't even know it. So if you wan't to save your hair, check out all of the great products in our slideshow. We have some sprays, shampoos, masques and serums that'll do the trick. For more beauty products check out: the Nordstrom Anniversary Sale, nude lipstick, and NARS nail polish. [Photo: Shutterstock]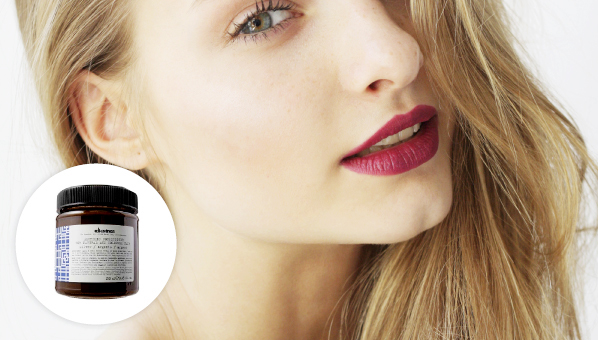 Your Summer #BlondeHairProblems Will All Disappear With This Purple Conditioner
Brunette chicks, I hate to say it, but you have it good. You naturally have great hair color that never really fades and always looks the same, but for blondes, life isn't that easy. First off, there are a million different shades of blonde, and 9 times out of ten, these hair colors are fake (aka. they come straight from a good ol' box of hair dye or from the magical hands of a hair dresser). Attainting the perfect blonde shade takes hard work and lots of cash, but I found a product that solves a couple of these problems and will help you maintain your color all summer long. I use Davines Alchemic Silver Conditioner ($81.09 for 33.8 fl oz.) to help maintain my blonde hair during the summer months, when it gets dry and damaged from the heat or turns green in the pool. I also use it occasionally during the winter when I am basically hibernating and getting zero sun on my roots. Do you ever feel like your hair looks perfect when you leave the salon, but a few weeks after the color looks like you did nothing to it? Yeah, me too. But this conditioner will hold your color and even enhance it! Remember when you learned about the color wheel back in middle school art class, or if you're really fancy, in your fashion classes in college? Purple works to fight against brassy, orange or gold tones. That's why Davines made this hair product purple. Now you may be apprehensive about putting something purple on your freshly colored or natural blonde hair, but I promise it works. It also makes your hair feel super soft. I suggest using the conditioner once or twice per week. If you use it everyday, you might be on hair color overkill or cause it to actually turn purple (yikes!). But on the off days, check out the brand's other products. This company has tons of hair masks, shampoos, conditioners, and sprays to try. It is clear that Davines cares about helping to make your hair look its absolute best. So check out all of their other great products in our slideshow. They're brunette and redhead friendly, too! For more hair care tips and products, check out: 10 detanglers for pool and beach days, 12 ways to fight frizz, and beach waves. [Photo: Shutterstock]
Don't Be The Girl With Knotty Hair–10 Detanglers For Summer Beach & Pool Days
Before you head out to the beach, pool, or lake this summer, do yourself a favor and stock up on some hair detangler. No matter how hard you try to avoid it, salt water and chlorine will do a number on your hair. The ocean's waves or even a simple dip in the pool can leave your hair full of knots and tangles, and you can't just brush them out. It's a proven fact that brushing wet knotted hair will cause breakage, damage, and frizz, but this can be easily avoided. When you leave the water, just spritz or rub on a hair detangler and you'll be able to comb or brush your hair with ease. Don't even think about going to a water park or participating in watersports without a detangler on hand or you'll be sorry (or crying) when you're tearing through your hair. It may sound silly, but we promise that using a detanlger now is just as important as it was when you were a kid. Remember using Johnson's No More Tangles ($3.49)? I do. It saved a lot of tears and headaches back in the day, and it still does. While No More Tangles is still a go-to product for me on beach days, we've rounded up 9 other grown-up detanglers to get you though the summer. Don't be the girl with the nasty hair. For more ways to tame your hair, check out: hair styles to copy for humid days, how to fight frizz, and beach wave hacks. [Photo: Shutterstock]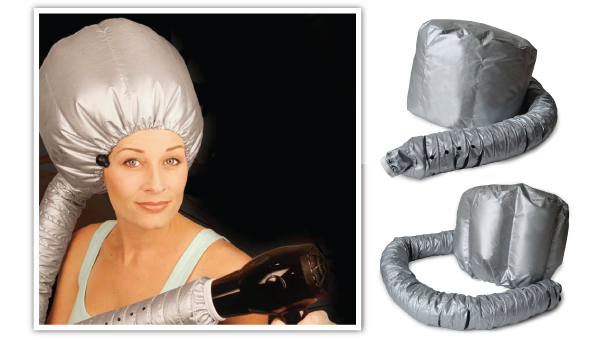 Would You Wear This Crazy-Looking Hair Drying Bonnet If It Made Your Life Easier?
We're not really sure what to think about this hair drying bonnet. It's futuristic-looking, but also reminds us of the 'Beauty School Dropout' scene from Grease. While it's pretty ridic, we're game for anything that promises us gorgeous locks and is easy to use. How it works: It attaches to the end of your blowdryer and provides even heat distribution. Repeat, you don't ever have to hold a hair dryer up to your head again. For $20, we're all about looking like an alien for a few minutes. It can also be used for setting curls and locking in moisture via a conditioning treatment. What do you think? Would you rock this gadget for pretty hair? SHOP THE WHITE SANDS DRYER BONNET NOW Don't forget to check out Chloe Norgaard x Manic Panic, stars who had plastic surgery before 30, and OPI's new Brazil collection for spring.
Perfume For Hair: Will You Wear It?
We're done with the days where you search and search for a shampoo and conditioner set that makes your hair shine and smells every time you whip it. Herbal Essences, you have been good to us, but we just don't need you anymore. Now, with news out about the damaging effects of sulfates, a nice lather in a smell that stays with you all day isn't worth the dry scalp and brittle hair. But hair that smells so good people can't keep their faces out of it (it happens!), that is worth something--and it's why there is a whole hair fragrance movement going around. That's right, beauty brands are creating smell good sprays and powders for your hair that give you the the olfactory sensations you're looking for without sulfate-ridden shampoos. These five hair fragrances outlast the competition. Just be sure to spray your hair from an inch or two away. Perfume oils can be pretty drying too, when used at close distance. [Photo: Shutterstock]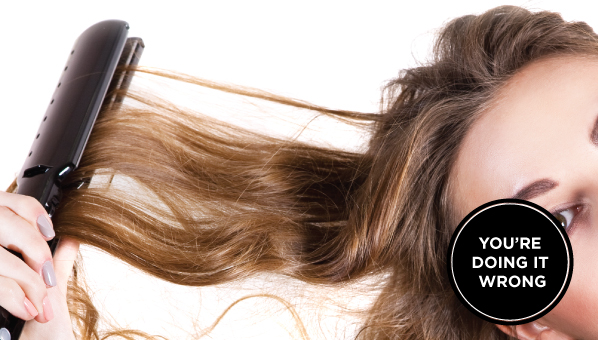 You're Doing It Wrong: Straightening Your Curly Hair
Before you pick up that flat iron and turn it on full blast to the highest heat setting, take one giant step back and hold the heck up! Straightening curly hair is a huge undertaking, and not just because it might take you a while. No, heat damage is your biggest concern here and if you love your curls and are just trying to get a new look for a few days, you're going to want to make sure that those spirals of yours are as protected as possible. If not, it is likely that your curls won't come back, at least not as you remember them (Think "Pet Cemetery"). Here is your definitive guide for making sure that if you want straight hair this week, your curls are still an option for next.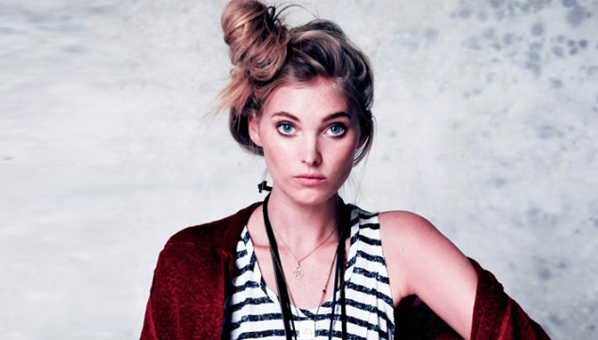 6 Reasons Why Your Hair Sucks This Summer
During the summer, I have a love hate relationship with my hair. I love me some beach waves, but that's the extent of my hair styling from Memorial day up through Labor Day. If only I could get my hair perfectly blown out like in fall and winter, and not have to worry about a downpour of sweat streaming down my face. But the humidity isn't the only reason our hair sucks during the summer--we can actually be the cause. Check out the slideshow above for 6 reasons why your hair is way more unmanageable during summertime. Plus, get tips and product recommendations that will help you control your hair until it's fall. For more beauty news, check out our manicure mood guide, NCLA x Clueless nail wraps and photoshop face cream now. [Photo: Free People]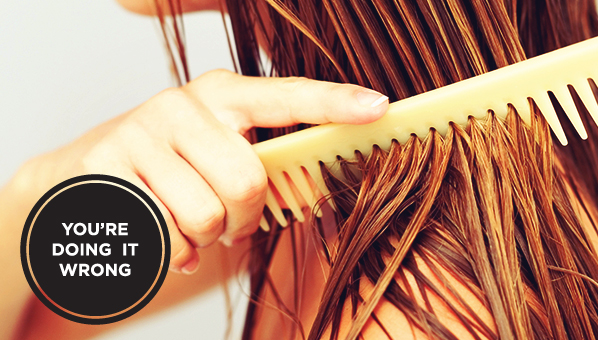 You're Doing It Wrong: Brushing Your Hair
You're probably looking all confused right now, asking yourself  "How the is it possible to do something so simple incorrectly?" But brushing your hair after you wash it can be extremely damaging if you're not using the right tools. Wet hair is very fragile and it's easier for breakage to occur during this time frame—especially with a big ol' bristly paddle brush. Taking the time to careful brush your hair is essential if you want healthy, gorgeous hair (and if you want to make your haircut last longer!). So check out the slideshow above for tips on how to properly brush your hair, what tools to use and some detangle product recommendations. Trust us, you'll notice the difference once you start brushing the right way! For more fun beauty news, check out concrete nail polish, Avon's Mega Effects Mascara and Benefit's Hoola bronzer now.
I'd Like To Introduce You To The Hair BB Cream Of My Dreams
About two months ago, my beauty obsessed friend told me about this new BB cream for your hair. I really thought she was playing a joke on me. I mean, I had definitely heard of BB cream, I even read about CC and DD cream, but I just didn't believe that BB cream would exist for anything other than skin. Later that day she proved me wrong and proudly waved a bottle of Pantene Pro-V Ultimate 10 BB Cream in front of my face. We decided to buy a bottle and see what it was all about. Some quick anecdotes about my hair that will give you the full picture as to why I desperately needed a product to tame my mane. My friends, family and hairdressers have always said I have the thickest hair of anyone they know. In seventh grade I not only broke a hair dressers brush when getting my hair done (yes, just like in The Princess Diaries), she also told me "You have hair for four people". My friends still recite this quote to this day. Currently, it takes me an hour and a half to straighten my hair. I also don't know how to blow dry my hair without me looking like Hermione Granger. So, back to the BB cream. At 21 years old, I had tried A LOT of products that were supposed to defrizz, loosen waves and smoothen hair. Since straightening takes so long and I have yet to master blow drying, I wanted a product that I could put in my wet hair and not worry about how it would dry. I've tried gels, mouses, sprays, weather protection cream, you name it. Nothing came close to how my hair dries with the Pantene BB Cream. Want proof? Check out the before and after pictures above. This is the first product that I fully believe in and want to pass along to anyone who feels like I do about their hair. The BB cream tames my mane in 4 ways: eliminates frizz, smooths and softens, makes my hair manageable and leaves it not looking dry. I feel comfortable wearing it down in public without straightening or blow drying. My friends have taken notice and one even told me this is the best they've seen my hair dry. All you need is to apply two pumps the size of a quarter to wet hair and run it through from roots to tip and under layers. You can also apply another pump to dry hair for a shiny finish. The one problem is that this product is a bit of an overachiever, it has 10 hair care solutions in one cream. Show off. Pantene Pro-V Ultimate 10 BB Cream ($5.29) For more hair care solutions check out: Frizz fighting products, at home hair remedies and keratin beauty balm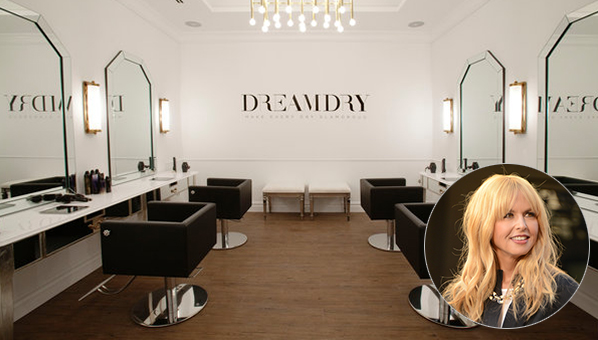 Appointments Are Already Filling Up At Rachel Zoe's New Hair Salon, DreamDry
We first reported that celebrity stylist and fashion icon Rachel Zoe was breaking into the beauty biz back in September when news broke that she was opening a blow dry salon. Just four short months later and the doors of DreamDry, Zoe's new hair salon, will open to its first customers tomorrow! According to The New York Times, DreamDry--located at 35 West 21st Street in New York City--plans to give every clients the A-list experience.  Before each appointment, customers will get an iPad to check out the salon's service list. Afterwards, every customer gets her look photographed and saved in a personal gallery to track her style evolution. The perks don't stop there, though. Customers will also be able to checkout right from the styling chair and the more you go, the more loyalty points (and rewards!) you earn. Now let's talk money. Just how much will a styling session at DreamDry set you back? Blowouts will cost, wait for it, $40, and dry hairstyling will be $20-30. Not bad, RZ! Want to give the salon a try? You can book an appointment at dreamdry.com or by calling (212) 886-5194. More beauty news we're excited about? Urban Decay's Oz palette, the Butter London lip gloss and nail duo from the DANNIJO presentation and The Body Shop's new absinthe product line.
Feeling Sweaty? Beat The Heat With These Perfect Summer Hair Accessories
When it's this hot, the best way to ruin an adorable outfit is with frizzy, string, or otherwise humid and uncooperative hair. Lucky for us, there's a great solution for when you just don't feel like dealing with serums and straighteners--the headband. This summer, we're loving colorful cloth mini-turbans and delicate bejeweled crowns. They're an instant and super-easy solution to warm weather woes, and will keep you cool while helping you accessorize! SHOP SUMMER HAIR ACCESSORIES NOW Check out more summer hair solutions, from beachy waves, to our favorite products, to snazzy barrettes!
The 7 Summer Hair Essentials To Get You Through Every Bonfire, BBQ, And Beach Trip Frizz-Free
With hair this good, who cares about washboard abs? If the influx of coolers on beach-bound subway trains or upsurge in Hamptons-related group coupons weren't enough of a hint, you can always look to the state of your hair to know when summer is officially here. Unfortunately, the tell-tale signs usually involve humidity-induced frizz and sun-related dryness. However, this year, there's a whole slew of products dedicated to achieving perfect summer hair. From longtime staples like frizz-minimizing Moroccan Oil and Oscar Blandi Dry Shampoo (because who has time to shower when you're on vacay?), to more novel items like Redken Nature's Rescue Radiant Sea Spray, which activates an oceanic smell with touch, we've chosen products for every possible summer hair conundrum. See our top 7 picks below: (more…)
Sponsored Post: Protect Your Color & Bring Out Your Inner Beauty With Aveeno
Nothing brings out your inner goddess like a change of hair color; it's the easiest way to completely change your look and feel newly sexy without committing to anything too serious. The trick to keeping your freshly colored hair looking healthy, shiny, and bouncy is protecting it with products made of natural ingredients, free of harsh chemicals. By injecting your hair with nourishing botanicals, you can preserve your hair's health as well as your newest hue. And when you have a luscious head of hair to call your crowning glory, you simply cannot feel more beautiful. The AVEENO® LIVING COLOR™ Hair Care Collection helps to preserve beautiful, vibrant color for up to 40 washes with the help of ACTIVE NATURALS® ingredient Lupine Botanicals. The line includes shampoos and conditioners formulated specifically for fine and medium-thick hair, and a shine glaze to lock in color vibrancy with each use. For more information, visit http://www.aveeno.com/hair-care/living-color. Disclosure: Compensation was provided by AVEENO® LIVING COLOR™ via Glam Media. The opinions expressed herein are those of the author and are not indicative of the opinions or positions of AVEENO® LIVING COLOR™.
Week In Review: Forever 21's Newest Collaboration, A&F's Legal Pursuit, And More
Must Reads: Rory Beca and Forever 21 got together and brought us the ultimate springtime collection. See the worst looks of fashion week 2011, including red face paint and a Coca Cola can dress. And be sure to check out what we learned from each Fashion Week across the globe. Abercrombie & Fitch wants their seagull back and gets legal to prove their point. Get some beads this Mardi Gras while keeping your shirt on. We're the pros, so follow our top tips for scoring free shipping & returns. Some of our favorite websites got a makeover - check it out and pick your favorite. Celebrity Style: We're loving Amanda Seyfried's chunky necklace look, find out how to do it yourself. Nerd Alert (!) See how Jennifer Aniston and Anne Hathaway look so smart these days. Jessica Alba's Michael Stars vest is not only cute and versatile, it's on sale too. Or copy Alexa Chung's brightly colored bag. There is a such thing as sexy shapewear and Bethenny Frankel is revolutionizing it. Sales and Deals: Snag feminine necessities like tulip skirts and cardigans at 60% off at J. Crew. Fill up your closet with some little black dresses from Shopbop at 70% off. Anna Sui creates a discount line for The OutNet - get a sneak peek here. Spring is coming, stock up on preppy sweaters and tops from Shopbop at 30% off. (more…)
Awesome Hair Starts With The Best Hairdryers And Flat Irons. These Are 20% Off Today.
If your hair is starting to feel dull and fried, it's probably time for some new tools. Just like you change out your shampoo, you've gotta start fresh sometimes. Even though Gwyneth Paltrow and Penelope Cruz had hairstylists all over them during the Oscars, they still needed a great hair dryer to get them through. Update your medicine cabinet with a new hair dryer and flat iron. At Ricky's today, there's a huge sale on tons of them...so get shopping! (more…)
Look Like A Model: Backstage At Elise Overland and Rebecca Minkoff
With Fashion Week in full gear, it seems that one designer after the next has been sending inspiring hair and makeup looks down the runway. But we have to say, in terms of tresses, we especially loved the soft, tousled waves at Rebecca Minkoff. To achieve the look, Ouidad stylists used some of these key products. Stylists worked Ouidad's PlayCurl Volumizing Foam ($22) through models' hair, giving it a needed boost so that curls would take hold. After loosening the curls, Ouidad Styling Mist Setting & Holding Spray ($15) was applied to hold waves in place, while also adding long-lasting shine. Voila: instant bedhead. a sea of bold lips, the muted makeup at Elise Overland's Fall 2011 show caught our eye. The models, who stood on an ice rink, looked (fittingly) like snow queens, with clean skin, highlighted cheekbones, and pale lips. Makeup artist Napoleon Perdis was the man behind the look, which is easy to DIY with the below. Get airbrushed-looking skin like the models at Elise Overland with Napoleon Perdis Boudoir Mist Spray Foundation ($49), which also reduces fine lines and wrinkles. We'll take two. With such a neutral look, it's easy for eyes to get lost. Define them with Napoleon Perdis Long Black Mascara ($22), which contains a built-in curler to make lashes super fluttery. Get glowing like Overland's models with NP Set Liquid Veil Makeup ($14), a highlighter that adds sheen to lips, eyes, and cheekbones. Find more beauty picks in our guides to the best eyeliners, concealers, and waterproof makeup. Then, check out more backstage beauty from Fashion Week.
Don't Dry Out This Winter: Get Extra Moisture From Your Lip Gloss, Conditioner, More
As we enter January and the weather gets colder and drier, we know what we can look forward to: skin that turns into parchment paper and dry, lifeless hair. But it's important to know that these beauty crises can be easily combated: (almost) all your favorite products are available in a cold weather version, aka extra-moisturizing: Your Body: La Mer is known for its exceptional facial cream and La Mer's 'The Body Lotion' ($140) is no different. This indulgent lotion nourishes skin and relieves all those winter-induced dry, itchy patches. Worth the price tag. Your Face: Philosophy's Hope in a Jar ($38) is the gold standard when it comes to facial moisturizers, hydrating deeply into the skin while still managing to be lightweight and non-greasy. Translation: no clogged pores. Your Complexion: Anyone who has put foundation on dry skin knows the flakes that often start to appear, but not so with Laura Mercier Moisturizing Foundation ($42), which adds moisture to skin with buildable, smooth coverage. Your Lips: YSL Gloss Volupte Sheer Sensual Gloss Stick ($30) glides on like a dream and plumps up lips' moisture for hours after application. But what we love best just might be the sheer, bold colors and fruity (but not overly so) scent. Your Hands: Fight dry, rough hands with Neutrogena Norwegian Formula Hand Cream ($4.49). Just one tiny dab of this classic quickly softens chapped hands and forms a protective layer. And did we mention it's extremely wallet-friendly? Your Hair: Terax Original Crema Ultra Moisturzing Daily Conditioner ($48) is the holy grail of conditioners. Not only does it smell all kinds of great, but it transforms dull and dry hair into silky locks and repairs damage. Looking for more top beauty picks? Check out our guides to the best heavy moisturizers, dry hair repair, eye creams, and mascara.
Ditch The Pom Pom: 5 Warm Hats That Don't Look Like Granny Knit Them
With fall officially in full swing and temperatures dropping, it's time to consider our options for chic headgear - and this season there is no excuse for wearing your old ski cap. Hats are the ultimate in functional fashion - you can stay warm and elevate your entire look. Whether your style is more of a classic cloche, like the one on Leighton Meester (as Gossip Girl's Blair Waldorf), or an edgy fedora, like Nicole Richie's, we've got all the best options to keep you covered. This menswear inspired Tweed Fedora ($28) will go with everything in your closet.A floppy, wide brimmed hat like this Free People Brimmed Janis Tall Hat ($68) would look great with a flowy cardigan. This Wool Belted Fedora ($48) is a cozy wool alternative to the basic knit cap. An edgy newsboy style, like this Juicy Couture Newsboy Cap ($58) gives a downtown edge to your basic jeans and sweater look. This tweed, brimmed Club Monaco Brie Hat ($49) will keep out the chill in style. Don't forget to avoid hat-induced frizz and hat head by using a great de-frizzer: This Hair Rules Hydrating Finishing Cream ($20), will survive rain and hats and leave your hair perfectly smooth and shiny. For even more, shop our guides to the best hats, rain gear and  waterproof makeup. Sign up for SHEFinds Mail and receive exclusive style updates.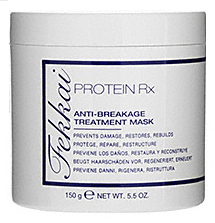 Say Hello To Softer Locks For Fall With These Top 9 Dry Hair Remedies
Fall trends are calling for healthy, shiny and natural hair. And in case your ends are lacking (maybe a little too much sun?), check out our guide to Dry Hair Repair. With moisturizing shampoos and deep conditioners, as well as styling products, you'll be thanking us for your radiant hair. So indulge in Frederic Fekkai's Protein Rx Anti-Breakage Mask ($29) and restore your hair's natural beauty. Keep glowing with our guides to the best moisturizers and the best skin care. Sign up for SHEFindsMail to receive exclusive fashion e-mails.
5 Award-Winning Hair and Skin Products That Will Change Your Summer
What do sun, salt water, chlorine, and humidity have in common? They're all part of summer, and they can all wreak havoc on your hair and skin. Today on Better.tv, we're talking about the 2010 CEW Beauty Insider's Choice Award Winners that can help you combat the summer elements – industry experts reviewed nearly 550 products to choose the winners Bargain Sunscreen: Neutrogena Sensitive Skin Sunblock Lotion SPF 60+ with PureScreen ($10.99) won't leave a yucky, chalky residue, and at SPF 60, even the fairest skin stays protected. Splurge Sunscreen: The experts loved Bare Escentuals BareMinerals SPF 30 Natural Sunscreen ($28.00) too. This all-natural sunscreen contains aloe vera and vitamins to give your sun-exposed skin an extra boost. Bargain Haircare: L'Oréal Paris EverPure Sulfate-Free Color Care Moisture Shampoo ($5.97) has no scary chemicals (sulfate-free!), great lather-ability, and top-notch color protection – especially essential in the summer. Splurge Haircare: Summer humidity can destroy all the work you put into a perfect blowout in seconds. Living Proof No Frizz Shampoo ($24) helps prevent frizz without heavy oils or silicones – they even have MIT scientists working on the stuff. Bargain Lotion: Summer means shaving, swimming, and other activities that dry out your skin.  Arm yourself with Vaseline Sheer Infusion ($7.99), which keeps your skin moisturized to its deepest layers using a special molecule (yes, a molecule) discovered by the Vaseline engineers. Check out our guides to other summer essentials, including the best hair removal products, waterproof makeup, and cheap swimwear.
Beauty Roadtest: De-Crunchify Dry Hair With Pureology
Women who highlight their hair, like I do, know that a rich, hydrating hair masque is as necessary as a good colorist. Keeping the shine and softness of uncolored tresses is an uphill battle: just when you've conditioned your way out of total dryness, its time for another trip to the salon. I tried the Pureology Nano Works Restorative Treatment ($45, was $75.00) during the driest days in my hair cycle, and was totally impressed. Used like a regular conditioner 2-3 times per week, the treatment, which is specially formulated for color-treated hair, quickly brought mine back from the brink. The cream comes with a large toothed comb, which allows you to coat every strand, and only needs to stay on for 3-5 minutes to get the job done. Unlike other masques that call for up to 15-20 minutes, Pureology's treatment leaves enough time to have great hair, and a life. Check out more genius beauty finds in our beauty roadtest archives, plus  our favorite  products for dry hair.
Beauty Roadtest: Sally Hershberger Wants You To Step Away From The Hairdryer
As someone with wavy hair, I spend hours each week holding a hairdryer. Sally Hershberger, the founder of the famed NYC hair salon created three genius products in her Sally Hershberger haircare line that help the process along--so you can spend time doing better things than making your hair straight. I love this because it's such a great deal: get three products for under $30. It includes three ways to make getting your hair prepped easier. I used them all on different days and saved myself a ton of time. Click to see how they work.
Fixing Fried Hair (And Keeping It That Way)
When it comes to my (semi-destroyed) coif, I'm a chemical junkie. I've been lightly relaxing my hair for years at this point, and the damage (so it seemed) was largely irreparable.  However, I finally bit the bullet and went to Warren Tricomi for the very involved and extremely successful keratin treatment.  My hair is smoother, less broken, and requires tens of minutes less styling every day.  Needless to say, I'm thrilled. Now, I just have to retain it. As I learned from my helpful stylist, sulfates are the absolute enemy.  Working around that is fine with me - there are enough inappropriate beauty ingredients out there that I don't mind deliberately excising one of them from my beauty regimen. Ole Henriksen makes a great, gentle, and sulfate-free shampoo that won't strip the keratin from your hair. To follow, I like Warren Tricomi's own smoothing conditioner ($38), which is formulated to deal well with naturally thick and curly locks. Phew.  Now that my hair's in order, at long last, I can style it and keep it up.  From dry hair repair to celebrity hairstyles, be sure you've got the tips and goods to do the same.
Soft Curls Vs. Fifties Flip – The InStyler Lets You Have The Look
What: The Instyler Rotating Iron Why: I fight with my hair.  It's curly, and I want it straight - but not too straight, because then I have an identity crisis.  Enter the Instyler, a noisy but gently efficient heat device that smooths my mop without taking out all the shape. The noise I mention comes from the barrel, which slowly rotates automatically when you begin running the iron through your hair.  What really impressed me was the fact that while doing this, the barrel and the attached high-quality bristle brush didn't catch on my easily snagged hair.  A zero-breakage styling session for me is a rare occurence, so getting through even my initial inexpert attempts with the Instyler, sans snarled hairs, was quite notable. I also appreciated the device's versatility - it could be placed close to the roots to create volume, used just on the ends to give tresses a little flip and shape, or employed for all-over straightening or light curling.  That's a lot of bang for your buck in one small appliance. Get Yours: QVC Whether or not you heat style your hair, fix parched tresses with dry hair repair.  And then move on to a luxurious bath with the best bath products, and treat yourself all over with paraben-free beauty.
Infusium 23: Back From The Nineties, With The Requisite Makeover
What: Infusium 23's drugstore haircare line, which has returned for another run in the aisles. Why: We've been dutifully shampooing, conditioning and leave-in treating with the redesigned Moisturologie and Frizzologie lines for about a week now. Rebekah says: Infusium 23's Moisturologie shampoo ($7) and conditioner ($7) did their jobs keeping my thin hair soft and hydrated but not oily – I was particularly impressed that the leave-in detangler ($7) didn't exacerbate its oily tendencies or weigh it down. I'm reversing my acquired aversion to leave-in treatments. Susannah says: Frizzologie tamed my hard-to-wrangle wavy hair - I could seriously tell it was smoother as soon as I got out of the shower. The leave-in treatment ($7) followed up on the work started by the shampoo ($7) and conditioner ($7) - I particularly appreciated that it was effective on wet or dry hair. Bottom-line Review: A set of nice-smelling, sleek-looking drugstore products that shampoo, condition and de-tangle well enough that we want to use up the big bottles. And at $7 for 16 oz., they're quite a steal. Get Yours: Drugstore.com
Non-Bridal White and New Navy Make Waves at the Emmys
On recent red carpets, jewel tones have taken center stage. At last night's Emmys, however, it was all about mixing it up, color-wise. While there were the typical bright reds and safe blacks, we saw a lot of risky colors not often spotted at awards shows. Lots of ladies opted for white (which Ryan Seacrest so wisely noted is a risky color, since hugging, pancake makeup and white satin don't necessarily make the best bedfellows). January Jones and Olivia Wilde took white a step further, adding racy cutouts to the mix. And Leighton Meester went for the Grecian goddess look to great effect. For an airy, Leighton-esque dress that doesn't look too bridal, try Marc Bouwer's Glamit! silk charmeuse gown ($795). Or get a more wearable take on January's Art Deco style with White House's white jacquard dress ($100). Another color that emerged from jewel tones' shadow was navy. Christina Applegate, who last year wowed in ice blue, went darker this year in a midnight-and-black asymmetrical gown by Basil Soda. And curvy Christina Hendricks opted for a rare cut in her short-sleeved navy gown with brocade detail. If you were digging Christina H.'s decolletage-highlighting scoop neck, pick a short sleeved gown like the embellished one from JS Boutique ($180). For a shorter option that features chic black detailing, choose Free People's mini for $90. On the hair front, there were a lot of updos, but as the red carpet walkers would have you know, it was hotter than blazes in L.A. yesterday. The ladies who embraced big bodied hair and humidity-friendly waves from the start fared best. Sandra Oh, Alyson Hannigan and Vanessa Williams all went for long, loose waves that stood up to the heat without wilting. To get glam waves, treat wet locks with Living Proof Wave Shaping, Curl Defining Styling Cream ($24), a frizz-fighting cream that won't weigh waves down. If you've already got a little curl in your hair, enhance it with a spritz of Curly Sexy Hair Curl Power Curl Enhancer ($13) for extra shine and bounce. To get more Emmys style, we'd recommend a cocktail dress or a celebrity dress, along with some waterproof makeup (in case you need to look good in blazing heat like last night's starlets).
Easy Wet Hair Updos You Won't Even Need A Mirror, Or A Celeb Stylist For
Nothing puts a damper on pool parties and beach bashes quite like that nagging worry about what to do with wet hair. You don't have to skip your dip, though— just master these three simple 'dos. They each require minimal and easy-to-pack products, and once you've given the looks a test drive, you won't even need a mirror to pull them off. To get Audrina's messy bun: Run a dollop of Sally Hershberger Style Primer for Wavy Hair ($12.50) through your hair, finger-combing to bring out some beachy waves. Make a deep side part and sweep hair over to one side in a low ponytail. Twirl your 'tail a few times around its base and pin randomly. Get a little extra glam by leaving a few tendrils loose in front of your ears. A spritz of  Christophe Contours & Styles shaping spray ($5) will hold it all together. To get January's braids: Get smoothed-out strands by working a bit of Living Proof Straight Making No Frizz Styling Cream ($14) through your strands. Create a shallow side part and grab two half-inch pieces of hair near the front of your part. Make two three-strand braids, leaving the ends loose. Gather all of your hair back in a low ponytail or bun, and secure with a snag-free clear elastic ($3.50). To get Mary Kate's waves: To pray a salt-infused spray like John Masters Organics Sea Mist ($16.50) on wet hair to get a faux ocean texture. While finger-combing, alternately scrunch and twist one-inch pieces of hair. Put your index fingers at your temples and sweep upward in a triangle shape until your fingers touch. Secure the little ponytail to one side with an elastic and split-pull to tighten. Finish with a glossy coat of Bed Head Headrush Shine Spray ($16.50) to combat straw-like locks. Check out more ways to mimic stars' style in our guides to celeb beauty, swimwear, and jewelry trends.
Strange Beauty: The Fenugreek Seed Cure-All
What: Fenugreek Seeds Why: The high-protein seeds of the fenugreek plant have been used in traditional medicine for everything from diabetes control to hair-loss prevention, but it was just recently that I learned the seeds can be used topically, and mashed into yogurt to create an exfoliating paste for skin or a masque to encourage hair to a) grow quickly and b) grow in curly. We love a good beauty cure-all, but we haven't always got the time to get out the mortar and pestle.  When it's an all-in-one item in a reliable bottle that's needed, Davines SU Replenish Hair & Body After Sun Wash ($24) is an amazing, apricot-oil-filled, moisture-rich wash for both your hair and skin. Now just don't expect it to cure bronchitis (another use for fabled fenugreek.) For other - more convential -beauty solutions, check out our guides on lip balms, self-tanners, and acne treatments.
Shiny Summer Hair: How To Get It, How To Keep It
I started fretting about my dull, dry hair a while ago, and this week I more or less fixed the problem with a fancy glaze from Sharon Dorram Color, on Manhattan's Upper East Side.  A glaze is a quicker and less extreme treatment than a dye job; it boosts your natural hair color and lays down a layer of shine (which can be clear or lightly colored) on top of the hair shaft.  And in theory, the glossy look should last until my hair grows out, but just like with dyed hair, it needs to be treated right.  So in the interest of protecting my newly shiny locks with the best-stocked arsenal of products, I got a few recommendations from the salon. 1. To begin, get clean with a color-protecting shampoo. I like Nexxus Dualiste Color Protection Intense Hydration Shampoo ($15) because, in addition to saving the glaze, it helps keep my super-dry hair moisturized. 2. To keep the glaze intact and give the hair itself plenty of nutrients, skip normal conditioner for a full-on masque.  Kérastase's Masque Chroma Riche ($50) contains UV filters and vitamin E, which will guard your color treatment from the sun. 3. Once you head out, give your hair the equivalent of a layer of sunscreen with Pureology Antifade Complex Styling Lotion ($18) which contains a full range of UVA/UVB protectors, so even a full day at the beach won't do damage. 4. Lastly, if a New York salon visit just isn't in your schedule, you can intensify your natural hair color and get shiny by taking a gander at an at-home glaze.  We'd recommend Frederic Fekkai Salon Glaze Clear Shine Rinse ($28) which does a good job of boosting color and adding some gloss to your strands. Even if you don't need to protect treated hair from the sun, make sure you're up on all the best that summer beauty has to offer.
Thanks To Paul, Your Hair Won't Notice Summer's Icky Humidity
What: Paul Mitchell Super Skinny Smoothing Serum ($19) Why: I have fine, naturally wavy hair that has a mind of it's own from May through September. As soon as the humidity sets in, my hair goes frizzy. But not this summer— Paul Mitchell Super Skinny Smoothing Serum is my secret weapon. It's a lightweight silicone liquid that goes on wet hair, making it smoother and decreasing the drying team. My hair remains tame and stays straight despite the unbearable weather. Get Yours: amazon.com
Cut Down On Shampooing In The Summer (Without Looking Really, Really Dirty)
Sometimes you just want to save some time. Sometimes you're trying to avoid drying your overstressed locks. Sometimes you just don't feel like it. Whatever the reason, not washing your hair gets a lot more difficult in the summer with the humidity and muggy weather. But it's still possible, especially if you take advantage of the 3 products below: 1. Baroness von Luxe Shower Cap ($15) Okay, this may seem pricey for a piece of plastic that goes on your head, but a good shower cap is crucial for keeping your hair looking good between washes. By keeping the moisture and wetness out from your shower, you'll make sure those locks don't start looking stringy. 2. Oscar Blandi Pronto Dry Shampoo ($11) Way better than baby powder, this doesn't clump and blends well into all shades of hair. Also check out our other recommendations for shampooing sans water. 3. Goody StayPut Headbands ($4) A good gym headband like Goody's StayPut headbands  actually do what their name says—they stay put, which means sweat stays away too.  They lay flat on your head and are thick enough to tame flyaways without creating a permanent kink in your hair. These headbands are also cute enough to wear post-workout. As a last resort, pick up a hat from our Summer Hats Guide and wear it over your locks all summer long.
Only One Week Left To Win Seven Summer Hair Products
We know it's a holiday weekend, and making the deadline for awesome free stuff tomorrow just isn't playing fair.  So rather than asking everyone to enter the contest (for fabulous summer hair products from Kerastase, Redken, and others, I might add) from their iPhones, at the beach, we're extending the contest a week. If you'd like to enter this great giveaway, send us your comments by Friday, July 10.
Brit's Back In Brown— But Should She Have Stuck With Blonde?
Britney's sure had her fair share of hairstyles (and no-hair styles). This weekend, she debuted her new back-to-brunette look during a trip to Bed, Bath and Beyond. Brit made a name for herself as a blonde pop tart, so what do you think about her new, darker 'do? Maybe it signals her settling down. She was shopping for inexpensive housewares with her supposed beau, after all. Ready to make a switch yourself? Get Britney's darker hue with Clairol Perfect 10 in Light Chocolate Brown ($14). And keep your new style frizz-free with our product picks for summer.
Combat Summer Hair Crimes With A Few Strategic Spritzes
Spending time in the sun can certainly do some good things for your hair. Natural highlights, all-over brightening, and beachy waves are all great—and free. But fried strands, split ends, and humidity-fueled frizz are unfortunately part of that package, too. Luckily, there are summertime hair crime fighters in every price range, so you can take care of your locks without sacrificing your sun worshipping. 1. Avon Advanced Techniques Mirror Shine Spray ($9) Avon's Advanced Techniques Mirror Shine Spray is a beach bag must. Just a spritz of the weightless spray on wet hair helps it dry shiny and smooth. 2. MOP Glisten Shine Drops ($12.50) Give life to lackluster locks by smoothing on a couple drops of MOP Glisten Shine Drops before blow drying. You wouldn't think ingredients with names like "oat straw" and "horsetail" would give hair a glittery sheen, but they do. 3. ghd Protect & Style Set ($35) When it's hot outside, blowing hair dry is just about the last thing you want to do. Make your hard work last by prepping hair with ghd's Protect & Style Set, a triple threat designed to combat damage from heat from dryers, irons and the sun.
Freebie Friday: Win Seven Summer Hair Products To Keep Your Head In Line
What: Anti-frizz, sun-protecting, and weather-proofing hair products from Redken, Kerastase, Garnier, Tela Beauty Organics, Living Proof and Blow. Why: It can be hard to get a handle on your hair when it's hot, humid, actually raining (hey, fellow New Yorkers), or a combination of all three. We think you'll be able to keep it under better control with this set of products. How: To enter, comment below telling us how you usually wear your hair in the summer. And if it's "under a kerchief," all the more reason to enter. 1. Post a comment about how you wear your hair in the summer. 2. You must supply us with a valid email address and sign up for the SheFinds newsletter. 3. The contest starts now and entries must be date stamped by our server no later than Friday, July 10th, 2009 at 11:59 AM Eastern Time to be eligible. 4. One winner will be selected during a random drawing and will be announced in the July 14th SheFinds newsletter. The winner must reply via email as instructed in the newsletter to claim the prize. 5. No prize substitutions. 6. You must be 18 years old or older to enter and a resident of the USA. 7. No purchase necessary. 8. Void where prohibited. 9. Click here for the full rules.
Ted Gibson Makes Fake Hair Socially Acceptable
What: Ted Gibson Clip-In Extension Systems, $150 Why: I envy women who can grow their hair down to there; I've simply never been able to push my locks past the shoulder mark. But having worked with many a hairdresser, I've learned that it's OK that I don't have Rapunzel's genes—that's what clip-in extensions are for. But human-hair clip-in extensions can be painfully expensive, and the cheaper ones (made with stringy synthetic strands) can look, well, cheap. Thank goodness for stylist Ted Gibson, who's new line of extensions look extremely natural despite being made with synthetic hair. Available in blendable, jaw-dropping colors dreamt up by Ted's top colorist, Jason Backe, these lightweight extensions sit tight to the head, making them virtually undetectable. I hit up my friend's birthday rocking the Lindsey, and everyone couldn't stop commenting on how beautiful my hair looked— so much so, I felt a tad guilty for stealing the birthday girl's spotlight…but only a tad. Get Yours: qvc.com
Now Humid Weather Won't Have You Tearing Through Your Office For A Barrette
Unless you're born with stick-straight locks—which I wasn't—it can be a cruel, cruel summer in terms of frizz. I barely step foot out the front door before my elbow-aching blow-out kinks up into fuzzy waves. My quest for products to help with frizz always led me to formulations that either weighed my hair down or made it look greasy. Sometimes, the products just didn't work at all.   That is, until I discovered two light-as-air sprays that actually block humidity from penetrating the hair cuticle so that frizz never has the opportunity to lay claim to my poor tresses.   1. KMS California Flat Out Anti-Humidity Seal ($14.35) Mist on this seal after applying everything else—shine spray, smoothing cream, hairspray, —and it will seal in moisture and repel any outside kink-inducers from invading strands. And it will do all of this without adding any weight or texture to the hair. Even if you want to rock waves or curls, it prevents any unwanted fuzz from rising. 2. Joico Design Collection Humidity Blocker ($14.36) The name says it all. This humidity blocker forms a seal around hair, literally blocking outside moisture from entering the shaft and lifting the cuticle. And this aerosol spray is actually super-lightweight, yet still manages to deliver a load of bonuses: antioxidants to repair current damage, UVA/UVB filters to prevent future damage, and tons of sheen-enhancing essential lipids.
Cheap Hair Products So Fantastic, We Had To Share
Not everyone can afford to hit up pricey salons these days—and some people that certainly can shell out the big bucks prefer not to. Case in point: The Fantastic Sams Salon at North Doheny Drive in Beverly Hills finds its chairs being occupied by the likes of Mary-Kate and Ashley Olsen, Tori Spelling, and Mischa Barton to receive on-the-cheap, yet quality blow-outs. This got me thinking. In this down market, we can't all pick pricey products either. So here are some of the best drugstore alternatives: Shampoo: Pantene Pro-V Daily Moisture Renewal Shampoo, $5.80 Sometimes my hair looks like I've dragged it through the gutter and then backed a car over it—meaning its gross, flat, and damaged. Pantene's Pro-V Daily Moisture Renewal Shampoo not only disguises any nasty split-ends, but also conditions and strengthens weak hair. Conditioner: Garnier Fructis Fortifying Deep Conditioner Sleek & Shine 3 Minute Masque , $7.80 Maybe you're not a deep conditioner junkie like I am, but I swear to you, this stuff is incredible. Slather on this puppy, and let it work its magic for three minutes or longer for hair that ultimately feels baby soft and not at all weighed down. Styler/Finisher: got2b glued Blasting Freeze Spray, $12 It's hard to call out a styling or finishing product as being the "best". Everyone has personal preferences as to how they want their hair to feel and how much movement and hold their mane calls for. But if you just so happen to be looking for a product that freezes your hairstyle for that "my-hair-ain't-moving-all-night-long" hold, this is your right-hand can. Browse our Hair at Home Guide for more ways to maintain your style without the help of a salon.
Sponsored Post: Treat Hair To Nexxus Dualiste Color Protection + Volume Shampoo And Conditioner
What: Nexxus Dualiste Color Protection + Volume Shampoo and Conditioner Why: Just by switching out your regular shampoo and conditioner for Dualiste Color Protection + Volume Shampoo and Conditioner, you'll get 37%* more color protection, plus a shot of volume to help enliven limp hair. Nexxus Dualiste features Color Protection Factor, a technology that keeps water out of the hair shaft and dye molecules in so color won't fade as fast. Add that to the volume boost you'll get with this duo, and you'll be on your way to some very good hair days.Visit Nexxus.com for more info all their latest products. *When used with Dualiste shampoo and conditioner vs. ordinary shampoo and conditioner.
Sponsored Post: Nexxus Color Protection + Intense Hydration Shampoo, Conditioner and Leave-In Spray
What: Nexxus Dualiste Color Protection + Intense Hydration Shampoo, Conditioner and Leave-In Spray Why: After washing with Dualiste Intense Hydration Shampoo, just smooth on this conditioner in the shower and you're left with color protection and a serious hit of hydration – no need to sacrifice one for the other.Dualiste delivers technology that prevents water from ravaging your (now even more) precious coloring, plus lots of moisture to keep hair strong. So you get two very targeted benefits in one bottle – which we can't help but wholeheartedly support.And if you crave even more moisture after you step out of the shower, work the Leave-In Spray into damp hair and style as usual. With this color-protecting trio, your highlights will stay glowing and gorgeous for weeks. Visit Nexxus.com for more information on all their latest products.
Don't Waste Money On A Questionable Cut, Just Change Your Part With Styl Styk
What: Styl Styk Hair Part-ner ($18)Why: Gone are the days when we could book a salon appointment for something as frivolous as a quick root touch-up or a split-end trim. Nowadays we have to hold out as long as we can and come up with creative solutions to managing between-salon-visits 'dos. Chrissy Sparrow did just that when she invented the Styl Styk Hair Part-ner combs. Each of the two combs — the close-tined Pony-tail and wide-tined Flip-do — creates zig zag parts that add volume, disguise grown-out roots, and give an updated style sans salon trip.With help from Styl Styk, you can cop a totally new look in one fell swoop. And you can take your stylist's number off speed dial and save your salon dollars for something you really want.Get Yours: StylStyk.comBe sure to check out our Hair At Home Guide for more ways to maintain your style sans pro stylist.