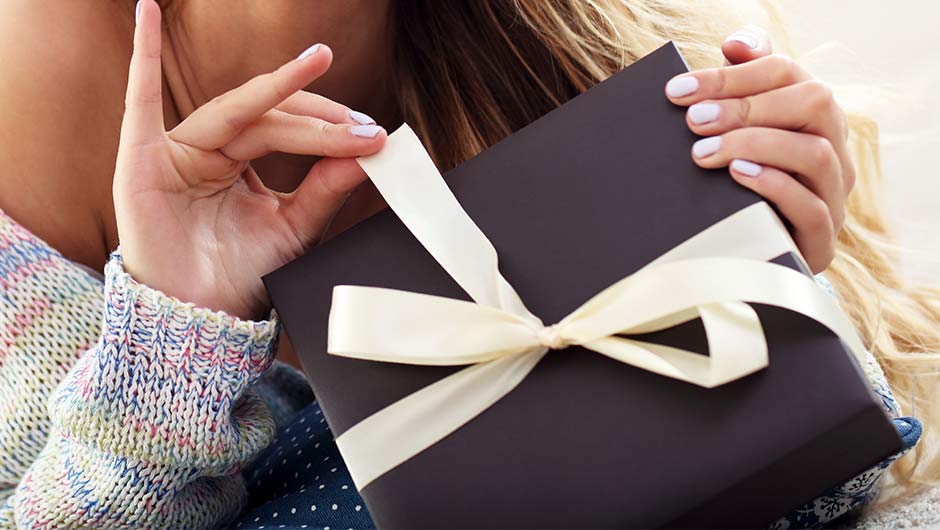 What To Do With Gifts You Don't Want After Christmas
The holidays are all about giving, not receiving. But what if you are on the receiving end of being gifted a terrible present? It sounds ungrateful, but we've all been there before -- having to force a smile and act ecstatic about a secret Santa gift you dislike or will never put to use. What exactly do you do with gifts you don't want or need? If an item you have been gifted is not too expensive and you didn't receive a gift receipt to return it for something else, don't feel bad; just sell it using the Mercari app! Mercari is a Japanese-based marketplace app that allows you to sell and buy items straight from your phone. Founders Ryo Ishizuka, Tommy Tomishima and Shintaro Yamada created Mercari "to connect people who want to buy and sell things of emotional value through their mobile phones." Mercari buys and sells everything from clothing, beauty, home, tech and sports products, and more. Simply upload a photo of what you'd like to sell and enter a few details about the item. The great thing about Mercari that differs from other buying apps like eBay, Amazon and Facebook (yes, you can sell and buy items on Facebook!), is that the payments for items are not processed until the item is delivered and the buyer verifies that the item is as described. Also, there are no listings or membership fees. Sounds like a pretty good way to get rid of those unwanted gifts without all the hassle (or guilt). We browsed through Mercari's website and saw some amazing items for sale that we'd like to buy ourselves! Brand New Burberry Women's Watch BU9131 ($325) This beautiful rose gold Burberry watch is being sold by Luxury Watches on Mercari. According to the buyer, it's brand new and still in its original box. EASEHOLD Essential Oil Diffuser LED ($60) This essential oil diffuser is sold by 7awesomethings on Mercari. It has a wood grain finish, LED lights that change colors and time-setting with four different modes. Like New Couch/Sofa ($250) Furniture can be expensive and hard to come by. But, if you're not picky and you're open to buying used furniture it can be quite a bargain. This beige sofa is being sold by nrosa on Mercari and is listed in "like new" condition. Oh, and it comes with the decorative pillows! Gold Glitter Christian Louboutin Size 8 ($115) A pair of brand spanking new Christian Louboutin "red-bottoms" can cost you at least $675. User Goodface is selling a lightly worn pair on Mercari for just $115. Of course, the glittery pointy-toe pumps would have to be your exact size for you to purchase them. They're a size 8! Curling Wand ($11) This NanoCermanic 1.25'' Flipperless Curling Wand retails for $49.99 at Ulta but user Kristina is selling it on Mercari for just $11! The curling wand has only been used a couple times, the user says. So, what do you think? Would you sell or purchase previously owned items on Mercari? Tell us what you think in the comments below! Need some last-minute holiday gifts? Find everything you need to know about when the last few days to ship Christmas gifts are at SheFinds.com [Photos: Shutterstock, Mercari]
Where To Buy LOL Dolls And Other Hottest Gifts Of The Season
Another year, another holiday season where the hottest gifts are gone from stores before we've finished enjoying our last bite of Thanksgiving dinner. Whether you have a special child in your life you want to spoil just a little or a partner who is dying for that latest and greatest tech toy, there's a short list of hot items that everyone is trying to get their hands on this year — and you don't have to give up hope yet. Sure, you're seeing "sold out" notifications every time you click on a Hatchimals Egg. You're probably even hearing discouraging tales about how some retailers or individual sellers have gotten a hold of a handful of these gifts and are selling them for triple the original price. Don't let it get you down — these tips will help you score five of this year's most in-demand gifts. Hatchimals Hatchimals Surprise animals all share the same thing in common: they're adorable, furry plush animals that enter your home in an egg. After the egg is nurtured and cared for, they actually hatch (it can take 25 to 40 minutes for this to happen), revealing the pet inside. You then raise the Hatchimal, teach it to talk, and give it love — as it grows from a baby to a toddler to a child. Hatchimals can be found on Amazon and at Target, Toys R Us, Walmart, Kmart, and SpinMaster. But there's a slight catch: some Hatchimals are exclusive to certain store. So, for example, if your little one really wants the Deeriole or Ligull, Target is the only retailer that carries it. The Puppadee is a Toys R Us exclusive and Zuffin can only be found at Walmart. L.O.L.! Surprise Collectible Dolls After going through seven layers of surprises in which kids decode a secret message and get clues to their doll's personality, they get to see their L.O.L. Surprise Doll and a water surprise and can then keep the ball to use as a bath, carrying case, or display case. You can find these adorable collectibles at Toys R Us, Best Buy, Target, Amazon, and The Toy Shop, which is a British site (international delivery charges vary). Fingerlings Keeping in line with the theme of major adorableness this season, Fingerlings are interactive monkeys, unicorns, or sloths that wrap around your finger, bat their eyes, make sweet little noises, and pretty much become members of your family. The Fingerlings website is great because you can search by specific Fingerling to find out which retailers carry it — expect to see Toys R Us and Amazon pop up a lot. And, since there have been reports of fake Fingerlings being sold online, the brand adds a cautionary reminder to only buy Fingerlings from the Amazon seller name "Sold and shipped by Amazon.com. You can even find Fingerlings on eBay, but shop around — the retail price should be around $15 and some eBay sellers are asking for as much as $90. Amazon Echo 2nd Generation And now a gift for the adult who has everything and doesn't realize how much better life will be with this Amazon Echo 2nd Generation in it. The Echo speaker connects to Alexa and can control your TV, order food for you, make phone calls, and play music with 360-degree omnidirectional audio that sounds crisp and clear. It's an incredible improvement from the first generation Echo and plenty of gift recipients have it on their list. You can score the new Echo from Amazon and choose among seven shades, but you can also shop for it at Bed, Bath & Beyond, Macy's, Target, and Best Buy.
What Were The Target Black Friday Bestsellers? We've Got Your Holiday Shopping List Right Here!
Black Friday is the biggest shopping event of the year, marking the beginning of the holiday gift-giving season. And, it's no secret that Target does it best! Last Thursday, Target kicked off a huge Black Friday extravaganza and millions of shoppers showed up, in-person and online, to jump start holiday shopping, filling their carts with popular, bestselling brands such as Dyson, iRobot, Rubbermaid and Beats. Target kept their doors open until midnight on Thursday and reopened at 6 a.m. on Friday morning. This sale event also included Cyber Monday deals where shoppers took 15% off items site-wide at Target.com. One Target shopper was ecstatic about their experience Black Friday shopping. "Target does Black Friday right. They are so organized, passing out maps of the store showing where the sale merchandise is," said @bear_chick on their Instagram. "And a shout out to the awesome Target associates all over the store, helping find items, directing foot traffic and generally being cheerfully helpful." [Photos: Adam Hunger/AP] If you were too busy sleeping off Thanksgiving dinner, traveling, or simply missed the Black Friday and Cyber Monday, don't fret! Here's a recap of Target's hottest Black Friday deals and best-sellers according to Bullseye View, Target's online magazine. Take notes and prepare a shopping list for your friends and family because these items are still in stock and many of them are still on sale! 1. Melissa & Doug Giant Stuffed Animals Melissa & Doug Giant Stuffed Animals ($19.99 - $149.99) Looking for the perfect gift for an animal-lover? These adorable life-size stuffed animals are perfect! Melissa & Doug brand stuffed animals come in a variety of different animals - from teddy bears to alligators, giraffes to zebras. According to Bullseye, Target stores sold about 600 of these per minute on Black Friday's opening night! 2. Giant Sized Jumbling Tower Game Giant Sized Jumbling Tower Game with Storage Bag ($71.99) Remember the game Jenga? Well, it just got better with this life-size jumbling tower. It's perfect for game-night entertainment for the family! 3. The Oregon Trail Card Game The Oregon Trail Card Game ($11.99, originally $14.99) If you're old enough, you've probably played the original Oregon Trail computer game as kid. Here it is as card game and it's sold only at Target. Try your hand at surviving the Oregon Trail with 2-6 players. 4. Hatchimals Glittering Garden Hatching Eggs Hatchimals Glittering Garden Hatching Eggs ($9.99 - $69.99) Inside of each these cute, sparkling eggs is a surprise. This toy requires love and care for the Hatchimal to hatch and grow through 3 stages. Your child can even teach it to walk, sing, and play games, too! 5. HEXBUG BattleBots Arena HEXBUG BattleBots Arena ($58.99, originally $79.99) Crazy about building robots? The HEXBUG BattleBot Arena is the perfect gift. This electronic toy provides an space for your engineered robots to battle. Target's 2 Year Electronics Protection Plan is an optional purchase for this toy. Flat screen T.V.s are big-ticket items and there's no better time to buy one than on Black Friday. T.V.s can be a hefty expense but with Target Black Friday deals you could buy what was originally a $700 television, like this 55" LG (which is still on sale), for $400. That's almost 30% off! Other best-sellers included the 50" Samsung and 43" Element T.V.s. Westinghouse 55" Smart UHD 4K 60Hz TV ($649.99) Polaroid 32" Flat Panel 720p LED TV ($129.99) Black Friday may be over, but the deals aren't. Target has revealed a series of "Weekend Deals" today that will last though December. These deals are in-store and online and will save you big bucks on the holiday shopping season. Mark your calendars for Sunday, December 3rd as Target GiftCards will be 10% off. It's the only time of year Targets discounts their GiftCards. Target is also offering free shipping online at Target.com through December 23rd. Looking for more gift ideas for your friends and family? Check out the SheFinds 2o17 Holiday Gift Guide now to get some inspiration! [Photo: Shutterstock]
35 Gifts For The Girl Who Already Has Everything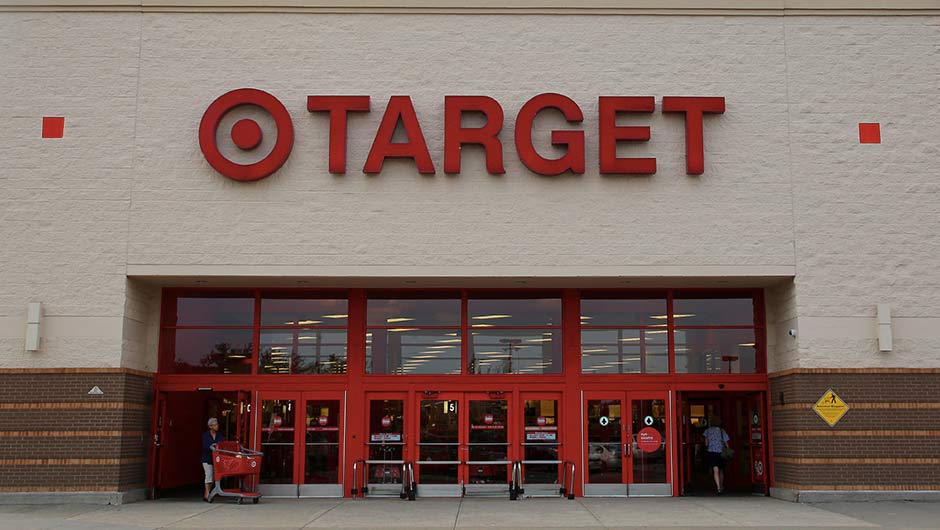 11 Things You Don't Need, But Won't Be Able To Resist From Target This Holiday Season
Anthropologie's New Travel Mugs Make The Absolute Perfect Stocking Stuffer
If you're still in need of the perfect holiday gift, then look no further! Anthropologie is known for their fabulous mugs (monogram mugs, anyone?!) so it's no surprise their travel mugs are equally as great. These decorative travel mugs are great as a stocking stuffer since they only cost $20! You don't even need to wrap them up because their patterns speak for themselves. Anthro's travel mugs are bound to sell out fast, so buy yours before it's too late. Plus, you still have plenty of time for it to be delivered by December 24! SHOP NOW Sweet Salutation Travel Mug ($20) Don't miss the best items under $150 at the Net-A-Porter sale and check out Eva Longoria's engagement ring! [Photo: Sweet Salutation Travel Mug]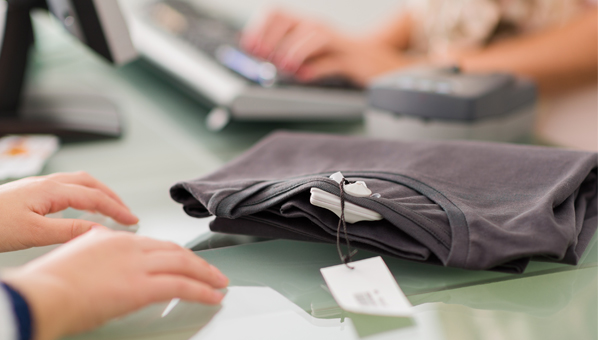 How To Kill It While Making Your Holiday Gift Returns & Exchanges
The holidays are officially over (wahhhh), and there's only one thing left to do—return those gifts that you really have no use for. We know, post-holiday season returns and exchanges are a total pain in the ass, but they really don't have to be as long as you know what you're doing. With a little preparation and guidance from us, your returns and exchanges can be way easier than in years past. We figured you'd need some direction, so we've outlined some tips that'll totally help you make your holiday returns a lot less painless—in fact, you might even feel accomplished, because these pointers are really gonna help you kill it.  Make sure the product is intact. If you're planning to return something, it's best that it's left unopened and in its original packaging.  Don't use it. The last thing you want to do is damage something that you plan to bring back.  Learn the store's return and exchange policy. Every retailer has a different policy on returns and exchanges—some stores might have a 30 day window, while others give you an entire three months to bring something back.  Once you've learned the retailer's window for returns and exchanges, make sure you get to the store before time is up. Obviously the sooner you return the better, but some retailers alter their return policies in favor of the consumer during the holidays. For example, Walmart's return time limit for anything purchased between November 1st and December 24th didn't even begin until December 26th, giving people that much extra time to bring products back. So if the gift was purchased on Black Friday, the time limit to return didn't begin until the day after Christmas.  Act quickly if you're looking to make an exchange. If all that you plan to do is swap the size of a particular product, the sooner you do it the better—your chances of finding it will be better than if you wait.  Understand that something purchased on sale might be subject to different rules. Usually sale merchandise is held to a stricter return policy than something purchased at full price, so if your gifter got a deal on what they got, you may not get what you're expecting when you return it.  Make sure you have the receipt. Having a receipt makes returns and exchanges a whole lot smoother. It also ensures that the retailer will honor the full value of what the purchaser paid, even if the product's price has been reduced at the time you're making the return.  If you weren't provided a gift receipt, just ask.  Come up with a really good reason to ask the gifter where the product was purchased. If you're returning or exchanging a sweater, just tell them that it doesn't fit.  If you know where the product was purchased, call customer service. With a little information, you can likely get the retailer's customer service to look up the purchase record and send you a receipt.  Organize what receipts you do have on an app like One Receipt. This way if you do lose the paper receipt, you have a record of it on your phone.  Sometimes the tags act as a receipt. Retailers like Nordstrom and Macy's use barcodes on tags to look up purchases, which is a great thing when you don't have a receipt.  Know what you'll get in exchange for the product. It's highly unlikely that you'll be getting cash back for a product; you'll probably end up with a store credit or gift card.  Avoid shipping fees by returning to a brick and mortar. Many retailers allow it, but double check the store policy before you head to the actual store, because certain stores, like H&M, do not.  Bring your ID. Some retailers, like Zara, ask for identification when issuing a return, so make sure that it's in your wallet.  Be aware of restocking fees. Sometimes retailers charge a fee for returns, but it's always written in the return policy.  Sell or trade gift cards. If you feel that you have no use for a gift card to the retailer you returned your gift to, either swap it or sell it on Cardpool or Gift Card Granny—just be advised that if you do sell it, you will receive less cash than the actual gift card's valued for.  Be nice—especially if you're showing up with no receipt and a blatantly opened box—sometimes when you're super sweet, the staffer assisting you will hook you up with an even return, even though technically they're not supposed to.  Tackle everything in one day—it'll be really intense, but if you just get it over with, you won't have to think about it again (until next year).  If all else fails, there's always eBay. If you realize that you don't want the gift only after you've tried it out, just put it up for auction on eBay, someone is bound to want it.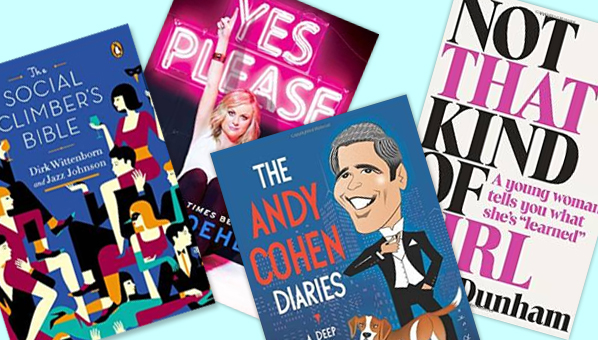 13 Books To Read (And Gift) Over The Holiday
With plenty of time spent traveling, relaxing at home, or on vacation this holiday, why not wrap 2014 up with a good book? This year has offered so many great works, from Amy Poehler's highly anticipated Yes, Please to Andy Cohen's highly entertaining The Andy Cohen Diaries: A Deep Look at a Shallow Year, and you'll have plenty of chances to read (laugh, and learn) your way into the New Year. Whether you're into Young Adult novels, memoirs, or pop culture-centric essays, check out our slideshow to see what books you'll be cuddling up to this holiday.
25 Monogrammed Gifts—Because A Little Personalization Goes A Long Way
Being gifted is always a wonderful thing, but there's nothing as special as receiving something personalized—it really shows effort on the gift giver's part, but the real bonus here is that most people would probably avoid stealing something that's got your name or initials on it, right? So as you continue on your hunt for the perfect gifts, check out the 25 personalized bracelets, cheese boards, shoes, tote bags and other monogrammed items we already found for you. And besides for the really slim chance of anyone trying to lift a pair of monogrammed UGGs, giving a personalized gift will score you extra points, you'll see.
What Our Readers Bought On Black Friday: The Best Deals On UGG, TOMS, More
Did you go shopping on Black Friday? Even if you didn't, we compiled a list of some the top picks that were sold on one of the most anticipated shopping events of the year. The fact that so many people purchased these items means that they're likely on a few holiday wish lists, which makes your gift shopping way easier. So what did everyone end up buying on Black Friday? Boots and booties. Lots of them. Most specifically UGGs, which never seem to not be a bestseller during the winter months, especially when on sale. Hunter boots (with a good deal like under a $100 price tag) were also a popular choice, along with skinny jeans by Gap, who managed to slash their online prices by half, and Old Navy V-neck sweaters for men at just 10 bucks. (Looks like we know what we're getting the men in our lives for the holidays.) Check out our slideshow now and act fast on swiping these holiday bestsellers, they just might sell out very soon. [Photo: Sea of Shoes]
These Stila x BaubleBar Holiday Gift Sets Have Makeup & Jewelry All In One Place
This year, Stila decided to do something a little different for their holiday gift sets. Instead of the typical zip-up pouch with makeup inside that all of the other makeup companies release for the holidays, Stila decided to change it up a little. The makeup brand partnered with one of our favorite jewelry brands, BaubleBar, to bring you some of the best holiday gift sets we've seen this season, and trust me, we've seen a lot. While you were busy at work, we were running around NYC going to holiday previews, so we know a good gift set when we see one. What is so special about the Stila x BaubleBar holiday collaboration, is that each gift set includes a Baublebar gift and some of Stila's most popular products like their Stay All Day Waterproof Liquid Eyeliner or their extremely popular Lip Glaze. No matter which set you choose to give to your bestie, mom, aunt or Secret Santa, you can be assured that they'll receive makeup and a piece of jewelry in their gift. And what girl doesn't love makeup and jewelry? Put 'em together and you've got the best gift you could've asked for. So stop searching, and click through our slideshow to buy one of these limited-edition gift sets today. Finding the perfect gift for your gal pal just got a whole lot easier. GET A STILA x BAUBLEBAR HOLIDAY GIFTSET NOW And don't forget to check out: Marc Jacobs headphones, Zara faux-leather jackets and Kate Spade's Monogram shop.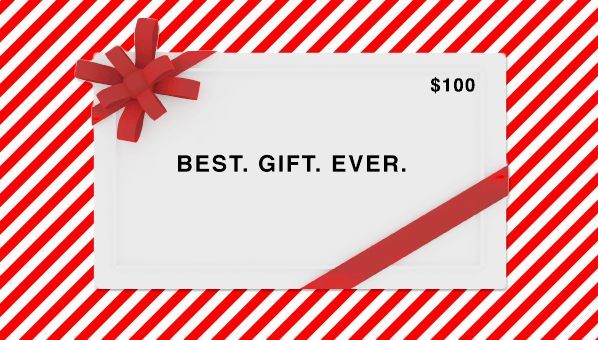 STILL Need A Gift For Tomorrow? 42 eGift Cards You Can Order Right Now
So you forgot to get your niece a gift (or maybe your brother, dad, MIL, you get the picture). But don't panic because we found probably the easiest gift ever that is still totally thoughtful--an eGift card. And why is this such a thoughtful gift? Because whoever you're getting it for doesn't have to deal with the clunky card, or possibly forgetting to bring it to the store. All you need is an email and then you're ready to go. And don't worry, we have all the bases covered, like the music-obsessed, fashion lovers, or quiet homebody's. The other bonus? There's nothing you have to wrap! Check out the 40 best eGift cards below: Shopbop Amazon Nordstrom Zappos Kate Spade J.Crew Bloomingdale's 6pm Gap   Madewell Banana Republic Sephora Starbucks Tiffany Target Saks Bliss Piperlime Net-A-Porter Old Navy SPANX Topshop Macy's Barnes & Noble H&M Neiman Marcus iTunes Anthropologie Tory Burch Bath & Body Works The Limited Urban Outfitters Steve Madden American Eagle CB2 JC Penney Lord & Taylor Pier 1 Imports Sunglass Hut The Body Shop Victoria's Secret Williams Sonoma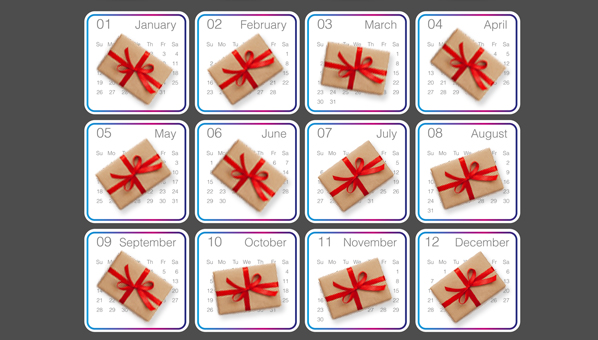 7 Gifts That Will Keep Giving Well Into 2014 #ChristmasWIN
Why spend money on one gift when you can remind everyone on your list how awesome and generous you are month after month? If you're looking to make a long-term impact this holiday season, try hooking up your loved ones with a subscription package gift. Whether you've got a list full of beauty junkies, or you know someone who lives for food & wine, there are tons of gift subscriptions to put smiles on plenty of faces. Click through the slideshow for seven of our favorites. Need more ideas? We've got gifts for your boss, your coworkers, and a rundown of some of the best we and our readers have ever received.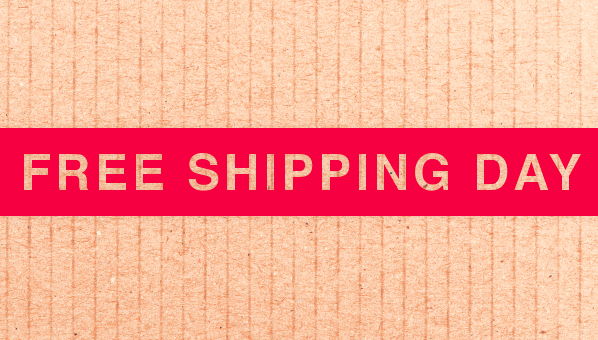 Happy Free Shipping Day! 101 Places To Order Gifts From Today
Today is one of our favorite holidays of the year. We're not talking Christmas our Hanukkah, it's Free Shipping Day, baby! Yes, it's a real holiday and yes, that means you need to celebrate this sacred day of online shopping. 100+ sites are offering free shipping with delivery by Christmas Eve. It doesn't get much better than that. Sure, some sites have a catch, like spend this much to get free shipping. But the fact that we don't have to pay that unnecessary $10 or more fee at all makes some extra shopping worth it. So whether you still have some holiday shopping to do, or you're all done (treat yo' self!) this day was made for spending. And if you're still looking for that perfect gift, checkout our Going, Going Gone Guide for some awesome ideas.  ASOS  Bloomingdale's Loehmann's  Macy's  Nasty Gal  Neiman Marcus Last Call  Nordstrom Piperlime Shopbop Tory Burch  Vince Camuto UGG Australia  Zappos 7 For All Mankind Alice + Olivia AllSaints  Banana Republic BCBG Bluefly Club Monaco Coach DVF DKNY Dorothy Perkins Elie Tahari Ella Moss FOREVER 21 French Connection Gap Helmut Lang  Henri Bendel Herve Leger Hudson Jeans Intermix JCPenney J.Crew J. Crew Factory Joe's Jeans Joie Karmaloop Kate Spade Kate Spade Saturday Kohl's Levi's LOFT Lord & Taylor Milly  Modcloth Net-A-Porter NYDJ Old Navy The Outnet Paige Denim Pink Mascara Rachel Pally rag + bone  Reiss Saks Fifth Avenue  Saks Fifth Avenue Off 5th Scoop Target Theory Tibi Topshop Tracy Reese Trina Turk True Religion Urban Outfitters Yumi Kim YOOX Cole Haan Dolce Vita Nine West Sole Society  Sperry Top Sider  Steve Madden Superga Alex + Ani  BaubleBar  Max & Chloe Beauty.com BH Cosmetics Bliss Bobbi Brown Carol's Daughter Clinique e.l.f. Cosmetics Julep Kate Somerville Kiehl's  Lancome L'Occitane Ole Henriksen Origins Prescriptives Stila Tarte Cosmetics The Body Shop Too Faced Cosmetics Hanes Hanky Panky Maidenform  SPANX  Victoria's Secret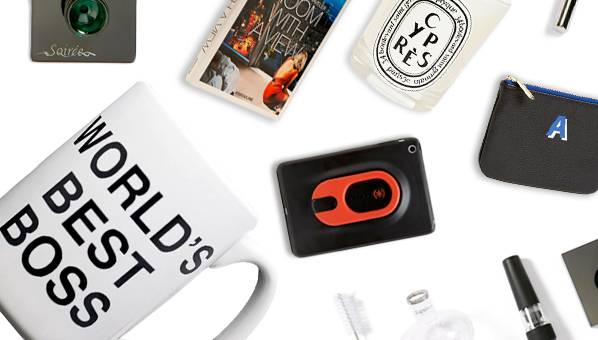 Gifts That Will Really Impress Your Boss (Whether She's Your BFF Or Your Worst Nightmare)
Getting a gift for your boss is tricky. You want to leave a good impression (and possibly a subliminal message) but you also don't want to come off like you're trying too hard. You want to come up with something thoughtful and clever (because we all need to act like we can read our boss' mind) but you don't want to break the bank. Whether your boss is constantly traveling the world or constantly in meetings, we've picked out a few good gifts that cater to every type out there. Plus, did your boss just give you a promotion? Show that you're thankful with a high-end, fresh-smelling fragrance candle. Want a promotion? A photography book titled Condé Nast Traveler Room With A View ($65) should get on your boss' good side (and give him/her the hint). Check out our slideshow for the rest! More gifting stories! Read up on: why gift cards are a good idea, the best-selling gifts this year, and our annual Going, Going, Gone  guide.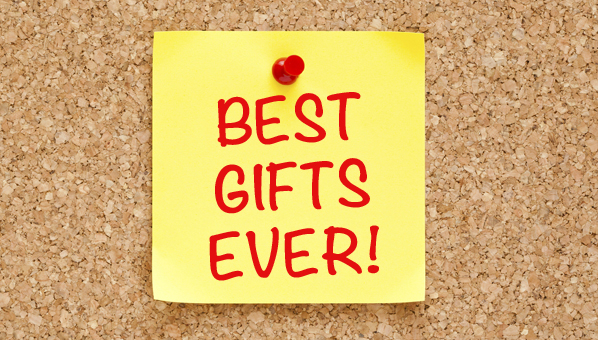 17 Holiday Gifts Your Co-Workers Will Fight Over
Some of you might consider your co-workers as besties, sorta-close friends, or strictly colleagues. Regardless of their affiliation, you still spend most of your days with them. Whether you're in on an office Secret Santa or you just want to spread some festive cheer from your cubicle, we've picked the best gifts to give your workmates. What we kept in mind is price (so you have plenty to spend on loved ones and family) and also originality. So each gift is thoughtful and most likely to be coveted by other co-workers — like that senior manager in the corner office who always asks you for help with the printer (why can't she ever figure out the printer?). Check out our slideshow to see what you can give this holiday season. And once your co-workers start fighting over your awesome gift, don't forget that we warned you! Read more fashion and beauty stories here: the best-selling gifts of the holiday season, beauty products that smell like Christmas, and  moto-style coats for the winter.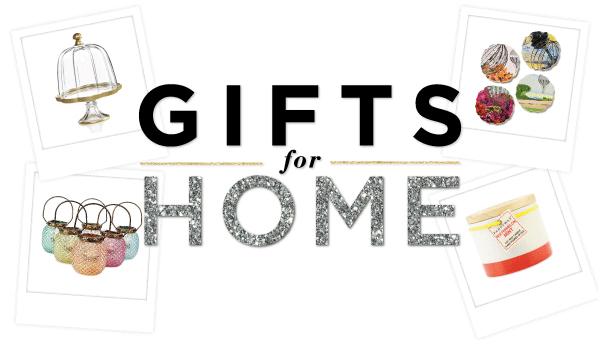 40 Gifts For Home–It's Our Version Of Extreme Makeover
When people think of holiday shopping, the first things that come to mind are gifts for the guys and gifts for the girls. But your home (or your friends's home) could use a little TLC too during the holiday season. So that's why we created the ultimate holiday shopping guide with 40 Gifts For Home. And what better way to casually drop a hint than to get your BFF or mother-in-law a brand new throw pillow? Or if you have one of those family's that loves to play boardgames, you can give them Big Bang Theory Clue (amazing, right?). But our personal fave? The Selfie. Feel free to let your imagination roll with that one. We have gifts for the hostess, foodie, kitchen, and home in all different price ranges, so you're bound to find something perfect. SHOP THE BEST GIFTS FOR HOME NOW Also make sure to check out Oprah's favorite things 2013, Miley's new tattoo, and the season's best tights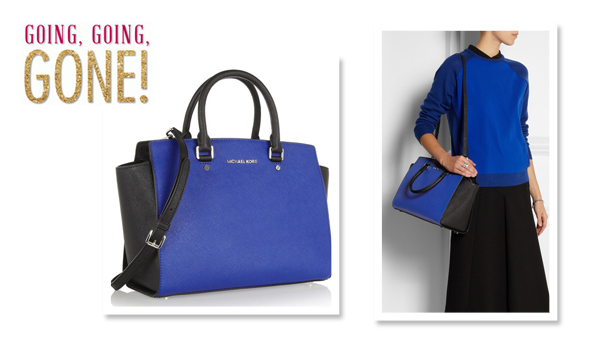 Get The "It" Bag Everyone Wants: The Michael Kors Selma Satchel
It's no surprise that the Michael Kors Selma Bag ($358) made it on to this year's Going Going Gone Guide. Not only have celebrities like Selena Gomez, Ashley Greene and Miranda Kerr been spotted with the bag, but editors from your favorite publications are seriously clamoring for one of their own. The only thing stopping the rest of us from making this investment purchase? The splurge-worthy price tag of $358. But before you turn up your nose at the cost, keep in mind that the trapeze shape, high-quality leather and multiple color choices allow you to wear the bag with absolutely anything, wherever you are. The Selma bag isn't a season-specific trend either. No, this bag is made for year-round use. It's the perfect size to hold all your essentials and doesn't weigh you down. So, when it comes to investment purchases this holiday season -- this bag should be at the top of your list. Don't put it off. The Selma WILL sell out, so you better get your hands on one! SHOP THE MICHAEL KORS SELMA BAG NOW And don't forget to check out our annual Going Going Gone Gift Guide for more great gift ideas!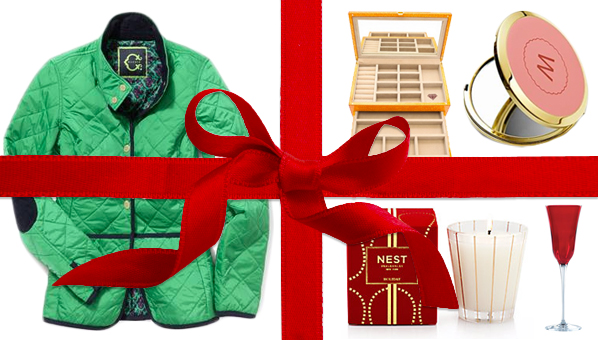 Oprah's Favorite Things Are Here! And The List Includes UGGs And A Kindle
Remember how you used to take a day off from work just so you could watch Oprah's Favorite Things episode? And you probably sat, like, centimeters from the TV to try and make yourself get as close as possible to all those glorious free things. But now instead of setting our DRVs, we have to actually take the time to search the internet for when the list gets released. And finally the day is here and Oprah has officially announced her favorite things of 2013. She always seems to outdo herself, so we were thinking the list would have some futuristic technology or a pair of shoes that cost $1K. But nope. Instead Oprah threw some old faves on there, like UGG boots and a Kindle. So I guess we're taking this holiday season back to the early 2000s. We still think there are some pretty sweet gifts on the list though, so click through the slideshow below to see our favorites. To see the full list, click here. And don't forget to check out our going going gone gift guide and holiday gifts for her guide.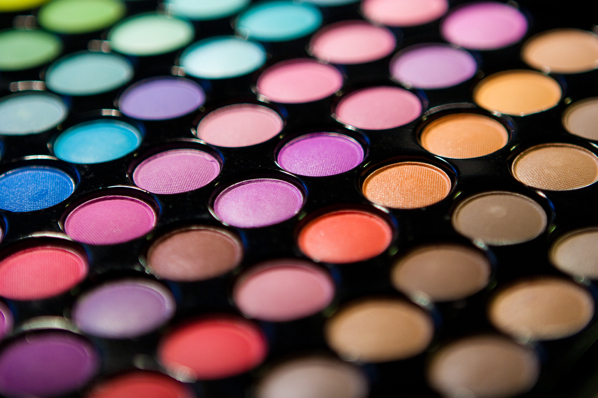 The Best Of The Beauty Sets: $1 Nail Polish, Professional-Grade Palettes & More
We've spent hours upon hours searching for the most amazing beauty sets for the holidays (aka the most bang for your buck). Think $1 polishes, limited edition sets and discounts by the hundreds. Trust us when we say act fast. These sets are selling like hot cakes, and make ballin' gifts for that beauty junkie on your list. Check out our top 12 holiday value sets now. Need more beauty news? Check out the world's most expensive polish, Salma Hayek's new polish line, and Anna Sui's Holiday Polish Collection now.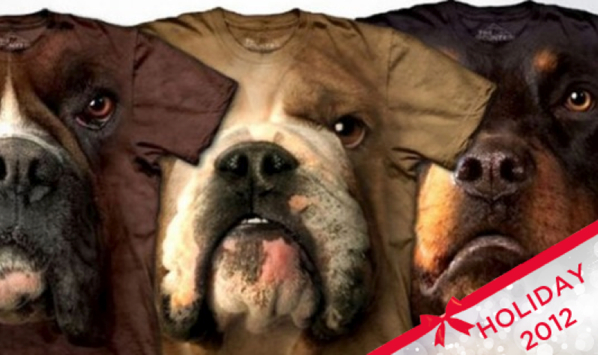 The Craziest (AKA Most Amazing) Gift For The Animal Lovers On Your List
If you have some animal lovers on your list and not sure what to get them, we have legit found the most perfect option: these Big Mountain Big Face T-Shirts. They're so ridic in the most awesome kind of way possible. Got a cat lady in your life? Light up their face with a cat face shirt. Got a friend who loves honey badgers? Honey badger don't give a f*ck, so get them a shirt too! And if you're like me, you'll get yourself a shirt (or three) as well. I personally rock my lion face shirt once a week, and also confess to gifting my cat-obsessed bff a cat face shirt. Check out our favorites now (you can thank us later). And to celebrate the holidays, they're giving SHEfinds readers %15 off all purchases through December 31, 2012. Use code "SHEfinds2012" during checkout.  For more gift ideas, check out our annual Going, Going, Gone! gift guide, and the best under-$50 gifts for him, her and home — just in time for you to start holiday shopping (because it's that time again!).
Spend A Little, Get A Lot: Groupon's Last Minute Gifts In Every City
Groupon, Oprah's favorite group coupon site, is a game-changer this year. Their "Groupincus" gifts feature daily deals on gifts so good your friends will never know that you got them for up to half off (or more). Sign up now (it's free) and get deals every day until Christmas. Here are today's best deals in New York, Los Angeles, Chicago, Washington D.C. and Boston to give. Everyone on your list will love how thoughtful you are--and all it takes is a second: New York: Give your favorite New Yorker a shopping spree at La Petite Coquette towards $75 worth of lingerie. It's the city's best lingerie shop--but you'll only pay $35. It's a major steal. Any city: If you've got a guy on your list--from your brother or boyfriend to your grandfather, an ESPN The Magazine subscription plus access to ESPN's Insider, the iPad app and a hat is a no-brainer. Especially when it's marked down to only $13, from $35. Chicago: Treat a lucky lady on your list--from your mom to your friend who just moved to Chi-town to hair treatments at Blo Salon. Spend $50 for $100 towards coloring or a Keratin smoothing treatment. Atlanta: Pamper your Atlantan friends with a gift card to Kim's Day spa for a manicure and Lotus pedicure worth $55 (but you only pay $25). Make it a girl's day and give it to your mom and sisters. Los Angeles: Knock two people off your list who aren't easily impressed with a flight instruction session. It will be a game-changer. Get it for just $99 for two people, down from $198. That is a major steal. Washington DC: Got a college-age cousin who attends Georgetown? Stuff his or her stocking with $30 towards Meskerem, an Ethiopian restaurant, (but only pay $15). Boston: Get your favorite Bostonians out of the city for a day with a voucher to Alpine Adventures. They can choose their own adventure tour, and it will only cost you $25, down from $50. Follow the author of this post on Twitter @shefindseileen. Check out more gifts – like our favorite gifts for your homebody friends,gifts for your reality TV obsessed friend, and gifts for your nudist friends. Shop our guides to the best oversized tote bags and the best overnight bags. Sign up for SHEFindsMail for exclusive SHEFinds updates.
Gifts For Your Annoying Friends, Co-Workers, Mom, More: The Ultimate Gift Guide
We love the holidays because of the food, the family, and we're just going to say it: the gifts. Who doesn't love the thrill of shaking a big box to see what's inside or ripping off wrapping paper like a 6-year-old? Finding that perfect gift for your hard-to-please cousin or in-law can also be a thrill. Since we know some people are harder to please than others, we bring you the SHEfinds Ultimate Gift Guide: Eco-friendly gifts for your tree-hugging friend: We all have that friend that likes to walk around barefoot and eat Tofu so snag her this glittery Butter London's '3 Free' Nail Lacquer ($14) to feed her eco-appetite and make her constantly bare toes pretty. Gifts for your techie friends: If your friend wants to marry Steve Jobs, and always has the latest gadgets, wow her with this new Flip Slide Video Camera ($249.99). For your nudist friend: If your friend would rather go naked than wear... anything, she'll love this Hanky Panky Holiday Lace Thong Set ($49) if forced to cover her bum. Sporty gifts for your gym-rat friends: From sneakers to workout clothes, she'll love one of these gifts, like the Nike Free Run+ ($85), more than she loves running (okay, maybe not THAT much). Gifts for your music-obsessed friends: You can find her at every concert, she's seen Lady Gaga three times already and she dances to pretty much anything so give her the gift every music junkie needs: Zumreed Color Headphones ($65). Under-$25 gifts: Whether it's because you don't want to spend a lot or you just don't have big bucks to drop, these gifts - like the Kate Spade Post-its ($25) - won't break the bank but will make a great impression. Gifts for your jetsetter friends: So, your girlfriend's a heavy traveler? No problem, grab her something like the LeSportsac Cheater Weekender ($28) to make her journey's a little more fun. Designer gifts for the label-obsessed: Get your label-loving friend something fabulous she'll cherish like this Lanvin pen ($90), without having to sell your car to pay for it. Gifts for homebodies: She'd rather hang with Tivo than hit the bars. Get the Miss Havisham in your life something like these UGG Cozy Knit Slippers ($99). Martha Stewart-worthy gifts for mom: Let's face it, no one cooks quite like your mom. A gift like this Anthropologie Apron ($32) is perfect because it's functional AND she'll think of you every time she wears it. Gifts for your OCD friend: If her CDs are alphabetized and she has labels on her underwear drawer, she needs this Kate Spade 2011 Personal Agenda ($95). Gifts for your co-workers: You spend more time with your co-workers than your family so treat them well Mad Men Season 2 ($19.97). It's perfect water cooler fodder. Gifts for your reality-TV obsessed friend: If she can fist pump with the best of them, she deserves these Snooki Leopard Print Slippers ($24.99). Gifts for your guy: If he needs a total life makeover (hell, Queer Eye) hook your boyfriend (or hubby) up with one of these great gifts, like this Guess Watch ($225). Your friend who parties too hard: Girlfriend gone wild? Grab her the Wine Rack ($29.95) - part bra, part booze bag. Check out more gifts – like our favorite gifts for your homebody friends, gifts for your reality TV obsessed friend, and gifts for your nudist friends. Shop our guides to the best oversized tote bags and the best overnight bags. Sign up for SHEFindsMail for exclusive SHEFinds updates.
SHEfinds On Rachael Ray: Where To Score "Free Money" On Black Friday
Michelle was on the Rachael Ray show today, talking about the best Black Friday tips and telling Rachael where to score free money on Black Friday. If you missed it, here's a recap of the best resources for holiday shopping. Don't forget about the 23 Best Black Friday Deals and 12 Early Black Friday Sales either! Check out all of our sales and deals for Black Friday and beyond, faux fur vests, and our calendar of online sample sales. Plus, shop the 21 Gifts that WILL sell out in our Sold Out Holiday Gift Guide.
Beat The Black Friday Rush: Grab These Tall Leather UGG Boots Before The Masses Do
UGGs are the comfiest freakin' boots out there, and this year we're thankful for these UGG "Broome II" Tall Leather Boots ($220), which made our Holiday Sold Out List. They have molded rubber soles with special traction, so you'll want to snatch up a pair before the ice and snow arrive. Stop at UGG Australia, Island Surf, Dillards, or The Walking Guide to grab yourself a pair before they sell out! You can't say we didn't warn you. For more gift ideas, check our holiday sold out list, then check out the perfect gifts for your party girl friend, your reality-TV obsessed friend and your man. If you're still stumped, hit up Part 1 of Oprah's Favorite Things for 2010. Then see all of our sales and deals, best find of the day posts, and online sample sales, too.
eBay Wants You To Freak Out (In A Good Way) Over The Holidays
Maybe you don't think of eBay when you're buying holiday gifts..but this year, you should. They've launched a ton of cool new things on their site.  They even invited me out to their headquarters to meet Samantha Bee, their new spokesperson and get in the holiday spirit. eBay wants you to find the perfect gifts, and cause your friends and fam to freak out when they get the stuff they really wanted. Watch the video above to see some of the "Unwrap Attacks" and get inspired to send in your own. Here, a roundup of the 6 cool features at eBay: Follow the author of this post in Twitter @shefindseileen. Check out our guide to the 21 Gifts that WILL sell out this year, in our Sold Out Guide, plus all of our sales and deals, best find of the day favorites, and faux fur vests. Disclosure: In accordance to the FTC Guidelines and WOMMA Code of Ethics, I am disclosing that my time, travel and accommodations have been compensated by eBay for my participation in the Love to Give campaign. Although I have a material connection to eBay, any publicly stated opinions of eBay remain my own.