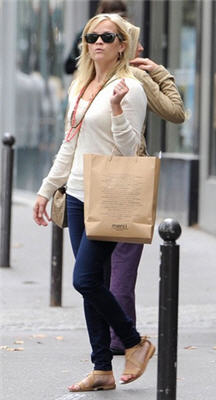 Get Reese Witherspoon's Parisian Honeymoon Style With Leather Sandals, Ray-Bans, More
If you're considering a Parisian honeymoon, get inspired by these photos of Reese Witherspoon, who was just spotted honeymoon'in Paris with husband Jim Toth. We've told you about how to dress for a Paris honeymoon in the past, but Reese's chic flat leather sandals, black Ray-Ban shades, and quilted chain-strap handbag take tourist-style to another level. Try the look for yourself! (more…)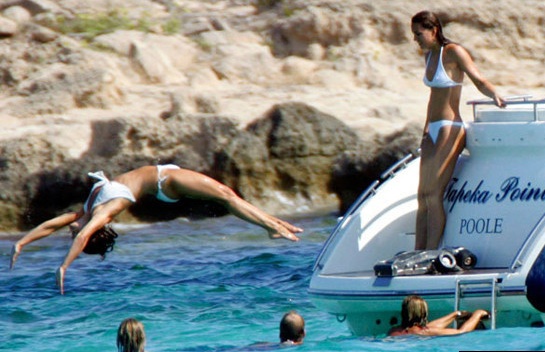 See The Middletons In Bride-Worthy White Bikinis And Shop For Your Honeymoon Now
Everyone is flipping for photos of a scantily clad Pippa Middleton - from sketchy underwear shots to photos of Pippa and Kate in matching white bikinis in Ibiza (circa 2006). If you're obsessed with the Middletons and/or in need of a sexy white bikini for your honeymoon, look no further: (more…)
Get Inspired By Kaftans, Ikat, And More For Moroccan Honeymoon
Deck yourself out in tribal prints and luxe metallics for a celeb-ready honeymoon look that's right out of a tabloid. Shop our Spice Market-inspired list for all the essentials. (more…)
The Week's Must-Reads: A Lady Gaga Wedding, Shopbop Bridal Sneak Peek, More
You saw them here first: photos of Shopbop's Wedding Boutique - including gowns from Thread Social, Calvin Klein, Catherine Deane and more! Lauren of Every Last Detail answers some common questions about venues in the latest episode of ELD TV, Venue 101. What are your plans for wedding earrings? Honey Living is obsessed with pearls right now. So classic and so affordable too. A favorite wedding photographer is featured and giving out a chance to win on Ok, Now What Bride. bWed Exclusive was honored to share former Survivor cast member, Tanya Vance and fianceé, Joseph's love story, and their Hawaiian elopement or "weddingmoon." A little Lady Gaga wedding inspiration on the Wedding Chicks (Ashleigh Taylor Photography). The Broke-Ass Bride is featuring a deliciously adorable southern charm-filled DIY budget wedding, complete with a BBQ sauce fountain and a $6k wedding budget breakdown. Inspired? Shop our guides to the best wedding jewelry, lavender bridesmaid dresses, and outdoor wedding dresses.
Wednesday's Sample Sale Scoop: Elie Tahari, Shoshanna, American Vintage, And More
Editor's Pick: Elie Tahari outerwear at Editors' Closet Stephen Dweck jewelry, Shoshanna clothing, Marc Jacobs clothing, Delman shoes, and Gianfranco Ferre clothing at Gilt Groupe Mixed contemporary designer sale at ideeli Cole Haan sunglasses and Pure & Simple clothing at Beyond the Rack Casadei shoes and Lafayette 148 clothing at Rue La La American Vintage clothing and Bloom beauty at Hautelook For more good deals, take a look at online sample sales going on all week. And check out our tips for successful sample sale shopping on SmartMoney.com
News Updates: Gen Art Keds Go Great With Tight-Rolled Jeans, Victoria's Secret Keeps On Spending
1. Gen Art artists have collaborated with Mischa Barton's favorite shoe line, Keds, to create limited edition sneakers. With this old school footwear, pegged jeans, and perms back in style, could slap bracelets be next? [Stylelist]2. Victoria's Secret is set to build a 24,000 sq foot mega retail store in NY next year. They seem to be in a luxe state of mind after creating that $5 million bra. [NYPost]3. Marchesa's Georgina Chapman will design a collection for jewelry company Gerrard to be unveiled at Fashion Week in September. Celebs can't keep their hands off Marchesa gowns when red carpet time rolls around. [ElleUK]4. Take home an I Will Survive tee ($90) by Lyric Culture and $25 will go to City of Hope to benefit breast cancer research. [LyricCulture]
Deal Of The Day: Up To 60% Off Full Skirts At Net-a-Porter
Wear these skirts year-round: with tights and booties (or pumps) now, or sandals and a simple tank in the spring. The flowing silhouette of Just Cavalli's stretch godet skirt ($222.50, $445) drapes so elegantly.This Viktor & Rolf silk shantung skirt ($200, was $500) has gathering in the front but not on the sides, so it's not too voluminous. Wear this pleated skirt ($208, was $310) with a cream-colored sweater and flats on the weekend, or add black tights and low heels for work. More sales and deals on the web:As seen in the SheFinds forum: 15% all full priced items at ShopLAStyle.com until the end of the month. Use coupon code SUNSHINE15. At Prescriptives now through Friday, get 25% off your entire order plus free shipping when you enter FRIEND8 at checkout. 25% off satchels at SmartBargains.com, including brands like Michael Kors and Kate Spade. The sample sale scoop – shop these sales today for huge savings: Wolford hosiery at Rue La La Diesel and Catherine Malandrino at Gilt Groupe James Jeans at ishopfem Madison Marcus and Emma & Posh apparel at Hautelook MONIES US Jewelry at Editors' Closet
Taste Test: Which Pleated Skirt Will Save You Money?
Smart grey tweed brings these playful pleated skirts into grown-up territory. Pair it with a belted boyfriend cardigan and booties for a fun look that's not too sweet. One of these skirts sells for three times the price of the other – can you tell which is which? Click on the images to see what they really cost.
Deal Of The Day: 60% Off Necklaces At Free People
Though Free People is known for its bohemian knits and hippie-like layers, there are some truly pretty necklaces to be found.This gold leaf necklace ($90, was $248) is a simple everyday accentA long, geometric locket ($100, was $258) has a sort of deco feel. This multi-strand stone necklace ($150, was $268) is rough-hewn but still entirely feminine. More sales and deals to check out: As seen in the SheFinds forum:Get 25% off your order at shoplanguage.com until the end of Octobe; use coupon code october08. Buy one get one 50% off tons of items at New York & Company. 20% off select styles at Piperlime. The sample sale scoop – shop these sales today for big savings: Autumn Cashmere at Hautelook Twenty8Twelve, Swarovski Jewelry, and Valentino at Gilt Groupe Miu Miu at Rue La La
Gossip Girl's Vanessa Doesn't Shy Away From The Bling
Vanessa may have been the most stylish Gossip Girl on last night's episode -- she certainly had a little more spunk then we are used to seeing in her. Blackmailing Blair at her own game - bravo V! Falling prey to another of Blair's games, Vanessa attends the housewarming party of the newly united Bass and van der Woodsen families wearing a gorgeous Rosena Sammi Dohlak Bracelet. This striking gold plated bracelet with enamel work is $500 and was also recently seen on Lipstick Jungle. V's dome cocktail ring reminds us of Kenneth Jay Lane's Triangle Carnelion Ring ($75). The bold Brooklyn babe is bringing back the bib necklace. This Apt 9 Jet Tone Beaded Necklace ($18) contains various oversized clear, black, and grey beads from suspended chains. Check out our reviews of the past few episodes.