Nicole Richie's T-Strap Pumps Are House Of Harlow 1960 (Obvi)
It's no surprise that Nicole Richie was seen wearing the House of Harlow 1960 Women's Mikola P T-Strap Pump ($295) from her very own fashion line. After all, if you could get create your own wardrobe and get paid for it then why not? We love the high ankle of this heel and the textured details like grommets and lace. Plus, the heel isn't sky-high, so consider these pretties your staple going out pumps for late nights and beyond. And if you're concerned about the peep-toe and the colder temps, simply slip into a pair of wooly or opaque tights for tippy-toe coverage. Shop more celebrity style: Pippa Middleton's purse, Sara Jessica Parker's camo-print jeans, and Rachel Bilson's outfit. [Photo: Splash News]
Are We Human Or Are We 'Dancer' In Nicole Richie's Cat-Eye Sunglasses?
Long gone are the days of simple aviator shades or wayfarers. Lately, it's all about how funny your sunnies can be. Nicole Richie's House of Harlow 1960 Dancer Sunglasses ($143) from her Fall 2012 collection are a perfect pair for this trend. An extreme cat-eye version of her line's signature "Chelsea" sunglasses, this pair boasts cool scalloped edges, which follow the shape of butterfly wings rather than cat eyes. They're fun and unique and more likely to shield your eyes from harmful rays—in style, of course. House of Harlow 1960 Dancer Sunglasses ($143)  Shop more celebrity style finds: Blake Lively's top and shoes, Jennifer Lopez's top, and Anna Paquin's dress.
Girl Is On A Roll: 10 Recent Nicole Richie Looks You Can Shop NOW
We're already aware that Nicole Richie can pretty much fill her entire wardrobe with her very own designs. It's a given to find out that whenever the reality star-turned-designer makes an appearance, she will indeed be sporting accessories from House of Harlow 1960 or apparel by Winter Kate.  But then again, if you were making clothes per your style and taste, wouldn't you wear it 24/7 too? Luckily, she's not the only one that can wear her trendy creations. We've compiled Richie's latest worn items that you can order this very second. Take a look and try to decide between her supersized cat-eye sunglasses, petite clutch, paisley-printed maxi skirt, and more. SHOP THE SLIDESHOW NOW Shop more celebrity style finds: Beyonce's printed bikini, Dianna Agron's purse, and tie dye jeans.
Self-Promotion At Its Best: Get Nicole Richie's 'Marley' Clutch From The Golden Globes
Shameless self-promotion never looked so good. Nicole Richie has been effortlessly rocking pieces from her House of Harlow 1960 line since it debuted a few years ago, and this season, she's making her statement with the House of Harlow 1960 'Marley' Clutch ($195) in yellow and gold croc. It seems to be attached to the reality-star-turned-designer's hip, from red carpet appearances for her new show Fashion Star, to the Golden Globes this weekend. Get her 'Marley' clutch in Mustard Croco ($195) or in Gold Snake ($195) like the one she wore to the Globes. Shop our guides to evening bags, cameo necklaces, and celebrity style.
Nicole Richie Rocks House Of Harlow 1960 (Without Looking Like A Walking Ad Campaign)
Nicole Richie wearing a House of Harlow 1960 necklace and clutch While some celebrities have been known to shamelessly hawk their shoe or accessories lines (*cough* Jessica Simpson), Nicole Richie manages to wear multiple pieces from her House of Harlow 1960 line at a time---without looking like a walking product placement for the brand. And now you can too: (more…)
Nicole Richie Was Definitely The Chicest Person To De-Plane An Aircraft This Week
Was this LAX or the Red Carpet? Yes, so Nicole Richie may be the Creative Director and founder of House of Harlow 1960, but that doesn't mean she still can't be the brand's number one fan, too. Earlier this week, Ms. Richie brought her all-black NYC look to the west coast, wearing HOH 1960 shoes and cat-eye sunglasses... (more…)
Nicole Richie's House Of Harlow 1960 Handbags Have Arrived: Buy Them Here Now
Nicole Richie and her House of Harlow 1960 handbag line Nicole Richie's House of Harlow 1960 handbag line has quietly slipped into stores and online retailers. But not everyone is offering the same merch---lucky for you, we've rounded up all of the handbags we can find for sale right now: (more…)
July. Love, SHEfinds
Before you nosh at all those Fourth of July cook-outs, get yourself acquainted with this month's happenings. July 1: Princess Diana would be turning 50 today...we think she'd be pretty proud of Kate Middleton. July 2: It doesn't seem possible, but Ashley Tisdale is turning 26! July 4: Baby, you're a firework! Celebrate the 4th of July by looking extra-patriotic: we show you the right way...and the wrong way. July 5: Mac OS X Lion is set to be released later this month...better wear some animal prints. July 6: What do George W. Bush and the Dalai Lama have in common? Their birthdays! Celebrate with cowboy boots and yoga pants. (more…)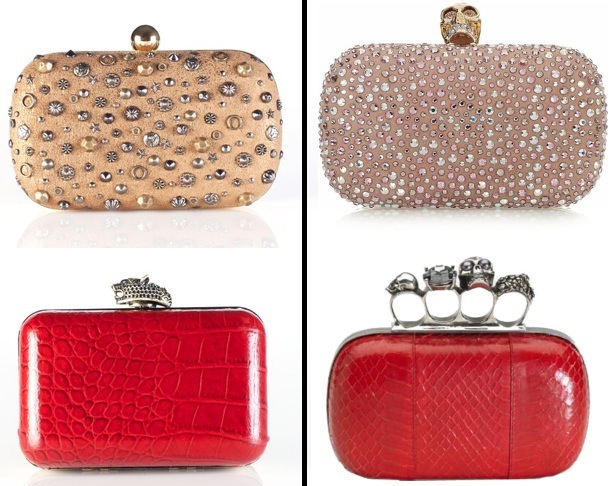 Nicole Richie's New House Of Harlow 1960 Purses Look Conspicuously Like Alexander McQueen's
Left: House of Harlow 1960. Right: Alexander McQueen Though I'm a huge fan of House of Harlow 1960 jewelry and sunglasses (hello, Nicole Richie is the designer--why wouldn't they be amazing?!), but I couldn't help but notice the striking similarities between the line's début handbag collection, and Alexander McQueen's iconic clutches. However, the House of Harlow 1960 clutches (pictured on the left) are only two of the three styles that have been released on WWD from the 14-piece line, so for all I know, they're the only copycats of the bunch. And to their credit, they are a whole lot cheaper than McQueen (For example, the red crocodile clutch, bottom left, will retail for $150). These pieces, as well as the rest of the collection, will be available next month in select department stores and on Shopbop.com. Follow the author of this post on Twitter @shefindschar. Be sure to check out our shopping guides on evening purses, handbags under $250, and the best designer wallets.
Nicole Richie's Studded Wedges: Infinitely More Wearable Than Lady Gaga's Studded Thong
You can get Nicole Richie's exact House of Harlow Valery Wedges ($240) at Singer22 right now. In spite of the studded thong Lady Gaga sported to this year's CFDA Awards, we still dig the studded trend. And after seeing Nicole Richie in her House of Harlow 1960 Valery Wedges (pictured above), we can't get enough of them. Studded wedges lend just the right amount of edginess to any ensemble, and because studs are so on-trend, donning a pair of these babies is a great way to update your look. Bonus: Wedges in general (but especially wedge booties like the ones picture above) transition seamlessly from spring to summer to fall. Check out the slideshow of our favorite studded wedges after the jump. (more…)
Nicole Richie's House Of Harlow Line Is Introducing Fine Jewelry Starting At $50K
Perez Hilton just leaked a piece of news that jewelry fanatics will freak for: Nicole Richie 's awesome House of Harlow line will introduce fine jewelry soon. The new line will contain real diamonds and gems (prices start at $50,000) and will be made by special request. Nicole wetted our appetite by wearing a gray diamond sunburst ring from the new collection to the Met Ball, but doesn't that price point seem a bit high, Nic? (more…)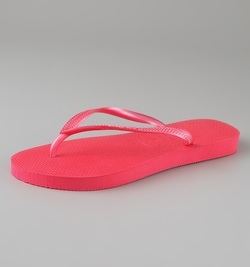 Under-$50 Bridesmaid Gifts They Really Want (House Of Harlow, NARS, More)
Instead of a scented candle, or some dumb monogrammed gift she'll never wear, why not hook your bridesmaids up with the stuff they really want? Ya know... House of Harlow jewelry, NARS makeup, design tech cases. Shockingly, we found all of the above for under $50. Go for it: Shop our guides to the best best wedding jewelry, lavender bridesmaid dresses, and outdoor wedding dresses.
50% Off House of Harlow 1960 Jewelry, Embellished Watches, And More At Living Social Today
Get Nicole Richie's boho-chic style for half price. While Living Social usually has great deals on obscurely located Thai restaurants and pole dancing classes, we were shocked and pleased by today's deal: $25 for $50 or $50 for $100 of merchandise from StyleTryst.com--the amazing jewelry and accessories site we never knew about. From studded two-finger rings to hamsa charm necklaces to Nicole Richie's House of Harlow 1960 cocktail rings, this deal is too good to pass up. Now only if we could get our hands on Nicole Richie's sunglasses collection, we'd be set. Shop 50% of jewelry via Living Social now. Be sure to check out our daily roundup of sales and deals and online sample sales, or sign up for our newsletter.
Week In Review: Derek Lam Announces Winners, Kelly Cutrone Does Clothing, Paris Fashion Week Live Streams, More
Must Reads: Need to make a great first impression? Buy one at the Bloomingdale's career shop. You voted, now see which Derek Lam for eBay dresses won the competition. Then bid on them, of course. Watch Paris Fashion Week unfold right before your eyes (and computer screen) with all of their livestreams. Find out where Kelly Cutrone got inspiration for her new line, The Electric Love Army. You'll never believe it. Score a sneak peek at Manolo Blahnik's jewelry collaboration with Tous. Happy March (!) Make sure you know what's happening with our March fashion calendar. Celebrity Style: Hilary Duff shows us the right way to dress when traveling, especially with Spring Break right around the corner. Be sure to spritz this 'expensive hooker' perfume on your body, which contains Lady Gaga's blood. But actually, don't. Michelle Obama has a book written about her sense of style. Grab your copy of the book...and her outfits. Leather jackets, a la Drew Barrymore, are the perfect transition jacket from winter to Spring. Or go back in time with Nicole Richie's House of Harlow 1960 cat-eye sunglasses. Sales and Deals: On-sale wide leg pants, printed tops and dresses just in time for Spring. (more…)
Channel Nicole Richie In Her Line Of House of Harlow 1960 Sunglasses
Cat eye sunglasses are sure to be everywhere this spring, but we have to admit we've already picked a favorite: the oversized House of Harlow 1960 Chelsea Cat Eye Sunglasses that their designer, Nicole Richie, wears everywhere. She's a pretty good advertisement for them, no? (more…)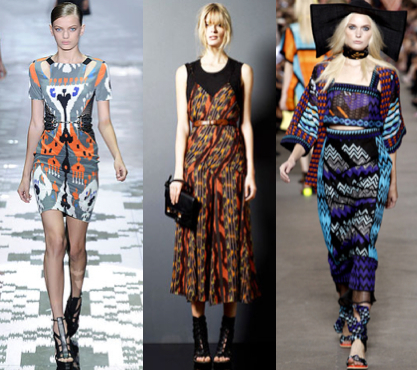 Tribal & Ikat Prints Take Over The Runway – And Now Our Closets
With Fashion Week right around the corner, we want to make sure you're prepared for the latest trends. This week we bring you the tribal and ikat designs. Seen on dresses, scarves, and more, this busy print will flatter while making sure you stand out in the best way. Paired with nude or black shoes, this print is easier than you think to pull off. Look below for printed pieces to add to your wardrobe to be right on-trend: Check out more of our favorite trends. Shop our guides to the best floral dresses and the best evening tops for jeans. Subscribe to SHEFindsMail for exclusive fashion updates.
Get Nicole Richie And Kate Hudson's Hippie Style Just In Time For Spring's 70s Trend
Nicole Richie definitely knows how to self-promote. Whenever the stylish newlywed is photographed in her silky Winter Kate maxi dresses, the printed styles become bestsellers immediately. If you love her hippie-inspired style, this Winter Kate by Nicole Richie Damien long slip dress ($216) is a great find. If you're a Kate Hudson fan, get this Blue Moon 'Almost Famous' Skirt ($154) she channeled Penny Lane in earlier this week. The maxi skirt trend is huge for Spring - so make sure you've got one before they sell out. For more Nicole-Richie-approved fashion, check this maxi dress sale we found, how to get her beloved Nike workout pants, and her House of Harlow jewelry. Then check out our Deal of the Day posts and our guides to cheap sunglasses, cheap bras, sheath dresses and cocktail dresses. Follow the author of this post on Twitter @bridefinds.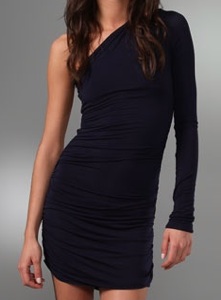 What To Wear To New Year's Eve: 3 No-Fail Outfits For The Best Party Of The Year
If you want to kick off 2011 right, make sure you are looking and feeling your best on New Year's Eve. This simple solution can involve one of the following: 1) sexy black heels, 2) sparkly tops or 3) body con dresses - and of course, a great attitude: For more festive attire, check out our guides to the best cocktail rings and black dresses, then see all of our sales and deals, best find of the day posts, and online sample sales, too. Follow the author of this post on Twitter @bridefinds.
Going Going Gone: Only 2 House Of Harlow Sunburst Necklaces Left
If you have a friend, daughter or sister who is obsessed with Nicole Richie, hook her up with Nicole's must-have necklace and bracelet from her House of Harlow collection. The necklace is so popular - there are only 2 left at Shopbop. Act fast: This House of Harlow 1960 Double Sunburst Station Necklace ($88) is one of a kind because it mixes leather and gold in a cool, vintage-y starburst design. No wonder there are only 2 left. he bracelet version - this House of Harlow 1960 Crystal & Leather Bangle ($100) is perfect for those holiday party ensembles you've been planning. Use it to spruce up an LBD or wear it with an armload of other sparkly cuffs and chains. Party time U.S.A. Looking for no-fail holiday gifts? Check out our holiday Sold Out list 2010, and Part 1 of Oprah's Favorite Things for 2010. Then see all of our sales and deals, best find of the day posts, and online sample sales, too. Follow the author of this post on Twitter @bridefinds.
Nicole Richie Shows Off Her Silk Winter Kate Styles In NYC
Nicole Richie may have had some recent fashion missteps, but she reminded us why she retains style icon status this week in New York City, while promoting her new book, Priceless. Nicole rocked her signature boho-chic style while signing books and showed off some pieces from her own covet-worthy collection, Winter Kate. Get the future Mrs. Madden's look by incorporating some signature pieces into your own wardrobe. Nicole Richie knows how flattering a floor length kimono can be, and has been photographed in this Winter Kate Printed Silk Kimono ($260). This v-neck, dolman sleeve, floral printed Winter Kate Printed Silk Kimono Dress ($260) is absolutely effortless,  just add some clogs and some House of Harlow jewelry to finish the look. Nicole has been seen around town in this gorgeous buttery yellow, paisley print Winter Kate 'Ginger' Burnout Velvet Cardigan ($245). A drapey, shawl collar cardigan, like this Winter Kate Jasmine Cardy ($215) is versatile enough for a casual afternoon outing or easily dressed up for more formal affairs. I love the whimsical feather print! Check out more of the Winter Kate line and Richie's House of Harlow accessories and while you are shopping around,  we have your guide to accessorizing your Winter Kate look with the best clogs, leggings and even more of the best celebrity style.
Fashion Math: Is A Pair of House of Harlow Leather Jean Boots Worth $350?
Flat leather boots are a fall must-have - tuck skinny jeans or black leggings into them and you have an instant, put-together weekend or nighttime look. They are even work-appropriate in most cases - which means you could wear a great versatile pair 7 days a week if you had to. We found these amazing black House of Harlow Jean boots ($350) on the Amazon pre-fall shoe sale and became obsessed: this sleek, expensive-looking pair would be the perfect fall flat boot. But at $350 - aka the price of two Steve Madden pairs - we need to plug a little fashion math equation before clicking "buy." At less than $5 a wear, this incredibly versatile fall shoe is totally worth it. Think of all the places you can wear them - from the office (paired with skinny black pants) to the bar (with leggings and a bar top) to Sunday brunch (with skinny jeans and a flannel shirt). They are great for both daytime and nighttime, weekday and weekend. Now that we've made such a strong case for them - what are you waiting for? Check out more of our fashion math posts, then head over to our guides for the best booties, clogs and over the knee boots.
Get Nicole Richie's Boho House Of Harlow Shoes For Spring (Before They Sell Out)
Nicole Richie's House of Harlow spring 2010 shoes are available now at Bloomingdales.com, and I want every pair. The collection screams Nicole--boho-inspired shoes with touches of glam--and if her House of Harlow jewelry is any indication of how popular her shoes will be, they are sure to sell out.  I can't wait to wear them with her Winter Kate Collection, which will be available online later this month. Check out my four favorite shoes from the collection: I love the native print on these white and turquoise House of Harlow 1960 "Brigit" Stitched Ballet Flats ($188.00). These House of Harlow 1960 "Sienna" Flat Sandals ($178.00) are an updated take on the gladiator sandal. The metal beading  details and braided strap makes the sandal bohemian and edgy at the same time. We showed you how to wear oxfords without looking like a prep school boy, and these House of Harlow 1960 "Tilly" Perforated Oxfords ($195.00) will make you look very cool. These House of Harlow 1960 D "Rooney" Snake Trim High Heel Sandals ($225.00) are perfect for spring and summer, and the turquoise snake skin straps make them more than you basic sandal. See more spring fashion trends, and then dress more like Nicole Richie by checking out our guide to the best maxi dresses and the best necklaces.