What Should You Wear With Velvet? Here's Some Amazing Ways You Can Incorporate It Into Your Wardrobe!
When you think of velvet, one might recall baby Christmas outfits and bonnets, or the early 2000s. Velvet has been a fashion staple that has come back into style over and over again. You've probably seen hoards of Instagram models and celebrities sporting it all over social media. It's a trend that is great for the cold, but also incredibly fashion forward All over runways this year, in preparation of Winter 2017, is the statement fabric, velvet. The soft, flowy fabric is feminine and edgy and has been seen on almost every model this season. If you're looking for a new look this holiday, add a velvet piece to your wardrobe. From velvet dresses, to shirts, pants, jewelry, and even shoes, there's no limit to how you can wear it. We've seen it on Kate Hudson, Khloé Kardashian, and Britney Spears! If you're wondering how to wear velvet this season, check out the three styles below and get creative with your wardrobe! Rag & Bone Velvet Dive Skirt ($225)  We've all wanted a great skirt in our collection, so why not a velvet skirt? The velvet is perfect for the cold weather. It's fashion forward and if paired with a beautiful top and tights, will make a great outfit. The black velvet is great for pairing any color top or pair of tights and it's sure to bring a little drama to whatever outfit you decide on. If you're wondering what to wear for the holidays, try a velvet skirt! UO Emmabella Velvet Straight-Neck Jumpsuit ($79) This jumpsuit is an essential item to add to your wardrobe this winter. It's a great piece that can be worn in a variety of ways. You can add a cozy sweater underneath to add a pop of color and pair it was a pair of heels, or you can wear it with a t-shirt and layer on the cardigan and scarf! It comes in black or grey, so the possibilities are endless. Wear it to work, on a night out, or to a special holiday party! One recent buyer said, "I'm 5'4 and 140 lbs hourglass shape and got it in S. Super comfy and great for work or going out!! I got the velvet red and paired it with a black turtleneck or a white turtleneck and pointed velvet mules. Made me look long and elegant." ASOS Gold Velvet Wrap Midi Dress ($56)  This velvet dress is stunning! You'll definitely want to wear this to a special party this holiday season. Wear a pair of black or gold heels with it and you'll be the belle of the ball. The wrap style is flattering to all body types and the gold color is perfect for the holiday season. If you're looking for a New Years Eve dress that will turn heads, this is it. If you plan on wearing any velvet piece this season, it must be this dress! You cannot go wrong stepping out in this velvet dress from ASOS. Don't forget to check out more velvet outfit inspiration at SHEfinds.com! [Photo: We Love Fur]
Aspiring Street Stylers, Take Note–The Dos And Donts Of Pulling Off Shorts With Tights
It's that time of year again, you know, when fall is in the air but you still don't want to let go of your warm weather wardrobe. You just want to wear shorts all year long - and we don't blame you! Well speaking of, who's to say I can't bust out my shorts well through December? Pulling off shorts with tights isn't easy, but it is doable. You just have to stick to a few very important guidelines. For example, denim or dark-colored shorts are always your best (read: safest) bet. Also, at least one week's worth of leg exercises should happen before you pair your shorts with tights. And let's not forget, cutoffs are fine, but daisy dukes are definitely not (unless you're a supermodel, that is). So let's get started. As a rule of thumb, black opaque tights are your go-tos. They not only provide a sleek monochromatic look, but they'll keep your legs warmer than a sheer version. Plus, they pair well with any type of shoe - whether it's a Mary Jane or peep toe. For a bolder option of this amazing look, you can try a patterned pair of tights. Mini polka-dots are always cute, while knit cutouts are super artsy - although the latter definitely won't keep you as warm. To pull of the look, you'll want to put together exactly the right outfit. Opt for a pair of tweed shorts, which were practically made to be worn with tights. Or channel your inner Blair Waldorf and pair your shorts with a long coat, which not only creates a sophisticated flair but helps keep your bum warm, too! And if all else fails, remember that you can never go wrong with all-black everything - there's a reason why it's the standard dress code for all New Yorkers! Feeling adventurous? You can even wear your favorite pair of shorts sans tights and still look fabulous! To protect bare legs from the cold, wear the shorts with over-the-knee boots. Available in all kinds of styles from suede to snakeskin, they're so chic, we probably won't have to tell you twice. For the brave bare-legged folk, leather shorts are also a much warmer option than a more lightweight pair. Try them with a cute pump and a slouchy pair of socks, and you're good to go! Overall, it's important to remember that no matter how you choose to wear your shorts, fit is key. Shorts that are too tight can make you look trashy, while shorts that are ill-fitting or too baggy won't be doing your curves any favors. And who would ever want that? You've officially been warned. To nail the look this season, click through the slideshow for must-know intel on how to wear shorts with tights. Then, treat yourself to these perfect black shorts and these black tights. And for even more fashion know-how, check out how to wear maxi skirts in winter, how to wear leopard without looking trashy and how to wear metallic jeans.
You're Doing It Wrong: Wearing A Graphic Tee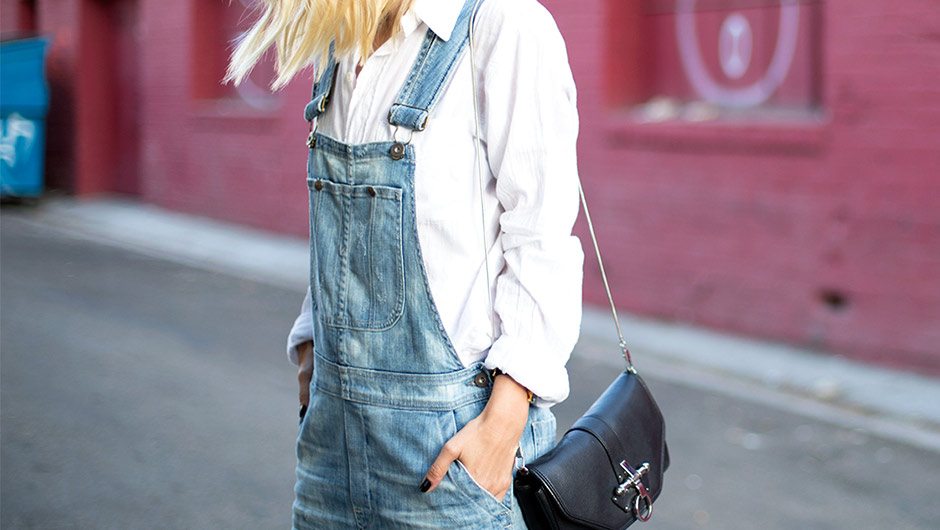 5 Outfits That Finally Answer The Question: How The Heck Do You Wear Overalls?
7 Pairs Of Underwear That You Can't See Under Leggings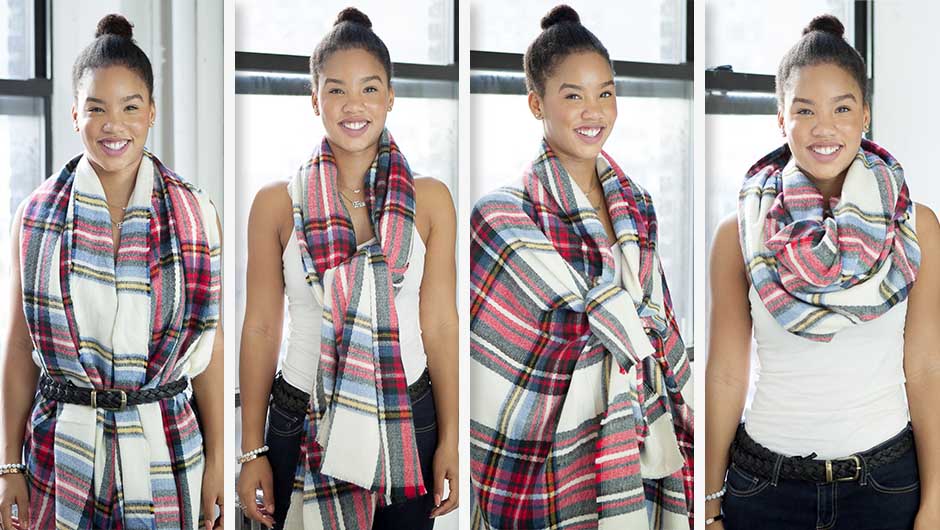 VIDEO: 10 Ways To Wear A Plaid Blanket Scarf
'Tis the season to wear big, giant plaid scarves. They are super warm and look great with your winter coats and boots. A plaid or check scarf should be in every woman's closet--but the truth is that they can be tricky to wear. Especially the oversized and blanket ones. There is just so much material, you're not exactly sure what to do with all of it. Also, there's always the second-guessing yourself--does this look cool or stupid? You want the whole process to be effortless and to ultimately elevate your look. Don't worry, ladies, we are here to answer all your "how to wear a scarf?" questions, and to show you 10 creative ways to do it: [youtube]https://www.youtube.com/watch?v=AOW8R18KBOM[/youtube] Belted. Place the scarf around your neck with the ends in the front. Fasten a belt around your waist or hips (depending on the length). Blogger style. Fold the scarf diagonally to create a triangle shape. Wrap the scarf around your neck so the triangle is in the front. Wrap the ends around and slightly tuck them under the triangle. Infinity scarf. Tie the opposite ends of the scarf together to make a large loop. Wrap it around your neck twice and tuck any loose edges underneath so it looks like an infinity scarf. One-shoulder cape. Place the scarf around your neck, and toss one end over the opposite shoulder. Tie front. Wrap the scarf around your shoulders like a blanket and tie the ends together at the front. Classic scarf. Wrap the scarf around your neck, with one end hanging longer than the other. Wrap the longer end once around your neck then tie the ends together. Loose tie. Wrap the scarf around your neck and tie the ends once, loosely around your chest area. A bolero. Tie the ends of the scarf together. Put your arms through the open hole it creates, so that the tie is at the middle of your back. *Tricky one--see the video above! Blanket wrap. Wrap the scarf around your shoulders and tie the ends together off to one shoulder. Shoulder wrap. Wrap the scarf around your shoulders and leave the ends untied.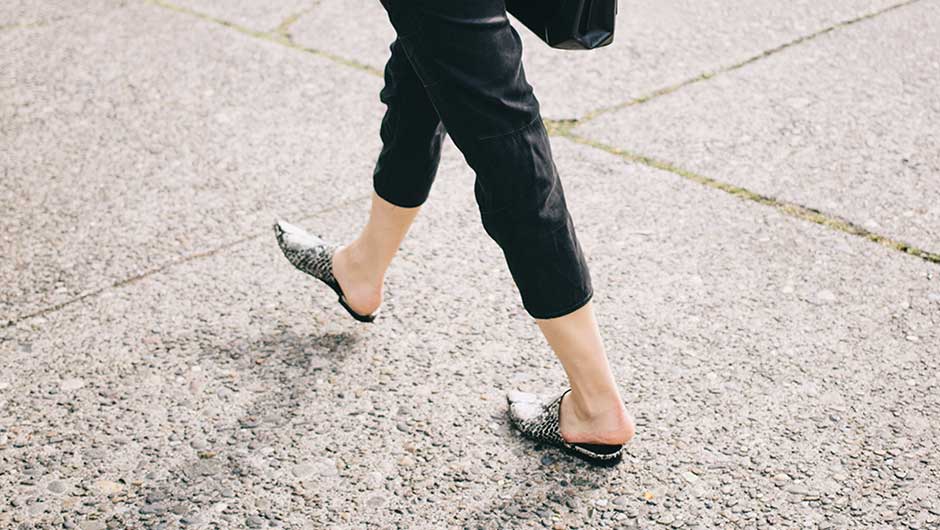 How To Wear Backless Loafers Without Slipping Out Of Them
Backless loafers are undoubtedly the one flat shoe you should be wearing this season--but the only problem is that they're actually kind of hard to wear. If you're a fast walker or someone with a long stride, it's especially difficult. You end up flexing your toes to try to keep them on, which leads to charley horses (muscle spasms), blisters in weird places and/or foot pain. Not good. Even women who believe in sacrificing for great shoes would agree that if you don't *have* to suffer, don't. I'm here to bring you some life-saving (okay, at least foot-saving) tips for walking in backless loafers without them slipping off or causing you foot issues. Here they are: 1. Use no-slip shoe inserts.  There are tons of products on the market for this purpose--I personally like these Foot Petals Tip Toes ($14.39 for 3 pack)--but the idea is that they are adhesives that either go inside the shoe or on the ball of your foot to prevent the food from slipping out while you walk. They have a texture that prevents your foot from slipping--it's simple yet very effective. They're cheap, reusable and definitely worth trying (any cushion, insert or liner from brands like Hollywood Fashion Tape, Dr Scholl's, Dr Foot, etc should work). They also alleviate foot ball pain from wearing heels--so you can use them in your other shoes, too. 2. Spray your feet with hairspray.  This is not for everyone--it will make your feet sticky and smell like hairspray--but if you already own hairspray it's a cheap way to solve the problem. Spray the bottom of your foot or the whole foot. 3. Use double sided tape.  Line the shoe with double-sided tape like Hollywood Fashion Tape ($7.98) or place strips of it in a few keep places like the toe, the ball, the sides, to create a sticky surface that your foot can better adhere to. Use doube-sided tape that you already own (it's also known as "occasion tape" "fashion tape" or "garment tape") or buy it online. I like the Hollywood Fashion version (above). You'll definitely get more uses out of it, too--this stuff is great for keeping dresses and tops in place, hemming jeans, etc. READ MORE: How To Make D'Orsay Flats More Comfortable 4. Put deodorant on your feet.  Antiperspirant is the most effective way to keep your feet from sweating--which might be part of the problem of why you're slipping out of your backless flats. You can use your regular antiperspirant that you use under your arms. Apply a layer of it to the bottom of your foot, then wait for it to dry completely before putting on your shoes. 5. Make the bottoms of the shoes less slippery.  If you're wearing new shoes and the ground is slick, you run the risk of having the bottom of the shoe itself slip on the foot (which, in turn, causes your foot to slip out). Prevent this by taking a nail, knife, or something with a sharp pointed end, and scraping it on the bottom of the shoe. You will create scratch marks or visible indentations (don't worry--the shoe will be perfect fine otherwise). This will make walking WAY easier. [Photo: Bethany Marie]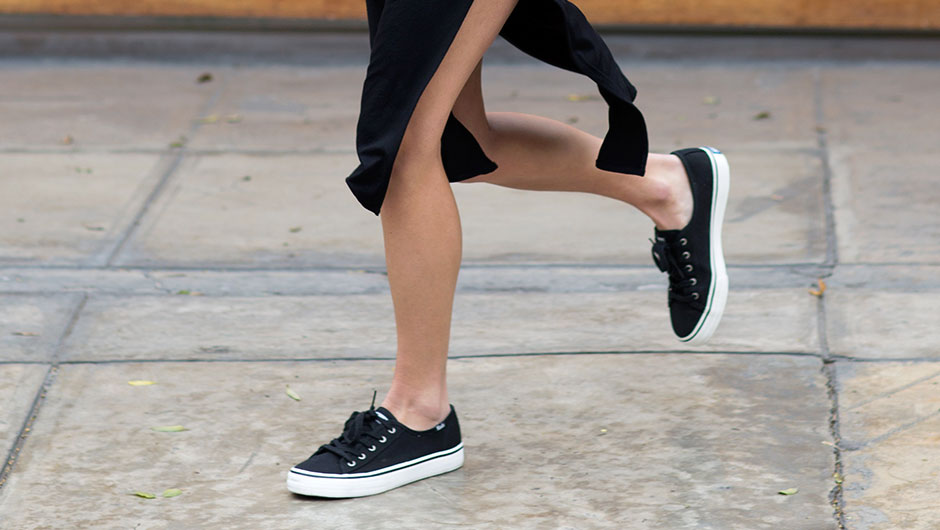 This Is Exactly How To Wear Sneakers To Work
How To Wear Sneakers To Work We have a debate in our office between the young millennials, the older millennials and the Gen Y'ers. Is it appropriate to wear sneakers to the office? Sure, sneakers like Stan Smiths and Converse Chucks and even Vans are incredibly in-demand and in-style these days--polished celebs from Victoria Beckham to Jessica Alba, Kendall Jenner and Reese Witherspoon agree--but does that mean that those of us with *office jobs* can wear them to work? The answer is maybe. Sure, editors love them and it's appropriate in our field--but some jobs--like those in banking or ones that are client-facing--are just not appropriate for wearing sneakers to. Period. Here is a short list to give you a better sense of whether. 1. Wear new or clean sneakers only. If you're wearing sneakers to the office--they better be fresh. No ratty, dirty, scuffed or stained pairs. There shouldn't be dirt or mud visible on the soles or uppers of the shoes. Ask a friend or loved one to tell you, honestly, if your sneakers are too dirty before leaving the house (I'm serious! I always ask my husband for the truth on my outfits--sometimes it's hard to see these things in the mirror). If your sneakers do get dirty, here are the best tricks for keeping them clean: use a magic eraser to clean the soles (or Windex or toothpaste), wash canvas sneakers like Chucks in the washing machine, and use nail polish remover to spot clean them. https://www.instagram.com/p/BGG6bLXJDER/?taken-by=styledumonde&hl=en [Photo: Always Judging] 2. Wear black pants, skirts or dresses to dress them up. This seems obvious enough--but you'd be surprised how tempting it will be to wear blue jeans with the sneakers when you're getting dressed in the morning. Resist the urge! This will turn in to a weekend look REAL QUICK. Try to over-compensate from the ankles up--wear a blazer, wear a blouse or button-down shirt, wear black wool or silk pants instead of black jeans. Wear "serious" shades like black, white, gray. Opt for materials like silks and cashmere and suede. Wear high end brands or investment pieces, if possible. https://www.instagram.com/p/BGTj4WashV3/?taken-by=liketoknow.it 3. Wear your best bag. Put your best accessory forward--wear your nicest handbag or your flashiest statement necklace. Make it look like you really put some effort in and like the look is *carefully styled* and not just lazy. Draw the eye up from the sneakers to a more sophisticated or quality piece. Make your boss feel like you are trying to impress and look nice. Let their be no mistake that you planned this look around sneakers--and not that you just didn't feel like wearing heels that day. https://www.instagram.com/p/BGpbSLlIQT3/?tagged=streetstyle 4. Pick the "coolest" pair The styles that are most in right now are: Adidas Stan Smiths, Vans, Puma Lo Basics, Converse All Stars (aka Chucks) and Adidas Superstars (Victoria Beckham's fav!). 5. Have fun with it and show your personality.  Again, you want to put together a look that feels well styled and not just lazy. Wear a bright dress or bright lipstick. Make a statement with your outfit and exaggerate or play up your personal style. Make the sneakers feel like part of a bold statement. https://www.instagram.com/p/BGPRPOtMhXM/?taken-by=liketoknow.it 6. Try white, black--or even nude. White sneakers are obviously cool--so are black ones (like slip-ons), and most recently gold or nude kicks have become stylish, too. Avoid bright colors like pink, red or blues as they will call attention to the fact that you are wearing sneakers. 2016's nude sneaker trend.
Can You *Finally* Wear Sandals To The Office Now That It's Almost June? The Answer.
We hear you, Reddit users and women everywhere who really, really want to start wearing sandals to work right now but aren't sure if it's appropriate just yet. I mean, it would give you so many more outfit options to work with--but is it too soon? Will your co-workers look at you funny if you rock out with your toes out? Style expert (and SHEfinds founder!) Michelle Madhok says yes, you can! "It's definitely ok - as long as the sun is shining and the skies are clear break out your sandals, but make sure you get a pedicure first!" Well, there you have it ladies--a hall pass to wear those sandals AND get a pedicure today. And if you need a new pair, these are the sandals our editors are OBSESSED with this year. And more inspo for how to style yours: https://www.instagram.com/p/BF1hD4lJDXw/?taken-by=loefflerrandall&hl=en https://www.instagram.com/p/BFaFYm4p0OP/?taken-by=sam_edelman&hl=en https://www.instagram.com/p/BFri729moPV/?taken-by=shopdolcevita&hl=en https://www.instagram.com/p/BE658EjBK0t/?taken-by=stevemadden https://www.instagram.com/p/BFmIQPRlTeW/?taken-by=chineselaundry [Photo: Could I Have That?]
Major Key Alert: 5 Ways To Wear Booties
Seriously, what CAN'T you wear with booties? If knee-high boots are the queen of the footwear industry—an established favorite—then booties are like the Kate Middleton of the shoe family — trendy and new, but with all the makings of a classic. If you're ready to stand behind the duchess of Boot Land, but feel hesitant about shifting your allegiance with the queen, this is the guide for you! Here's everything you need to know about rockin' that princess cut (talking 'bout booties, of course). It's all about LENGTH The bootie is a master of illusion. Slip on a pair and you go from 5'3 to Gigi Hadid in an instant. Suddenly, your legs are miles long and Zayn Malik is like "makeout with me in my next music video" (JK about the second part, but who knows...) Anyway, booties totally lengthen your legs — hooray! Keeping that in mind, here are some key looks that will highlight the magical abilities of your booties: Short skirt, short boots, long-sleeved shirt, scarf, CAN'T LOSE The dichotomy of long and short is fail-proof. [Photo: Splash News] Emma Stone is tearing up the bootie game with this combo of neutral classics. Black Full Grain Leather Women's Leila Booties ($139) Factory long-sleeve striped boatneck T-shirt ($39.50) Heathered Cashmere Gauze Scarf ($148) Herringbone A-Line Miniskirt ($45) Keep It Monotone [Photo: INFphoto.com Splash News] Amal Clooney knows the beauty of the bootie. Here she is at LAX, regal as ever in her black tights and matching ankle boots. The black-on-black really ties the outfit together and gives Amal's look a day-to-night kind of versatility. To brighten things up, Amal adds a hint of color with her light pink lip. Vince Camuto Asymmetrical Bootie ($149) 'Ultimate Opaque' Control Top Tights ($36) For Love & Lemons Florence Cocktail Dress ($306) Kat Von D Studded Kiss Lipstick ($21) [Photo: INFphoto.com Splash News] Jessica Alba is a fan of the monotone look as well. Compared with Amal, Alba's ensemble is at the opposite end of the dress-code spectrum — but equally fab! Take a page from Alba's style book and add a denim jacket or chambray shirt for the perfect mix of cool and cashy. 1969 icon denim jacket ($70) Kimchi Blue Burnout Velvet Babydoll Dress ($50) Chambray Ex-Boyfriend Shirt in Buckley Wash ($72) Cuff it! Crop it! Booties and skinny jeans are a definite DO. The streamlined look is super slimming. But if you're looking to shake things up, roll the hem of your jean until it peaks out from the top of your boots! Another cool-girl option is to go with ankle-cut skinnies, this look is best if paired with multi-toned or cut-out booties. [Photo: INFphoto.com Splash News] Jamie King's look is another great example of how booties can toy with length and make you look your absolute slimmest and chicest. Carly Bootie Circus by Sam Edelman ($90) Big Star Alex Skinny Ankle Sunny Dunes Wash Jeans ($78) Not in the mood for jeans? Pull a Gigi Hadid and ditch the denim in favor of a bold pair of corduroys or cargo pants! [Photo: Splash News] Beige snake print ankle boots ($90) Veronica Beard Caladium Cropped Zip-Trim Cargo Pants, Army Green ($450) Don't forget to check out: What You Should & Shouldn't Pack For Your Trip To Vegas and What To Wear To Brunch With Your Girls [Photo: The Marcy Stop]
5 Ways To Wear A Plaid Shirt (You Can't Go Wrong No Matter How You Do It)
The plaid shirt is arguably the most versatile fashion staples. I mean, what can't you do with a plaid shirt? Dress it up, dress it down... layer it over a camisole, under a cardigan... tie it around your waist, around your shoulders...  the possibilities are endless! But just in case you're looking for some plaid shirt style inspo, we've got you covered. Here's the ultimate guide for how to wear a plaid shirt. 1) Pair with a statement necklace Dress up your plaid shirt with a chunky statement necklace. Adding a bold accessory is the perfect way to step up your daily look. It's also a great choice if you're not sure about a given dress code. Business casual? Check! Casual casual? Check! It's an understated yet polished look, perfect for any event where you're unsure of the dress code. BP. Plaid Shirt ($44) BaubleBar 'Fantasia' Bib Necklace ($68.00) 2) Layer! (Over or under.) One of the greatest things about a plaid shirt is the low barrier of commitment. If you leave the house wearing a plaid shirt and change your mind twenty minutes later (admit it, you've been there), you still have options. You can wear it with a cardigan on top and a camisole underneath and voila, you have a three-pronged outfit, ready to change your style and fit your mood at a moment's notice. Behati Prinsloo is owning the layer-up look, while Whitney Port is casually sporting the layer-down option. 3) Tuck it in We adore the plaid tuck-in. Whether tucked into a pair of boyfriend jeans or a sleek pencil skirt, your plaid shirt will take on a life of its own. Who knew a simple plaid shirt could be so cutting edge? One moment you're ready to work in the garden, plaid button-down and grass-stained jeans; the next you're a hip high-powered executive, tucking her plaid shirt into a killer leather skirt, rocking a Birkin bag and pair of Jimmy Choos. Or you could just be Jessica Alba (pictured below), the choice is yours. 4) Layer with a sweater for academic edge OK, I know this isn't the technical term, but you must admit that the sweater over collared plaid shirt look has a sort of intellectual power to it. I'd say it's the aesthetic equivalent of gaining 20 I.Q. points. The "Academic Sweater Layering" wouldn't transform Derek Zoolander into Albert Einstein or anything, but it would indeed allow him to turn left.  5) Tie it around your waist Question: Is it still hip to tie jackets/sweaters/shirts around your waist? Didn't that go out of vogue somewhere around 1999? Answer: Nooooo, it's still edgy and cool! Fashion Police star Giuliana Rancic can pull it off and SO CAN YOU! Now that you know how to wear a plaid shirt, it's time to add a few to your wardrobe! We suggest browsing the Nordstrom collection. Happy shopping, ladies! [Photos: The Fashion Guitar, Splash News] Don't forget to check out: 'Tis The Season For Ugly Holiday Sweaters–20 Options For Your Next Party, Is Ben Affleck Moving On With Sienna Miller?, and This Must-Have J.Crew Tote Is Under $85, Plus Take 30% Off Your Entire Order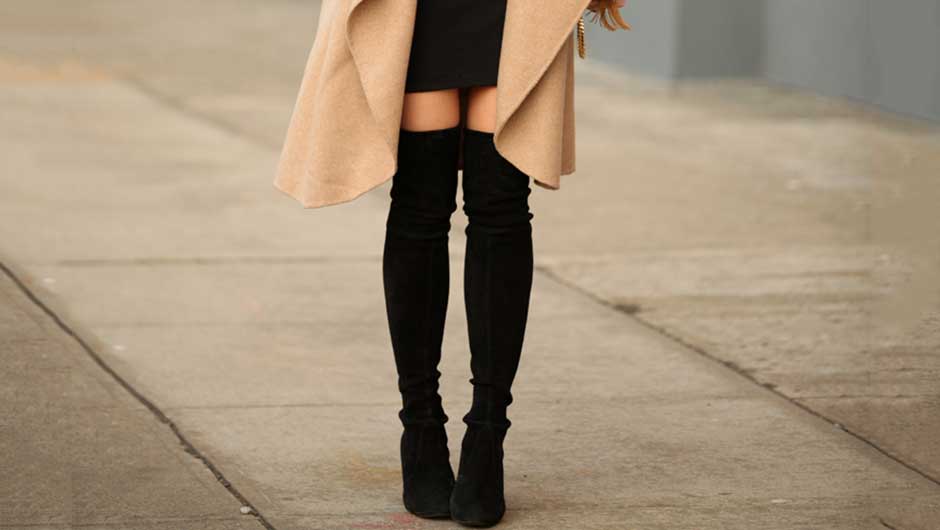 How To Wear Over-The-Knee Boots If You're Not A Street Style Star
Over-the-knee boots are everywhere, from your Instagram feed to every street style blog. This pair by Stuart Weitzman even made our holiday gift guide! You could say that they are the "it" shoe of the season, but the thing about over-the-knee boots is that they are a bit intimidating to actually wear. We assume unless we're long-legged supermodels, we won't be able to pull them off. Well, I am here to debunk that myth and tell you how to wear over-the-knee boots. When it comes to any trend, it's never about what you're wearing. It's just a matter of how you're wearing it. So let me tell you, regardless of where you stand, short or tall, it doesn't matter! You can definitely pull off over-the-knee boots without looking like they're swallowing you. It's just a matter of how you do it. Here are our tips on how to wear over-the-knee boots. 1. Create the illusion of longer legs. Sam Edelman Remi Stretch Boots ($133, down from $190) I recommend pairing black over-the-knee boots with either black tights/leggings/or dark-wash denim. By doing so, you're creating the illusion of longer, slimmer and leaner legs, just like the models down the runway. By wearing the boots in a way that's more subtle, against the same color, you're making sure that you are wearing the boots versus the boots wearing you. If you're wearing the boots with a dress, make sure the dress hits mid-thigh. If you're wearing the boots with a blouse, make sure it hits right at your hips. This allows the proportions to hit you exactly where you want them to, instead of looking like your clothes are wearing you down. 2. Keep the outfit casual. Theory Arryn Skirt ($245) Stripe Boatneck Sweater ($55.96, down from $69.95) Chinese Laundry Racer Over The Knee Quilted Boot ($89.95) Depending on what you wear with over-the-knee boots, they sometimes wind up looking a bit too risqué for the daytime. The trick to overcoming that issue is to keep your outfit casual while still wearing bottoms that end above the mid-thigh mark. Pair a mini skirt with a slouchy t-shirt or sweater, throw on your go-to jacket and you're set! 3. Choose fitted pieces.  Motel Holly Mock-Neck Dress ($39, down from $54.99) VOLATILE Carina ($75) This is a tip that's especially important for more petite gals out there (like myself). I always thought I could never wear over-the-knee boots, but the trick to making them work on a smaller frame is the outfit. Make sure all your clothing fits perfectly from head-to-toe. By keeping a fitted silhouette, you avoid these bold boots from overwhelming your figure. 4. Make it office appropriate. Topshop Dandelion Print Midi Dress ($59,99, down from $105) Michael Antonio Hollywood ($79) This is when that mid-thigh rule goes out the window. You want to wear the right proportions, but you don't want to look inappropriate for work. We recommend pairing over-the-knee boots with something that does cover your thighs, but not in a way that will add on bulkiness. A great pairing would be a midi dress/skirt, or something that falls either right at your knees or right below. This way, the skirt works to cover your thighs without tucking away your figure or minimizing your height. And that is how to wear over-the-knee boots! Let us know what you think of our suggestions in the comment section below. And don't forget to check out: Wearing A Hair Tie On Your Wrist Is More Harmful Than You Think, Kylie Jenner's Pout-Fect Lip Kits Sold Out In Literally A Minute, and This S'Well X Mara Hoffman Water Bottle Is Great For Gifting [Photo: Brooklyn Blonde]
3 Different Ways To Wear A Fur Vest (Because It Finally Feels Like Winter)
A fur vest is the perfect staple for transitioning from this bizarre Indian summer to the inevitable cold winter season that we are secretly hoping will just play hooky this year. What is so great about a fur vest is how it goes with absolutely anything from our favorite flannels to our coziest of sweaters. A fur vest can be as versatile as you'd like, whether worn day or night, it's all about how to wear a fur vest and what to wear it with. The key is knowing how to play with proportions and different textures and fabrics. Don't worry, to make it easier for you, we broke down three ideal outfits that show you how to wear a fur vest. RELATED: Call Me Basic If You Want, But I'm Not Giving Up My Black Faux Fur Vest Outfit #1: All black everything Topshop 'Leah' Faux Fur Vest ($125) Ponte three-quarter sleeve shift dress ($59.95) GLAMOROUS Faux Leather Leggings ($48)Kimchi Blue Laurel Blouse ($39, down from $59) This outfit can work for either day or the night. It's just a matter of how you do put it all together. For day, you can wear a casual LBD dress and accessorize with funky jewelry. For night, switch out the casual dress for some leather leggings and a black tunic blouse. When considering what works and what doesn't, wearing all black makes it easy. You know it will be flattering, and the fur vest becomes your statement piece. This is one of my favorite outfits for when I'm running low on time, because you don't have to put too much thought into it and you instantly look incredibly and effortlessly put together. Outfit #2: Flannel + Fur vest + Boyfriend jeans Thomas Mason® Flannel Shirt In Stewart Plaid ($168)DEX Shaggy Faux Fur Vest ($78)1969 destructed sexy boyfriend jeans ($48.96, down from $69.95) This is the perfect example of playing around with mixing different textures and patterns into one outfit. We love this particular outfit because it's perfect for those mornings at the farmer's markets to those cozy nights by the fire. The simplicity of a flannel with boyfriend jeans is like PB and J, and the fur vest works well as an unexpected twist. RELATED: 16 Pairs Of Lace-Up Boots That Will Get You Through Winter Outfit #3: Sweater dress + Fur vest + Over-The-Knee boots Free People Extreme Cowl ($198) kensie Faux-Fur Multi-Color Vest ($79.99, down from $99) VOLATILE Carina ($75) The sweater dress might be one of the fashion world's greatest inventions because it gives you the comfort of a baggy grandma sweater, while also being magically form-fitting. The sweater dress plays with portions in the way of wearing something bigger on top, but slimming out and giving the illusion of skinnier and longer legs. Could we possibly want anything more? So these are our three ideal outfits that should help you figure out how to wear a fur vest. Do you have any recommendations we didn't mention? Comment below and share your fur vest outfit ideas with us! Don't forget to check out: VIDEO: Adele Pulls Off An Epic Prank By Impersonating Herself In Front Of Adele Impersonators, 10 Things You Never Knew About Trader Joe's, and This $23 Dress Looks Good On Everyone #ForReal [Photo: The Fashion Guitar]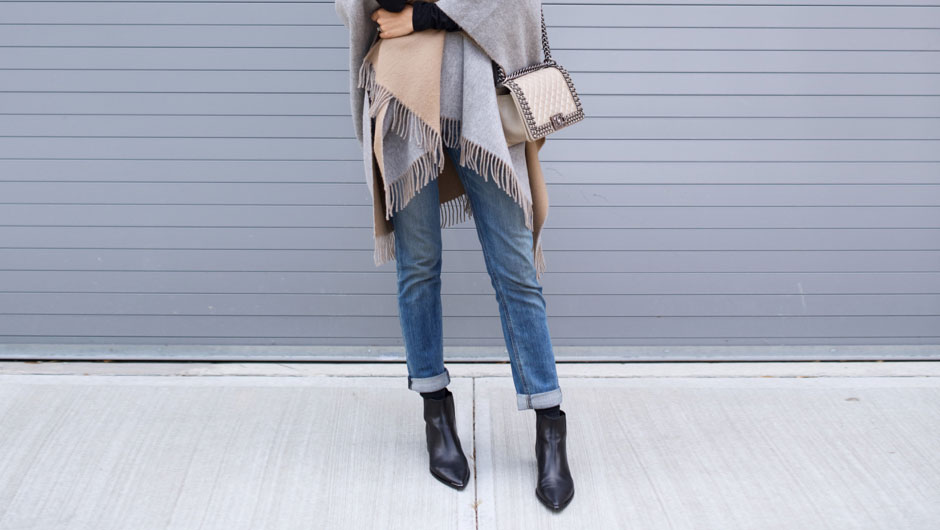 13 Ankle Boot Outfit Ideas That You Need To Try For Fall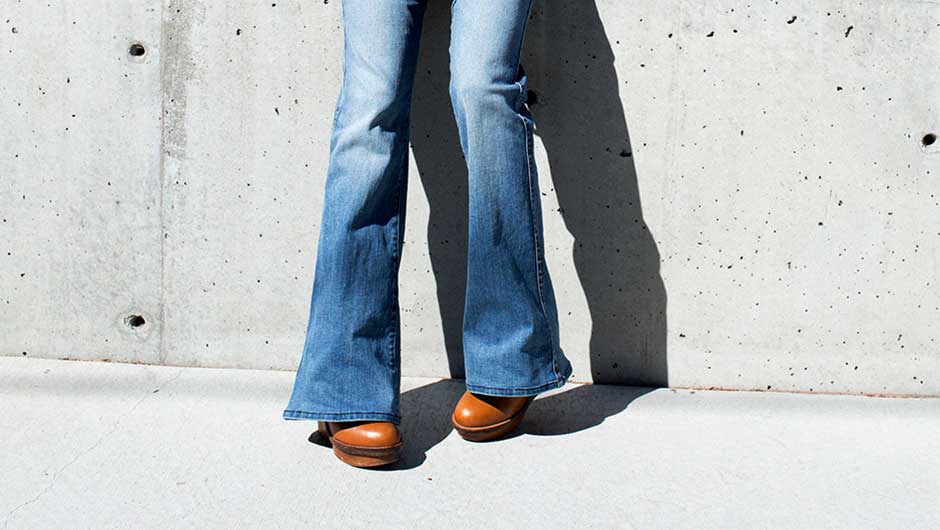 Clogs Are The Best Shoes To Wear With Flare Jeans, FYI
I Wore My Grandma's Maxi Skirt And This Is What Happened
"Grandma chic" is a phrase my friends use to describe my style. Essentially it means I wear clothes that scream "grandma,"  yet apparently my grandma-esque clothing works? I definitely take this as a compliment! I mean, if my girlfriends and my G-Ma approve of my outfits, it's really a win-win. But, maxi skirts, which are the bottoms most associated with grandma dressing, are tough. They are literally a long piece of fabric you wear on your hips that falls straight down to your ankles. How do you wear that without looking like you're about to retire? For me, I found that the key for balancing any outfit is finding the right proportions and cuts for your silhouettes. Ironically enough, the skirt I'm wearing in these pictures is actually from my grandmother! BUT, here's the reason why she gave it to me and didn't keep it for herself: There's a slightly high slit. It was high enough for my grandma to pass on the skirt and high enough for me to not feel like a trash bag while wearing it. Also, what I love about the slit is it's so subtle! Especially when I'm walking and the wind blows, I gotta say, I feel pretty OP. Besides the subtle slit in my skirt, I paired the maxi with a deep v-neck blouse. The top is a bit on the baggy side, so my outfit isn't too dramatic, but instead, more casual and laidback. Lastly, while others might say booties aren't the way to go with maxi skirts, I have to disagree. I am wearing booties here because they give me a little more height without cutting off any length to my legs. Obviously if these weren't the uneven streets of New York City, I'd recommend heels (always), but especially to help elongate your frame. If you like the maxi skirt my grandmother lent me, here are some that are very similar! BCBGMAXAZRIA Andreea Draped Wrap Skirt ($57.96, down from $138) Oh Slit Maxi Skirt ($34) Nicole Miller Stretch Crepe Front-Slit Maxi Skirt ($150, down from $300) Don't forget to check out: Kourtney Kardashian Is The Defintion Of #Flawless In This Ronny Kobo Sweater Dress, 9 Mistakes Brides Make When Planning A Black Tie Wedding, 9 Mistakes Brides Make When Planning A Black Tie Wedding [Photos: Shelby Rodriguez]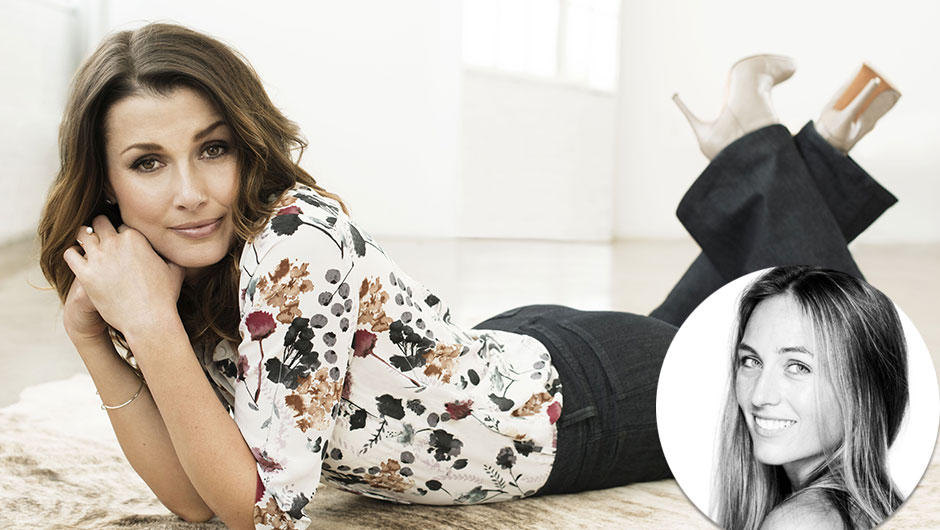 Celebrity Stylist Jeanann Williams Shares Her Denim Tips For Fall: "Every Woman Needs A Flare"
One of the first items you buy for fall is a new pair of jeans, right?? Maybe you've outgrown your favorite pair from last year, or you're just in the mood for a new look. Skinny jeans are always a good go-to, but with flares and boyfriend jeans becoming increasingly more "in," there's a real reason to give your denim purchase some extra thought this year. We want to make your life easy, so we consulted celebrity stylist and NYDJ Creative Board member Jeanann Williams' for her best tips on buying denim this season. Here it is: SHEfinds: What denim trends do our readers need to know about for fall? Jeanann Williams: For fall, flare and high-waisted denim are coming back--every woman needs a flare in their wardrobe. It's funny because I used to swear by skinny and boyfriend denim, but flares have gradually crept into my closet! They're best styled with a good platform or heeled bootie. Shop now: NYDJ Farrah Flare jeans ($134) SF: What are your go-to weekend jeans? JW: For the weekend, I still love a boyfriend jean or skinny. Boyfriend denim is just so comfortable and can still look feminine paired with a ballet flat and skinnies with the right amount of stretch are a great go-to. I've been working with denim brand NYDJ for the past year as a member of their Creative Board and can't get enough of their Ami Super Skinny. It's high-waisted with a bit of stretch and really lifts everything up. Shop now: NYDJ Ami Super Skinny ($134)  SF: What are your go-to work/dress-up jeans? JW: I love a good black skinny jean. They're so versatile and you can dress them up or down. I'll wear a tee with them for the day and throw on a blazer or leather jacket with heels at night. Shop now: NYDJ Alina Leggings ($110) SF: What is the first thing you buy for a new season/fall? JW: For the new season, I always update my knit and denim wardrobe, adding in the perfect white tee shirt and the newest denim style and wash. SF: What is one denim piece our readers should splurge on this year, if they can only buy 1 new item for fall? JW: For fall, I recommend splurging on the flare jean. These days they're available in black, light-washed denim and deep indigo so you can easily find a wash that looks best on your body type. I really like NYDJ's Farrah Flare in medium wash–it has a chic 70's boho vibe that's very of the moment. Shop now: NYDJ Farrah Flare jeans ($134)
How To Wear Navy + Black, As Seen On Blogger Could I Have That
One of the first fashion rules I learned as a kid was never to wear navy and black together. I don't remember who told me this, but it stayed with me for years. Actually, it wasn't until I saw this photo that I was totally convinced you can wear the two colors together. Blogger Could I Have That posted a navy + black outfit back in January that I am seriously considering copying ASAP. What I love about it is that she calls navy a "neutral," and it's true. Just think if you swapped out the black items for anything else, a printed skirt, suede booties, etc., they'd all look good with the navy sweater and coat. So, why not wear black with navy then? Aren't rules made to be broken? Click the slideshow to shop Could I Have That's look, from her actual pieces to lookalikes. Here's some more inspo for ya: [Photos: Could I Have That]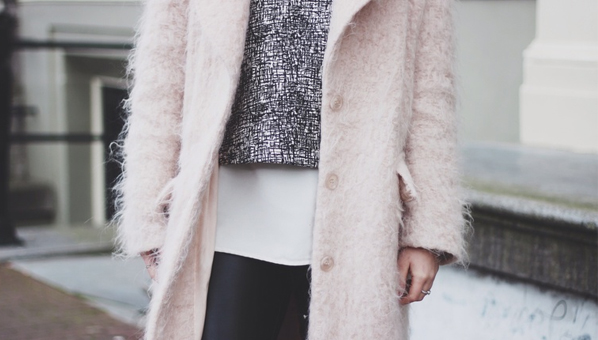 How To Wear A Crop Top In The Winter
Oh, you didn't know the winter crop top is a thing? Don't break out the ab roller just yet. You don't--and shouldn't--show one inch of flesh when it's 30 degrees outside. There's one way to style a crop top in the winter, and it's the oldest trick in the book: layering. Yes, it's as easy as that! Layer it over a button down, sweater, long-sleeve shirt, you name it. It works for everything from a bralette to a cropped long-sleeve sweater. Allow blogger Billie Rose of Creators of Desire to demonstrate how it's done: See? Now you can wear your crop tops year-round AND don't have to worry about having rock hard abs like Jessica Alba in Blue Crush For more how to wear tips, check out: sports jerseys, chain link necklaces and dressed up t-shirts [Photos: Creators of Desire]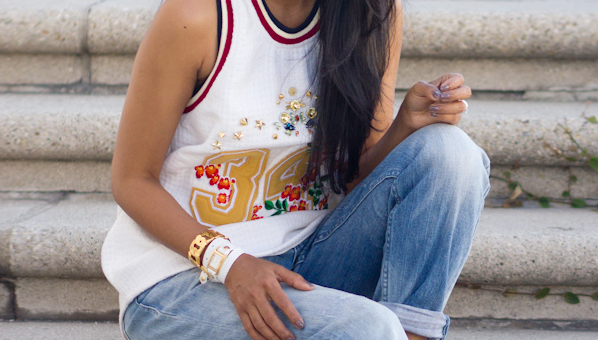 How To Rep Your Team Like A Street Style Blogger This Football Season
If you're a girl like me, who loves a good tailgate and a football game, you're probably going to wear your favorite team's jersery or tee every weekend from now until the National Championship game and the Super Bowl in January. But sometimes, repping your team is tough. So many shirts and jerseys out there are cut too boxy and are a little bit too manly for fashion lovers like us. Dressing for the stadium or your besties watch party can challenging, when you want to look cute, but still represent your favorite team or hottie. Aside from my own personal tip of buying your jerseys in the little boy's section of the sporting goods store (they're cut slightly bigger than the little girl's sizes, but they're still tight enough to wear out), I had to turn to my favorite street stylers and bloggers to find out how to style my jerseys for this season's game days. Click through the slideshow to see what I came up with styled by the experts. And don't forget to check out: fashion sneakers, how to wear shortalls and cut out booties. [Photo: Lee Oliviera, Peace Love Shea, A Walk In Wonderland]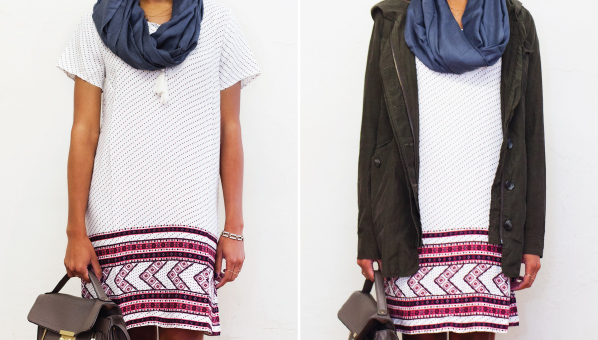 See The Styling Trick That Blew Our Editors' Minds
If you've been dreading Labor Day because it marks the end of summer, here's something that should curb your impending seasonal affective disorder: hard, concrete proof that fall is actually way better than summer. We took 3 versatile dresses (shout-out to Ruche and Threadsence!) and styled them for both seasons--a warm-weather version for the muggy days of August, and a cold-weather version to be worn from September on. You won't believe the results: the fall looks were not only more stylish (more accessories and layering options) but they were more flattering, too (tall heeled boots make EVERYONE look thinner, even our skinny mini model). 3 out of 3 dresses looked better when styled for fall. See for yourself: Left: We took Ruche's Far Off Printed Dress ($54.99) and styled it with jeweled slide sandals from H&M, a navy pashmina scarf and a bag from Phillip Lim's Target collection for summer. (Our model is SHEfinds' own Editorial Director, Jeanine Edwards, by the way). Right: For fall, Jeanine slipped on an army green jacket from Ella Moss (shop similar styles here), tall brown boots from Lands End (purchased on sale for $20!), and the same blue pashmina and Phillip Lim bag. What a difference the tall boots and army jacket make! Jeanine even remarked on how good it felt to be back in boots. "Go home and try on your tall boots! You will love it!" L: For our second summer look, we took this Eastern Sun Dress ($52) from Threadsence and accessorized it with a neon and crystal statement necklace from J.Crew (find similar styles here) and brown leather flat sandals from Steve Madden. R: For fall, we removed the neon necklace and topped the dress with a blue blazer from H&M, brown Franco Sarto booties and the Phillip Lim bag. This is why the blazer trend just won't quit--they are a fail-proof way to make any outfit look more appropriate for work, and in the case of a well-tailored blazer with rolled sleeves, instantly cooler. "I love blazers!!" our photographer Shelby Rodriguez exclaimed during the shoot. Who doesn't? L: For our third and final look, we started with this Campus Park Dress ($44.99) from Ruche, and paired it with the brown sandals, a blue and crystal necklace from J.Crew (shop similar ones here) and a metallic cross-body bag from Ralph Lauren. R: For fall, a green lightweight jacket from Woolrich and the tall Lands End boots took the dress to a whole new level of (casual) cool. We also removed the blue necklace and metallic bag; swapping out "fun" summer accessories for more serious ones completely changed the look. So, does that make you more excited for fall?! Hopefully...because it's just a few days away.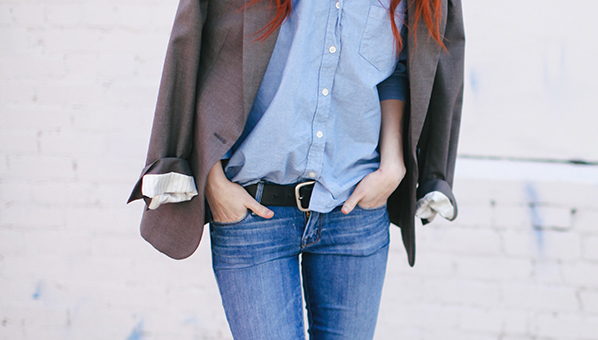 Fall Is 33 Days Away: How To Fit In Your Skinny Jeans By Then
I just looked at the calendar and had a minor panic attack that fall, aka skinny jeans season, is exactly one month away. Trying to imagine squeezing my thighs and butt in to skinny jeans right now is the most frightening thought I've had all week (second only to the thought of getting in to a bikini for Labor Day. Yikes.) I'm trying to lose baby weight right now, so my problem areas are really liking the coverage provided by all these flowy summer dresses and maxis. I don't even KNOW if I'm going to fit in to the same size skinnies as last year. FML. If you're in my boat, I just Googled the best skinny jeans workouts and tried a few of them (yes, I'm that crazy), and this one from FitSugar is actually pretty good. I can feel the inner thigh burn! Enjoy: [youtube]https://www.youtube.com/watch?v=ozAXyRQQjpA&feature=share[/youtube]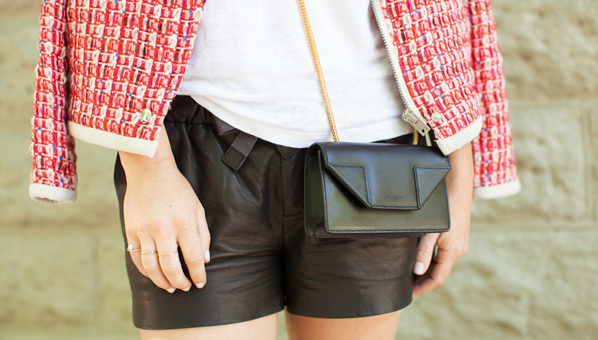 16 Shorts You Can Wear To Work Because August Is The Hottest Month EVER
Even though you may think summer clothing, like sleeveless dresses, denim shorts and muscle tanks, isn't important anymore, you're wrong. August is the HOTTEST month in the year: so go all out with your deodorant. Dressing for work in the heat can be tricky, but we have the answer: shorts. Yes, you read that right, you can wear shorts to work. A lot of people believe that these bottoms aren't appropriate for the office, but we say otherwise, especially when the temps are hitting close to or at 90 degrees every day. And since every office has a different dress code, we put together three different ways to wear shorts to work, so take advantage of it! The men in your office have to sweat it out in their suits all day. 1. Long shorts Think in-between regular and bermudas for this length. Usually, these shorts are made with suit material, so it's best to wear them with blazers, cardigans, chiffon tops, button downs and heels to complete the style. They are a little more on the expensive side, but you can take this item from day to night no problem. It's a great investment. 2. Shorts that look like skirts These shorts basically give you a freebee when it comes to dressing up for work. Since they look like skirts, people will assume you're wearing one, except you won't flash people and go all Marylin Monroe when a huge gust of wind surprises you. It's fun to wear flowy, patterned shorts with a solid top and sandals or oxfords. When wearing plain shorts, either pair with a patterned top or go for a monochrome look with a bold necklace. 3. Structured shorts Though these shorts can be on the shorter side, make sure they are made out of a good material that is work appropriate, like cotton or leather. Because you are wearing shorter bottoms than most people, be sure to pair them with shoes that will balance out the look like espadrilles. Match these shorts with nice tops and a statement necklace to look professional. So take a look at this slideshow and buy some workplace-approved shorts to wear. And be sure to check out 10 editors to follow, Spanx jeans  and 7 bloggers to follow on Instagram [Photo: Cheetah Is The New Black]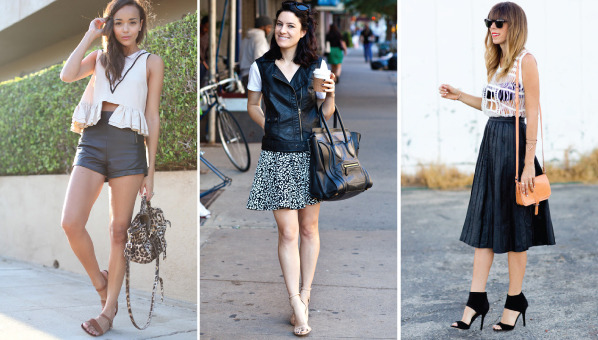 3 Ways To Wear Leather In The Summer, As Styled By Your Favorite Bloggers
Last week, I wore a leather vest to work. Not only did I get some looks on the street by NYCers thinking "this chick cray," but my co-workers also asked the question: "Aren't you hot?" Truth is, I was. BUT that didn't stop me from wearing the vest with my outfit. It just went soooo well, know what I mean?! And it's not like I was wearing pants and a sweater. I paired my vest with a tank, skort and sandals, so not that much clothes to begin with. Now, I am not going to sit here and tell you that putting thick, black material on your body in the dead of summer won't get you sweating, but there are do's and don't's of wearing leather when it's above 60 degrees. For example, the less material, the better (i.e. shorts and vests). Jackets and pants are a no-no. Also, when wearing a skirt, opt for one that flares so the leather doesn't cling to your body. Here's how to wear it: 1. Shorts: Actress/Blogger Ashley Madekwe is a girl after my own heart. Why? She also admits that wearing leather in the summer makes no sense at all, but she still has to do it in the name of a cute outfit. Here, she pairs her high-waist leather shorts with a breezy crop top and sandals. Like we said, less is more when it comes to wearing thick black material. Get the look: Theyskens' Theory Porty Faux Leather Shorts ($103.25, down from $295), Free People Lace Romance Cage Back Tank ($40.80, down from $68) and Madden Girl Znapshot Sandals ($49.95) 2. Moto Vest: Next, we have Alicia Lund of Cheetah is the New Black demonstrating how to wear a leather vest in summer. A t-shirt and flare skirt are perfect to pair with it since both items are light, especially compared to the vest. We recommend wearing a vest on slightly cooler summer days (below 80 degrees). Get the look: AE Moto Vest ($79.95), Rebecca Taylor Leopard-Print Stretch Knit Skirt ($69.99, down from $265) and Manolo Blahnik Chaos Ankle-Strap Sandals ($725) 3. Flared Skirt: We saved the best for last. Sarah Yates of A House In The Hills absolutely kills it in this leather look. Everything about it is right. There are two reasons why her skirt is the perfect choice for summer. First, it is flared and not bodycon, so not only does she get a little breeze blowin' on her legs, but the thick material isn't directly on her skin. Second, it is a midi leather skirt, which is way cooler and different from most other leather skirts. Plus, we love a good bra showing. Well done, Sarah, well done. Get the look: Calvin Klein Faux Leather Pleated Midi Skirt ($109.05), Band of Outsiders Cotton Macrame Tank ($138, down from $460) and B Brian Atwood Correns Cuffed Suede Sandals ($319, down from $395) For more blogger tips, check out how to wear: chain link necklaces, jumpsuits and Birkenstocks [Photos: Ring My Bell, Cheetah is the New Black, A House In The Hills]
How To Wear A Chain Link Necklace Like A Blogger, Not A Rapper
Sometimes figuring out how to pull off a new trend is tricky, and chain link necklaces are no exception. On first glance, chain link necklaces look big, overwhelming and like they belong on a rap star, but they can actually be understated and edgy when they are paired with the right outfit. Since we wanted to find out how to wear this new trend and share it with you, of course, we turned to style bloggers, Ashley, Shea and Julia, for some advice. These girls always know how to wear the latest trends and pieces. So if you want to try this one out, read their advice below and shop their looks. You'll be showin' off your chains and lookin' like a fashion blogger before you know it. Wear your chain link necklace... 1. With a cable knit sweater. Ashley of Ring My Bell paired her chain link necklace with a chunky sweater. Since cable knit can look kind of preppy or mom-ish, offsetting it with an edgy necklace is the way to go. Now, we know what you're thinking. Yes, it's a little too hot out for a sweater right now, so that's why we chose this cropped sweater as an example. Roll the sleeves up, and it totally works for the summer, especially if you're indoors. And besides, it's never too early to start thinking about your fall wardrobe. Will you wear chain link next season?  Get the look: Forever 21 Cropped Cable Knit Sweater ($27.80) and BaubleBar Rolo Chain Collar ($42) 2. With a leather skirt. Pair your chain link necklace with a leather or faux leather skirt. This look is perfect for a night out. Just turn to Shea for some outfit inspiration. We promise you can pull it off, too!  Get the look: Forever 21 Moto Babe Faux Leather Skirt ($15.99, down from $22.80) and BaubleBar Jumbo Cuban Links ($42) 3. With a blazer. You can even wear your link necklace to work with a blazer, which will make it look a little more sophisticated. We actually found the exact necklace that Julia wore in her blog post for Gal Meets Glam. This one is really cool, because it has multiple chains with pink and coral accents.  Get the look: Soft Joie Trevor Blazer ($188) and Stella and Dot Carmen Statement Necklace ($129.99) For more fashion blogger tips, check out: how to wear a midi skirt, how to dress up a t-shirt, and how to wear boyfriend shorts. [Photo: Ashley Ring My Bell, Peace Love Shea, Gal Meets Glam]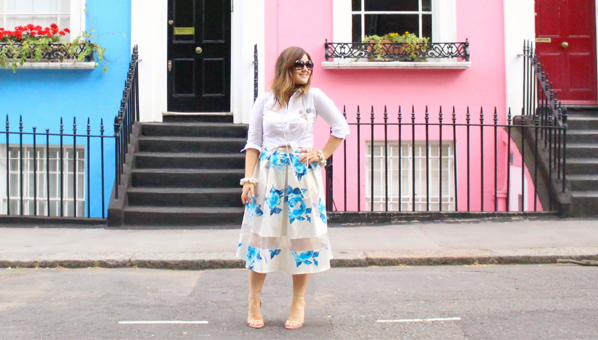 3 Bloggers Demonstrate How To Wear A Midi Skirt Without Looking Like A Grandma
Despite common belief, you don't have to be a skinny mini and you definitely don't have to be a grandma to wear a midi skirt, you just have to know what to pair it with. Just the other day, our Editorial Director wore a floral midi skirt to the office with a t-shirt and flat sandals. She looked so cute and put together, but she made us wonder what else we could wear midis with. The options are really endless. You can dress midis up with heels or dress them down with denim. Midis are great for work or special events when you need to be a little more conservative. You can't show off your sexy legs all the time. Save your short skirts for the club. Since we're still trying to catch on to the midi trend to, we thought we would turn to our favorite bloggers to show you how to wear them, so check out the pictures below and shop their looks. Wear your midi skirt... 1. With a button-down shirt. Just tie it up and add some heels and jewelry to match. Showing a little skin and wearing high heels will assure you don't look like a grandma. Although Briony of A Girl A Style's skirt is sold out, we found a similar style here. Get the look: Topshop Antique Jacquard Midi Skirt ($96), Topshop Casual Chambray Shirt ($58), Steve Madden 'Stecy' Sandal ($79.95) 2. As a matching set. Although some sets look a little bit too matchy-matchy, you can easily pull off the look by pairing your set with a statement shoe or necklace. Julia of Gal Meets Glam paired her midi set with bold yellow shoes and earrings for a summer wedding. When you look at each of the pieces seperately, you would never think to wear them together, but pairing pieces that don't match with your matching set will make it less extreme. Get Julia's exact midi skirt set: Tibi Cropped Top ($298), Tibi Pleat Skirt ($495),  J.Crew Dangling Teardrop Earrings ($45), and Nine West Flax ($48.99, down from $69) 3. With a denim jacket. You can transition your midi skirt from summer to fall just by adding a denim jacket. For the summer, pair it with sandals, but in the fall wear flats or combat boots. Midi skirts can be worn any season (except in the snow, obvi). Get Honey & Silk's pleated midi look: Topshop Sport Waistband Pleat Midi Skirt ($76), Topshop Moto Vintage Wash Denim Jacket ($90), and Madden Girl Cindiee ($39.99, down from $49.95) For more blogger inspiration, check out: how to wear boots in the summer, how to wear a jumsuit, and how to wear shortalls. [Photos: A Girl A Style, Gal Meets Glam, Honey & Silk]
11 Ways To Dress Up A T-Shirt (Aka, Your Excuse To Wear One Everyday)
I don't know about you, but I pretty much live in t-shirts year-round, and if you're anything like me, you probably try to incorporate these crazy comfy tops into your wardrobe as much as possible. But it's easier said than done. Sure, you can throw one on with cutoffs or boyfriend jeans for the weekend, but the real challenge comes when you want to make a tee #fancy, Iggy Azalea style. We turned to our favorite style bloggers for some tips on how to dress up a t-shirt, so you can see what does and does not work. Whether you choose to go girly with a floral midi skirt, or edgy with silk shorts and boots, there's tons of styling options in the slideshow ahead--plus shop our picks for what to wear with your tee! For tips, check out: what professionals wore to the interview that got them the job, bras for weird necklines and where you shop in your early twenties vs. late twenties [Photo: Always Judging]
It's Too Hot For Jeans, So Why Not Try Boyfriend Shorts Instead?
Boyfriend jeans were the trend of the spring, but now that it is almost summer, it is time to try a shorter "boy" style. It's just too hot to wear jeans right now, but you can still get that laid-back "borrowed from my boyfriend" look in a pair of boyfriend shorts. You might be unsure about this trend at first, because when they aren't styled right they can look like mom jeans, but once you learn how to style them, boyfriend shorts can actually be really cute and even edgy. Boyfriend shorts are great because they aren't super short like most denim shorts, so you don't have to worry about looking super scandalous or having your booty hang out. Because they have a little more length, they can also be dressed up with heels or worn with tunics and longer shirts. They are also oversized, which makes them really comfortable, and comfort is key during the hot summer months. Not convinced yet? Check out our photo above. Style bloggers, Mija. Creators of Desire and Always Judging paired their boyfriend shorts with booties and cropped shrits for an edgier tomboy look, while Emily of Cupcakes and Cashmere and Julia of Gal Meets Glam, dressed theirs up. Emily opted for a girly look by pairing her shorts with a pink striped shirt and a statement necklace, and Julia wore hers with a floral top and a blazer. These four gals just show how versatile boyfriend shorts can be. At first, I was apprehensive about this trend too, but once I saw how my favorite bloggers styled them, it really started to grow on me. I was actually so inspired that I bought my own pair of Blank NYC Shredded Boyfriend Shorts ($99.08) and I love them! They are a great option for times when you need a little length on your shorts. And once you learn how to style them, you'll find yourself wearing them all the time. With the styling of our favorite bloggers in mind, check out our slideshow and shop for a pair. They're just what you need to complete your summer wardrobe. To learn how to wear other trends, check out: how to wear birkenstocks, how to wear matching sets, and how to wear white jeans. [Photo: Mija. Creators of Desire, Cupcakes & Cashmere, Gal Meets Glam, Always Judging]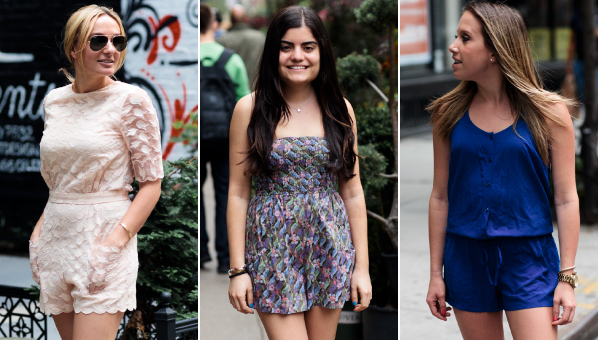 We Put On Our Rompers Just To Prove That Real Chicks Can Wear 'Em Too
Let's start with the facts. Rompers are not easy to pull off. First of all, rompers come with a ton of sizing issues. When the width is perfect, the length is too long. When the top fits, the bottom doesn't. You like the color, but it just looks weird on. We get it. We understand the struggle. But just because it is hard to find a romper with the perfect fit, doesn't mean that real girls can't wear them. And when we say "real girls" we mean REAL girls, like you and I, not fashion bloggers, models, or the skinny chicks you see on the street. Real girls are girls that actually eat and aren't a size triple zero. When it comes to rompers, styling is also an issue. There are so many different types out there that sometimes it is hard to figure out which one is right for a certain occasion. Some are made for the beach or pool, while others are made for the club, or even the office. Some look bettter with heels. Others don't. So how do you know what to do? How do you choose just one? The fashionista/model/blogger solution: buy one and miraculously style it perfectly for every occasion. The real girl solution: get a casual one and a dressy one so you don't have to put in that kind of effort. It's as simple as that. Though sizing and stlying may be tricky, the best part about rompers is that they are one piece. That means no outfit choices. Who wants to waste time matching their shirt to their shorts? Not me. With rompers everything is attached, matched, and ready to go. And since real girls have busy lives, we like that. Still not convinced? To prove that real girls can really pull them off, a few of the SHEfinds staffers volunteered to model and style their favorite rompers for you. In the photo above our Marketing Coordinator, Daniella, is wearing a peach lace romper with which she likes to style with sandals for casual spring outings. Editorial Assistant, Sara, claims that she's had her romper for years, and she pairs it with flats. And last but not least, I wear my royal blue Old Navy Women's Sleeveless Romper ($29.94) over my bathing suit when I hit the beach during the summer. See how great and versatile rompers are! Now that you've seen them on real girls, you should have the confidence to wear a romper too! Shop for both casual and dressy rompers in our slideshow. You won't want to miss out on this timeless trend. For more trends, check out: open-slit tops, magazine clutches, and cap-toe shoes.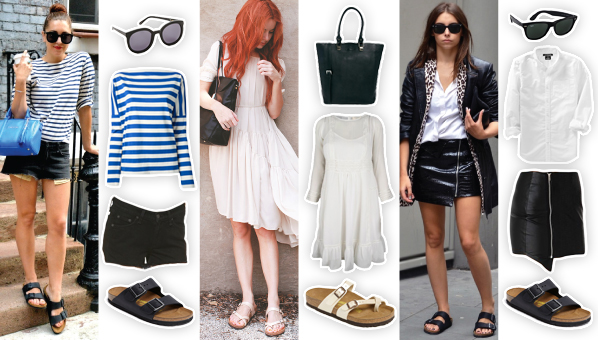 3 Different Ways To Wear Birkenstocks, As Styled By Your Favorite Bloggers
We tried to fight it, but there's no denying that Birkenstocks are officially back. If you still have old ones from your summer camp days, bring 'em out! Otherwise, you can pretty much find them at any store these days. So now that you don't have to worry about finding a pair, it's time to breakdown how you're actually going to wear them. Trust us, it's not the same way you did it back in the day. The key here is not to look too normcore. Your Birks (remember calling them that?!) should be the only part of your outfit that looks like it came out of a Midwestern tourist's closet. Otherwise, you can pretty much pair them with anything, dresses, cutoffs, leather skirts, you name it. Plus, these shoes actually make for pretty comfy summer sandals. It's super easy to slip your feet right into a pair thanks to their thick cork sole and adjustable buckle straps. These three style bloggers styled Birkenstocks differently, but each way works. Here's how to wear them: 1. Keep it casual. Your summer uniform probably already consists of cutoffs and a striped tee, what girl doesn't one at least own version of both of these items? So to give your outfit the vibe of being even more laid back, slip on the sandal of choice for hippies and Grateful Dead fans everywhere. Nothing says "I woke up like this" more than topping your look off with over sized sunglasses (Venti Starbucks coffee, like My Style Pill's, for bonus points). Get the look: Birkenstock 'Arizona' Oiled Leather Sandal ($119.95), Stella Jean striped boxy T-shirt ($206.43), Rag & Bone JEAN Cutoff Shorts ($143) and Karen Walker Super Duper Strength Sunglasses ($280). 2. Try a different style. We're all used to seeing Birkenstocks with the adjustable double strap wrapping around the foot, but, shocker, they make other styles too! Sea of Shoes chose the Birko-Flor shoe, which has two thinner adjustable straps that make the sandal look less aggressive and more feminine. Plus, her choice to wear them with a chiffon dress helps the whole trying to look like a girl thing Get the look: Birkenstock 'Mayari' Birko-Flor™ Sandal ($89.95), White Button Back Dress ($225, down from $450) and Urbancode Black Leather Tote Bag ($81.93). 3. Dress them up. We're not talking black tie event, but it's possible to make Birkenstocks somewhat fancy. The key here is to go with a black leather pair, and wear them with a minimal look, like a classic white button down and leather skirt. The dark color of the shoes makes your outfit sleek and sophisticated. Yes, believe it stoners, Birkenstocks=sleek. Get the look: Birkenstock 'Arizona' Oiled Leather Sandal ($119.95), Men's Regular-Fit Linen-Blend Shirts ($29.94), Ashane Wrap Over Mini Skirt With Snake Detail In Black ($35.98) and Ray-Ban Outsiders Oversized Wayfarer Sunglasses ($155). For more styling tips from bloggers we love, check out: jumpsuits, matching sets and denim jackets [Photos: My Style Pill, Sea of Shoes, Creators of Desire]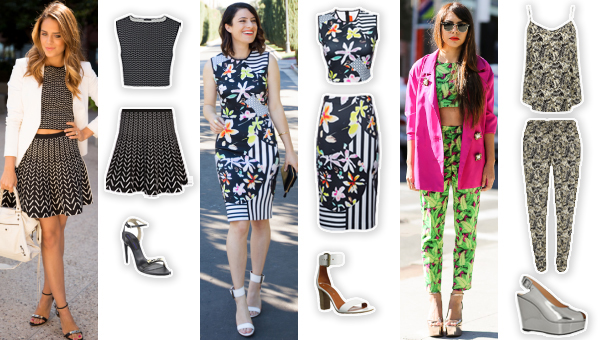 3 Different Ways To Wear A Matching Set, As Styled By Your Favorite Bloggers
The matching set trend is everywhere — from Beyonce to Kourtney Kardashian — and in every form like tops with skirts and jackets with shorts. So we totally get it if you find it a bit overwhelming to pick the right type of set for you. Luckily, we have three stylish examples (and tips) on how to wear them, thanks to a few of our favorite bloggers. Here's how to wear it: 1. A subtle print won't make you look too matchy-matchy. If the idea of wearing an allover print sounds crazy, then opt for a more subtle print like this low-key chevron in black and white. Dressing the rest of your outfit within the same color scheme will keep everything more streamlined. Get the look: Ohne Titel Chevron Pattern Knit Crop Top ($295), Ohne Titel Chevron Skirt in Black and White ($295), Joie Linen Blazer ($278) and Proenza Schouler Leather Ankle-Strap Sandals ($595) 2. But sometimes the more prints, the merrier. If you want to try out the matching print set, why not go all the way? Balance the rest of your outfit with simple accessories like a handheld wallet and ankle-strap sandal heels. Get the look: Clover Canyon Neoprene Floral Crop Top ($195), Clover Canyon Knee Length Neoprene Floral Skirt  ($230), Time's Arrow Travel Wallet ($295) and Via Spiga Women's Foxy Dress Sandal ($146.25) 3. Treat your matching print set as a neutral. Just because you're wearing more prints than usual doesn't mean you can't treat it like the perfect base for your stand-out pieces. Adding a bright pop of color and a metallic accent will make your matching set look like a white T and jeans. Get the look: Dorothy Perkins Khaki Leaf Print Cami ($25), Dorothy Perkins Khaki Leaf Print Joggers ($44), Fausto Puglisi Blazer ($850) and Robert Clergerie Metallic Leather Wedge Sandals ($595) Check out more blogger style stories: the oxford shirt, the crop top + pencil skirt, and this season's trends. [Photos: Gal Meets Glam, Cheetah is the New Black, and Lee Oliveira]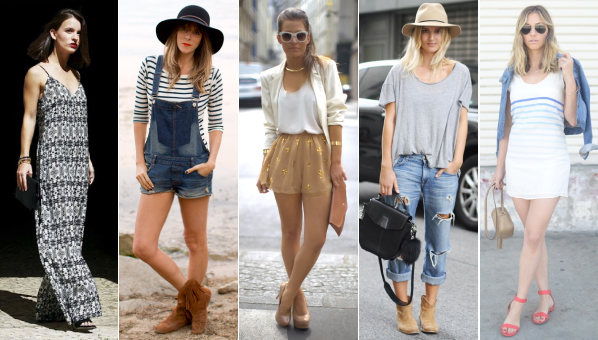 How To Wear Anything, As Styled By Your Favorite Bloggers
Have you ever stared into your closet wondering what to wear or how to pair your favorite pieces together? Or have you ever bought the trendy item of the season only to realize you have absolutely no clue how to wear it? We've all done it. That's why we write "How To Wear" posts to help you out. But what if there was a guidebook where you could look up all of the difficult to wear/pair items with the flip of a page or the click of a mouse? You would have all the info you need right in front of you AND be able to get ready 10 times faster. Well, we read your mind and created an all-star list of our best "How To Wear" posts right here, just for you. Think of it as our version of Cher Horowitz's virtual closet in Clueless. From jumpsuits, backpacks, jean jackets and more, we looked to style bloggers for inspo on how to pull off these trends and where you can shop similar looks. So you better take some notes from our slideshow, and after you click through and learn how to dress yourself with anything, you should probably save this post to your faves. You never know when you'll need to reference it again. For more fashion tips, check out: high waisted jeans, white jeans, and mini skirts.  
14 Do's And Don't's Of Wearing White Jeans
Just like bikini season, white jean season is quickly approaching, and we all know that picking out and wearing these bottoms can be just as hard, or harder, than finding the perfect swimsuit. But this season, you don't have to worry, because we've got you covered. With so many different styles and fits out there from jeggings to boyfriend jeans, and all of the rules that go along with wearing white, this trend might seem too tricky to pull off. And how is a girl to choose? But we want you to look and feel your best. We went on the prowl to find the best white jeans and some tips on the do's and don'ts of wearing them. While some of these might seem like common sense, they most definitely aren't. We promise that we have seen all of these don't's in real life, from girls wearing them in the rain without underwear and giving the world a free show to jeans that look like they haven't been washed in years, we've spotted tons of offenders. So before you pull your old white jeans out of the back of your closet or hit the mall to find a new pair, do us a favor and please check out our quick tips. They will save you from being a "white jeans offender" and spare the rest of the world from having to witness it. For more jeans, check out: Joe's liquid resistant white jeans, how to wear high waisted jeans, and best selling cult jeans. [Photos: Splash News]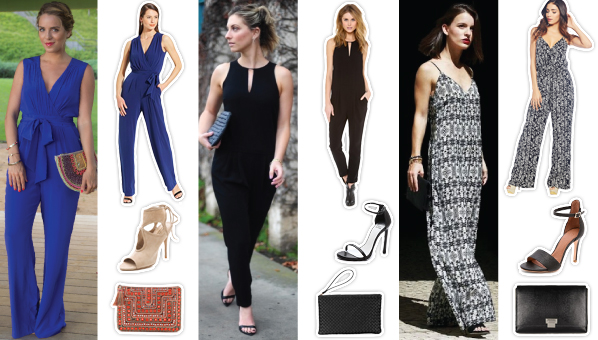 3 Ways To Wear A Jumpsuit, As Styled By Your Favorite Bloggers
Jumpsuits are one of those things that look great on a mannequin or a skinny minny celeb, but most of us don't think we have the body to wear one. I mean, it's not like we're a mannequin that's manufactured to have a small frame, or a famous person with the means to higher a personal trainer and chef to be at our beck and call. So how can us regular peeps pull off a one piece? We now have concrete proof that this IS possible thanks to the three  bloggers below. Each shows us how to wear a different style jumpsuit without looking like we're starring in the remake of Saturday Night Fever. 1. Go for a bold color. We love this cobalt blue jumpsuit that Julia Engel of Gal Meets Glam is wearing. The vibrant color totally compliments her blonde hair and blue eyes. If you don't have the same features as Julia, find what color brings out your hair and eyes the most and get a jumpsuit in that shade. Plus her beaded clutch and tan heels add a summer-y feel to this look, which is perfect for the upcoming months! Get the look: Vince Camuto Sleeveless Tie-Waist Wide-Leg Jumpsuit ($118), Aquazzura Sexy Thing Cutout Booties ($565), and Star Mela Dali Embellished Clutch ($127) 2. Dress it up. A black jumpsuit is a great alternative for when you have to wear something fancy and don't feel like putting on a dress. Plus the fitted top and bottom, broken up by the slightly looser middle section, is a great, sleek silhouette. The black accessories make this look even more dressed-up. Get the look: Rag & Bone Lana Jumpsuit ($550), Bottega Veneta Woven Napa Wristlet Pouch, Black ($830), and Stuart Weitzman Nudist Single Band Sandals ($385) 3. Don't get too crazy with patterns/prints. We see a ton of crazy printed and patterned jumpsuits during the spring/summer months. But just because every store is selling 'em doesn't mean you have to wear one. There's already so much of a jumpsuit covering your body, that the same print all over can look overwhelming. A black and white print keeps your outfit subtle. You're already taking a fashion risk by wearing a one piece. You know the saying "two wrongs don't make a right?", well we're saying "two fashion risks can make you look cray." Get the look: Geometric Tribal Print Tank Jumpsuit ($79), Joie Jaclyn Ankle Strap Sandals ($285), and The Row Metal-Framed Lizard Clutch ($5,950) For more styling tips from bloggers we love, check out how to wear: boots after winter, backpacks and denim jackets [Photos: Gal Meets Glam, Cupcakes & Cashmere, Miss Tangerine]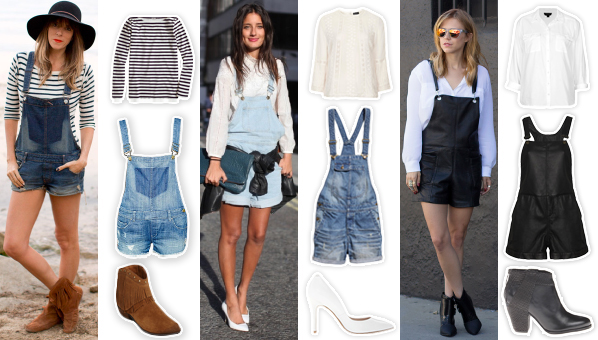 3 Ways To Wear Shortalls Without Looking Like A 90's Kid, As Styled By Bloggers
Admit it, if you're a 90's girl, you're eyeing overalls this season. And now that it's getting hotter, shortalls (as we like to call them) are great for spring and summer. But while you're thinking about buying a pair, you can't help but remember the ones you wore as a kid. So now, almost twenty years later, how can you make shortalls cool? How can you "bring 'em back?" Well, we have the answer. Following a style bloggers' tips is a great way to learn how to wear tricky new trends, like shortalls. So we looked high and low for the bloggers that "wore it best." While each blogger wears shortalls differently, they all make them look super cute and totally grown-up. 1. With stripes. Nautical stripes are always popular during the warmer months, and we already know that booties are great for spring. Pair your shortalls with both of these trends, like Sarah Yates of A House In The Hills, and you have the perfect casual daytime look. Get the Look: Blank NYC Overall Playsuit ($97.83), J.Crew Long-Sleeve Sailor-Stripe Shirt ($49.50), and Minnetonka 'Bandera' Boot ($94.95) 2. With pumps. Now that you're a "grown-up" you can dress up your shortalls with a great pair of heels and an embroidered top. If you style your shortalls like this, you can take them from day to night with ease. Get the look: H&M Bib Overall Shorts ($39.95), Topshop Embroidered Blouse ($76), and Charles by Charles David Pact Pumps ($99). 3. With leather: Always Judging took her "grown-up" shortalls to the next level when she wore a leather pair. These Rag and Bone Leather Shortalls are perfect for a night out with the girls. Pair them with a simple white button up and a pair of black booties and you're bound to make a statement. Get the Look: Rag & Bone Jean Exclusive Leather Short Overalls ($595), Topshop Casual Chambray Shirt ($58), and Luxury Rebel Siobhan Booties ($115.99 down from $165) For more style blogger tips, check out: 3 Ways To Wear Boots After Winter, 3 Grown-up Ways To Wear A Backpack, and Black And White Styled By Always Judging. [Photos: A House In The Hills, Lee Oliveira, Always Judging]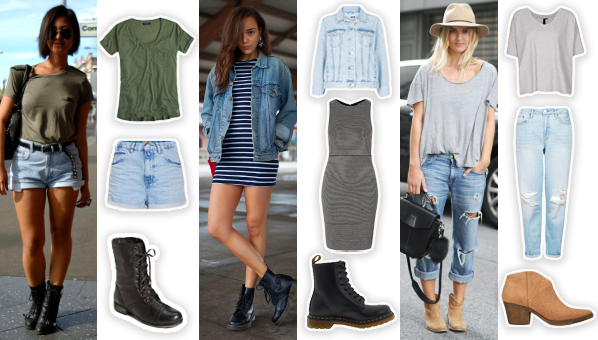 3 Ways To Wear Boots After Winter, As Styled By Your Favorite Bloggers
Just because the weather is getting warmer, doesn't mean you have to completely abandon your boots and throw them in the back of the closet. Boots are a great way to make a fashion statement no matter what the season, you just have to know how to wear them. And since this style can be tricky, we got three of our favorite bloggers to show you how to do it. Each of these three outfits feature a different type of boot paired with a spring essential: shorts, dresses and jeans. Boots are great for those spring days when it's a little to chilly to show off your toes, or you're going somewhere that you need a more comfortable or closed shoe. So here are three great ways to put your boots to use this spring. 1. With denim shorts. Lace up your favorite combat boots and pair them with some cut off or high-waisted jean shorts and a t-shirt. This look is really comfortable and easy to throw on for a casual outing. It's a staple at music festivals like Coachella and even Ultra.   Get the look: Steve Madden 'Troopa' Boot ($99.95), Moto Blue Rosa Hotpants ($56) and Prima Jersey Pocket Tee ($39.50) 2. With a dress: Try pairing a dress with combat boots or these awesome Dr. Marten's. Boots are a great way to dress down a dress or style it so you don't have to wear heels. Dr. Marten's are also great for rainy spring days, because they will keep your feet warm and dry. Pair the outfit with a jacket for cooler nights. Get the look: Dr. Marten's 1460 ($120), Stripe Column Body Con Dress ($68) and Moto Fitted Denim Jacket ($62.19) 3. With boyfriend jeans: Boyfriend jeans are really popular this season, but they're hard to pair a shoe with without looking awkward or silly. Booties are the best shoe for this jean style. They allow you to dress up the loose-fit bottoms with a nicer top, or down with a T-shirt--like this blogger. Adding a fun accessory like a bag or hat is a nice way to complete the look.   Get the look: Western Ways Booties ($27.50), Moto Frayed Bleach Wash Hayden Jeans ($58,04) and Wide Cotton Tee by Boutique ($34.55) For more fashion tips, check out: 3 Grown-Up Ways To Wear A Backpack, How To Wear High Waisted Jeans, and 3 Ways To Wear A Denim Jacket. [Photo Credit: Lee Oliveira, Ring My Bell, Mija.Creators of Desire]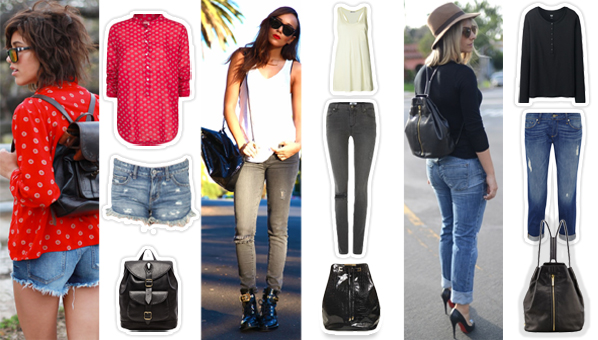 3 Grown-Up Ways To Wear A Backpack, As Styled By Your Favorite Bloggers
Backpacks have been slowly making a comeback over the past few years, but now that Chanel has gotten in on the school bag game, you know it's here to stay. All we have to do is figure out how to wear one without looking like a fifth grader. Luckily, our favorite style bloggers can show us how it's done. Each of these three different outfits all include a sleek looking backpack, proving that adults can wear the bag. A tip before we break down how the bag works with each look, your backpack should minimalist. That's not to say you can't try color, Reese Witherspoon can attest to that, but stay away from any crazy prints or patterns...or risk being mistaken for a middle schooler. Here's how to wear a backpack as a GROWN WOMAN (cue Beyoncé): 1. Try it at a festival. With Coachella this weekend, music festival season is officially here. It's the perfect place to try a backpack if you're not ready to fully commit to the trend. It's practical, since it can hold everything you need for the day-long event, and it just sits on your back (instead of annoyingly falling off your shoulder). Throw on a loose blouse, a pair of cut-off shorts and sunglasses and you're ready to see the headliners in your no-fuss look. Get the look: Stela 9 Mini Mochila Backpack ($224), Printed Blouse ($34.99), Free People Dolphin Hem Shorts ($68), and Super Sunglasses Basic Sunglasses ($229) 2. Keep it basic. Not only should your backpack be free of all prints or patterns, your outfit should too. A plain white tank, skinny jeans and black combat boots aren't anything too crazy, so your backpack can be the most interesting part of your look. 2. Get the look: Patent Croc Backpack ($40, down from $76), T By Alexander Wang Racerback Tank Top ($80), Paige Denim Hoxton/Kate Deconstructed ($199), and Steve Madden Troopa Boot ($99.95) 3. Dress it up. If you want to avoid comparisons to a child when wearing a backpack, pair it with sleek black heels. It instantly makes your outfit more grown-up. And we love a good stiletto with distressed boyfriend jeans, like the look below: Get the look: Elizabeth and James Leather Drawstring Backpack ($445), Tommy Hilfiger Long-Sleeve Pocket Henley ($34.99, down from $49.50), Paige Jimmy Jimmy Distressed Cropped Slim Boyfriend Jeans ($210), and rsvp Spencer Peep Toe Pump ($69) For more tips, check out: how to make your period suck less, 9 places to shop for your next music festival and bra shopping mistakes you don't know you're making [Photo Credit: Trop Rogue, Ring My Bell, Cupcakes & Cashmere]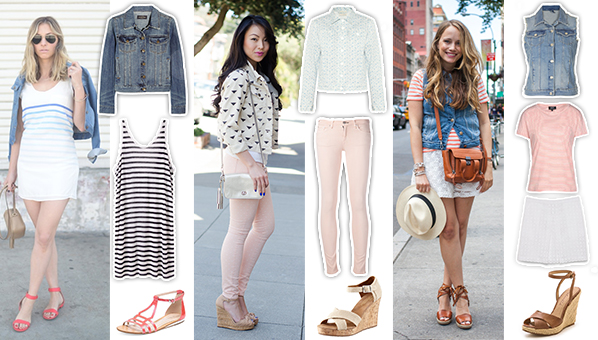 3 Different Ways To Wear A Denim Jacket, As Styled By Your Favorite Bloggers
Even if we're ready to toss our winter coats in the trash, that doesn't mean we're going outerwear-free this season. (BTW, it's still freezing here in NYC. *crying cat emoji*) So if you're wondering what to wear over your outfit for a not-as-warm-as-you-thought day or once the sun sets, we suggest a good ol' denim jacket. The past few seasons have been all about the army green military jacket, and in typical cyclical fashion, we've now gone back to the classic denim look. Chances are you have this piece stowed away in your closet somewhere. (Didn't we all own a denim jacket at one point in our lives?) But if you're looking for an update, we've got three stylish ways on how to wear the denim jacket according to some of our favorite bloggers. Here's how to wear it: 1. Throw on a classic denim jacket (over everything, really). Starting to remember why you loved the denim jacket in the first place? Because it pretty much goes with any outfit you're wearing. We also love how it can give off a carefree, casual vibe over a breezy tank dress. Pair it with some aviator sunnies and add a pop color with your sandals. Now you're ready to enjoy spring! Get the look: J.Crew New Nolita denim jacket ($130), Ray-Ban Polarized Aviator Sunglasses ($195), T by Alexander Wang Striped Linen Dress ($120), and BCBGeneration Fabeena Flat Sandals ($89) 2. Opt for printed denim instead. If blue denim isn't your style, then go for a jacket with a floral print or geometric pattern. Who says printed denim is for your legs only? Keep the fun and vibrant look going with a pair of pastel-colored skinny jeans (or another print if you dare) and a metallic handbag. Get the look: Band of Outsiders Floral-printed denim jacket ($158), Dorothy Perkins White Turnback Cuff Tee ($17), Rag & Bone Skinny Jeans ($187), TOMS Cork Wedge Sandal ($69), and Fossil 'Sydney' Crossbody Bag ($128) 3. Go sleeveless for the summer. A long-sleeve denim jacket might be a bit too uncomfortable once summer's high temps arrive, so consider getting rid of the sleeves. You can either purchase a denim vest or go the DIY route. We like pairing this choice with a more feminine look like a short skirt and wedge sandals. Get the look: Topshop Bleach Sleeveless Denim Jacket ($110), J.Crew Panama Hat ($58), A.P.C. Short-sleeve t-shirt ($120), Club Monaco Gisella skirt ($139.50), and Splendid Benton Espadrille Wedges ($128) Check out more ways to wear the latest trends: the oxford shirt, the crop top + pencil skirt, and the oversized sweater. [Photos: Cupcakes and Cashmere, The Fancy Pants Report, and Stripes and Sequins
I Finally Get Why People Over The Age Of 10 Wear Overalls–And I Want A Pair
Overalls started their post-90's comeback tour around 2012. Designers like Phillip Lim and Rebecca Minkoff showed the trend for Spring 2013, and it soon made its way onto street style blogs and into stores. But I wasn't full convinced. I mean, how could I? The last memories I have of wearing a denim onesie are from elementary school. Sure, some of my favorite 90's icons could pull-off the look, like Alex Mack and Michelle Tanner, but they were just kids when I looked to them for fashion advice, and so was I. Can I really wear overalls at 22 years old? Well, three seasons and countless farmer jokes later--I've finally given in. I now want a pair of overalls. I'm actually so excited about it, and I just can't hide it (see what I did there, @SavedByTheBellFans). So that's why I had to share WHY with you. 1. The pictures above. Celebrities like Alexa Chung, Alessandra Ambrosio and Rihanna just make overalls look so.damn.cool. And that 4th picture is a street style snap of model Hanneli Mustaparta from last fashion week. Celebs and street style stars wear 'em, so I wanna wear 'em. 2. The fit. But you say these guys have been wearing overalls for years now...and you're right. However, the fit of these particular 4 styles is so spot on. You need ones that are skinny jean tight (but not super skinny jean tight) in the leg, and slightly slouchier on top. You should be able to comfortably fit an arm through the top, but not a plate. Or, take a cue from badgal RiRi and wear an all-over loose pair. Your bottoms should never be looser than your top. It's either equal or tighter on bottom. 3. The look. Overalls aren't just for the under 10 set anymore. Notice how Alexa pairs hers with a BURBERRY jacket (talk about sophisticated) and Hanneli is wearing hers with heels. See, adults can make the right pair look mature. So now that you're convinced (hopefully), click the slideshow to see the best of the best overalls out there to shop now. I know I'm getting a pair, or two, or three... For more trends, check out: new Valentino Rockstud shoes, products that prove spring is the happiest season and Beyonce and Jay Z lyric products [Photos: Splash News, The Street Muse]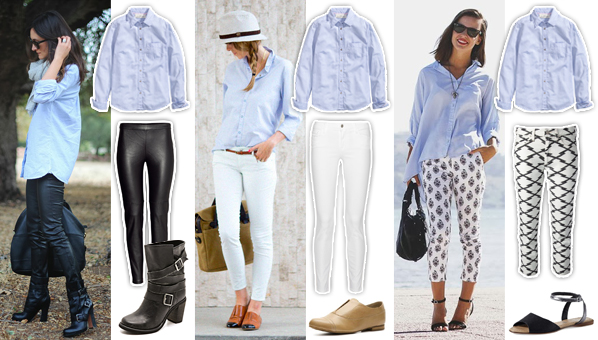 3 Ways To Wear A Basic Blue Oxford–All Equally Cool And Inspired By Style Bloggers
You guys, we're nearly there. Spring is almost a week away! (Or so our calendar tells us.) We've already given you a few style tips for the upcoming season like how oversized sweaters and skirts make a perfect transition outfit (aka for right now), and cropped tops and pencil skirts will be your go-to outfit up through summer. But we have one more look to add to your arsenal and that includes the trusty blue Oxford shirt. This classic collared button-down experienced a revival for spring thanks to designers Alexander Wang, Altuzarra, and Valentino, who sent their own updated Oxfords down the runway. Even if you don't see yourself wearing a top that's usually linked with the Ivy League, the type of bottom you decide to pair it with can instantly transform the Oxford. So whichever type of you style you see yourself wearing this spring, chances are the blue Oxford shirt will totally go with it. And if you don't already have an Oxford in your closet, we prefer this Band of Outsiders Cotton Oxford Shirt ($245) and Foxcroft makes Oxford shirts out of smooth cotton (no irons required!). Here's how to wear it: 1. Leather leggings give a rebel edge. Much like how moto jackets are always paired with floral print dresses, you can downplay the clean look of an Oxford with a pair of leather leggings. Add a roomy tote and heeled boots to complete the look. All this leather making you sweat? Opt for a lightweight legging with a leather-looking coating and ditch the boots for a pair of sandals with hardware details. Get the look: Band of Outsiders Cotton Oxford Shirt ($245);  JOSEPH fine knit scarf ($221.57); Imitation Leather Trousers ($34.95); Jeffrey Campbell France Wrap Strap Boots ($198); Topshop Faux Leather Satchel ($60) 2. White skinnies keep your look polished. If you're looking to menswear for inspiration but don't want to look like  you rummaged through your boyfriend's closet, a pair of white skinny jeans (with a hint of ankle) will keep your outfit well-put together. Accessorize with a few other pieces taken from the boys, such as a fedora, structured bag, and brogue shoes. Get the look: Band of Outsiders Cotton Oxford Shirt ($245); Melissa Odabash Ribbon Trim Fedora ($124);  J Brand 811 mid-rise skinny jeans ($170); Audrey Brooke Callie Oxford Flat ($59.95); Filson Original Briefcase - Otter Green ($248) 3. Printed pants add a modern touch to a classic top. If you find yourself bored with your blue Oxford shirt then jazz things up with a pair of printed pants. Not only does it tie in with the printed pants crazy that's been going out the past year or so, it's also an easy way to look stylish when you're feeling way too lazy to dress yourself. Now put on some comfy sandals and go have some fun! Get the look: Band of Outsiders Cotton Oxford Shirt ($245); Ray-Ban 'Classic Wayfarer' 50mm Polarized Sunglasses ($200); ISABEL MARANT ÉTOILE cropped print trouser ($232.82); Seychelles 'Brand New' Leather Ankle Strap Sandal ($69.95); Vince Camuto 'Riley' Tote ($278) Don't forget to check out: best shoes for the transitional season, Sephora nail polish pods, and Chanel's debut pair of designer headphones. [Photos: Frankie Hearts Fashion, A House in the Hills, and Miss Tangerine]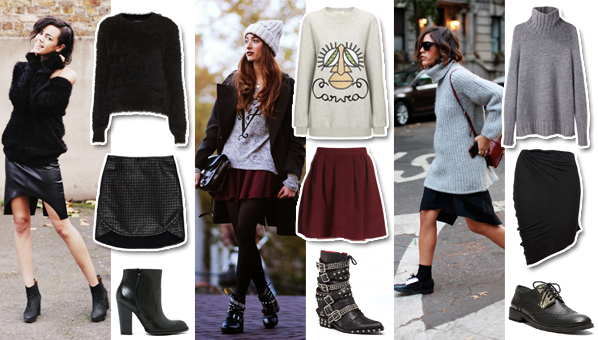 How To Wear Oversized Sweaters With Skirts, Aka Your Winter-To-Spring Wardrobe
If you're anywhere in the country, except maybe the Southwest and Southern California, you're probably freezing right now. It's pretty harsh out there, and needless to say, we're ready for spring to come! But it will have to get significantly warmer before we can even think about shopping for sundresses and sandals. Still...we're in the mood to shop! And we all need something for those in between days that's easy to put together, comfy, can keep us reasonably warm if we add in a few accessories, and looks great. Ladies, you're in luck because we've found the perfect combo. Meet your winter to spring uniform: oversized sweaters with skirts. Here's how to wear it: 1. If you go for a print, don't use a busy pattern. Chunky knits add volume, and with all that heavy fabric, you'll want to keep it simple. Sure, there are girls out there who can rock a Bill Cosby sweater three sizes too large and still look slim as ever, but most are not so lucky. Go for something more subdued or classic, or look for something with a graphic. Get the look: Carven Grey Embroidered Face Sweatshirt ($410); Catherine Malandrino Antigone Wool Skirt ($129.99, down from $257); Jeffrey Campbell Wedge Booties In Draco Studded ($345); By Zoe Oversized Color Block Coat ($175, down from $416.68); Dorothy Perkins Grey Chunky Beanie ($9); Proenza Schouler Mini Black PS11 Shoulder Bag ($1,675); and Lauren Ralph Lauren Opaque Control-Top Tights ($18) 2. Play with texture. The best thing about cool weather ensembles are all the fun textures you can experiment with. We love the idea of a fuzzy sweater with a slick leather skirt, PVC and pony hair, or cable knit and sequins. Get the look: Topshop Knitted Fluffy Jumper ($60, down from $76); Tibi Quilted Lurex Jacquard Skirt ($199.50, down from $285); and Shoe Culte Equine Bootie ($98) 3. Mix it up with menswear. Being girly is cool, but it's also fun to borrow from the boys. Add a jazzy oxford, brogue, or loafer with this look, all of which (bonus) will be easy on your feet. For the brave: throw on some socks that stop just above your ankle. Get the look: La Garçonne Moderne Didon Chunky Turtleneck ($450); Surface To Air Drop Skirt ($96, down from $160); Steve Madden Beekman Oxford ($89.95); MICHAEL Michael Kors Logo-Print Crossbody ($148); and Ray-Ban Boyfriend Flat Top Frame ($145) Want more? Find out how to make your closet look like the ones on Pinterest, Super Bowl commercial teasers, and Michelle Obama's #SOTU Azzedine Alaïa dress.
5 Ways To Wear A White Button Down That Don't Involve A Blazer Or Black Pants
Usually when anyone tells you to buy a white button down, it's so you can wear it one way: under a blazer for the office. But this basic top is actually the most versatile piece you can have in your closet. Whether your style is preppy, edgy or even boho, there's a way to wear this classic shirt to fit any and all of these categories. Here are 5 ways to wear a white button down that have nothing to do with your job. Add A Statement Necklace  Button your shirt all the way up (we promise, you won't choke) and put a statement necklace right under the collar. This addition instantly makes your plain shirt into something special. Wear It Under A Sweater You don't have to be preppy to do this one, it's all about how you wear it! Choose a fitted white button-down, close it up all the way and have the collar pop out on top. It makes your usual sweater and jeans combo way more polished. Unbutton At The Bottom And Tie The Ends This is a more casual version of tucking your shirt in. If  you don't want to have it hanging from your body, just leave the last button open and tie the two ends into a knot. This is also a great way to wear a white button down over a maxi dress. Tuck It In Just At The Front Your shirt should be loose and not fitted for this. Tuck it in just at the front and leave it hanging out the back. It doesn't look awkward and actually gives an effortlessness to your outfit, especially if you wear heels. Try Unexpected Pairings There's soooo many other ways to wear a white button down out of the office. You might not think to wear it with distressed jeans or leather pants and a moto vest, but it works. See, the options for how to wear a white button down really are endless. And don't forget, the button down doesn't have to be simple just because it's white. There's plenty of options with embellished collars, gold buttons and other fun styles. Click the slideshow to shop our fave white button-downs and try some of these looks! For more tips, check out: avoid 'Turkey Neck" this Thanksgiving, how to wear a jumpsuit in winter and the worst foods for your skin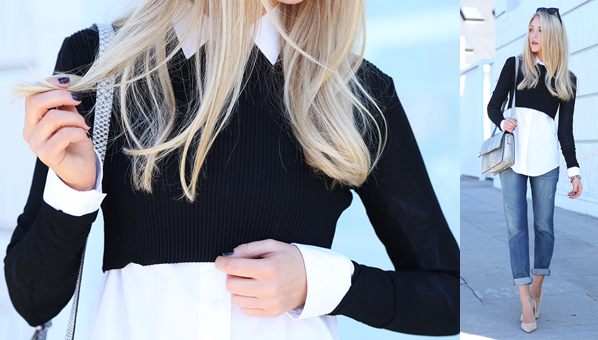 We Know Cropped Sweaters Are An Oxymoron, But You CAN Make Them Work
Admittedly, a cropped sweater seems very much like an oxymoron. Sweaters, by their nature, are supposed to keep you warm and covered. Anything cropped, by its nature, is supposed to show off your skin, not keeping you warm in the slightest. The very thought of a cropped sweater, then, makes a sweater seem pointless given it has failed at its most basic functionality. And yet, the cropped sweater is popping up everywhere. First on Rebecca Taylor and Topshop Unique's runways, then on celebrities like Jessica Alba and Miley Cyrus, and then on fashion bloggers the Internet over. And, as it turns out, not only can a cropped sweater stay true to keeping you warm, it can also add a slimming colorblock effect. That's right, a sweater that is slimming. First things first, though, before you head off and buy yourself some new winter crops -- you need to know how to wear it. Luckily, you have three very different options. Hike up the pants. With a cropped sweater that is cut above the belly button, pair the top with a higher waisted pant (think belly button height) to account for the exposed midriff. The top and the bottom should play off one another, colorblocking in dark complimenting colors (like navy and black). Cropped is a relative term. Not all cropped sweaters are cut the same. Instead of something crazy short, look for a crop that is still long enough to hang at the waist. Then, using juxtaposing colors to significantly colorblock (think black and white), choose a higher waisted pant or skirt to cover the exposed lower stomach. Though, there's no need to get crazy with the higher waist. Something that hits at the belly button or even a bit lower is fine. If you're showing skin when you put your hands over your head, but have everything covered when they are down at your waist, then you're doing it right. Go all out. When styled by fashion bloggers, the cropped sweater gets a serious cut, sometimes cropping all the way up to right beneath the bust line. To cover the exposed stomach, bloggers aren't reaching for anything high-waisted. Instead, they are grabbing button-down shirts they'd usually wear underneath the sweater anyway, giving an old prep school look a modern spin. Test out the three different styles with the following crops and see if you can't make your cropped sweater a closet staple. [Photo: Peace Love Shea]
It IS Possible To Wear Leather Pants Without Looking Like Catwoman
Leather pants can be tricky, and there are ways to get around wearing them if you don't want to fully commit. But if you're feeling brave enough to take the plunge, here are a few things you should know before putting on those tight-ass bottoms. You don't want to end up like Ross from Friends dumping baby powder all over your legs. Check out our tips below and click the slideshow for even more. Your shirt must cover your butt. This is probably thee most important tip for pulling-off leather pants. The only time your shirt should not go past your behind is if the leather pants are loose. Otherwise tight on tight just doesn't look right, if you know what I mean. No leather on leather. This most applies to leather pants with leather shoes, but also leather tops, jackets, etc. Your leather pants should be the only part of the look that's this material. Otherwise you'll look like you're dressed in a biker chick Halloween costume, or part of a motorcycle gang. Don't wear open toe shoes. Leather is such a cold weather thing that it just looks weird to pair it with open toes shoes. Your best bet for shoes are flats and pumps. Boots and booties work too as long as they don't go past your ankle. And definitely no ankle-strap shoes of any kind. The trick to wearing shoes with leather pants is that the shoes shouldn't go over the pants, one should end where the other begins. For more fall dressing tips, check out: the best jacket for fall weather temperatures, how to style your hair for spin class and shop Kerry Washington's wardrobe from Scandal
4 Ways To Wear A Skirt And Boots For Fall, No Tights Necessary.
Every fall there's a small window of opportunity where you don't have to wear tights with skirts. It's not too cold to let your bare legs get some fresh air before you have to cover them up for good. And it's not too hot to cover up your feet with boots, hence the skirt and boots combo that everyones wearing. But there's specific rules for pulling off this look. A mini skirt with bootie heels? Too stripper-esque. A midi skirt with flat boots? The proportions will be so uneven it will swallow you up. And a maxi with heels just looks plain awkward. We break down which skirt and which boots look best together so you can try this look out for the next few weeks before temps really drop. Click the slideshow to see how to wear skirts with boots. For more tips, check out: The best weird beauty advice that really works, things you have to do in October and 9 myths about dressing for fall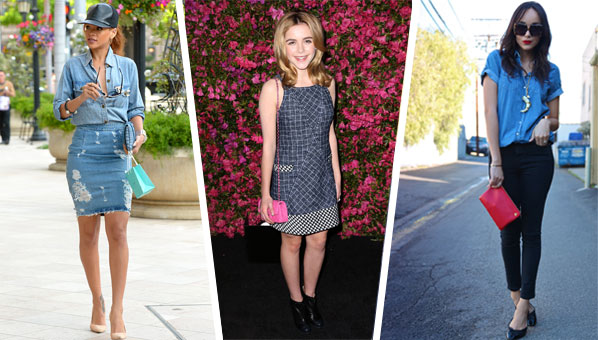 If These Celebrities Can Wear All-Denim Outfits, You Can Too
By all denim outfit, we're not suggesting you wear one of those awful denim jumpsuits or rompers. What we mean is that you can wear a denim top and pants or shirt and skirt all together, you just have to do it the right way. The trick to mastering this trend is by dressing up your denim. Some helpful tips: choose heels over flats, add pops of color with accessories and don't be afraid of a denim dress (just make sure it's not your jumper from the 90's). From Rihanna's sexy look, to Ashley Madekwe's polished outfit, these stars know how to wear denim on denim and look damn good doing it. That girl in the middle? That's Kiernan Shipka. She's like 12 and can pull-off this all denim outfit, so there's no excuse for you not to at least try it. And her dress is Chanel. If Chanel does denim, you should do denim. Click the slideshow to see how these stylish stars wear all denim for any occasion and then shop their look. [Photo Credit: Splash News, Ring My Bell]
The 'Athliesure Trend' Is Why Sports Jerseys And Baseball Hats Are A Thing
So we know athliesure is kind of a confusing name, since the trend is dressing up athletic apparel, but we'll go with it. Basically, athliesure is taking things you'd wear to play sports: hats, running shorts, sneakers, etc. and making them un-sporty. We've seen the trend on the runway with Herve Leger baseball hats, and street style stars are getting in on the action too with their dressed up Nike free sneaks. But you don't have to be a model to pull-off this trend, it's actually pretty easy (especially if you saved your old sports jerseys over the years). Follow these easy tips to nail the athliesure trend: 1) Pick one part of your outfit that you want to be athliesure. Whether it's throwing on a crop top mesh jersey, or a leather baseball cap, that should be the one part of your outfit that reflects the trend. Everything else should be what you would normally wear. 2) Pair your athliesure pick with feminine pieces. The structured shapes against the feminine pieces is a nice contrast and completely unexpected. For example, dress-up running shorts with a clean-cut blouse and heels, or wear sneakers with a tight pencil skirt and leather vest. 3) Accessorize with anything statement making.  This one isn't a must do, but wearing a stack of chunky bracelets, or carrying a rhinestone encrusted clutch elevates the athliesure look for more of a sports luxe vibe. If anything, you should try this trend because it's WAY more comfy then squeezing into a bodycon dress and heels. Plus, we're sure the guys will take notice if you're wearing a sports jersey from their favorite team. For more trends, check out: your fall shopping checklist, expensive looking fall pieces under $75 and 5 trends from last fall that are safe to repeat this year [Photo Credit: Lee Oliveira]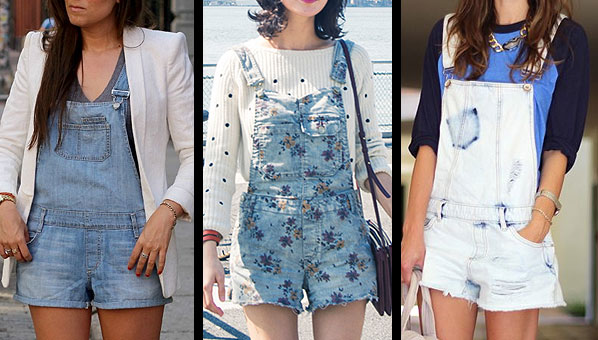 How To Wear Short Overalls (Without Looking Like A Toddler)
We're gonna be straight with you: overall shorts may be trendy, but they are pretty darn hard to actually pull off. This coming from a girl who currently owns two pairs of long pants overalls. Even still, I haven't taken the plunge on a pair of short overalls because they're kinda scary. But after some research--i.e. trolling street style blogs--I feel like I have a pretty good handle on how a grown woman could actually make them work. If you're thinking about trying the trend, be sure to follow these styling rules: 1. Fit is key. If you choose short overalls that are too tight, they'll look nasty--too baggy and they'll look childish. You have to find a pair that fit just right. (We've compiled some of our fave options in the slideshow below.) 2. Dress them up. Just like with long overalls, a tailored jacket on top works wonders for the overall (ha!) look. We love the way Eat Sleep Denim did it with a white blazer. 3. But don't go overboard. A blazer is good--strappy stilettos, not so much. Heels work with regular overalls, but they look off with shorts. Instead, try a dressy pair of ballet flats, smoking slippers or flat sandals. 4. Choose the right shirt underneath. This is probably the hardest part of styling overall shorts--finding the perfect top to wear underneath them. From what I've seen, casual always works best, be it a plain tee or a loose sweater. Because you're using a blazer and nice shoes to polish the overalls up a bit, it works to wear a shirt that's a little less structured. Okay, feel ready to take short overalls on? Score a pair on the slideshow below. Want more styling advice? Learn how to wear jogger shorts, how to wear white and how to wear a jumpsuit. [Photo: Eat Sleep Denim; Miss Pouty; Frankie Hearts Fashion]
How To Wear Jogger Shorts (Yes, You Can Do It. No, You Don't Have To Be Gisele.)
We've been seeing sporty jogger shorts everywhere this season. With an adjustable drawstring waistband and a fairly forgiving fit, they're a fun departure from regular shorts and despite what you're probably thinking, they can actually be flattering--if your wear them right. Which of course begs the question: how the heck do you wear them without looking like you're about to embark on a run? We've got a few styling tips that will guarantee passersby know you're headed to the latest hot spot, not the gym. It's easy: 1. Pair joggers with wedges or heels. Elongate your legs, and eliminate any confusion about whether you're about to exercise. 2. If you must wear flats, opt for strappy gladiators. They'll accentuate your gams and play nicely off the sporty trend. 3. Wear a structured, tucked in top. We're big fans of slouchy off the shoulder tees and sweatshirts, but with these shorts, opt for something a little dressier. Otherwise, your outfit may look sloppy. 4. Fit is key. If they're too small, joggers bunch unattractively around your thighs. If they're too big, they resemble pajama bottoms. If you're in between sizes, we recommend going up a size and having your shorts tailored if need be. 5. Go for a wild fabric or crazy pattern. While basic gym joggers are often a solid color, this season's fashion joggers come in a variety of tribal, floral, and other trendy prints, as well as fun faux leather and metallic fabrics. Check out other bottoms we love for summer: light denim, tulip skirts, and slitted skirts! [Photo: Lee Oliveira]
How To Wear White Shoes When It's Not Your Wedding Day
White shoes seem like kind of an oxymoron, right? Shoes in general tend to lose their original shine after a few wears, and white shoes are no exception. So you're probably wondering why I'm even telling you how to wear them. This footwear, generally labeled as tacky, is actually making waves in the fashion world. White shoes have been spotted everywhere, from runway shoes to the feet of celebrities and street style stars. Even though white shoes make us all think of nurses and brides, there are other ways to wear them. Here's how: Look for white shoes in styles other than a closed toe pump. Go for edgier designs with pointy tips and metal accents. Make sure the heel is stacked so they don't look like wedding shoes. Wear white shoes as a neutral by keeping the rest of your outfit darker colors. For summer, try an all white ensamble for a fresh, clean look. Most importantly, keep them clean. Hand wash shoes with a mild mix of water, dish detergent and a litte bleach. Click the slide show of awesome white shoes we love for some shopping inspiration. Check out more how to wear: jumpsuits, maxi dresses and styling sheer shirts [Photos: Lee Oliveira, Lee Oliveira, Creators of Desire, A House in the Hills]