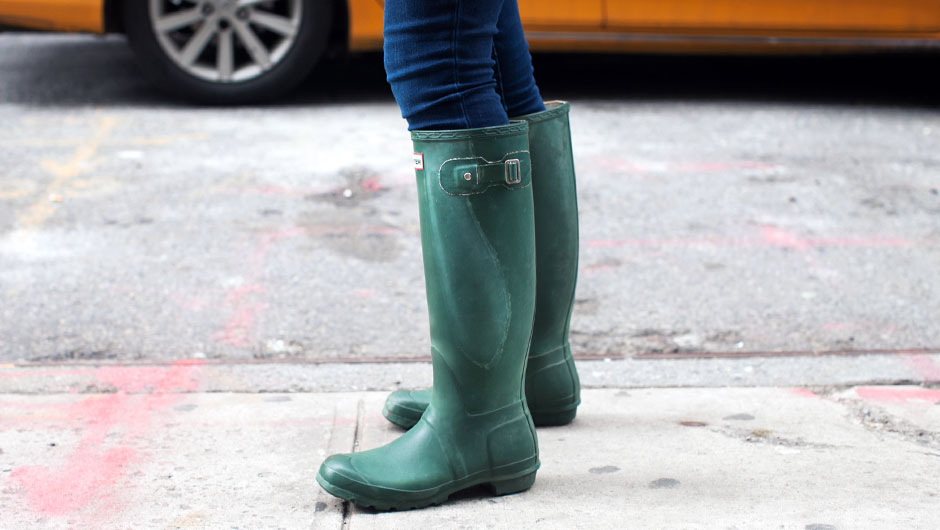 What Is 'Blooming' And How To Get Rid Of It
SHEfinds receives commissions for purchases made through the links in this post. The daffodils are in full bloom. That sounds really beautiful and poetic, right? Also, like, Orlando Bloom... definitely positive connotations there. Well, the reality of "bloom/blooming" is far less cool and celeb-studded than the name would have you believe. What is it? It's the white powdery film that collects on the outside of your favorite rain boots. See, not as fun as Orlando or spring flowers :/ It's pretty strange and annoying — like the ghost of monsoons past haunting your calves — but there is a pretty simple way to get rid of this so-called "Bloom." And the answer is... olive oil! Rub a teaspoon of olive oil on the affected area of each rain boot with a cloth and the bloom will fade away — leaving you with more pressing blooms to think about (Orlando). Unfortunately, there is no way to prevent bloom from uh, blooming in the first place. It's just a natural rain boot phenomenon. But it's so, so easy to remove, so don't sweat it! Grab a bottle of olive oil and get de-blooming! Hunter Original Short Gloss ($140) Don't forget to check out: What Is Ghee? Everything You Need To Know About Kourtney Kardashian's Weight Loss Trick and What Is A Shacket? Find Out Why You Need One For Spring [Photo: Shelby Rodriguez]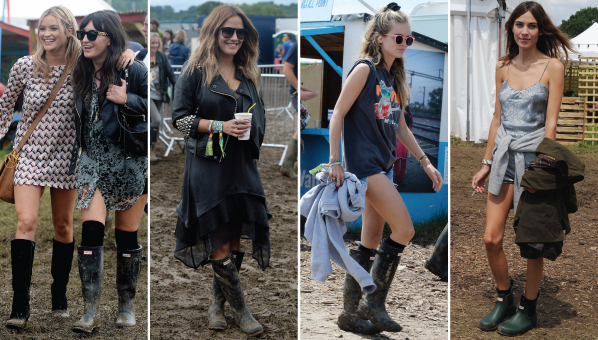 Everyone Wore Hunter Boots To Glastonbury This Year, Unsurprisingly
Partly because Kate Moss made them look so good and partly because the weather just called for them, Hunter rain boots were yet again the thing to wear at the Glastonbury music festival in England this weekend. Celebs (Alexa Chung, Cressida Bonas) and non-celebs alike were photographed in the classic rain boot style made famous by Moss at the event in 2005. Alexa opted for the ankle style, while Cressida as well as blogger Bip Ling, Haim rocker Danielle Haim, TV host Fearne Cotton, and more, wore the original tall Hunter boots in various colors. If those are your cup o' tea, shop them here: Hunter 'Original Tall' Rain Boot in Hunter Green ($148) from the Glastonbury Music Festival 2014. [Photo: Splash News]
Rubber, Rubber Everywhere: Hunter Launches Its Own Online Shop!
Ever since our college days (waaay way back about 8 months ago) we have loved Hunter wellies. They're really a puddle jumping necessity (especially on the streets of New York — yikes). Now, you can shop all of Hunter's products to your heart's content (and wallet's demise) on their new e-commerce site! Boots aren't the only thing on offer: Hunter also makes bags, outerwear, and socks (we highly recommend these Fleece Welly Socks, $30, for winter wear). Check out the goods on their new site, or shop Hunter at tried-and-true Shopbop! Don't forget to browse our guides to the best stylish rain boots, winter boots, and flat boots.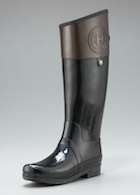 Can You Tell Which Equestrian-Style Rain Boots Cost $200 More?
The Hunter Two-Tone Riding Rain Boot on the left costs $195, $200 less than the Burberry Rubber Wellington Boots on the right ($395). Shop our guides to the best rain gear, stylish rain boots, and embellished Hunter rain boots.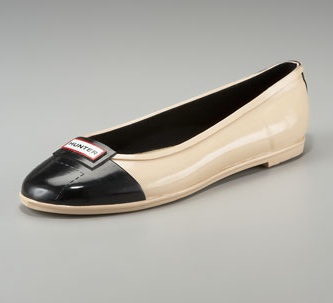 These Hunter Rain Flats Look Suspiciously Similar To These Marc Jacobs Ballet Flats
From left: the Hunter flats ($98) and the Marc by Marc Jacobs flats ($158.94, down from $195) Hunter (the infamous rain boot company) came out with a line of water-resistant ballet flats that look eerily similar to these Marc by Marc Jacobs flats (right).  But let's address matters one at a time: Hunter makes ballet flat rain shoes?! When did this happen? Well, we must have been living under a rock, because apparently they've also come out with really adorable Hunter Boat Shoes, too. But onto the next point, their waterproof ballet flats look strikingly similar to these Marc by Marc Jacobs flats, which happen to be on sale here at Endless.com (Get 'em while they're hot, though---a little birdie tells us there are only 2 left in stock). But copycats aside, both shoes are well under $200, so why not just buy both and use them interchangeably pending the weather forecast? Shop these, and two other styles of Hunter flats right here at Bloomingdale's. Be sure to check out all of our posts on Rain Boots, as well as our buying guides on Stylish Rain Boots and the Best Rain Gear.
Week In Review: Shopbop's Cool Girl Boutique, Backstage At Oscar de la Renta, French Connection For Sears & More
Must Reads: Shopbop launches yet another new boutique. Keep the compliments coming. Or just try on Katie Holmes' newest line, Holmes + Yang. The SHEfinds staff is all set for Spring - check out what made the cut with our wishlists. Shop this springtime fruity trend, too. Get a behind-the-scenes peek at what really goes on backstage at Oscar De La Renta. When French Connection makes clothes for Sears, we can't help but be in love. Hunter does more than just rain boots - expect trench coats and other wardrobe finds soon. Sales and Deals: On sale print wedges are totally the way to go for Spring. Get ready for work with this 40% off stylish office dresses. Warmer weather is coming - grab your under $100 swimsuit now. If you're craving some luxe leather, these Marc Jacobs wallets are 30% off. (more…)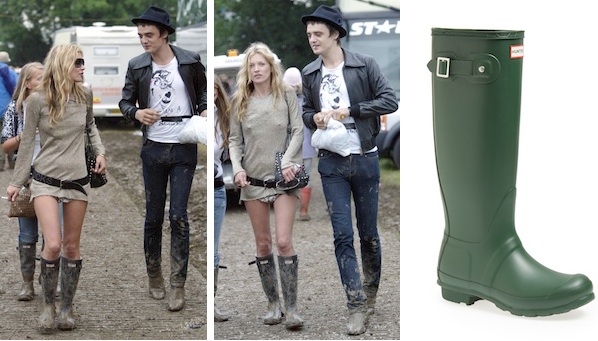 Kate Moss Wears Hunter Boots To The Glastonbury Music Festival
Kate Moss was photographed at the Glastonbury Music Festival 2005 this weekend wearing barely-there denim cut off shorts and tall Hunter Wellington boots. Under the arm of boyfriend boyfriend Pete Doherty, Kate Moss looked gorgeous and pin-thin in her stylish (yet very practical for the rainy weather!) Hunter green boots. Get them here: Hunter 'Original Tall' Rain Boot in Hunter Green ($148)