Katie Holmes' Ikat Top Is $49 And From The Gap. Seriously.
We love how Katie Holmes embraces high street labels. There's been a few times where we found her exact clothing choices from cool fashion lines like Madewell or Current/Elliott. Now, she turns to the signature blue box label for her next look. Holmes's Gap Ikat Braided Cami ($49.95) is the perfect choice for a staple summer top, and we love how she colorblocked her outfit by pairing the cami tank with a bright purple maxi skirt and adorable espadrille shoes. Her exact green top is running low in sizes, but luckily this printed piece comes in blue and pink. Gap Ikat Braided Cami ($49.95) Shop more celebrity style finds: Kelly Ripa's shorts, Minka Kelly's skirt, and Jennifer Lawrence/Lopez's dress.
Michelle Obama Introduces Tribal Prints To The Flyover States: Get Her Tracy Reese Dress Now
Tribal prints are all the rage and the always fashionable Michelle Obama was right on trend. In her earthy Tracy Reese dress (which we dug up, below), the first lady exits the Air Force One jet, being effortlessly stylish, with her family. We have yet to see Michelle Obama commit a fashion no-no. Click below to shop the dresses directly. Check out more of our favorite celebrity styles. Shop our guides to the best floral dresses and the best maxi dresses. Join our e-mail list for exclusive SHEFinds updates.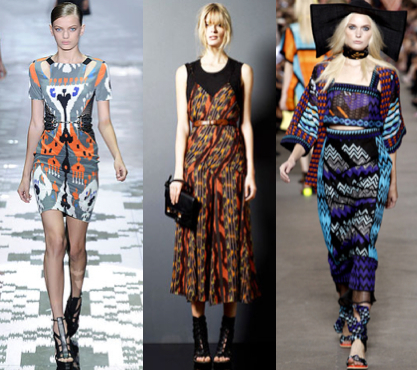 Tribal & Ikat Prints Take Over The Runway – And Now Our Closets
With Fashion Week right around the corner, we want to make sure you're prepared for the latest trends. This week we bring you the tribal and ikat designs. Seen on dresses, scarves, and more, this busy print will flatter while making sure you stand out in the best way. Paired with nude or black shoes, this print is easier than you think to pull off. Look below for printed pieces to add to your wardrobe to be right on-trend: Check out more of our favorite trends. Shop our guides to the best floral dresses and the best evening tops for jeans. Subscribe to SHEFindsMail for exclusive fashion updates.
Top 5: Ikat Prints–Like Viagra For Your Closet
Everyone needs a burst of energy in their wardrobe for spring. Graphic tribal ikat prints are hot right now--even if you haven't put makeup on, you'll look vibrant and pulled together.  Here are our five favorite ikat print pieces right now to completely re-invigorate your wardrobe for spring: Steven Alan Parker's dress pairs an eye-popping pattern with a demure shape for a chic contrast that totally works ($250). Pair this lightweight, primary-colored BCBG tunic with a pair of crisp cropped trousers and a chunky turquoise bracelet for a vacation-ready look—even if you're just going to a backyard barbecue ($88). Solids, flowers and polka dots are expected. Mix things up on the beach by picking a pretty periwinkle bikini in a new, non-traditional print ($37 for the top; $33 for the bottoms). If you're not ready to go full-on print, try easing into the trend with a featherlight summer scarf in cranberry and fuchsia ($35). This funky little mini is the perfect thing to slip into when you're looking something cute but comfortable to wear out on a Friday night ($35). See all of our sales and deals, plus top five picks for your spring wardrobe, and