The One Fashion Accessory Everyone Will Be Wearing This Summer (& It's Not Sunglasses!)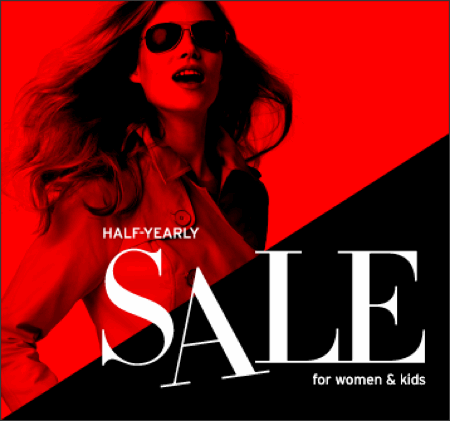 Nordstrom's Half-Yearly Sale: A Goldmine Of Designer Wedding And Reception Dresses
Why pay full price for a fabulous wedding dress when you can get one for half off? From short to long, and simple to sparkly, we've found found great styles on mega-sale at the Nordstrom Half-Yearly Sale. Take advantage now before they're all gone. (more…)
Who Knew? Banana Republic Has Really Good Wedding Jewelry For 60% Off
Though probably not first on your list of places to look, some of the clothing retailers you already frequent can also be great spots to score wedding day accessories. Banana Republic's 60% off sale, going on now, is a prime example. Just look at some of the cute jewelry offerings: These Camille Crystal Drop Earrings ($17.99, down from $39.50) are a stunning and elegant earring style, this version made of glass. Keep with the theme with the charming Mercury Waves Bracelet ($29.99, down from $45), also made of glass and silver plated. If you're looking for a simpler earring option, there's nothing like classic freshwater pearl studs ($27.99, down from 39.50), available in standard pearl and grey pearl. Play up your subtle ear accessories with the bolder Gala Strand Necklace ($79.99, down from $98.00), with detachable brooch. For more wedding accessory ideas, from bridal hair accessories to wedding veils, check out our shopping guides.
Beauty Bargain: Burt's Beeswax Lip Balm + Wet 'n' Wild Créme Liner
What: Burt's Bees Beeswax Lip Balm Why: Remember that annoying, but catchy song that dispensed advice to the graduating class of 1999, with the ultimate piece of advice being to always wear sunscreen? Sunscreen is a lifesaver, don't get me wrong, but I have to think that the speaker must never have slicked on the awesomeness that is Burt's Bees Beeswax Lip Balm. If he had, that would have been the indispensable product he was singing the praises of. Seriously, the stuff is incredible: a single tube ($2.49 at Drugstore.com) packs in everything you need to prevent painful chapped lips. The balm is 95 percent natural and includes coconut oil, lanolin, comfrey and sweet almond oil (the 5 percent that's "unnatural" is just vitamin E made stable with a little kitchen science). Plus, I'm convinced that the balm actually plumps my pout a little bit (what else could that effervescent, pepperminty tingle mean?). Pair it with my other cheapy fave, Wet 'n' Wild Brandywine Créme Lip Liner (99 cents, but you'll have to hoof it to the drugstore to find it) and I've got a sub-$4 lip routine that's second to none. Get Yours: Drugstore.com
Eco-Chic Find: Organic Hand Sanitizer
What: 2 oz sizes are also available. Price: $7.54 for 8 ounces Find it:
A Find: Spray Protection
What: Amazon.com
Eco-Find: Organic Body Mist
What: Organic White Tea Body Mist Why: Shampoo, conditioner, soap, moisturizer, cleanser…these are all beauty things we can't live without. We know that a body mist isn't one of these things, but it's so decadent, we feel like we've just left the spa every time we use it. The White Tea body mist from the Organic Bath Company is one of the best sprays we have found with a light, natural scent and an 83.6% organic composition without alcohol, coloring or the presumably bad parabens and petroleum. This isn't a 'must-have' product, but who doesn't need a little extra TLC now and then? Price: $7.99 Find it: OrganicBathCo.com
Web Site Review: ChickAdvisor.com
What: ChickAdvisor.com Why: Need to know what to wear on your first date, but all your girlfriends' cell phones are sending you directly to voicemail? Looking to impress the hot new vegetarian at the office, but can't find the good grub in your neighborhood? Finally psyched yourself into getting a bikini wax, but don't know how to track down the best aesthetician? Relax. The gals at ChickAdvisor.com have you covered. The online community that caters to all things girly is incredibly user friendly: just click on any of the floating topics in the "what are you looking for advice on?" box, or read reviews and user-updated message boards with topics ranging from beauty and shopping to health and fitness to basic Chick Chat. The Global Hotlist on the homepage details user faves so you can quickly find products and services that other ladies have given the thumbs up to. Kill a little time at work and take Chick Advisor polls or explore the topics other Chick Advisees are trawling. Hot spots in New York, Toronto and Winnipeg have the most user recommendations, but as word spreads and new chicks post their reviews, the site is sure to get more everywhere-friendly. For more answers to the "lady" questions you never asked your mom, check out SheFinds Guide to your most Embarrassing Questions.
Web Site Review: Frucall.com
What: Shop the internet…from a store with Frucall Why: Ever found the cutest pair of shoes but wondered – it is cheaper on Frucall.com
Beauty Find: Perfect Shine for a Perfect Price!
C.O. Bigelow for Bath and Body Works has created the most enticing lip tints in nothing-less than yummy flavors. Each tube will keep you reaching for your purse for more. Not only are these glosses perfect over other lip colors, but they keep your breath fresh too! Every time you lick your lips, the peppermint oil refreshes your breath leaving you kissable. And the best part, check out Bath and Body Works to get your own tube on sale for just $5! Sure to be a favorite: Just a hint of color: Get these at: www.bathandbodyworks.com
Beauty Find: Sassy Lip Balm
What: Amazon.com Check out more of our favorite lipwear in SheFinds Lip Gloss Guide and more great Eco-Chic Beauty options.
Sponsored Post: TGIF
document.write('');
Beauty Find: Or How-to-Find
Black polish (and other dark shades) have finally hit the Midwest. A few months back, people thought I was goth. Now they're fighting me for my fav shades! And I'm not the only one noticing the competition… Lippmann Collection's 'Dark Side Of The Moon' ($15 at Beauty.com) OPI's 'Black Onyx'($7.50 at Amazon.com) Now, if the black-black scares you (kind of the like the girls at the MAC counter scare me) then check out dark shades with red, brown or purple undertones: OPI's 'Romeo & Joliet' ($7.00 at Amazon.com) Essie's 'Priceless' ($7 at Beauty.com) Deal Alert:
Fashion Find: Underwhat?
What: GoCommandos.com Looking for something a little more traditional? Check out SheFinds Underwear Guide.
Fitness Find: Yoga in Style
What: Marika.com
Beauty Find: Ooh La-La Face Mask
What: AvanceSkincare.com
Beauty Find: Made to Order Thirst-Quenchers
What: Natty Products line is the hip-meets-functional brainchild of massage therapist and aromatherapist Brandy Zender, whose chemical sensitivities and allergies led her to develop a highly natural line of products for men, women and babies. Zender makes sure to list all of her products' ingredients on the Natty Products website, so sensitive softies like me can choose the perfect thirst-quencher when moisturizing isn't enough. Price: $24 Get yours:
Beauty Find: All-in-one Cleanser
What: MD Skincare All In One Cleansing Foam Why: Sometimes, we get lazy with our skincare routine. Who really has time or patience to squeeze out gels and scrub her face every time she 'glows' or walks through a cloud of exhaust? Thankfully for us can't-be-bothered types, one pump is all you need to get the benefit of this all-in-one cleansing foam. This concentrated product is part of the MD Skincare line, founded by New York dermatologist Dr. Dennis Gross. This is a cleanser that worked nicely in the morning for a good skin wake-up without the harsh chemicals. Price: $36 Find it: Amazon.com
Beauty Find: Red Hot Lips for Winter
What: Color Intrigue Lipstick by Elizabeth Arden in The Hollywood Prescription to plump up your pout to Scarlett Johansson proportions. If matte lipstick is just so 1950s, acheive a glossier affect with MakesGoodScents.com
Sponsored Post: TGIF
Finally, a bra that gives you comfort, a smooth silhouette, feminine detailing, and - most of all - fit flexibility for your one-of-a-kind shape. Fun and flirty, Thank Goodness It Fits® bras give you more fit options with half cup sizes in between regular cup sizes A, B and C. Fashion color bras and coordinate panties introduced seasonally. Available at department stores nationwide. document.write('');
Fashion Find: Marie Marie Dresses
As soon as the holidays are over – BAM- It's time to start thinking spring…even if the worst of the winter is still to come. Nothing against chunky cable knits, but enough is enough. It's time to look like an actual woman again, instead of an amorphous shape hidden under layers and layers of necessary, but not necessarily figure flattering clothes. Check out the new styles from Marie Marie. Their spring line features more than a dozen dresses, with a particular emphasis on rich olive green prints instead of the popular pale green, Easter egg version of the color…which means, we can buy it and wear it now. You just might have to throw a chunky sweater over it until the weather warms up a bit. For more on Marie Marie, check out The Tip Jar. Get Yours: shopbop.com Deal Alert: Shop the End of Season Sale at Shopbop.com
SheFinds Fitness Week: Private Dancer
Goal: Shake my groove thing - at home. The Plan: After trying out Jazzercise, hip-hip Pilates, and yoga studios, I've come to the conclusion that I'm not cut out to sweat in front of others. Instead, I'm going to dance it out at home, and with zero gym space in my apartment, I'll have to exercise in my favorite place: right in front of the TV. I'll probably start slow, with some more intense routine that will have me pretzel-bendy in no time. When I can touch my toes and I'm getting bored of all that calming breathing, I'll switch tracks for something a little more upbeat. A little muscles are burning. Price: $12-35 Feel the burn:
SheFinds Fitness Week: Its Got to be the (Right) Shoes
Fitness Week Feature Find: Nordstrom.com Treat your feet right, check out SheFinds picks for the most comfortable shoes.
SheFinds Fitness Week: Sweet Relief
Fitness Week Feature Find: Amazon.com
Sponsored Post: TGIF
document.write('');
SheFinds Fitness Week: Rock 'n Run
Fitness Week Feature Find: Motion Jacket ($85) is formfitting and features inside pockets for your mp3 players. Plus the pockets are mesh, so you can control touch-sensitive controls from the outside pocket instead of having to unzip your jacket every time the shuffle feature makes a misguided song choice. Yes, the Paiva.com
SheFinds News: The Possibilities are Endless
Last week marked the launch of Amazon's second online store, Charles David, Kenneth Cole, and Endless.com offers free overnight delivery. What will they think of next?
A Find: Oh' &%*$, I found a Cussin' Jar
What: Cussin' Jar Why: This year, I want to rid my vocabulary of certain four-letter-words. When I break a nail get cut off in traffic, I sound like a *&%$! truck driver. Instead of cleaning my mouth out with soap, I'm m going to charge myself 10 cents for every naughty word that escapes my mouth. It is worth my Starbucks fund sound like a lady. The Tumbleweed Pottery Company feels my pain (or has overheard me in traffic), and has created a nifty cussin' jar perfect for the potty mouths out there (I know I'm not the only one). Price: $17.95 Find It: Amazon.com
Trend Alert: Dreamgirls Style
sheath that molds to your shape, and throw on shoes to bolder is better. (Tip: with earrings this intense, steer clear of necklaces and let your ears take the spotlight.) Not ready to go all-out Dreamgirls style? Go for a subtler look and model some pitch-perfect 60's makeup. According to illuminizer, and then sweep on a coat or three of black mascara and gild your lids with nude lipgloss, and all your world's a stage! Enjoy a side of fashion with your film?
What Do YOU WANT?
The SheFinds audience (aka you) gets bigger every month. You like us you really like us!: In December '06 almost 300K people visited the site. Back in December '05 a mere (!) 150K people paid us a visit. However, no matter how big we get, we never want to lose our grip on why you grace us with your eyeballs. We're a small company and we'd love to hear what you like, what you loathe and what you'd wish we'd do more. Do you want us to write more articles about fashion? About solutions? About beauty? In the next few weeks we'll launch a new and improved SheFindsMom for all those hip moms and kids. Are there other SheFinds spin-offs you'd like to see? Please post your ideas in our Suggestion Box (you don't have to register -- login: talk pass: talk). You can also email your comments to [email protected] A girl's gotta eat aka how we make money: SheFinds is supported by a combination of advertisers and commission relationships with a wide selection of retailers. We like to call our model retail placement. Email and blog entries are written by independent writers and links to buy are inserted by a producer after the editorial is approved. Writers are not told what to choose by a retailer, however should you purchase an item via a SheFinds newsletter or blog entry, we will often receive a small commission on the sale. This revenue share is what keeps SheFinds free for you. So make a note, if you're ever going to buy something from a retailer we promote click through a link to that retailer on SheFinds first. Email advertising relationships are labeled "Sponsored Post," "Featured Link," "Custom Mail" or "Friend of SheFinds." Advertisers also pay for those lovely ad banners you see at the top and sides of this page (so go click on them). SaleThursday email participants pay a placement fee to cover production and mailing costs. The SheFinds sked: On Tuesdays we send out editorial email newsletters to our subscribers. On Mondays, Wednesdays and Fridays we may (not always) send out custom mails or advertorials. On Thursdays you get SaleThursday -- a newsletter packed with discounts exclusively for SheFinds subscribers. The blog (what you're reading now) is updated every weekday....sometimes on the weekends if we've got something to say. Who's behind SheFinds? I'm Michelle Madhok and I started SheFinds in 2004 to help busy women shop the web. I came up with the idea after spending 5 years at AOL overseeing content for the women's audience. I noticed that a lot of women started to give up on their looks when we/they get busy. Who has time to read that 14 lb Vogue or wait in line at Macy's? Not me and probably not you. You can read more about my background (and see a fab airbrushed photo!) on our About page. See what the press has to say about us here and if you're really having a slow day you can kill some time looking at my wedding photos. Natasha, our tireless Managing Editor, is the downtown to my uptown (meaning she stays out late while I fall asleep at 10:30 PM). We are based in NYC, but I don't want SheFinds to be too New York so we hire writers and editors from across the country. Suzelle gives her perspective from Cleveland, Kathy and Erin write reviews in Chicago, Courtney logs in from Oregon and we have another rotating cast of 5-6 stringers in everywhere from South Carolina to Queens. So once again -- thanks for all your support -- now go tell us what you want to see in '07!
Blog Round-Up: Found on the Web This Week
Stop crying about your failed resolutions, and get excited about all the cool new stuff we have to look forward to in 2007. Most of us probably won't actually walk on the moon this year, but we can all look like we did. (via Fabsugar) Fashion forward doesn't have to mean function backward. Keep time this year with a watch/bracelet hybrid. (via Stylehive) She's bringing preppy back. And it's about time, the whole "sloppy is sexy" thing was really getting old. (via Shopaholics Anonymous) To organize or not to organize, that is the question. A little clutter may not kill you after all. Mom- this one's for you. (via ShoppingBlog) Leather jackets are making a sleek comeback, with none of the tassles and shoulder pads that sent them packing in the first place. (via modern.girl) Apparently Britney Spears has resolved to "Take Care of Me". Because taking care of others is so 2006. (via couture in the city) Who needs "art" when you have the 2007 ad campaigns of Prada, Balenciaga, and Armani to drool over? (via Fashion Verbatim)
SheFinds Advice: Regifting 101
Now that the wrapping paper has been tossed, those what-am-I-supposed-to-do-with-this gifts are pretty obvious, huh? Too new to pitch and too nice to donate, you're thinking about regifting, aren't you? Well, giver beware. Shoppingblog.com has a few tips taken from a recent Associated Press article featuring Regifting 101. This ABC News article is loaded with sites like
Fashion Find: Hi Fidelity
What: Fidelity Denim Why: It's not all that different from falling in love. When it's right, you just know. You don't need advice from your girlfriends, and you don't have to tie a shirt around your waist to hide your insecurities. It just fits. Fidelity jeans fit me so well that my boyfriend is getting jealous. And just in case you think I'm some 6 ft. model type, whom everything fits, allow me to set the record straight. I'm short (5 ft. even), with a slightly un-proportioned hip measurement. Think Calista Flockhart stacked on top of J. Lo. I'm exaggerating, but you get the point. Jeans have never worked for me, and the low-rise craze (did I mention I'm high-waisted?) nearly had me on medication. If I found jeans that fit my skinny little chicken legs (that according to my Nana no boys were ever going to like), they were WAY too tight around my hips. I'm talking serious love handles, could only wear peasant tops, too tight. My other options were jeans that were way too baggy in the legs, reminiscent of my wannabe raver days, or jeans that reached my belly button, making me look like a 4 ft. tall soccer mom. Then I met Fidelity, the Belladonna fit, and like any woman whose been burned, I didn't have much faith. And then….they fit. The experience may be the closest I'll ever come to enlightenment. They fit my legs (which plenty of boys like thankyouverymuch), and they fit my hips. Perfectly. I actually thought I looked as good as the girls in the pictures that I tell myself must be severely airbrushed. Jason Trotzuk, Founder, Designer and President of Fidelity Denim, knows what he's doing, and what he does, he does so well. Get Yours: RevolveClothing.com Check out more great denim finds for all body types.
SheFinds Resolutions Week: Positive Thinking
Resolution: To think more positively Resolutions Week Feature Find: Inspirational Jewelry Why: It seems like every winter, the easier it is to complain – about the weather, how the slush just ruined our new boots, or the killer work schedule we have after the holidays. However, this year, I resolve to be more positive in my thinking. And, just to keep me on track, I've found Amy Peters' Studio, featuring necklaces and bracelets with double sided small designs showcasing an image on the front and a saying on the back. Now, whenever I start griping, I just have to look down and think to myself, "believe in yourself"…or at least, stop complaining so much about it. Price: $55-$64 Find it: AmyPetersStudio.com
Sponsored Post: TGIF
document.write('');
SheFinds News: Dropping Like it's Hot
We can't directly really blame the late subways on MK's rumored anorexia relapse, but now we can officially blame the many other fragile, hungry ladies just dying to get into shape for swimsuit season. When you don't eat, you get dizzy and weak, and eventually pass out, clearly requiring medical care (or an omlette). This causes massive delays. According to the MTA, an average of 395 delays per month are caused by "sick customers" (MTA code for ill passengers), and while we don't know exactly how many of these incidents are caused by card carrying members of the MK fan club, the numbers are going up. If none of the other known complications from anorexia, like…um…death, are enough to scare these girls into eating a granola bar, maybe the thought of face planting on a dirty, grimy, possibly urine stained subway call will do the trick. Read more about the recent anorexia related issues: Turkey and Stuffing for All Subzero, Not Just a Refrigeration Term Jewelry for a Cause