The Ultimate Wedding Shoe Guide: From $29 Steals To Dream-Come-True Louboutins
Have you been scaling clearance racks for the best deal on fancy peep-toes? Or carefully combing the fashion glossies for your absolute dream pair of designer stilettos?  Well brides, you can breathe a huge sigh of relief (and toss those 6 month old mags in the recycling bin), because your search ENDS HERE. (Cue the "Hallelujah" choir!) We're pleased to present our top 25 picks for wedding pumps and heels. There's lace, there's rhinestones, there's satin, and best of all, there are some breath-taking deals. (more…)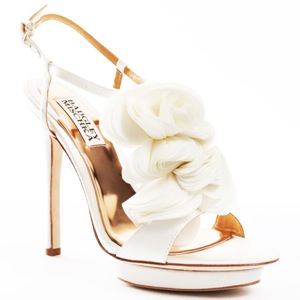 Up To 50% Off Flirty Wedding Shoes From The Likes Of Badgley Mischka & Charles David
If you're in the market for sexy wedding shoes, check out today's featured sale: get up to 50% off wedding shoes from gorgeous designers like Badgley Mischka, Betsey Johnson, and more. Find frilly sandals, girly wedges, and platform pumps that are to die for, like these super feminine Badgley Mischka Randee sandals. (more…)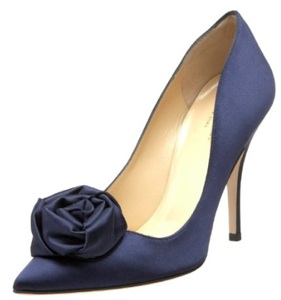 Up To 40% Off 'Something Blue' Wedding Shoes: Kate Spade, Nina, More
I'm a big fan of blue wedding shoes -- they have personality and are a snazzy way to satisfy your 'Something Blue.' If you agree, check out this sale: up to 40% off blue wedding shoes on Zappos and Endless -- including brands like Kate Spade, Badgley Mischka, Nina, Caparros, and more. Editors' pick: these Kate Spade New York 'Leanna' pumps ($213.24, down from $325) (more…)
Under-$100 Wedding Shoes: For The Budget Bride With No Money Left To Burn
If you've blown your wedding budget but still have some essentials (like your shoes) to get, high tail it over to Zappos: they have gorgeous, designer wedding shoes on-sale and under $100. Cha-ching! (more…)
Can You Tell Which White Lace Pumps Cost $696 More Than The Others?
Glint 'Trio' Peep Toe Bootie ($99.95) cost 8X less than these Valentino Lace and satin platform pumps ($795). Shop our guides to the best wedding costume jewelry, black bridesmaid dresses, and simple wedding dresses.
40% Off Wedding Pumps: Kate Spade, Stuart Weitzman, Badgley Mischka, More
Zappos never ceases to amaze me; they stole my heart with "Free Shipping," and keep me coming back for more with sales on my fav designers. If you're looking for a great pair of wedding pumps, I suggest you start here: get up to 40-50% off Kate Spade, Stuart Weitzman, Badgley Mishcka, Pour la Victoire, and more. (more…)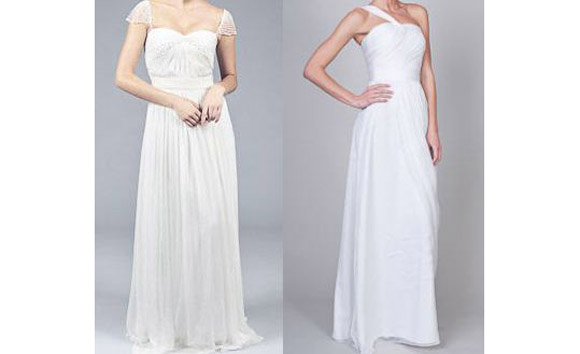 7 Labor Day Sales That Actually Include Bridal — Now, That's Something To Celebrate
Who says bridal never goes on sale? These 7 Labor Day sales -- all packed with the wedding essentials from the gown to jewelry to favors -- will let you save big $$ now, so you can splurge on other things later (can you say, "3 week honeymoon"?): 1. 25% Off All Wedding & Party Dresses eDressMe: Use code LABOR25 at checkout to redeem your 25% off. Our picks: this Love, Yu Beaded Cap Sleeve Wedding Gown ($1,125, down from $1,500) and Love, Yu One Shoulder Rouched Gown ($750, down from $1,000). (more…)
50% Off Pumps At Bloomies: Do Your Wedding Shopping While The Back-To-School Sales Are On
Right now, all the department stores are having their end-of-summer/back-to-school sales, and it's the perfect time to get your wedding essentials on  major markdown. We're talking peep toe pumps, clutch bags, and even gowns. Our pick: the selection of 35%-off wedding pumps at Nordstrom, like these blush Chinese Laundry 'Haylie' Pump ($59.90, down from $89.95), which come in our new favorite fall hue. (more…)
50% Off Giuseppe Zanotti Bridal (Kim K's Wedding Shoe Of Choice!)
Even though she had endless custom Christin Louboutins at her disposal, Kim Kardashian opted for a pair of Giuseppe Zanotti bridal shoes at her wedding last weekend. Great choice! The designer makes absolutely gorgeous wedding pumps -- and lucky for you, they're 50% off at Zappos. (more…)
60% Off Pour La Victoire Bridal Shoes — Including Pretty "Something Blue" Pairs
If you haven't yet found your "something blue," consider blue pumps: colorful wedding shoes are a semi-secret way to get a pop of color. Plus -- with a brand new pair, you'll satisfy both your something blue and new. Luckily, 6pm has 60% off Pour La Victoire Bridal, including these blue 'Laeia' peep toe pumps ($61.20, down from $151). (more…)

Can You Tell Which Satin Platform Pumps Are Miu Miu And Which Are Charlotte Russe?
The Miu Miu Satin platform pumps ($595, at left) cost $565 more than these Charlotte Russe Satin Uber Platform Pump ($30, right). Shop our guides to the best strapless wedding dresses, white wedding shoes, and inexpensive wedding dresses.
First Photos: Vera Wang For David's Bridal Shoes And Accessories!
You've already feasted your peepers on the brand-new bridesmaid collection from Vera Wang for David's Bridal, and today we're crushing on her complete line of accessories - from crystal hair clips to platform pumps and veils. Check them out now! (more…)
Can You Tell Which White Slingback Pump Is Jimmy Choo And Which Is Dolce Vita?
Shop our guides to the best strapless wedding dresses, white wedding shoes, and inexpensive wedding dresses.
Happy Memorial Day! 5 Best Wedding Sales To Shop Now
Celebrate the national holiday with major sales on everything you need for your wedding: J.Crew bridesmaid dresses, designer wedding shoes, gowns, jewelry, and more! Up to 40% Off J.Crew: Editors' Picks: Silk chiffon Thea gown ($399.99, down from $700) and silk taffeta bow monde dress ($79.99, down from $250). Up to 50% Off Nordstrom: Editors' Pick: Nadri Pavé Crystal Bezel Earrings ($27.90, down from $42). Up to 70% Off Shopbop: Editors' Pick: Elizabeth and James Leona Chiffon Open Toe Pumps ($175, down from $350). $15 off every $50 you spend at The Limited: Editors' Pick: Strapless Rosette Wedding Dress ($298). Use code STYLEPASS. 30% off Banana Republic: Editors' Pick: BR Monogram one-shoulder gown ($175, down from $250). Shop our guides to the best simple bridesmaid dresses, long bridesmaid dresses, and satin wedding shoes.
It Keeps Getting Better: 40% Off Under-$100 Wedding Shoes At Zappos
If your wedding is in a few short weeks (like mine is), but you still haven't found that perfect pair of shoes for you or your bridesmaids, have no fear: Zappos has up to 40% off wedding styles you'll love: Shop our guides to the best strapless wedding dresses, white wedding shoes, and inexpensive wedding dresses.
The Endless Bridal Boutique Has Surprisingly Awesome Brands (Giuseppe Zanotti, Loeffler Randall, More)
You know I'm all about inexpensive wedding shoes (they are so many pretty pairs out there!), and so when I stumbled upon the Endless Bridal Boutique, I was pumped. Not only does it contain some gorgeous shoe styles (Badgley Mischka, Loeffler Randall, Giuseppe Zanotti), but there is also jewelry (Kenneth Jay Lane, Kate Spade), men's shoes, mother of the bride, bridesmaid and more: (more…)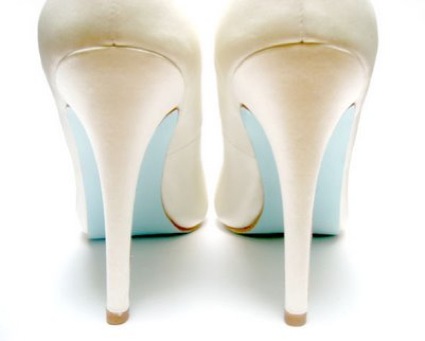 Get Your Wedding Shoe Fix At Zappos Today: Sales On Badgley Mischka, Caparros, More
If you're looking for stylish and affordable wedding shoes, Zappos is your new best friend. From sales on Badgley Mischka, to pretty satin styles from Nina, Caparros, and more, this really is the happiest place on earth. We've found a handful of  heels that your feet (and bank account) will be thankful for: Still need more options? Shop our guides to designer wedding shoes, inexpensive wedding shoes, and satin wedding shoes now.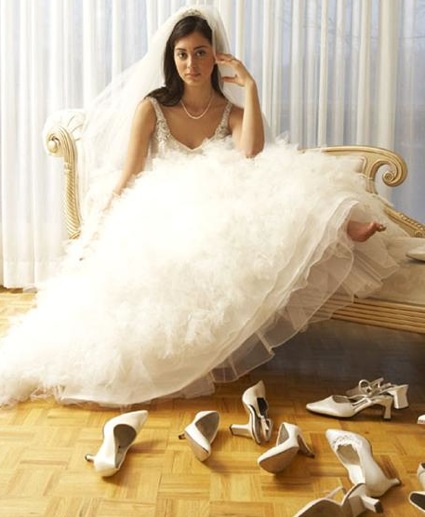 Shop Piperlime's Stress-Free Shoe Sale Now, And Save Your Energy For The Dress
Shoes are pretty annoying to shop for, especially with multiple stops and salespeople harassing you. Luckily, we've made it easy so you can shop these gorgeous (and under $30) bridal shoes stress-free at Piperlime now. (more…)
QVC's Wedding Boutique Opened Today: Shop Kenneth Jay Lane Replica Jewelry, More
QVC launched a Wedding Boutique today, and while it won't become your go-to for gorgeous gowns and designer shoes, it is a good source for super cheap finds like Kate Middleton replica rings, mother of the bride shoes, and more. The site will also feature a Kenneth Jay Lane royal wedding jewelry replica collection, which hits on April 29th. Check out some of our picks from the boutique now: (more…)
Make A Serious Statement (Not Dent In Your Wallet) With On-Sale Designer Shoes
So you forgot to budget in for your dreamy designer shoes and now you're broke? No need to go barefoot to your own wedding when My Glass Slipper has some pretty awesome shoe labels on sale. (more…)
A Manhattan Wedding With A Bird's Eye View And Bird Theme — Get Inspired
Name: Erin Henk and Jason Allen Wedding date: October 11, 2009 Location: Manhattan Penthouse, New York City (more…)
Get An Additional 30% Off J.Crew's Wedding Shoe Sale Today
We're obsessed with all things J.Crew weddings, so you can imagine our excitement to find that they are taking an additional 40% off sale wedding shoes today. Enjoy! (more…)
TOMS Shoes Does Bridal — What Do You Think?
TOMS, the preferred shoe of free-spirited celebs like Scarlett Johansson and Liv Tyler, recently launched a somewhat unlikely TOMS weddings collection of glittery slip-ons. I'm assuming these are for either destination wedding (if you're being wed in the Himalayas) or reception shoes for ladies who realllllly hate heels. Either way, decide for yourself if the TOMS wedding collection is for you: (more…)
30% Off Bridesmaid And Colorful Wedding Shoes
If white wedding shoes are not your thing, or your bridesmaids are wearing a hard-to-match purple, then colorful wedding shoes and bridesmaid shoes are what you need. There's no need to break your budget on the perfect pair; these under-$75 Zappos shoes are perfect: Still looking for great wedding shoes? Check our guides to the best satin wedding shoes and inexpensive wedding shoes. hit our guides for bridesmaid dresses, table centerpieces, cake toppers, and more.
Winter Accessories Under $150: Fingerless Gloves, Infinity Scarves, And Faux Fur Galore
Today on Better.tv, we're showing off our favorite winter accessories trends: fingerless gloves, infinity scarves, and the now-ubiquitous faux fur. (Hi Rachel Zoe!) Best of all: all the items you see here are under $150. Also: Find even more faux fur, infinity scarves and fingerless gloves in our hand-picked shopping guides. Faux Fur Faux fur is showing up on everything from vests to hats to shoes this season. We love the luxurious look of this faux mink wrap ($40 – and from Target!) for pairing with holiday party dresses or even jeans and a tee – it's more versatile than you'd think. This vest ($150) from Stefani Greenfield's stellar HSN line is also a cold-weather workhorse. If you'd prefer your faux fur in small doses, try a fluffy hat ($15), or these cool socks ($39) that can freshen up the look of your boots with the fur cuff that peeks out the top. Infinity Scarves This of-the-moment scarf shape makes getting that effortlessly chic loop totally simple – just throw it over your head. Echo's chunky single-loop scarf ($45) is the simplest – it sits around your neck like a cowl-y collar. Wear Roxy's Glow Infinity Scarf ($28) or Echo's triangle pattern scarf ($35) the same way, or double-loop them for a cozier fit. Fingerless Gloves Since we're all tied to our Smartphones these days, fingerless gloves make communicating on the go a breeze: fingers are free to type and text. Free People's Doubs gloves ($28) have adorable metal buttons, and Mossimo for Target's pair ($11) is extra long for extra warmth.
Michelle Obama's Dropping In On Jay Leno Tonight
Can Michelle Obama's appearance on tonight's Jay Leno Show save the funnyman's foray into primetime from its ratings nosedive? Probably not, but we'll definitely be tuning in to check out the duds on our oh so fashionable First Lady. Last time Leno interviewed her (check out the picture above for a refresher) Mrs. O was decked out in a gorgeous printed dress and yellow cardigan (fastened with one of her signature brooches), all from J.Crew. We've found some equally presidential items from the store's new collection, like this paisley shift and belted sweater. From her famous shorts escapade to the more conservative ensembles, like her perfect execution of florals and pearls, we've been devotedly following Michelle's clothing choices. So what will the style-icon wear to Leno this time around? We're kind of hoping she'll wow us with one of her winning Target finds. Mimicking the First Lady's impeccable looks is a cinch with the help of our Michelle Obama style guide and our picks for the best in cardigans and sheath dresses.
Even The Ladies Of Mad Men Are Into Sequins This Fall
Of course we love when the ladies and gents of Mad Men gather for some sort of gala - it guarantees plenty of 1960s era frocks for us to ooh and aah over (not to mention 1960s suits to get your man into). Betty looked ravishing in a strapless gown, but for a look that's more adaptable for those of us who don't regularly attend events at the Waldorf Astoria, we liked Trudy Campbell's fitted sequin combo dress. In the midst of this season's sequin craze, it's the perfect time to get Trudy's splashy look. We suggest this sophisticated top from Nanette Lepore paired with some vintage style in your lobes, like Carolee's pretty pearl clusters. Need some tips on how to sport sequins in non-disco queen way? We've got you covered, and don't forget to peruse our guides to the best in designer handbags, booties, and cheap jewelry for some useful extras.
Monday's Sample Sale Scoop: Earnest Sewn, Rodial, Versace, And More
Editor's Pick: Earnest Sewn denim at Hautelook Charriol jewelry, Habitual denim, Matthew Williamson clothing, Versace clothing, and Helen Kaminski handbags at Gilt Groupe Amrita Singh jewelry and Black Halo clothing at Gilt Fuse Qi cashmere, Radcliffe denim, and a multi-designer blowout sale at Billion Dollar Babes Faith Connexion clothing, Rodial skincare, Priorities clothing, and Janna Conner jewelry at Hautelook Matty M clothing, Fergie shoes, and Elizabeth Gillett scarves at ideeli Domino jeans, Izod outerwear, and Penguin watches at Beyond the Rack Tourneau watches and Bulga handbags at Rue La La MDC New York scarves and shawls at Editors' Closet Betsey Johnson coats at The Top Secret For more great deals, check out the online sample sales happening all week.  Then peruse designer handbags and sexy bras to go with your new finds.
Taste Test: Which Purple Gladiators Are A Royal Bargain?
Test your fashion skills with our other Taste Tests.
Get Emergency Help For Your Skin WIth An Acne Treatment That Really Works
Friday's Sample Sale Scoop: Buy A Vix Swimuit For Next Weekend At Billion Dollar Babes
Editor's Pick: Vix swimwear at Billion Dollar Babes  Dior sunglasses at Beyond the Rack Tateossian jewelry and Ed Hardy watches at ideeli Alexander McQueen clothing and accessories and AG Jeans at Gilt Groupe Taverniti SO jeans and Bobby Jones clothing at Rue La La Tt clothing at Billion Dollar Babes Marcela Calvet handbags at Editors' Closet Rufus clothing, Superga shoes and Gorjana jewelry at Hautelook
Deal Of The Day: Up To 40% Off Bright Flat Sandals At Anthropologie
All of these styles would be easy to walk around in during a meeting-heavy Tuesday or on a Saturday afternoon. The blue pattern on these thongs ($50, were $80) spices up the classic sandal shape. Crackled-leather sandals ($50, were $88) have an appealingly broken-in vibe without looking messy. We like the circular cutout in the center of these t-strap sandals ($200, were $298) – cute, retro, and a little different. More sales and deals: Payless: Buy one get one half off shoes Irv's Luggage Warehouse: 15% to 50% off Fathers' Day gifts 6pm: Nine West shoes for $30, today only
Taste Test: Which Gold Necklace Is Worth More Than Its Weight?
These gold necklaces go with just about everything – just ask our CEO SheFindsMichelleM, who counts a very similar looking piece as one of her jewelry mainstays. One of these long necklaces is a small indulgence; the other is a splurge at more than three times the price. Can you tell which is which? Click on the images to see what they cost.
Stop Scratching Already And Buy Something That Works On That Annoying, Dry Skin
Did you know your skin is your largest organ? I believe it because I swear I can feel every single inch of it right now as the wintery dry air is wrecking havoc. My fingers are chapped, my arms are itchy, and my legs look flaky. Lucky me, I write for SheFinds, and I've learned a few tricks and tested some fantastic products over the years. So if you're feeling the same skin pain, we have you covered. Here is a round-up of some of our favorite products, all of which we've road-tested ourselves. For your face, try Kiehl's Abyssine Cream, which is made with naturally derived ingredients that not only moisturize your skin, but also diminish fine lines and wrinkles. To pamper your body, a deep moisturizing body lotion like Bliss Lemon + Sage Body Butter will do the trick. The citrusy cream is packed with antioxidants and smells amazing. If dry skin is upstaging your manicure, SheFinds recommends L'Occitane's Shea Butter Hand Cream. The super smooth lotion goes on like butter and absorbs rapidly, healing and protecting chapped hands in an instant. Dry skin can keep you from putting your best foot forward, so use Derma Doctor's Feet Accompli Pedicure Cream to treat rough, parched tootsies. It's a perfect addition to your gym bag. And if you're looking for something heavy-duty that busts the endless exfoliate-then-moisturize cycle, try AmLactin XL, which has a patented blend of three alpha-hydroxy moisturizers. And to help winter-dry lips, shop our latest Lip Balm Guide for the best balms on the market.
Fashion Top Five: Non-Leather Handbags Are Cheaper And Not Made Of Cow
Leather handbags are expensive, and it's annoying to get caught with one in a sudden downpour. Coated canvas and nylon handbags, however, are less expensive (usually – and we kind of think D&G is just being silly), lighter, and generally repel water. We're not converting our whole handbag collection, but these stylish non-leather bags are definitely worth some consideration.LeSportsac's Dana Tote ($98) is sleek enough for work, but can easily double as a gym bag – it's 18" x 21" and made of patent-finish nylon. MAXX New York's Monte Carlo Shopper ($145) is made of PVC, but doesn't look fake-leather-y; it's big and structured, easy to carry in-hand or over your shoulder. This coated nylon shoulder bag ($39.50) comes with a Too Faced lip balm and little makeup case – quite the deal at under $40. This sort-of-preppy coated canvas tote ($89) is perfect for work or weekend, and we love the contrasting color scheme. This Matt & Nat bag ($220) is made of "vegan leather," which obviously makes no sense, but it's still exceedingly well-styled and expensive-looking for a non-leather bag. Find more affordable handbags in our Best Handbags Under $250 Guide.
Good Stuff From Cheesy Stores
Not to brag, but I have a knack for finding cute stuff in incredibly cheesy stores. I consider it a feat to find at least one decent item in stores that are usually written off as fashionably sub-par. Below are some picks I've discovered in stores that I normally wouldn't frequent for closet staples. Some of you may disagree on store choices -- don't mean to offend, but to each her own. New York & Company. New York & Company is actually great for inexpensive winter staples-- scarves, clothes, and hats. But recently I've been spotting some stellar clothing on the racks. Check out this classic tuxedo shirt ($17.50, was $35), boyfriend cardigan ($25.90, was $37), and eclectic circle print dress ($29.50 was $59) - right on point with the wearable art dresses seen on the runways. JCPenney. Even before JCPenney came out with its wanna-be Polo American Living line, I still visited this bargain department store to stock up on tights, undies, and the occasional timeless houndstooth blazer ($112.50, was $150). Aldo. Whenever I think of Aldo I think of the mall near my high school in New Jersey - never a good association. However, the store has been putting out some decent footwear lately, like these vintage-inspired peep-toes ($80) and classic patent ballet flats ($60). Arden B. There's an Arden B close to my subway stop and a big red Clearance Sale sign lured me in one afternoon. Lo and behold, I found their jewelry section to be fantastic. Two favorites are this drop chain necklace ($34) and wood grain ring ($18). Do you have a favorite cheesy store wear you find great clothing or accessories? Let us know in the comments section below.
News: Searle's Broke And Having A Sale, Should The UGG Go Too?, And More…
1. NYC retailer Searle has filed for Chapter 11. Bad news for them, but good news for anyone who wants to score 80% off designer goods on their site. [ShoppingBlog]2. Should UGGs be the next casualty of the economic collapse? Although some are not so keen on this comfy winter footwear, die-hard fans can check out our UGG Guide for where to find the latest styles. [Jezebel] 3. Sass & Bide has dropped out of the seemingly doomed Fashion Week. The duo claims it's because one of the designers is preggers, but we're sure the economy is at least partially to blame. [Fashionista]4. Just when we thought it couldn't get any worse, Real Housewife Sheree Whitfield has announced she will bring her collection from Atlanta to show in the tents. Forget Vera Wang, She by Sheree has arrived. [PageSix]
So Much Gossip Girl Fashion, So Little Time
If you're like us, you couldn't pick your favorite outfit from last night's Gossip Girl episode "Gone with the Will" if we paid you -- well, maybe you could because then you'd be able to buy some of your favorite pieces seen on Serena, Blair, and Jenny. While the Liz Necklace from Gemma Redux that Serena wore last night isn't available until February, many other styles like their unique vintage steel and gunmetal braided chains, ribbons, briolettes, and jeweled necklaces are ready for purchase online including the white jade Serena Necklace (how fitting) for $354. Blair, in her typical Upper East Side attire (I love saying that because I live there and the little girls do walk to school looking like this) sported the Lady Dior Cannage Bag inspired by Dior's vintage cannage quilting. It has a geometric grid stitched onto lambskin and is further accented by jewel-finished hardware ($1,800). Ms. Waldorf carried it in red last week. Pair it with a cute pencil skirt, cape coat, and grey hose and you'll fit right in with the scary little teenagers. Or fake it like the rest of us with this black quilted tote ($39). Go bi-color like not-so-little Jenny Humphrey with a black and white dress ($140, was $350) over a black turtleneck ($47.40) that can easily translate to your spring wardrobe. The DAY Biger et Mikkelsen Daily Slip Dress is on sale at Net-a-Porter where you can enjoy an extra 20% off this week by entering 'WINTERUSA' at checkout.
Deal Of The Day: 60% Off Splurge-Worthy Patent Pumps at Net-A-Porter
Now through January 18th, get an extra 20% off all sale items at Net-a-Porter with code WINTERUSA. The prices listed reflect the extra discount.These black peep-toe pumps ($198, were $495) might be the perfect goes-with-everything patent pair. Red and gold will make these Stella McCartney Patent Cut-Out Pumps ($278, were $695) an evening standout, but they'd also be totally professional under a pair of pants. A strappy look and pops of color make these Giuseppe Zanotti Tri-Color Pumps ($278, were $695) flat-out sexy. More sales and deals on the web:All through January, save 20% on your order at LuggagePoint with coupon code WINTERSALE20. Up to 40% off jackets, gloves and snowboarding gear at Altrec Outdoors. Get an extra 20% off your order at Baghaus with coupon code 2009SALE. The sample sale scoop – shop these sales today for huge savings:Andrew Marc and Brochy Walker at Hautelook Kate Spade, Oscar de la Renta and Amrita Singh at Gilt Groupe Rock & Republic at Rue La La
As The Economy Heads South, So Go Our Hemlines
In an interesting piece by our favorite New York Times contributor, Bill Cunningham, he takes to the streets to show some trends that he witnessed about the time that the economy started to fall. He noticed what a lot of fashion theorists agree is a signal of hard economic times: when the economy starts to take a dive, so do women's hemlines. Now, noting that most young women still wear shorter hemlines, most of us take a slightly more conservative approach when the going gets tough. Now, as Bill states in his piece (and we agree), the hemlines aren't as low as they had been traditionally, basically because we work now and we need to move it. There are plenty of ways to be somewhat demure with your hemline without looking like you need to star in a black and white movie. We fell in love with the white and grey dresses featured in his piece and while we can't yet locate the exact dresses, this Black Halo Off Shoulder Camilla Sheath Dress in White ($425) and their Black Halo Keyhole Ruffle Sleeve Sheath in Ash ($345) are interesting takes on the originals for our wardrobes. Some other options? Try this recession-friendly Light Grey Sheath ($39) as a great day-to-night option. Hey, if being a little demure will help get this economy back on track, we'll do our part. Besides, it's really too cold to show your knees right now anyway.
Fashion Top Five: Sweater Dresses
There's a part of me that isn't too happy about this trend… simply because it means that summer is almost gone. But it combines two of my favorite pieces of clothing: dresses and sweaters. I love dresses because they have a put-together, easy air, especially when they fit you perfectly. And a sweater knit is comfy and cozy, even on the coldest winter days. Take a look and pick the style perfect for you because we're seeing them in fall collections all over the place. This J.Crew dress ($238) in pure Italian cashmere is a tailored and vintage-inspired design that will go sweetly from the office out to dinner. The Iisli combo dress ($348) hits two trends: the faux-two-piece dress and the sweater dress. A perfect look that stays put all day long. Marc Jacobs hits the mark with a pointelle knit dress ($328) with artistic folds that accent the flattering scoop neck and empire waist. The style is very figure friendly… and it has a pocket! The twist front on this Banana Republic sweater dress ($110) and the green color ensures it stands out in the sweater dress sea. Lantern sleeves and button accents frame the flattering silhouette of this Design History sweater dress ($198). Find out what else you'll need in your wardrobe this season in our Fall Essentials Guide.
Erase Your Face With New Wrinkle Eliminators
Wouldn't it be lovely if we could take the eraser at the end of a pencil and wipe away those little lines forming at the sides or our mouthes and corners of our eyes, the way they do in commercials? Well, although that method is not exactly feasible, some brands have come out with wrinkle erasers that actually do help to erase the damage Father Time (and pollution and the sun) have done to our faces. Artistry, a little known but amazing brand whose skincare line works wonders to prevent pre-mature aging, has come out with Time Defiance Derma Erase ($45.55). Meant specifically for expression lines, this little magic wand fights hard against fine lines. If you visit the website, check out their Day Protect Crème as well. The fragrance is a bit strong, but my skin has never felt so smooth. I always see the commercial for L'Oréal's Revitalift High Potency Serum and finally decided to give it try. The Pro-Retinol A works well to combat lines, just be careful to use sparingly as it tends to dry out skin. At about $16, this is a more wallet-friendly alternative if you don't want to invest too much in face erasers. Do you have a fine line eliminator you swear by? Share with us in the comments section below. And be sure to sign up for our newsletter - next week we will be sharing the best products to achieve plastic surgery results at home.
My New Fashion Staple: The Cropped Jacket
I'm tall, which means that cropped tops often make me look like I outgrew my clothes. But this season's cropped jackets finally have a proportion that I can't seem to live without. I recently nabbed two on clearance at Old Navy as a test (don't hate me, they're not available online anymore) and now I find myself reaching for them all the time. Last minute drinks with friends? Khaki cropped jacket #1 over jeans and a brown t-shirt is an easy choice. Dinner with the boy after work? Khaki cropped jacket #2 over a chic halter dress slides effortlessly from the office to the restaurant. Want a khaki cropped of your own? We love this funnel neck version from Vince - on sale for $118. See where I'm going with this? The cropped jacket is a new staple… just like the belted trench. And there's a style for everyone and every occasion! Wear yours into fall with a chunky knit scarf and your favorite pair of jeans.
September. Love, SheFinds
We know you don't have time to make a list of all the new stuff you want to check out, all the shows you want to watch and all the beauty lines launching new collections. Actually, neither do we – so we've pared it down to the really worthwhile ones, and organized them, calendar style, so you can be the first one in the office wearing the gorgeous colors in CARGO's PlantLove line (September 15) or the gal with the in on cool clutches (September 18).Enjoy! September 1Catch the Gossip Girl season 2 premiere tonight at 8 pm EST on The CW…As if you didn't already know. Read our thoughts on last season's Gossip Girl style so you're prepared for the overwhelming eye candy that will undoubtedly hit the screen.September 2Buy up-and-comer Christine Rhee's architectural-sleek pieces online today, when she launches her Web store at CRHEE.com. September 3How is this Project Runway different from all other Project Runways? DVF is the guest judge! Watch the episode at 9 pm EST on Bravo, and if you're inspired, pick up some of the designer's timeless styles at Net-a-Porter.September 5Mercedes-Benz Fashion Week begins in New York. We hope Gottex is nicer to us this year .September 11Target opens pop-up shops in four New York locations: Union Square, Midtown, Soho and the East Village. Whet your shopping palette and read our review of Richard Chai's GO International line. Honestly, though, we still envy non-Manhattanites for their access to the permanent stores.September 15We do always love some eco-friendly makeup in compostable plastic. Yes, you read that right. Starting today, you can buy CARGO's PlantLove shadows, liners and more online at Sephora. They're made of natural ingredients and packaged in earth-friendly holders made of plant-derived plastic and recycled cardboard. September 18In the market for a fall clutch? Jalda's smart styles hit happy LA today – and you don't have to be a West-Coaster to get one. September 22Flat-haired gals rejoice: Starting today, you can purchase products from Ookisa, a new (paraben- and sulfate-free!) hair care line devoted "thickening, lifting and pumping up the volume." September 29Start your holidays a bit early with Suds In A Bucket's yummy Holiday Dessert Collection, out today, that includes lotions, shower gels and scrubs in scents like Figgy Pudding and Pumpkin Spice. September 30Encourage your man to Cobra pose along with you by steering him towards the great gear at Doce Vida Fitness – their men's line debuts today.Something else you want to see in the calendar? E-mail [email protected] and give us your feedback.
Now You Can Get Botox On Your Lunch Hour
Sneaking out at noon and using my hour lunch for shopping rather than eating (does this make me a fashiorexic?) is a regular habit. But now the so-called "medispa" or medical spa has arrived at the suburban mall near my office and in a spa-like setting, clients are getting chemical peels, laser hair removal, and even Botox injections.Last year, Botox topped the list of minimally-invasive cosmetic procedures done in the U.S., with more than 4.6 million wrinkle-fighting procedures performed, according to the American Society of Plastic Surgeons. The popularity of Botox combined with the convenience of a walk-in location right in the mall is likely to push that record setting number even higher in 2008… but is that a good thing? If you want all the benefits of Botox without the pain, check out a skin-firming creme like Laura Mercier Flawless Skin Eye Creme ($75) or MD Skincare's Hydra-Pure Antioxidant Firming Serum ($95). Both battle the age-telling fine lines and wrinkles, without the injections. Tell us… what will you be doing on your lunch break? And is this another bizarre beauty treatment, like the vaginal rejuvenation spas we told you about before? And sign up for our newsletter - next week's is all about ways to get plastic surgery results without going under the knife (or the needle).
Old Lady Chic – Bib Necklaces Are Back
My favorite piece of jewelry is my great aunt's bib necklace. It's just costume, and the inexpensive metal leaves my neck slightly green after wearing it, but I adore it anyway. Lately, I've been spotting bib necklaces in stores and on the street, and when I saw one on Mad Men, which has become a go-to series for fashion trends, I realized Aunt Dot was quite the fashionista back in her day. Below are some favorite picks if you're looking to acquire a bib of your own. This gorgeous, gold-dipped Etta Necklace is most similar to the one I own, except it's adjustable (and $440). For something more modern, try Banana Republic's Multi-Gem Bib ($55.30, was $79). Wear it with a simple sheath and you'll need nothing else. Even Target has caught on to the bib trend with this Wrapped Chain-Link version ($30), which reflects that artsy-craftsy look also catching on around town.
Deal Of The Day: Up To 65% Off Theory At Bloomingdale's
A couple of Theory pieces can form the backbone of an entire professional wardrobe, and these three indispensable styles are currently deeply discounted and still available in most sizes. Some discounts are taken at checkout.A classic three button jacket ($131.40, was $365) in Theory's classic suiting fabric. Tapered, slim-fitting ankle pants ($75.25, were $215) look elegant with heels of any height. The Golda Tailor Pencil Skirt ($87.50, was $175) is made of a wool/lycra blend that won't make you feel constricted. More sales and deals on the web:Up to 70% off select items at New York & Company. Save 20% on all orders at Puma today and tomorrow with coupon code BTS77. 15% off any purchase of $125 or more at Banana Republic with promo code LABORDAY.
News Updates: iPhones Cover Fashion Week, Kate Saddened By Her Supermodel Body, And More…
Style.com is introducing a downloadable iPhone feature that will allow fashion fans to watch next week's runway shows on their fancy little gadgets. For those of us without G3s, tune into SheFinds for Fashion Week coverage. [NYTimes]In a recent interview, Kate Moss admitted she is too thin, and blames the fashion industry for making her that way. Does she also blame them for the gabillion dollars in her bank account and status as a style icon? Don't bite the hand that feeds you... or doesn't in Kate's case. [GuardianUK] Cycle 12 of America's Next Top Model, which premieres next week, features a Glaminator 11.0 that apparently tells the contestants how to be better models. Tyra has officially lost her mind. Perhaps she should have stuck to modeling. [NYMag]The Barney's NY Warehouse Sale ends September 1st and already the crowds are piling in for discounts of up to 60% off Marc Jacobs, Prada, and the like. If you don't like to elbow your way to a deal, check out the online sales we've found for you. [Racked]
Only 1 Day Left To Win A $500 Shopping Spree At Kerastase
You only have until tomorrow to enter this week's Freebie Friday where we are giving away a $500 shopping spree at Kerastase. And if you've ever tried their products, you'll know they are pretty much unbeatable. Now Kerastase offers the Noctogenist line, overnight treatments for fine or thick hair. What products would you take home if you were lucky enough to claim the prize? Visit the site, choose your loot, and come back to SheFinds to tell us about it. Contest ends tomorrow, so get to it.
Latest Blog Posts From MomFinds
Deal of the Day: Start Holiday Shopping now at the Discover Store Summer SaleIt's four months until Christmas, but why not get a head start on the season at the Discovery Store's end of summer sale. There are toys and gifts for all ages at prices up to 50% off.Show Us Your Cool Kids! All kids are cool, but your kid is the coolest, right moms? Every Tuesday we have a Cool Kid Alert, and we've found some of the cutest babies and big kids across the country. Win it Wednesday: Five Readers Will Win New Back to School Goodies from CrayolaIt's back to school season again, that busy time of year when you have to stock up on a bunch of supplies for your kiddo. Give your wallet a break by entering this week's contest for a chance to win a colorful Crayola prize package.