The New iPad Air Is So Thin That You're Def Going To Need A Case For It
We kind of feel like there was so much hype about the new iPhone5S that people were a little exhausted when the iPad Air launched on Friday. Usually you hear about crazy lines, brawls, all that good stuff that comes with new technology, but I guess the world has had enough of Apple. But if you were one of those diehards that got the thin, lightweight tablet, then you're going to need a new case. And Apple was so secretive with the specs that they're one of the few companies making them right now. As always, they have a bunch of different colors for their smart case, so you better get yours quick before they sell out! SHOP APPLE IPAD AIR CASES NOW Don't forget to check out Christian Louboutin's UGG boot lookalikes, how to dress in your house for winter, and Drew Barrymore is pregnant
The First Accessory You Need To Update For Fall…
Looking for the perfect summer cocktail recipe or chic weekend getaway outfit? Finding the perfect summer essentials can be tough and time consuming. But we've got you covered and we've partnered with VEET to help you put your best skin forward all summer long! Together we've created a collection from retro swimsuits to how to rock printed shorts all in one guide CHECK OUT THE VEET SMOOTH SUMMER GUIDE TOTE BAGS These tote bags aren't your regular plain woven straw bags. We've got all the chic totes that saves you money for those poolside drinks. Check out the tote-ally amazing bags! COCKTAIL RECIPES Nothing says summer like a cool cocktail. Get the recipes and directions to make the perfect summer drink here. SUMMER BOOKS We've got the best books to read on the beach or by the pool. Check out our favorite novels here. SMOOTH SUMMER SALES Be free from spending too much money on summer clothes. Check out all the exclusive sales and deals. RETRO SWIMSUITS From peplum to floral print we've got the cutest swimsuits out there for body conscious and petite bodies. Be a beach goddess in one of these perfect retro swimsuits. BEST SUNGLASSES Summer is supposed to be fun, so swap out your boring old sunnies and grab one of these trendy shades. CUTE WEDGES Classic with a trendy twist, these wedges will never go out of style. Trust us, you'll want to wear these cute wedges. PRINTED DRESSES Prints never go out of style, and these dresses are no exception. NAIL POLISH TO TRY Summer won't be complete until you try these nail polish on your digits. Choose your summer shade here.  WEEKEND GETAWAY OUTFITS Whether you're soaking up the sun in Miami or catching some waves in Montauk, or maybe even hitting the slots in Vegas, we've got the perfect ensembles for your upcoming weekend getaway. BEST IPAD CASES Choose from cases that look like chic clutch bags to fun graphic cases here. COVER UPS These cover ups are perfect for a summer filled with pool parties, barbeques and beach days. We even found cover-ups that you can wear out, check out our guide here. PRINTED SHORTS Go for bold! This is the time -- it's summer and there are plenty of places to wear these festive shorts. JELLIES These jellies were made for summer fun. Your hardest decision will be which jelly sandal to choose.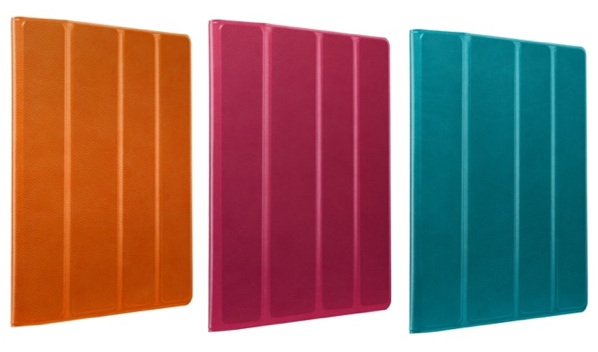 The First iPad 3 Case Is Here! Shop Now Before The Tech Junkies Swipe Them All
The third generation iPad is set to hit stores any day now, and if you're an under-cover nerd (or not so under-cover), we know you'll be at the front of the line to get one. Sleeping out at the Mac store is one thing, but not having a cool case for your brand new toy is another. Don't be left behind: the first iPad 3 case just hit online, and I'd suggest you get one before the rest of geek nation snatches them up. This Textured Tuxedo Case for the iPad 3($60) is "ultra-slim" for your sexy new tablet, and features "smart magnet technology" and Magic Tape adhesive to keep the thing in place. It also comes in happy, on-trend colors like orange, aqua blue and pink. Shop more of our favorite tech cases, like these iPad 2 cases, Marc Jacobs iPhone cases and the most extravagant iPhone "purses".
Nobody Does iPad Cases Like Diane von Furstenberg (Now In Vintage Prints!)
Just when we thought Diane von Furstenberg couldn't get any cooler--she's already an amazingly talented, gorgeous woman whose designs have transformed the lives of women. But now she's taken the vintage prints from the '70s wrap dresses that made her famous...and turned them into iPad cases. How genius, right? Grab one for yourself before they're gone--they'll be just as flattering on your iPad. (more…)
Trend Spotting: Graffiti Is Everywhere (We're Talking Dresses & Jewelry, Not Just In Sketchy Alleys)
The graffiti trend is sweeping the nation--it's hip to be tagged. Here are some cool ways to get in on the graffiti trend without having to pick up a can of spray paint and run from the cops. Ready? (more…)
The iPad Case That Looks Like A Clutch. #SignMeUp
Don't let your iPad go naked. Got an iPad? Now you need something to protect that baby so it doesn't get scratched or scratched. Might as well go for something a little bit luxe... (more…)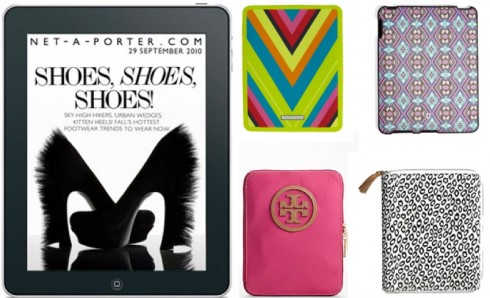 Don't Head To The Pool This Weekend Without Protecting Your Gadgets: Designer iPad Cases Galore
Cover your iPad in style with these designer cases. Clockwise from top: Jonathan Adler, $30; Dannijo, $150; Diane von Furstenberg, $150; Tory Burch, $135 Let's face it: the best part of any new technological gadget hitting the market (here's looking at you iPad) is the subsequent release of irresistibly stylish cases made to cover it. What's even better is that because you're ostensibly purchasing said case to protect your investment, it is 100% OK to splurge on a designer version. For you, we've rounded up the chicest iPad cases out there...plus a waterproof variety and a duffle bag that doubles as a set of speakers (you can plug in your iPod, iPad, or MP3) in case you'll be hitting the pool or beach to celebrate the 4th of July this weekend. See them all after the jump. (more…)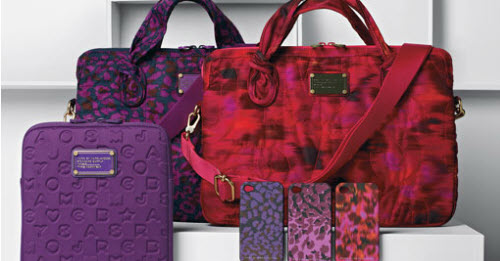 Cover Up Your Gadgets: Marc by Marc Jacobs Tech Accessories Are Irresistible
Marc by Marc Jacobs has launched an entire line of iPhone covers, laptop bags, and iPad cases...so there's no excuse for not wrapping your tech toys in Marc Jacobs, girls. Check them out at Nordstrom. Check out all of this week's best sales and deals, stylish laptop bags, online sample sales and best find of the day picks.
Don't Let Your iPad Get Scratched: 5 Cool iPad Cases–On Sale
If you're a secret tech nerd who's obsessed with your iPad, now you can get cool iPad cases and covers on sale today. So now you don't have to worry about scratching it while it's jumbling around in your bag. Just in time for summer vacation! So get one now before the prices go back up. Happy reading, everybody. (more…)
Hide Your Inner Nerd With These Chic Designer Cases For Your iPad, iPhone, Blackberry & More
We love switching our accessories with the seasons, especially our handbags and even wallets. But now with the new iPhone and iPad and other geeky items, it's time to give those an update too. So why not invest in some new accessories for your electronic companions? You don't want them to feel left out. Besides, with all of the bright colors and eye-catching designs, your cell phone will beg for a new cover. (more…)
iPad 2 Is Here; Keep Your Nerdy Side Hidden With These Designer Cases
The iPad 2 hits online March 11th, and if you're a not-so-secret nerd and can't wait to get your hands on one - don't forget to stock up designer tech accessories to go along with your sexy new tablet. (more…)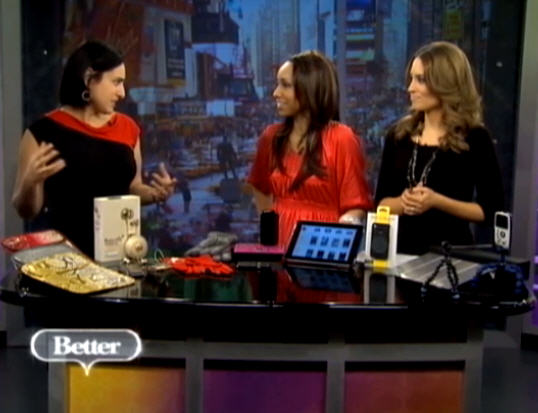 SHEfinds CEO Michelle Madhok Reveals Her Favorite Tech Accessories On Better TV
SHEfinds' CEO Michelle Madhok stopped by Better TV this week to reveal her favorite tech accessories -- and there are no geeky or manly ones in sight. This batch is just for the girls - from DANNIJO iPhone cases, to Vivienne Tam headphones, and ostrich Oscar de la Renta iPad clutches: See more of our favorite iPhone cases, iPad cases, more tech accessories and stylish laptop bags, plus all of this week's best sales and deals and best find of the day picks.
Valentine's Day Is Actually Just A Really Good Excuse To Treat Yourself. Why Not Celebrate Early?
The best part about being single on Valentine's Day is you don't have to blow your paycheck on a video console for a guy. Instead, use the spending money for something you deserve. Here are some indulgent ideas. After all, you deserve it. Be sure to check out all of our favorite gifts. Shop our guides to the best platforms and the best leather jackets. Subscribe to our e-mail list for exclusive fashion updates.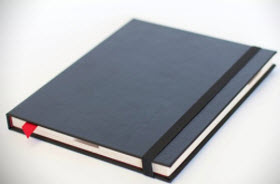 Leave No Electronics Uncovered: Handmade Etsy Cases For Your iPad, Droid, Kindle & iPhones.
So maybe by now everyone you know has an iPad, or at the very least, an iPhone. One way to stand apart from the pack is a one of a kind case. Etsy is the place, where there are tons of handmade cases for pretty much any piece of equipment you own. Ready to cover up those electronics? Here we go: Check out more of our favorite Etsy finds, see our roundup of the best iPad cases from around the web, including the Tory Burch iPad case that keeps selling out. Follow the author of this post on Twitter @shefindseileen.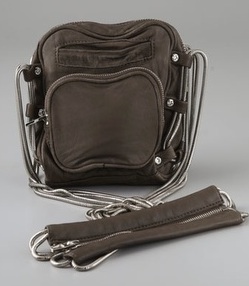 The Results Are In: Accessories The SHEfinds Staff Craves Most This Christmas
With only 12 days left until Christmas, we're down to the wire. But if you really just have no idea what to get your friends or maybe that friend you only 'kinda-sorta' know, here's what we at SHEFinds are hoping for under our trees. Check out these amazing gift picks from our staff: Check out more of our favorite gifts, like gifts for your OCD friend, gifts for your nudist friends, and gifts for your Martha Stewart-type mom. Shop our guides to the best watches and the best chain-strap handbags. Subscribe to our e-mail list for exclusive SHEFinds updates.
Sorry, Urkel, Techies Are Cool Now: Top 7 Designer Gadget Cases
If you're spoiling someone you love this holiday with a fancy gadget or tech product (that includes yourself) - then hook them up with a fancy designer case, too. It's the perfect gift for the label-lover or person who has everything in your life. Plus, it's a great way to own a designer accessory for less: See the DANNIJO iPhone case that made our 2010 Sold Out list, and the top 5 shopping apps for scoring big this holiday season. Then check out the best iphone apps and iphone bling. Subscribe to our mailing list for exclusive fashion e-mails. Follow the author of this post on Twitter @bridefinds.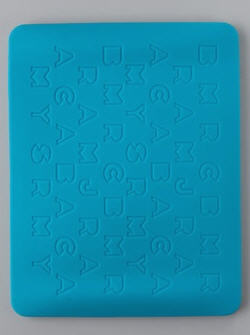 You Have An iPad (Lucky You!) – Now Hook Yourself Up With A Marc Jacobs Case
If you're lucky enough to have an iPad (someone must love you), then don't leave that sexy piece of technology naked. Hook yourself up with a designer case, like this Marc by Marc Jacobs Jumble Logo iPad Case ($58). It's the perfect way to own a designer accessory for less, and this colorful one is especially cool. Or, if you're giving your daughter, sister, friend (or self) an iPad for Christmas, surprise them with a cool case, too. Now, that's a good gift. For more gift ideas, check our holiday sold out list, then check out the perfect gifts for your party girl friend, your reality-TV obsessed friend and your man. If you're still stumped, hit up Part 1 of Oprah's Favorite Things for 2010. Then see all of our sales and deals, best find of the day posts, and online sample sales, too. Follow the author of this post on Twitter @bridefinds.