This New Jean Jacket Trend Is Not What You'd Expect
Use Our Exclusive Promo Code To Get This $250 Trench Coat For Just $37.50–Really!
If there's one item you absolutely, positively need for spring, it's a trench coat. There's no better way to brave the rain in style, after all. So to help you out, we asked our friends over at Coats Direct for a hook up. You ready for this? We got them to reduce the price of this gorgeous Laundry by Design Draped Asymmetrical Trench Coat to just $37.50. It was originally $250, people!! I'm loving the fact that it's not the classic camel color, but this neutral olive hue which is super flattering on lots of skin tons. The cut is also great of every body type thanks to the looser fabric and the waist-nipping belt. It's not every day that you can snag a stylish trench coat at this quality and at this price, so you need to be quick. Just use code SHEFINDSLAUN at checkout and you'll get this amazing trench for just $37.50, plus free shipping. The deal expires on March 29, 2017. GET YOUR TRENCH COAT NOW Be sure to check out the best drugstore beauty products and our favorite one shoulder tops for spring. [Photo: Coats Direct]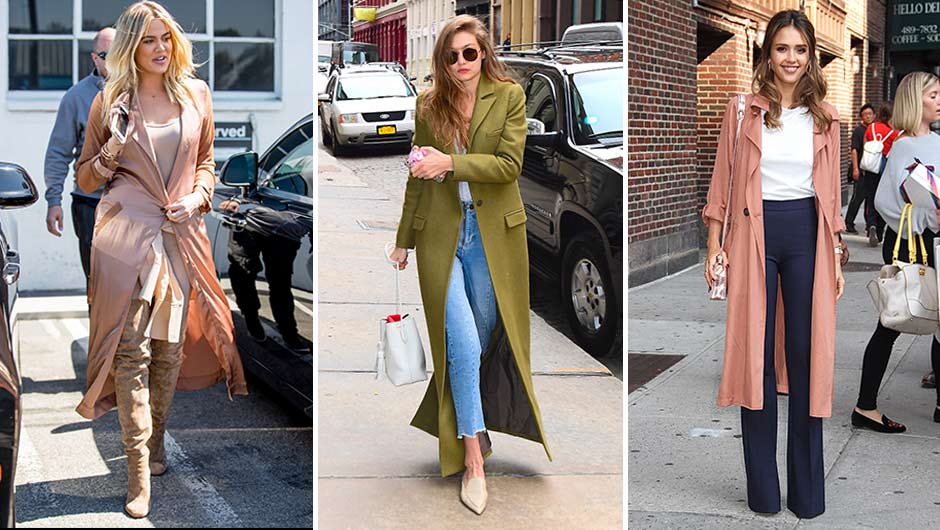 Why Is Every Celeb Wearing Robes Right Now?
Steve Madden's New Lower-Priced Line Just Hit Kohl's (It's All Under $75!)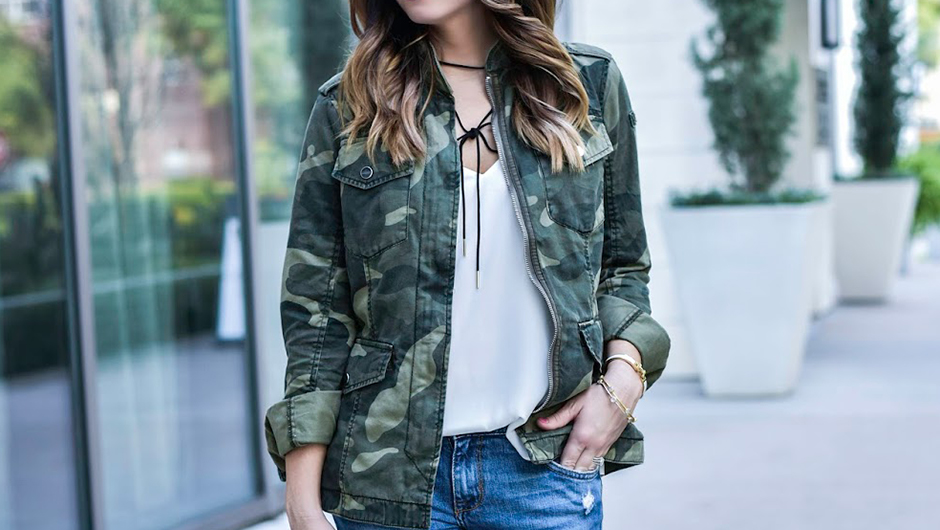 Every Girl In Our Office Is Wearing This Jacket Trend
Shop Olivia Palermo's Incredible Closet Now!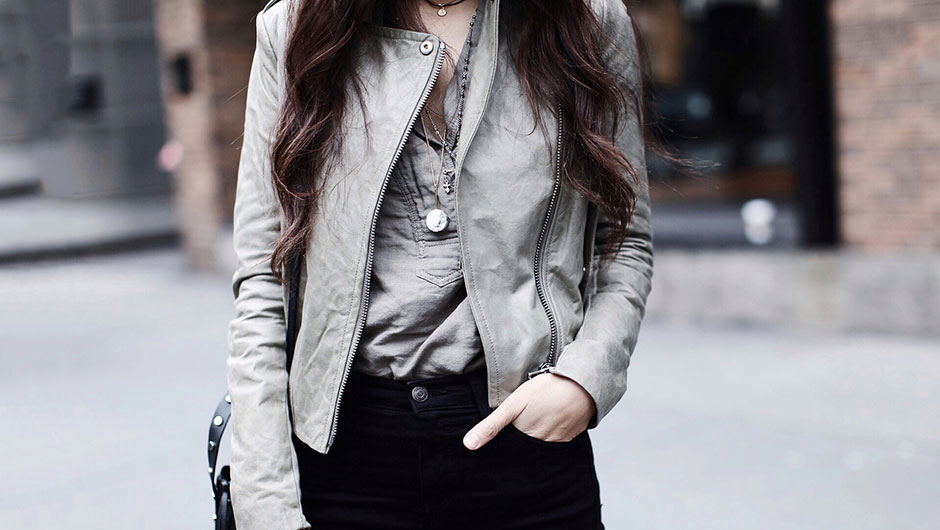 How To Clean Your Leather Jacket, According To An Italian Leathersmith
After spending four months studying abroad in Florence, Italy, you could say I've gotten to know leather pretty well. I'd walk through the leather market on my way to class and pass hundreds of leather stores adventuring throughout the city. As a typical study abroad student, I ventured down to the leather shops and purchased my token leather jacket that I'll have forever... aww  My friends and I all got our own special souvenir to take home, but one of my friends ran into a problem with her leather jacket. She got it so dirty and didn't have the time or patience to go get it cleaned - not to mention the money. The man who sold her the jacket recommended that she clean it herself since it wasn't that bad. I helped her decide whether or not to take his advice, at the risk of ruining the leather, but in the end, it turned out great! By using this simple cleaning method, her jacket turned out clean, and kept it's leather smell, shine, look, and feel! So try this out next time you need to clean your jacket! 1) Fill a bucket with warm water and add a small amount of mild soap or detergent. 2) Mix it up really well. 3) Dunk a sponge or soft cloth into the soapy water. 4) Gently wipe it over the outside of the jacket - don't scrub! 5) To rinse it, wet another sponge or soft cloth in plain water, and wipe the soap residue off of the jacket. 6) Blot with a dry cloth and hang it up to dry completely. 7) Once it's dry, apply a leather conditioner to keep the leather soft and flexible - and of course, follow the manufacturer's guidelines. As always, only clean your leather jacket when it really needs a freshening up. Otherwise, keep enjoying your jacket--a little wear and tear makes it special, right?? Make sure to check out How To Get Wrinkles Out of Leather and How to Hang Leather [Photo: Mel Denisse ]
Graphic Jean Jackets Are This Year's 'Best Friend' Jackets, According To Bloggers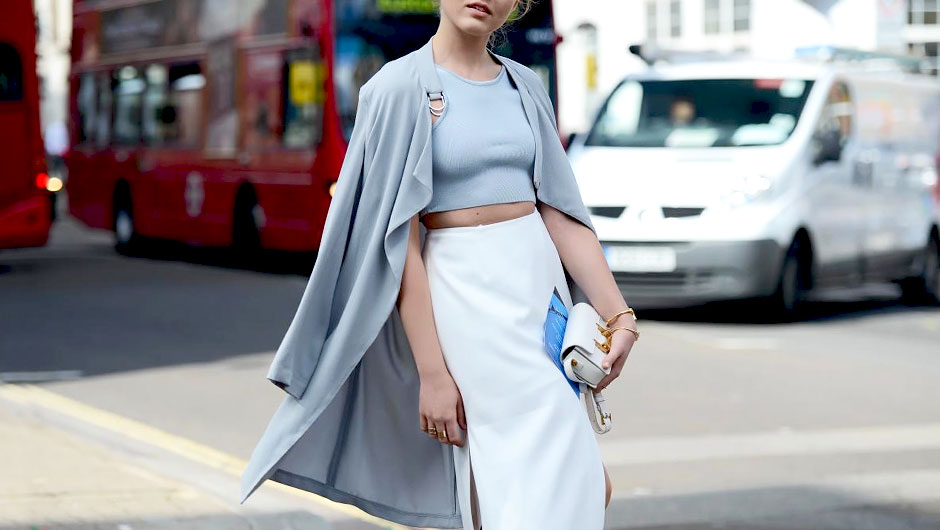 16 Lightweight Jackets That Belong In Your Closet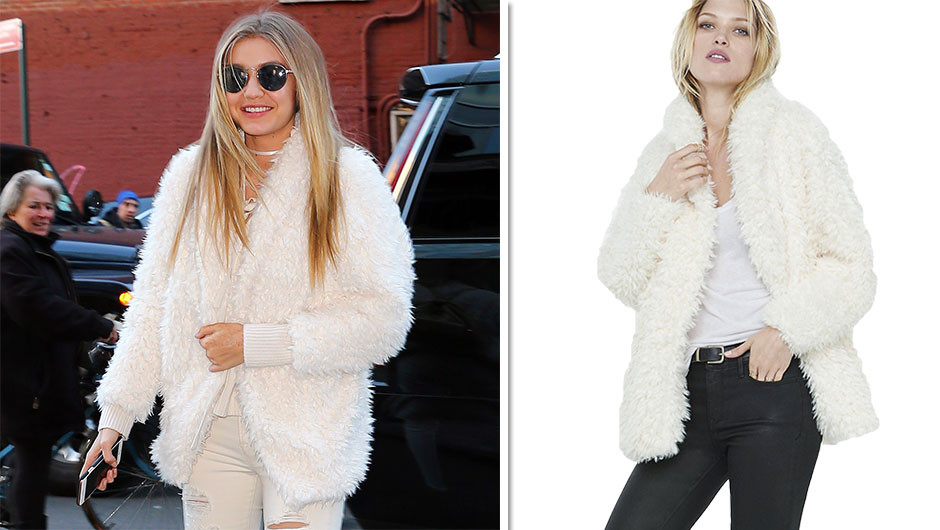 Find The Express Store Near You That Still Has Gigi Hadid and Kendall Jenner's Fab Faux Fur Coat In Stock
Imagine our surprise when we learned that this fab white fur coat Gigi Hadid  stepped out wearing was from Express. Really! Oh, and nbd, but Gigi's top model bestie Kendall Jenner owns the SAME. EXACT. EXPRESS COAT. https://www.instagram.com/p/BAfSzUHDo2d/ That was the good news. The not-so-good news is that Gigi and Kendall's Express Sherpa Wedge Jacket ($59.99, down from $98) is only available in stores. If you love it, click below to find the Express store closest to you that still has it in stock. Hurry! Express Sherpa Wedge Jacket ($59.99, down from $98) Don't forget to check out Jessica Alba's cool sneakers and Kendall Jenner's cool sunglasses. [Photo Credit: Splash News]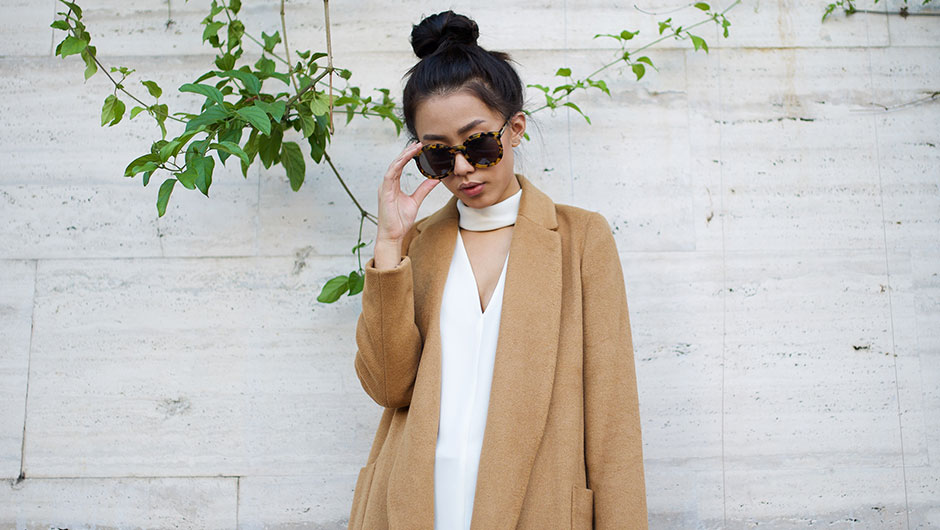 All I Want For Christmas Is A Camel Coat–These Are The Ones I Love Most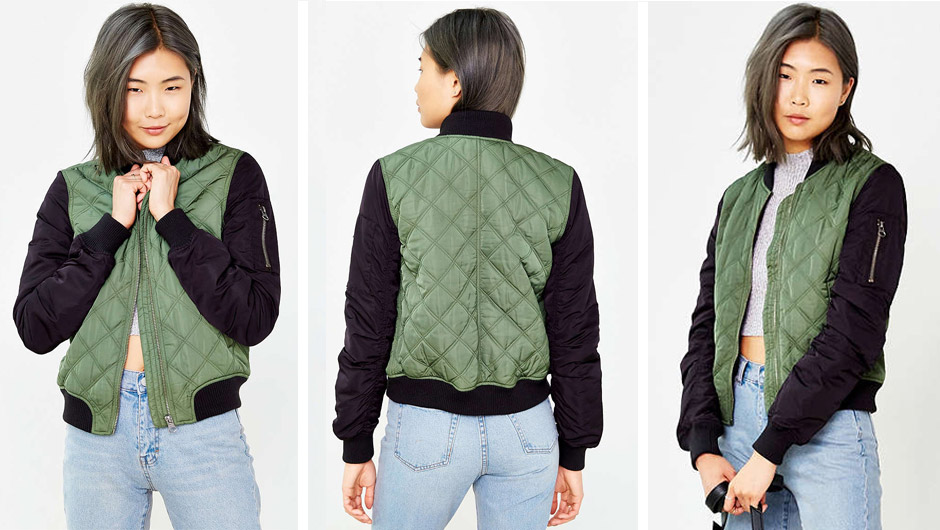 How To Look Cool This Winter: Put On A Bomber Jacket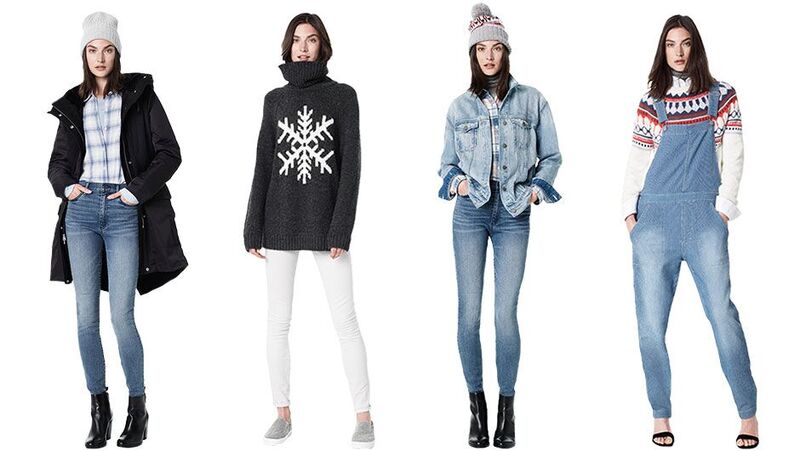 Everything Is 50% Off At Gap's Early Black Friday Sale
Well, that's rad. Gap is now offering 50% off sitewide with code EARLY, so you don't need to stress about what deals are to come on the actual Black Friday, you can just shop them now. Yay! Stock of up Gap's great basics at half price today. Go go go! SHOP GAP'S BLACK FRIDAY SALE NOW Pictured: Three-in-one parka jacket, ribbed beanie, 1969 resolution true skinny high-rise jeans, snowflake sweater, 1969 authentic true skinny jeans, fair isle pom-pom beanie, 1969 denim cross-back overalls. And for more Black Friday sales that have already started: 50% off at Gap 30% off at J.Crew 75% off at the Kate Spade Surprise Sale 25% off at Madewell Extra 30% off sale at Moda Operandi Up to 25% off at Shopbop's Big Event
Rebecca Taylor Dishes On Her New Outerwear Collection (We're Obsessed!)
We recently sat down with designer Rebecca Taylor to discuss her new outerwear expansion, of which our editors are entirely obsessed (can we talk about the cocoon coat with the blue shearling collar!?!). The designer dished on her bestselling moto jacket, her inspiration for the new styles, and some super-helfpul advice for the SHEfinds reader on choosing her new coat for fall. Thank you, Rebecca! Read it now: SHEfinds: Your leather moto jacket is so cult! Tell us about it.  Rebecca Taylor: Our leather jacket is garment washed, which really offers the customer the softest supple leather, and it's lined with jersey making it extremely comfortable. SF: Is the popularity of the moto one of the reasons you decided to expand your outerwear collection? RT: I've always had outerwear in my collections, but this season I really wanted to expand our outerwear and offer the Rebecca Taylor girl a coat or jacket for every occasion. SF: What is the inspiration for the new styles? RT: The collection was created with a focus on luxury and function. I wanted each piece to marry modern femininity with comfort and offer unique cuts and silhouettes in unexpected colorways. SF: What should a woman look for when choosing a new coat for fall? RT: I would say having a coat that keeps you warm is the most important thing. It's also important to think about the layers you'll be wearing underneath your coat--make sure there's enough room if you plan to wear chunky knits. In a lot of areas, the winter season can feel like a very long time. A coat is a staple piece that carries you through the season--you need something that's going to last. SF: What details are you loving for outerwear this season? RT: I'm really loving unique embroideries, beautiful embellishments, and faux fur details. SF: What style details should a woman look for when shopping for a coat this season? RT: I think it's important for a woman to feel special and confident in whatever she wears. Make sure it's something you'll love to wear again and again. SF: Do you believe in investing in a good coat, opting for trendier lower-prices ones, or a mix of both? RT: I do think it's important to invest in a good quality coat but I think you can also enjoy trendier lower-price pieces as well. It's great to have a mix of both- your good coat is your go-to for every day wear while trendier ones can be worn for special occasions when you want to feel a bit more dressed up. SF: Your faux fur looks and feels amazing! What is the secret?! RT: For our faux furs, I shave off the seam allowance in order to cut out any bulk. This really allows the fur to feel elevated and luxurious. Melton Faux Fur Coat ($795) Icicle Cocoon Coat ($795) Boucle Moto Jacket ($495) Wool Shearling Cocoon Winter Coat ($895) Shearling Vest ($995) Polar Faux Fur Vest ($550) Washed Leather Moto Jacket ($895) Amsterdam Tweed Jacket ( $595) Lace Bonded Jacket ($475) Patch Faux Fur Vest ( $595) Embellished Tweed Jacket ($550) Metallic Leather Moto Jacket ($995) Faux Merino Moto Jacket ($695) Artisan Tweed Fringe Coat ($650)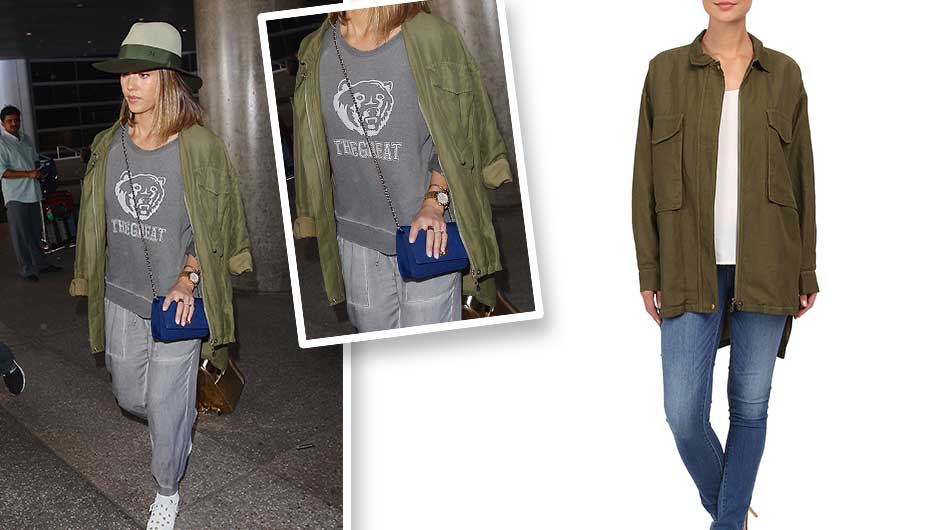 Your Fall Shopping List Should Absolutely Include Jessica Alba's Military Jacket
Not to rush your summer or anything, but the fall magazines are landing heavily in your mailboxes and we have confirmation that the military jacket is still very in. Haven't found the perfect one yet? Don't fret because as usual Jessica Alba found a super cool version for all your fall outings. She wore Rebecca Minkoff's Beckals Jacket ($368) upon her arrival at LAX over her sweats and tee. From flights to farm stands, we think you will find a use for this jacket wherever your fall adventures take you. Shop it below! Rebecca Minkoff Beckals Jacket ($368) Be sure to check out Kourtney Kardashian's Mara Hoffman bikini, the best fringe booties for fall and the best plaid dresses for fall. [Photo: Splash News]
Loeffler Randall Just Introduced An Outerwear Collection!
Today is a big day. Why? Because accessories retailer Loeffler Randall just introduced a beautiful outerwear collection. Loeffler Randall outerwear is comprised of moto jackets, vests, bombers and long coats. This collection is made from fine, luxurious leather and soft shearling. Get a head start on finding your new fall and winter coats by shopping Loeffler Randall's newest collection! Shearling Vest in Bone ($995) Foam Leather Moto Jacket in Lavender ($1,095) Shaved Shearling Bomber in Cheetah ($1,295) SHOP ALL LOEFFLER RANDALL OUTERWEAR Don't miss Nordstrom's 60% off shoe sale and shop the belt Kendall Jenner wears almost every day! [Photo: Loeffler Randall]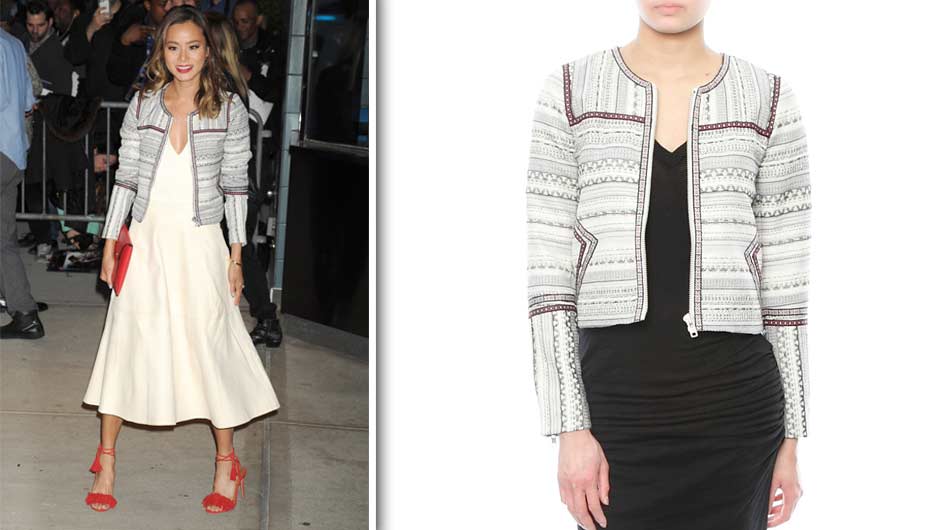 Jamie Chung's Printed Jacket Just Sold Out, But Here's How You Can Get On The Waiting List
There is always that one piece that you keep grabbing in your closet that seems to not only looks good, but elevates whatever you wear with it. This season tat piece is Jamie Chung's Tularosa Griffin Jacket ($249). It's no huge shock that the jacket sold out in a flash, but don't despair. Dailylook currently has a wait list open for when it comes back in stock so be sure to put your name down by clicking the image below. Tularosa Griffin Jacket ($249), Shop Lily Collins' round sunglasses, Jessica Alba's sandalsand  Jessica Biel's moto jacket. [Photo: Splash News]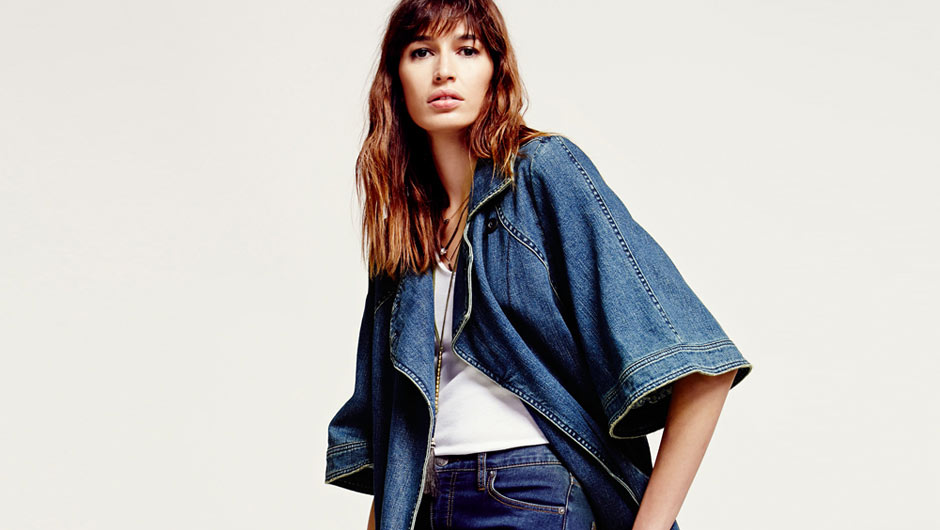 These Are NOT Your Basic Denim Jackets
Spring's Leather Jackets Come In Every Color Of The Rainbow
It wouldn't be spring unless leather jackets were on trend, but this time around there's a little bit of a twist. This year, ditch your basic black and brown leather for red, yellow, blue, pink--pretty much any color you can think of. It may seem intimidating at first, but don't be afraid: the bright colors combined with the edgy silhouette of a leather jacket make for the perfect piece of outerwear, one that you can wear with virtually anything and still manage to look insanely cool. Click through our slideshow for some of our favorites from IRO, Forever 21, Elizabeth and James and more.  For more spring trends, check out: off-the-shoulder dresses, floral print sneakers and overall dresses [Photo: kenza.se, shop similar here]
Sorel Is Launching Coats This Fall!
If you were sick of seeing Canada Goose and Moncler coats everywhere this winter (or just jealous because you wanted one), you'll have an opportunity to wear something different (but equally warm) this fall: Sorel is launching an outerwear collection! According to WWD, Sorel has become more of a women's fashion brand in recent seasons (as evidenced by all their boots I see on 5th Avenue) and the forthcoming outerwear collection is an extension of that. The collection will include 8 styles for women, including a goose down and coyote fur 'Joan of Arctic' parka featuring a nylon-canvas shell and priced at $875. SHOP SOREL BOOTS NOW [Photo: Ty Milford for Sorel]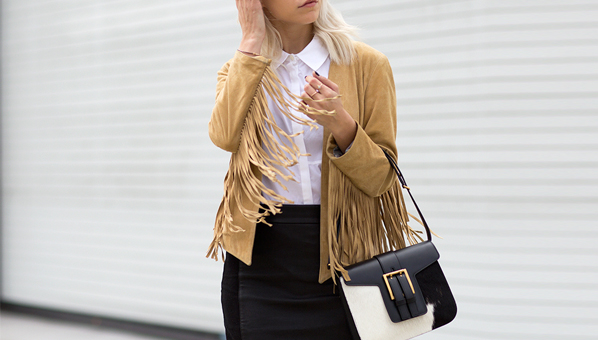 Just In Case You Didn't Get That Fringe Is In For Spring, Here Are 37 New Jackets With It
Fringe is kind've a big deal these days, but you already knew that right? Well, if you're a fan like I am, you'll be really excited to learn of all the fringy jackets there for spring. Saint Laurent did a sick suede version named Curtis that'll blow your mind, but it costs upwards of $5K (you heard me right). That hefty number is what drove me to look for other wonderful options, and thank god, I found a ton. They include a number of styles by The Perfext,  and a really killer biker version by Maje (it's like a leather moto on steroids). The bottom line here is that you should be giving your classic leather jacket a good long rest, it's time to kick it up a notch. Go on, find the one that suits you best. For more, check out clogs, raincoats, and cute maxi dresses. [Photo: Always Judging, jacket here or similar here]
Get 30% Off At Old Navy Until 3pm Today: Go, Go, Go!
Old Navy is running a sale today--presumably for those of us stuck at home from Juno with nothing to do but shop--that features 30% off full priced items. The only catch is that it ends at 3pm, so you only have a very limited time to get the good deal. (Use code AMPM at checkout.) I personally plan to stock up on lightweight cardigans, sleeveless tops and $2 flip-flops for my upcoming beach vacation. SHOP THE OLD NAVY SALE NOW Editor's Picks: Patterned Matte-Crepe Shirt ($20.95, down from $29.94), Linen-Blend V-Neck Cardigan ($23, down from $32.94), The Boyfriend Skinny Jeans ($25,85, down from $36.94).
28 Parkas On Sale: Moncler, Woolrich, McQueen And More
I may not be a lover of the puffer jacket (can it ever truly be flattering?), but when it's below 20 outside, a wool coat just doesn't cut it. So if I'm going to bundle up in something somewhat bulky, it's gotta have a little character. That's why a parka is always my first choice when it comes to functional outerwear—first, they're warm (obviously), but second, they happen to look pretty cool, and with the right clothing, parkas can look outstanding. I like them with motorcycle boots, a big cozy scarf, and really slim jeans (to balance out the weight), but they also look great with dark dresses and slouchy sweats. Since we're just about halfway to February (OMG—I know) I wouldn't dare dream of paying full price for a winter coat, nor should you, so I looked for one on sale. I ended with way more than just one—28 to be exact—and naturally, I figured I'd share. The mix includes styles by everyone from Moncler and Woolrich to Alexander McQueen and Maje, and all of them will work if you're trying to avoid looking like the Stay Puft Marshmallow Man. Go on and see for yourself.
Bluefly's Outerwear Sale Has 40% Off Designer Trenches, Fur, Puffers & More
Sometimes I forget how good Bluefly is, and then I'm reminded of the fact around holiday time. They have the best discounts during Black Friday/Cyber Week, and today they've got a really good selection of coats from the likes of DKNY, T Tahari, Marc New York, Aryn K, Laundry by Shelli Segal and more for 40% off. Shop now: 40% OFF DESIGNER COATS @ BLUEFLY Editor's picks: LAUNDRY BY SHELLI SEGAL Chocolate Quilted Down Filled Faux Fur Hooded Belted Jacket ($175, down from $290), T TAHARI Black Wool Blend 'Marla' Wide Shawl Belted Coat ($275, down from $400), DKNY Black And White Tweed 'Donovan' Faux Leather Detailed Jacket ($215, down from $360), ARYN K Cobalt Stretch Woven Drape Front Extra Long Coat ($85, down from $125).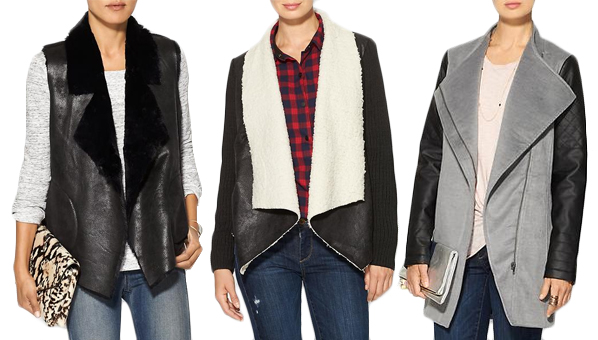 30% Off Sitewide At Piperlime–Go Straight To The Outwear Section.
Piperlime is having a great Cyber Monday sale today: 30% off sitewide and an extra 40% off sale items. So, if you can take 30% off anything, you might as well make it a big ticket item so the savings are big, right? I personally went straight for the outerwear. I need a new coat this winter, and I think that's the perfect way to use the discount code (which is CYBERSALE, by the way). Shop now: SHOP THE PIPERLIME CYBER MONDAY SALE Editor's picks: SKIES ARE BLUE Shearling Sweater Jacket ($84.50, down from $98), PIM + LARKIN Venice Vegan Leather Sleeve Coat ($109.50, down from $149), FRENCH CONNECTION Winter Rhonda Faux Leather Vest ($198).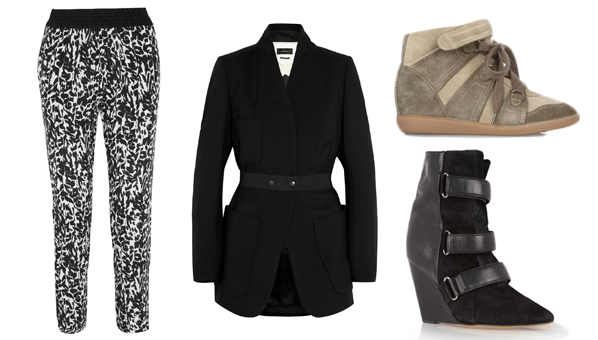 Isabel Marant Is 65% Off At The Outnet Today–Yippee!
This sale doesn't require much of an introduction: Isabel Marant (yes, the Isabel Marant) is up to 70% off at The Outnet today. They've got her signature wedges, outerwear, dresses, tops, jackets and more. Here you go! SHOP THE ISABEL MARANT SALE @ THE OUTNET Editor's picks: Scarlet leather, suede and calf hair wedge boots ($468, down from $1,560), Musk leopard-print silk pants ($266, down from $665), James wool jacket ($353.50, down from $1,010), Edge embroidered shearling jacket ($1,472, down from $3,680), Bluebel suede concealed wedge sneakers ($243.25, down from $695).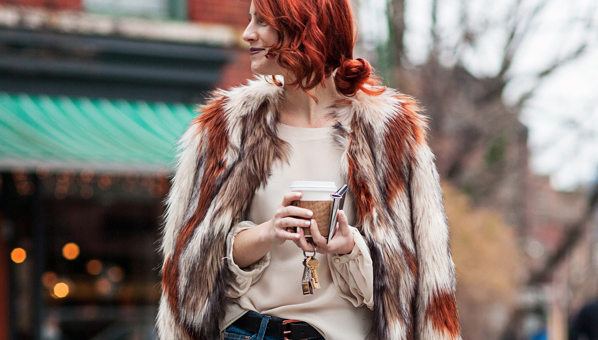 This Season Is A Fur Lover's Dream Come True: Faux & Real Sweaters, Bags, More
If you're thinking that there's no reason to be excited about the cold, you're wrong. You should actually be jumping for joy because now you can finally take advantage of all the furry commodities available right now. Fur (faux and real) has been taken to a whole new level, with coats being the least of what I mean. I'm talking sweatshirts, sneakers, cardigans, and mittens (nothing touches the warmth of a fur mitten—trust me). Oh, and then there's that faux fur clutch shaped like a daisy—umm, yes please. The bottom line is that fur has invaded all categories of attire, and I'm really diggin' it.  Who's with me? On a full-on fur kick? See fur collars, and faux fur sweatshirts. [Photo: Cheetah Is The New Black]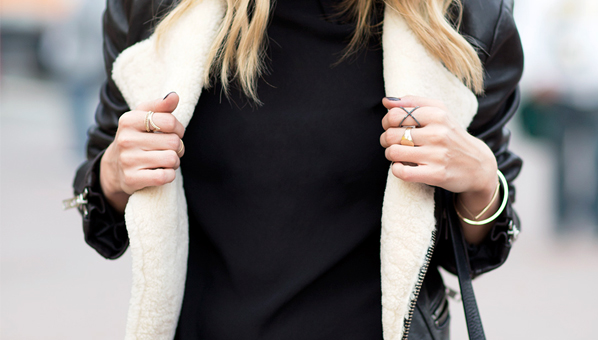 25 Reasons To Buy A Shearling Coat This Year (And We're Not Even Counting The Polar Vortex)
I don't know about you guys, but I plan to protect myself this winter against the Polar Vortex. That's why I'm pinching pennies to save up for the warmest coat possible, and no coat in the world can touch the warmth of a shearling. They're so heavy yet so cozy, and it doesn't hurt that they were all over the runways, which makes them super easy to find. Sure, most real shearlings cost a small fortune, but nothing is worth more than being shielded from super low temps, ya feel me? If you're on my page, check out the 25 shearlings we've rounded up. We've even found some faux versions that are not as pricy like the NYDJ coat that Elizabeth Banks was wearing, and a really cute one on Nasty Gal. Those who don't mind a splurge might be happy to know that the Acne Studios Velocity shearling is still available, and you can find it on FWD.com. Looking for even more shearling pieces to add to your winter wardrobe? Check out these bags and boots. [Photo: Always Judging]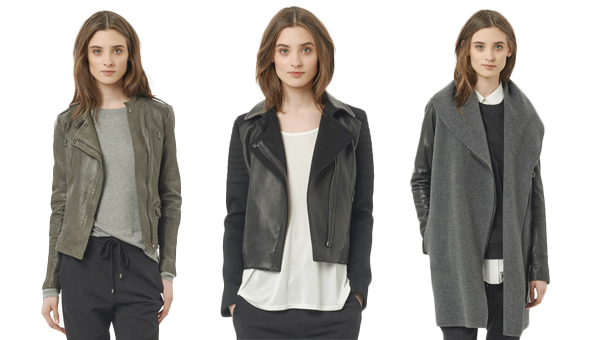 Owning A Vince Jacket Is On My Bucket List–Good Thing They're 60% Off Today.
Vince's perfectly fitting leather jackets (like a glove, I tell ya!) are iconic. If you own one, you know what I mean and you've probably had yours and been wearing it FOR YEARS. If you don't, join the club--they can be a tad bit pricey, and though I've wanted one for years I never sprang for one. Looks like that might change today: the brand is running an insanely good sale today which includes 60% off said coats and jackets. SHOP THE VINCE SALE
Good Thing Old Navy Put All Outerwear On Sale–The Bomb Cyclone Is Coming
Have you heard about the "bomb cyclone" that's coming? Yep, it's as scary as it sounds. CNN is reporting that freezing temps and harsh winter conditions are set to hit the Northern states as early as this week--some of you might be feeling it already. So it's a pretty smart move for Old Navy to put all, yes, all, its outwear on sale. Stock up on warm coats and puffy vests to get through what seems to be this year's Polar Vortex (let's hope THAT doesn't happen again). SHOP THE OUTWEAR SALE NOW And don't forget to check out: Kim Kardashian's butt tries to break the internet, Gigi Hadid's A+O coat and cool iPad Air 2 cases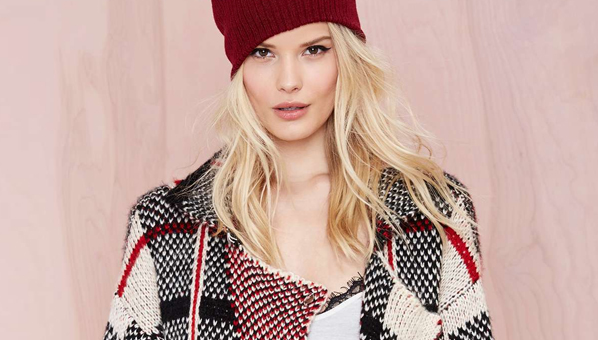 Nasty Gal's Cold Weather Shop Actually Makes Me Wish It Was Cold
Last year we had the polar vortex (*chills*) and this year it looks like we're getting a "bomb cyclone" (okay--that sounds way worse). According to CNN, the "bomb cyclone" is going to push some of the lowest temps and harshest winter weather across the country as early as this week. Which is kind of okay by me because I just scoped out Nasty Gal's cold weather shop (remember all those great under $200 coats?) and it's really putting me in the mood for winter. They've got chic fur hats, crazy fur boots, fuzzy sweaters, wool fedora hats and more. SHOP NASTY GAL'S COLD WEATHER SHOP NOW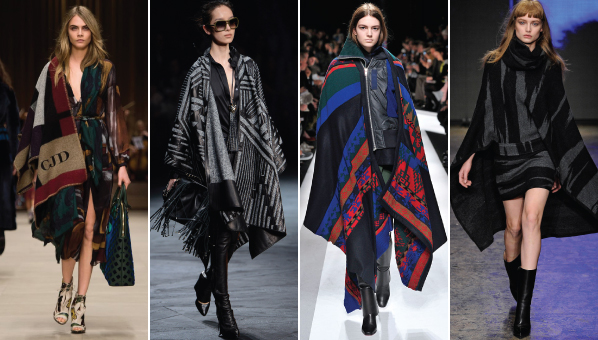 The Warmest Coat You Can Buy This Fall Is Basically A Blanket
You know the feeling. The coziness that comes with wrapping yourself up in a blanket as you lay on the couch for a night full of Netflix. And designers like Burberry, Roberto Cavalli, Sacai, DKNY, and Etro want to keep you just as comfy this fall with blanket coats that could easily double as a throw for your living space. Pair it with a casual top and denim pants, or give your evening look a layer of cool by throwing your blanket-coat over a short dress and tights. Check out our slideshow if you dare to wear this new fall trend. Check out more fall trends: burgundy, stretch-back boots, and the top 5 jackets you need right now. [Photo, L to R: Burberry, Roberto Cavalli courtesy of Splash News, Sacai, DKNY courtesy of Splash News]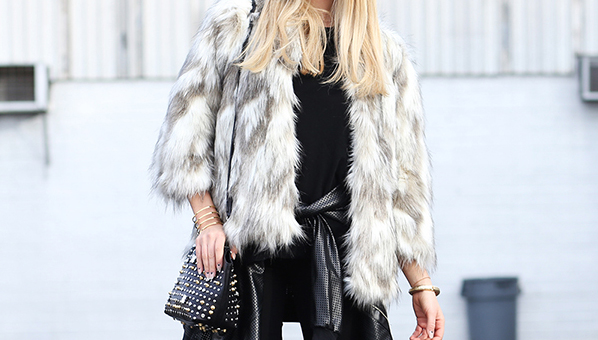 The Faux Fur Coat Selection Right Now Is Bomb–And Everything's Under $200
Not going to lie, I never felt the need for a faux fur coat until last year. That Polar Vortex did a number on me. You too? Okay good, because the selection of faux fur coats and jackets right now is pretty epic. The best part isn't even that they look more comfortable than your best blanket, it's that there are tons of styles under $200. A steal! Now that you're convinced check out our picks in the slideshow. It's starting to get chilly outside... Don't miss: black faux fur vests, the belt bag trend and the best faux leather leggings [Photo: Peace Love Shea]
5 Jackets That Should Be In Your Closet This Fall
Now that fall is officially around the corner, we're not only excited about stocking up on new shoes and trends, but outerwear, too. And before you reach for your trusty leather jacket, the moto is actually getting a makeover this fall, coming in soft and tactile fabrics like tweed and terry cloth. It's one of our top five new jackets that we're coveting for the season, along with parkas, quilted jackets, shearling details, and capes. (Yes, capes.) Check out our slideshow to see which styles you'll be stocking in your closet. Check out more fall trends: sleeveless coats, the best-selling shoes, and denim pencil skirts. [Photo: afterDRK]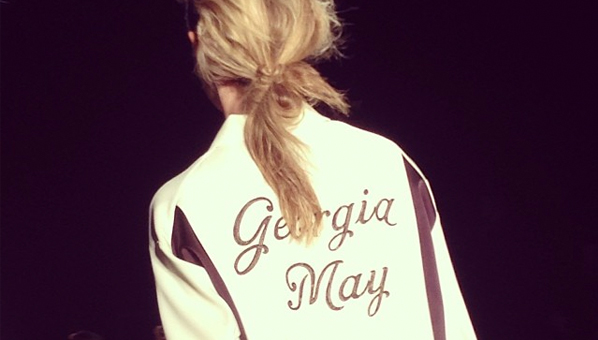 Put Your Name On Your rag & bone Jacket: They're Now Offering Customization!
It's exciting to see the new spring 2015 styles hit the runway. But do you know what's even more exciting? When you can finally shop that one thing you've been dying to get your hands on since last fashion week. For us, that would be rag & bone's personalized bomber jackets and bowling shirts. Models like Joan Smalls, Karlie Kloss and Georgia May Jagger closed the fall 2014 show wearing one with their names embroidered on the back--as if we need a reminder of who these gorgeous gals are. For the month of September, rag & bone will make these custom pieces available at stores in NYC (Mercer St. & Christopher St.). L.A. (Melrose Ave.), London and Tokyo. Or you can order by phone at any store if you can't make it to one of those five. The women's selection includes the Bowling Shirt ($450), Dean Jacket ($655) and Challenge Jacket ($755) as seen on the runway, as well as the Zip Through Racer Hoodie ($395). You can personalize each with up to seven characters in the 50's-inspired stitching (sorry to any other Georgia May's out there). British "It" chick Alexa Chung and Victoria's Secret Angel Lily Aldridge already own the jackets, so we're pretty sure these are going to be a BFD. And don't forget to check out: how to rep your team like a street style star for football season, 7 ways to make your MOH happy and 28 cool fashion sneakers [Photo: Instagram]
Smythe Somehow Made Blazers Cool Again–Just Ask Kate Middleton, Kate Hudson & SJP
I went to a boarding school that had a pretty intense dress code, so blazers admittedly have a not-so-good connotation in my mind. Stuffy? Stodgy? Old ladyish? Yeah, all not things I want to look like when getting dressed in the morning. I've basically boycotted blazers since my high school graduation--sans the occasional job interview--but then I came across Smythe. It wasn't long until I realized that tons of celebs--and umm, princesses!--were giving their blazers and jackets their seal of approval, so I decided to lift the blazer ban and check them out. And I have to say, as a girl who pretty much unequivocally hates blazers, these are pretty amazing. They have classic navy blue styles that just feel a little more special with the addition of a gold button here or there, plus they also do slimmer versions with more fashion-forward touches like a metallic wash or sharp shoulders. So whether you're not really into blazers like me or swear by them for you day-to-day look, you have to check out Smythe. You're gonna fall in love. Click through the slideshow to shop celeb-approved Smythe styles. Don't miss Jennifer Lopez's maxi dress, Kate Middleton's LK Bennett dress and Selena Gomez's flip flops. [Photo: Splash News]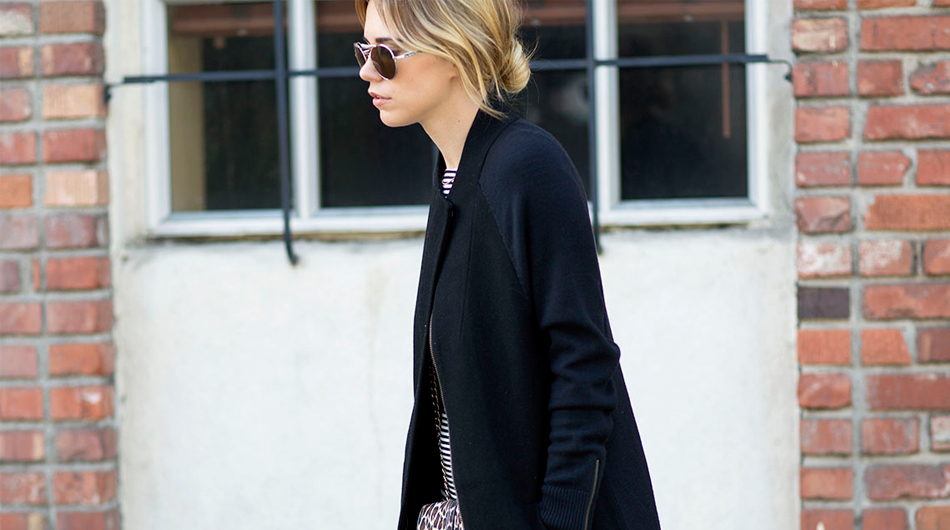 Buying Fall Jackets In This Heat Would Be Totally Crazy…If They Weren't On Sale
While shopping for a jacket in this heat may seem crazy, we can assure you that it is definitely not too soon to start thinking about fall. Right now, even thinking about putting sleeves on your body may seem absurd, but in a few weeks you'll be frantically digging your jackets out of your closet. Soon, the temps will drop, the leaves will change and it will be fall before you know it! Where has the time gone?! If you feel like summer just started, we're right there with ya, but it's almost time to retire our shorts and tanks and switch to jeans and jackets. A since jackets aren't in demand right now, they're are super cheap. We don't know why, but some retailers are even putting their new styles on sale, which seems totally crazy, but we aren't complaining. You need to take advantage of all the markdowns now, before it's too late. Because once fall hits, you won't be able to find deals like these, and you'll be stuck in the cold with no new outerwear and last year's styles. So to help you prepare for the seasons to come (and save you some cash), we found dozens of jackets on sale from leather styles and bombers to trenchcoats and anoracks by so many great brands and designeres like Tibi, Vince, Michael Kors and even Marc Jacobs. There's no need to thank us, just shop our slideshow. And do it now, before it's too late! It's better to save than be sorry. And don't forget to check out: Boots on sale, Kim Kardashian's sunglasses and Taylor Swift's $55 dress. [Photo: Always Judging]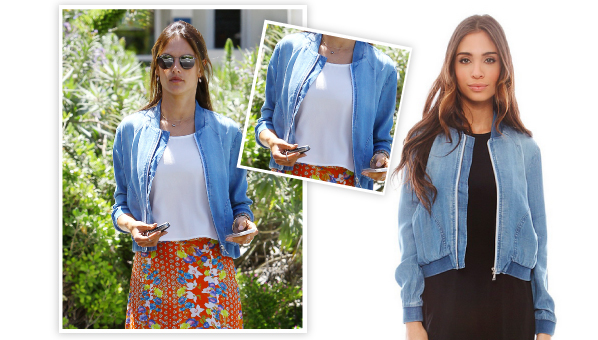 Time To Trade In Your Basic Jean Jacket For Alessandra Ambrosio's Chambray Bomber
We know--jackets in summer are not on the top of your shopping list, but you haven't seen this one: Alessandra Ambrosio's Bella Dahl Chambray Bomber Jacket ($172). It is light enough to not feel like a burden and warm enough for the chilly summer air. Plus, think about how much you wear your chambray shirts. Now it comes in a bomber-jacket style. Right, now you understand why it is sold out in most sizes. Hurry!  Bella Dahl Bomber Jacket ($172) Alessandra's jacket sold out in your size at Singer 22? Try Bloomingdale's! Don't miss Lupita Nyongo's Mara Hoffman dress, Jessica Alba's striped tank and Sarah Jessica Parker's tunic. [Photot: Splash News]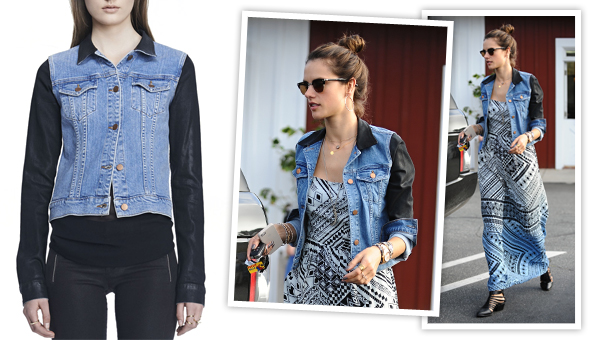 There Is Only One Size Left Of Alessandra Ambrosio's Jean Jacket–Run And See Why
We are about to enter that awkward weather phase where every day is a battle of decisions--what coat should I wear? Will I be too hot? Is it warm enough for this? Quit your worrying and just look to Alessandra Ambrosio for the best transitional spring jacket out there. She wore the J Brand Bowie Jean Jacket ($139, down from $260), which is the perfect combo of warmth (leather sleeves) and spring (denim). Even better, it is on sale for almost half off. Unfortunately, there is only one size left, but we imagine it will be restocked soon. Grab it now if you're a small! J Brand Bowie Jean Jacket ($139, down from $260) Check out more must-have celebrity styles such as Reese Witherspoon's accessories, best-dressed celebs, Nikki Reed's TOMS sunglasses and Cara Delevingne's fave tees. [Photo: Splash News]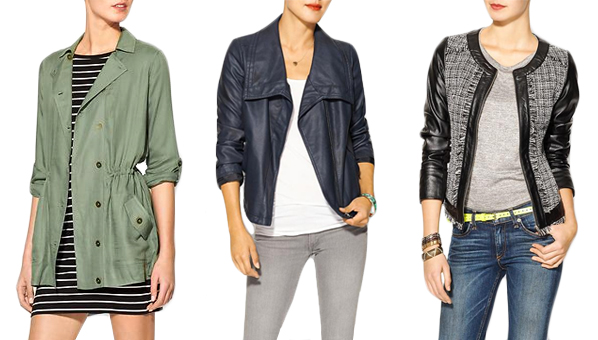 Say 'Peace Out, Winter Coats' With A New Lightweight Jacket For 30% Off
Even though we probably still need our heavy winter coats for a few more weeks, we're SO over wearing them. Thankfully, Piperlime knows exactly how we feel. The site is having a major sale on all the jackets you NEED to stock up on for spring. There's leather, tweed, denim and tons of other styles. Plus, there's plenty of options under $100. You might not be feeling a lightweight jacket in this cold weather but trust us, spring IS coming (the first day is tomorrow). You're going to wish you got this Tinley Road Vegan Leather Moto Jacket ($59.97, down from $98) or Rhyme Los Angeles Kellen Tweed Jacket ($54.97, down from $94) in a couple of weeks once the warm weather kicks in. GET YOUR SPRING JACKETS NOW And don't forget to check out: 25% off EVERYTHING at J.Crew, Elie Tahari's first-ever sunglasses collection and Kourtney Kardashian's preppy shirt
Light Jackets Under $100: What To Wear For This Weird In-Between Weather
For a while it felt like this day would NEVER come, but we're FINALLY starting to see the first glimpses of spring. The days are longer and the temps are (slightly) warmer, but it's still way too soon to do away with our jackets. We know this time of the year is super awkward, and you might not know what to wear. But don't worry, we're here to help you out! From denim to leather and everything in-between, these jackets will help you make the transition to spring. They're all timeless layering pieces you can wear now, next month and 5 years from now. Check them out in our slideshow above! And don't forget to check out: transitional shoes to wear now, Nasty Gal's first-ever swimsuit collection and The Outnet clearance sale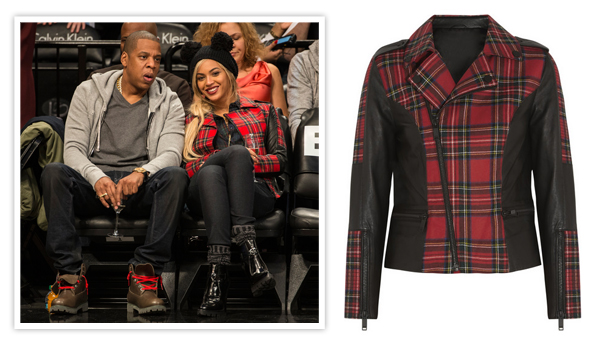 All We Want For Valentine's Day Is Beyonce's Plaid Karl Lagerfeld Jacket
It's hard to ignore the fact that Valentine's Day is just two days away. But instead of coveting flowers, chocolates or even jewelry, we find ourselves fawning over Beyonce's Karl Lagerfeld Vicious Leather-Trimmed Tartan Wool Biker Jacket ($630). She recently wore the jacket while sitting courtside with her man and we're convinced it's pretty much the best Vday gift a girl could get. Hey, it's red, right?! No guy to casually hint that you want the jacket? Get it yourself, girl! Karl Lagerfeld Vicious Leather-Trimmed Tartan Wool Biker Jacket ($630) Don't miss out on Jamie King's bag, Jessica Alba's floral pants, Gwen Stefani's leather pants, and Gwyneth Paltrow's flare jeans. [Photo: Splash News]
The Best Cozy, Check Coats (Because It's Coats Weather Now, People)
Plaid, checks, grid prints--call them what you want, but squares are in for fall. Check (or checked) coats are a must this season, and luckily, stores that you can actually afford to shop, like ASOS and ZARA, have lots of the stuff. Click through the slideshow above to shop the best. [Photo: Lee Oliviera]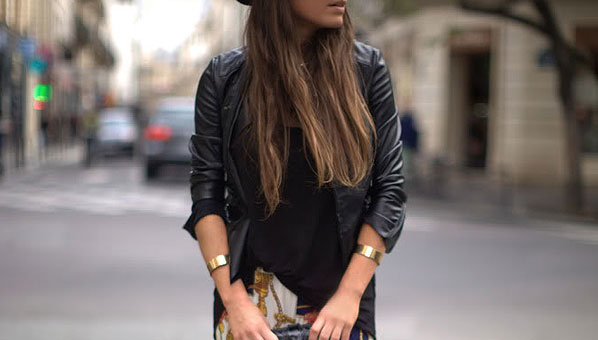 Just Say 'No' To Motos: The Best Leather Jackets Of The Season Are Draped
Clothes this season tend to err a bit more on the comfy side with oversized and PJ-like everything. It's a bit of an androgynous season, then, to say the very least, but don't think that to fit in with the trend you need to buy outwear that will swallow you whole. Filling in the voids left behind by the usual jacket culprits -- think leather, fitted, puffy, tweed -- are a droopier breed of jacket that won't overwhelm your shape, but that will still fit in with this fall's casual vibe: the drapey leather jacket. Drapey enough to wear over your sleepwear-inspired work attire, but also thick enough to actually keep you warm when the breeze starts to get cooler, these jackets take the fitted feel of blazers and mix it up with the looser look of a sweater. Turns out that this casual and comfy fall trend is even restructuring the traditional leather jacket -- and in the best way possible. [Photo: Be Frassy]
If You've Wanted A Burberry Trench, Now Is The Time To Get One.
I'm really good at convincing my friends to buy something, so if you don't want to hear why investing in a Burberry trench is a really good idea right now - don't read on. Still with me? Great. What your closet needs right now and forevermore is a classic, belted-at-the-waist, tan or neutral Burberry trench coat. They're always in style. They looked good with everything. They are the easiest, most fool-proof way to look thinner, more chic and more styled. They are great year round (layer with sweaters for winter, toss over dresses for summer rain showers). Celebrities and style icons adore them. If the price tag has been keeping you from your dream coat, pick up your credit card right now and take the plunge. Just do it! You will not regret it - even while you're paying off the credit card bill, and for a very long time after. Oh, and some of them are on sale at Nordstrom. OKAY? GET THE COAT OF YOUR DREAMS!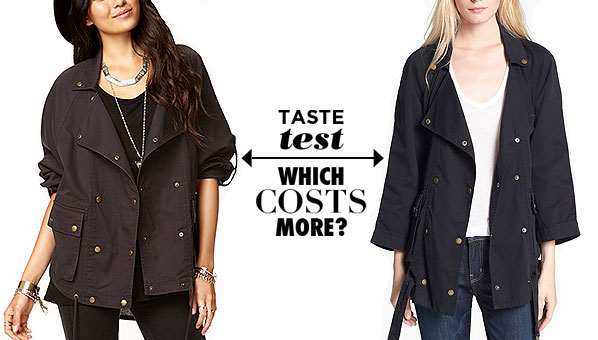 Can You Tell Which Jacket Costs $253 More Than The Other?
We all know Forever 21 is knock-off central, and usually those replicas just make us wish we had the real thing even more. But sometimes you can actually find a really good version of the designer item AND it doesn't cost you three months rent. Well, that's the case with this black twill jacket. They're both so good, we can't even tell which is designer and which isn't. Can you? Answer: The one on the left is the Forever 21 Desert Cool Parka ($34.80) and the one on the right is the Current/Elliot 'The Infantry' Washed Twill Jacket ($288). Did you guess right? Which one do you like better? Let us know in the comments below! Test your fashion savvy some more with: cut-out booties, spike cuff bracelets and cat face flats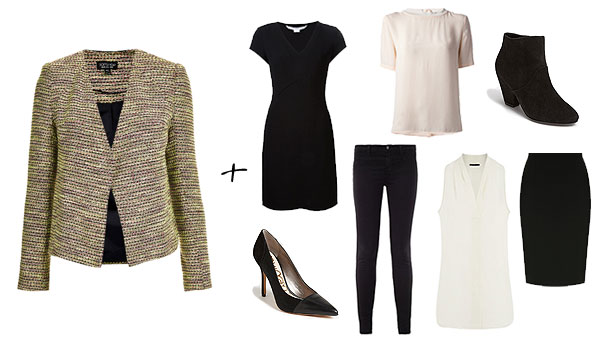 What To Wear This Week: 5 Easy Outfits Everyone Can Find In Their Closet
No matter how much we love what we do, no one ever wants to see the weekend end. Sunday night rolls around and you get the pre-work week week blues. You're thinking about all the craziness that's about to come and how you can squeeze in some sort of social life. The last thing you want to worry about on a Monday morning is your outfit, not to mention how to make the same clothes you always wear look some what different. So to make your weekend to week transition a bit easier, we're here to help you organize your work outfits for the next five days. Yes, all you need is this one Topshop Boucle Collarless Jacket ($116). Wear it everyday this week with wardrobe staple pieces, like skinny jeans and pointed-toe pumps. Pair it with black skinnies, a silk blouse and booties on Monday for a casual, yet put together just coming off the weekend outfit. Dress it up on hump day for a mid-week "Yeah, I'm tired but my outfit doesn't tell you that" look. Finally, end things Friday with a classic black pencil skirt, a sleek pair of pumps and this unconventional for the office, yet totally works blazer. Click the slideshow to see all your outfits for the next five days. You're welcome. For more tips, check out: what jackets our editors are buying for fall, why leaving your sneakers in the car ruins them and how to prevent dark fall polishes from staining your nails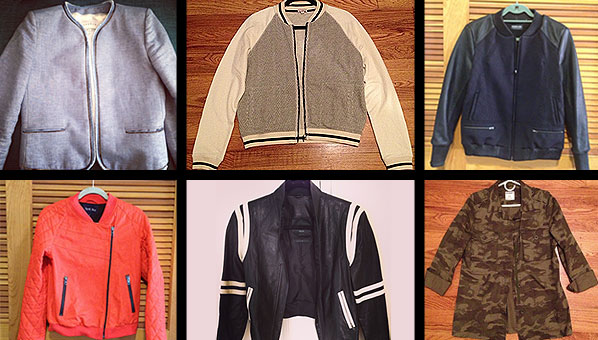 What Our Editors Are Buying For Fall: Jacket Edition
A few weeks back, we gave you guys a glimpse into our fall wardrobes. But that was only a small selection of everything we've been shopping this season, and you know that's a lot. Now that temps are really dropping all we're talking about in the office is jackets, and we're guessing that's top of mind for you too. So we thought we'd share which jackets we've bought for fall (so far) to give you guys some cold-weather inspo. From a sleek collarless blazer to a neon orange leather coat, we're pretty sure you'll find something on this list you like. We just love being a bad influence on your wallet. COME LOOK IN OUR CLOSETS For more fall fashion, check out: the eye print trend, mini bag trend and the best driving shoes for fall
Malhia Kent Sewed Everything With A Gold Needle For This 7 For All Mankind Collab
What do you get when you combine fancy Parisian fabrics with your favorite stretch denim?  7 For All Mankind x Malhia Kent. You probably already know all about Sevens, but we're guessing you've never heard of Malhia Kent. It's a totally important French fabric mill that produces luxury textiles for brands like Proenza Schouler, Saint Laurent and Chanel. Got your attention now? Sevens combined their slimming technology with Malhia's specialty tweeds and yarns for this four piece collection. The three skinny jeans come in blue, black and grey washes with really intricate blue, gold and silver stitching. The best item in the collection though has to be the denim moto jacket with blue stitching on the collar and sleeves. It's so bad-ass. And get this, each item was hand-crafted and sewn by a single gold needle using Malhia's one-of-a-kind weaving technique. We're guessing that means there wasn't much of this in stock to begin with, so we'd shop sooner rather than later. What, you think they can be stitching Sevens all day when Paris Fashion Week is just around the corner? SHOP 7 FOR ALL MANKIND X MALHIA KENT NOW For more collabs we love, check out: Stilla x Dancing With The Stars makeup sets, goop x Stella McCartney and Rita Ora for Rimmel London
Fall Is HERE, Baby! 25 Jackets You'll Want Immediately.
Whoever said summer is the best season clearly didn't own a moto jacket. And leather jackets aren't the only reason fall should be your favorite--there's tweed ones, army jackets, mixed media, slim cut blazers, bombers... let me count the ways that September is cooler than August. (See what I did there with the puns?!) We've found the best 25 jackets for Fall 2013--from alice + olivia to Tibi and more, we've rounded up the best jackets in every category - from Best Leather to Best Cargo, to Best Blazer and more. Whatever your budget, whatever your style, one of these jackets is about to become your go-to for the rest of the season. How exciting! [Photos: The Glamourai, Cheetah Is The New Black]